W. Scott Simpson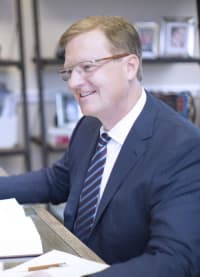 Attorney Profile
Top Rated Construction Litigation Attorney in Hoover, AL
Phone: 205-876-1600
Fax: 205-876-1616
Selected To Super Lawyers:
2017 - 2020
Practice Areas:
Construction Litigation: Business (50%),
Civil Litigation: Defense (10%),
Business/Corporate (10%),
Business Litigation (10%),
Appellate (10%),
Alternative Dispute Resolution (10%)
Attorney Profile
Scott Simpson founded and is managing partner of Simpson, McMahan, Glick & Burford, PLLC. He has practiced law for more than 25 years.  His practice is centered in Birmingham, Alabama.  His practice is national and he serves clients all over the U.S.  He has handled cases in over 40 states. He is a member of the Bars for the United States Supreme Court and several courts of appeals and federal courts. Mr. Simpson's main practice focus is the manufactured housing sector.  He serves as national trial counsel for Clayton Homes, a Berkshire Hathaway Company, as well as many other national housing companies. Additionally, he provides business and compliance advice for this sector.
While he routinely tries cases all over the country, Mr. Simpson likes to help clients find alternative, less costly outcomes.  Mr. Simpson has taught Alternative Dispute Resolution and Arbitration Law for 17 years, at the Cumberland Schol of Law, at Samford University. He has published numerous journal articles on mediation theory and arbitration jurisprudence. He has authored a chapter on class action arbitrations in an American Bar Association publication, A Practitioner's Guide to Class Actions.  He has served as an Arbitrator for the American Arbitration Association, since 2004. Mr. Simpson has lectured on topics involving arbitration and mediation in the U.S., as well as several law schools in Brazil and Cambridge University, Cambridge England.
Mr. Simpson heads a talented team of lawyers who handle a wide variety of subject matter, including business litigation, complex and commercial litigation, insurance issues and appellate issues. Mr. Simpson has dozens of reported decisions.  To learn more about the firm and its lawyers, please visit the website of the firm.
Practice Areas
50%

Construction Litigation: Business

10%

Civil Litigation: Defense

10%

Business/Corporate

10%

Business Litigation

10%

Appellate

10%

Alternative Dispute Resolution
Focus Areas
Selections
Super Lawyers: 2017 - 2020
Email Me
To: W. Scott Simpson
Super Lawyers: Potential Client Inquiry
Additional Sources of Information About W. Scott Simpson
About Scott Simpson
Admitted: 1993, Alabama
Professional Webpage: http://smgblawyers.com/w-scott-simpson/
Special Licenses/Certifications:
Registered Arbitrator

Registered Appellate Mediator

Real Estate Broker, Alabama Notary Public

Registered Mediator

Commercial Arbitrator for the American Arbitrator Association
Bar/Professional Activity:
Adjunct Prof of Law Cumberland School of Law, 2002-2019. Also Taught Law at Cambridge University in England (2 Summers) and Lectured at several Law Schools in Brazil.

,

2019
Pro bono/Community Service:
Established the SMGB Sports Scholarship in partnership with KultureCity. This $50,000 fund will create sports-focused opportunities and experiences for autistic children. Read more: http://smgblawyers.com/news/community/

,

2017
Scholarly Lectures/Writings:
Hot Topics in Banking Law: Class Action Arbitrations in Alabama, February 15, 2008 presented at the "2008 Banking Law" Seminar for the Alabama Bar Institute for Continuing Legal Education.,

2008

Co Wrote Chapter 24 - Arbitration and Class Actions - in the American Bar Association 2- Volume Treatise on Class Actions.

,

A Practitoner's Guide to Class Actions

,

Law - Class Actions

Practice Pointers in Arbitration from the Defendant's Perspective, October 26, 2007 presented at the "Keys to Successful Arbitration" Seminar for the Cumberland School of Law Continuing Legal Education Seminar in Birmingham, Alabama

Moderator of the "Keys to Successful Arbitration" Seminar for the Cumberland School of Law Continuing Legal Education Seminar in Birmingham, Alabama, October 26, 2007.

The Contours of Arbitration Discovery: Discovery Before, During and After the Hearing, April 28, 2005. Presented at the "Do We Need Discovery in Arbitration?" Seminar for the American Arbitration Association in Birmingham, Alabama.

Moderator of the "How to Win in Arbitration" Seminar for the Cumberland School of Law Continuing Legal Education Seminar in Birmingham, Alabama, October 29, 2004.

Drafting an Enforceable Consumer Arbitration Agreement, October 29, 2004 presented at the "How to Win in Arbitration" Seminar for the Cumberland School of Law Continuing Legal Education Seminar in Birmingham, Alabama.
Mediation Strategies and Current Issues in Arbitration, October 25, 2002, presented at the "Pre-Trial Practice and Procedure" Seminar for the Alabama Bar Institute for Continuing Legal Education in Birmingham, Alabama.
Arbitration of Consumer Claims – the Southern Homes Experience, April 26, 2001, presented at the "Top Gun" Litigation Management Super Course for the Network of Trial Law Firms, Inc. in San Diego, California.
Steering Women into Sales: Benefiting from Gender Diversity and Best Practices for the Hiring, Retention, and Advancement of Women. Presented in July 2017 at the Women in Automotive conference in Orlando, Florida.
Appellate Mediation, March 25, 2004, presented before the Appellate Courts of Brazil, San Paulo, Brazil
Environmental Law in the United States, March 22 – 24, 2004, presented at three campuses of the Faculdades Metropolitanas Unidas (the largest law school in Brazil) in San Paolo, Brazil

Taught International Arbitration at Cambridge University, Cambridge England, July 2006. Scheduled to teach Alternative Dispute Resolution at Cambridge University, Cambridge England, July 2008

W. Scott Simpson and Gordon Blair, The Magnuson Moss Act Defense to Arbitration: What's Left After Davis v. Southern Energy Homes, Inc., 64 Ala. Law. 367 (November 2003)
W. Scott Simpson, Stephan J. Ware & Vickie M. Willard, The Source of Alabama's Abundance of Arbitration Cases: Alabama's Bizarre Law of Damages for Mental Anguish, 28 Am. J. Trial Advoc. 135 (2004)
W. Scott Simpson and Omer Kesikli, The Contours of Arbitration Discovery, 67 Ala. Law. 280 (2006)
Verdicts/Settlements:
In re Walter Leonard and Evalina Leonard v. Terminix Int'l Co., L.P., et al., 736 So.2d 1092 (Ala. 1998)

In re Southern Energy Homes, Inc. v. Emma Riddle, 873 So. 2d 1116 (Ala. 2003)

Redman Home Builders Co. v. Lewis, 513 F. Supp. 2d 1299 (S.D. Ala. 2007)

In re FEMA Trailer Formaldehyde Prods. Liab. Litig., 620 F. Supp. 2d 755 (E.D. La. 2009)

Soto v. Vanderbilt Mortg. & Fin., Inc., 2010 U.S. Dist. LEXIS 87951 (S.D. Tex., Aug 23, 2010)

Vanderbilt Mortg. & Fin., Inc. v. Flores, No. C-09-312, 2010 U.S. Dist. LEXIS 87630 (S.D. Tex. 2010)

Dimas v. Vanderbilt Mortg. & Fin, Inc., 2010 U.S. Dist. LEXIS 87955 (S.D. Tex., Aug 25, 2010)

Vanderbilt Mortg. & Fin., Inc. v. Flores, 735 F. Supp. 2d 679 (S.D. Tex., Aug. 25, 2010)

Medina v. Vanderbilt Mortg. & Fin., Inc., 2010 U.S. Dist. LEXIS 87953 (S.D. Tex., Aug. 25, 2010)

Hernandez v. Vanderbilt Mortg. & Fin., Inc., 2010 U.S. Dist. LEXIS 87952 (S.D. Tex., Aug. 25, 2010)

Medina v. Vanderbilt Mortg. & Fin., Inc., 2010 U.S. Dist. LEXIS 117100 (S.D. Tex., Nov. 3, 2010)

Hafer v. Vanderbilt Mortg. & Fin., Inc., 793 F. Supp. 2d 987 (S.D. Tex., June 24, 2011)

Hernandez v. Vanderbilt Mortg. & Fin., Inc., 2010 U.S. Dist. LEXIS 117103 (S.D. Tex., Nov. 3, 2010)

Dimas v. Vanderbilt Mortg. & Fin., Inc., No. C-10-68, 2010 U.S. Dist. LEXIS 117105 (S.D. Tex. 2010)

Vanderbilt Mortg. & Fin., Inc. v. Flores, 2011 U.S. Dist. LEXIS 57284 (S.D. Tex., May 27, 2011)

Lemus v. CMH Homes, Inc., 798 F. Supp. 2d 853 (S.D. Tex., July 12, 2011)

Vanderbilt Mortg. & Fin. v. Flores, 692 F.3d 358 (5th Cir. 2012)

United States ex rel. CMH Mfg. v. Warrior Group, Inc., 2012 U.S. Dist. LEXIS 189939 (W.D. Tex., June 28, 2012)

Second Ave. Holdings, LLC v. Latimer (In re Latimer), 489 B.R. 844 (Bankr. N.D. Ala. 2013)

Goodner v. Clayton Homes, 2012 U.S. Dist. LEXIS 128158 (W. Dist. Ark., Sept. 10, 2012)

In re CMH Homes, Inc., No. 04-13-00050-CV, 2013 Tex. App. LEXIS 6827 (App. –San Antonio June 5, 2013)

CMH Mfg. v. Hensel Phelps Constr. Co., 2014 U.S. Dist. LEXIS 28484 (W.D. Tex., Mar. 5, 2014)

Edwards v. Vanderbilt Mortg. & Fin., Inc. (In re Edwards), Nos. 13-02217-8-ATS, 13-00078-8-ATS, 2013 Bankr. LEXIS 4379 (Bankr. E.D.N.C. 2013)

CMH Homes, Inc. v. Goodner, 729 F.3d 832 (8th Cir. 2013)

Bd. of Equalization & Adjustment v. Shelby 39, LLC, 140 So. 3d 941 (Ala. 2013)

CMH Mfg. v. Warrior Group, 2014 U.S. Dist. LEXIS 93509 (W.D. Tex., July 10, 2014)

Goodner v. Clayton Homes, Inc., 2014 U.S. Dist. LEXIS 133418 (W.D. Ark., Sep. 23, 2014)

Beattie v. Skyline Corp., 2014 U.S. Dist. LEXIS 143063 (S.D. W. Va., Oct. 8, 2014)

Cadence Bank, N.A. v. Goodall-Brown Assocs., L.P., 178 So. 3d 814 (Ala. 2014)

Beattie v. CI Skyline Corp., 2014 U.S. Dist. LEXIS 175278 (S.D. W. Va., Dec. 19, 2014)

Beattie v. Skyline Corp., 2014 U.S. Dist. LEXIS 175953 (S.D. W. Va., Dec. 22, 2014)

Berent v. CMH Homes, Inc., 466 S.W.3d 740 (Tenn. 2015)

Eaton v. CMH Homes, Inc., 461 S.W.3d 426 (Mo. 2015)

Beattie v. CMH Homes, Inc., 2015 U.S. Dist. LEXIS 190987 (S.D. W. Va., Aug. 19, 2015)

Hench v. CMH Homes, Inc., 2016 U.S. Dist. LEXIS 28016 (W.D. Penn., Mar. 3, 2016)

Patriot Manufacturing Co. v. Jackson, 2005 Ala. LEXIS 207, 929 So. 2d 997 (Ala. 2005)
Joseph v. MTS Investment Corp., 2006 Ala. LEXIS 335, 964 So. 2d 642 (Ala. 2006)
Southern Energy Homes, Inc. v. Ard, 2000 Ala. LEXIS 218, 772 So. 2d 1131 (Ala. 2000)
Ex parte Johnson, 2008 Ala. LEXIS 90, 993 So. 2d 875 (Ala. 2008)
Parkerson v. Smith, 2002 Miss. LEXIS 91, 817 So. 2d 529 (Miss. 2002)
Davis v. Southern Energy Homes, Inc., 2002 U.S. App. LEXIS 19598, 305 F.3d 1268 (11th Cir. 2002), cert. denied 123 S. Ct. 1633 (2003)
Jones-Williams Construction Co., Inc. v. Town & Country Property, L.L.C., 2005 Ala. Civ. App. LEXIS 470, 923 So. 2d 321 (Ala. Civ. App. 2005)
Wilson v. Style Crest Products, Inc., 2006 S.C. LEXIS 69, 627 S.E.2d 733 (S.C. 2006)
Buckley v. Robertson, 1997 U.S. Dist. LEXIS 6686 (S.D. Ala. March 10, 1997)
Redman Home Builders Co. v. Lewis, 2007 U.S. Dist. LEXIS 79697, 513 F. Supp.2d 1299 (S.D. Ala. 2007)
Southern Energy Homes Retail Corp. v. McCool, 2001 Ala. LEXIS 312, 814 So. 2d 845 (Ala. 2001)
Walton v. Rose Mobile Homes, L.L.C., 2002 U.S. App. LEXIS 15283, 298 F.3d 470 (5th Cir. 2002)
In re Healthsouth Corp. Ins. Litigation, 2004 U.S. Dist. LEXIS 4454, 308 F.Supp. 2d 1253 (N.D. Ala. 2004)
Johnson v. Southern Energy Homes, Inc., 2005 U.S. Dist. LEXIS 28446, 391 F. Supp.2d 1118 (S.D. Ala. 2005)
Murphy v. Southern Energy Homes, Inc., 2007 U.S. Dist. LEXIS 52111 (M.D. Ala. July 18, 2007)
Southern Energy Homes, Inc. v. Nalley, 2000 Ala. LEXIS 561, 777 So. 2d 99 (Ala. 2000)
Ex parte Thicklin, 2002 Ala. LEXIS 11, 824 So. 2d 723 (Ala. 2002)
Ex parte Southern Energy Homes, Inc., 2003 Ala. LEXIS 206, 873 So. 2d 1116 (Ala. 2003)
Representative Clients:
Clayton Homes, Berkshire Hathaway HomeTown America

,

2019
Educational Background:
Law Degree, Cumberland School of Law, Samford University (Magna Cum Laude, Graduated 5th in class).

,

1993

University of Florida, B.A., Honors: With Honors, Honors: Graduated 6th in class

,

1989

University of Alabama, Birmingham Graduate School of Business, Post Graduate
Show More
W. Scott Simpson:
Last Updated: 9/3/2020