Christopher B. Dupont
Top rated Criminal Defense attorney in Phoenix, Arizona
Trautman Dupont PLC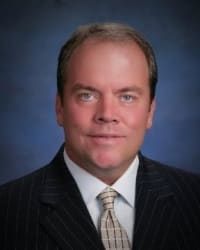 Trautman Dupont PLC
Practice Areas: Criminal Defense
Licensed in Arizona since: 1992
Education: The University of Arizona James E. Rogers College of Law

Selected to Super Lawyers: 2022 - 2024
Details
Christopher B. Dupont, an accomplished attorney, practices law at Trautman Dupont PLC, located in Phoenix, Arizona. With a diverse range of proficiency, he focuses entirely on criminal defense, serving clients throughout the Western United States.
In 1987, Mr. Dupont completed his undergraduate studies at DePauw University, securing a Bachelor of Arts degree. Motivated by his passion for justice, he pursued legal education at the University of Arizona College of Law and earned his Juris Doctor in 1991. Soon after, in 1992, he obtained his license to practice law in Arizona, embarking on his illustrious legal career.
Recognized for his unwavering dedication to upholding the principles of the legal field, Mr. Dupont has garnered numerous endorsements and accolades from his peers.  He has been invited to speak at numerous seminars on a wide range of criminal defense topics, and has represented institutional clients including two foreign governments.
Before joining Trautman Dupont PLC in 2006, Mr. Dupont gained valuable experience serving as the president of both the Arizona Attorneys for Criminal Justice and the Brain Injury Alliance of Arizona. These positions allowed him to hone his legal skills, expand his professional network, and deepen his understanding of critical issues in criminal defense and personal injury law.
Mr. Dupont's professional accomplishments over the years and vast experience make him an outstanding and trusted advocate for his clients. Through his commitment to justice and his impressive track record, he continues to make a significant impact in the legal field.
Practice areas
Criminal Defense
First Admitted: 1992, Arizona
Professional Webpage: https://www.linkedin.com/in/christopher-dupont-70143515/
Special Licenses/Certifications:
1983 - 1987 Emergency Medical Technician, Indiana.

,

1983

1992-Present. State Bar of Arizona, Bar Number 014158

,

1992

1993-2011 Arizona Attorneys for Criminal Justice.

,

1993

1993-Present United States District Court, District of Airzona.

,

1993

1998-2015 National Association of Criminal Defense Attorneys

,

1998

2001-Present Death Penalty Certified, State of Arizona

,

2001

United States Court of Appeals for the Ninth Circuit

,

2007

2018-Present Learned Counsel for Federal Death Penalty Cases pursuant the Criminal Justice Act.

,

2018
Pro bono/Community Service:
Salvation Army, Phoenix, AZ.Case ManagerCase manager at Family Crisis Shelter. Administered Title XX benefits to qualifying families. Provided family and vocational counseling, referred clients to appropriate social service agencies.,

1987

Salvation Army, Phoenix, AZ.Case ManagerCase manager at Family Crisis Shelter. Administered Title XX benefits to qualifying families. Provided family and vocational counseling, referred clients to appropriate social service agencies.,

1988

Project Due Process, Florence, Arizona Representative (Volunteer)Recruited and utilized Spanish language interpreters. Represented "Mariel" Cubans in immigration detention hearings.,

1989

Project Due Process, Florence, Arizona Representative (Volunteer)Recruited and utilized Spanish language interpreters. Represented "Mariel" Cubans in immigration detention hearings.,

1990

Southwest Behavioral Health Services, Phoenix, Arizona Counselor (Volunteer)Counseled dual diagnosis, homeless veterans on a weekly basis.,

2000

Southwest Behavioral Health Services, Phoenix, Arizona Counselor (Volunteer)Counseled dual diagnosis, homeless veterans on a weekly basis.,

2001

Southwest Behavioral Health Services, Phoenix, Arizona Counselor (Volunteer)Counseled dual diagnosis, homeless veterans on a weekly basis.,

2002
Educational Background:
DePauw University, Bachelor of Arts (B.A.), Sociology, Psychology, Public Administration

,

1987

The Orme School

,

1983
Honors/Awards:
Outstanding Service to the Cause of Criminal Justice

,

Presidential Commendation

,

Arizona Attorneys for Criminal Justice

,

1996

Outstanding Service to the Cause of Criminal Justice

,

Presidential Commendation

,

Arizona Attorneys for Criminal Justice

,

2003

Recognition for Outstanding Service to the Organization as President.

,

Presidential Service Award

,

Arizona Attorneys for Criminal Justice

,

2008

Outstanding Attorney 2010

,

Sisyphus Award

,

Mexican Capital Legal Assistance Program

,

2010

Super Lawyers directory is a selected list of top attorneys who exhibit excellence in the practice of law.  The directory is peer nominated and candidates are then reviewed pursuant a multi-phase selection process.  https://www.superlawyers.com/about/selection-process/

,

Super Lawyer

,

Super Lawyers

,

2022

Super Lawyers directory is a selected list of top attorneys who exhibit excellence in the practice of law.  The directory is peer nominated and candidates are then reviewed pursuant a multi-phase selection process.  https://www.superlawyers.com/about/selection-process/

,

Super Lawyers

,

Super Lawyers

,

2023
Scholarly Lectures/Writings:
Presentation of Evidence in Trial.

,

Presentation of Evidence in Trial

,

Yavapai County Public Defender

,

2008

Presenting Gang Evidence as Cultural Evolution."

,

Presenting Gang Evidence as Cultural Evolution

,

1st Annual Arizona Criminal Defense Community Free CLE Virtual Conference

,

2023

When Do Doctor Errors Become Criminal Medical Negligence?

,

When Do Doctor Errors Become Criminal Medical Negligence?

,

Arizona Chapter of the American Association of Legal Nurse Consultants

,

2019

National Public Radio Panel with Anne Chapman and Luis Fidel discussing impact litigation, selective enforcement and Religious Freedom Restoration Act.

,

National Public Radio Panel with Anne Chapman and Luis Fidel discussing impact litigation, selective enforcement and Religious Freedom Restoration Act.

,

No More Deaths and Phoenix Legal Action Network

,

2019

Working in the Community to Support Positive Social Change.

,

Working in the Community to Support Positive Social Change.

,

Paradise Valley Community College – President's Leadership Luncheon

,

2018

Interpreters and Translators During Auto Stops and Interviews.

,

Interpreters and Translators During Auto Stops and Interviews

,

National Association of Criminal Defense Attorneys; Defending the Modern Drug Case Seminar – Las Vegas, Nevada

,

2015

"Consular Assistance Issues: an Overview" "Representing Foreign Nationals: Developing Cultural Competence" "Working with the Mexican Consulate"

,

"Consular Assistance Issues: an Overview" "Representing Foreign Nationals: Developing Cultural Competence" "Working with the Mexican Consulate"

,

Washoe County Public Defender

,

2015

"Beyond McCleskey: The Issue of Race in Capital Litigation" - with Mark Warren.  "Litigating False Confessions with an eye toward cultural and linguistic realities and challenges" - with Marc Bookman.

,

"Beyond McCleskey: The Issue of Race in Capital Litigation" - with Mark Warren.  "Litigating False Confessions with an eye toward cultural and linguistic realities and challenges" - with Marc Bookman.

,

Mexican Capital Legal Assistance Program

,

2013

Representing Foreign Nationals in Capital Cases:  The Perspective of Mexican Capital Legal Assistance Program

,

Representing Foreign Nationals in Capital Cases: The Perspective of Mexican Capital Legal Assistance Program

,

Arizona Public Defender Association

,

2012

Securing Testimony of Foreign National Witnesses.

,

Securing Testimony of Foreign National Witnesses

,

Mexican Capital Legal Assistance Program

,

2011

"Treaty Compliance Litigation:  Legal Issues and Practical Implications."  "Cultural Competence:  Racial and Cultural Issues in Representation of Mexican Nationals."  "Working with the Mexican Consulate:  Structure and Resources."

,

"Treaty Compliance Litigation: Legal Issues and Practical Implications." "Cultural Competence: Racial and Cultural Issues in Representation of Mexican Nationals." "Working with the Mexican Consulate: Structure and Resources."

,

Washoe County Public Defender

,

2011

"Treaty Compliance Litigation:  Legal Issues and Practical Implications."  "Cultural Competence:  Racial and Cultural Issues in Representation of Mexican Nationals."  "Working with the Mexican Consulate:  Structure and Resources."

,

"Treaty Compliance Litigation: Legal Issues and Practical Implications." "Cultural Competence: Racial and Cultural Issues in Representation of Mexican Nationals." "Working with the Mexican Consulate: Structure and Resources."

,

Clarke County Public Defender

,

2011

Using International Treaties to Their Full Effect

,

Using International Treaties to Their Full Effect

,

Mexican Capital Legal Assistance Program

,

2010

Expanding the Team:  Working Effectively with Consulates and Defense Teams

,

Expanding the Team: Working Effectively with Consulates and Defense Teams

,

Mexican Capital Legal Assistance Program

,

2010

Working with the Mexican Consulate

,

Working with the Mexican Consulate

,

Maricopa County Public Defender

,

2010

MCLAP Issues

,

MCLAP Issues

,

Arizona Public Defender Association

,

2010

Faculty consultant for Bring you Own Case sessions during three-day conference

,

Addressing Racial and Cultural Issues at All Stages

,

Arizona Capital Representation Project

,

2010

Justification and Self-Defense

,

Justification and Self-Defense

,

Arizona Public Defender Association

,

2009

Mexican Nationals Facing the Death Penalty

,

Mexican Nationals Facing the Death Penalty

,

Arizona Public Defender Association

,

2009

Criminal Trial Start to Finnish

,

Criminal Trial Start to Finnish

,

National Business Institute

,

2009

opinion piece critical of Maricopa County Andrew Thomas position on the death penalty.  [Andrew Thomas was subsequently disbarred by the Arizona Supreme Court]

,

My Turn

,

Arizona Republic

,

2007

Protecting the Undocumented Witness

,

Protecting the Undocumented Witness

,

Mexican Capital Legal Assistance Program – National Attorney Conference

,

2008

Panel Moderator

,

Ethical Dilemmas in Disclosure of Mitigation Materials

,

Arizona Public Defender Association

,

2008

Cultural and Language Issues in Arizona Superior Courts.

,

Cultural and Language Issues in Arizona Superior Courts.

,

Maricopa County Justice Center

,

2008

Co-presented with Consul General Carlos Flores Vizcarro, Consulate of Mexico

,

International Perspective

,

Arizona Death Penalty Forum

,

2008

Addressing Language and Cultural Barriers.

,

Addressing Language and Cultural Barriers.

,

Mexican Capital Legal Assistance Program

,

2008

Panel Presentation - Ethics

,

Making a Difference as a Defense Attorney.

,

Arizona Public Defenders Association

,

2007

Alternative Discovery: Federal Discovery in State Court Proceedings.

,

Alternative Discovery: Federal Discovery in State Court Proceedings.

,

Arizona Attorneys for Criminal Justice

,

2007

Powerful Presentation of Evidence in Criminal Litigation

,

Powerful Presentation of Evidence in Criminal Litigation

,

Arizona Attorneys for Criminal Justice

,

2006

Panel Presentation

,

Current Death Penalty Issues from Recent Cases

,

Maricopa County Public Defender Death Penalty Seminar

,

2004

Powerful Presentation of Evidence in Civil Litigation.

,

Powerful Presentation of Evidence in Civil Litigation.

,

National Business Institute

,

2004

Co-Author with Larry Hammond

,

Capital Case Crisis in Maricopa County Arizona; A Response from the Defense

,

Judicature

,

2012

This report summarized the scope, methodology and findings of the first comprehensive study into the impact of race, ethnicity and Mexican nationality on death penalty decision-making in two major Arizona counties.  My role in this project was to recruit and supervise the research team, coordinate strategic decisions, design the data collection instrument, recruit and supervise data coders consistent with accepted standards for multivariate regression analysis, then draft and edit sections of the final and summary reports.  Presented to the Mexican Foreign Ministry with Mark Warren in Santa Fe, New Mexico.

,

DEATH PENALTY DECISION MAKING IN TWO ARIZONA COUNTIES: A Report Of Findings Produced for: The Mexican Capital Legal Assistance Program (MCLAP)

,

Unpublished Report

,

2015

Safi, D. E., Dupont, C., Degrati, C., & Kuykendall, G. (Accepted for upcoming Publication),

). Intellectual Developmental Disorder Among Spanish Speaking Capital Defendants

,

The American Journal of Forensic Psychology

,

2023
Office location for Christopher B. Dupont
PO Box 431
Phoenix, AZ 85001
Phone: 602-836-4080
Selections
Super Lawyers: 2022 - 2024
Additional sources of information about Christopher B. Dupont
Attorney resources for Christopher B. Dupont