Roger L. Cohen
Top rated Business Litigation attorney in Phoenix, Arizona
Jaburg | Wilk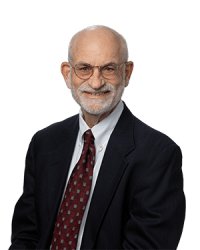 Jaburg | Wilk
Practice Areas: Business Litigation, Appellate, Business & Corporate
Licensed in Arizona since: 1976
Education: The George Washington University Law School

Selected to Super Lawyers: 2012 - 2023
Details
Roger Cohen has over 40 years' experience as a business attorney, representing clients in both litigation and transactions.  He has a deep knowledge and understanding of commercial law and the litigation process and is a forceful and effective advocate for his clients. Roger's experience as a transactional attorney adds value in the litigation setting, as he can relate the documentation process to issues that arise in business and commercial disputes. Conversely, his knowledge and skill as a litigator affords him an advantage in negotiating and drafting settlement agreements with maximum protections to his clients.  This unique blend of expertise is particularly useful in workout representation.
He has long-standing relationships with business clients in a variety of industries, providing business counseling, transactional assistance and litigation services. For over 30 years, he has represented an independent escrow company, successfully defending numerous claims asserting alleged breaches of contract and fiduciary duties.  He acted as Arizona lead counsel in an 18-year multiple state legal battle arising out of a jojoba investment scheme, and was litigation counsel for the receiver of a group of lenders taken over as the result of a Ponzi scheme investigation.  Roger has obtained favorable results, through trial or settlement, for clients in a variety of matters, including legal and accounting malpractice, shareholder and partner disputes, employment contract and restrictive covenant disputes, bankruptcy adversary proceedings, and complex collections.  
Roger has published articles and spoken on a variety of topics, including the Arizona homestead and judgment lien statutes, Uniform Commercial Code Articles 2 (sales) and 9 (secured transactions), attorney conflicts and misconduct, bankruptcy appeals, and civil procedure. His articles "Foreign Judgments and Community Property" was published in Arizona Attorney in November, 2009 and he co-authored "The Top 50 Leading Cases that Shaped Life and Law in Arizona's First 100 Years" published in Arizona Attorney in February 2012.  He is co-author of a chapter of the recent Thompson Reuters publication, Inside the Minds: Strategies for Consumer Bankruptcy Appeals. 
First Admitted: 1975, California
Professional Webpage: http://www.jaburgwilk.com/attorneys/roger-l-cohen.aspx
Honors/Awards:
Rated AV Preeminent by Martindale-Hubbell 

,

Martindale-Hubbell

Best Lawyers in America- Business Organizations (including LLCs and Partnerships), 2016, 2017, 2018, 2019, 2020, 2021, 2022, 2023, 2024

,

Best Lawyers in America
Other Outstanding Achievements:
Published Cases: Phares v. Nutter, 125 Ariz. 291, 609 P.2d 561 (Ariz. Supreme Court 1980) (established right to debtor to seek relief from judgment registered under the Uniform Enforcement of Foreign Judgments Act)Corporate Inv. Business Brokers v. Melcher, 824 F.2d 786 (9th Cir. 1987) (reversing District Court and holding that Colorado franchisee was subject to jurisdiction in Arizona in suit brought by franchisor)Mid Kansas Federal Sav. and Loan Ass'n of Wichita v. Dynamic Development Corp., 167 Ariz. 122, 804 P.2d 1310 (Ariz. Supreme Court 1991) (counsel for amicus curiae Southwest Savings & Loan Assoc.)Matter of Estate of Ryan, 187 Ariz. 311, 928 P.2d 735 (Ariz. App. 1996); In re Krohn, 203 Ariz. 205, 52 P.3d 774 (Ariz. App. 2002) (counsel for amicus curiae Arizona Trustee Association, Inc.)Case Corp. v. Gehrke, 208 Ariz. 140, 91 P.3d 362 (Ariz. App. 2004)Anderson v. Contes, 212 Ariz. 122, 128 P.3d 239 (Ariz. App. 2006)Austin Shea (Arizona) 7th Street and Van Buren, L.L.C. v. City of Phoenix, 213 Ariz. 385, 142 P.3d 693 (Ariz. App. 2006)Rackmaster Systems, Inc. v. Maderia, 219 Ariz. 60, 193 P.3d 314 (Ariz. App. 2008); BT Capital, LLC v. Point Center Financial, Inc., No. 1 CA=CIV 10-0450, __ Ariz. __, __ P.3d __ (Ariz. App. 2011)
Pro bono/Community Service:
Past President, Temple Kol Ami

Board of Directors, Camp Swift Youth Foundation
Bar/Professional Activity:
Former Member, Fee Arbitration Committee, State Bar of Arizona

Master of the Bench, Horace Rumpole Inn of Court

Substitute Lecturer, Sandra Day O'Connor College of Law

,

2011

Member, Law Review Committee, Arizona State Board of Accountancy

,

2009
Educational Background:
B.A., cum laude, Claremont McKenna College

,

1972

J.D., with honors, Order of the Coif, George Washington University Law School

,

1975
Scholarly Lectures/Writings:
Co-Author

,

Foreign Judgements & Community Property

,

Arizona Attorney

,

2009

"Preserving the Family Farm in an Urban Age: Recent Changes to the Arizona Judgment Lien and Homestead Statutes," Arizona Attorney, September 1997

,

Co-Author

,

1997

The Top 50 Leading Cases That Shaped Life and Law in Arizona's First 100 Years

,

Arizona Attorney

,

2012
White Papers:
JW Way Fundamental #8: Act with Integrity "Demonstrate an unwavering commitment to doing the right thing in every action you take and in every decision you make. Own up to your own mistakes and apologize. If you make a mistake, clean it up."  We live in integrity-challenged times.  It sometimes seems that the people with the least integrity, those who disregard the truth, blame everyone but themselves for their failures, and exalt their self-interest over all other considerations, are the ones who get ahead.  So, do we have to accept and join in that approach to life?  Let's hope not. If the JW Way means anything, it is that we reject that approach, regardless of the evidence of success. To act with integrity means to be scrupulously honest – even where no one would recognize a lie; to avoid blaming others for one's own mistakes; and to refrain from bullying and gamesmanship in our dealings with opposing parties and their attorneys. Or simply to do the right thing. These concepts are not new, and it takes only a few examples to recognize the concept and the rationale for integrity:  "There is no such thing as a minor lapse of integrity." – Tom Peters "Real integrity is doing the right thing, knowing that nobody's going to know whether you did it or not." – Oprah Winfrey "If you tell the truth you don't have to remember anything." – Mark Twain And a little folksy saying: Lead your life so you wouldn't be ashamed to sell the family parrot to the town gossip." – Will Rogers,

What it Means to Act with Integrity

,

2019

JW Way Fundamental #25: Candidly discuss, then align  "Healthy, respectful discussion creates better solutions. Discuss concepts without personal attacks. Check your ego and search for the best solution rather than proving you are right. Once a decision is made, be fully aligned and completely supportive of it. " As the Rolling Stones say, "You can't always get what you want . . . "This concept may be the essence of being in a firm or a relationship of any kind. To be part of the group, one must necessarily cede independence in exchange for the benefits that flow from joint effort and collaboration. In the context of a group of lawyers – particularly a group, such as ours, that includes a variety of strong personalities and experienced professionals – there is a need to balance the desire to get one's own way against the need for unity and common purpose. The principle, which expands on the need to balance professional independence and consistency, incorporates a number of the Fundamentals, including speak constructively, listen fully, demonstrate respect, leave your ego at the door and even don't take yourself too seriously. In practice, it means that, while there is room for debate about a host of issues, at the end of the day, we need to pull together and act as a team, and with a common voice. And remember: "If you try sometimes, you just might find, you get what you need." – Rolling Stones,

You Can't Always Get What You Want

,

2019

JW Way Fundamental #6: Be passionate about the client experience  "Make each client interaction memorable for its warmth, thoughtfulness, and helpfulness.  Create wow experiences,  Be obsessive about response time and keeping clients informed." This fundamental speaks to us on two distinct levels.  First, it teaches the importance of identifying with the client's experience, which is a key component of the JW Way, as reflected in our other Fundamentals - Treat client's money as your own, Walk in your client's shoes, Listen fully, Manage and clarify expectations, and Communicate to be understood.  In this sense, this fundamental encapsulates one of the overriding themes of the JW Way – that we are in the business of serving clients. Another way to look at this fundamental is to focus on the introductory phrase – Be passionate about the client experience. Considered from this perspective, the fundamental is about us, and the enthusiasm and devotion we bring to the practice of law.  It is one thing to care about our clients; it is another thing entirely to be passionate about the lawyering process. While the former is clearly a necessary component of what we do, the latter is what separates the pedestrian from the exceptional.  While certain aspects of the JW Way, including the direction to take the high road when dealing with jerks, may be a source of stress, each of us should strive to avoid simply going through the motions, and should actively seek to inject enthusiasm and passion into everything we do.  Clients certainly sense and respond to their lawyer's level of emotional involvement, which is one reason that some not very good lawyers have many clients.  When coupled with a commitment to excellent service, a passionate involvement in the client experience can be expected to lead to favorable results for both lawyer and client.,

What Separates the Pedestrian from the Exceptional

,

2019
Selections
Super Lawyers: 2012 - 2023
Additional sources of information about Roger L. Cohen
Attorney resources for Roger L. Cohen