Ariel Sosna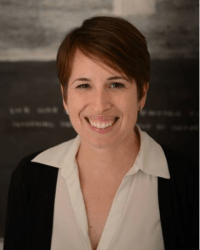 Attorney Profile
Top Rated Family Law Attorney in San Francisco, CA
Phone: 415-579-3162
Fax: 415-872-1486
Selected To Super Lawyers:
2019 - 2020
Selected To Rising Stars:
2009 - 2018
Attorney Profile
Ariel Sosna is a founding partner of Van Voorhis & Sosna, LLP, a San Francisco law firm dedicated exclusively to resolving family law matters for clients throughout the Bay Area. Ms. Sosna's practice at the firm focuses on divorce (including complex property allocation and division), child custody, parentage (paternity), child support and spousal support, arrears issues, domestic partnerships, and prenuptial agreements. In addition, she regularly serves as a reviewing attorney for mediated agreements.
Ms. Sosna received her J.D., with a concentration in family law, from U.C. Hastings School of the Law and her B.A. in Psychology from U.C. Berkeley. She currently co-authors the column, "Family Law Corner," published monthly in The Bar Association of San Francisco Bulletin and is an active member of several professional organizations. Ms. Sosna previously worked at the San Francisco Superior Court Family Law Facilitator's Office, the Law Center for Families (assisting with the Deaf Women's Legal Project), and the Center for Families, Children and the Courts, a division of the Administrative Office of the Courts. Ms. Sosna is one of only a small percentage of California attorneys who have been certified as specialists in family law by the State Bar of California Board of Legal Specialization. 
Practice Areas
Focus Areas
Alimony & Spousal Support, Child Support, Custody & Visitation, Dissolution, Divorce, Paternity, Prenuptial Agreements, Same Sex Family Law
Selections
Super Lawyers: 2019 - 2020 Rising Stars: 2009 - 2018
Certificates and Credentials
Email Me
To: Ariel Sosna
Super Lawyers: Potential Client Inquiry
Additional Sources of Information About Ariel Sosna
About Ariel Sosna
Admitted: 2007, California
Professional Webpage: https://www.vsfamlaw.com/ariel-sosna.html
Honors/Awards:
Dan Bradley Fellowship

Pro Bono Publico Award and Public Interest Law Certificate
Special Licenses/Certifications:
Certified Specialist, Family Law, State Bar of California Board of Legal Specialization
Bar/Professional Activity:
State of California

,

2007

Queen's Bench Member

American Bar Association, Family Law Section

Co-Chair, Barristers Club, San Francisco Bar Association, Family Law Section

State Bar of California, Family Law Section
Scholarly Lectures/Writings:
Co-Author

,

Family Law Corner: "Keep Up With Your Divorce, or Kick it to the Curb," Judge Tells Kardashian Sister

, The Bar Association of San Francisco Bulletin, Volume 11, Number 12,

2014

Co-Author

,

Family Law Corner: Primetime Prenuptial Signed in Duress

, The Bar Association of San Francisco Bulletin: Volume 7, Number 3,

2012

Co-Author

,

Family Law Corner: 325K in Unpaid Spousal Support to Pay Leaves ''Hustle & Flow'' Star Strapped for Legal Options

, The Bar Association of San Francisco Bulletin, Volume 12, Number 1,

2015

Co-Author

,

Family Law Corner: Parenting Problems Played Out in Custody Case

, The Bar Association of San Francisco Bulletin: Volume 7, Number 4,

2012

Co-Author

,

Barrister Club Involvement Leads to Founding of a Firm

, The Bar Association of San Francisco Bulletin: Volume 4, Number 12,

2009

Co-Author

,

Family Law Corner: Footballer Ex-Wife's Contempt Defense Calls in Devine Interception (of Jurisdiction)

, The Bar Association of San Francisco Bulletin, Volume 12, Number 2,

2015

Co-Author

,

Family Law Corner: Wrestling Out of a Relationship

, The Bar Association of San Francisco Bulletin: Volume 7, Number 5,

2012

Co-Author

,

Family Law Corner: R&B Singer Usher Seeking Sole Custody? Not So Fast

, The Bar Association of San Francisco Bulletin: Volume 7, Number1,

2012

Co-Author

,

Family Law Corner: Ludacris' Ludicrous Custody Battle

, The Bar Association of San Francisco Bulletin, Volume 12, Number 3,

2015

Co-Author

,

Family Law Corner: Come to My Window, Unless You're My Ex-Domestic Partner and Want More Child/Partner Support

, The Bar Association of San Francisco Bulletin: Volume 7, Number 6,

2012

Co-Author

,

Family Law Corner: Keeping Up With Khloe's Divorce

, The Bar Association of San Francisco Bulletin, Volume 12, Number 12,

2015

Co-Author

,

Family Law Corner: How Will Baywach Beauty Spot Her Date of Separation With So Many Reconciliations on the Horizon?

, The Bar Association of San Francisco Bulletin, Volume 12, Number 4,

2015

Co-Author

,

Family Law Corner: Non-Payment of Child Support Results in Stiff Penalties

, The Bar Association of San Francisco Bulletin: Volume 7, Number 7,

2012

Co-Author

,

Family Law Corner: The 4 Year Name Change- Why'd He Have to Go and Make Things So Complicated?

, The Bar Association of San Francisco Bulletin: Volume 11, Number 8,

2014

Co-Author

,

Family Law Corner: Fearing Spousal Support Request, TV D-Lister Tells Wife Her Acting is an F

, The Bar Association of San Francisco Bulletin, Volume 12, Number 5,

2015

Co-Author

,

Family Law Corner: Tom Cruise and Katie Holmes Divorce Court. Will It Be California or New York?

, The Bar Association of San Francisco Bulletin: Volume 7, Number 8,

2012

Co-Author

,

Family Law Corner: Marriage for More Than Ten Years is Key in Kobe's Divorce

, The Bar Association of San Francisco Bulletin: Volume 7, Number 2,

2012

Co-Author

,

Family Law Corner: Court to Judge Whether Celeb Chef's Prenup Cooks Up Fair Portions

, The Bar Association of San Francisco Bulletin, Volume 12, Number 6,

2015

Co-Author

,

Family Law Corner: Difference Between Legal Separation and Divorce - a 'Real Housewives' Breakdown

, The Bar Association of San Francisco Bulletin: Volume 9, Number 9,

2012

Co-Author

,

Family Law Corner: Custody Battle, Visas and Gossip, Oh My!

, The Bar Association of San Francisco Bulletin: Volume 9, Number 10,

2012

Co-Author

,

Family Law Corner: Dashing for Divorce

, The Bar Association of San Francisco Bulletin: Volume 6, Number 12,

2011

Co-Author

,

Family Law Corner: Surrogate on the Hook for Child Support? The View from Pennsylvania Says No

, The Bar Association of San Francisco Bulletin, Volume 13, Number 1,

2016

Co-Author

,

Family Law Corner: Can Money Buy a Decision

, The Bar Association of San Francisco Bulletin: Volume 9, Number 11,

2012

Co-Author

,

Family Law Corner: One Journey to Divorce

, The Bar Association of San Francisco Bulletin: Volume 6, Number 11,

2011

Co-Author

,

Family Law Corner: Divorce is the (Peach) Pits for Former Beverly Hills 90210 Actor

, The Bar Association of San Francisco Bulletin, Volume 12, Number 11,

2015

Co-Author

,

Family Law Corner: Dude, Where's My Wife?

, The Bar Association of San Francisco Bulletin: Volume 9, Number 12,

2012

Co-Author

,

Family Law Corner: Real Housewives, Real Problems

, The Bar Association of San Francisco Bulletin: Volume 6, Number 10,

2011

Co-Author

,

Family Law Corner: Orange Might be the New Green for Actor's Soon to be Ex-Wife

, The Bar Association of San Francisco Bulletin, Volume 12, Number 10,

2015

Co-Author

,

Family Law Corner: How One Becomes a Legal Stranger to Their Own Child

, The Bar Association of San Francisco Bulletin: Volume 10, Number 1,

2013

Co-Author

,

Family Law Corner: Reading [the Tabloids] Between the Lines

, The Bar Association of San Francisco Bulletin: Volume 6, Number 9,

2011

Co-Author

,

Family Law Corner: Custody Battle Escalates as Question of Jurisdiction Lingers

, The Bar Association of San Francisco Bulletin, Volume 12, Number 9,

2015

Co-Author

,

Family Law Corner: Who's Your Daddy?

, The Bar Association of San Francisco Bulletin: Volume 10, Number 2,

2013

Co-Author

,

Family Law Corner: Kiss Your Money Goodbye?

, The Bar Association of San Francisco Bulletin: Volume 6, Number 8,

2011

Co-Author

,

Family Law Corner: Jurisdictional Jetlag for the Jetset

, The Bar Association of San Francisco Bulletin, Volume 12, Number 8,

2015

Co-Author

,

Family Law Corner: Real Housewives Sans Spouse or House

, The Bar Association of San Francisco Bulletin: Volume 10, Number 3,

2013

Co-Author

,

Family Law Corner: Arnold's Judgment Day

, The Bar Association of San Francisco Bulletin: Volume 6, Number 7,

2011

Co-Author

,

Family Law Corner: The View Isn't so Rosie: Drug Testing Requested in O'Donnell's Custody Battle

, The Bar Association of San Francisco Bulletin, Volume 12, Number 7,

2015

Co-Author

,

Family Law Corner: Divorce by Twilight, A Story About Summary Dissolution

, The Bar Association of San Francisco Bulletin: Volume 10, Number 4,

2013

Co-Author

,

Family Law Corner: Major League Problems

, The Bar Association of San Francisco Bulletin: Volume 6, Number 6,

2011

Co-Author

,

Family Law Corner: Mama Don't Preach: Madonna's Custody Battle Takes Center Stage

, The Bar Association of San Francisco Bulletin, Volume 13, Number 2,

2016

Co-Author

,

Family Law Corner: Can Caan Be Forced to Work?

, The Bar Association of San Francisco Bulletin, Volume 13, Number 3,

2016

Co-Author

,

Family Law Corner: Can the Uniform Parentage Act Prevent More Paternity Drama for the Kardashians?

, The Bar Association of San Francisco Bulletin: Volume 10, Number 5,

2013

Co-Author

,

Family Law Corner: "Winning" Isn't Everything in Custody Battle

, The Bar Association of San Francisco Bulletin:Volume 6, Number 5,

2011

Co-Author

,

Family Law Corner: O'Reilly Didn't Factor This In

, The Bar Association of San Francisco Bulletin, Volume 13, Number 4,

2016

Co-Author

,

Family Law Corner: Is Keeping Ex-Wife Off Reality TV a Motive in Steve Nash's Objection?

, The Bar Association of San Francisco Bulletin: Volume 10, Number 6,

2013

Co-Author

,

Family Law Corner: Quickie Divorce? Not So Quick!

, The Bar Association of San Francisco Bulletin: Volume 6, Number 4,

2011

Co-Author

,

Family Law Corner: How "California Love" and Marriage Differs from North Carolina

, The Bar Association of San Francisco Bulletin, Volume 13, Number 5,

2016

Co-Author

,

Family Law Corner: End of Romance Can Signal Start of Litigation When Pricey Engagement Ring is at Stake

, The Bar Association of San Francisco Bulletin: Volume 10, Number 7,

2013

Co-Author

,

Family Law Corner: Mega Millions, Mega Problems?

, The Bar Association of San Francisco Bulletin: Volume 6, Number 3,

2011

Co-Author

,

Family Law Corner: Charlie Sheen Needs "Two and a Half Men" to Pay His Child Support

, The Bar Association of San Francisco Bulletin, Volume 13, Number 6,

2016

Co-Author

,

Family Law Corner: Court Has Widest Discretion to Choose Parenting Plan for Former

, The Bar Association of San Francisco Bulletin: Volume 10, Number 8,

2013

Co-Author

,

Family Law Corner: Hacker Husband

, The Bar Association of San Francisco Bulletin: Volume 6, Number 2,

2011

Co-Author

,

Family Law Corner: Through the Looking Glass of the Depp-Heard Marriage

, The Bar Association of San Francisco Bulletin, Volume 13, Number 7,

2016

Co-Author

,

Family Law Corner: Short Order Divorce for Famous Cook

, The Bar Association of San Francisco Bulletin: Volume 10, Number 9,

2013

Co-Author

,

Family Law Corner: Spurred Romance?

, The Bar Association of San Francisco Bulletin: Volume 6, Number 1,

2011

Co-Author

,

Family Law Corner: Caught in a Trap: Presley's Fiduciary Dilemma

, The Bar Association of San Francisco Bulletin, Volume 13, Number 8,

2016

Co-Author

,

Family Law Corner: Tax Deductible Spousal Support Cause Glee

, The Bar Association of San Francisco Bulletin: Volume 10, Number 10,

2013

Co-Author

,

Family Law Corner: How 28 days can cost $10.25 million

, The Bar Association of San Francisco Bulletin: Volume 5, Number 12,

2010

Co-Author

,

Family Law Corner: Mad Mel?

, The Bar Association of San Francisco Bulletin: Volume 5, Number 11,

2010

Co-Author

,

Family Law Corner: Cobain to Husband: "Nevermind" the Guitar

, The Bar Association of San Francisco Bulletin, Volume 13, Number 9,

2016

Co-Author

,

Family Law Corner: Contentious Divorce Gets Even More Heated

, The Bar Association of San Francisco Bulletin: Volume 10, Number 11,

2013

Co-Author

,

Family Law Corner: Custody Chaos

, The Bar Association of San Francisco Bulletin: Volume 5, Number 10,

2010

Co-Author

,

Family Law Corner: No Limits? Master P Has Children Petition Court

, The Bar Association of San Francisco Bulletin, Volume 13, Number 10,

2016

Co-Author

,

Family Law Corner: Ex-Wife Calls Foul on Ex-Husbands Spending

, The Bar Association of San Francisco Bulletin: Volume 10, Number 12,

2013

Co-Author

,

Family Law Corner: Is Greed Good?

, The Bar Association of San Francisco Bulletin: Volume 5, Number 9,

2010

Co-Author

,

Family Law Corner: Brangelina, Interrupted

, The Bar Association of San Francisco Bulletin, Volume 13, Number 11,

2016

Co-Author

,

Family Law Corner: Bode Miller Case Raises Question of Rights of Pregnant Women

, The Bar Association of San Francisco Bulletin: Volume 11, Number 1,

2014

Co-Author

,

Family Law Corner: Bay Area Tax Attorney Obtains Ground-Breaking Private Letter Ruling for Gay Couples

, The Bar Association of San Francisco Bulletin: Volume 5, Number 8,

2010

Co-Author

,

Family Law Corner: With a Little Bit of Patience, Slash's Wife Looks to Win Divorce Argument

, The Bar Association of San Francisco Bulletin, Volume 13, Number 12,

2016

Co-Author

,

Family Law Corner: Child Support Arrears May Add Up to Felony Time? You Betcha, Levi!

, The Bar Association of San Francisco Bulletin: Volume 11, Number 2,

2014

Co-Author

,

Family Law Corner: Custody Battles with a Twist

, The Bar Association of San Francisco Bulletin: Volume 5, Number 7,

2010

Co-Author

,

Family Law Corner: Jolie Seeks to Break the Rules of Fight Club: Making Private Agreements Public

, The Bar Association of San Francisco Bulletin, Volume 14, Number 1,

2017

Co-Author

,

Family Law Corner: Judge Veers Over Two and a Half Times Under Guideline Calculations in Child Support Order

, The Bar Association of San Francisco Bulletin: Volume 11, Number 3,

2014

Co-Author

,

Family Law Corner: Is Post Nuptial Agreement King?

, The Bar Association of San Francisco Bulletin: Volume 5, Number 6,

2010

Co-Author

,

Family Law Corner: Fear and Loathing in Depp's Divorce

, The Bar Association of San Francisco Bulletin, Volume 14, Number 2,

2017

Co-Author

,

Family Law Corner: Real Housewife Might be Out of Touch with QDRO Reality

, The Bar Association of San Francisco Bulletin: Volume 11, Number 4,

2014

Co-Author

,

Family Law Corner: Step-Parents Custodial Rights

, The Bar Association of San Francisco Bulletin: Volume 5, Number 5,

2010

Co-Author

,

Family Law Corner: Real Housewife Has Real Problem with Estate Planning Attorney

, The Bar Association of San Francisco Bulletin, Volume 14, Number 3,

2017

Co-Author

,

Family Law Corner: Every Dog Has Its Day... In Court

, The Bar Association of San Francisco Bulletin: Volume 11, Number 5,

2014

Co-Author

,

Family Law Corner: Family Law Corner: Bethenny Frankel: Skinnygirl Writes Fat Check

, The Bar Association of San Francisco Bulletin: Volume 11, Number 6,

2014

Co-Author

,

Family Law Corner: International Parental Abduction Cases

, The Bar Association of San Francisco Bulletin: Volume 5, Number 4,

2010

Co-Author

,

Family Law Corner: Political Drama No Match for Biden Family Domestic Drama

, The Bar Association of San Francisco Bulletin, Volume 14, Number 4,

2017

Co-Author

,

Family Law Corner: Shepherd: The View of My Divorce Does Not Look Pretty

, The Bar Association of San Francisco Bulletin: Volume 11, Number 7,

2014

Co-Author

,

Family Law Corner: If he's not my dad, then who is he?

, The Bar Association of San Francisco Bulletin: Volume 5, Number 3,

2010

Co-Author

,

Family Law Corner: The Reality is You Can't Always Get What You Want

, The Bar Association of San Francisco Bulletin, Volume 14, Number 5,

2017

Co-Author

,

Family Law Corner: Differing "Views" on Surrogacy

, The Bar Association of San Francisco Bulletin: Volume 11, Number 9,

2014

Co-Author

,

Family Law Corner: Retirement isn't what it used to be

, The Bar Association of San Francisco Bulletin: Volume 5, Number 2,

2010

Co-Author

,

Family Law Corner: Online Personas Cause Custody Repercussions

, The Bar Association of San Francisco Bulletin, Volume 14, Number 6,

2017

Co-Author

,

Family Law Corner: No Cameras, Mouth Running or YouTube as Diva Carey Asks Husband for Divorce Confidentiality

, The Bar Association of San Francisco Bulletin, Volume 11, Number 10,

2014

Co-Author

,

Family Law Corner: The Physician-Patient Privilege and the Constitutional Right to Privacy is Not Absolute: Your Child's Best Interest Comes First

, The Bar Association of San Francisco Bulletin: Volume 5, Number 1,

2010

Co-Author

,

Family Law Corner: Show Me... Divorce-Related Lawsuits: Steve Harvey's Family Feud

, The Bar Association of San Francisco Bulletin, Volume 14, Number 7,

2017

Co-Author

,

Family Law Corner: "Modern Family's" Modern Drama

, The Bar Association of San Francisco Bulletin, Volume 11, Number 11,

2014

Co-Author

,

Family Law Corner: Marriage for More Than Ten Years is Key in Kobe's Divorce

, The Bar Association of San Francisco Bulletin: Volume 7, Number 2,

2012
Educational Background:
U.C. Berkeley, B.A. in Psychology

,

2000
Show More
Ariel Sosna:
Last Updated: 2/19/2020