« Back to Results
Andre Boniadi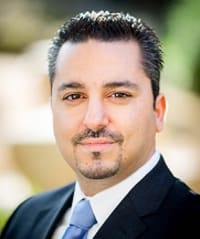 Attorney Profile
Top Rated Business Litigation Attorney in Encino, CA
Phone: 818-986-9100
Fax: 818-986-9119
Selected To Rising Stars:
2016 - 2021
Practice Areas:
Business Litigation (30%),
Personal Injury - General: Plaintiff (20%),
Real Estate: Business (20%),
Business/Corporate (10%),
Civil Litigation: Plaintiff (10%),
Creditor Debtor Rights: Consumer (10%)
Attorney Profile
An associate attorney at Beitchman & Zekian, PC, Andre Boniadi represents clients in Los Angeles and all of Southern California. His practice covers a wide range of legal areas, including the following: landlord-tenant disputes, arbitration and mediation, civil litigation, trial and appeal, business and corporate law, debtor-creditor relations, contract negotiation, drafting and litigation, premises liability, products liability, and other personal injury cases.
Licensed to practice law for almost a decade, Mr. Boniadi handled civil matters for the Los Angeles City Attorney's Office in the Civil Liabilities Division. Before joining the firm, he also gained valuable experience with an office that focuses on debtor-creditor matters such as judgment enforcement. He is fluent in both Armenian and English, which allows him to extend his services to people of different cultures and walks of life.
Mr. Boniadi is admitted to practice in the state of California. He is also admitted to practice before the United States District Court for the Northern District of California, the United States District Court for the Southern District of California, the United States District Court for the Eastern District of California and the United States District Court for the Central District of California.
In 2006, Mr. Boniadi graduated from the University of California, San Diego, with a Bachelor of Arts in political science and a minor in economics. He then moved on to Southwestern Law School, where he graduated with his Juris Doctor in 2009. Since then he has proven his ability in many complex cases of intellectual property, legal malpractice, insurance bad faith, and trademark and copyright litigation.
Practice Areas
30%

Business Litigation

20%

Personal Injury - General: Plaintiff

20%

Real Estate: Business

10%

Business/Corporate

10%

Civil Litigation: Plaintiff

10%

Creditor Debtor Rights: Consumer
Focus Areas
Personal Injury - Plaintiff
Selections


Rising Stars: 2016 - 2021
Email Me
To: Andre Boniadi
Super Lawyers: Potential Client Inquiry
Additional Sources of Information About Andre Boniadi
About Andre Boniadi
Admitted: 2009, California
Professional Webpage: https://www.bzlegal.com/team/andre-boniadi/
Bar/Professional Activity:
California, 2009, U.S. District Court Central District of California, 2009, U.S. District Court Eastern District of California, 2009, U.S. District Court Southern District of California, 2009, U.S. District Court Northern District of California, 2009
Verdicts/Settlements:
Real Property and Contract Litigation – Elyakim v. Wizman Client was sued by real estate developer for breach of a settlement agreement and breach of a promissory note issued by Client to the developer. Developer sought more than $2,000,000 in damages. Client counter-sued developer for his breaches of contract and to declare the promissory note unenforceable. After several months of contentious litigation, the case proceeded to Trial. After a 5-day Trial, we obtained a complete victory and obtained an estimated $100,000 judgment for attorneys' fees against the developer for bringing the lawsuit. After a Trial victory, developer filed an Appeal to challenge the Trial Court's decision. We successfully represented Client throughout the entire Appeal and obtained a judgment affirming the Trial Court's decision

Real Property Litigation – Mota v. Paladins Sellers of residential real property sold to our Client in late 2013. After taking possession but before finalizing the sale and/or loan funding, and unbeknownst to Client, sellers also entered into a purchase and sale agreement with a third party. Third party filed a lawsuit in the Los Angeles Superior Court against sellers and recorded a lis pendens against the subject property thereby clouding the Client's title and preventing Client from finalizing the sale. Within a mere two weeks of our active involvement, we successfully settled the case by forcing seller to return third party buyer's earnest deposit payment and forced third party to relinquish rights of title and/or ownership in property in exchange for release of future claims by Client

Consumer Bankruptcies and Asset Protection - Various Clients We have assisted consumers and small businesses in wiping most of their debts, whether by defending against collection actions, claiming exemptions, or seeking bankruptcy protection under Chapter 7 of the United States Bankruptcy Code. To date, I have been successful in securing bankruptcy discharges of secured and non-secured debt in excess of $1,000,000

Contract Litigation – Arya Pacific v. Blackstone Ventures Group Client, the owner and operator of a nationally franchised restaurant known as "Wing Stop," filed a lawsuit in the San Diego Superior Court against Defendants who entered into a written agreement to purchase Client's business. After many unsuccessful challenges brought by the Defense to dismiss Client's case, Defendants entered into a settlement agreement that required them to proceed with the purchase and to pay considerable sums of money to compensate Client

Neighbor Dispute Litigation – Case Caption Confidential Client's neighbor filed a lawsuit against Client arising from a boundary dispute, and claims by Plaintiff neighbor that Client caused damage to Plaintiff's property and committed trespass. After taking the deposition of Plaintiff and conducting written discovery, a settlement was reached that resulted in Plaintiff dismissing Client and paying Client all costs incurred in defending the case in exchange for Client's dismissal of any future malicious prosecution suit against Plaintiff

Commercial Lease Litigation – Canoga Valley Center v. Sulukyan Defended Client who was sued by landlord for breaching a commercial lease agreement. Plaintiff sought more than $100,000 in monetary damages against Client and other co-tenants. After claiming that Plaintiff breached the lease agreement and failed to mitigate damages, we successfully obtained a full dismissal of all claims against Client in exchange for a "walk-away" by both parties

Life Insurance Fraud – Case Caption Confidential Clients had existing life insurance policies with a combined death benefit value of over $8.5 Million. A Life Insurance Agent defrauded Client into believing that switching existing life insurance policies would result in higher death benefits and lower policy premiums. In reality, new life insurance policies had only $5.2 Million in death benefits, carried higher policy premiums, and resulted in the depletion of the total cash value that had accrued with the old policies. Client filed a Federal Lawsuit in the Central District of California alleging claims for Fraud and Negligence. Life Insurance agent filed for bankruptcy, but Life Insurance company that issued the new policies agreed to settle Client's claims for close to $300,000

Real Property Litigation – Case Caption Confidential Client and wife own certain real property in Glendale, California valued at over $1.5 Million. Client sought to sell the property to interested buyers. Client executed a real property Purchase and Sale Agreement, however did so without the consent of his wife. After finding out that Client's wife would not agree to the terms of the sale, the buyer sued both Client and his wife and sought a Court judgment to enforce the sale of the property. Defended both Client and his wife, and after employing a successful discovery campaign, buyer finally gave up and agreed to accept a one-time payment of $50,000 in exchange for a full dismissal of the lawsuit. Client saved his $1.5 Million home, which has since appreciated in value by over 25%

Life Insurance and Corporate Litigation – Case Caption Confidential High valued investors who invested in an equity management company that would purchase and finance multi-million dollar life insurance policies filed a Federal Lawsuit in Central District of California (Los Angeles) against Client, the company's former President. Investors alleged claims for Breach of Fiduciary Duty, Conversion, and Gross Negligence, and sough monetary damages against Client for $9.5 Million dollars. After nearly 1.5 years of intense litigation and defense of the case, reached a favorable settlement that required Client to pay just under $300,000 (less than 3.5% of the total damages sought)

Business Litigation - PGI Cayman, Ltd. v. Life Capital Finance, LLC et al. Considerable monies were pooled by offshore Client and invested and entrusted with Defendants for the purpose of purchasing, selling and/or financing life insurance policies in hopes of realizing a profit upon the sale and/or maturity of said policies. Defendants siphoned off such funds for their own personal gain. Client sued in the Superior Court for the County of Orange and, after many unsuccessful challenges brought by the defense to dismiss Client's claims, all claims survived. As the case neared trial, a settlement was reached with certain Defendants in the total amount of $625,000 secured by a stipulated judgment in the amount of $2,000,000, 2015

Trademark & Copyright Litigation – Case Caption Confidential Plaintiff artist filed a Federal Lawsuit in the Northern District of California against Client, a prominent company involved in the garment and designer fashion clothing business, claiming Federal Trademark and Copyright Infringement. Plaintiff claimed she suffered damages in the millions as a result of Client's fraud. Client filed a motion to change venue, and was successful in transferring the case to the Central District of California for practical and strategic reasons (i.e. force Plaintiff to travel to Los Angeles for Court appearances). Client also filed a Counter-Claim against Plaintiff for breaching her Licensing Agreement with Client, Fraud, Trade Libel and Intentional Interference with Economic Advantage. After a year of heavy litigation, a settlement favorable to Client was reached whereby Client paid less than $15,000 in exchange for full release of Plaintiff's multi-million dollar lawsuit

Products Liability Litigation – Case Caption Confidential Client operates a multi-million custom apparel and garment manufacturing business that provides screen printing and embroidery to dye-sublimation printing. Client requires specialized garment printer ink for the design and production of garments that are sold to the general public and to major private label companies. Defendants manufactured, supplied and/or distributed defective ink to Client resulting in significant damage to Client's sublimating machines, lost profits, decline in business, loss of goodwill, and injury to business reputation. Client sued in the Los Angeles Superior Court for negligence and products liability, and thereafter recovered an estimated $150,000 in settlements with said Defendants

Debtor-Creditor Litigation – Century West Financial v. Daldalyan Plaintiff secured a default judgment that reached a value of approximately $500,000 against Client in early 2008. Client was unaware that he was named as a defendant in a lawsuit filed by Plaintiff in 2007 or that Plaintiff secured a default judgment against him until after he discovered that Plaintiff recorded a lien against his personal residence in 2014. Plaintiff commenced judicial foreclosure proceedings to sell Client's home (which had just over $500,000 in equity) by way of a Sheriff's Sale. After retaining our firm, we filed a Motion to Vacate the Default Judgment, arguing that the judgment was void as a result of Plaintiff's failure to comply with Code of Civil Procedure section 580 and for engaging in multiple accounts of fraud. Court granted our motion in part and modified the judgment to approximately $30,000.00. Client paid off the reduced amount and saved his home from foreclosure

Business Litigation – Case Caption Confidential A lawsuit was filed in the Los Angeles Superior Court against Client by his former business partner, who alleged that Client committed fraud and breached his fiduciary responsibility to business partner by looting company assets, stealing customers of the company, etcetra. Client counter-sued business partner setting forth similar claims and contending that his former business partner improperly used company funds to purchase multiple real properties. After multiple depositions were taken, and thousands of documents were produced, a favorable settlement was reached whereby Client received all of the real properties from his former business partner and did not pay any monies to his former business partner

Insurance Bad Faith Litigation - Case Caption Confidential Prosecuted a civil action against a large insurance company as a result of insurance company's refusal to properly exercise its duty to defend by retaining legal counsel on behalf of its insured in the underlying civil lawsuit, refusal to extend coverage for alleged damages caused by the insured, and subsequent refusal to pay for the money judgment that was entered against the insured. After intense law and motion practice, and related appellate work, we successfully obtained an impressive $7.6 Million settlement in favor of our client, 2015

Real Property Litigation – Bayamdzhyan v. Shakaryan Client sought to purchase real property situated in Los Angeles. However, in order to secure a better interest rate, Client requested a family relative to be listed on the title of ownership to the property. Client and family member took title to property jointly. Client paid down payment towards purchase of the property, all home insurance payments, property tax payments, mortgage payments, and lived in the property for multiple years. Family member benefited on tax deductions during this course of time and did not pay any of home expenses. After obtaining creditworthiness, Client sought to refinance the home and asked family member to remove her name from the title by quitclaiming her interest. Client's relative refused, claiming she owned 50% of the property. Client filed suit in late 2011 in the Los Angeles Superior Court, and within four months of litigation, the parties entered into a settlement agreement that not only resulted in Client obtaining full ownership and title to property, but also requiring Client's relative to pay Client $20,000 in exchange for Client's dismissal of the lawsuit

Legal Malpractice Litigation and Commercial Defense Litigation – Case Caption Confidential After the 2008 financial crisis and the sharp decline in real estate development, a commercial Bank sued Clients, high net worth developers, on a commercial loan. Clients retained a law firm to defend them, however, due to attorney negligence, the Court entered a judgment in excess of $8 Million dollars against Clients. We filed suit on behalf of Clients against former law firm for legal malpractice, and defended against judgment enforcement measures taken by the Bank against Clients. After engaging in an extensive discovery campaign, and heavy litigation, former law firm agreed to pay out a sizeable amount of money to settle the malpractice lawsuit. Simultaneously, we were successful in settling the Bank's claim of $8 Million dollars for a mere $500,000. In fact, the funds obtained from the legal malpractice settlement and related matters covered Client's $500,000 obligation. Clients walked away from the $8 Million personal liability virtually without any out of pocket expense

Intellectual Property Litigation – Case Caption Confidential Client, a well-known pin-up model, filed a lawsuit in the Los Angeles Superior Court against her photographer for his company's takeover of her photo bank, website, webstore and social media sites. After successfully obtaining a Temporary Restraining Order on an ex parte emergency basis to protect Client's intellectual property, Defendant agreed to turn over everything demanded by Client
Educational Background:
Clark Magnet High School, 1998

University of California, San Diego, B.A. in Political Science, Minor in Economics, Activities and Societies: Presidence of Pre-Law Society; President of Armenian Students' Association; Provosts' Honors Recipient, 2006
Show More
Andre Boniadi:
Last Updated: 2/2/2021