« Back to Results
David N. Makous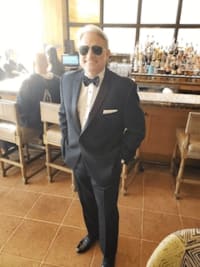 Attorney Profile
Top Rated Intellectual Property Litigation Attorney in Los Angeles, CA
Phone: 213-623-2221
Fax: 213-623-2211
Selected To Super Lawyers:
2006 - 2007, 2010 - 2015, 2018 - 2021
Practice Areas:
Intellectual Property Litigation (30%),
Franchise/Dealership (20%),
Intellectual Property (20%),
Technology Transactions (20%),
Entertainment & Sports (10%)
Attorney Profile
Mr. Makous has focused his practice on domestic and international intellectual property, technology, media, communications, and entertainment matters. During his career he has assisted in the domestic and global build out of several technologies and product lines. His expertise encompasses a full range of IP services involving: • preparation and filing of multiple IPR proceedings before the PTAB on smart phone technology - lead counsel on many patent, trademark, copyright, trade secret, franchise and unfair competition cases and administrative matters from commencement through appeals; • handling class actions arising out of online practices, alleged false advertising of nutraceuticals, footwear and other consumer products; franchise offerings and disputes; and unfair fraudulent or deceptive sales practices; • working with forensic financial and damages experts in valuation assessments and measuring monetary claims. • protecting trademarks, trade dress, copyrights, and patents through registration, issuance and post-grant; • providing opinions on validity infringement and enforceability; • conducting due diligence investigations and providing guidance; • drafting and negotiating collaborative, license, and distribution agreements including enterprise software development, interactive entertainment technologies, proprietary business systems, video-game after-market enhancement programs, publishing relationships, virtual reality and location-based entertainment systems, consumer goods, and endorsement and sponsorship licenses in the usage of characters, names, likenesses, photographs, images, media, audiovisual works, voice and other indicia; • working with marketing experts in the evaluation and survey design of consumer perception • analysis of advertising copy and its attendant explicit and implicit claims made - for accuracy, reliability and message; • domestic and foreign false advertising, anti-counterfeiting, gray market, anti-diversion and derivative claims; • responding to actual or threatened regulatory compliance activities by the U.S. DOJ, FTC, FDA, NY State Attorney General, and California Dept. of Corporations; • expert witness on several patent and licensing matters; Mr. Makous is the author of several legal publications; has served as adjunct professor of law teaching Conflicts of Law at the Glendale University College of Law; and he has appeared as a speaker, guest lecturer and panelist on many occasions.  In 2009 he was named by Strathmore's Who's Who Worldwide as the Professional of the Year - Law Intellectual Property. In 2008, Mr. Makous received the Public Citizenship Award from the Asthma and Allergy Foundation of America, and until recently he served on the board of directors for The Barrio LaPlanta Project, a nonprofit children education project in Nicaragua. Mr. Makous is admitted to practice in California, California State Bar No. 82409, before several United States District Courts, and United States Court of Appeals , and the U.S. Supreme Court and registered with the United States Patent and Trademark Office, Reg. No. 29559. He has appeared in several dozen United States District Courts and Courts of Appeal throughout the country. _______________________________________________________________________________
His publications include • "Compulsory IP Licensing, Standards Setting, Standards Essential Patents and FRAND", Intellectual Property Licensing Strategies, Inside the Minds Series, Thomson Reuters, April, 2014; • "Intellectual Property Law 2015, 'Examining the Pendulum: How Courts are Returning to a Flexible Approach for Injunction and Damage Determinations', Aspatore Thought Leadership, Thomson Reuters, February, 2015; • "Understanding Patent Reform Implications: Leading Lawyers on Defining Key Issues, Interpreting present Proposed Legislation, and Projecting Future Developments (Inside the Minds series)", 2009, ThomsonReuters; • "Trade Secrets Practice in California," Second and Subsequent Editions, CEB, 1996-2010, Chapters on: "Exploiting Trade Secrets by Licensing"; "Sample Trade Secret License"; "International Aspects of Trade Secrets Law"; • "Website Liability Arising in the Management of Chat Room, Bulletin Boards, and other Forums," Entertainment, Publishing and the Arts handbook, 2000 - 2001 Edition • "Drafting Grant Clauses for Agreements involving Intellectual Property," California Business Law Practitioner, CEB, Fall 1995, vol. 10, no. 4; • Panelist, Patent Litigation Roundtable, California Lawyer Magazine, San Francisco, July 2008; • Panelist, Patent Litigation Roundtable, California Lawyer Magazine, San Francisco, July 2007; • Panelist, Pricewaterhousecoopers Intellectual Property Leadership Forum, Plenary Session, February 2001, Intellectual Property and E-commerce Issues, Palm Desert; • Panelist, Pricewaterhousecoopers Intellectual Property Leadership Forum, Domain Names and Related Issues, February 2000, Palm Desert; • Panelist, State Bar of California, Intellectual Property Section, Licensing, Los Angeles, 1987 Moderator, INTA, Introduction to Madrid Protocol program, National Videoconference, 2004 Panelist;  ABA annual meeting, 2006, Tort Litigation Section, Intellectual Property Litigation, Honolulu; • Panelist, INTA, Loyola Law School, 2008, Careers in Intellectual Property; • Panelist, State Bar of California, IP section, Intellectual Property Issues: Transactions - May and June 2002, Orange County and Los Angeles; • Guest Lecturer, Copyright and Intellectual Property Law, American Jewish University (formerly University of Judaism), Los Angeles, September 2008 • Guest lecturer, Dept. of Engineering, California State University Northridge, computer and media law, 2005, 2009 • Guest Lecturer, Otis School of Design, Los Angeles, Computer Methods and Web Design Issues, 1994, 2005 • Speaker, Peoples Republic of China, Official Governmental visiting Trade Groups, US Intellectual Property Law, Los Angeles and San Francisco, 1993 – 1996
_____________________________________________________________________________
Selected Reported Cases As Counsel: TRAFFICSCHOOL.COM, INC. V. EDRIVER, INC., 633 F. SUPP. 2D 1063 (C.D. CAL. 2008), And 653 F.3D 820 (9TH CIR. JULY 28, 2011); KIA MOTORS AMERICA, INC. V AUTO DISTRIBUTING, 90 USPQ 2D 1598 (D. MINN. 2009);  MAGNACOUSTICS, INC. V. RESONANCE TECHNOLOGY CO. 44 U.S.P.Q.2D, 1957 (FED. CIR. 1997);  HONDA GIKEN KOGYO KABUSHIKI KAISHA V. H-D MICHIGAN, INC., 43 U.S.P.Q. 2D 1526 (T.T.A.B. 1997);  INTEX RECREATION CORP. V. METALAST, S.A. SOCIEDAD UNIPERSONAL, 245 F.SUPP.2D 65, (D.D.C., FEB. 12, 2003);  MERLE NORMAN COSMETICS, INC. V. MARTIN, 18 U.S.D.C. 2D 1848 (9TH CIR. 1990);  SMITH V. INTEX RECREATION CORP., 755 F.SUPP. 712 (M.D.LA. 1991);  PRINTERS SERVICES CO. V. BONDURANT, 20 U.S.D.C. 2D 1626 (C.D. CAL. 1991);  NATIONAL YELLOW PAGE SERVICE ASSOCIATION V. O'CONNOR AGENCY, 9 U.S.P.Q. 2D 1516 (C.D. CAL. 1988); IRWIN V. PHILIPS INTERACTIVE MEDIA CORP., 31 U.S.P.Q. 2D 1336 (C.D. CAL. 1994); HEMOPET V. HOMEOPET LLC, ET AL., 1996 U.S. APP. LEXIS 25426 (9TH CIR.1996); INTEX REC. CORP. V. HASBRO, INC., 1998 U.S. DIST. LEXIS 17261 (C.D.CAL.1998);  INTEX REC. CORP. V. HASBRO, INC., 1998 U.S. DIST. LEXIS 17262 (C.D.CAL. 1998); INTEX RECREATION CORP. V. HASBRO, INC., 3 F.SUPP. 2D 1102 (C.D. CAL. 1998); OKOR V. ATARI GAMES CORP., 2002 U.S. DIST. LEXIS 7809 (D.MASS 2002); IN RE INTEX RECREATION CORP., 2004 TTAB LEXIS 656 (T.T.A.B. 2004); INTEX REC. CORP. V. METALAST, S.A. (D.D.C 2005), 400 F. SUPP. 2d 123;  CONTESSA FOOD PRODS. V. LOCKPUR FISH PROCESSING CO., COPY. L. REP. (CCH) (9TH CIR. 2005), 2005 U.S. APP. LEXIS 28, 123 FED. APPX. 747; ARMINAK & ASSOCIATES, INC. V. ST. GOBAIN CALMAR, INC., 2006 501 F.3D 1314 (FED. CIR. 2007);  JAY BHARAT DEVELOPERS, INC. V. JIM MINIDIS, 167 CAL.APP.4TH 437, 2008;
You may contact David Makous by email at [email protected].
Practice Areas
30%

Intellectual Property Litigation

20%

Franchise/Dealership

20%

Intellectual Property

20%

Technology Transactions

10%

Entertainment & Sports
Focus Areas
Copyrights, Patents, Trademarks, Intellectual Property Law, Internet, Science and Technology Law
Selections


Super Lawyers: 2006 - 2007, 2010 - 2015, 2018 - 2021
Email Me
To: David N. Makous
Super Lawyers: Potential Client Inquiry
Additional Sources of Information About David N. Makous
About David Makous
Admitted: 1978, California
Professional Webpage: http://lhlaw.com/attorneys/bios/david_n._makous
Honors/Awards:
Asthma and Allergy Foundation, Public Citizenship Award, 2008

Professional of The Year- Law/Intellectual Property, Strathmore's Who's Who Worldwide, 2009
Special Licenses/Certifications:
U.S. Patent and Trademark Office, registered patent attorney, No. 29559

Multiple U.S. District Courts and Courts of Appeal, 1978 to present;

State of California, State Bar License No. 82409  
Bar/Professional Activity:
International Anti-Counterfeiting Coalition, Congressional Lobbying, Lanham Act Anti-Counterfeiting Legislation, 1984

Los Angeles Intellectual Property Law Association, 1980 - 2014

Committee, Local Court Rules for Patent Cases, US District Court, Central District of California, Los Angeles Intellectual Property Law Association, 1997 - 1999

International Trademark Association (INTA), Panelist, Madrid Protocol Committee, 2003 – 2004; US Legislation Subcommittee, 1994 - 1996; International Trademark Subcommittee, 1989 – 1991

Chair, California State Bar, Board of Legal Specialization, Trademark Consulting Group, 2010-2011
Pro bono/Community Service:
Board of Directors, Asthma & Allergy Foundation of America, 2000 - 2001

Chairman, Community Development Advisory Board, El Monte, California, 1979 - 1981

Board of Directors, Friends of Barrio la planta, Non-Profit, San Juan del sur, Nicaragua, children on-location education, 2009 - Present
Scholarly Lectures/Writings:
Panelist, Patent Litigation Roundtable, California Lawyer Magazine, San Francisco, July 2007

Panelist, Patent Litigation Roundtable, California Lawyer Magazine, San Francisco, July 2008

Guest Lecturer, Otis School of Design, Los Angeles, Computer Methods and Web Design Issues, 1994, 2005

"Trade Secrets Practice in California," Second and Subsequent Editions, CEB, 1996-2010, Chapters on: "Exploiting Trade Secrets by Licensing"; "Sample Trade Secret License"; "International Aspects of Trade Secrets Law";

"ACPA/UDRP: an Improvement over Traditional Trademark Law?" Entertainment, Publishing and the Arts handbook, 2000-2001 Edition

"Website Liability Arising in the Management of Chat Room, Bulletin Boards, and other Forums," Entertainment, Publishing and the Arts handbook, 2000 - 2001 Edition

"Understanding Patent Reform Implications: Leading Lawyers on Defining Key Issues, Interpreting present Proposed Legislation, and Projecting Future Developments (Inside the Minds series)", 2009, ThomsonReuters;

Speaker, Los Angeles County bar association, public orientation to the law, 1980 – 1981

Speaker, Peoples Republic of China, Official Governmental visiting Trade Groups, US Intellectual Property Law, Los Angeles and San Francisco, 1993 – 1996

Panelist, State Bar of California, Intellectual Property Section, Licensing, Los Angeles, 1987 Moderator, INTA, Introduction to Madrid Protocol program, National Videoconference, 2004

"Compulsory IP Licensing, Standards Setting, Standards Essential Patents and FRAND", Intellectual Property Licensing Strategies, Inside the Minds Series, Thomson Reuters, 2014;

Guest lecturer, Dept. of Engineering, California State University Northridge, computer and media law, 2005, 2009

Guest Lecturer, Copyright and Intellectual Property Law, American Jewish University (formerly University of Judaism), Los Angeles, September 2008

Adjunct Professor of Law, Conflicts of Laws, Glendale University School of Law, 2010 - 2011, accredited State Bar of California, http://www.glendalelaw.edu

"Drafting Grant Clauses for Agreements involving Intellectual Property," California Business Law Practitioner, CEB, Fall 1995, vol. 10, no. 4

Panelist, Pricewaterhousecoopers Intellectual Property Leadership Forum, Domain Names and Related Issues, February 2000, Palm Desert;

Panelist, Pricewaterhousecoopers Intellectual Property Leadership Forum, Plenary Session, February 2001, Intellectual Property and E-commerce Issues, Palm Desert;

Panelist, State Bar of California, IP section, Intellectual Property Issues: Transactions - May and June 2002, Orange County and Los Angeles;

Panelist, INTA, Loyola Law School, 2008, Careers in Intellectual Property

Panelist, ABA annual meeting, 2006, Tort Litigation Section, Intellectual Property Litigation, Honolulu;
Verdicts/Settlements:
Reported cases of note for Mr. Makous are:TRAFFICSCHOOL.COM, INC. V. EDRIVER, INC., 633 F. SUPP. 2D 1063 (C.D. CAL. 2008), and 653 F.3D 820 (9TH CIR. JULY 28, 2011); KIA MOTORS AMERICA, INC. V AUTO DISTRIBUTING, 90 USPQ 2D 1598 (D. MINN. 2009); MAGNACOUSTICS, INC. V. RESONANCE TECHNOLOGY CO. 44 U.S.P.Q.2D, 1957 (FED. CIR. 1997); HONDA GIKEN KOGYO KABUSHIKI KAISHA V. H-D MICHIGAN, INC., 43 U.S.P.Q. 2D 1526 (T.T.A.B. 1997); INTEX RECREATION CORP. V. METALAST, S.A. SOCIEDAD UNIPERSONAL, 245 F.SUPP.2D 65, (D.D.C., FEB. 12, 2003); MERLE NORMAN COSMETICS, INC. V. MARTIN, 18 U.S.D.C. 2D 1848 (9TH CIR. 1990); SMITH V. INTEX RECREATION CORP., 755 F.SUPP. 712 (M.D.LA. 1991); PRINTERS SERVICES CO. V. BONDURANT, 20 U.S.D.C. 2D 1626 (C.D. CAL. 1991); NATIONAL YELLOW PAGE SERVICE ASSOCIATION V. O'CONNOR AGENCY, 9 U.S.P.Q. 2D 1516 (C.D. CAL. 1988);IRWIN V. PHILIPS INTERACTIVE MEDIA CORP., 31 U.S.P.Q. 2D 1336 (C.D. CAL. 1994);HEMOPET V. HOMEOPET LLC, ET AL., 1996 U.S. APP. LEXIS 25426 (9TH CIR.1996); INTEX RECREATION CORP. V. HASBRO, INC., 3 F.SUPP. 2D 1102 (C.D. CAL. 1998);  OKOR V. ATARI GAMES CORP., 2002 U.S. DIST. LEXIS 7809 (D.MASS 2002);    INTEX REC. CORP. V. METALAST, S.A., 400 F. SUPP. 2D 123 (D.D.C 2005);JAY BHARAT DEVELOPERS, INC. V. JIM MINIDIS, 167 CAL.APP.4TH 437 (2008); 
Representative Clients:
Kia Motors America, LGE, Haus Labs,  Hanacure, Caltex Music, Maritime Documentation, Blisslights

,

2019
Educational Background:
Duke University, Bachelor degree, Zoology

,

1973
Industry Groups
Multiple Technology And Industrial Groups
Show More
David N. Makous:
Last Updated: 7/24/2020