« Back to Results
Reed Aljian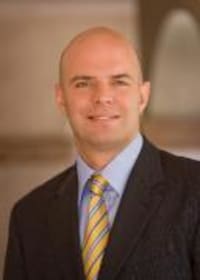 Attorney Profile
Top Rated Business Litigation Attorney in Newport Beach, CA
Phone: 949-861-2524
Fax: 949-269-6364
Selected To Super Lawyers:
2013 - 2021
Selected To Rising Stars:
2009 - 2012
Attorney Profile
Reed's litigation practice focuses largely on disputes involving breach of contract, construction, real estate, labor and employment, and insurance claims. He represents both plaintiffs and defendants in individual and class action lawsuits. He also serves as general counsel to various companies and high net worth individuals, offering corporate, transactional, and litigation consulting. 
About Reed Aljian
Admitted: 2000, California
Professional Webpage: http://www.dailyaljian.com/about/reed-aljian/
Honors/Awards:
2008 Outstanding Achievement and Commitment to Pro Bono and Service to the Community, McDermott Will & Emery LLP,

2008

2005 Consumer Law Project Volunteer of the Year

, Public Counsel,

2005
Bar/Professional Activity:
Past member of State Bar of California's Committee on Administration of Justice (2012-2015)

Member of the Orange County Bar Association and Orange County Trial Lawyer Associations
Pro bono/Community Service:
Past Member of the State Bar of California's Committee for the Delivery of Legal Services. (2009-2011)

,

2011

State Bar of California's Wiley W. Manuel Certificate of Pro Bono Legal Services (2013)

,

2013

Chairman of the Hon. Dickran Tevrizian (ret.) Fellowship Committee, Neighborhood Legal Services of Glendale (2010-present)

,

2020
Verdicts/Settlements:
Representation of Superior Paving Company, Inc., a construction contractor, in numerous collections actions in capacity as plaintiff seeking recovery of unpaid balance due.  

,

2020

Superior Paving Company, Inc. v. Verdin Concrete, Inc. and Landmark American Insurance Company (2019-2021) - Representation of Plaintiff contractor in indemnity action against subcontractor and subcontractor's insurance company seeking recovery of unpaid defense and indemnity payments; settled for $450,000.   

,

2021

St. Patrick's Day Associates v. Westside Cart Rentals, Inc (and related cross-action) (2020) - Representation of defendant and cross-complainant Westside Cart Rentals, Inc. in action by landlord claiming breach of lease and breach of written guarantee. Firm filed cross-complaint against client's commercial real estate broker CBRE, Inc. for indemnity, fraud, and tort of another; matter pending. 

,

2020

Laroda v. PearlParadise.com, et al and related cross-action (2020) - defense of former executive involving claims of embezzlement and conspiracy; settled case with client agreeing to pay $1 in exchange for dismissal with prejudice. 

,

2021

Sochil Martin v. La Luz Del Mundo (2020-2021) - Defense of two individual and one corporate defendant in lawsuit alleging forced labor, trafficking, racketeering, sexual battery and wage and hour claims in high profile matter national and international parties; matter pending. 

,

2021

Susie Avila v. Cole Harris (2019-present) - Defense of former candidate for lieutenant governor in lawsuit seeking to collect alleged unpaid fees to campaign vendor; matter pending. 

,

2020

Confidential Client (2019) - Representing television producer in various disputes. Matters pending.  ,

2020

Department of Industrial Relations v. Snamluang Thaifood, Inc. (2019-2021) - Defense of popular Los Angeles restaurant accused of wage and hour violations; Settled on terms favorable to client.

,

2021

Francesca Tucker-Schuyler v. City of Montebello (2020) - Representing former Montebello City Manager in lawsuit against City alleging retaliation, discrimination, and wrongful termination; matter pending.  

,

2020

SoCal Lien Solutions, LLC v. Arash Feyzjou, et al. (2018) - Represented the defendant homeowner in lawsuit filed by the assignee of a construction contractor's lien claim. The assignee (SoCal Lien Solutions) recorded the lien. The firm filed a demur on behalf of the homeowner. In response, the plaintiff dismissed case and then filed a new lien. After threatening to file a lawsuit on behalf of the owner against the plaintiff and the plaintiff's attorney, the second lien was released.  ,

2018

Majority Strategies, LLC v. Cole Harris, et al. (2018-2019) - Clients are the defendants in a lawsuit filed by a prolitical campaign vendor. The defendants are a 2019 candidate for Lt. Governor for State of California and his campaign, and the candidate's wife. The clients were sued by the vendor seeking to collect an alleged balance due of $420,000. After extensive litigation, Plaintiff agreed to dismiss the lawsuit with prejudice for $0 despite having previously demanded payment of $1 million.    ,

2019

Confidential Settlement (2018) - Client purchased newly constructed home from defendant. During rainstorm shortly after purchase of home, basement flooded. Plaintiff alleged the cause of the flood was a defect in construction of basement by the defendant. Matter settled at mediation for five times Plaintiff's original demand, including all fees and costs incurred.    ,

2018

Scott Leary v. Fairbanks Highlands Maintenance Associated, et al. (Superior Court of California, County of Los Angeles) (2018) Representing Plaintiff, a San Diego Neurosurgeon considered among top surgeons in America, and his wife, owners of a multi-million estate in San Diego County.  After heavy rains in December 2016, the estate was flooded with raw sewage, causing millions of dollars in damages.  Plaintiff sued the home owner's association, alleging the cause of flood was a damaged sewer line to be maintained by the HOA, which the HOA had never maintained. Client settled on favorable terms. ,

2018

Carter Paysinger v. Beverly Hills Unified School District, et al. (United States District Court, Central District of California) (2015) Representing high school principal in discrimination, retaliation, and civil rights action against school district, its Board, and a governing board member.  Settled for $685,000.,

2015

Dare 2 Care, Inc. v. Los Angeles Developmental Services Foundation (Superior Court of California, County of Los Angeles) (2017-2018) Represented plaintiff residential care facility.  Plaintiff had provided specialized care to developmentally disabled persons.  Plaintiff and defendant entered into a services contract to provide care to residents placed by defendant in Plaintiff's facility.  Defendant breached the contract by refusing to pay for the services rendered, forcing plaintiff to close its doors.  Plaintiff sued for breach of contract, among other related claims. After a seven-day jury trial, jury entered a verdict in favor of firm client.     ,

2018

Dare 2 Care v. Gold & Hahn, et al. (Superior Court of California, County of Orange) (2016) Representing plaintiff residential care facility against former attorney alleging, among other claims, malpractice, negotiated a settlement at mediation for the limits of defendants' insurance coverage.,

2016

Confidential Settlement (Superior Court, Orange County) (2015) Representing a consumer in action against hotel for wrongful eviction practices, negotiated settlement for the maximum statutory damages.,

2015

Confidential Settlement (2014) Represented partner in a dispute between owners of a restaurant business.  Settled the dispute on terms favorable to client.,

2014

Confidential Settlement (Superior Court, Riverside County) (2012) Client owned an 80,000 square foot manufacturing facility. After tenant discontinued paying rent, client filed unlawful detainer action.  The tenant ultimately vacated.  The client then hired Mr. Aljian's firm to pursue a lawsuit for damages against the tenant.  The firm amended the complaint to add claims against the tenant, as well as the tenant's parent corporation and majority shareholder alleging breach of contract, waste, conversion, interference with contractual relations, and fraud.  Prior to trial, the firm successfully obtained a favorable settlement resolving all claims.,

2012

Confidential Settlement (Superior Court, Orange County) (2010) A client was struck by an automobile while riding his bicycle in Orange County, running him off of the road and causing severe long-term physical harm.  Blood tests revealed that the driver of the vehicle was intoxicated at the time of the incident. Firm settled the case before trial for the driver's insurance policy maximum.,

2010

Shirvanian v. Szekelyhidi (Superior Court, Orange County) (2010) In an action for breach of a promissory note and fraud, client obtained a court judgment against defendant in the amount of $169,000, which included compensatory damages, punitive damages, interest, and costs of suit.,

2010

Givan v. Nine-0-One, LLC (Superior Court, Los Angeles County) (2012) In action representing restaurant against former bouncer alleging labor and employment claims, including unpaid meal breaks, rest breaks, and wrongful termination, successfully acheived dismissal with prejudice of employee's claims on favorable terms.,

2012

Dana Technologies I, Inc. v. BioEnergy Hawaii, LLC (Superior Court, Orange County) (2013) Former contractor sued client for breach of consulting agreement.  Successfully negotiated settlement resolving action for less than 4% of damages claimed.,

2013

BioEnergy Hawaii, LLC v. Landfill Development (Superior Court, Orange County) (2012) In an action representing a client that had hired a contractor to provide consulting services regarding the client's trash hauling business in Hawaii, obtained a court judgment against the consultant and his business in the amount of $730,000, which included attorneys' fees and costs.,

2012

In re Conservatorship of Nada Hannaford (Superior Court of California, County of Orange) (2014) Representing daughter in petition for conservatorship of mother, alleging undue influence and abuse, settled action on first day of trial on terms favorable to client, including agreement that mother hire a professional fiduciary to monitor all future financial decisions and protect from further abuse.,

2014

Shirvanian v. Szekelyhidi (Superior Court, Orange County) (2011): Representing plaintiff suing for default of loan agreement and fraud, client awarded judgment equal to two times the loan balance plus attorneys' fees, costs, and expenses. ,

2011

Goldstone United Investment LLC v. Cole Matthew Harris, et al., (Superior Court of California, County of Los Angeles) (2017) Representing all defendants, negotiated a dismissal without prejudice for no monetary consideration.,

2017

Jimenez v. Luna, et al. (Superior Court, Los Angeles County) (2007): Member of trial team representing 92-year-old pro bono client.  After a bench trial, client awarded judgment on all claims, compensatory and punitive damages of more than $2.5 million, and attorneys' fees and costs.  Public Counsel reported that the judgment in this case was the largest judgment ever obtained on a Public Counsel pro bono consumer law case.,

2007

Automobile Club of Southern California v. Mellon Bank (US District Court, Central District CA) (2004) After 10-day bench trial representing bank in breach of contract action, client awarded judgment on all claims, including counter-claims, attorneys' fees, costs, and expenses.,

2004

Confidential Settlement (Superior Court, Los Angeles County) (2012) In action representing restaurant against former employee alleging wrongful termination, successfully negotiated settlement on favorable terms resolving all claims.,

2012

BioEnergy Hawaii, LLC v. adaptiveArc, Inc. (Superior Court, Orange County) (2013) Representing developer of waste conversion facilities in the State of Hawaii against a manufacturer of a system designed to be used in the processing of solid waste to electronical energy.  Client sued for breach of four agreements governing design and development of the technology.   On the eve of trial and following mediation, successfully negotiated a settlement resolving all claims.  Settlement included a  stipulated judgment filed with the Court in favor of client.,

2013

In The Matter of SC Kim Children's Trust (Superior Court, Los Angeles County) (2011) In action representing trust beneficiaries, successfully negotiated settlement at mediation on favorable terms.,

2011

Hill v. Dailey (Superior Court, Orange County) (2011) Representing real estate agent against another agent, a broker, and her real estate company alleging breach of contract, wrongful termination, interference, and wage and hour claims.  After a year of litigation, client obtained favorable settlement resolving all claims. ,

2011

Superior Paving Company, Inc. v. Bear Valley 2005, LLC, et al. (Superior Court of California, Imperial County) (2016-2019) Representing paving contractor against commercial property owner and related entities to collect for services rendered. Defendants filed cross-complaint, alleging work was performed negligently, causing damage. Matter settled a month before trial. Matter resolved on terms favorable to client. ,

2019

Chang v. EverHome Mortgage Company (Superior Court, Orange County) (2012):  After a trial in an action representing home-owner against mortgage servicer asserting claims for unlawful credit reporting practices, client awarded judgment in its favor in the amount of $225,000.,

2012

Confidential Settlement (2012):  In lawsuit representing defendant law firm in action filed by a former attorney employee for wage and hour claims and retaliatory termination, successfully negotiated settlement resulting in dismissal of plaintiff's claims and payment to defendant law firm in an amount in excess of all fees, costs, and expenses incurred. ,

2012

Sangary v. Resnick, et al.  (Superior Court, Los Angeles County) (2012) Client, a mold inspection company and its owner, were sued by a lawyer for alleged defamation, interference with contract, intentional infliction of emotional distress, and unfair business practices. The lawyer had previously engaged the services of the inspection company.  After a year of litigation, the case proceeded to jury trial. On the first day of trial, the Court granted each of the Firm's motions to exclude evidence and argument to be presented by the plaintiff at trial. In response, the plaintiff dismissed her entire lawsuit.,

2012

In re Richard O. Leverson (Superior Court of California, County of Orange) (2014) Representing trust in defense of petition to invalidate trust and to remove trustee.  After a one-week trial, earned a complete defense verdict, succeeding on all claims.,

2014

Verble v. Halfacre (Superior Court, Orange County) (2013): In action representing minority shareholder against majority shareholder, claiming conversion and breach of fiduciary duty, successfully negotiated settlement at mediation on favorable terms.,

2013

Confidential Settlement (2012) Representing restaurant against former manager for misappropriation of client's trade secrets, successfully negotiated settlement on favorable terms, including recovery of misappropriated documents and a complete release of the former employee's claims.,

2012

Sangary v. Mold USA, Inc., et al. (2014) Representing defendants sued for defamation, among other claims, successfully moving for dismissal with prejudice prior to trial.,

2014

Ortega v. California Lodge Suites Hotel (Superior Court, Orange County) (2012)  Representing a class of approximately 550 individuals, alleging claims for wrongful eviction practices against an Orange County hotel, negotiated settlement for the maximum statutory damages per class member, plus attorneys fees, costs, and expenses.,

2012

In re Marriage of Reed (Superior Court, Orange County) (2011):  After a three-day bench trial representing respondent/mother in action for modification of child support and reimbursement of expenses, client awarded judgment on all claims.,

2011
Educational Background:
B.A., English Literature, University of California-Berkeley

,

1995

J.D., Loyola Law School-Los Angeles

,

2000
Show More
Reed Aljian:
Last Updated: 4/6/2021