Jonathan Michaels
Top rated Products Liability attorney in Costa Mesa, California
MLG Attorneys at Law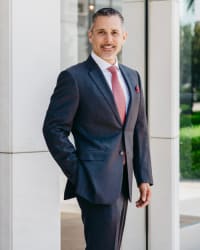 MLG Attorneys at Law
Practice Areas: Products Liability, Class Action & Mass Torts; view more
Licensed in California since: 1995
Education: Whittier Law School

Selected to Super Lawyers: 2012 - 2024

Free Consultation
MLG Attorneys at Law
600 Anton Blvd
Suite 1240
Costa Mesa, CA 92626
Visit website
Details
Jonathan Michaels has been in practice since 1995, and during that time he has created an exemplary law firm. By challenging some of the largest companies in the world, Michaels has gained national recognition as the "go to" attorney for high stakes litigation, when everything is on the line.
Michaels has developed a unique practice in the automotive industry, where he has litigated cases against nearly every major automotive manufacturer in the world. This includes cases against GM, Audi, Maserati, Mitsubishi, FCA, Kia, Nissan, Honda, AM General, Isuzu, Toyota, Hyundai, Harley-Davidson, Ford, Acura, Tesla, Volvo, Volkswagen, Aston Martin, Land Rover, Mercedes and Porsche.
Michaels has all but defined the vehicle product liability industry. He authored the best-selling book Automotive 101: The Car Industry Exposed, and has filed some of the largest and most important automotive class action cases in the nation. These cases have led to Congressional hearings, Department of Justice investigations and billion-dollar settlements, as well as the recall of millions of defective vehicles. Michaels' work has drawn attention from a multitude of media outlets, including appearances in The New York Times, Reuters, Fortune, USA Today and The Wall Street Journal, as well as feature stories on CBS Evening News and ABC Evening News.
Michaels is also aptly skilled at structuring complex business transactions. In 2013, he was involved in taking the supercar company Saleen Automotive public, and during his career he has structured international distribution agreements, supply-chain agreements and automotive dealer networks. Michaels has also been involved in structuring race teams that have competed in some of the most heralded races, including the 24 Hours of Le Mans and the Indianapolis 500.
Michaels' efforts have earned him the respect of his peers. He has received the prestigious "Super Lawyers" award every year since 2012, a distinction reserved for no more than 5 percent of the lawyers in the state. Michaels has also authored more than 100 articles for the distinguished Los Angeles Daily Journal – more than any person in the paper's history, dating back to 1880. In 2015, Michaels was nominated for a Pulitzer Prize in Journalism for his work on the GM ignition switch recall.
In addition to his professional work, Michaels maintains close ties to the academic community. He is privileged to have been invited to speak at numerous law schools and business schools about effective litigation strategy, and in 2012 he was named "Attorney of the Year" by his law school alma mater.
All of this follows a strong scholastic beginning. Michaels graduated from the USC Marshall School of Business in 1992, before attending Whittier Law School where he graduated in 1995 in the top 4 percent of his class. In law school, Michaels served as the Notes and Comments Editor of Law Review, he competed in several national Moot Court Honors Board competitions, and he published a winning Law Review article that is permanently housed in the U.S. Library of Congress.
Michaels is a member of the California, Colorado and Michigan state bars, and is actively involved in the Southern California community. He is the proud father of two sons, Jake and Dean.
Practice areas
Personal Injury - Products: Plaintiff, Class Action/Mass Torts: Plaintiff
Focus areas
Motor Vehicle Defects
80% Personal Injury - Products: Plaintiff

20% Class Action/Mass Torts: Plaintiff
First Admitted: 1995, California
Professional Webpage: https://mlgaplc.com/defect-attorney-team/jonathan-michaels-e...
Educational Background:
USC Marshall School of Business

,

1992
Videos:
MLG Attorneys at Law is a boutique law firm representing the legal interests of people in the automotive industry. We have an in-depth knowledge of motor vehicle law, car dealership laws and the California new motor vehicle board. Whatever your needs, our team of auto lawyers is here to serve you.

,

Engineered for an Industry

,

Automotive

,

2017
Scholarly Lectures/Writings:
Article Published in the Dealer's Voice about vehicle express warranties - 2019

,

Author

,

Express Warranty via Text?

,

Dealer's Voice

,

Automotive

,

2019

Panel on closing argument techniques.

,

Moderator

,

Trial Lawyers University

,

Trial Lawyers University

,

Consumer Attorneys

,

2022

Presentation on cross-examining expert witnesses.

,

Speaker

,

Trial Lawyers University

,

Trial Lawyers University

,

Consumer Attorneys

,

2023

Presentation on cross-examining expert witnesses.

,

Speaker

,

Trial Lawyers University

,

Trial Lawyers University

,

Consumer Attorneys

,

2022

Article Published in the Dealer's Voice about the Consuerm Financial Protection Bureat and automotive dealerships - 2019

,

Author

,

Forecast Calls for Compliance

,

Dealer's Voice

,

Automotive

,

2019

Article Published in the Dealer's Voice about issues with consumer claims at automotive dealerships - 2019

,

Author

,

Play by the Book

,

Dealer's Voice

,

Automotive

,

2019

Article Published in the Dealer's Voice about how GAP insurance can impact consumers at automotive dealerships - 2019

,

Author

,

Mind the GAP

,

Dealer's Voice

,

Automotive

,

2019

Article Published in the Dealer's Voice about the impact of mobile devices on automotive dealerships - 2018

,

Author

,

Dealerships in the Mobility Age

,

Dealer's Voice

,

Automotive

,

2018

Article Published in the Dealer's Voice about the legality of automated voicemail drops - 2018

,

Author

,

Automated Voicemail Drops: Grey Area in Federal Law

,

Dealer's Voice

,

Automotive

,

2018

Article Published in the Dealer's Voice about how Vehicle Damage Disclosures impact the transportation of vehicles - 2018

,

Author

,

Vehicle Damage Disclosure

,

Dealer's Voice

,

Automotive

,

2018

Article Published in the Dealer's Voice about the technology advances in the selling of cars in automotive dealerships - 2018

,

Author

,

The Power of Positive Disruption

,

Dealer's Voice

,

Automotive

,

2018

Article published in the Los Angeles Daily Journal about autonomous cars, hacking and possible terrorist use of automobiles in attacks. - 9/6/2017  

,

Author

,

Autonomous Fear

,

Los Angeles Daily Journal

,

Automotive

,

2017

Article published in the Los Angeles Daily Journal about GM's decision to terminate a substantial portion of its dealer base - 11/4/10

,

Author

,

The Killing Fields

,

Los Angeles Daily Journal

,

Automotive

,

2010

Article published in the Los Angeles Daily Journal about the continuance of the "Fast and Furious" franchise following Paul Walker's untimely death. - 4/8/15

,

Author

,

Paul Walker, Concluded

,

Los Angeles Daily Journal

,

Automotive

,

2015

Article published in the Los Angeles Daily Journal about breaking into the automotive industry, and the high barriers to entry - 5/1/12

,

Author

,

An Industry Lost

,

Los Angeles Daily Journal

,

Automotive

,

2012

Article published in the Los Angeles Daily Journal about the unfair treatment of Chrysler dealers by the US government - 6/7/12

,

Author

,

Chrysler Dealers Get Rejected Again

,

Los Angeles Daily Journal

,

Automotive

,

2012

Article published in the Los Angeles Daily Journal about the automotive industry's presence at the 2018 Consumer Electronics Show. - 1/9/2018

,

Author

,

Electrifying!

,

Los Angeles Daily Journal

,

Automotive

,

2018

Article published in the Los Angeles Daily Journal about the undetectible problems with automotive electric systems - 10/8/10

,

Author

,

Ghost in the Machine

,

Los Angeles Daily Journal

,

Automotive

,

2010

Article Published in the Los Angeles Daily Journal about how advancements in cellphone technology have created staggering dangers on the road. - 5/5/15

,

The Tragedy of Progress

,

Los Angeles Daily Journal

,

Automotive

,

2015

Article published in the Los Angeles Daily Journal about personal possessions stolen during WWII and the ability to seek their return - 7/3/12

,

Author

,

Theft, Hiding and Restitution

,

Los Angeles Daily Journal

,

Automotive

,

2012

Article Published in the Los Angeles Daily Journal about Tesla's continued financial losses and failure to turn a profit. - 12/5/2017

,

Author

,

Will They Make The Turn?

,

Los Angeles Daily Journal

,

Automotive

,

2017

Article published in the Los Angeles Daily Journal about the challenges with the US CAFE regulations and electric cars - 9/7/10

,

Author

,

Electric Shock!

,

Los Angeles Daily Journal

,

Automotive

,

2010

Article published in the Los Angles Daily Journal about Ferdinand Porsche's role as a war criminal in the second World War. - 6/3/15

,

Author

,

War Crimes

,

Los Angeles Daily Journal

,

Automotive

,

2015

Article published in the Los Angeles Daily Journal about how Kia and Hyundai lied about their cars' MPG abilities - 12/4/12

,

Author

,

Oh, What A Tangled Web We Weave

,

Los Angeles Daily Journal

,

Automotive

,

2012

Article published in the Los Angeles Daily Journal about Tesla's struggle to convert to high volume vehicle production. - 11/7/2017

,

Author

,

It's Harder Than It Looks

,

Los Angeles Daily Journal

,

Automotive

,

2017

Article published in the Los Angeles Daily Journal about the fall of GM from greatness to baqnkruptcy - 8/2/10

,

Author

,

Somebody Tell Them the Party's Over

,

Los Angeles Daily Journal

,

Automotive

,

2010

Article published in the Los Angles Daily Journal about the ruling by the California Labor Commissioner that Uber drivers are employees - 7/8/15

,

Author

,

Uber's Worst Nightmare

,

Los Angeles Daily Journal

,

Automotive

,

2015

Article published in the Los Angeles Daily Journal about how the lawsuits brought by the terminated Chrysler dealers against the United States - 1/8/13

,

Author

,

Chrysler Dealers Bring Suit Against U.S. for Violating the Fifth Amendment

,

Los Angeles Daily Journal

,

Automotive

,

2013

Article written for the Los Angeles Daily Journal about how the automotive industry is emerging as a front-runner in adopting blockchain technology. - 3/13/2018

,

Author

,

A Bit More Than A Coin

,

Los Angeles Daily Journal

,

Automotive

,

2018

Article published in the Los Angeles Daily Journal about the challenges that Tesla will have with State dealer franchise laws - 7/6/10

,

Author

,

Tesla Business Model: Brilliance of Impending Disaster?

,

Los Angeles Daily Journal

,

Automotive

,

2010

Article published in the Los Angles Daily Journal about the record $105 million file against Chrysler for recall violations - 8/5/15

,

Author

,

Chrysler's Record-Breaking Fine Not Enough

,

Los Angeles Daily Journal

,

Automotive

,

2015

Article published in the Los Angeles Daily Journal about how the electric car industry and TARP funds - 2/5/13

,

Author

,

The Electric Car Myth

,

Los Angeles Daily Journal

,

Author

,

2013

Article written for the Los Angels Daily Journal about the ownership, storage and use of data collected on motorists' behavior. - 2/20/2018

,

Author

,

The Future of Privacy

,

Los Angeles Daily Journal

,

Automotive

,

2018

Article published in the San Francisco Daily Journal about Toyota's gas pedal recall, and the challenges that it created - 2/10/10

,

Author

,

The Appropriateness of Toyota's Gas Pedal Recall

,

San Francisco Daily Journal

,

Automotive

,

2010

Article published in the Los Angles Daily Journal about the strength of the collector car micro-economy - 9/1/15

,

Author

,

Gold Rush

,

Los Angeles Daily Journal

,

Automotive

,

2015

Article published in the Los Angeles Daily Journal about how Obamacare will negatively impact businesses - 3/6/13

,

Author

,

Chasing the Seven Percent

,

Los Angeles Daily Journal

,

Automotive

,

2013

Article published in the Los Angeles Daily Journal about Tesla's inability to turn a profit and predictions on the future of its stock prices - 5/17/2018

,

Author

,

The Long And The Short Of It

,

Los Angeles Daily Journal

,

Automotive

,

2018

Article published in the Los Angeles Daily Journal about environmental impact of manufacturing and using electric vehicles - 12/6/10

,

Author

,

The Dirty Little Secret

,

Los Angeles Daily Journal

,

Automotive

,

2010

Chapman Law School - Speaker

Article published in the Los Angeles Daily Journal about how the Treasury has handled CEO pay for TARP recipients - 4/2/13

,

The Root of All Evil

,

Los Angeles Daily Journal

,

Automotive

,

2013

Article published in th Los Angeles Daily Journal about indicators of a recession in the near future - 6/19/2018

,

Author

,

Driving to Recessionary Times

,

Los Angeles Daily Journal

,

Automotive

,

2018

Guest speaker at the USC Marshall School of Business, teaching a class of 75 upper-class students about the fundamentals of entrepreneurialism and how the legal system applies to starting and running a business - 9/16/09

,

Guest Lecturer

,

Fundamentals of Entrepreneurialism

,

USC Marshall School of Business

,

Academic

,

2009

Article published in the Los Angeles Daily Journal about the Volkswagen emissions scandal, and the lack of personal responsibility for the corporate executives. - 10/7/15

,

Author

,

When Will They Stop?

,

Los Angeles Daily Journal

,

Automotive

,

2015

Article published in the Los Angles Daily Journal about the future of self driving cars – 11/4/15

,

Author

,

Generation Forward

,

Los Angeles Daily Journal

,

Automotive

,

2015

Article published in the Los Angeles Daily Journal about how Bernie Eccelstone's fall from grace in Formula 1 - 5/7/13

,

Author

,

The Fallen Angel

,

Los Angeles Daily Journal

,

Automotive

,

2013

Article published in the Los Angeles Daily Journal about potential problems with emerging technology in autonomous vehicles - 4/11/2018

,

Author

,

A Development in Progress

,

Los Angeles Daily Journal

,

Automotive

,

2018

Guest speaker at the USC Marshall School of Business, teaching a class of 75 upper-class students about the fundamentals of entrepreneurialism and how the legal system applies to starting and running a business - 2/3/10

,

Guest Lecturer

,

Fundamentals of Entrepreneurialism

,

USC Marshall School of Business

,

Academic

,

2010

Article published in the Los Angles Daily Journal about Volkswagen ignition switch scandal - 12/1/2015

,

Author

,

The Harder They Fall

,

Los Angeles Daily Journal

,

Automotive

,

2015

Article published in the Los Angeles Daily Journal about Tesla's success in the marketplace - 6/4/13

,

Author

,

Eliminating All Doubt

,

Los Angeles Daily Journal

,

Automotive

,

2013

Article written for the Los Angeles Daily Journal about technological advancements of the past 100 years - 08/14/2018

,

Author

,

All Things 100

,

Los Angeles Daily Journal

,

Automotive

,

2018

Served as a moderator to an automotive industry panel, featuring Franz von Holzhausen (cheif designer for Tesla), Steve Saleen (motorsports personality) and Dick Marconi (car collector) - 5/6/10

,

Moderator

,

USC-Harvard Business Growth Conference

,

USC - Harvard

,

Academic

,

2010

Article published in the Los Angles Daily Journal about Toyota's "unintended acceleration" - 1/6/16

,

Author

,

What Will Become of Us?

,

Los Angeles Daily Journal

,

Automotive

,

2016

Article published in the Los Angeles Daily Journal about vehicle recalls and NHTSA - 7/2/13

,

Author

,

So, You Think You're Safe

,

Los Anteles Daily Journal

,

Automotive

,

2013

Article written about the possibility that Tesla might need to use the Bankruptcy Code to shed debt and allow innovation to succeed - 9/19/2018

,

Author

,

Chapter 11, Here We Come

,

Los Angeles Daily Journal

,

Automotive

,

2018

Article published in the Los Angeles Daily Journal about the dominance of the internal combustion engine - 9/5/12

,

Author

,

Market Forces Challenge Electric Car Industry

,

Los Angeles Daily Journal

,

Automotive

,

2012

Article published in the Los Angles Daily Journal about drastic change in the world's oil market - 2/4/16

,

Author

,

Oil's New Economy

,

Los Angeles Daily Journal

,

Automotive

,

2016

Article Published in the Los Angeles Daily Journal about the collector car market becoming a significant class of investment - 7/19/2018

,

Author

,

Investor's Paradise

,

Los Angeles Daily Journal

,

Automotive

,

2018

Article published in the Los Angeles Daily Journal about the automotive manufacturers' control over dealerships - 8/7/12

,

Author

,

The Grand Ole Plan

,

Los Angeles Daily Journal

,

Automotive

,

2012

Article published in the Los Angles Daily Journal about EPA's proposed legislation - 3/8/16

,

Author

,

The EPA Slams the Door on High Performance

,

Los Angeles Daily Journal

,

Automotive

,

2016

Article published in the Los Angles Daily Journal about legal issues relating to distracted motorist - 8/6/13

,

Author

,

The Deadliest Weapon

,

Los Angeles Daily Journal

,

Automotive

,

2013

Article published in the Los Angeles Daily Journal about new federal regulation concerning automotive dealers - 5/13/10

,

Author

,

Auto Dealers Beware: Big Brother Is Looming

,

Los Angeles Daily Journal

,

Automotive

,

2010

Article published in the Los Angles Daily Journal about autonomous cars - 4/5/16

,

Author

,

Autonomous Cars Have Finally Arrived

,

Los Angeles Daily Journal

,

Automotive

,

2016

Article published in the Los Angles Daily Journal about the recovery of the U.S. economy in the automotive sector - 9/4/13

,

Author

,

Pop the Champagne

,

Los Angeles Daily Journal

,

Automotive

,

2013

Article published in the Los Angeles Daily Journal about legislation regarding the use of ethanol as a fuel source - 1/12/11

,

Author

,

Ethanol Still Ablaze

,

Los Angeles Daily Journal

,

Automotive

,

2011

Article published in the Los Angeles Daily Journal about the use of backup cameras in cars - 2/8/11

,

Author

,

Do It for the Kids

,

Los Angeles Daily Journal

,

Automotive

,

2011

Article published in the Los Angles Daily Journal about texting and driving - 5/3/16

,

Author

,

NY's Response to Texting and Driving

,

Los Angeles Daily Journal

,

Automotive

,

2016

Article published in the Los Angles Daily Journal about the love affiar that the international sporting world has with Formula One racing - 10/1/13

,

Author

,

Head Rush

,

Los Angeles Daily Journal

,

Automotive

,

2013

Article published in the Los Angeles Daily Journal about vehicle safety and regulation relating thereto  - 3/7/11

,

Author

,

How Many More Have to Die

,

Los Angeles Daily Journal

,

Automotive

,

2011

Article published in the Los Angles Daily Journal about Britain's departure from the EU -7/12/16

,

Author

,

Britain's Exit and the Auto Industry

,

Los Angeles Daily Journal

,

Automotive

,

2016

Article published in the Los Angles Daily Journal about a settlement reached between GM and the hedge funds - 11/5/13

,

Author

,

Dodging a Bullet

,

Los Angeles Daily Journal

,

Automotive

,

2013

Article published in the Los Angeles Daily Journal about the future of oil in America - 4/4/11

,

Author

,

Will Oil Become Extinct?

,

Los Angeles Daily Journal

,

Automotive

,

2011

Article published in the Los Angles Daily Journal about Brazil suffering the worst recession in more than 100 years - 8/2/16

,

Author

,

The Brazilian Nightmare

,

Los Angeles Daily Journal

,

Automotive

,

2016

Article published in the Los Angles Daily Journal about Paul Walker's tragic car accident and it igniting a firestorm of litigation - 12/4/13

,

Author

,

Life Interrupted

,

Los Angeles Daily Journal

,

Automotive

,

2013

Article published in the Los Angeles Daily Journal about the impact of vehicle safety legislation - 5/3/11

,

Author

,

How Soon We Forget

,

Los Angeles Daily Journal

,

Automotive

,

2011

Article published in the Los Angeles Daily Journal about automotive recalls - 6/14/16

,

Author

,

Airbag Recall Understood

,

Los Angeles Daily Journal

,

2016

Article published in the Los Angles Daily Journal about the U.S. Treasury selling it's last shares of General Motors stock on Dec. 9, 2013. - 1/7/14

,

Author

,

Success, Redefined

,

Los Angeles Daily Journal

,

Automotive

,

2014

Article published in the Los Angeles Daily Journal about Chrysler's illegal operation of dealerships - 6/7/11

,

Author

,

Winning at All Costs

,

Los Angeles Daily Journal

,

Automotive

,

2011

Article published in the Los Angeles Daily Journal about the amount the federal government spends - 9/18/16

,

Author

,

The Exporting Enigma

,

Los Angeles Daily Journal

,

Automotive

,

2016

Article published in the Los Angles Daily Journal about The Detroit Institute of Art having one of the largest, and most important, art collections in the U.S. - 2/4/14

,

Author

,

Rock Bottom

,

Los Angeles Daily Journal

,

Automotive

,

2014

Article published in the Los Angeles Daily Journal about Formula 1 legal battles with Team Lotus - 7/5/11

,

Author

,

Will the Real Team Lotus Please Stand Up

,

Los Angeles Daily Journal

,

Automotive

,

2011

Article published in the Los Angeles Daily Journal about Formula One being sold in an $8 billion deal between Liberty Media (buyer) and CVC Capital Partners (seller) - 10/5/16

,

Author

,

Formula One's $8 Billion Deal

,

Los Angeles Daily Journal

,

Automotive

,

2016

Article published in the Los Angles Daily Journal about GM's conduct in concealing the ignition key defect - 3/4/14

,

Author

,

The Evil that Men Do

,

Los Angeles Daily Journal

,

Automotive

,

2014

Article published in the Los Angeles Daily Journal about the legality of Ford's interaction with Lincoln dealers - 8/8/11

,

Author

,

The $1 Million Question

,

Los Angeles Daily Journal

,

Automotive

,

2011

Article published in the Los Angeles Daily Journal about a new leader for the next four years - 11/1/16

,

Author

,

The Next Four Years

,

Los Angeles Daily Journal

,

Automotive

,

2016

Article published in the Los Angles Daily Journal about General Motor's CEO appearing before an angry panel of examiners in the House and the Senate - 4/1/14

,

Author

,

GM's Day of Reckoning

,

Los Angeles Daily Journal

,

Automotive

,

2014

Article published in the Los Angles Daily Journal about Tesla disrupting everything familiar in the automotive world - 5/8/14

,

Author

,

Tesla's Federal Showdown

,

Los Angeles Daily Journal

,

Automotive

,

2014

Article published in the Los Angeles Daily Journal about CAFE regulations - 9/6/11

,

Author

,

Troubles with the New Fuel Regulations

,

Los Angeles Daily Journal

,

Automotive

,

2011

Article published in the Los Angeles Daily Journal about ownership of lost or stolen assets that have been recovered, such as the Bullit Mustang that Steve McQueen drove in the 1968 movie "Bullitt", which was found after having gone missing 49 years ago. - 3/4/17

,

Author

,

Drive It Like You Stole It

,

Los Angeles Daily Journal

,

Automotive

,

2017

Article published in the Los Angles Daily Journal about General Motor's failure to disclose to the public the ignition switch defect - 6/3/14

,

Author

,

Moments of Atrocity

,

Los Angeles Daily Journal

,

Automotive

,

2014

Guest speaker at the Pepperdine School of Business, teaching an MBA class about the fundamentals of mediation and alternative dispute resolution - 9/23/11

,

Guest Lecturer

,

Pepperdine School of Business

,

Academic

,

2011

Article published in the Los Angeles Daily Journal about texting and driving - 12/6/16

,

Author

,

Texting and Driving: Public Enemy No. 1

,

Los Angeles Daily Journal

,

Automotive

,

2016

Article published in the Los Angeles Daily Journal about the truthfullness of window stickers and fuel economy mileage ratings. - 8/06/14

,

Author

,

There's No Honor in the System

,

Los Angeles Daily Journal

,

Automotive

,

2014

Guest speaker at the USC Marshall School of Business, teaching a class of 75 upper-class students about the fundamentals of entrepreneurialism and how the legal system applies to starting and running a business - 10/12/11

,

Guest Lecturer

,

USC Marshall School of Business

,

Academic

,

2011

Article published in the Los Angeles Daily Journal about the dangers on our roads caused by texting and driving - 12/6/16

,

Author

,

Texting and Driving: Public Enemy No. 1

,

Los Angeles Daily Journal

,

Automotive

,

2016

Article published in the Los Angeles Daily Journal about GM's announcement of the "victim compensation fund" - 7/8/14

,

Author

,

The Company Without a Soul

,

Los Angeles Daily Journal

,

Automotive

,

2014

Article published in the Los Angeles Daily Journal about new the Leham Brothers impact on the automotive industry trhee years later - 10/4/11

,

Author

,

The Pain Is Far from Over

,

Los Angeles Daily Journal

,

Automotive

,

2011

Article published in the Los Angeles Daily Journal about the use of vehicles in terror attacks - 1/3/17

,

Author

,

Automotive Weaponry

,

Los Angeles Daily Journal

,

Automotive

,

2017

Article published in the Los Angeles Daily Journal about the shocking truth about automobile rentals and recalls - 9/04/14

,

Author

,

The Shocking Truth

,

Los Angeles Daily Journal

,

Automotive

,

2014

Guest speaker at the USC Marshall School of Business, teaching a class of 75 upper-class students about the fundamentals of entrepreneurialism and how the legal system applies to starting and running a business - 2/29/12

,

Guest Lecturer

,

Fundamentals of Entrepreneurialism

,

USC Marshall School of Business

,

Academic

,

2012

Article published in the Los Angeles Daily Journal about the possible impact of a 20% tariff on automotive imports from Mexico - 2/8/17

,

Author

,

The Mexican Standoff

,

Los Angeles Daily Journal

,

Automotive

,

2017

Super Lawyers – Blue Ribbon Panelist

Article published in the Los Angeles Daily Journal about how long off self-driving cars still are. - 10/07/14

,

Author

,

Self-driving cars: 20 years out, still

,

Los Angeles Daily Journal

,

Automotive

,

2014

Article published in the Los Angeles Daily Journal about the government's loan to Fisker, and whether Fisker will survive - 3/6/12

,

Author

,

Fisker's Power Outage

,

Los Angeles Daily Journal

,

Automotive

,

2012

Article published in the Los Angeles Daily Journal about America's changing love affair with automobiles - 4/4/17

,

Author

,

Generation Next

,

Los Angeles Daily Journal

,

Automotive

,

2017

Article published in the Los Angeles Daily Journal about President Obama's role in the aumotive industry - 11/2/12

,

Author

,

Obama and the Auto Industry

,

Los Angeles Daily Journal

,

Automotive

,

2012

Article published in the Los Angeles Daily Journal about how automakers face little deterrent from U.S. authorities to correctly represent their vehicles' fuel economy standards. - 11/11/14

,

Author

,

A Failed System

,

Los Angeles Daily Journal

,

Automotive

,

2014

Article published in the Los Angeles Daily Journal about the staus of the collector car industry and its impact on the economy - 11/1/11

,

Author

,

Basking in the Ferrari Sun

,

Los Angeles Daily Journal

,

Automotive

,

2011

Article published in the Los Angeles Daily Journal about Tesla's market cap surpassing Ford and GM despite never having posted a profit in its 14 year history - 5/2/17

,

Author

,

Phantom Stock

,

Los Angeles Daily Journal

,

Automotive

,

2017

Article published in the Los Angeles Daily Journal about Snapchat encouraging young adults and teens to engage in reckless behaviour - 6/6/2017

,

Author

,

Oh, Snap!

,

Los Angeles Daily Journal

,

Automotive

,

2017

Guest speaker at the USC Marshall School of Business, teaching a class of 75 upper-class students about the fundamentals of entrepreneurialism and how the legal system applies to starting and running a business - 9/15/10

,

Guest Lecturer

,

Fundamentals of Entrepreneurialism

,

USC Marshall School of Business

,

Academic

,

2010

Article published in the Los Angeles Daily Journal about how 2014 will be the year that honest disclosure from automakers gave way to raw deception. - 12/2/14

,

Author

,

The Year of the Snake

,

Los Angeles Daily Journal

,

Automotive

,

2014

Article published in the Los Angeles Daily Journal about auto manufacturers requirements on franchised dealers for facility upgrades - 12/6/11

,

Author

,

Spend It Like You Got It

,

Los Angeles Daily Journal

,

Automotive

,

2011

Article published in the Los Angeles Daily Journal about the way technology is affecting the way cars are being sold to consumers. - 7/7/2017

,

Author

,

Selling Cars in Tomorrowland

,

Los Angeles Daily Journal

,

Automotive

,

2017

Guest speaker to 80 first year students about how to put on a trial, and presenting a mock trial for their viewing - 3/15/12

,

Speaker

,

Whittier Law School

,

Academic

,

2012

Article published in the Los Angeles Daily Journal about how Uber's simplistic business model has been the foundation of its success; however, the same simplicity has regulators stirring. - 1/6/15

,

Author

,

An Uber Mess

,

Los Angeles Daily Journal

,

Automotive

,

2015

Article published in the Los Angeles Daily Journal about GM's cover up of the Chervolet Volt fires - 1/5/12

,

Author

,

Up in Smoke

,

Los Angeles Daily Journal

,

Automotive

,

2012

Article published in the Los Angeles Daily Journal about the electric car industry and it's dependancy on the non-renewable resource, lithium. - 8/1/2017

,

Author

,

The Truth About Lithium

,

Los Angeles Daily Journal

,

Automotive

,

2017

Published Law Review article that represented Whittier Law School in the Scribes National Law Review Competition

,

Author

,

"Johnson v. Texas: The Supreme Court's Paradoxical Reconciliation of the Constitution and the Texas Death Penalty"

,

Whittier Law Review

,

1994

Article published in the Los Angeles Daily Journal about how last year the U.S. achieved a goal long considered unapproachable: it surpassed Saudi Arabia and Russia to become the world's largest producer of oil. - 2/4/15

,

Author

,

Swimming in a Sea of Oil

,

Los Angeles Daily Journal

,

Automotive

,

2015

Article published in the Los Angeles Daily Journal about Porsche's failed hostile takeover of Volkswagen - 2/7/12

,

Author

,

Porsche's Billion Dollar Blunder

,

Los Angeles Daily Journal

,

Automotive

,

2012

Article published in the Los Angeles Daily Journal about automotive manufacturers concealing great acts of malfeasancecause, and thier exectives face no personal responsibility, even in cases where death has resulted where it could have been prevented. - 10/10/2017

,

Author

,

When Will They Stop?

,

Los Angeles Daily Journal

,

Automotive

,

2017

Article published in the Los Angeles Daily Journal about the role of GM in terminating automotive dealers in Northern California - 10/3/12

,

Author

,

Could GM Be at it Again?

,

Los Angeles Daily Journal

,

Automotive

,

2012

Article published in the Los Angeles Daily Journal about legislation passed by a senate committee that gives incentives to automotive safety whistleblowers. - 3/3/15

,

Author

,

Getting It Right

,

Los Angeles Daily Journal

,

Automotive

,

2015

Article published in the Los Angeles Daily Journal about the FBI's role in a stolen Ferrari - 4/3/12

,

Author

,

The Love of All Things Ferrari

,

Los Angeles Daily Journal

,

Automotive

,

2012
Bar/Professional Activity:
National Trial Lawyers Products Liability Top 25 - Member

,

2021

Gerry Spence Method 

,

2023

Orange County Trial Lawyers' Charities - Honorary Member

,

2022

Consumer Attorneys of California - President's Club

,

2023

Consumer Attorneys of California - Advocate's Club

,

2023

American Association for Justice - Leader's Forum

,

2023

Consumer Attorneys of California - Board of Governors

,

2023

Orange County Trial Lawyers Association - Board of Directors

,

2023

Crisp Elite - Member

,

2021

Attorneys Information Exchange Group - Member

,

2021

Los Angeles Trial Lawyers' Charities - Honorary Member

,

2020

Consumer Attorneys Association of Los Angeles – Member

,

2020

National Trial Lawyers Top 100 - Member

,

2020

Consumer Attorneys of California – Member

,

2020

American Association for Justice - Member

,

2020

Association for Corporate Growth

,

2018

Best Attorneys of America - Member

,

2018

America's Top 100 Bet the Company Litigators - Member

,

2018

USC Marshall Alumni Association - Member

ProVisors - Member

The Guild - Member

Orange County Automobile Dealers Association - Member

Ninth Judicial Circuit Historical Society - Member

Association of Business Trial Lawyers - Member

Checkered Flag 200 - Member

9th Circuit U.S. Court of Appeals - Admitted

Young Entrepreneur's Organization - Membership Chair, OC Chapter

U.S. District Court, Federal Circuit - Admitted

American Bar Association - Member

USC Marshall Partners - Executive Committee

USC-Harvard Business Growth Conference - Speaker Committee Co-Chair

U.S. District Court, Easter District of Michigan - Admitted

National Association of Dealer Counsel - Member

California New Car Dealers Association - Member

Motor Press Guild - Member

Specialty Equipment Manufacturer Association - Member

California State Bar - Admitted

Young Entrepreneur's Organization - President, OC Chapter

Federal Circuit U.S. Court of Appeals - Admitted

Robert A. Banyard Inn of Court - Member

USC Marshall Partners - Chairman, OC Chapter

Los Angeles County Bar Association - Member

U.S. District Court, Northern District of California - Admitted

U.S. Supreme Court - Admitted

Whittier Law School - Dean's Council and Guest Lecturer

USC-Harvard Business Conference - Committee Chair

Southland Motor Car Dealers Association - Member

National Association of Motor Vehicle Boards - Member

Orange County Trial Lawyers Association - Member

Historic Motor Sports Association - Member

U.S. District Court, Central District of California - Admitted

Young Entrepreneur's Organization - Events Chair , OC Chapter

Michigan State Bar - Admitted

Orange County Bar Association - Masters Member

U.S. District Court, Southern District of California - Admitted

Colorado State Bar - Admitted

6th Circuit U.S. Court of Appeals - Admitted
Other Outstanding Achievements:
Featured on NBC news, CBS news, Fox news, and ABC news for the Kia TicTok thefts.

,

2022

Counsel on Payne v. Kia, a class action claim against Kia relating to the TikTok Kia thefts.

,

2022

Counsel on Sanders v. Kia, a mass torts claim against Kia relating to the TikTok Kia thefts.

,

2023

Featured on ABC News for the case of Cooper v. Phoenix

,

2021

Featured on Inside Edition for the case of Cooper v. City of Phoenix

,

2021

"The Engine Room" Podcast, episode 2 - Body Language

,

2021

"The Engine Room" Podcast, episode 1 - It's Personal

,

2021

Featured during "Sweeps Week" as an anchor story for CBS Evening News.

,

2019

Counsel in Baldwin v. ZF TRW, a class action agaisnt seven auto manufactuers, and an autoparts supplier, for an airbag defect in 12.3 million cars

,

2019

Counsel in McCready v. Hyundai, a class action agaisnt Kia relating to an electric window defect

,

2019

Feature story on ABC News.

,

2019

Counsel in McCready v. Hyundia, et al., a class action case against Hyundai and Kia for defective automatic window systems.

,

2019

Feature story on CBS News.

,

2019

Counsel in Baldwin v. Kia, et al., a class action case against seven automotive mantufactures for defective Airbag Control Units.

,

2019

Celebrated 100 consequitively monthly articles for the Los Angeles Daily Journal, the most in the paper's history since it's founding in 1888.

,

2018

Counsel in Ceja v. Apple, a class action agaisnt Apple for texting and driving

,

2018

Nominated for a Pulitzer Prize in Journalism for work on the GM Ignition Switch scandal

,

2018

Counsel in Sabatino v. Uber Technologies, a class action case against Uber for fraudulent business practices.

,

2015

Counsel in Lumpkin v. Chrysler, a class action case against Chrysler for its ignition switch recall, 2014

,

2017

Counsel in Tsoar v. BMW, a class action case against BMW for faulty electric cars

,

2016

Counsel in Klein v. VW, a class action case against VW for the emissions scandal

,

2016

Counsel in Elsayed v. Maserati, a class action case agaisnt Maserati for design defects with its vehicles

,

2016

Counsel in In Re GM Ignition Switch, a class action case against GM for its ignition switch issues

,

2014

Counsel in Herb Young v. Hyundai, a class action case agaisnt Hyundai for fuel economy fraud

,

2014

Counsel in Spitzer v. US, a lawsuit filed against the federal government on behalf of several terminated Chrysler dealers, stemming from the 2009 economic crisis

,

2012
Pro bono/Community Service:
MLG's Legal Empowerment Grant and Mentorship Program for underrepresented individuals aspiring to become lawyers through Legal Education Access Pipeline (LEAP)

,

2023

MLG "Never Stop Learning" High School Scholarship

,

2022

Community outreach program for Child Abuse Prevention Month (April 2021)

,

2021

MLG "Never Stop Learning" High School Scholarship

,

2021

Child Abuse Prevention Center - Partnered with the non-profit and giving 100% of book sales to the charity.

,

2021

United Way - Partner for cancer walk

,

2020

SoCal Divers - Serving as counsel on a pro bono basis

Motor Press Guild - Serving as counsel on a pro bono basis

Child Guidance Center - Board of Directors

Segerstrom Center for the Arts - Circle Council

Women in Electronics - Serving as counsel on a pro bono basis
Honors/Awards:
Recognized as a Best Lawyer for Mass Tort Litigation / Class Actions - Plaintiffs for 2024 

,

Best Lawyer for Mass Tort Litigation / Class Actions - Plaintiffs

,

Bestlawyers.com

,

2024

Recognized as having one of the Top 10 Bench Awards in the State of California for 2022

,

Top 10 Bench Awards in California

,

Topverdict.com

,

2022

Recognized as having one of the Top 50 Personal Injury Settlements in the State of California for 2020

,

Top 50 Settlement in California

,

TopVerdict.com

,

2021

Recognized by the national organization, National Trial Lawyers

,

Top 25

,

Products Liability

,

2020

Authored "Automotive 101," which ranked number 4 on Amazon.

,

Best Selling Author

,

Amazon

,

2020

Recognized by the national organization, National Trial Lawyers Top 100

,

Top 100

,

National Trial Lawyers

,

2020

Featured in Forbes on April 15, 2013, under the story "Southern California Leaders in Law"

,

Southern California Leaders in Law

,

Forbes

,

2013

Received the "Attorney of the Year" award by Whittier Law School

,

Attorney of the Year

,

Whittier Law School

,

2012

Featured in Autoweek on October 15, 2012, under the story "Top Automotive & Motorsports Attorneys."

,

Top Automotive & Motorsports Attorneys

,

Autoweek

,

2012

Featured in OC Metro article - 4/14/10

,

"Jonathan Michaels named to Supreme Court Bar"

,

OC Metro

,

2010

Served as the Notes and Comments Editor of the Whittier Law Review 1994-95

Elected to the Moot Court Honors Board, and represented Whittier Law School in multiple national Moot Court competitions

Humanitarian Award by the Executive Director of Orangewood Children's Foundation

Graduated in the top 4% of the 1995 graduating class

,

Whittier Law School

Super Lawyers, every year since 2012

Awarded the Whittier Law School Merit Scholarship all 3 years of law school, a distinction given to the top 10% of the class

Finalist in the 1995 Fordham Securities Mootcourt Competition, held in NY

Featured in the Los Angeles Daily Journal under the Small Firm Focus - 7/12/10

Achieved Dean's List all 3 years of law school

,

Whittier Law School

Awarded the distinction of the Best Law Review Article of 1995, and represented Whittier Law School in the Scribes National Law Review Competition
Industry Groups:
Primarily Servicing The Automotive Industry
Office location for Jonathan Michaels
600 Anton Blvd
Suite 1240
Costa Mesa, CA 92626
Phone: 949-328-5217
Selections
Super Lawyers: 2012 - 2024
Additional sources of information about Jonathan Michaels
Attorney resources for Jonathan Michaels