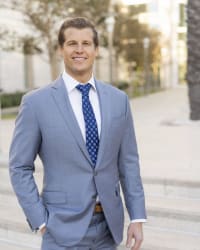 Easton & Easton, LLP
Practice Areas: Personal Injury; view more
Licensed in California since: 2014
Education: University of San Diego School of Law

Selected to Rising Stars: 2019 - 2023
Easton & Easton, LLP
650 Town Center Drive
Suite 1850
Costa Mesa, CA 92626
Visit website
Details
Travis Easton is a partner at Easton & Easton and has been the lead figure in some of Easton & Easton's most prominent cases in recent years, including a policy limits settlement for $1,250,000 shortly before trial in 2019.  This case had been previously handled by another attorney at a different firm for several years who had offered to settle the case for $25,000. Within 6 months of taking over the case, Travis resolved the matter for the full 1,250,000 policy limits.  In addition, over the past several years, Travis has resolved several 7-Figure cases, which contributed to Travis's lifetime selection to the Multi-Million Dollar Advocates Forum® – The Top Trial Lawyers in America® (an honor given to less than 1% of all attorneys in the United States), as well as 7 Figure Litigators – America's Premier High Stakes Trial Lawyers.  Based on these successes and others, Travis has been chosen for the National Trial Lawyers Top 40 Under 40 in California, as well as National Trial Lawyers Motor Vehicle – Top 25 in California.  In 2019, he was also selected as a Southern California Super Lawyers Rising Star, an honor given to only the top 2.5% of attorneys in Southern California under the age of 40. 
Recently, Travis had the special opportunity to try a medical malpractice wrongful death case with his father, Doug Easton. The case involved a doctor who violated the standard of care while performing a relatively simple lung procedure, which ultimately lead to the death of the wife and mother of our clients.  The defendant doctor made no settlement offer prior to trial despite his clear negligence because he had recently received a defense verdict on another medical malpractice case that another Plaintiff had brought against him.  In addition, the defense attorney who represented the defendant doctor in both of these matters was a very well-respected defense attorney who had not lost a case at trial in 10+ years.  After several days of trial, the defense began settlement negotiations, which ended with Plaintiffs reaching a confidential settlement that exceeded Plaintiff's pre-trial offer by a significant amount. 
Travis received his BA in 2011 from Brigham Young University, where he majored in English.  He went on to attend the University of San Diego School of Law (continually ranked one of the top 10 law schools in California) where he received his Juris Doctor and was admitted to the California Bar in 2014.  Throughout his law school career, Travis filled his time with courses intended to help further his preparation as a personal injury trial attorney.  While doing so, he obtained the highest marks possible in his Oral Advocacy Skills and Negotiation courses.  Additionally, he received the CALI award (an award for the top grade in the class) for his Advanced Torts course.  Despite his busy schedule, Travis also worked as a Research Assistant for one of the esteemed law school professors, Michael Ramsey. 
Travis' love for personal injury representation stems from his years of work for Easton & Easton (formerly Law of Offices of W. Douglas Easton) throughout his adolescent, college, and law school years.  Whether it was taking calls, drafting settlement demands, or organizing medical records, Travis saw firsthand how a person's damaged life could be changed for the better through hard work and effective advocacy by the attorneys at Easton & Easton.   Helping clients like these has become a passion for Travis that drives him to obtain justice for those that have been seriously injured.  This passion was recently recognized by the American Institute of Personal Injury Attorneys who has chosen him as one of the "10 Best" Personal Injury Attorneys for California based on Client Satisfaction over the past several years.
Like his father and brothers, Travis took two years off from college to serve as a missionary for his church in Tijuana, Mexico.  While serving the people in Tijuana, Travis fell in love with the Hispanic people and their culture (especially the food).  Travis continues to have a strong commitment to serving others.  He volunteered during law school as a basketball coach for two years for the youth in his church congregation.  Travis is an Eagle Scout and continues to serve in his church in many different capacities. 
Practice areas
Personal Injury - General: Plaintiff
Focus areas
Motor Vehicle Accidents, Personal Injury - Plaintiff, Premises Liability - Plaintiff, Slip and Fall, Wrongful Death
100% Personal Injury - General: Plaintiff
First Admitted: 2014, California
Professional Webpage: https://www.eastonlawoffices.com/Attorneys/Travis-R-Easton.s...
Honors/Awards:
I was recently selected as one of Southern California's Super Lawyers Rising Stars, which is limited to the top 5% of attorneys under the age of 40 years old.  

,

Southern California Super Lawyers Rising Stars

,

Super Lawyers

I was recently honored by The National Trial Lawyers as one of the Top 40 Under 40 Civil Plaintiff Lawyers. 

,

The National Trial Lawyers Top 40 Under 40 - Civil Plaintiff

I was awarded the award for both Million Dollar Advocates Forum and Multi-Millions Dollar Advocates Forum based on a settlement I helped procure in 2016 for 3,000,000+.  

,

Multi-Million Dollar Advocates Forum

,

2017

CALI award (an award for the top grade in the class) for his Advanced Torts course

One of the "10 Best" Personal Injury Attorneys for California based on Client Satisfaction, American Institute of Personal Injury Attorneys
Educational Background:
Brigham Young University, Provo, Utah, B.A., Major: English, 2011
Bar/Professional Activity:
Verdicts/Settlements:
I represented a woman in a failure to yield disputed liability automobile accident.  Unfortunately, my client admitted liability to the investigating officer at the scene and stated that she was not looking at the roadway at the time of the accident.  After much medical treatment, she ultimately underwent a Lumbar Fusion Surgery.  After making our demand, the defense initially placed her 80% at fault for the accident.  We then filed our lawsuit and performed a significant amount of litigation, which lead to us obtaining a $450,000 settlement.  

,

2019

I represented a 19-year old boy who was involved in a slow speed pedestrian-vehicle accident.  After my client underwent a Lumbar Surgery, I was able to obtain the $1,000,000 policy limits for him.  

,

2020

My client was a former Marine who was involved in an automobile collision, which ultimately lead to him undergoing a single level anterior Lumbar Fusion Surgery.  Unfortunately, he had suffered from lower back pain due to the war for several years prior to the automobile accident. In addition, the Defendant adamantly denied liability.  After extensive litigation and shortly before trial, we were able to resolve his case at a mediation for $750,000.  

,

2020

My clients were involved in a high-speed freeway accident that caused their vehicle to tip onto its side and slide for several hundreds of feet before coming to a stop.  The wife began experiencing neck and lower back pain, for which she underwent chiropractic treatment, acupuncture, and 3 Lumbar pain management injections.  She then began treatment with an Orthopedic Surgeon, who prescribed several radiological scans, before recommending a Lumbar Spine Surgery with an Anterior Interbody Reconstruction at the L4-5 with Posterior Pedicle Screw Instrumentation. Unfortunately, she was unable to undergo the surgery at that time because she and her husband were trying to have one final child through IVF because they were 40 years old and running out of time.  Consequently, she chose to try to have another child and live with the pain prior to undergoing the surgery.  Despite only being recommended for a surgery, we settled her claim for $475,000.   Her husband also began experiencing neck pain following the accident.  He participated in similar treatment as his wife, including chiropractic treatment and pain management injections.  The Orthopedic Surgeon recommended a Cervical ACDF Surgery, which he could not undergo at that time because he needed to help take care of his wife during the pregnancy.  Even though he had not undergone the surgery, we settled his claim for $275,000.  ,

2018

I represented a woman who was involved in a disputed liability red light automobile accident.  In the months following the accident, she underwent a Cervical Epidural Injection, which caused her to suffer a MRSA infection in her cervical spine.  She underwent an emergency 10-level laminectomy surgery that saved her life.   My client was originally represented by another attorney who had the case for over 4 years.  Throughout his handling tha case and after she had undergone the emergency Laminectomy surgery, he offered to settle her claim for less than $25,000.  Fortunately, the insurance carrier was not aware of the surgery either because he had not provided them with any medical records or bills.  After her deposition, it became clear to my client that she needed to obtain different representation, at which time she contacted us and we agreed to take on her case.  We eventually learned by sending discovery, something the other attorney never did, that the Defendant had 1.25 million in insurance coverage.  We also obtained a crucial witness statement of the only impartial witness.   We then obtained all of the medical records and bills associated with her treatment, as well a life care plan before sending a policy limits settlement demand with a corresponding 998 offer to compromise, which was subsequently accepted despite the insurance company continuing to dispute liability.

,

2019

I represented a 26-year-old girl who was rear-ended at a high rate of speed. She had already suffered from pre-existing neck and lower back complaints in the years prior to the subject accident, which were significantly exacerbated by the subject accident. After undergoing pain management injections, she was recommended for a Lumbar Anterior Interbody Reconstruction/Fusion with Posterior Pedicle Screw Instrumentation.  Given her relatively young age, she did not feel that she was ready to undergo such a significant surgery at such a young age despite her unrelenting pain. Ultimately, we were able to convince the insurance carrier that despite her preexisting conditions, it was responsible for compensating her for her future lower back medical needs, which they agreed with by tendering the full $500,000 bodily injury policy limits. 

,

2019

My client was rear-ended in an automobile accident.  He subsequenbtly underwent several pain management injections before undergoing an Anterior Interbody Reconstruction Fusion at L4-5 and L5-S1 with Posterior Pedicle Screw Instrumentation/Fusion at L4-L5-S1.  Given his significant injuries, I was able to obtain the $1,000,000 available policy limits for my client.  

,

2019

My client was involved in an automobile accident that was caused by the defendant who failed to stop for a red signal light.  My client began experiencing neck pain after the accident and underwent chiropractic treatment and pain management injections.  Because the pain continued worsening with time, he began treatment with an Orthopedic Surgeon, who recommended and performed an Anterior Cord Decompression Fusion Surgery at C5-6 and C6-7.  We resolved his claim for the $500,000 bodily injury policy limits.  ,

2017

My client was rear-ended at a high rate of speed, causing her BMW X5 to be deemed a total loss.  Over the following months, my client underwent chiropractic treatment, a Cervical MRI that showed a 2 MM disc bulge, and  several Cervical pain management injections, which offered minimal pain relief.  She then began treatment with an orthopedic surgeon who recommended a Cervical Discogram, which resulted in concordant pain at C5-6.   The Orthopedic Surgeon then recommended an Cervical Artificial Disc Replacement Surgery that she scheduled, but was unable to undergo before learning that she was pregnant.  She continued chiropractic treatment throughout her pregnancy and resumed treatment with the orthopedic surgeon after giving birth to her child 9 months later.  After undergoing a new Cervical CT Scan, she was again recommended for the Cervical Artificial Disc Replacement Surgery, which she underwent a few weeks later.  Plaintiff continued to experience moderate pain thereafter.   Shortly thereafter, I obtained the $954,655.16 commercial policy limits for my client. (1 million dollar policy limits minus the amount she already received for her totaled vehicle).  ,

2018

My client was involved in an automobile accident, wherein liability was disputed because the defendant's axel broke while driving on the freeway, which caused his vehicle to collide in my client's vehicle.  The defendant claimed that there was no way he could have known or protected against his axel breaking. My client underwent chiropractic treatment, MRIs, and pain management injections before beginning treatment with an Orthopedic Surgeon regarding neck and lower back pain.  Eventually, she underwent a Cervical Anterior Cord Decompression and Fusion and Spinal Cord Decompression at C4-5.  We settled her claim for the $500,000 bodily injury policy limits.  ,

2017

We represented the mother of a homeless man that was killed by an automobile that collided into another vehicle before accelerating through a brick wall and into the decedent. There was another homeless man sitting nearby the decedent who fractured his ankle in the incident and one of the persons involved in the automobile collision was also injured.   During a mediation involving all of the claimants, we were able to convince the mediator that our client was entitled to the majority of the available policy limits and obtained $750,000 for our client.

,

2016

My client was a passenger in a vehicle when the driver lost control of the vehicle and collided into a metal sign, light pole, tree, and concrete wall.  My client was knocked unconscious for several minutes following the collision.  He began experiencing worsening neck pain that night and the following morning his parents took him to the Emergency Room where a Cervical MRI showed an unstable C6-7 Fracture Dislocation with acute grade 1 anterolisthesis and left lateral listhesis of C6 on C7 vertebra, as well as an acute traumatic full thickness tear of the anterior longitudinal ligament and posterior longitudinal ligament at the C6-7 level.  He was also diagnosed with an anterior subluxation of C5-6, as well as unilateral locked facets with facet fracture.    He underwent an Emergency Anterior Cervical Diskectomy and Fusion with Posterior Decompression, Reduction of Fracture, and Posterior Fusion at C6-7 that same day.  He was hospitalized for 5 days following the surgery before being discharged home.  My client was a sophomore in high school at the time of the collision and had just finished his first Varsity football season prior to this accident.  He already begun being recruited by PAC 12 universities prior to this accident.  Through hard work and patience, my client was able to play football the remaining two years of high school, but lost out on the chance to play college football at the Division 1 level.  We settled his case at a mediation for $1,875,000.  ,

2017

My client was a passenger in the defendant's vehicle who drove up the center median and collided into a tree, causing the vehicle to roll over onto its roof.  Both the plaintiff and defendant were drunk at the time of the accident.  The defendant claimed that the plaintiff grabbed the steering wheel and caused the vehicle to drive onto the center median.  To further complicate matters, the Plaintiff told the investigating officer that the Defendant intentionally tried to kill them by driving the vehicle onto the center median.   The Plaintiff suffered an acute mild compression fracture of L1 with retropulsion, compression fracture of L3, and minimally displaced sternal fracture.  She wore a TSLO brace over the following 3 months and eventually it was determined that she did not need to undergo a surgery regarding the Lumbar compression fractures.  Despite the above liability issues, I resolved Plaintiff's bodily injury claim for $530,000.  ,

2017
Office location for Travis Easton
650 Town Center Drive
Suite 1850
Costa Mesa, CA 92626
Phone: 714-850-4590
Selections
Rising Stars: 2019 - 2023
Additional sources of information about Travis Easton
Attorney resources for Travis Easton