Seymour B. Everett, III
Top rated personal injury attorney in Irvine, California
Everett Dorey LLP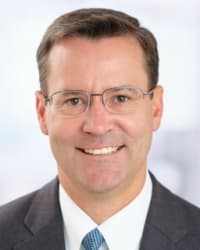 Everett Dorey LLP
Practice Areas: Personal injury, Business litigation, Construction litigation; view more
Licensed in California since: 2002
Education: Seton Hall University School of Law

Selected to Super Lawyers: 2021 - 2023

Selected to Rising Stars: 2009 - 2012
Everett Dorey LLP
18300 Von Karman Ave
Ste 900
Irvine, CA 92612
Visit website
Details
A highly regarded civil defense attorney, Seymour B. Everett is the managing partner and co-founder of Everett Dorey LLP.  Mr. Everett is a distinguished trial attorney and member of the American Board of Trial Advocates ("ABOTA"), and he is active in several civic organizations as well. He practices out of his firm's offices in Southern California, representing clients throughout California. Mr. Everett is admitted to practice in California, and he is also admitted to practice before the U.S. District Courts for the Central, Southern, and Northern Districts of California, the U.S. Bankruptcy Court for the Central District of California, and the U.S. Court of Appeals for the 9th Circuit.
Mr. Everett has handled a wide variety of cases during his distinguished career, many of which have resulted in published decisions. His experience has encompassed catastrophic personal injuries, mass tort, toxic torts, business interference, asbestos exposure, defamation, employment law, environmental violations and many other types of causes of action. Mr. Everett has counted among his clients people, companies, governmental agencies, and school districts, and they have benefitted from his skills in arguing their cases before juries and administrative bodies.
Mr. Everett attended the University of California, Los Angeles, as an undergraduate, obtaining a Bachelor of Arts in 1993. He subsequently went on to pursue his legal education at Seton Hall University School of Law in New Jersey, and in 2001, he graduated with his Juris Doctor. Prior to founding Everett Dorey LLP in August 2017, Mr. Everett was a partner at two national law firms. 
Practice areas
Personal injury - general: defense, Business litigation, Construction litigation: business, Elder law, Employment & labor: employee, Land use/zoning, Personal injury - general: plaintiff
Focus areas
Construction defects, Employment law - employee
50% Personal injury - general: defense

10% Business litigation

10% Construction litigation: business

10% Elder law

10% Employment & labor: employee

10% Land use/zoning

1% Other
First Admitted: 2002, California
Professional Webpage: https://www.everettdorey.com/attorneys/seymour-b-everett-iii
Verdicts/Settlements:
Wilson v. Grieder, Orange County Superior Court, Construction/Business Litigation (Defense Verdict, July 2015)

IME v. Western Association of Schools & Colleges ACS, Santa Clara County Superior Court, Professional Liability (Defense Verdict, May 2015)

Lorenzana v. City of Buena Park, Orange County Superior Court, Public Entity/Trip and Fall (Defense Verdict, June 2016)

Reumont v. Gordon, Orange County Superior Court, Free Speech/Personal Injury (Defense Verdict, March 2015)

Reynolds v. Ventura County Fairgrounds, et al., Ventura County Superior Court, Public Entity, Catastrophic Injury (Plaintiff Verdict/Cross-Complaint Indemnity Settlement, July 2017)

Demolay v. Millard Group, et al., Orange County Superior Court, Catastrophic Injury (Defense Verdict, August 2017)

Mobley v. The Irvine Company, et al., Orange County Superior Court (Defense Verdict, December 2017)

Ryan v. Lustre-Cal; 2014 WL 7384613 (Cal.App. 2 Dist.)

Chen v. The Irvine Company, et al., Orange County Superior Court (Defense Verdict, April 2018)

Pacific Coast Warehouse v. Leslie's Poolmart, Inc., San Bernardino County Superior Court (Defense Verdict, May 2019)

Galicinao v. McMaster-Carr Supply Co., in Cal.Rptr.3d, 2011 WL 5079530, (Cal.App. 2 Dist)

Munoz v. MacMillan 2011 WL 1817842 (Cal.App. 4 Dist.)

Ducoing Enterprises, Inc. v. Winston & Associates Insurance Brokers, Inc., in Cal.Rptr.3d, 2013 WL 4782809, Cal.App. 4 Dist.

Farzan v. Wescom Credit Union et al., in Cal.Rptr 2 District, B247479

Righeimer v. Costa Mesa Police Association, G050188 (Cal.App 4 Dist)

Pena de Molina v Glasswerks LA, Inc.; August 12, 2020, B301736, (Cal.App. 2 Dist.)

Summit Coastal Living, Inc. v. City of Costa Mesa. Plaintiff, Summit Coastal Living, Inc., an addiction treatment center, filed suit for discrimination after the City of Costa Mesa enacted Ordinances 15-11 and 17-05 in order to regulate the rapidly growing sober living industry within the city. Mr. Everett represented Defendant City of Costa Mesa. Plaintiff, an addiction treatment center, claimed that the City of Costa Mesa's Ordinances were discriminatory under the Federal Fair Housing Act ("FHA"), Americas with Disabilities Act ("ADA"), California Fair Employment and Housing Act ("FEHA"), Rehabilitation Act, Civil Rights Act and California Government Code §§ 11135 and 65008, when the City denied plaintiff's Conditional Use Permit ("CUP") and reasonable accommodation applications to allow plaintiff to bypass the occupancy limits as well as the 650 ft. separation requirement for two of plaintiff's properties. Plaintiff's argument hinged on the notion that recovering addicts were classified as disabled. Defendant denied all claims that the City's Ordinances were discriminatory. The court granted defendant's motion for summary judgement. Defendant argued that there is no per se rule, that states all individuals in a drug or alcohol rehabilitation program automatically qualify as disabled and or protected people. Alternatively, defendant argued that plaintiff must prove on a case-by-case basis that each individual suffers from a major life activity being inhibited by the alleged disability. Plaintiff provided no evidence to support that any of the individuals at issue have endured a major life activity being impaired by the purported disability. The court concluded that, with respect to the FHA and ADA claims, plaintiff had not generated any dispute of material fact involving its clients being disabled, and therefore failed to establish the existence of an essential element. Moreover, the court stated it "must" grant defendant Costa Mesa's motion for summary judgment since plaintiff failed to explain the specific conduct that violated the Fourteenth Amendment as well as how that specific conduct served to establish a violation of federal rights. The judgment was the third of six federal motion for summary judgment rulings that the City of Costa Mesa is currently engaged in, and remains optimistic that the remaining three will follow suit.,

2020

Casa Capri Recovery, Inc. v. City of Costa Mesa. Plaintiff, Casa Capri Recovery, Inc., an addiction treatment center, filed suit for discrimination after the City of Costa Mesa enacted Ordinances 15-11 and 17-05 in order to regulate the rapidly growing sober living industry within the city. Mr. Everett represented Defendant City of Costa Mesa. Plaintiff, an addiction treatment center, claimed that the City of Costa Mesa's Ordinances were discriminatory under the Federal Fair Housing Act ("FHA"), Americas with Disabilities Act ("ADA"), California Fair Employment and Housing Act ("FEHA"), Rehabilitation Act, Civil Rights Act and California Government Code §§ 11135 and 65008, when the City denied plaintiff's CUP and reasonable accommodation applications to allow plaintiff to bypass the occupancy limits as well as the 650 ft. separation requirement for three of plaintiff's properties. Plaintiff's argument hinged on the notion that recovering addicts were classified as disabled. Defendant denied all claims that the City's Ordinances were discriminatory. The court granted defendant's motion for summary judgement. Defendant argued that there is no per se rule, that states all individuals in a drug or alcohol rehabilitation program automatically qualify as disabled and or protected people. Alternatively, defendant argued that plaintiff must prove on a case-by-case basis that each individual suffers from a major life activity being inhibited by the alleged disability. Plaintiff provided no evidence to support that any of the individuals at issue have endured a major life activity being impaired by the purported disability. The court concluded that, with respect to the FHA and ADA claims, plaintiff had not generated any dispute of material fact involving its clients being disabled, and therefore failed to establish the existence of an essential element. Moreover, the court stated it "must" grant defendant Costa Mesa's motion for summary judgment since plaintiff failed to explain the specific conduct that violated the Fourteenth Amendment as well as how that specific conduct served to establish a violation of federal rights. The judgment was the first of six federal motion for summary judgment rulings that the City of Costa Mesa is currently engaged in remains optimistic that the remaining five will follow suit.,

2020

City of Costa Mesa v. National Therapeutic Services, Inc. Plaintiff, City of Costa Mesa, filed suit against Defendant RAW Recovery, LLC and its operators, for continuing to operate a sober living home without the required special use permit, as required by City's Municipal Code. Mr. Everett represented Plaintiff City of Costa Mesa. Plaintiff, City of Costa Mesa, asserted that Defendant RAW Recovery, LLC and its operators have permitted and maintained a continuing public nuisance in the City pursuant to the California Code of Civil Procedure § 731. The City further asserted that Defendants' continued maintenance of the public nuisance was in direct violation of the City of Costa Mesa's municipal code under CMMC §§ 13-17, 20-11 and 20-12. Defendants denied all allegations that they permitted and maintained a continuing public nuisance. The court granted Plaintiff City of Costa Mesa's motion for summary judgment. The City demonstrated that Defendants owned and operated a noncompliant sober living home at the subject property without the necessary special use permit required to operate under the City's Municipal Code, and that Defendants are continuing to operate in direct violation of the Code. Defendants did not dispute the allegations and the court noted that Defendants failed to show that a triable issue of fact with respect to their affirmative defense that under the California Constitution the Code violates the privacy rights of Defendants' residents. Because the City was able to provide the undisputed evidence that supported a showing of a nuisance, in conjunction with Defendants' failure to show any triable issues, the court found that the Plaintiff City of Costa Mesa was entitled to judgment in their favor.,

2020

National Therapeutic Services, Inc. dba Northbound Treatment and RAW Recovery, LLC v. City of Costa Mesa. Plaintiff, National Therapeutic Services, Inc., an addiction treatment center, filed suit for disability discrimination after the City of Costa Mesa enacted Ordinances 15-11 and 17-05 in order to regulate the rapidly growing sober living industry within the city. Mr. Everett represented Defendant City of Costa Mesa. Plaintiff, an addiction treatment center, claimed that the City of Costa Mesa's Ordinances were discriminatory under the Federal Fair Housing Act ("FHA"), Americas with Disabilities Act ("ADA"), California Fair Employment and Housing Act ("FEHA"), Rehabilitation Act, Civil Rights Act and California Government Code §§ 11135 and 65008, when the City denied plaintiff's CUP and reasonable accommodation applications to allow plaintiff to bypass the occupancy limits as well as the 650 ft. separation requirement for three of plaintiff's properties. Plaintiff's argument hinged on the notion that recovering addicts were classified as disabled. Defendant denied all claims that the City's Ordinances were discriminatory or that the City had acted inappropriately in any way. The court granted defendant City of Costa Mesa's motion for summary judgment. The City argued, among others, that there is no per se rule that states all individuals in a drug or alcohol rehabilitation program automatically qualify as disabled for purposes of the FHA, ADA, and similar discrimination statutes. The City further argued that plaintiff must prove on a case-by-case basis that its clients suffered from an impairment that substantially limits a major life activity, had a record of such impairment, or were regarded as having such an impairment. Plaintiff provided no evidence to support that any of its clients qualified as disabled under any of the three prongs. The court concluded that, with respect to the discrimination claims, plaintiff had not generated any dispute of material fact involving its clients qualifying as disabled, and therefore failed to establish the existence of an essential element of its claims. Moreover, the court stated it "must" grant the City's motion for summary judgment as to plaintiff's separate § 1983 claim since plaintiff failed to explain any specific conduct that violated the Fourteenth Amendment as well as how that specific conduct served to establish a violation of federal rights. Lastly, the court granted summary judgment to the City as to plaintiff's retaliation claim, which was based on the City's separate lawsuit to enforce its ordinances, because the City's conduct was immune from liability due to the Noer-Pennington doctrine. The judgment was the fifth ruling in favor of the City on its motions for summary judgment in seven federal actions that the City is currently engaged in, and the City remains optimistic that the remaining will follow suit.,

2020

City of Costa Mesa v. Pacific Shores Recovery, LLC. Plaintiff, City of Costa Mesa, filed suit against Defendant Pacific Shores Recovery, LLC and its operators, for continuing to operate sober living homes without the required conditional use permit, as required by the City's Municipal Code. Mr. Everett represented Plaintiff City of Costa Mesa. Plaintiff, City of Costa Mesa, asserted that Defendant Pacific Shores Recovery, LLC and its operators have permitted and maintained a continuing public nuisance in the City pursuant to the California Code of Civil Procedure § 731. The City further asserted that Defendants' continued maintenance of the public nuisance was in direct violation of the City of Costa Mesa's Municipal Code under CMMC §§ 13-17, 20-11, and 20-12. Defendants denied all allegations that they permitted and maintained a continuing public nuisance. The court granted Plaintiff City of Costa Mesa's motion for summary judgment. The City demonstrated that Defendants owned and operated noncompliant sober living homes at the subject properties without the necessary conditional use permit required to operate under the City's Municipal Code, and that Defendants are continuing to operate in direct violation of the Code. Defendants did not dispute the allegations and the court noted that Defendants misapprehended their burden and failed to show that a triable issue of fact with respect to any causes of action or defenses. Because the undisputed evidence supported a nuisance per se under the City's laws, and Defendants failed to show any triable issues, the court found that the Plaintiff City of Costa Mesa was entitled to judgment in its favor.,

2020

Pacific Shores, LLC v. City of Costa Mesa. Plaintiff, Pacific Shores, LLC an addiction treatment center, filed suit for discrimination after the City of Costa Mesa enacted Ordinances 15-11 and 17-05 in order to regulate the rapidly growing sober living industry within the city. Mr. Everett represented Defendant City of Costa Mesa. Plaintiff, an addiction treatment center, claimed that the City of Costa Mesa's Ordinances were discriminatory under the Federal Fair Housing Act ("FHA"), Americas with Disabilities Act ("ADA"), California Fair Employment and Housing Act ("FEHA"), Rehabilitation Act, Civil Rights Act and California Government Code §§ 11135 and 65008, when the City denied plaintiff's CUP and reasonable accommodation to allow plaintiff to bypass the 650 ft. separation requirement as well as the occupancy limit with respect to plaintiff's properties. Plaintiff's argument hinged on the notion that recovering addicts were classified as disabled. Defendant denied all claims that the City's Ordinances were discriminatory. The court granted defendant's motion for summary judgement. Defendant argued that there is no per se rule, that states all individuals in a drug or alcohol rehabilitation program automatically qualify as disabled and or protected people. Alternatively, defendant argued that plaintiff must prove on a case-by-case basis that each individual suffers from a major life activity being inhibited by the alleged disability. Plaintiff provided no evidence to support that any of the individuals at issue have endured a major life activity being impaired by the purported disability. The court concluded that, with respect to the FHA and ADA claims, plaintiff had not generated any dispute of material fact involving its clients being disabled, and therefore failed to establish the existence of an essential element. Moreover, the court stated it "must" grant defendant Costa Mesa's motion for summary judgment since plaintiff failed to explain the specific conduct that violated the Fourteenth Amendment as well as how that specific conduct served to establish a violation of federal rights. The judgment was the second of six federal motion for summary judgment rulings that the City of Costa Mesa is currently engaged in remains optimistic that the remaining four will follow suit.,

2020

SoCal Recovery LLC v. City of Costa Mesa.  Plaintiff, SoCal Recovery, LLC, an addiction treatment center, filed suit for discrimination after the City of Costa Mesa enacted Ordinances 15-11 and 17-05 in order to regulate the rapidly growing sober living industry within the city. Mr. Everett represented Defendant City of Costa Mesa. Plaintiff, an addiction treatment center, claimed that the City of Costa Mesa's Ordinances were discriminatory under the Federal Fair Housing Act ("FHA"), Americas with Disabilities Act ("ADA"), California Fair Employment and Housing Act ("FEHA"), Rehabilitation Act, Civil Rights Act and California Government Code §§ 11135 and 65008, when the City denied plaintiff's Special Use Permit ("SUP"), Conditional Use Permit ("CUP") and reasonable accommodation applications to allow plaintiff to bypass the occupancy limits as well as the 650 ft. separation requirement for three of plaintiff's properties. Plaintiff's argument hinged on the notion that recovering addicts were classified as disabled. Defendant denied all claims that the City's Ordinances were discriminatory. The court granted defendant's motion for summary judgement. Defendant argued that there is no per se rule, that states all individuals in a drug or alcohol rehabilitation program automatically qualify as disabled and or protected people. Defendant further argued that plaintiff must prove on a case-by-case basis that each individual suffers from a major life activity being inhibited by the alleged disability. Plaintiff provided no evidence to support that any of the individuals at issue have endured a major life activity being impaired by the purported disability. The court concluded that, with respect to the FHA and ADA claims, plaintiff had not generated any dispute of material fact involving its clients being disabled, and therefore failed to establish the existence of an essential element.  Moreover, the court stated it "must" grant defendant Costa Mesa's motion for summary judgment since plaintiff failed to explain the specific conduct that violated the Fourteenth Amendment as well as how that specific conduct served to establish a violation of federal rights. The judgment was the fourth of six federal motion for summary judgment rulings that the City of Costa Mesa is currently engaged in remains optimistic that the remaining two will follow suit.,

2020

Rosa Pena de Molina v. does 1 through 100 et. al . Motion for Summary Judgment Granted. The case, brought fourth by the decedent's wife and children, alleged product liability as a substantial factor in the decedents death. Mr. Everett represented Defendant Glasswerks, LA, Inc. Plaintiff alleged in the original action, against multiple defendants, whose products the decedent had worked on and been exposed to, that the named defendants either made, sold, or altered products containing a toxin purported to have caused the decedent's disease and ultimate death. Plaintiff contends that Defendant's products were a substantial factor in causing decedent's interstitial lung disease. Defendant Glasswerks LA, Inc. denied allegations, asserting that it sold only fully-finished products which required no labor, which in turn would cause no exposure. Defendants argued that undisputed facts existed which demonstrated that plaintiff did not possess and could not have obtained admissible evidence as an issue of fact which a jury could find that their client's products were a substantial factor in causing the decedents harm. The court granted Defendant Glasswerks LA, Inc.'s motion for summary judgement. The court pointed out that mere evidence that Glassworks products were purchased by another party in the action is, "insufficient to prove that Glasswerks products were a substantial factor in Decedent's disease." In their opposition, plaintiff failed to meet their burden of creating a triable issue with respect to Glasswerks' products serving as a substantial factor in causing the lung disease of the decedent.,

2019

Chino-Pacific Warehouse v. Leslie's Poolmart, Inc. Plaintiff Chino Pacific Warehouse and Defendant Leslie's Poolmart entered into a contract for Chino Pacific to house Leslie's overflow of chlorine products. Mr. Everett represented Defendant Leslie's Poolmart. Plaintiff, a Third Party Logistics Company, alleged that the defendant concealed critical information related to the storage of over 4,600 super sacks (2,200 lbs each) of trichloroisocyanuric acid which resulted in extensive contamination and corrosion of plaintiff's leased warehouse. Defendant denied all claims as plaintiff was provided full and complete material safety data sheets and corresponding storage instructions for the product that was stored over a three year period. The jury unanimously did not find defendant Leslie's Poolmart to be liable for the damage caused to Plaintiff's warehouse as a result of fraudulent concealment. Plaintiff's closing argument focused on an alleged failure to respond to a request for additional information resulting in an alleged public safety violation related to damaged fire sprinklers. Plaintiff's counsel requested a finding of malice, oppression and fraud from the jury to support plaintiff's punitive damage claim. The jury rejected plaintiff's claims. In closing, defendant argued plaintiff's unqualified personnel misrepresented their ability to handle the highly toxic hazardous materials and plaintiff's incompetence was the true cause of the chemical release.,

2019

Claudia Galvez on behalf of Gloria Del Carmen Galvez v. City of Buena Park. On January 10, 2017, Gloria Del Carmen Galvez, 66, was struck and killed by a driver while crossing Western Avenue near 10th Street in Buena Park. Mr. Everett represented Defendant the City of Buena Park. Plaintiffs contend that both the City and the Department of Transportation should be held liable for wrongful death, dangerous condition of public property and negligence as a result of the death of their mother, Gloria Carmen Galvez. Plaintiffs base their allegations on a lack of sufficient lighting and signs to warn drivers of pedestrians in the intersection. Defendants denied all allegations. Defendants claimed that since plaintiffs were unable to root their general negligence and wrongful death claims in any statutory cause of action, that the claims are without merit pursuant to Government Code Section 815. Defendants also claimed that with respect to plaintiff's second cause of action for dangerous condition of public property, that the City is immune from liability of allegedly failing to provide roadway markings or traffic signals pursuant to Government Code Section 830.4. The court granted Defendant City of Buena Park's motion for summary judgement. The Court concluded that due to the fact that plaintiffs failed to present any evidence contradicting Defendant's evidence regarding proper illumination of the area at issue, that plaintiff failed to demonstrate a triable issue of material fact.,

2019
Scholarly Lectures/Writings:
A Complex Web of Loyalties: The Tri-Partite Relationship and Cumis Counsel, Orange County Lawyer February 2012

Course Instructor, Insurance Education Association, CPCU 530, The Legal Environment of Insurance

Attacking Occupational Exposure Claims, November 2006

Adjunct Professor, University of Southern California Law School, ADR Topics: Negotiation & Mediation Course

Evaluating and Attacking Benzene Workplace Exposure Claims, April 2006 & 2007

Introduction to Specialty and Complex Claims: Toxic Mold, Construction Defect, Environmental, Chemical Exposure and Asbestos. Insurance Educational Association, September 2008

California Asbestos Litigation 2010 Review; The Nuts and Bolts of Litigation: What You or Your Customer Should Expect if Involved in a Lawsuit. National CPCU Society, February 2009

Don't Let Them Bite! – Cutting Edge Risk, Management and Litigation Strategies for Responding to Bed Bug Infestation Claims, CLM Retail, Restaurant & Hospitality Conference, February 5, 2015

Broker Risk Management: Navigating and Dealing with the Pitfalls of Potential Litigation, Insurance Professionals of Los Angeles, August 20, 2014

International Directors and Officers Professional Liability Coverage, CPCU Society Annual Meeting, September 21, 2014

Government Claims Act, Alliance of Schools for Cooperative Insurance Programs, May 11, 2016, Carl Warren and Co., April 19, 2016.

Trivial Defect doctrine and other Defenses Available to Public Entities, Public Agency Risk Management Association, February 10, 2015

Spying in the Skies Drones, the New Frontier: Impact on international and Domestic Insurance and Liability, October 5, 2015

Southern California City Clerk Association, Annual Meeting, Keynote Speaker – "Claims, Lawsuits, Subpoenas and Summons", January 21, 2016

Insurance Professionals of Los Angeles, Region VIII Conference, Keynote Speaker – "Drones:  The Impact on Insurance and What You Need to Know to Navigate the Insurance Market Place", March 5, 2016

Combined Claims Conference – Presenter, "Big Brother is Watching – Surveillance Cameras and Video Footage to Manage Risk, Protect Property and Defend Litigation", March 2019.

Public Entities and the Claim Presentation Statute – Accept, Reject, Provide Notice or Do Nothing? Orange County Lawyer, July 2016

League of Cities, New Laws & Elections Annual Seminar, "Subpoenas – We've Been Served! Now What?" December 2016

All Industry Day, CPCU Society, Orange Empire, "Talc, Fibromyalgia, PTSD & Other, Emerging Risks and Litigation Trends, Impacting the Insurance Industry", October 2017.

CLM Continuing Education Conference for Catholic Mutual Group, "Advanced Strategies for Success in Mediation", August 2018

In the age of Covid-19 and the recent and ongoing Civil Unrest, the use of video surveillance is on the rise more than ever and absolutely critical to successful risk management for every city. Cities across the country are relying upon body cameras, dash cams, drones and surveillance cameras in nearly every high prole incident. This seminar highlights the effective use of surveillance and videos as part of every risk management program. At the conclusion of the seminar you will have reviewed high profile cases that have relied upon video and also learned about the technical aspects of effective video surveillance.

,

Lead Presenter

,

Big Brother is Watching – Surveillance Cameras to Manage Risk, Protect Property and Defend Litigation in the ERA of Covid-19"

,

Public Agency Risk Management Association

,

Cities, School Districts And Public Entities

,

2020

PRIMA (Public Risk Management Association) – Speaker/Presenter, "Big Brother is Watching – Surveillance & Risk Management.", June 2019.

Prepare and participate in a Mock Trial regarding Asbestos and Talc exposure.

,

Presenter

,

Asbestos Talc Mock Trial and Jury Deliberation

,

Perrin Conferences

,

Insurance Professionals

,

2018

Assist Superintendents, Risk Managers, and Insurance Professionals Identify Eliminate Exposures to Hazardous and Toxic Substances on School Campuses.

,

Lead Presenter

,

Safe Schools: Identifying & Eliminating Exposure to Hazardous and Toxic Substances on School Campuses

,

CASBO

,

School Districts

,

2019

Provides an overview of the pre-trial litigation process, including the pleading stage, discovery, expert witnesses and law and motion, with a focus on tips on recent trends in case handling and impact of Court access due to COVID-19.

,

Lead Presenter

,

Managing Litigation and Protecting Schools in the Age of Covid-19

,

Alliance for Schools for Cooperative Insurance Programs ("ASCIP")

,

Public School Districts

,

2020

A legal article addressing recent changes to the law related to Privacy Rights associated with plaintiff's medical records.

,

Author

,

Balancing Privacy Against the Right to Discover Relevant Medical Records, Orange County Lawyer Magazine, March 2020

,

Orange County Bar Association

,

2020

Assist insurance professionals and risk managers to prepare to challenges for challenges in the public and private sector when Covid-19 Stay in Place Orders are lifted. (Presentation was ranked as a top 3 Webinar for 2020 for the CPCU Society.)

,

Lead Presenter

,

The Next Litigation Wave: What Should We Expect When the Covid-19 'Stay in Place' Order are Lifted?

,

The Institutes CPCU Society

,

Insurance Industry And Risk Managers

,

2020
Pro bono/Community Service:
Orangewood Children's Foundation Volunteer

Member Board of Directors - Camp Fire USA Orange County

,

2012

Elected Official, Director, "EOCWD" - East Orange County Water District

,

2018
Bar/Professional Activity:
9th Circuit Court of Appeals

U.S. Bankruptcy Court - Central District of CA

U.S. District Court - Northern District of CA

ABOTA (American Board of Trial Advocates). Mr. Everett is a trial attorney and has tried numerous civil matters to verdict. As a result, he is an elected member of ABOTA, a highly respected national advocacy group dedicated to the preservation of the right to trial by jury.

,

2019

U.S. District Court - Southern District of CA

U.S. District Court - Central District of CA

California State Courts

First Responders First. Program dedicated to supporting law enforcement, firefighters, and essential city employers while simultaneously supporting the local business during the pandemic. Over 2,500 meals have been purchased from local restaurants and served to first responders and essential city employees. Law Firms who are members of the local bar participate by purchasing the lunches from local restaurants located in the community that first responders serve. Created by Seymour Everett with Everett Dorey LLP

,

2020
Educational Background:
UCLA, Bachelors of Arts in Political Science

,

1993

CPCU (Chartered Property and Casualty Underwriter) Designation

,

2004
Special Licenses/Certifications:
Chartered Property Casualty Underwriter ("CPCU") Designation

,

2004
Honors/Awards:
Mr. Everett is an elected member of the American Board of Trial Advocates ("ABOTA"), a national advocacy group dedicated to the preservation of the right to trial by jury.

,

Elected Member

,

American Board of Trial Advocates

,

2019
Other Outstanding Achievements:
Lawyer of Distinction

,

2020

Super Lawyer

,

2020
Office location for Seymour B. Everett, III
18300 Von Karman Ave
Ste 900
Irvine, CA 92612
Phone: 949-516-9406
Selections
Super Lawyers: 2021 - 2023
Rising Stars: 2009 - 2012
Additional sources of information about Seymour B. Everett, III
Attorney resources for Seymour B. Everett, III