Eric M. Renslo
Top rated Criminal Defense attorney in Los Angeles, California
Renslo Law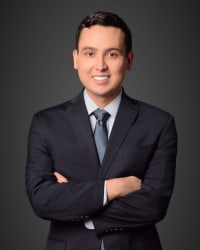 Renslo Law
Practice Areas: Criminal Defense, DUI-DWI
Licensed in California since: 2017
Education: University of California Los Angeles (UCLA) School of Law

Selected to Rising Stars: 2021 - 2023

Virtual Appointments

Free Consultation
Renslo Law
350 S Grand Ave
Ste. B1 #712065
Los Angeles, CA 90071
Phone: 213-973-9190
Email: Eric M. Renslo Visit website
Details
Visit trialgod.com for more information.

Attorney Eric Renslo exclusively practices criminal defense in the Greater Los Angeles Area. Unlike most criminal defense attorneys, his expertise lies in bringing cases to trial, and more importantly, securing the best possible outcome for you. He is a UCLA Law graduate, has significant winning trial experience, is very accessible, and offers affordable pricing.

As a former prosecutor, Attorney Renslo has successfully handled serious and violent felonies throughout Southern California. He has also litigated, as sole counsel, dozens of challenging jury trials and contested court hearings in many different Los Angeles County courts, obtaining favorable results in nearly all matters. He maintains great relationships with prosecutors, judges, police officers, and bailiffs.

Attorney Renslo is highly-regarded by his peers for his effectiveness and results as a trial attorney. He has extensive training in aggressive trial advocacy from UCLA School of Law, where he earned his Juris Doctor degree. His work in advanced pre-trial, trial, and appellate criminal litigation has been recognized by UCLA School of Law with the Masin Family Academic Excellence Gold Award.

Call or text (213) 973-9190 today for a free consultation, or email [email protected].
First Admitted: 2017, California
Professional Webpage: https://www.trialgod.com
Pro bono/Community Service:
UCLA Asian Pacific Islander Law Student Association

,

2017

UCLA Asian Pacific Islander Law Student Association

,

2016

UCLA Asian Pacific Islander Law Student Association

,

2015
Scholarly Lectures/Writings:
UCLA Pacific Basin Law Journal

,

Editor

,

UCLA Pacific Basin Law Journal

,

UCLA School of Law

,

2017

International Criminal Court Forum

,

Editor

,

The Performance Indicator "Expeditiousness of Proceedings" Will Cause Unintended Negative Consequences

,

International Criminal Court Forum

,

2017

International Criminal Court Forum

,

Editor

,

Sanctions as a Penalty for Withdrawing from the ICC

,

International Criminal Court Forum

,

2016

UCLA Pacific Basin Law Journal

,

Editor

,

UCLA Pacific Basin Law Journal

,

UCLA School of Law

,

2016

UCLA Pacific Basin Law Journal

,

Editor

,

UCLA Pacific Basin Law Journal

,

UCLA School of Law

,

2015

UC Davis Presidential Election Debate

,

Presidential Election Debate Moderator

,

UC Davis Presidential Election Debate

,

UC Davis

,

2014

UC Davis Senate Election Debate

,

Senate Election Debate Moderator

,

UC Davis Senate Election Debate

,

UC Davis

,

2013
Educational Background:
UCLA School of Law

,

2017

UC Davis

,

2014
Verdicts/Settlements (Case Results):
As a former prosecutor, Attorney Renslo has successfully handled serious and violent felonies throughout Southern California. He has also litigated, as sole counsel, dozens of challenging jury trials and contested court hearings in many different Los Angeles County courts, obtaining favorable results in nearly all matters.

,

2018
Honors/Awards:
Super Lawyers selects attorneys using a patented multiphase selection process. Peer nominations and evaluations are combined with independent research. Each candidate is evaluated on 12 indicators of peer recognition and professional achievement. Selections are made on an annual, state-by-state basis. The objective is to create a credible, comprehensive and diverse listing of outstanding attorneys that can be used as a resource for attorneys and consumers searching for legal counsel. Since Super Lawyers is intended to be used as an aid in selecting a lawyer, we limit the lawyer ratings to those who can be hired and retained by the public.

,

Rising Star

,

Super Lawyers

,

2023

At the American Institute's Criminal Law Division we recognize excellence. Very few Attorneys can display our "10 Best" or "10 Best Under 40" badge on their website or display the plaque in their office. Some States depending on size and population density may be broken up into City or Region to be more applicable to potential new clients who utilize this site when looking for an Attorney. This is for the consumer so that he or she can choose the very best in their field. Many aspects of the Attorney and his/her career are considered including: Must be formally nominated by the Institute, Client, and/or Peer Must have an impeccable Client Rating rating Must not have faced or been subject to any Attorney Grievance Committee discipline Must be a member in Good Standing of their State Bar Must have excellent Client/Peer Reviews Possess Advanced Degrees Awards received Professional Associations and their activity in such Associations Publications in their field Speaking engagements in their field,

10 Best

,

American Institute of Criminal Law Attorneys

,

2022

The National Trial Lawyers: Top 40 under 40 is a professional organization composed of the top trial lawyers from each state or region who are under the age of 40.  Membership into The National Trial Lawyers: Top 40 under 40 is by invitation only and is extended exclusively to those trial lawyers practicing civil plaintiff and/or criminal defense law. Membership is extended solely to the select few of the most qualified attorneys from each state who demonstrate superior qualifications of leadership, reputation, influence, stature and public profile measured by objective and uniformly applied standards in compliance with state bar and national Rule 4-7. Invitees must exemplify superior qualifications, trial results, and leadership as a young lawyer under the age of 40. Selection is based on a thorough multi-phase objective process which includes peer nominations combined with third-party research. Each of our distinguished Top 40 under 40 members strives to encompass the knowledge, skill, experience and success held by only the best lawyers in America.  It is our mission to promote a unique and professional networking opportunity for young lawyers, while developing progressive ideas to pursue justice for those injured by the negligence of others, to educate the public about the importance of access to courts that are free of bias and undue influence, and to protect the right of trial by jury.,

Top 40 Under 40

,

National Trial Lawyers

,

2022

Based on Avvo reviews

,

Client's Choice

,

Avvo

,

2022

Super Lawyers selects attorneys using a patented multiphase selection process. Peer nominations and evaluations are combined with independent research. Each candidate is evaluated on 12 indicators of peer recognition and professional achievement. Selections are made on an annual, state-by-state basis. The objective is to create a credible, comprehensive and diverse listing of outstanding attorneys that can be used as a resource for attorneys and consumers searching for legal counsel. Since Super Lawyers is intended to be used as an aid in selecting a lawyer, we limit the lawyer ratings to those who can be hired and retained by the public.

,

Rising Star

,

Super Lawyers

,

2022

The National Academy of Criminal Defense Attorneys uses a thorough selection process to determine the top criminal defense attorneys in each state. With thousands of attorneys in each state, the NACDA's rigorous, independent selection process resolves the challenge of attorneys claiming to be "the best" without basis for such claims. For the accused, finding a well-qualified criminal defense attorney is imperative, and the NACDA's process leaves no doubt as to whom the preeminent criminal defense attorneys are: The attorneys who make the NACDA list must first be nominated by a licensed practicing attorney or one of our in-house research staff members. Second, the NACDA research staff verifies the nominated individuals meet the minimum requirements of membership in the NACDA.   The NACDA processing committee selects a portion of the nominated attorneys to advance to the final selection stage.

,

Top 10 Under 40

,

National Academy of Criminal Defense Attorneys

,

2021

The National Trial Lawyers: Top 40 under 40 is a professional organization composed of the top trial lawyers from each state or region who are under the age of 40.  Membership into The National Trial Lawyers: Top 40 under 40 is by invitation only and is extended exclusively to those trial lawyers practicing civil plaintiff and/or criminal defense law. Membership is extended solely to the select few of the most qualified attorneys from each state who demonstrate superior qualifications of leadership, reputation, influence, stature and public profile measured by objective and uniformly applied standards in compliance with state bar and national Rule 4-7. Invitees must exemplify superior qualifications, trial results, and leadership as a young lawyer under the age of 40. Selection is based on a thorough multi-phase objective process which includes peer nominations combined with third-party research. Each of our distinguished Top 40 under 40 members strives to encompass the knowledge, skill, experience and success held by only the best lawyers in America.  It is our mission to promote a unique and professional networking opportunity for young lawyers, while developing progressive ideas to pursue justice for those injured by the negligence of others, to educate the public about the importance of access to courts that are free of bias and undue influence, and to protect the right of trial by jury.,

Top 40 Under 40

,

National Trial Lawyers

,

2021

Attorney and Practice Magazine Top 10 attorney award is an achievement reserved for only those attorneys who have demonstrated the highest degree of excellence in his or her area of law. Because of our stringent standards, less than 1% of attorneys nationwide will receive this invitation for membership, subscription and list inclusion which is published on www.attorneyandpractice as well our quarterly magazine. Our list recognizes the significant achievements of those attorneys whose practice elevates the standards of their State's Bar as well as provided a benchmark for other practitioners.  Our list encompasses industry leaders who have been featured on networks such as ABC, NBC, CBS, MSNBC, FOX, the New York Times, The Washington Post, Time and Newsweek.,

Top 10 Attorney

,

Attorney and Practice Magazine

,

2021

Based on Avvo reviews

,

Client's Choice

,

Avvo

,

2021

Super Lawyers selects attorneys using a patented multiphase selection process. Peer nominations and evaluations are combined with independent research. Each candidate is evaluated on 12 indicators of peer recognition and professional achievement. Selections are made on an annual, state-by-state basis. The objective is to create a credible, comprehensive and diverse listing of outstanding attorneys that can be used as a resource for attorneys and consumers searching for legal counsel. Since Super Lawyers is intended to be used as an aid in selecting a lawyer, we limit the lawyer ratings to those who can be hired and retained by the public.

,

Rising Star

,

Super Lawyers

,

2021

At the American Institute's Criminal Law Division we recognize excellence. Very few Attorneys can display our "10 Best" or "10 Best Under 40" badge on their website or display the plaque in their office. Some States depending on size and population density may be broken up into City or Region to be more applicable to potential new clients who utilize this site when looking for an Attorney. This is for the consumer so that he or she can choose the very best in their field. Many aspects of the Attorney and his/her career are considered including: Must be formally nominated by the Institute, Client, and/or Peer Must have an impeccable Client Rating rating Must not have faced or been subject to any Attorney Grievance Committee discipline Must be a member in Good Standing of their State Bar Must have excellent Client/Peer Reviews Possess Advanced Degrees Awards received Professional Associations and their activity in such Associations Publications in their field Speaking engagements in their field,

10 Best

,

American Institute of Criminal Law Attorneys

,

2021

The National Academy of Criminal Defense Attorneys uses a thorough selection process to determine the top criminal defense attorneys in each state. With thousands of attorneys in each state, the NACDA's rigorous, independent selection process resolves the challenge of attorneys claiming to be "the best" without basis for such claims. For the accused, finding a well-qualified criminal defense attorney is imperative, and the NACDA's process leaves no doubt as to whom the preeminent criminal defense attorneys are: The attorneys who make the NACDA list must first be nominated by a licensed practicing attorney or one of our in-house research staff members. Second, the NACDA research staff verifies the nominated individuals meet the minimum requirements of membership in the NACDA.   The NACDA processing committee selects a portion of the nominated attorneys to advance to the final selection stage.

,

Top 10 Under 40

,

National Academy of Criminal Defense Attorneys

,

2020

The National Trial Lawyers: Top 40 under 40 is a professional organization composed of the top trial lawyers from each state or region who are under the age of 40.  Membership into The National Trial Lawyers: Top 40 under 40 is by invitation only and is extended exclusively to those trial lawyers practicing civil plaintiff and/or criminal defense law. Membership is extended solely to the select few of the most qualified attorneys from each state who demonstrate superior qualifications of leadership, reputation, influence, stature and public profile measured by objective and uniformly applied standards in compliance with state bar and national Rule 4-7. Invitees must exemplify superior qualifications, trial results, and leadership as a young lawyer under the age of 40. Selection is based on a thorough multi-phase objective process which includes peer nominations combined with third-party research. Each of our distinguished Top 40 under 40 members strives to encompass the knowledge, skill, experience and success held by only the best lawyers in America.  It is our mission to promote a unique and professional networking opportunity for young lawyers, while developing progressive ideas to pursue justice for those injured by the negligence of others, to educate the public about the importance of access to courts that are free of bias and undue influence, and to protect the right of trial by jury.,

Top 40 Under 40

,

National Trial Lawyers

,

2020

Attorney and Practice Magazine Top 10 attorney award is an achievement reserved for only those attorneys who have demonstrated the highest degree of excellence in his or her area of law. Because of our stringent standards, less than 1% of attorneys nationwide will receive this invitation for membership, subscription and list inclusion which is published on www.attorneyandpractice as well our quarterly magazine. Our list recognizes the significant achievements of those attorneys whose practice elevates the standards of their State's Bar as well as provided a benchmark for other practitioners.  Our list encompasses industry leaders who have been featured on networks such as ABC, NBC, CBS, MSNBC, FOX, the New York Times, The Washington Post, Time and Newsweek.,

Top 10 Attorney

,

Attorney and Practice Magazine

,

2020

Based on Avvo reviews

,

Client's Choice

,

Avvo

,

2020

At the American Institute's Criminal Law Division we recognize excellence. Very few Attorneys can display our "10 Best" or "10 Best Under 40" badge on their website or display the plaque in their office. Some States depending on size and population density may be broken up into City or Region to be more applicable to potential new clients who utilize this site when looking for an Attorney. This is for the consumer so that he or she can choose the very best in their field. Many aspects of the Attorney and his/her career are considered including: Must be formally nominated by the Institute, Client, and/or Peer Must have an impeccable Client Rating rating Must not have faced or been subject to any Attorney Grievance Committee discipline Must be a member in Good Standing of their State Bar Must have excellent Client/Peer Reviews Possess Advanced Degrees Awards received Professional Associations and their activity in such Associations Publications in their field Speaking engagements in their field,

10 Best

,

American Institute of Criminal Law Attorneys

,

2020

Based on Avvo reviews

,

Client's Choice

,

Avvo

,

2019

At the American Institute's Criminal Law Division we recognize excellence. Very few Attorneys can display our "10 Best" or "10 Best Under 40" badge on their website or display the plaque in their office. Some States depending on size and population density may be broken up into City or Region to be more applicable to potential new clients who utilize this site when looking for an Attorney. This is for the consumer so that he or she can choose the very best in their field. Many aspects of the Attorney and his/her career are considered including: Must be formally nominated by the Institute, Client, and/or Peer Must have an impeccable Client Rating rating Must not have faced or been subject to any Attorney Grievance Committee discipline Must be a member in Good Standing of their State Bar Must have excellent Client/Peer Reviews Possess Advanced Degrees Awards received Professional Associations and their activity in such Associations Publications in their field Speaking engagements in their field,

10 Best

,

American Institute of Criminal Law Attorneys

,

2019

The National Academy of Criminal Defense Attorneys uses a thorough selection process to determine the top criminal defense attorneys in each state. With thousands of attorneys in each state, the NACDA's rigorous, independent selection process resolves the challenge of attorneys claiming to be "the best" without basis for such claims. For the accused, finding a well-qualified criminal defense attorney is imperative, and the NACDA's process leaves no doubt as to whom the preeminent criminal defense attorneys are: The attorneys who make the NACDA list must first be nominated by a licensed practicing attorney or one of our in-house research staff members. Second, the NACDA research staff verifies the nominated individuals meet the minimum requirements of membership in the NACDA.   The NACDA processing committee selects a portion of the nominated attorneys to advance to the final selection stage.

,

Top 10 Under 40

,

National Academy of Criminal Defense Attorneys

,

2019

The National Trial Lawyers: Top 40 under 40 is a professional organization composed of the top trial lawyers from each state or region who are under the age of 40.  Membership into The National Trial Lawyers: Top 40 under 40 is by invitation only and is extended exclusively to those trial lawyers practicing civil plaintiff and/or criminal defense law. Membership is extended solely to the select few of the most qualified attorneys from each state who demonstrate superior qualifications of leadership, reputation, influence, stature and public profile measured by objective and uniformly applied standards in compliance with state bar and national Rule 4-7. Invitees must exemplify superior qualifications, trial results, and leadership as a young lawyer under the age of 40. Selection is based on a thorough multi-phase objective process which includes peer nominations combined with third-party research. Each of our distinguished Top 40 under 40 members strives to encompass the knowledge, skill, experience and success held by only the best lawyers in America.  It is our mission to promote a unique and professional networking opportunity for young lawyers, while developing progressive ideas to pursue justice for those injured by the negligence of others, to educate the public about the importance of access to courts that are free of bias and undue influence, and to protect the right of trial by jury.,

Top 40 Under 40

,

National Trial Lawyers

,

2019

UC President's Post-Graduate Public Service Law Fellowship

,

UC President's Post-Graduate Public Service Law Fellowship

,

UC President

,

2018

UCLA School of Law Merit Scholarship

,

UCLA School of Law Merit Scholarship

,

UCLA School of Law

,

2017

UCLA Summer Public Service Law Fellowship

,

UCLA Summer Public Service Law Fellowship

,

UCLA School of Law

,

2016

UCLA School of Law Merit Scholarship

,

UCLA School of Law Merit Scholarship

,

UCLA School of Law

,

2016

Masin Family Academic Excellence Gold Award

,

Masin Family Academic Excellence Gold Award

,

UCLA School of Law

,

2015

UCLA Summer Public Service Law Fellowship

,

UCLA Summer Public Service Law Fellowship

,

UCLA School of Law

,

2015

UCLA School of Law Merit Scholarship

,

UCLA School of Law Merit Scholarship

,

UCLA School of Law

,

2015

Departmental Citation for Undergraduate Achievement

,

Departmental Citation for Undergraduate Achievement

,

UC Davis

,

2014

Dean's List

,

Dean's List

,

UC Davis
Special Licenses/Certifications:
California Lawyers Association (CLA): Criminal Law

,

2023

California Lawyers Association (CLA): Criminal Law

,

2022

California Lawyers Association (CLA): Criminal Law

,

2021

California Lawyers Association (CLA): Criminal Law

,

2020
Bar/Professional Activity:
Renslo Law, Criminal Defense Trial Attorney

,

2023

Criminal Courts Bar Association

,

2023

American Association for Justice

,

2023

California Attorneys for Criminal Justice

,

2023

Los Angeles County Bar Association

,

2023

Criminal Courts Bar Association

,

2022

American Association for Justice

,

2022

California Attorneys for Criminal Justice

,

2022

Los Angeles County Bar Association

,

2022

Renslo Law, Criminal Defense Trial Attorney

,

2022

Criminal Courts Bar Association

,

2021

American Association for Justice

,

2021

California Attorneys for Criminal Justice

,

2021

Los Angeles County Bar Association

,

2021

Renslo Law, Criminal Defense Trial Attorney

,

2021

American Association for Justice

,

2020

California Attorneys for Criminal Justice

,

2020

Los Angeles County Bar Association

,

2020

Renslo Law, Criminal Defense Trial Attorney

,

2020

American Association for Justice

,

2019

California Attorneys for Criminal Justice

,

2019

Los Angeles County Bar Association

,

2019

Renslo Law, Criminal Defense Trial Attorney

,

2019

California Attorneys for Criminal Justice

,

2018

American Association for Justice

,

2018

Los Angeles County Bar Association

,

2018

Renslo Law, Criminal Defense Trial Attorney

,

2018

Los Angeles City Attorney's Office, Prosecutor

,

2018

Los Angeles City Attorney's Office, Prosecutor

,

2017

Los Angeles County District Attorney, Certified Law Clerk

,

2016

Santa Barbara County District Attorney, Certified Law Clerk

,

2016
Selections
Rising Stars: 2021 - 2023
Additional sources of information about Eric M. Renslo
Attorney resources for Eric M. Renslo