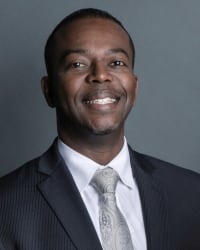 Orange Law Offices, P.C.
Practice Areas: Civil rights, Estate & trust litigation, Class action & mass torts
Licensed in California since: 2001
Education: Howard University School of Law

Selected to Super Lawyers: 2013, 2015 - 2023
Details
Olu K. Orange handles civil rights, probate and class action litigation in state and federal courts. He has won millions of dollars in verdicts and settlements in precedent-setting civil rights cases and successfully litigated complex probate matters for iconic entertainers' estates.
Of the 266,000 lawyers in California, Mr. Orange was one of 17 selected by the Daily Journal (subscription) on January 20, 2021, to be honored with the Chief Justice of the Supreme Court of California as a Top Lawyer of the Decade. Mr. Orange was recognized for his decade-defining civil rights work.

Additionally, Mr. Orange has thrice been selected by California Lawyer Magazine as a recipient of the California Lawyer Attorney of the Year (CLAY) Award -- first in 2015, again in 2017, and yet again in 2021, for his civil rights work. In 2016, Mr. Orange was selected as one of the Daily Journal's Top 100 lawyers in California in recognition of his civil rights and entertainment law practices at his firm, Orange Law Offices, P.C.  Mr. Orange's probate litigation clients include the estates of Sammy Davis, Jr. and Andrew Rork Getty.
Mr. Orange is also a faculty member and Director of both the Agents of Change Civil Rights Advocacy Initiative and the Dornsife Trial Advocacy Program at the University of Southern California, where he has taught since authoring the instructional trial advocacy curriculum in 2001. Since 2006, Mr. Orange has also taught as invited faculty for Harvard Law School's annual winter session clinical trial advocacy course.  
First Admitted: 2001, California
Professional Webpage: https://www.linkedin.com/in/olu-k-orange-esq-341292b2/
Other Outstanding Achievements:
In 2020, Mr. Orange argued and won a precedent-setting victory in B.B. (Burley) v. County of Los Angeles -- a knee-on-neck police death case which established that police officers who intentionally cause harm cannot offset their own liability with their victims' negligence. California Supreme Court Associate Justice Goodwin H. Liu likened the case to George Floyd without video. Mr. Orange collaborated on the case with John Sweeney, Michael Seplow and Norman Pine.
In 2018, Mr. Orange secured the precedent setting appellate victory in A.G. v. County of Los Angeles which established that non-biological children have standing in California to sue for the wrongful death of persons who raise them as parents. Mr. Orange collaborated on the case with Paul Hastings LLP, the National Center for Lesbian Rights and the American Civil Liberties Union.

In 2017, Mr. Orange finalized his federal civil rights class action victory in Rodriguez v. Los Angeles. Rodriguez stopped the enforcement of illegal gang curfews upon several thousand residents of the City of LA, established a $30 million dollar jobs and education program to redress the harm government officials caused – and now serves as a point of reference for similar restorative approaches in other states.

In 2014, Mr. Orange briefed, argued and won Chaudhry v. Los Angeles in the Ninth Circuit Court of Appeals. Chaudhry established precedent for the 63 million Americans in the Ninth Circuit that pre-death pain and suffering damages are recoverable by decedents' estates when federal civil rights violations cause death -- thus ending the practice of making it cheaper for a police officer to kill rather than injure a victim of excessive force.
In 2011, Mr. Orange tried and won the first post-9/11 case wherein a police officer who also served as a member of the U.S. Armed Forces was found liable (with malice) by a federal jury for the unlawful shooting death of a Muslim man -- Chaudhry v. City of Los Angeles.
In 2010, Mr. Orange tried and won the will contest case over the Estate of Sammy Davis, Jr.
In 2009, Mr. Orange argued and won Millender v. County of Los Angeles before an en banc panel of the Ninth Circuit Court of Appeals. Millender was a blended 4th and 2nd Amendment case challenging pro forma 'seize all guns' warrants. Later, in the U.S. Supreme Court on Millender, Mr. Orange served as Second Chair and a briefing attorney, and was joined by both the NRA and ACLU as amici curiae against 26 states and the U.S. Solicitor General.
Honors/Awards:
In 2021, Mr. Orange was one of 17 attorneys selected by the editorial staff of the Daily Journal newspaper (subscription) to be honored with the Chief Justice of the Supreme Court of California as a Top Lawyer of the Decade. Mr. Orange was recognized for his decade-defining civil rights work.,

.

In 2021, Mr. Orange won a third California Lawyer Attorney of the Year (CLAY) Award in the Civil Rights category, as featured in California Lawyer magazine,

.

In 2018, Mr. Orange was selected to receive the National Lawyers Guild's Annual Award for Excellence in Civil Rights Advocacy
In 2017, Mr. Orange won a second California Lawyer Attorney of the Year (CLAY) Award in the Civil Rights category, as featured in California Lawyer magazine
In 2016, Mr. Orange was recognized as one of the Top 100 lawyers in California by the editorial staff of the Daily Journal legal newspaper. The award honors lawyers who work on the most influential and cutting-edge matters in litigation, regulation and corporate transactions
In 2015, Mr. Orange won a California Lawyer Attorney of the Year (CLAY) Award in the Civil Rights category, as featured in California Lawyer magazine,

.

In 2014, Mr. Orange was selected to the National Trial Lawyers Top 100

In 2008, the National Institute for Trial Advocacy (NITA) and Martindale-Hubbell collaborated to award Mr. Orange the NITA Faculty designation. The NITA Faculty designation is awarded to trial advocacy, deposition and negotiation skills instructors who consistently rank among the best when evaluated by private firms, government and public interest law offices nationwide
Bar/Professional Activity:
Supreme Court of the United States - Admitted to Practice

Supreme Court of California - Admitted to Practice

U.S. Court of Appeals for the Ninth Circuit - Admitted to Practice

U.S. Federal Court for the Northern District of Texas - Admitted to Practice

U.S. Federal Court for the Central District of California - Admitted to Practice

U.S. Federal Court for the Eastern District of Missouri - Admitted to Practice
Educational Background:
Recipient, Howard University School of Law Merit Scholarship     |    Captain, 1998 Huver I. Brown Trial Advocacy Team     |    Champion (repeat), 1997 & 1998 ACTL National Trial Competition Eastern Region     |    Competitor, 1997 & 1998 ACTL - NTC National Finals (repeat) - Houston & San Antonio, Texas     |    Recipient, 1997 & 1998 Lewis F. Powell Medals for Excellence in Trial Advocacy, American Bar Association (ABA) & American College of Trial Lawyers (ACTL)     |    Recipient, 1998 Huver I. Brown Medallion for Excellence in Trial Advocacy     |    Recipient, 1997 Earl Davis Award for Excellence in Public Interest Advocacy     |    Honoree, Who's Who: American Law Students - 17th & 18th Editions 
Scholarly Lectures/Writings:
"The Time for Pure Advocacy: Closing Argument", Inaugural Closing Argument Lecture for NITA Studio 71, National Institute For Trial Advocacy, Boulder, CO, Spring 2013
"Tipping the Scales with Effective Trial Techniques: Direct and Cross Examination of Expert Witnesses", California Association for Parent-Child Advocacy, Lecture/Seminar, Los Angeles, CA, Summer 2012
"Using Creative Problem Solving Negotiations to Prepare for Trial (and Lighten your Load)", National Legal Aid & Defender Association (NLADA) Centennial Conference, Talk/Oral Presentation, Washington, D.C., Fall 2011
"Closing Arguments", National Disability Rights Network: Annual Conference, Talk/Oral Presentation, Los Angeles, CA, Fall 2010
Selections
Super Lawyers: 2013, 2015 - 2023
Articles about Olu K. Orange by Super Lawyers
Orange County
Additional sources of information about Olu K. Orange
Attorney resources for Olu K. Orange