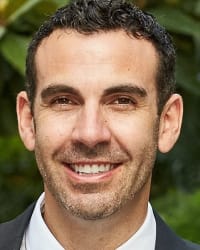 Larson, Larson & Dauer, A Law Corporation
Practice Areas: Workers' Compensation, Employment & Labor; view more
Licensed in California since: 2012
Education: Southwestern Law School

Selected to Rising Stars: 2019 - 2022

Virtual Appointments

Free Consultation
Larson, Larson & Dauer, A Law Corporation
15545 Devonshire St
Suite 205
Mission Hills, CA 91345
Visit website
Details
As a partner with the Los Angeles based law firms of Larson, Larson & Dauer and McIntyre & Larson, attorney Mark V. Larson devotes his practice to representing the rights and entitlements of a diverse range of clients throughout Southern California who have legal needs involving any of the following:
·        Workers' compensation
·        Employment Law
Coming from a long line of attorneys in his family, Larson witnessed firsthand the tactics insurance companies would use to reduce or deny claims for the injured and disabled. Through this experience, he developed a deep and abiding passion for assisting those in need, and he has achieved notable success fighting against insurance providers on behalf of his plaintiff clients to help them recover the full amount of compensation and benefits they deserve.
Fully committed to providing the highest level of advocacy and support possible to those he serves, Larson limits the number of cases he handles at any given time to ensure he can devote more of his attention on each one of his clients. Throughout his career, he has earned a reputation for providing compassionate counsel to his clients while aggressively pursuing the most favorable outcomes possible for them both inside and outside the courtroom.
After earning his undergraduate degree from California Polytechnic University San Luis Obispo, Larson attended Southwestern Law School in Los Angeles, where he obtained his Juris Doctor, and he received his license to practice from The State Bar of California in 2012.
From the time he was 17 years old, Larson served as law clerk at his brother's law firm and continued to work at the firm after becoming an attorney. There, he gained invaluable experience handling cases involving traumatic brain injuries, medical malpractice and other catastrophic injuries. He then joined his uncle's law firm, where he focused primarily on workers' compensation claims. Later on, he partnered with a longtime employment law attorney, Jeffrey C. McIntyre, to form a second law firm that focuses exclusively on complex litigation on employment law cases..  
Through these experiences as well as the success he has achieved at his law firm, Mr. Larson has become one of the region's leading attorneys for workers' compensation and is becoming recognized in the employment law world.  
Larson has been interviewed and discussed in Forbes, as well as many other news and media outlets.   
Practice areas
Workers' Compensation: Claimant, Employment & Labor: Employee
Focus areas
Employment Law - Employee
90% Workers' Compensation: Claimant

10% Employment & Labor: Employee
First Admitted: 2012, California
Professional Webpage: https://www.larsondauer.com/mark-v-larson/
Educational Background:
California Polytechnic University - San Luis Obispo

,

2003

Camarillo High School

,

1998
Bar/Professional Activity:
Member California Applicants' Attorneys Association

,

2014

Member Lista Legal - Help Spanish speakers and low-income people find free legal advice

,

2022

Member California Applicants' Attorneys Association

,

2022

Member Lista Legal - Help Spanish speakers and low-income people find free legal aid programs in their communities, answers to their legal rights questions and forms that help them with their problems Contributor of Free Articles and Self Help

,

2021

Member California Applicants' Attorneys Association.

,

2021

Member Lista Legal - Help Spanish speakers and low-income people find free legal aid programs in their communities, answers to their legal rights questions and forms that help them with their problems Contributor of Free Articles and Self Help

,

2020

Member California Applicants' Attorneys Association.

,

2015

Member California Applicants' Attorneys Association...

,

2017

Member California Applicants' Attorneys Association

,

2016

Member California Applicants' Attorneys Association...

,

2019

Member California Applicants' Attorneys Association...

,

2018

Member Lista Legal - Help Spanish speakers and low-income people find free legal aid programs in their communities, answers to their legal rights questions and forms that help them with their problems Contributor of Free Articles and Self Help

,

2019

Member California Applicants' Attorneys Association

,

2020
Scholarly Lectures/Writings:
Earlier this week, I spoke with Mark Larson of Larson, Larson & Dauer where he covers workers' compensation cases.  Larson tells me, "The entire workers' compensation system, like everything, is political and due to the insurance companies unlimited money to lobby for legal changes that protect their own interests, the system is becoming highly complex and much worse than it has ever been." Critiquing the system overall Larson tells me that if the workers' compensation system were allowed to function as was its original design, there would be fewer claims and bureaucratic processes than result in low settlements. In fact, just last month the discussion around freelancers and workers' compensation came to a head in California where businesses are being challenged by a potential law which would make it harder for them to classify workers as independent contractors in order to avoid paying unemployment insurance taxes and workers' compensation premiums.,

Contributing author at Forbes

,

Interviewed and Contributor

,

https://www.forbes.com/sites/julianvigo/2019/08/08/virtual-freelancers-and-the-future-of-human-employment/#7f1a5f0550d4

,

General

,

2019
Other Outstanding Achievements:
Became a contributing author at Forbes

,

2019
Pro bono/Community Service:
Member Lista Legal - Help Spanish speakers and low-income people find free legal aid programs in their communities, answers to their legal rights questions and forms that help them with their problems Contributor of Free Articles and Self Help

,

2019

Member Lista Legal - Help Spanish speakers and low-income people find free legal aid programs in their communities, answers to their legal rights questions and forms that help them with their problems Contributor of Free Articles and Self Help

,

2021

Member Lista Legal - Help Spanish speakers and low-income people find free legal aid programs in their communities, answers to their legal rights questions and forms that help them with their problems Contributor of Free Articles and Self Help

,

2020
Honors/Awards:
,

Super Lawyers' Rising Stars Award

,

https://profiles.superlawyers.com/california/mission-hills/lawyer/mark-v-larson/a1de08d4-16a0-4836-b0e4-199442b5147c.html

,

2022

,

Los Angeles Magazine - Southern California Top Young Attorneys

,

https://www.americanregistry.com/business/larson-larson--dauer/8462294

,

2019

,

Los Angeles Magazine - Southern California Top Young Attorneys

,

https://www.americanregistry.com/business/larson-larson--dauer/8462294

,

2020

Welcome to The American Academy of Attorneys The American Academy of Attorneys is an organization devoted to promoting and recognizing excellence in the legal field. With so many attorneys throughout the United States, choosing the right legal advocate can be difficult. The American Academy of Attorneys has a mission to promote and support the work of the most elite and ethical attorneys in the United States. Less than 1% of all attorneys will be nominated to be a member and even less will be accepted. The American Academy of Attorneys is looking only for the top-tier of attorneys in each field to be members.

,

100 Best Workers' Compensation Attorneys - American Academy of Attorneys

,

https://aaoaus.com/

,

2021

The American Institute Of Legal Advocates was created as a invitation only collective, where the nations leading lawyers as well as up and coming legal talent could showcase their careers. By allowing our members to create detailed profiles, we are giving them a place to communicate to prospective clients & employers. We review each applicant before inclusion, to ensure our database has only reputable attorneys. By keeping the quality of our members high, we distinguish ourselves from other law firm directories. The attorneys in our directory have demonstrated a commitment to ethical business practice and exemplified themselves not only as superb lawyers, but also as dedicated advocates for their clients who provide an above average degree of customer service and consistent, effective legal representation

,

Elite Award by American Institute of Legal Advocates

,

https://aiolaus.com/lawyers/mark-larson/

,

2021

The American Institute Of Legal Advocates was created as a invitation only collective, where the nations leading lawyers as well as up and coming legal talent could showcase their careers. By allowing our members to create detailed profiles, we are giving them a place to communicate to prospective clients & employers. We review each applicant before inclusion, to ensure our database has only reputable attorneys. By keeping the quality of our members high, we distinguish ourselves from other law firm directories. The attorneys in our directory have demonstrated a commitment to ethical business practice and exemplified themselves not only as superb lawyers, but also as dedicated advocates for their clients who provide an above average degree of customer service and consistent, effective legal representation

,

Elite Award by American Institute of Legal Advocates

,

https://aiolaus.com/lawyers/mark-larson/

,

2020

The American Institute Of Legal Advocates was created as a invitation only collective, where the nations leading lawyers as well as up and coming legal talent could showcase their careers. By allowing our members to create detailed profiles, we are giving them a place to communicate to prospective clients & employers. We review each applicant before inclusion, to ensure our database has only reputable attorneys. By keeping the quality of our members high, we distinguish ourselves from other law firm directories. The attorneys in our directory have demonstrated a commitment to ethical business practice and exemplified themselves not only as superb lawyers, but also as dedicated advocates for their clients who provide an above average degree of customer service and consistent, effective legal representation

,

Elite Award by American Institute of Legal Advocates

,

https://aiolaus.com/lawyers/mark-larson/

,

2019

American Institute of Legal Counsel is an impartial third-party attorney rating organization comprised of 6 divisions consisting of Criminal, DUI/DWI, Personal Injury, Bankruptcy, Elder, and Family Law. The American Institute of Legal Counsel compiles an exclusive list of the "10 Best" Attorneys for each State. This is a prestigious honor for the Attorney as each Attorney must: Be formally nominated by the Institute, client, and/or fellow Attorney; Have attained the highest degree of professional achievement in his or her field of law; and Having done so with an impeccable Client Satisfaction rating. Many Attorneys can achieve high degrees of success but this is often times at the expense or satisfaction of the most important person in the case- the client. The American Institute of Legal Counsel looks for Attorneys that have achieved unparalleled success but most importantly have done so for the benefit of their client. Very few Attorneys can do so and our organization recognizes this significant achievement. Our rating system helps clients throughout the United States make educated decisions when it comes to choosing their attorney. Membership is an exclusive honor and extended only to those select few who have reached the top of their profession while doing so with the client's satisfaction being of the most paramount importance.

,

10 Best Attorneys by American Institute of Law

,

https://www.aiopia.org/american-institutes-10-best/

,

2018

American Institute of Legal Counsel is an impartial third-party attorney rating organization comprised of 6 divisions consisting of Criminal, DUI/DWI, Personal Injury, Bankruptcy, Elder, and Family Law. The American Institute of Legal Counsel compiles an exclusive list of the "10 Best" Attorneys for each State. This is a prestigious honor for the Attorney as each Attorney must: Be formally nominated by the Institute, client, and/or fellow Attorney; Have attained the highest degree of professional achievement in his or her field of law; and Having done so with an impeccable Client Satisfaction rating. Many Attorneys can achieve high degrees of success but this is often times at the expense or satisfaction of the most important person in the case- the client. The American Institute of Legal Counsel looks for Attorneys that have achieved unparalleled success but most importantly have done so for the benefit of their client. Very few Attorneys can do so and our organization recognizes this significant achievement. Our rating system helps clients throughout the United States make educated decisions when it comes to choosing their attorney. Membership is an exclusive honor and extended only to those select few who have reached the top of their profession while doing so with the client's satisfaction being of the most paramount importance.

,

10 Best Attorneys by American Institute of Law

,

https://www.aiopia.org/american-institutes-10-best/

,

2019

American Institute of Legal Counsel is an impartial third-party attorney rating organization comprised of 6 divisions consisting of Criminal, DUI/DWI, Personal Injury, Bankruptcy, Elder, and Family Law. The American Institute of Legal Counsel compiles an exclusive list of the "10 Best" Attorneys for each State. This is a prestigious honor for the Attorney as each Attorney must: Be formally nominated by the Institute, client, and/or fellow Attorney; Have attained the highest degree of professional achievement in his or her field of law; and Having done so with an impeccable Client Satisfaction rating. Many Attorneys can achieve high degrees of success but this is often times at the expense or satisfaction of the most important person in the case- the client. The American Institute of Legal Counsel looks for Attorneys that have achieved unparalleled success but most importantly have done so for the benefit of their client. Very few Attorneys can do so and our organization recognizes this significant achievement. Our rating system helps clients throughout the United States make educated decisions when it comes to choosing their attorney. Membership is an exclusive honor and extended only to those select few who have reached the top of their profession while doing so with the client's satisfaction being of the most paramount importance.

,

10 Best Attorneys by American Institute of Law

,

https://www.aiopia.org/american-institutes-10-best/

,

2021

American Institute of Legal Counsel is an impartial third-party attorney rating organization comprised of 6 divisions consisting of Criminal, DUI/DWI, Personal Injury, Bankruptcy, Elder, and Family Law. The American Institute of Legal Counsel compiles an exclusive list of the "10 Best" Attorneys for each State. This is a prestigious honor for the Attorney as each Attorney must: Be formally nominated by the Institute, client, and/or fellow Attorney; Have attained the highest degree of professional achievement in his or her field of law; and Having done so with an impeccable Client Satisfaction rating. Many Attorneys can achieve high degrees of success but this is often times at the expense or satisfaction of the most important person in the case- the client. The American Institute of Legal Counsel looks for Attorneys that have achieved unparalleled success but most importantly have done so for the benefit of their client. Very few Attorneys can do so and our organization recognizes this significant achievement. Our rating system helps clients throughout the United States make educated decisions when it comes to choosing their attorney. Membership is an exclusive honor and extended only to those select few who have reached the top of their profession while doing so with the client's satisfaction being of the most paramount importance.

,

10 Best Attorneys by American Institute of Law

,

https://www.aiopia.org/american-institutes-10-best/

,

2020

Welcome to The American Academy of Attorneys The American Academy of Attorneys is an organization devoted to promoting and recognizing excellence in the legal field. With so many attorneys throughout the United States, choosing the right legal advocate can be difficult. The American Academy of Attorneys has a mission to promote and support the work of the most elite and ethical attorneys in the United States. Less than 1% of all attorneys will be nominated to be a member and even less will be accepted. The American Academy of Attorneys is looking only for the top-tier of attorneys in each field to be members. Be part of an organization that supports and promotes excellence in service and application of the law. The American Academy of Attorneys has a mission to promote and support the work of attorneys nationwide as they pursue justice for their clients. By invitation only, we provide attorneys with valuable resources allowing them to represent their clients at an elite level. Members not only attain recognition of their work they are now part of an ever-growing network of attorneys who exemplify the top-tier representation we look for. Each attorney is held to the highest professional standards of ethics

,

Top 100 Workers' Compensation Attorneys - American Academy of Attorneys 2019

,

https://aaoaus.com/

,

2019

Welcome to The American Academy of Attorneys The American Academy of Attorneys is an organization devoted to promoting and recognizing excellence in the legal field. With so many attorneys throughout the United States, choosing the right legal advocate can be difficult. The American Academy of Attorneys has a mission to promote and support the work of the most elite and ethical attorneys in the United States. Less than 1% of all attorneys will be nominated to be a member and even less will be accepted. The American Academy of Attorneys is looking only for the top-tier of attorneys in each field to be members.

,

Top 100 Workers' Compensation Attorneys - American Academy of Attorneys 2019

,

https://aaoaus.com/

,

2020

Best Attorneys of America® is becoming one of the most celebrated and respected groups of Attorneys in the country featured in our National Directory. Membership is extremely selective, carefully screened and limited to the most qualified and accomplished Attorneys in the United States. With these high standards, less than one percent (1%) of the Attorneys of the United States have been invited by us to be a Member of Best Attorneys of America.  Our Attorneys have an extraordinary level of legal expertise, competency, professional reputation and ethical standards. Simply the BEST! Lawyers may join in all areas of law practice. 

,

Best Attorneys of America

,

https://www.bestattorneysofamerica.com/item/mark-v-larson/

,

2021

The selection process for the Rising Stars list is the same as the Super Lawyers selection process, with one exception: to be eligible for inclusion in Rising Stars, a candidate must be either 40 years old or younger or in practice for 10 years or less. All attorneys first go through the Super Lawyers selection process. Those who are not selected to the Super Lawyers list, but who meet either one of the Rising Stars eligibility requirements, go through the Rising Stars selection process. While up to five percent of the lawyers in the state are named to Super Lawyers, no more than 2.5 percent are named to the Rising Stars list.

,

Super Lawyers' Rising Stars Award

,

https://www.superlawyers.com/about/selection_process_detail.html

,

2021

Contributing author at Forbes 

,

FORBES CONTRIBUTOR

,

https://www.forbes.com/sites/julianvigo/2019/08/08/virtual-freelancers-and-the-future-of-human-employment/#7f1a5f0550d4

,

2019

The TOP 40 UNDER 40 designation is assigned to those attorneys who are newer to practice yet are at the top of their field. The attorneys are the rising stars and have top-tier skills and ethics. Only 40 attorneys from each state and in each category will be able to bear this designation.

,

Top 40 under 40 by American Academy of Attorneys

,

https://aaoaus.com/

,

2019

The selection process for the Rising Stars list is the same as the Super Lawyers selection process, with one exception: to be eligible for inclusion in Rising Stars, a candidate must be either 40 years old or younger or in practice for 10 years or less. All attorneys first go through the Super Lawyers selection process. Those who are not selected to the Super Lawyers list, but who meet either one of the Rising Stars eligibility requirements, go through the Rising Stars selection process. While up to five percent of the lawyers in the state are named to Super Lawyers, no more than 2.5 percent are named to the Rising Stars list.

,

Super Lawyers' Rising Stars Award

,

https://www.superlawyers.com/about/selection_process_detail.html

,

2020

The selection process for the Rising Stars list is the same as the Super Lawyers selection process, with one exception: to be eligible for inclusion in Rising Stars, a candidate must be either 40 years old or younger or in practice for 10 years or less. All attorneys first go through the Super Lawyers selection process. Those who are not selected to the Super Lawyers list, but who meet either one of the Rising Stars eligibility requirements, go through the Rising Stars selection process. While up to five percent of the lawyers in the state are named to Super Lawyers, no more than 2.5 percent are named to the Rising Stars list.

,

Super Lawyers' Rising Stars Award

,

https://www.superlawyers.com/about/selection_process_detail.html

,

2019

The TOP 40 UNDER 40 designation is assigned to those attorneys who are newer to practice yet are at the top of their field. The attorneys are the rising stars and have top-tier skills and ethics. Only 40 attorneys from each state and in each category will be able to bear this designation.

,

Top 40 under 40 by American Academy of Attorneys

,

https://aaoaus.com/

,

2018

The American Institute Of Legal Advocates was created as a invitation only collective, where the nations leading lawyers as well as up and coming legal talent could showcase their careers. By allowing our members to create detailed profiles, we are giving them a place to communicate to prospective clients & employers.

,

Elite Award by American Institute of Legal Advocates

,

https://aiolaus.com/

,

2019
Verdicts/Settlements (Case Results):
Obtained over $4,000,000.00 in benefits for injured workers after a bad motor vehicle accident.

,

2022

Obtained a 76% Award for an employee that continues to work full time at the same position, for the same employer.  

,

2020

Workers' Comp - $2,900,000.00 settlement for an electrician who fell during course and scope of employment

,

2019

100% Award for a substitute teacher Obtained 100% Award for a substitute school teacher that injured her knee at work, which led to surgery and subsequent amputation.  She previously had non work related injury to same leg, but able to argue that ultimate work was "straw that broke the camels back" and cause the need for surgery and ultimate lock knee, which then required amputation.  

,

2021

100% Stipulated Award for a construction working that had moderate injuries, but over time it lead to CRPS.   

,

2019

HALF A BILLION DOLLARS recovered for clients, as a Law Firm.

,

2018

Workers' Comp - $4,000,000.00 settlement for a fire fighter that suffered from PTSD from a significant dwelling fire.

,

2017

Workers' Comp - 1,800,000.00 settlement (approximate) for slip and fall at work 

,

2018

Workers' Comp - 100% Stipulated Award for construction worker

,

2018

Workers' Comp - 79% Stipulated Award for firefighter that continues to work.

,

2019

Workers' Comp - $522,000.00 for injured worker that can still work.

,

2016

Workers' Comp - 100% Stipulated Award for part time teacher

,

2016

Workers' Comp - $515,000.00 settlement for an engineer that was moving an object at work, which aggravated injuries from a prior personal injury case to his back.

,

2016

Workers' Comp - $480,000.00 recovered for injured worker with non-catastrophic injuries.

,

2015

Workers' Comp - 75% Stipulated Award for teacher that continues to work

,

2015

Workers' Comp - 74% Stipulated Award for a special needs teacher that continues to work her same job with full duties.

,

2015

Workers' Comp - $650,000.00 to buyout part time home healthcare and gardening of an 80 year old

,

2014
Office location for Mark V. Larson
15545 Devonshire St
Suite 205
Mission Hills, CA 91345
Phone: 818-830-1910
Selections
Rising Stars: 2019 - 2022
Additional sources of information about Mark V. Larson
Attorney resources for Mark V. Larson