Calvin Chang
Top rated employment & labor attorney in Sacramento, California
Cal Law APC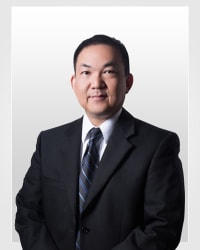 Cal Law APC
Practice Areas: Employment & labor; view more
Licensed in California since: 2011

Selected to Super Lawyers: 2022 - 2023

Selected to Rising Stars: 2019 - 2021
Cal Law APC
980 9th Street
16th Floor
Sacramento, CA 95814
Visit website
Details
Calvin Chang is an attorney at the CAL LAW APC in Sacramento, California, and has offices in Los Angeles and San Francisco as well. He focuses his practice exclusively on sexual harassment cases against fortune 500 and high-profile companies. He also takes on cases relating to employment discrimination, retaliation, workplace and internal affairs investigations, and wage and hour violations.
Prior to practicing law, Mr. Chang worked in the public sector for more than 20 years as a peace officer, including as a patrol officer, supervising investigator, investigator, special agent and senior special agent. He was also in the United States Attorney's Law Enforcement Task Force for over 10 years and was a senior special agent, conducting internal affairs and performing equal employment opportunity investigations. 
Mr. Chang provides dedicated counsel with a firm commitment to his clients' needs and expectations. He is mindful of the sensitive nature of sexual harassment and discrimination cases in the workplace and takes on an understanding and compassionate approach. He is well known for the integrity and tenacity with which he deals with each case and is a go-to lawyer when it comes to sensitive cases that require aggressive advocacy. 
Mr. Chang has a Bachelor of Arts degree in political science from the University of California, Davis and a master's degree in criminal justice from Boston University. He earned his Juris Doctor from the Concord Law School, where he was an oral advocate in an ADA case and also a distinguished scholar. 
Mr. Chang is licensed to practice in California courts and is admitted to practice before the United States District Court for the Eastern District of California, the United States District Court for the Northern District of California, the U.S. Court of Appeals for the 9th Circuit and the U.S. Court of Appeals for the Federal Circuit.
Honored for his exceptional legal work, Mr. Chang is the recipient of the Avvo Clients Choice award, Lawyers of Distinction award and the Three Best Rated Attorneys in Sacramento award. He is on the Top 100 Trial Lawyers list of The National Trial Lawyers and has a "Superb" rating on Avvo. He is also named to the list of Best Employment Lawyers in Sacramento by Expertise.
For his long record of obtaining million-dollar verdicts and settlements, Mr. Chang is a member of the Million Dollar Advocates Forum. Active in the legal community, he served as co-chair of the Public Employee Committee of the California Employment Lawyers Association, an NGO that upholds workers' rights and advocates for worker justice. He was also on its ad hoc committee to evaluate changes made to laws about the status of transgenders in relation to the California Fair Employment and Housing Act.
Practice areas
Employment & labor: employee
Focus areas
Sexual harassment
First Admitted: 2011, California
Professional Webpage: https://calvinchanglaw.com/about-law-office-of-calvin-chang/
Educational Background:
Concord Law School, Juris Doctor, Distinguished Scholar and Oral Advocate in a Plaintiff's ADA case

University of California at Davis, B.A. in Political Science

Boston University, Masters in Criminal Justice
Bar/Professional Activity:
Co-Chair, Public Employees Committee, California Employment Lawyers Association

United States Federal Courts for the Eastern District of California, Northern District of California, and Ninth Circuit

California

Admitted to practice in the US Courts of Appeal for the Federal Circuit.

,

2021

State of California State Personnel Board, Admitted to Practice 2015 - Present United States District Court for the Northern District of California Admitted to Practice 2015 - Present Capital City Trial Lawyers AssociationMember2014 - Present State Bar of California, Housing & Public Accommodation Subsection 2012 - Present Asian Pacific Bar Association of Sacramento Member 2012 - Present, Sacramento County Bar Association, Member 2011 - Present United States District Court for the Eastern District of California, Admitted 2011 - Present SacLEGAL, Sustaining Member 2008 - Present State Bar of California, Labor and Employment Law Section, Member 2008 - Present National Employment Lawyers Association, Member 2007 - Present California Employment Lawyers Association, Mentor, Public Sector Committee 2007 - Present Consumer Attorney Association of Los Angeles, Member 2010 - 2014

,

2011
Transactions:
Reeves v. Sacramento Protective Services LLC (2016) Sacramento Superior Court Case No. 34-2014-00171174. Summary Judgment.

,

2016

Client v. Regents of the University of California (2020) Arbitration - Order of Reinstatement from dismissal with full back pay and benefits.

,

2020

Guillen v. Ararat Adult Day Health Care, Inc. (2015) Sacramento Superior Court Case No. 34-2014-00163051 - Defeated Defendant's Motion to Compel Arbitration

,

2015

Farag v. Department of Business Oversight (2018) Los Angeles Superior Court Case No. BC664111 - Summary Judgment in a National Origin Discrimination Case,

2018

Stout v. Macy's West Stores (2018) Sacramento Superior Court Case No. 34-2018-00236714 - Overruling Demurrer by Defendant,

2018

Asselin-Normand v. America Best Value Inn (CA Third District Court of Appeal).  Successfully appealed a decision of the trial court on behalf of a plaintiff in a discrimination case.   (Asselin-Normand v. America's Best Value Inn (Jan. 28, 2019, No. C086863) ___Cal.App.5th___    ,

2019
Other Outstanding Achievements:
Mr. Chang's practice areas include litigating claims on behalf of individuals for employment discrimination, harassment, retaliation, and civil rights. Mr. Chang has also prosecuted cases under the Ralph Civil Rights Act for cases of hate violence. Mr. Chang has over two decades of experience in the public sector, including over fifteen years as a sworn peace officer, including as a patrol officer, investigator, supervising investigator, special agent, and senior special agent. Mr. Chang was formerly a supervising investigator for one of California's largest law enforcement agencies, where he supervised a team of investigators, conducting internal affairs, and equal employment opportunity investigations. Mr. Chang was previously Chief Executive Officer of National Flare Company, Inc. At National Flare, Mr. Chang developed, patented, and manufactured, a new safety device for road flares that reduced the number of end user injuries previously associated with the industry standard. Mr. Chang received his Juris Doctor from Concord Law School where he was a distinguished scholar and distinguished Oral Advocate in a Plaintiff's ADA case. Mr. Chang received his BA in Political Science at the University of California at Davis, and a Masters in Criminal Justice at Boston University.

,

2017
White Papers:
Recommendations for how to get an employment attorney to represent you.First, you should only contact attorneys who represent employees in employment matters. If you randomly submit information requests to any law firm, you risk the possibility that the firm you contact may represent your employer. Do not expect attorneys to seek you out. There are prohibitions on attorney live solicitation that may or may not apply in your case, but most attorneys do not want to risk violating rules of professional responsibility. Most employment attorneys receive many more requests for legal representation than they can accept and only will accept a very small percentage of cases. It is not unusual for an attorney to only accept less than five percent of the cases from prospective client contacts. Employment lawsuits are expensive and time consuming. An attorney who agrees to represent you in an employment lawsuit may spend hundreds of hours and thousands of dollars on your case. A prospective attorney is thinking whether or not they want to invest in you and your case. If you are having trouble finding an attorney for your case, there are several possibilities: · The way in which you are contacting prospective attorneys is not effective (i.e. you leave a voice mail message, when the firm is requesting that you submit an online contact). · Your previous attorney withdrew from representing you. (This may be a red flag that tells other attorneys they will be next to have a problem with the way you are approaching your role as a client). · You are not looking in the right place for the right kind of attorney; · You are a public sector employee and have contacted attorneys who do not practice in public sector employment law. · Your case does not have as much value as you think; · You are not providing the prospective attorney with a sufficient written description of your legal issue. · You are providing too much information that causes the attorney to think your case is too complex with too many issues that will cost too much time and money to litigate. · You may not be making a good impression. Your communications should be professional, and you should not sound like you are making disparaging comments about your employer or co-workers. · Although you may be upset; sounding too irate or angry might scare away attorney's who might believe they will have a hard time convincing a jury that you are a reasonable plaintiff and it is your employer who has acted unreasonably. Because there are more potential clients available that there are available plaintiff's attorneys, you should stand out from the beginning as able to articulate the facts of your case. Provide detailed yet succinct description of your legal problem. If you are only able to phone an attorney and leave a message, assume some attorney's simply will not call you back because they do not have the time to speak to you on the phone. If you are seeking representation, have a professional one-page written description prepared and send it to attorney's who appear to match the type of legal issue you have. (Your communication with a prospective attorney is confidential – as long as you do not disclose it to anyone other than your attorney or prospective attorney) Employment attorneys need certain information in order to evaluate your case: The name of the employer; the name of any individual defendants; If the employee was fired, denied employment, laid off, denied a reasonable; accommodation, or whatever the issue is, in ten words or less; The dates that these things happened; The employers stated reason for what they did to you; How long you were employed for the employer; What was your job title; What was your monthly salary?; Have you filed your complaint with any agencies like the DFEH or EEOC? · Provide the attorney with a succinct timeline of events with a brief factual description of each significant event. To find a plaintiffs employment attorney in California, please go to the web site of the California Employment Lawyers Association (CELA). CELA is the largest and most influential bar association in the state for attorneys who represent working people. The web site is www.cela.org, and you can search for attorneys by location and practice area. As you can see, trying to find legal representation for an employment lawsuit takes a lot of work and commitment on your part. It is no different than trying to find a job. So – approach every contact with a prospective attorney as if you were interviewing for a job. Be professional, competent, courteous, and promptly respond to a prospective attorney's communication with you. I hope you can resolve your situation and wish you the best.,

How to get an employment lawyer; recommendations for employees seeking legal representation

,

Labor And Employment

,

2017

  If you have been diligent in searching for an employment attorney to represent you and have been unsuccessful, please consider the following.   Did you read the guide: "how to find an employment attorney" on Mr. Chang's AVVO profile?   Have you been working diligently to contact many plaintiff's employment attorneys? Have you contacted at least 10-20 plaintiff's employment attorneys? Have you followed the method of contact indicted on the prospective attorney's website? If you have consulted numerous attorneys and completed the entire intake process only to be informed by all of the attorneys they are not interested in your case. If after following the steps outlines in the article "how to find an employment attorney (above link), then you still have other options.   Try expanding your search area for attorneys.   Contact attorneys in Los Angeles and San Francisco.  These major metropolitan areas tend to be have more attorneys available.   If you are still unable then you may want to file your employment discrimination complaint with the California Department of Fair Employment and Housing.  The DFEH can review and if appropriate investigate your case.  www.dfeha.ca.gov  You can file a wage and hour related complaint with the California Labor Commissioner / State of California Department of Industrial Relations.  https://www.dir.ca.gov/dlse/HowToFileWageClaim.htm,

What to do if you are unable find an employment attorney to take your case

,

Employee Rights

,

2020

Unruh Civil Rights Act Discrimination in California Business Establishments: What to do if you are denied service at a business because of your gender or sexual orientation. In California, restaurants, hotels, and any other business establishments are prohibited from engaging in discrimination in providing services. The Unruh Civil Rights Act provides a legal remedy to anyone denied the full and equal accommodations, advantages, facilities, privileges, or services in all business establishments. Even though the Unruh Act itself only specifies sex, color, race, religion, ancestry, national origin, disability, medical condition, marital status, or sexual orientation or to persons regardless of their genetic information, it has been held by California courts to apply to other forms of discrimination as well. Yet certain types of discrimination are permissible. For example, price discounts based on age (students or seniors) have been permissible based on public policy. A person who is denied a service by a business establishment is entitled to recover treble damages and maybe also recover punitive damages in certain circumstances. In order to have a valid claim certain elements must be met: (1) A person must prove that he/she was denied full and equal services by a business; (2) a substantial motivating reason for the denial must have been the business' perception of the person's protected status. If these two elements are met, a person is entitled to a minimum statutory recovery of $4,000 per violation. Furthermore, if a person can prove the violations caused actual damages, they may be entitled to three times the amount of damages. A successfully plaintiff is also entitled to an award of attorney's fees. Courts can also issue an order prohibiting the business from engaging in further violations. A claim under the Unruh Act must be brought within two years of the violation. However, you should not delay in contacting an attorney to start the claims process and to preserve any evidence. What to do If you experience discrimination, you should do several things: (1) ask to speak to a manager if possible; (2) be sure you actually tried to obtain the service, not merely made an inquiry about the policy of the business (3) get the name of the person who denied you service; (4) write down the date/time of the denial; (5) and try to get the name of any witnesses; (6) write down what was said. The Unruh Act does not apply to employment discrimination. Employment and housing discrimination are covered under the California Fair Employment and Housing Act. Hate violence and intimidation are covered under the Ralph Civil Rights Act.

,

Discrimination in California Business Establishments

,

Discrimination

,

2017
Scholarly Lectures/Writings:
CELA Annual Conference Introduction to Representing Public Sector Employees The panel will cover three important subjects that arise in representing local, state, federal employees: (1) administrative procedures, (2) writs and appeals, and (3) litigation. There will be an overview of common administrative procedures (due process and various evidentiary hearings). The panel will also discuss the opportunities for new attorneys in this area of legal practice. Finally, there will be a discussion of various litigation-related topics such as exhaustion, government tort claims, whistleblower statutes, disability discrimination, wage and hour claims in the public sector, government immunity, and free speech.

,

Moderator and Speaker

,

Introduction to Representing Public Employees

,

CA Employment Lawyers Association

,

Employee Rights

,

2019
Honors/Awards:
The Rising Stars list recognizes no more than 2.5 percent of attorneys in each state.,

Super Lawyers Rising Star

,

Super Lawyers

,

2020

Member, Million Dollar Advocates Forum

AVVO Clients Choice awards

Lawyers of Distinction

Why These Employment Lawyers? Our goal is to connect people with the best local experts. We scored Sacramento Employment Lawyers on more than 25 variables across five categories, and analyzed the results to give you a hand-picked list of the best. We scored 188 Employment Lawyers in Sacramento, CA and Picked the Top 19

,

Best Employment Lawyers in Sacramento

,

Expertise

,

2020

Best Employment Lawyers in Sacramento Expert recommended Top 3 Employment Lawyers in Sacramento, California. All of our employment lawyers face a rigorous 50-Point Inspection, which includes customer reviews, history, complaints, ratings, satisfaction, trust, cost and general excellence. You deserve only the best!,

Three Best Attorneys

,

Rated Three Best

,

2020

The Rising Stars list recognizes no more than 2.5 percent of attorneys in each state.,

Super Lawyers Rising Star

,

Super Lawyers

,

2019

Top 100 Trial Lawyers National Trial Lawyers Association 2017 Best Employment Lawyers Three Best Rated 2016 Top 10% Lawyers of Distinction 2016 Best in Employment Law Sacramento Small Business Excellence 2016 AVVO Rated Superb AVVO Top Lawyer

,

Top 100 Trial Lawyers

,

National Trial Lawyers Association

,

2017
Special Licenses/Certifications:
Admitted to practice is the following Courts: All California State Courts US Court of Appeals, Ninth Circuit U.S. Court of Appeals, Federal Circuit U.S. District Central District of California U.S. District Court, Eastern District of California U.S. District Court, Northern District of California

,

2020
Pro bono/Community Service:
Serve as Co-Chair of the Public Employee Committee of the California Employment Lawyers Association.  A non-profit organization: CELA exists to protect and expand the legal rights and opportunities of all California workers and to strengthen the community of lawyers who represent them. We accomplish this through education and advocacy for worker justice.

,

2020

California Employment Lawyers Association; served on ad hoc committee to review changes to regulations relating transgender status under the to the California Fair Employment and Housing Act

,

2018
Representative Clients:
Successfully represented an employee of a publicly traded company in a sexual harassment case. resulting in a $9 million + settlement.

,

2021

Successfully represented an employee of the University of California in an arbitration of dismissal.  Client reinstated with full back pay and benefits.

,

2020
Verdicts/Settlements:
Represented victim of sexual harassment in employment.  Resulting in eight figure settlement.

,

2021

Client v. Public Agency Employer   Practice Area: Sexual harassment Date: Dec 01, 2016 Outcome: Confidential Six Figure Settlement Description: Peace officer subjected to discrimination on the job. Client v. Public Agency Employer   Practice Area: Employment and labor Date: Dec 01, 2015 Outcome: Confidential Six Figure Settlement Description: Peace Officer subjected to discrimination on the job. Public Accommodations Discrimination   Practice Area: Civil rights Date: Oct 01, 2015 Outcome: Confidential Settlement Description: Represented client in Unruh Civil Rights Act public accommodations transgender discrimination case v. fortune 500 corporation Public Accommodations Discrimination   Practice Area: Civil rights Date: Oct 17, 2014 Outcome: Judgment for client Description: Successfully represented client in a denial of public accommodations case under the California Unruh Civil Rights Act Client v. Hotel   Practice Area: Civil rights Date: Oct 17, 2014 Outcome: Confidential Settlement Description: Denial of Equal Public Accommodations in Violation of Unruh Civil Rights Act Unpaid wages, whistleblower retaliation   Practice Area: Employment and labor Date: Jan 01, 2013 Outcome: Confidential Settlement Description: Successfully represented client in a whistleblower retaliation, wrongful termination, and wage and hour case against employer    Hate Crime   Practice Area: Discrimination Date: Dec 27, 2012 Outcome: Confidential Settlement Description: Race Discrimination and Harassment under the Fair Employment and Housing Act; Ralph Hate Violence; Constructive Discharge: Manager displayed a weapon and called client racial slur. International Client v. Corporate Defendant   Practice Area: Commercial real estate Date: Jul 20, 2012 Outcome: Exposed sham corporate office Description: Represented European client defrauded by defendant who was using a sham California business headquarters. Client v. Corporate Defendant and Individual Employer   Practice Area: Employment and labor Date: Jun 06, 2012 Outcome: Confidential Settlement Description: Employee subjected to race/national origin discrimination; whistle blower retaliation

,

2011
Industry Groups:
Specializes in Sexual Harassment Cases
Office location for Calvin Chang
980 9th Street
16th Floor
Sacramento, CA 95814
Phone: 916-538-0225
Selections
Super Lawyers: 2022 - 2023
Rising Stars: 2019 - 2021
Additional sources of information about Calvin Chang
Attorney resources for Calvin Chang