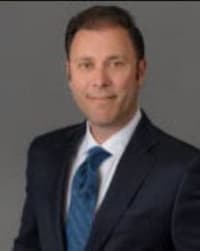 Hiden Rott & Oertle, LLP
Practice Areas: Workers' compensation
Licensed in California since: 1993
Education: Thomas Jefferson School of Law

Selected to Super Lawyers: 2023

Free Consultation
Hiden Rott & Oertle, LLP
2635 Camino del Rio South
Suite 110
San Diego, CA 92108
Visit website
Details
Michael Rott is the managing partner at the law firm of Hiden, Rott & Oertle, LLP, located in San Diego, California. Serving clients throughout San Diego, El Centro and Palm Springs, California, the types of cases he takes on include workers' compensation matters focusing on traumatic brain injury, severe spinal cord injuries, and injuries resulting in amputations.  In January of 2022, Mr. Rott settled the largest workers' compensation settlement in California history, at $13.2 million dollars.
Mr. Rott has a reputation for having obtained numerous million-dollar and multimillion-dollar verdicts and settlements on behalf of his clients. He listens keenly to his clients, forms creative strategies and keeps them updated about the proceedings of their case. He serves as a zealous and tenacious advocate for his clients who are facing harassment and discrimination in the workplace or have sustained injuries at work.
With a major in psychology from The University of Arizona, Mr. Rott obtained his bachelor's degree in 1987. He earned his Juris Doctor from the Thomas Jefferson School of Law in California. He is licensed to practice in California and the District of Columbia and before the U.S. District Court for the Southern District of California, the U.S. Court of Appeals for the 9th Circuit and the U.S. Supreme Court.
Actively affiliated with major professional associations, Mr. Rott has memberships in the San Diego County Bar Association, the California Applicants' Attorneys Association and the San Diego County Bar Association's Workers' Compensation Section as a Member At Large. As a Judge pro tempore, he has served in the San Diego Superior Court's Small Claims Division and the Workers' Compensation Appeals Board's San Diego Division. 
Additionally, Mr. Rott serves as a civilian panelist attorney for the women and men of the Armed Forces at Camp Pendleton for general civil legal matters. He is also the author of the book The Employee's Workers' Compensation Handbook and regularly lectures on legal matters and labor issues. He is a registered California real estate broker and founded a brokerage firm called the Union Real Estate.
Honored for his impeccable legal work, Mr. Rott has a "Superb" rating on Avvo and The Expert Network named him to its Distinguished Lawyer Designation, which comprises a list of only the top 3% of lawyers in the U.S.
Practice areas
Workers' compensation: claimant
100% Workers' compensation: claimant
First Admitted: 1993, California
Professional Webpage: https://www.hrollp.com/attorney/michael-i-rott/
Pro bono/Community Service:
San Diego Riptide, General Counsel

NFL, Legal Counsel

Major League Baseball, Legal Counsel

AF2 Arena Football Team

Fight for Fifteen -- Legal Observer to act as a liaison between the police department and the protestors.

,

2017

California Applicants' Attorneys Association (CAAA) Regulations Committee Member.

,

2022

Mission Hills Heritage Board Member

,

2022

Fight for Fifteen -- Legal Observer to act as a liaison between the police department and the protestors.

,

2016
Scholarly Lectures/Writings:
Injured? Here's Some Advice, The Guild Reporter -- Communications Workers of America

Workers' Compensation, Personal Injury & Immigration in the Construction Industry, San Diego Building & Construction Trades Council, 2013

Workers' Compensation and Personal Injury, Communications Workers of America, Local 9509, 1997

Workers' Compensation Overview, 725 District Lodge - International Association of Machinists & Aerospace Workers, 2001

Workers' Compensation Benefits, Iron Workers, Local 229, 2002

Mold in Elementary Schools, Kennedy and Sherman Elementary School Teachers, 2002

Occupational Exposure to Mold, San Diego Education Association, 2003

Workers' Compensation and Casino Employees, CWA, Local 9400, 2005 to Present

Steps to Follow When Injured on the Job, CWA, Local 9510, 2007 to Present

iPhone 3G Class Action Suit, ABC News/Technology, 2008 to Present

Apple iPhone 3G, Gadget Lab, 2008 to Present

Organized Labor & Workers Comp, Legal Talk Network, 2008 to Present

Guidelines to Follow when Injured on the Job, Teamsters, Local 542, 2009 to Present

The Essential Steps To Take When Injured On The Job, OPEIU, Local 30, 2010 to Present

Pre-Designation of Physician, UFCW, Local 135, 2011 to Present

Structured Settlements From a Union's Point of View, National Structured Settlements Trade Association Annual Meeting, 2011 to Present

Workers' Compensation, California Teachers Association, Region 4 Meeting, 2011 to Present

Blackout, NBC San Diego, 09/08/2011 to Present

Ethics in the Courtroom, San Diego Lawyer Magazine, 1996

Author, "The Employee's Workers' Compensation Handbook", Communications Workers of America, Local 9509, 2003

The Union Defender, Hiden, Rott & Oertle Legal Magazine, 2007

Guest Speaker

,

Why is it so important to designate a doctor before you are injured at work?

,

UFCW, Local 135

,

2018

Covid in the workplace.

,

Speaker

,

Workers' Compensation Benefits

,

SEIU

,

Labor Union

,

2021

Guest Speaker

,

What to do when you are injured on the job?

,

AFSCME, Local 127

,

2017

Guest Speaker

,

The necessary evident to support a workers' compensation claim

,

SEIU, Local 221

,

2016

Guest Speaker

,

Workers' Compensation Overview

,

CSEA, San Diego

,

2017

Guest Speaker

,

Workers' Compensation

,

Teamsters, Local 542

,

Teamsters, Local 542

,

2015

Laborers, Local 89

,

Guest Speaker

,

Workers' Compensation Training

,

2014

Guest Speaker

,

Workers' Compensation Training

,

CSEA, San Diego

,

CSEA, San Diego

,

2014

Guest Speaker

,

Workers' Compensation Training

,

AFSCME, Local 127

,

AFSCME, Local 127

,

2014

Guest Speaker

,

Workers' Compensation Training

,

Teamsters, Local 542

,

Teamsters, Local 542

,

2016
Educational Background:
University of Arizona, Tucson, Arizona, B.S., Major: Psychology - 1987
Bar/Professional Activity:
U.S. District Court Southern District of California, 1993

San Diego County Bar Ethics Committee, Member

California Applicants' Attorneys Association, Member, 2011 to Present

San Diego County Bar Association, Member, 1993 to Present

District of Columbia, 2002

U.S. Supreme Court, 1997

U.S. Court of Appeals 9th Circuit, 1997

State Bar of California

,

1993

Brandy Miller, an administrative coordinator sustained a spinal cord injury. I settled her case for $2,477,679.66 after a mediation with a former Workers' Compensation Appeals Board Chief Judge.

,

2022
Other Outstanding Achievements:
Judge Pro Tempore Workers' Compensation Appeals Board-San Diego Division

,

2014

Top 500 Firms in the Asia Pacific Legal 500

,

1999
Verdicts/Settlements:
Ricardo Martinez v. Arias Mechanical (Part 2) Practice Area: Workers compensation Date: Jan 08, 2018 Outcome: $3,750,000.00 "NEW MONEY", with an Expected Payout of $5,001,621.56 Description: After settling his permanent disability at 100%, the case was then settled for $3,750,000.00 "NEW MONEY", with an Expected Payout of $5,001,621.56

,

2018

Jenny Manybeads, et al. v. United States of America, et al., 06/23/1994 - 10/11/1994

(Minor Child) v. SBC Telecom, Inc.; Pacific Bell Telephone Company. Minor child's father died of Heat Exhaustion on the Job. I was able to apply an exception to the cap on death claims, which increased the settlement from $250,000 to $1,200,000.00.

,

2002

Aland (EMT) v. American Medical Response; National Union Fire Insurance Company. The case settled for $1,563,334.69 Expected Payout of Structured Settlement, which included $207,720.92 permanent disability advances waived by the insurance carrier.

,

2004

Walrath v. California Indemnity Insurance Co. Employee injured her knee on the job and while under anesthesia, lit up a congenital defect requiring a lung transplant. The settlement outcome was $3,076,358.00 Expected Payout of Structured Settlement with up-front cash.

,

2005

Walczak v. Ahern Rentals, Wausau Insurance. Settlement outcome of $5,834,763.00 structured and included up-front cash. Worthy Results: Insurance Company Waived All Interest in $3,000,000.00 Personal Injury Recovery procured by counsel Kevin F. Quinn, Esq.

,

2008

LaFrancis v. Westways Staffing Services, Inc. Nurse LaFrancis's prior counsel was recommending her to settle her case for $50,000. After 3-years of litigation, I settled this case for $1,200,000.00 (approx.)

,

2011

Brandy Miller v. Apple One (Part 2). I settled her case for $2,477,679.66 after mediation with former Workers' Compensation Appeals Board Chief Judge, Steven Siemers.

,

2022

Brandy Miller v. Apple One (Part 1).  My former associate and I obtained a 100% permanent disability award valued at approximately $1,700,000.00, after 2-previous lawyers, Ms. Miller had for nearly 8-years were unable to do.

,

2018

Pineda v. Casey Industrial (Part 1).  I turned a denied case into $3,000,000,00 permanent disability, after 4-lawyers turned down this case due to the "Going and Coming" Rule

,

2021

JA Hopkins, a Laborer, sustained severe spinal cord injuries. After many hearings, and 4-defense lawyers, JA's case settled for $4,650,000, which was in addition to a wheelchair accessible van; motorized wheelchair; and home healthcare of 24/7.

,

2021

J. Marchioni, a landscaper sustained spinal cord injuries, whose case settled for $2,500,000 "New Money".

,

2018

Joel Rodriguez, a roofer, sustained a traumatic brain injury. After multiple hearings, and depositions, Joel's claim settled for $5,000,000 "New Money".

,

2021

Steven Svatko, an HVAC Technician, sustained a pulmonary injury. My associate and I settled Steve's case for $2,000,000 "New Money", in addition to a motorized wheelchair; and 24/7 home healthcare assistance.

,

2019

Obdulio Ortiz, a fruit picker sustained a spinal cord injury. After multiple trials, his denied claim settled for $5,000,000.00 "New Money", making this one of the Largest settlements in UEBTF history.  In addition to this settlement, Obdulio received home healthcare assistance from 2-caregivers 24/7; a wheelchair; a waiver of $117,974.14 in permanent disability advancements; retro-active temporary disability payments for 3 1/2 years (as his prior counsel had failed to prove up his claim, nor obtain for him any monetary benefits during his 3 1/2 years of representation); a motorized wheelchair; a $15,000 massage chair; a $13,000 mattress system; and $20,000 in lieu of ADA housing for 3-months.

,

2021

Cesar Hernandez, a flyer distributor sustained a spinal cord injury. After multiple trials, I settled Cesar's case for $4,200,000 "New Money", which includes a waiver of $119,613.98 of permanent disability advancements; and payment of $115,000 for a wheelchair accessible van with motorized lift, for a total settlement value of $4,434,613.98, which makes this one of the Largest settlements in UEBTF history.

,

2021

Sheridan Cucurillo, a property manager sustained a head injury. I settled her case for $3,250,000.00

,

2022

David Rodriguez, a welder, sustained crush injury. Several days after replacing his prior counsel, the workers' compensation carrier sent an offer for $38,000. Approximately 1-year later, I settled David's case for $3,450,000.00.

,

2022

Pineda v. Casey Industrial (Part 2) $13.2 Million Dollar Settlement. This is the Largest Reported Workers' Compensation Settlement in California History. This was originally a denied claim; and defendant was offering $10,000 dollars to resolve.

,

2022

Jerry Alvarez v. Stericycle Practice Area: Workers' compensation Date: Jan 23, 2018 Outcome: "SKILLED NURSING CARE SETTLEMENT ONLY" -- $675,000.00 "New Money" with an Expected Yield of $829,864.00 + 3-months of 24/7 Home Care + 2-weeks of Skilled Nursing Care + an $83,000 Wheelchair Accessible Van + a $35,000 Mattress! Description: Before hiring me, Jerry's first attorney settled his permanent disability. His previous attorney then settled the home care component for $500,000. While this may sound like a lot of money, it was actually a bargain for the insurance company. Fortunately, I found a loophole in the previous settlement agreement and was able to "clean up the mess" caused by Jerry's first attorney. I was then able to get Jerry an additional $675,000.00 "New Money" with an Expected Yield of $829,864.00, so he could now afford the skilled nursing care he needs. Plus, I was able to obtain 3 + months of 24/7 Home Care (despite a previous settlement for home care of 6/7) + 2-weeks of Skilled Nursing Care + an $83,000 Wheelchair Accessible Van + a $35,000 Mattress

,

2018

Raymundo Gamboa v. Clauss Construction Practice Area: Workers' compensation Date: Dec 01, 2017 Outcome: $1,000,000.00 "New Money" Description: Although laborer was not 100% permanently disabled, his settlement was based upon 100% permanent disability. Settlement included aggravation of diabetes, which was originally denied

,

2017

Elisara Koria v. Universal Protection Services Practice Area: Workers' compensation Date: Nov 29, 2017 Outcome: $1,000,000.00 "New Money" Description: This 66-year-old security guard's claim was initially denied. The claims examiner also believed he did not require the use of a wheelchair. Negotiated $24,098.86 in permanent disability advancements to be waived

,

2017

Bruno Aranjo v. JA Soden Framing Practice Area: Workers' compensation Date: Sep 10, 2017 Outcome: $3,000,000.00 "NEW MONEY" Description: In less than 2-weeks, I was able to settle this case for $3,000,000.00 "NEW MONEY". His prior lawyer of nearly 2-years offered $1,000,000 + open medical. Had my client kept his medical open, his weekly indemnity payments would be reduced by the attorney's fee paid, which would have put him in a worse position

,

2017

Ricardo Martinez v. Arias Mechanical (PART 1) Practice Area: Workers' compensation Date: Jan 23, 2017 Outcome: $1,752,992.43 + Open Medical to include, 24/7 Home Health Care + Wheelchair Accessible Van + Motorized Wheelchair + Home Modifications Description: An injured HVAC employee lost part of his leg from a failed back surgery. After taking over this denied case from a lawyer in Orange County, who was trying to settle it for $25,000, I was able to force the insurance company to Stipulate this case at 100% permanent disability ($1,752,992.43); obtained a wheelchair accessible van (approx. $75,000); a motorized wheelchair; and home modifications (approx. $252,000); + Future Medical Care for Life

,

2017

John Hopkins v. Nighthawk Security Syst. (PART 1) Practice Area: Workers' compensation Date: Nov 21, 2016 Outcome: $1,448,202.38 + Open Medical to include, 24/7 Home Health Care Description: In 7-Weeks, I was able to Settle the Permanent Disability at 100% ($1,448,202.38) for this paraplegic security guard. I also arranged for my client to receive 24 hour, 7 days a week Home Health Care. HIs prior lawyer of 7-years was trying to settle this case for $50,000

,

2016

Tammy Martinez v. Grifell Enterprises/ LLC Bartholomew Practice Area: Workers' compensation Date: Mar 23, 2016 Outcome: $3,500,000.00 "New Money" + a Wheel Chair Accessible Van + a Motorized Wheel Chair + Home Modifications and Much More. Case Settled in Less than 11-months. Description: Failed back surgery which caused Tammy to lose her leg. Prior counsel was trying to settle her case for $50,000. I obtained 70 Times More than what her first lawyer was recommending

,

2016

Car Salesman (former U.S. Marine) v. Quality Nissan of Temecula Practice Area: Workers' compensation Date: Oct 08, 2015 Outcome: $3,500,000.00 "New Money" with an Expected Payout of $4,812,421.84 Description:2-prior lawyers and a case value of only $50,000 when I took over the case. Less than 4-months later, I settled this case for 70-times higher than his former lawyer

,

2015

Hernandez v. Brian Miller Painting Co. Practice Area: Workers' compensation Date: May 18, 2015 Outcome: $600,000.00 Settlement Description: This case involves a Painter, who had 3-prior lawyers. The first lawyer made an offer of $25,000; the second $106,000; and the third was recommending the insurance company's $80,000 counter offer. I settled Mr. Hernandez's case for $600,000

,

2015

Teresa Sperry v. Vons Practice Area: Workers' compensation Date: Nov 01, 2014 Outcome: $1,700,000.00 "NEW MONEY"Description:1% wpi (permanent disability) claim caused by a foot fracture

,

2014

Ironworker v. Cabrillo Hoist Practice Area: Workers' compensation Date: Jun 25, 2013 Outcome: $578,243.10 + Open Medical Description: Denied Case turned into a 100% Permanent Disability Stipulation with Request for Award, valued at $563,243.10 + $15,000 in reimbursements for mileage, prescriptions and travel

,

2013

Randy Leal v. National Beef (Part 2) Practice Area: Workers' compensation Date: Jun 13, 2013 Outcome: $3,052,374.51 Total Expected Payout Description: Buyout of Future Medical Expenses, Penalties, and Sanctions' Petitions

,

2013

Johnny Gibson v. All-Street Towing (Part 2) Practice Area: Workers' compensation Date: Mar 05, 2013 Outcome: $3,100,000.00 Description: Buyout of Future Medical and Case in Chief

,

2013
Special Licenses/Certifications:
State of California Department of Real Estate -- Brokers License

,

2018

District of Columbia (DC) Bar

,

2002
Honors/Awards:
Awarded to Top 3% of Lawyers in the U.S.

,

Distinguished Lawyer Designation

,

Expert Network

,

2018

Raised approximately $35,000 for union members of UFCW, Local 135's strike fund.

,

Certificate of Honor

,

UFCW, Local 135

,

2004

Top Lawyers

,

Top Attorneys Semi-Finalist, Labor/Employment

,

2011

Top Attorney

,

Avvo

,

2021

Superb Rated Attorney

,

Avvo

,

2018

Superb Rated Attorney

,

Avvo

,

2017

Superb Rated Attorney

,

Avvo

,

2016

Superb Rated Attorney

,

Avvo

,

2015

Client's Choice Award

,

Avvo

,

2015
Representative Clients:
Brandy Miller

,

2022

Sheridan Cucurillo

,

2022

Tony Busalacchi

Peter Keller

Tanya LaFrancis

Sally Kasparian

Alexis Garcia, who is the spouse and guardian ad litem for Rafael Pineda.

,

2022
Industry Groups:
AFL-CIO
Building Trades
City Employees
Classified Employees
Construction
County Employees
Iron Workers
Labor
Teachers
Teamsters
Office location for Michael Ian Rott
2635 Camino del Rio South
Suite 110
San Diego, CA 92108
Phone: 619-369-3323
Additional sources of information about Michael Ian Rott
Find me online
Recent activity
Attorney resources for Michael Ian Rott