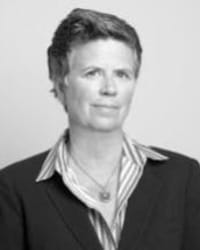 Stebner Gertler Guadagni & Kawamoto
Practice Areas: Elder Law
Licensed in California since: 1985
Education: University of San Francisco School of Law

Selected to Super Lawyers: 2009 - 2023
Stebner Gertler Guadagni & Kawamoto
870 Market Street
Suite 1285
San Francisco, CA 94102
Visit website
Details
Kathryn A. Stebner has devoted her 32-year career as an attorney to fighting for the rights of others. She now focuses her skills seeking the proper treatment of individuals in assisted living or board and care facilities through her work at the San Francisco, California, law offices of Stebner & Associates. From testifying in support of legislation on behalf of elderly and dependent adults to being a formidable adversary in the courtroom on behalf of the victims of abuse or improper care, her efforts make a difference in the lives of people living in the Bay Area and throughout the state.
After graduating from the University of Oregon in 1982 with a Bachelor of Arts in political science, Ms. Stebner attended the University of San Francisco School of Law and was awarded her Juris Doctor in 1985. She is admitted to practice before all California and Oregon state courts. Ms. Stebner is the treasurer of Consumer Attorneys of California and is a member and former president of the San Francisco Trial Lawyers Association.
Ms. Stebner is a prolific writer who has contributed to numerous publications, including co-authoring the chapters entitled "Practice and Procedure in Actions Against Residential Care Facilities" and "Litigating Financial Abuse Actions Against Institutions, Agents and Fiduciaries" that were included in "California Elder Law Litigation: An Advocate's Guide" published by California Continuing Education of the Bar. She is also in demand as a speaker on topics related to laws and procedures pertaining to elder care, assisted living and litigation.
In 2014, her dedication and advocacy on behalf of her clients earned Ms. Stebner the Street Fighter of the Year award presented annually by Consumer Attorneys of California. She has also been honored for her achievements by California Advocates for Nursing Home Reform.
First Admitted: 1985, California
Professional Webpage: https://www.sggklaw.com/attorney/kathryn-a-stebner/
Bar/Professional Activity:
Consumer Attorneys of California, Board of Governors

Oregon

California

San Francisco Trial lawyers Association, Past-President, 2012
Honors/Awards:
"Legal Advocate of the Year," California Advocates for Nursing Home Reform, 2002

Marvin E. Lewis Award from CAOC, 2012

"Super Lawyer," Elder Abuse, 2009 - 2014

"Trial Lawyer of the Year," San Francisco Trial Lawyers Association, 2000

"Street Fighter of the Year?, Consumer Attorneys of California, 2014

"Presidential Award of Merit," Consumer Attorneys of California, 2008

"Volunteer of the Year," San Francisco Bar Association, 1990
Scholarly Lectures/Writings:
Using EADACPA in Actions Against Hospitals, California Advocates for Nursing Home Reform, Manhattan Beach, CA, May 12, 2006

"Elder Neglect Cases in Acute Care Facilities: It?s Not Just a Nursing Home Problem", Journal of Consumer Attorneys Associations for Southern California (Advocate), February, 2008

Elder Abuse, Golden Gate School of Law, 2005

"Elder Abuse and Medical Malpractice: Intersection with Parallel Roads?", Forum, January/February, 2006

Can The Expert Be Destroyed? Live Prep and Unrehearsed Cross of Real Experts, San Francisco Trial Lawyers Association, December 13, 2005

"Pressure Sore Cases in Acute Care Facilities: No Matter What the Defense Tries to Tell You, These Are Elder and Dependent Neglect Cases", Forum, January/February, 2006

Long-Term Care Litigation and EADACPA Issues, California Advocates for Nursing Home Reform, San Francisco, CA, November 19, 2005

"Recent Decisions In Elder Abuse Law: 'Take Up The Cause'", Trial Lawyer, 2006

"Pressure Ulcers in Residential Care Facilities for the Elderly - Look at the Regulations", California Advocates for Nursing Home Reform, Winter, 2005

The Home Brewed Multi Media Trial: Presenting High Tech and Old School Demonstrative Evidence, San Francisco Trial Lawyers Association, November 15, 2005

"Practice and Procedure in Actions Against Residential Care Facilities", Chapter Five, California Elder Law Litigation: An Advocate's Guide, Continuing Education of the Bar, California, 2003

Who Are These Plaintiff Attorneys and Why Are They Saying These Awful Things About Us?, QCHF Institute 2005 & CAHF August Quarterly Conference, San Diego, CA, August 15, 2005

"Elder Abuse: Do You Know It When You See It?", The Trial Lawyer, Fall, 2003

Elder Abuse in Acute Care; Elder Financial Abuse: Relevance, Representation and Remedies; Elder Abuse Litigation: Ethical Advocacy, California Advocates for Nursing Home Reform's Elder Law Conference, Monterey, CA, 2005

"Residential Care Facilities for the Elderly: The New Frontier in Litigation", Forum, June, 2002

When You Least Expect It-Elder and Dependent Neglect in Hospitals, California Regional Trial Lawyers Association Conference, MCLE Program, June 3, 2005

"Transfer Trauma' Class Action Filed Against California Nursing Home Operator", Nursing Home Litigation Reporter, August 9, 2002

Gender and The Law, San Francisco Trial Lawyers Association, March 7, 2005

"Discovery for the Motion to Amend for Punitive Damages in an Elder Abuse Case", Forum, July/August, 2000

Elder Abuse", University of San Francisco, 2004 - 2005

Elder Abuse, University of San Francisco, 2006 - Present

Elder Abuse: Cases and Controversies; Elder Abuse Litigation: Point/Counterpoint-A Panel of Defense and Plaintiff Litigators; The Role of Experts in Elder Abuse Litigation; Scams, Scandals and Elder Fiduciary Abuse; Elder Abuse Litigation: New Directions, California Advocates for Nursing Home Reform's Elder Law, Pasadena, CA, 2004

How to Produce a Film of the Incompetent Plaintiff-Let The Jury Get to Know the Plaintiff Maximizing the Value of Your Case Through Its Greatest Asset-The Plaintiff-Litigation Practice, San Francisco Trial Lawyers Association, San Francisco, CA, September 7, 2004

Ten Tips to Minimize Litigation and the Costs of Litigation - The Plaintiff Attorney's Perspective, Annual Conference Aging Services of California, Long Beach, California, May 4, 2010 - May 5, 2010

Defendants Gone Wild! What To Do When Discovery Issues Are Taking Over Your Case (And Your Life). Roundtable Discussion, San Francisco Trial Lawyers Association, November 18, 2003

Kaiser Home Health ? Discovery into Common Areas of Neglect, Consumer Attorneys of California, Oakland, California, April 20, 2010

Representing Elders, Minors and Sexual and Racial Minorities, San Francisco Trial Lawyers Association, San Francisco, CA, September 9, 2003

Financial and Physical Abuse to the Elderly, Class Action and Individual Cases, San Francisco Trial Lawyers Association, April 13, 2010

Relevant Code Sections and Causes of Action-Scams, Scandals and Elder Fiduciary Abuse, California Advocates for Nursing Home Reform's Elder Law, 2003

Potential Strategies in Skilled Nursing Facility Cases, Consumer Attorneys of California, Live Webinar, December 10, 2009

Remedies for Physical Abuse and Neglect, Education of the Bar, Elder Law Litigation, May 10, 2003

Legal Nurse Consultant Developing Partnership with Elder Abuse Litigation Team, American Association of Legal Nurse Consultants, Phoenix, Arizona, April 24, 2009

CAOC Webinar – "Cases Against Assisted Living Facilities" – Practice Pointers – 9/30/15

Current Elder Abuse Law-Physical and Financial, California College of Trial Arts/Consumer Attorneys of California's 42nd Annual Convention, 2003

Direct Examination of an Adverse Witness-Evidence Code section 776, Consumer Attorneys of California, Tahoe, California, March 21, 2009

"Civil Attorneys: Your Friends in the Fight Against Elder Financial Abuse" 1/23/15, Institute on Aging: Swindles, Scams and Schemes Conference, San Francisco, CA

Elder Abuse, Golden Gate School of Law, 2002

Elder Abuse: Plaintiff and Defense Perspectives, Individual and Class Action Cases, San Francisco Trial Lawyers Association, San Francisco, California, March 10, 2009

"APS and Civil Litigators: Allies in the Fight Against Financial Elder Abuse" 10/31/14, NAPSA 5th Annual Summit on Elder Financial Exploitation, Portland, OR

Residential Care Facilities-The New Frontier in Litigation, Consumer Attorneys of California's 41st Annual Convention, 2002

Gender Bias in the Courtroom, Consumer Attorneys of California College of Trial Arts and San Joaquin County Trial Lawyers' Association Presents Masters Seminar-Stockton,CA, January 23, 2009

"RCFEs and Class Action Lawsuits," CANHR's 18th Annual Elder Law Conference, 11/22/14, Monterey, CA

Trial Advocacy, Hastings College of the Law, 2002

Elder Abuse and Long Term Healthcare Litigation (Plaintiff vs. Defense Perspective-Debate), Consumer Attorneys of California, 47th Annual Convention, November 8, 2008

CAOC 53rd Annual Convention, 11/15/14, San Francisco, CA

Transfer Trauma-The Perfect Psychological Injury Tort, San Francisco Trial Lawyer's Association, July 11, 2002

Remedies for Financial Abuse, Class Action Cases in Financial Elder Abuse, Continuing Education of the Bar - California, August 14, 2008

"APS and Civil Litigators: Allies in the Fight Against Financial Elder Abuse", 10/31/14, NAPSA 5th Annual Summit on Elder Financial Exploitation, Portland, OR

Long Term Care and Medi-Cal and Long Term Care Litigation, California Advocates for Nursing Home Reform, December 1, 2001

Mock Trial ? Plaintiff and Defense Day-Long Mock Trial, California Association for Healthcare Quality, June 25, 2008

"Proving a Rape or Molestation Case with an Unknown Perpetrator," 10/10/14, Santa Clara County Trial Lawyers Association (SCCTLA) Belli Seminar, San Jose, California

Elder Abuse Litigation: Early Investigation and Discovery; Trial Preparation, California Advocates for Nursing Home Reform, 2001

Update on Long-Term Care Litigation, Point/Counterpoint: Plaintiff and Defense Perspective, Common Ground: Estate Planners and Litigators Working Together, 12th Annual Elder Law Conference, California Advocates for Nursing Home Reform, May 9, 2008 - May 10, 2008

"Cluster Cases and Staffing to Acuity", 11/16/13, CAOC Convention, San Francisco, CA

What is Elder Abuse and Why is it Not Med-Mal?, San Francisco Trial Lawyers Association-Elder Abuse Litigation, 2000

Assisted Living: Three Different Perspectives, West Legal Education Center, April 24, 2008

Using the Elder Abuse Statute To Its Fullest, Business and Professions Code section 17200 and Financial Elder Abuse Cases, San Francisco Trial Lawyer and Litigation Practice, April 22, 2008

"Is It Working?", 11/23/13, CANHR Elder Law Convention, Monterey, CA

SNF Litigation, California Advocates for Nursing Home Reform's Workshop, November 4, 2000

One Stop Shop - Ethics, Consumer Attorneys of California 46th Annual Convention, San Francisco, California, November 11, 2007

New Models for Nursing Home Cases, 11/17/12, CANHR Elder Law Conference, Monterey, CA

Investigating Elder Abuse, Alameda County District Attorney's Office, 2000

Medical Malpractice vs. Elder Abuse, Consumer Attorneys Association of Los Angeles Las Vegas, Nevada, September 8, 2007

"Money Not Medicine: Proving Corporate Recklessness" 11/10/12 CAOC 51st Annual Convention, San Francisco, CA

Elder Abuse Litigation, California Advocates for Nursing Home Reform's 4th Annual Elder Law Conference, 2000

Ways of Helping Your Jury Get to Know Decedent, San Francisco Trial Lawyers Association San Francisco Trial Lawyers Association San Francisco, CA, June 12, 2007

"Resident Rights Litigation: A Tool for Quality Care" 11/19/11, CANHR Elder Law Conference, Monterey, CA

Issues and Advocacy, California Advocates for Nursing Home Reform's 3rd Annual Elder Law Conference, April 30, 1999 - May 1, 1999

Financial Elder Abuse Class Action and Individual Cases, California Advocates for Nursing Home Reform Elder Law Conference, Berkeley, CA, May 5, 2007

"Elder Abuse: Focus on the Corporation" 11/12/11, CAOC 50th Annual Convention, San Francisco, CA

Elder Abuse & Long Term Litigation Workshop, California Advocates for Nursing Home Reform, November 14, 1998

Elder Law Seminar, New College of California, School of Law, 2006

"Practice and Procedure in Actions Against Residential Care Facilities", Chapter Five, California Elder Law Litigation: An Advocate's Guide, Continuing Education of the Bar, California

Law Practice Management: Elder Abuse Litigation; The Outer Limits: Elder Abuse Litigation., California Advocates for Nursing Home Reform's First Annual Elder Law Conference, 1997

Elder Abuse: Point/Counterpoint with John Supple, California Regional TLA Conference, Santa Barbara, CA, June 9, 2006

"Litigating Financial Abuse Actions Against Institutions, Agents and Fiduciaries", Chapter 6A, California Elder Law Litigation: An Advocate's Guide, Continuing Education of the Bar

Toxic Torts, Willamette University School of Law, 1995

The Many Faces of EADACPA, California Advocates for Nursing Home Reform, Los Angeles, CA, May 13, 2006

"Drop That Negligence Claim for a Claim of Custodial Neglect", The Trial Lawyer, Spring, 2008
Educational Background:
University of Oregon, Eugene, B.A. in Political Science, 1982
Office location for Kathryn A. Stebner
870 Market Street
Suite 1285
San Francisco, CA 94102
Phone: 415-362-9800
Selections
Super Lawyers: 2009 - 2023
Additional sources of information about Kathryn A. Stebner
Attorney resources for Kathryn A. Stebner