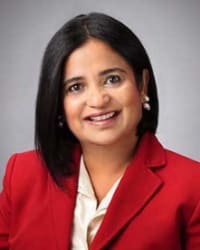 Law Offices of Sweta Khandelwal
Practice Areas: Immigration; view more
Licensed in California since: 2009
Languages Spoken: English, Hindi

Selected to Rising Stars: 2018 - 2019
Law Offices of Sweta Khandelwal
95 S. Market St.
Suite 410
San Jose, CA 95113
Visit website
Details
Sweta Khandelwal is the principal attorney at the Law Offices of Sweta Khandelwal. With offices in San Jose and San Francisco, she focuses her practice exclusively on immigration law matters, providing assistance to individuals and businesses throughout the Bay Area. Ms. Khandelwal's affinity to this area of the law stems in part from the fact that she is an immigrant herself, having come to the United States from India as a dependent on an H-4 visa. Her successful track record as well as her high degree of ethics have caught the attention of her fellow professionals, and they have awarded her a 10.0 "Superb" peer review rating through Avvo.
Ms. Khandelwal provides assistance to her clients in a variety of matters. She has extensive experience in obtaining nonimmigrant visas such as B-1 (for people coming to the U.S. temporarily for business purposes) and B-2 (for tourists). She also helps to obtain employment-based visas, such as EB-2 visas for people of exceptional ability and whose jobs require an advanced degree. Another type of employment-based visa that Ms. Khandelwal obtains for those people who qualify is an EB-3 for skilled workers, and she has experience with EB-1 visas, which are granted to priority workers such as outstanding professors and researchers, executives of multinational companies, and people of extraordinary ability. In addition, she helps people who wish to become U.S. citizens gain naturalization.
Ms. Khandelwal obtained her initial legal education at the Faculty of Law, University of Delhi, and she graduated in 2003. She also holds an LL.M. from the University of California, Los Angeles, School of Law, having been awarded that degree in 2006, and she is a chartered accountant, which is in general the equivalent of a certified public accountant.
Practice areas
Immigration: Business, Immigration: Consumer
Focus areas
Naturalization & Citizenship
First Admitted: 2009, California
Professional Webpage: https://www.khandelwalaw.com/about-us/
Bar/Professional Activity:
State Bar of California

Member, Law Student Committee at AILA National, 2014

Advocacy & Media Liaison, 2014 - 2015

Chair, Silicon Valley Chapter of AILA (AILA-SCV), 2013 - 2014

AILA liaison, San Jose Customs and Border Protection unit, U.S. Department of Homeland Security, 2011 - 2012

Media Liaison at AILA-SCV, 2014 - 2015

Member, Business Immigration Committee, National Board of the American Immigration Lawyers Association (AILA), 2014 - 2017

Chair-Elect, AILA-SCV, 2012 - 2013
Educational Background:
University of California Los Angeles, Masters in Law
White Papers:
Published on AILA Think Immigration blog post; AILA Leadership is invited to author publications relating to Immigration law. Selected articles are published on AILA's national website. Sweta's article on H-1B visas was published on the Think Immigration Blog.,

Dispelling Four (4) Myths About the H-1B VISA

,

2018
Honors/Awards:
,

SuperLawyers, Rising Stars

,

SuperLawyers

,

2019

SuperLawyers, Rising Stars

,

2018

"Advocacy Award" Recipient; American Immigration Lawyers Association

,

2014

Top 40 under 40 Immigration Attorneys in CA

,

2014

"Best Immigration Law Firm(s)"; SiliconIndia Magazine

,

2014
Scholarly Lectures/Writings:
Sweta addressed more than 350 participants across the world on a seminar on immigration issues.  This was organized by Idea-to-IPO, one of the most active entrepreuner groups in the Bay area, 

,

Speaker

,

US Immigration for Techies, Entrepreneurs, Investors & Start-ups

,

2021

The Trump administration made an average of one change per day to immigration-related policies and regulations. What has changed in the ten months since the Biden administration was sworn in? The panelists will provide details of the Trump era policies/memoranda that have been rescinded, discuss the new Biden era rules now in place, and explain what immigration attorneys should look out for in the coming months. Executive Orders and Proclamations: New and Exciting Biden Memoranda? The State of Trump Memoranda Rescissions and Rollbacks The Deference Memorandum Is Back and the RFE Memorandum Is Gone: What Else Should Immigration Lawyers Be Tracking?Faculty (I was one of the 3 speakers for this panel):            *Atessa Chehrazi (DL), AILA CBP Liaison Committee, San Francisco, CA*Scott A. Emerick, Los Angeles, CA*Sweta Khandelwal, San Jose, CA  ,

Speaker

,

PRESIDENTIAL MEMORANDA AND POLICIES

,

2021 AILA CA Conference on Immigration Law

,

2021

Access Silicon Valley (ASV) is the "virtual bridge" to Silicon Valley, where startup entrepreneurs and serial entrepreneurs in real time, get access to relevant content, and have the opportunity to interact with, angels, VCs and great entrepreneurs that they otherwise wouldn't get the opportunity to see, hear or possibly connect with. ASV has 20 chapters across the world.The Law Offices of Sweta Khandelwal has partnered with ASV where Sweta has addressed and continues to address multiple events relating to Immigration law and start-ups/entrepreneurs.

,

Speaker, Mentor

,

Immigration Partner, Access Silicon Valley

,

Technology, Hi-tech

,

2020

I was invited to speak on "Tech Tips for Immigration Lawyers" at the largest annual Immigration conference for Immigration attorneys in the US.

,

Speaker

,

Tech Tips for Immigration Lawyers

,

2020 AILA Annual Conference on Immigration Law

,

2020

  Sweta addressed a community of Silicon Valley business leaders, entrepreneurs, innovators, designers and developers: US Immigration Laws & Facts – the Black, White, Grey, Red & Blue.

,

Speaker at Procopio Law, Palo Alto, CA. Organized by Access Silicon Valley.

,

2017

Sweta was the sole Immigration Attorney to have addressed multiple seminars on the EB-5 investment Green Card held at New Delhi, Chandigarh, Ludhiana, and Amritsar. These seminars were organized by ILW, one of the oldest and most prestigious publication houses focused on Immigration Law.

,

Speaker, Advisor

,

ILW-EB-5 Seminars

,

2019

Description: Sweta was invited to speak on "How to increase your efficiency" at the largest annual Immigration conference for Immigration attorneys in the US.

,

Speaker

,

How to increase your efficiency as an Immigration Attorney

,

2019

The Law Offices of Sweta Khandelwal is the preferred immigration partner for entrepreneurs and their start-ups at Founders Floor, San Jose, a co-working accelerator for technology start-up companies. Sweta has advised several starts-ups at entrepreneurs at Founders Floor on US immigration laws, and has also spoken on immigration related issues.

,

Speaker, Mentor, Advisor

,

US Visa Options for Foreign Entrepreneurs, Start-ups and their Founders

,

Technology, Hi-tech

,

2019

Speaker at American Immigration Lawyers Association (AILA), Santa Clara Valley (SCV) Chapter

,

2017

Sweta advised foreign students and entrepreneurs shortlisted for the Start-up Weekend Finals on the visa options available to them that will allow them to continue working on their start-ups.

,

Coach/Mentor, Start-up Weekend, Santa Clara, CA

,

2016

Sweta addressed the audience of entrepreneurs and tech professionals at Lifograph & Founders Floor Accelerator, San Jose, CA, on the immigration issues and concerns of foreign start-ups.

,

Speaker at Lifograph & Founders Floor Accelerator, San Jose, CA

,

2016

Sweta addressed the audience at the Fireside Chat organized by Access Silicon Valley at Plug and Play Tech Center in Sunnyvale, CA, on current business immigration issues. 

,

Speaker at Access Silicon Valley

,

2016

Sweta was invited to conduct a workshop on the H-1B Visa and H-1B Quota for 2016 at Hackerdojo, Mountain View.

,

Conducted Workshop on the H-1B Visa and H-1B Quota

,

2016

Sweta was invited to speak at Plug & Play Tech Center, Sunnyvale, CA on HR Immigration Compliance, STEM-OPT, H-1B Visa & latest immigration updates.

,

Speaker at Plug & Play

,

2015

Sweta was one of the three speakers at the "Special Seminar—Does the New USCIS L-1B Memo Change Things?"; at 2:00 – 3:30 PM Eastern. Organized by AILA

,

Speaker at the "Special Seminar—Does the New USCIS L-1B Memo Change Things?"

,

2015

Sweta was invited to address a gathering consisting of professionals, entrepreneurs, start-up business and their leaders at the Annual Conference of the Silicon Valley Indian Professionals Association (SIPA). SIPA is one of the largest professional groups of South Asians in the Bay Area.

,

Speaker, 27th Annual AILA California Chapter's Conference

,

2014

Sweta was invited to join aprominent online public deliberation and review of US immigration policy, partnering with Knight Foundation and TechCrunch as an expert. She shared the dias with a handful of immigration attorneys and policy makers.

,

Panelist, an Immigration Debate; Policies towards immigrants and guest workers

,

2014

Sweta was invited to speak at the Continuing Legal Education program organized by the Southern CA Chapter of AILA at Mammoth Lakes, CA on the visa options available to domestic workers.

,

Speaker at the Winter CLE organized by Southern CA Chapter of AILA

,

2014

Sweta was invited to address the above meet-up on "Immigration Hacking: Solving Immigration puzzle for foreign-born Entrepreneurs" The event was attended by almost 100 people.For reviews of the meet-up, click here. The recording is available here.,

Key Speaker at the Meet-up "Igniters: Stanford Entrepreneurs & Silicon Valley Founders"

,

2014

Sweta was invited to speak on the visa options available to foreign entrepreuners, start-ups and small business at Capital Factory, Austin, TX. Capital Factory is the entrepreneurial center of gravity in Austin, Texas.Located in the middle of downtown, Capital Factory has more than 50,000 square feet full of startups and entrepreneurs. This event was streamed live and can now be viewed here. The presentation can be viewed here.,

Visa Options for Foreign Entrepreneurs, Presentation/Case Study/Discussion at Capital Factory, Austin, TX

,

2014

Sweta was one of the two Attorney speakers at the Continuing Legal Education (CLE)session organized by the Bay Area Valley Chapter of theAmerican Immigration Lawyers Association. The topic of the CLE was Employment Based Visas for Entrepreneurs, Start-ups, and Small Businesses. CLE is professional education of lawyers that takes place after their initial admission to the Bar. In many states in the United States, CLE participation is required of attorneysto maintain their license to practice law.

,

Visa Options for Foreign Entrepreneurs, Speaker at the Legal Education for Attorneys organized by AILA-SCV

,

2013

AILA SCV organized the first ever Press Conference in the Bay Area that discussed the proposed Senate Immigration Reform Bill. The Press Conference was attended by media, clients and local businesses. Sweta was part of a three member panel of immigration attorneys and discussed the business immigration sections of the proposed bill and responded to questions from the audience. See pictures of the event hereSome of the press coverage can be found here,

AILA Press Event – The Path to Reform

,

2013

Sweta answered questions relating to visas for entrepreneurs from an audience of more than 200 international students at Stanford University.Link to the Press coverage for the event,

Panel Q&A on "How to Start a Company Without Being Deported" at Stanford University

,

2013

Sweta also holds informal sessions in the Bay Area to address the broader needs of the community. One such session was the Meetup-Silicon Valley Business Group interested in US Immigration-where Sweta addressed immigration issues and answered questions on the H-1B Quota, and other work-related visas. Details of the event can be found here,

Meetup-"Silicon Valley Business Group interested in US Immigration"

,

2013

Sweta was one of three Immigration Attorneys from the Santa Clara County on the panel discussion at the engagement between Federal Government representatives and the immigrant community to share the latest information on employment visa processing.

,

Panelist, U.S. Patent and Trademark Office, San Jose

,

2017

Sweta addressed a community of Silicon Valley business leaders, entrepreneurs, innovators, designers and developers: US Immigration Laws & Facts – the Black, White, Grey, Red & Blue.

,

Speaker at Procopio Law, Palo Alto, CA. Organized by Access Silicon Valley

,

2017

Sweta addressed an international community of aspiring professionals looking to immigrate to the US via a Webinar that was broadcasted to 45 ASV Chapters world-wide:  U.S. Immigration of, by and for Entrepreneurs

,

Speaker at Live Webinar. Organized by ASV

,

2017

Sweta addressed an international community of aspiring professionals looking to immigrate to the US via a Webinar that was broadcasted to 45 ASV Chapters world-wide:  U.S. Immigration of, by and for Entrepreneurs

,

Speaker at Live Webinar. Organized by Access Silicon Valley

,

2017

Sweta addresseed the entrepreneur community at Founder's Floor. Immigration of, by and for Entrepreneurs- Attract and retain the best global talent (including yourself),

Speaker at Founder's Floor, San Jose, CA

,

2017
Representative Clients:
The Law Offices of Sweta Khandelwal is the preferred immigration partner for entrepreneurs and their start-ups at Founders Floor, San Jose, a co-working accelerator for technology start-up companies. Sweta has advised several starts-ups at entrepreneurs at Founders Floor on US immigration laws, and has also spoken on immigration related issues.

,

2020
Office location for Sweta Khandelwal
95 S. Market St.
Suite 410
San Jose, CA 95113
Phone: 408-940-0106
Selections
Rising Stars: 2018 - 2019
Additional sources of information about Sweta Khandelwal
Attorney resources for Sweta Khandelwal