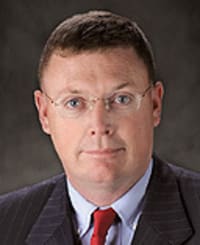 The Reisch Law Firm, LLC
Practice Areas: Criminal Defense, Personal Injury; view more
Licensed in Colorado since: 1996
Education: University of Denver Sturm College of Law

Selected to Super Lawyers: 2009 - 2010, 2012 - 2023
The Reisch Law Firm, LLC
1490 West 121st Avenue
Suite 202
Denver, CO 80234
Visit website
Details
Prior to founding his firm, The Reisch Law Firm, LLC, attorney R. Scott Reisch worked his way through the ranks of the United States Marine Corps. Serving initially as an artillery unit scout in 1988, Mr. Reisch attended school and graduated from the Naval Justice School. With his remaining career spent serving as a military prosecutor and defense counsel representing Marines accused of crimes, Mr. Reisch attained the rank of Major before leaving the military and founding his own firm.
From that time Mr. Reisch has focused on representing individuals and corporations accused of criminal offenses in Colorado and federal courts across the country. He has tried over 200 criminal trials in municipal, state and federal courts and won acquittals for his clients in the vast majority of those cases. He has represented defendants in numerous high-profile cases alleging sexual assault, first-degree murder and other serious crimes. Mr. Reisch has also undertaken personal injury, air disaster litigation and FAA enforcement cases on a selective basis. His firm is located in Denver, Colorado.
Scott Reisch is a trial attoney who tries cases and wins.  He cannot guarantee a particular result at trial but he has achieved results in the past that are impressive.  Most criminal defense attorney can go their entire career without ever having a not guilty to a first degree murder case.  Mr. Reisch has had seven (7) in his career.  This has come from hard work, preparation of the case and leaving no stone unturned.  
Being a pilot and the fact The Reisch Law Frim, LLC has their own plane we can be to anywhere in the state within an hour from leaving the airport in Denver.  This not only allows us to represent people all over the state and surrounding states we actually save our clients money by flying ourself.  
Practice areas
Criminal Defense, Personal Injury - General: Plaintiff
Focus areas
Assault, Criminal Law, False Accusations, Felony, Misdemeanor, Murder, Personal Injury - Plaintiff, Sex Offenses
80% Criminal Defense

20% Personal Injury - General: Plaintiff
First Admitted: 1996, Colorado
Professional Webpage: http://www.reischlawfirm.com/scott-reisch/
Pro bono/Community Service:
Over the years, Mr. Reisch has had a seat on non-for profit organization.  He has contributed to worthy causes realted to the arts in the Denver area.  
Scholarly Lectures/Writings:
Adjunct Professor at Metropolitan State College

Lecturer, Constitutional Law, Evidence, Criminal Law and Criminal Justice classes
Bar/Professional Activity:
Colorado

Colorado Trial Lawyers Association

National Association of Criminal Defense Lawyers, Life Member
Colorado Crimnal Defense Bar, Life Member
National Trial Lawyers, Top 100 Criminal Defense Lawyers,

2013
Educational Background:
University of Colorado, B.A.

,

1991

University of Denver, College of Law

,

1995
Representative Clients:
Since 2000 The Reisch Law Firm, LLC has represented clients from all walks of life who have found themselves in difficult situations.  Whether it has been representing a clinet worth hundres of millions of dollars to a court-appointed client who has a third grade education and has no money, Scott Reisch has approached each case with the attitude of treat each client like they are his only client.  

,

2000
Other Outstanding Achievements:
Retained as an expert witness in the area of criminal law to attempt to overturn a conviction of a defendant who did not receive effective assistance of counsel that the defendant had as trial counsel.  The Court granted the defendant a new trial finding that the defendant did not receive effective assistance of counsel.  

,

2019

Resolved a first degree murder charge with a plea to criminally negligent homicide and credit for time served.  

,

2018

Resolved a serious kidnapping, sexual assault and sexual exploitation with a stipulation to probation after convincing the District Attorney that things are not exactly what the complaining witness alleged.  The District Attorney agreed over the complaining witnesses objection.  

,

2019

Mr. Reisch represented a client charged with multiple counts of child abuse resulting in death.  After a three week trial the client was convicted but all agree there are compelling legal issues related to what duty does one have to another simply because they are on the same property.  This case received national and international attention.  

,

2019

  Successfully represented a client charged with obstruction of an air crew in U.S. District Court.  We worked with local counsel to be admitted pro hac vice to represent our client.  Ultimately, the matter was resolved with a petty offense, six months probation and a fine.  This is  absolutely unheard of when the client was facing multiple felony counts when most cases result in a prison sentence.  Client was happy beyond belief.  

When Mr. Reisch's client was charged a $500 fine for bringing an apple that she received from Delta Airlines she refused to pay the fine.  The story went viral and appeared locally, nationally and internationally because of the lack of common sense displayed by the Customs and Borders Enforcment Officer.  The Reisch Law Firm, LLC demanded a hearing and the matter was dismissed and the client's global Entry was restored.  https://www.independent.co.uk/news/world/americas/customs-check-apple-fine-colorado-women-delta-flight-paris-denver-minneapolis-port-of-entry-a8317591.html  

,

2018
Honors/Awards:
Selected by a select group of trial attorneys to be recognized as the Top 100 in criminal law.  

,

National Trial Lawyers Top 100 - Diplomat

,

National Trial Lawyers

,

2020

Dipomat in National Trial Lawyers, a national orginization that you must be asked to become a members.  

,

National Trial Lawyers Top 100 - Diplomat

,

National Trial Lawyers

,

2019
Verdicts/Settlements:
Scott Reisch received  Not Guilty verdicts for his client on all thirteen counts related to Possession of a Weapon by a Previous Offender, (POWPO).  

,

2021

The client's possession of a weapon by a previous offender charged was dismissed in state court and the U.S. Attorney, Colorado decided to prosecute the case federally.  Mr. Reisch received a Not Guilty for all charges for his client.  This was Scott's second Not Guilty in U.S. District Court, Colorado, this year.  

,

2020

The client was charged with three counts of Attempted Murder.  Each charge had a potential punishment of a minimum of 16-48 years in the Colorado Department of Corrections.  The client was found NOT GUILTY of all three counts.   

,

2021

The client was charged with sexual assault on a child, a pattern of conduct by one in a position of trust.  At trial and subject to cross-examination, the witness admitted that she fabricated the story and continued with the lie because she did not want to get in trouble.  The jury returned a NOT GUILTY verdict to all counts.  The client was looking at an indeterminate life sentence.  

,

2021

Mr. Reisch was retained as an expert witness in a post-conviction relief matter.  Mr. Reisch's testimony was key in the Court's decision to find that the reversal of the conviction was warranted and a new trial granted.  

,

2020

Successfully represented a federal client charged with distribution in a multi-kilogram drug deal.  The DEA agent, the cooperating witness, and a cooperating co-defendant testified that our client was at the drug deal.  Our client was fount NOT GUILTY of all counts and left with his family from the courtroom.  We were able to highlight the motivation of the cooperating witness and the cooperating defendant who had the motive to fabricate that our client was present.  The DEA agent was sloppy in his investigation and assumed his reputation was beyond reproach.  The jury recognized that if you want to charge and crime that will affect a person's liberty you better bring evidence worthy of proof beyond a reasonable doubt.   Defense verdicts are rare in federal court, but Scott has a proven track record of winning in trial.   

,

2020

Resolved Federal RICO case week prior to trial.  Client received most favorable resolution of all co-defendants.  

,

2019

Client facing minimum 30 years to a life sentence had his charges dismissed after the US District Court granted a Motion To Supress.  

,

2019

Clients federal indictment was dismissed after expert analysis determined it was not our client's voice on the wiretapped phone call.  

,

2018

Client charged with one count of Murder in the First Degree Murder.  He was acquitted at trial.  The co-defendant was found guilty at trial.  

,

2017

Mr. Reisch was admitted to U.S. District Court, New Mexico to assist a client in a criminal RICO trial.  With 110 defendants, just two weeks prior to trial the US Attorney offered what we had asked for previously and resolved the matter with credit for time served at sentencing.  

,

2019

Mr. Reisch was able to convince the District Attorney not to proceed with the death penalty against his client.

,

2013

In 2018 Mr. Reisch's client was found NOT GUILTY of sexual assault after a seven day jury trial.  The District Attorney took this case very personally and chose not to even engage in plea negotiations.  Knowing this the Reisch Law Firm, LLC engaged in extensive investigation and located many witnesses the governement chose to ignore because it did not help their theory of the case.  Ultimately, the jury found Mr. Reisch's client NOT Guilty.  

,

2018

Scott Reisch is currently representing one of the members of the "Apocalyptic" Group in conncection with the deaths of two girls that group members are accused of intentionally abusing until they died.  The venue has been changed from the ski town of Telluride, Colorado to another town in Colorado due to extensive local, statewide, national and international media of the case.  

,

2019

Mr. Reisch represented a client in Arapahoe County, who was charged with two counts of First Degree Murder and seven other counts ranging from conspiracy to commit murder and aggravated robbery.  The client was found NOT GUILTY to ALL counts by a jury after a week long trial.

,

2010

In November of 2017, Scott Reisch achieved a NOT GUILTY in a 1st Degree Murder, Attempted Murder and a sundry of other charges including habitual charges.  After a week long trial the jury reached a verdict of NOT GUILTY to all counts.  There were multiple experts that were called but it ultimatley came down to the fact that the jury was not conviced that Mr. Reisch's client was even at the crime scene.  The co-defendant was convicted. This is the second time Scott Reisch has helped this client achieve NOT GUILTY on murder counts.  

,

2017

Kidnapping and Sexual Assault charges dismissed two days before trial.  Client had maintained his inoccence throughout process.  Through extensive investigation of the facts, scene, physical evidence and the complaining witness the truth came out to completly exonerate our client.  He now has his life back.   ,

2018

Mr. Reisch was able to achieve an acquittal at trial of his client charged in a federal drug conspiracy.  A co-defendant was found guilty during the same trial.  This is a signifigant victory as no one can seem to recall the last time someone went to trial on a federal drug conspiracy charge in the District of Colorado and was acquitted.   Mr. Reisch was able to keep the District Attorney from proceeding with the death penalty against his client. 

,

2013

In 2016 Scott Reisch achieved a not quilty verdict on a sexual assault on a child case.  The signfigance of the case was that the client had previoulsy gone to trial with another firm and was convicted and sentence to a 10 years to life sentence.  The case was reversed on appeal and the client retained Scott Reisch to do the retrial.  After a week long trial the client was acquitted on all counts. 

Two weeks before we were set to go commence trial on the charge of 1st Degree Murder the District Attorney moved to dismiss all charges.  This case was a clear case of self defense and our highly respected experts produced reports of their proposed testimony stating that the injuries were consistent with our client's version of the events that she relayed to the police upon her arrest.  Sometimes a dismisall of all charges before trial is more satisfying than a not guilty verdict because we were able to avoid the unknown and stress of a trial.  ,

2018
Office location for R. Scott Reisch
1490 West 121st Avenue
Suite 202
Denver, CO 80234
Phone: 303-291-0555
Selections
Super Lawyers: 2009 - 2010, 2012 - 2023
Additional sources of information about R. Scott Reisch
Attorney resources for R. Scott Reisch