Theresa Lynn Sidebotham
Top rated Nonprofit Organizations attorney in Monument, Colorado
Telios Law PLLC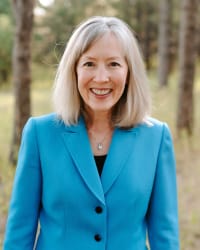 Telios Law PLLC
Practice Areas: Nonprofit Organizations, Employment & Labor, Business Litigation view more
Licensed in Colorado since: 2005
Education: University of Denver Sturm College of Law

Selected to Super Lawyers: 2017 - 2024

Selected to Rising Stars: 2013 - 2015
Details
Before settling in Colorado and going into the practice of law, Theresa Sidebotham lived in seven countries (including America),  and learned--and mostly forgot--seven languages (including English). Her four sons were born on three different continents. She had a satisfying first career homeschooling, being a military wife, and teaching in Sumatra and other places. 
Theresa attended Wheaton College and the University of Denver Sturm College of Law. After four years clerking with two judges on the Colorado Court of Appeals, she spent two and a half years with (former) Rothgerber Johnson & Lyons LLP, before opening Telios Law PLLC in 2012.
 "Telios" means "complete," "whole," or "mature," and she selected that as the name of the law firm because excellent legal work is important, but wasted unless it makes your business, personal life or ministry more whole.  The law firm focuses on religious law issues, employment law and investigations, child protection, general litigation, and appellate work. 
Practice areas
Nonprofit Organizations, Employment & Labor: Employer, Business Litigation, Constitutional Law

First Admitted: 2005, Colorado

Professional Webpage: https://telioslaw.com/our-team/theresa-lynn-sidebotham

Educational Background:
Wheaton College

University of Denver Sturm College of Law

,

2005
Other Outstanding Achievements:
Created website to support Telios Law investigations, at www.teliosinvestigations.com

,

2019

Continue to develop online HR and employee training for ministries at telios teaches.com.

,

2022

Interviewed on numerous radio shows about  book "Handling Allegations in a Ministry: Responses and Investigations."  

,

2022

Developed sexual harassment and anti-discrimination, child protection, and crisis management training for ministries, found at www.teliosteaches.com

,

2021
Transactions:
Coordinated completion of historic abuse investigation into a situation in Paraguay

,

2019

Completed large historical abuse investigation for a mission's activity in a certain region of the world. https://www.ihart.care/reports.html

,

2022

Through Telios Teaches, an affiliated business, provide online training on sexual harassment, child protection, and crisis management

,

2020

Carried out sexual harassment investigation for large educational institution

,

2018

Carried out major workplace investigation into workplace allegations at a large nonprofit organization, producing detailed reports for client that included factual findings and recommendations

,

2018

Carried out sexual harassment investigation for inner city ministry

,

2017

Coordinated or advised on major historic and current child abuse investigations on several continents and for a number of organizations

,

2017

Carried out major workplace investigation for mid-size nonprofit into allegations of sexual harassment, creating lengthy reports including factual findings and recommendations

,

2017

Coordinated the completion of major historic child abuse investigations in Panama and Bolivia, publishing Summary Reports found at ihart.care

,

2016

Carried out internal investigation on sexual harassment claim for large international organization, which was later settled at the EEOC level in the organization's favor

,

2015

Assisted international headquarters (in Asia) of large organization on corporate liability analysis and corporate restructuring project

,

2015

Assisted large international mission organizations and other religious organizations with child abuse or other misconduct investigations as outside defense counsel, or at times as investigator

,

2014

Assisted and advised nonprofit and educational organizations in handling sexual misconduct and employment investigations

,

2012

Assisted large church with a series of contractual issues, including legal advice and drafting contracts

,

2012

Assisted church to resolve employment dispute

,

2012

Assisted numerous religious organization clients with child safety protection policies

,

2011

Assisted client to negotiate a very favorable result on a loan with the Small Business Administration

,

2011

Drafted extensive client legal review for major religious organization and assisted in managing related legal team for a six-month period

,

2011
Representative Clients:
Advise numerous mission organizations and churches, on implementing child protection policies and investigating sexual misconduct and sexual harassment issues

,

2020

Advise numerous ministries, churches, businesses, and mission organizations on misconduct allegations, in many cases conducting independent investigations.

,

2022

Lead workplace investigations for harassment, abuse, or discrimination for both ministries and businesses

,

2021

Serving as Coordinator for large historical investigation into child abuse for boarding school in Japan and its founding organizations

,

2021

Serve a coalition of mission organizations on coordinating an investigation into historical abuse issues at a boarding school

,

2020

Advise large international mission organizations and other religious organizations on policies, employment issues, and religious liberties

,

2020

Litigate property dispute for mission organization client

,

2015

Litigate contentious employment disability discrimination case against large corporation

,

2015

Litigate corporate governance/shareholder dispute for start-up corporation

,

2015

Defend religious organization against employment discrimination claims

,

2015

Litigate childrens' and families' Fourth Amendment and Fourteenth Amendment rights in Section 1983 cases

,

2015

Brief appellate cases on business and constitutional issues

,

2014

Assist parents and children in disputes with public schools, particularly around special education and other disability issues

,

2012
Pro bono/Community Service:
Continue to assist the Evangelical Council for Abuse Prevention by advising, writing resources, and public speaking.

,

2021

Advisor-at-Large, Church Law & Tax Advisors Board, Christianity Today

,

2020

Chair of Expert Panel to develop child safety standards for Evangelical Council for Abuse Prevention since 2019.

,

2021

Took children's civil rights case to the Tenth Circuit, alleging violation of Fourth and Fourteenth Amendment when government workers strip searched and photographed our client (2016-2018)

,

2018

Accepted plaintiff in civil rights case through the Pro Bono Panel of the federal district court of Colorado and achieved a satisfactory solution for plaintiff.

,

2017

Serves as pro bono General Counsel for the Child Safety Protection Network

,

2020

 Board member of Homeward Pikes Peak 2013-2016; assisted with pro bono legal work

,

2015

Christian Leadership Alliance Board, President

,

2015

Chair, Wheaton College Alumni Club Committee, Colorado Springs from 2006 to present

,

2015

Due process special education hearing

,

2013

In 2009, wrote the section on "Serving Children with Disabilities" in the Juvenile Law Benchbook for the State of Colorado, found at www.cobenchbook.com (The primary author of the Benchbook is the Honorable David Furman.) In 2011, revised this section,

2011
Scholarly Lectures/Writings:
Presented in September 2022.

,

Presenter

,

"Risk and Liability Management for Short-Term Teams"

,

Missio Nexus

,

2022

The book addresses how ministries can respond well to allegations of abuse,  including how to run a good investigation.

,

Author

,

Handling Allegations in a Ministry: Responses and Investigations

,

Illumify

,

Ministries, Nonprofits, Law, Investigation

,

2022

Presented in October 2022.

,

Co-Presented with Andrew Speicher

,

"Working with Purpose—Operating Private Law Firms Well for Greater Kingdom Good."

,

Christian Legal Society National Conference

,

2022

Presented in September 2022.

,

Presenter

,

"A Wild Ride: HR and Employee Needs in the Early 2020s"

,

Missio Nexus

,

2022

Presented in September 2022.

,

Presenter

,

"Counting the Cost of Physical, Social, or Financial Martyrdom."

,

Missio Nexus

,

2022

Presented in September 2022 for a webinar.

,

Presenter

,

"Ministry Investigations"

,

ABA

,

2022

Panelist in August 2022 at the Church Law & Tax: Handling a Child Abuse Allegation in Your Church Webinar.

,

Panelist

,

"Handling a Child Abuse Allegation in Your Church"

,

Church Law & Tax

,

2022

Published in April 2022.

,

Author

,

"Sexual Harassment: Lessons from Failure"

,

Evangelical Council for Abuse Prevention

,

2022

Presented in March 2022.

,

Presenter

,

"Restoring Shalom with Apologies that Actually Mean Something"

,

CSPN

,

2022

Co-Presented with Sally Wagenmaker and Jeff Dalrymple in October 2021 at the Christian Legal Society National Conference in San Antonio, TX.

,

Co-Presenter

,

"Advising Churches on Abuse Prevention Systems"

,

Christian Legal Society National Conference

,

2021

Presented in June 2021 at the first annual ECAP National Conference in Nashville, TN.

,

Presenter

,

"Managing the Crisis of a Misconduct Allegation"

,

Evangelical Council for Abuse Prevention

,

2021

Presented in June 2021 at the first annual ECAP National Conference in Nashville, TN.

,

Presenter

,

#YouToo—Preventing and Addressing Sexual Harassment"

,

Evangelical Council for Abuse Prevention

,

2021

Presented in May 2021.

,

Presentor

,

"Lawsuits and Rumors of Lawsuits"

,

Missio Nexus

,

2021

Shepherd Church, CA, March 2020. Perimeter Church, GA, November 2019. Fruit Cove Baptist Church, FL, November 2019. Church at the Cross, FL, November 2019.

,

Presenter

,

"Beyond Secure Check-In: A Child Safety Workshop"

,

Evangelical Council for Abuse Prevention

,

2020

Presented in June 2020 at the Resuming In-Person Religious Activities - Legal and Practical Considerations Webinar.

,

Presenter

,

"Right to Reopen"

,

Evangelical Council for Financial Accountability and Christian Legal Society

,

2020

To curb the spread of the COVID-19, many states have banned large gatherings. What does this mean for churches? Can the government force churches to cancel services? What are the legal consequences if churches refuse?

,

Writer

,

"Legal Considerations for Coronavirus Guidance and Church Gatherings"

,

Christianity Today: Church Law and Tax

,

2020

Presented in September 2019.

,

Presenter

,

"Steering Through the Storm: Employment Law Issues"

,

Missio Nexus

,

2019

Presented in October 2019.

,

Presenter

,

"Managing the Crisis of a Misconduct Allegation"

,

Christian Legal Society National Conference

,

2019

Live speaking engagement in April 2019

,

Presenter

,

"Social Liability Related to Allegations and Investigations"

,

CSPN

,

2019

Conference in November 2018

,

Presenter

,

"Psychoeducational & Spiritual Needs of MKs: Duty of Care, Child Harm, & Legal Issues"

,

Psychology and Law

,

2019

Speaking Engagement in February 2019

,

Presenter

,

"Steering Through the Storm: Legal and Spiritual Issues in a Rapidly Changing Culture"

,

CCCA Rocky Mountain Section

,

2019

CLA, August 2019. CCU EMS Employer Congress, February 2019.

,

Presenter

,

"Avoid #YouToo—Preventing and Addressing Sexual Harassment"

,

CLA, CCU EMS Employer Congress

,

2019

Live speaking engagement in April 2019

,

Presenter

,

"Child Safety—Creating or Avoiding Legal Liability"

,

CSPN

,

2019

Live Presentation in April 2018

,

Presenter

,

"Defining Abuse in Difficult Cases: Handling the Not-so-Clear-cut Scenarios"

,

CSPN

,

2018

Published in October 2018 Issue

,

Author

,

"International Crisis Situations: Preparing and Responding"

,

EMQ

,

2018

Presented in September 2018

,

Presenter

,

"Trends and Trials in Employment Law"

,

Missio Nexus

,

2018

Presented with Paul Winter in September 2018

,

Presenter

,

"Complaints, Cybersecurity, and Currency"

,

Missio Nexus

,

2018

Published in Fall 2018 Issue

,

Author

,

"Religious Liberty for Public School Teachers: Rights and Limitations"

,

The Christian Lawyer

,

2018

How to create an organizational culture that is safeguarded from problems with sexual harassment by adequate prevention and response

,

Panelist

,

"Creating a Safe Culture"

,

Christian Legal Society; Evangelical Christian Financial Accountability

,

2018

Discussing the intersection between child abuse, sexual harassment and bullying, along with appropriate responses

,

Presenter

,

"Defining Abuse in Difficult Cases"

,

Child Safety Protection Network

,

2018

Webinar on legal issues related to international crisis management

,

Presenter

,

"Crisis Management in Global Missions"

,

Missio Nexus

,

2018

Presented at conference in November 2017

,

Presenter

,

"Legal Issues in Setting up Psychological Evaluations"

,

Psychology and Law Seminar

,

2017

Helping audience understand what bullying is, possible legal issues, and how to handle situations involving bullying

,

Presenter

,

"Bullying 101: Defining, Responding, Preventing"

,

Child Safety Protection Network

,

2017

Spoke on international crisis management

,

Presenter

,

"Legal Issues with Crisis Management"

,

Risk Management Network

,

2017

Engaged in public debate on constitutional law

,

Panelist in Debate

,

"Religious Liberty in the Public Square"

,

2017

Co-presentation on how to help organizations with member care during the abuse investigation process

,

Co-Presenter

,

"Caregiving for Those Involved in Abuse Investigations"

,

Missio Nexus

,

2017

Update on current employment law issues

,

Presenter

,

"Yes, They Changed the Rules Again: Updates on Employment Law"

,

Missio Nexus

,

2017

Presenter of legal theory before hands-on seminar on doing investigations

,

Presenter

,

"What Your Mission Needs to Know About Internal Employment Investigations"

,

Missio Nexus

,

2017

"Religious Liberty or Discrimination? Two Views," as part of the "Experts in Controversies" series of the Academy Town Hall in Denver, March

,

2016

Spoke as Panel member at the Christian Legal Society National Conference

,

Panel Member

,

"Women in the Law"

,

2016

"Avoiding the Quicksand: Sticky but Common Problems in Child Safety Investigations"

,

Child Safety Protection Network

,

2016

Scholarly article analyzing legal protections for religious expression for both employers and employees, and suggesting how to balance them

,

Co-author with Ms. Jessica Ross

,

"Peace at Work: Balancing Religious Exercise Rights of Employers and Employees"

,

The Colorado Lawyer

,

2015

Practical steps that an organization should take in order to handle properly an allegation against an organizational leader

,

Author

,

"Handling an Allegation of Leadership Misconduct"

,

The Christian Lawyer

,

2015

Co-presented with CFO of major organization on principles for executives in handling child safety issues

,

Co-Presenter

,

"Safety of Children in Missions--The Executive View"

,

Missio Nexus conference

,

Religious Organizations

,

2015

"The Importance of Preservation to Winning a Civil Appeal" (with Jessica Ross)

,

El Paso County Bar Journal

,

2015

Published in Evangelical Missiological Society annual publication

,

Author

,

"Getting it Right, Healing the Wrong: Legal Issues in Protecting Children and Organizations from Child Sexual Abuse"

,

2014

An article on the interaction of the Free Exercise Clause and the Establishment Clause in determining religious expression in public schools

,

author

,

"Expression of Religion in Public Schools"

,

Colorado Lawyer

,

2011

Two articles summarizing special education law, both in general and as applied to children in foster care and the juvenile justice system

,

Author

,

"An Overview of Special Education Law, Parts I and II"

,

The Colorado Lawyer

,

2009
Honors/Awards:
Selected to Superlawyers since 2017.

,

Selected to Superlawyers

,

Superlawyers

,

2023

Received rating from Martindale-Hubbell's peer evaluation since 2017.

,

AV Preeminent

,

Martindale-Hubbell

,

2022

Honored by the Colorado Supreme Court for pro bono service every year since 2012

,

Pro Bono Achievement Award

,

Colorado Supreme Court

,

2019

Voted within the Top Attorneys of 2019 in Constitutional Law by the Colorado Springs Style Magazine. Voted within the Top Attorneys in Church Law in 2015, 2016, 2017, and 2018. Voted within the Top Attorneys in Appellate Law in 2016 and 2017.

,

Top Attorneys in Colorado Springs Style Magazine

,

Colorado Springs Style Magazine

,

2019

Selected to Superlawyers since 2013

,

Rising Star in Nonprofits

,

Superlawyers

,

2015

Selected as one of 12 up-and-coming lawyers in Colorado (in practice 6 years or less)

,

Up and Coming Lawyer

,

Colorado Law Week

,

2010

Award for highest rank (#1) in the law school class

,

Faculty Prize

,

University of Denver Sturm College of Law

,

2005

Graduated # 5 1/2 in the class

,

Summa Cum Laude

,

Wheaton College
Verdicts/Settlements (Case Results):
Completed large historical boarding school investigation and coordinated healing retreat for all stakeholders.https://www.christianitytoday.com/news/2023/march/christian-academy-japan-boarding-school-abuse-response.html?share=WYHoeBeFAhnbhXHuiSm%2b4iTOD3WiH%2fog&utm_medium=widgetsocial  

,

2022

Defended appeal of due process verdict against school district, with result that it dropped appeal

,

2019

Filed state level complaint on behalf of parents and disabled child and received favorable finding

,

2018

Went to four-day trial on behalf of parents and disabled child in special education case and won against school district

,

2018

As plaintiff's counsel, settled a disability discrimination case in the federal district court of Colorado a month before trial with a favorable result to the plaintiff

,

2016

Defended free speech case against the Department of Justice in the federal district court of Kansas and obtained a favorable jury verdict for my client

,

2016

Filed Motion to Show Authority in corporate lawsuit in Texas, alleging that opposing counsel did not have authority to represent the company. Plaintiff voluntarily dismissed lawsuit

,

2015

Filed motion to dismiss in church property dispute case in Texas, arguing that my client as the national organization was not properly in the lawsuit. Plaintiff voluntarily dismissed us from the lawsuit

,

2015

Represented corporate tenant in lease dispute over construction fees and negotiated favorable settlement

,

2014

Represented individual in financial dispute against national medical organization, successfully resolving dispute and receiving attorney fees

,

2014

Prevailed on core issues regarding promissory notes and deeds of trust on appeal to Colorado Court of Appeals (limited remand on factual issue)

,

2014

Achieved favorable settlement in federal lawsuit for statutory attorney fees, recouping all fees paid to date by client and satisfactory fees for firm

,

2014

Prevailed on appeal to Colorado Court of Appeals in business real estate matter

,

2014

Prevailed in special education due process hearing (4-day administrative hearing) on two out of three issues, representing parents and child against school district

,

2013

Negotiated favorable settlement in employment dispute on behalf of mission organization, avoiding litigation and bringing significant healing to the situation

,

2013

Arranged for mediation and negotiated peaceful resolution on behalf of religious organization in serious employment dispute

,

2013

Negotiated settlement with charter school on behalf of child with autism, resolving disability issues under Section 504

,

2012

Negotiated favorable settlement on behalf of respondent parents in juvenile dependency and neglect case that involved significant constitutional issues with accompanying briefing

,

2012

Defended personal injury slip and fall case through discovery, deposition, and mediation, at which point it settled

,

2011

Lead associate on defense of personal injury case against large company, which eventually settled

,

2011

Won summary judgment for homeowners' association by interpreting statutory provisions governing disclosure of personal information

,

2011

Defended personal injury auto accident case.  Part was resolved on a motion to dismiss, and the rest on summary judgement, both granted in our client's favor

,

2011

Negotiated confidential settlement in special education due process dispute, obtaining retroactive services for high school student

,

2011

J.C. v. Dungarvin Colorado, LLC, 252 P.3d 41 Primary counsel in case of first impression applying statutory civil liability immunity provisions for developmental disability providers, winning a decision for our client,

2010
Bar/Professional Activity:
Member of Christian Legal Society since 2003, Board member 2012-2014.  Organized regional conferences, 2006-07, 2008-09

,

2021

President of Colorado Springs chapter of the Christian Legal Society

,

2020
Industry Groups:
First Amendment
Non-Profit
Selections
Super Lawyers: 2017 - 2024
Rising Stars: 2013 - 2015
Additional sources of information about Theresa Lynn Sidebotham
Attorney resources for Theresa Lynn Sidebotham