« Back to Results
Patrick J. Filan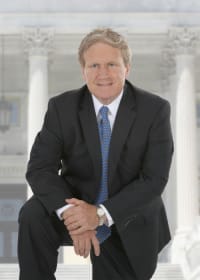 Attorney Profile
Top Rated Medical Malpractice Attorney in Fairfield, CT
Phone: 203-221-8066
Fax: 203-221-8068
Selected To Super Lawyers:
2009 - 2021
Practice Areas:
Personal Injury - Medical Malpractice: Plaintiff (60%),
Personal Injury - General: Plaintiff (40%)
Attorney Profile
Patrick J. Filan is an attorney and founder of the Law Offices of Patrick J. Filan located in Fairfield, Connecticut. Mr. Filan has been licensed to practice law in the state of Connecticut since 1982 and serves a wide group of clients in a variety of Connecticut cities, including Bridgeport, Fairfield, Milford, New Haven, Stamford and Stratford. He focuses his practice on medical malpractice and personal injury.
During more than 30 years in practice, Mr. Filan has handled all types of personal injury matters. His cases have involved automobile accidents, dangerous medications, defective products, lawyer malpractice, traumatic brain injuries and more. He also has experience in the areas of business, real estate, whistleblower litigation and criminal defense.
Mr. Filan earned a bachelor's degree from Duke University and went on to graduate from The Ohio State University Michael E. Moritz College of Law. During law school, he gained valuable legal experience through working for a New York City-based private firm. While serving in this role, he was involved in significant cases in the areas of federal criminal defense.
Mr. Filan has represented clients before agencies, including the Connecticut Department of Consumer Protection, the Connecticut Department of Public Health and the United States Drug Enforcement Administration. He has also litigated many cases at the state and federal level in both Connecticut and New York. His personal injury practice has resulted in million and multimillion-dollar settlements and verdicts for his clients in a wide variety of matters, including drug crimes, traumatic brain injuries, car and truck accidents, defective products and more.
Practice Areas
60%

Personal Injury - Medical Malpractice: Plaintiff

40%

Personal Injury - General: Plaintiff
Focus Areas
Medical Malpractice, Birth Injury, Motor Vehicle Accidents, Personal Injury - Plaintiff, Slip and Fall, Wrongful Death, Construction Accident, Brain Injury, Sexual Abuse - Plaintiff, Trucking Accidents
Selections


Super Lawyers: 2009 - 2021
Email Me
To: Patrick J. Filan
Super Lawyers: Potential Client Inquiry
Additional Sources of Information About Patrick J. Filan
White Papers
Proving Mild Traumatic Brain Injuries and Closed Head Injuries

- There are approximately 8,000,000 head injuries each year in the United States. Head injuries vary in intensity. Challenges confront attorneys especially in proving mild traumatic brain injuries. Head injuries including mild traumatic brain injuries often result from acceleration- deceleration injuries typically seen in automobile collisions. Damage occurs as a result of the "coup and contracoup" force, when the brain continues to move inside the skull after the head stops.  This effect may occur, for example, when the head strikes the windshield and stops but the brain continues to move forward, striking the cranium wall and injuring the frontal and temporal lobes. Mild traumatic brain injuries may occur in the absence of a direct blow to the head. These are typically caused by shearing forces created as the body is thrown forward and back.  Critical nerve fibers and blood vessels of the brain may be torn and damaged.  Swelling and internal bleeding may also occur.  The effects of a closed head injury may not appear for several days or weeks as it may take that long for swelling and hemorrhaging to start to compress brain tissue.  Often, the victim will return home and to work after having been told by the emergency room physician that he or she could expect everything to be fine after a few days of rest.  Because of the nature of the mild traumatic brain injury, the injured person may anticipate some temporary neck or back discomfort but not the physical, cognitive and psychosocial problems that develop. Symptoms associated with closed head injuries may include headaches, discoordination, sleep disturbance, depression, memory loss, difficulty with concentration and organization, fatigue, dizziness, nervousness, numbness, tinnitus, decrease in libido, irritability and other personality and social changes.  Health care providers may fail to associate such late presenting complaints with the original injury and dismiss such complaints. Neurodiagnostic tests such as neurological exams, EEG, CT scan and MRI may be normal. These tests have limited use in showing the structural or functional changes underlying the kind of physical, cognitive and behavioral effects of injuries involving cerebral tissue damage and brain stem dysfunction.  The lack of a clear cut test result may increase the client's level of frustration and injury and create where spouses and other family members do not believe the extent of the injury.  Lawyers must take an active role in advocating for clients with closed head injuries and be prepared to recognize the types of physical, cognitive and psychosocial complaints which are typically associated with mild head injury cases. Attention should be paid to the mechanism of injury, the directions and speeds of the vehicles on impact, whether the client struck her head in the accident, was the client thrown forward or back, the force involved, and whether there was a loss of consciousness. It is important to document the early effects of injury and to obtain a complete history in order to fully understand how the injury has affected the client's everyday functioning. Obtain specific examples and actual anecdotes. Pre-existing psychological problems should also be explored.  Aggravation of pre-existing psychological factors are compensable. These may impede the client's return to the level of function he enjoyed before the accident.  Cognitive limitations associated with the injury may also lessen the client's ability to deal effectively with pre-existing psychological problems and cause further aggravation.  Such prior injuries should not automatically deter you from pursuing a case. Remember the "eggshell" plaintiff: The defendant takes the plaintiff as he finds him. A client with a pre-existing condition that makes his injury worse than otherwise would be the case is entitled to compensation all the same. A neuropsychological assessment evaluation is often important to the case and future medical care. Neuropsychologists are concerned with measurement and diagnosis of the effects of brain damage.  They can evaluate personality, behavior, sensory-motor skills, and intellectual functioning.  Neuropsychological testing assess pre-accident functioning and can detect the underlying organic causes of the physical, emotional and cognitive impairments. These tests lead to treatment recommendations and establish a prognosis which is important to the medical-legal process.  Neuropsychological and personality data can not only reflect the type and severity of specific behavioral and emotional impairment related to the underlying brain injury but can also document those psychological factors that may uniquely affect a client's ability to recover from the mild head trauma.  
What to Do After Being in Bus Accident or Train Crash

- Every day thousands of people in Connecticut and New York rely on bus and train transportation. Trains and buses travel millions and millions of miles more each day in the United States. Both are among the oldest means of transportation, and widely considered to be safe. Connecticut is a major hub for passenger bus transportation services, including school buses, Connecticut transit and interstate buses such as Greyhound, Peter Pan, and the relatively new Bolt buses. Major transportation providers including Greyhound, Peter Pan, Connecticut Transit, Bolt, and Fung Wah carry thousands of people every day. Unfortunately, collisions, crashes, and employee related accidents frequently occur, taking hundreds of lives and seriously injuring thousands more each year. Passengers trust in public transportation providers When someone gets onto a bus, he or she trusts that the driver is properly licensed, well-rested and ready to operate the bus in the safest way possible to protect the safety of all passengers. A bus passenger also trusts that the vehicle has been properly inspected and designed, and that all parts of the bus are fully operational. Train passengers trust that railroad companies have inspected train cars, tracks and operating systems to ensure that trains are safe for travel. Unfortunately, bus and train accidents do occur oftentimes as a result of negligence on the part of the bus driver, train conductor or operators, bus or train service provider or manufacturer. Due to the sheer size of most buses and trains, the injuries involved after a crash can be very serious and even life-threatening. Train crashes can also have secure consequences for those who escape the crash with critical physical injury, emotional and financial damages. Passengers involved in accidents not only suffer serious physical injuries that can require hospitalizations and ongoing medical care. Injured victims may also lose the ability to work or earn income. The long-term consequences of an accident of this nature can be devastating, so it is crucial to take action early if you or a loved one has been involved in a bus accident in Connecticut or New York to ensure your rights are protected. Your rights after being injured in a train crash or bus accident If you or a loved one were injured in a railroad accident you or your family may be entitled to compensation for: Lost Wages Loss of Benefits Disability Pay Scarring Emotional Pain and Suffering Medical Expenses Funeral Costs Loss of Quality of Life We handle bus accident lawsuits for bus passengers injured in accidents caused by other motorists on the road, and represent injured motorists involved in accidents with buses. Our firm handles all types of bus accident cases for injured victims, including: Accidents on Connecticut Transit, Greyhound, Peter Pan, Bolt, Fung Wah, and other local mass transit carriers School bus accidents Accidents on charter bus tours Bus accidents involving sight-seeing buses Shuttle bus accidents If you have been injured or lost a loved one in a bus accident or train crash that happened in Connecticut or New York you may be entitled to compensation. You need a law firm who understands your case and has the experience and resources to help you recover fair and reasonable compensation for the physical, financial and emotional damages caused. For over 30 years, our firm has fought to protect the rights of victims injured in common carriers. We have handled accident lawsuits for individuals and families throughout Connecticut and New York, recovering millions in verdicts and settlements
Telemedicine: Can It Put Patient Safety at Risk?

- The Doctor is in...Or is he?A good question to ask in this day when mediucao care is often provided remotely by computer by doctors who are "not in the houise" as the saying goes.  In Virginia, last year, a jury awarded $3 million to the family of a patient who died after a tear in his esophagus was missed by the teleradiologist who reviewed his CT scan in a neighboring city after it was transmitted electronically. The patient developed chest pain after eating but his doctors never passed along this critical clinical information to the distant radiologist. The patient's history suggested food had caught in his throat and torn it. The patient languished for nearly a day until another radiologist made the proper diagnosis. By then the patient was near death and surgery could not successfully save him. This case is just one example of the risks of telemedicine.  Telemedicine is defined as "a two-way, real-time interactive communication between a patient and a physician or practitioner at a distant site through telecommunications equipment that includes, at a minimum, audio and visual equipment."  Generally, the term telemedicine refers to any medical activity that occurs at a distance and utilizes some form of telecommunication.  It may include physician communication by telephone, fax or email.Telemedicine is emerging as an increasingly attractive channel for for hospitals serving geographically remote communities to deliver quality medical services. Through telemedicine small, remote hospitals can access a more diverse array of medical specialists to help on-site practitioners reach a diagnosis and develop a treatment plan.  For patients, telemedicine can eliminate the need to travel great distances at great expense, or even to forgo a specialist's or sub-specialist's expert opinion.Telemedicine is also becoming a more common solution for not-so-remote facilities. Demand for specialty physician on-call coverage now far exceeds the supply of specialists in urban areas. In addition to specialist referral services and patient consultations, telemedicine can offer solutions for remote inpatient or outpatient monitoring in the hospital and/or follow-up in the patient's home.Like all technologies, however, there are associated patient safety and malpractice risks.  If not well managed, telemedicine can lead to substandard care and patient injury.  Let's return to our telemedicine radiology case, for example.  In that case, a physician in a small community hospital was electronically transmitting imaging studies to a distant radiologist for interpretation. Before the advent of telemedicine services that same ordering physician and radiologist would confer in front of a backlit x-ray box right next to the ER and radiology suite. With telemedicine now, the radiologist or medical specialist who reads a patient's scans may be across town, several states away, or even on the other side of the world. Many of these often far-flung radiologists simply email reports to ordering physicians without further discussion.This lack of care collaboration can put patients at risk.As anyone who has ever misread an email can attest, electronic communications are not always as clearly delivered and received as face-to-face interactions. With little opportunity to hear the contextual information that frequently surfaces in conversation, the clinician at the originating facility and distant teleradiologist can miss important details. This can result in delayed, incorrect, or missed diagnoses for patients.  Who's credentialing anyway?The qualifications of the doctor on the other end of the telemedicine exchange are also of concern. Traditionally a physician must apply for the right or "privilege" to practice at a given hospital. The hospital then reviews the physician's background and credentials. This is called "credentialing" a physician. After a hospital committee approves a physician's credentials it extends privileges to that doctor to practice at the hospital. Because traditional credentialing is not available in the telemedicine context, hospitals utilizing telemedicine must ensure that physicians providing consultations via telemedicine are qualified to do so.   Just as a radiology technician or sonographer should not be permitted to issue a report of an x-ray, a remotely based sonogram radiologist should be licensed, board certified, and have privileges to practice at a hospital. Hospitals must ensure that remote doctors are qualified to most accurately interpret studies as requested. Allowing a board certified radiologist with inadequate experience to interpret spinal MRI's may place a patient at risk. Care must be taken to see that non-physicians participating in telemedicine services do not may exceed the scope of their certification or licensure, such that standards of care continue to be met.
Connecticut Time Deadlines

- Notice Periods Length of Time Defective Highway Statute §13a-144 (state), §13a-149 (municipal) 90 days  (2 yr. Statute of Limitations). Dram Shop Statute §30-102 120 days (injury), 180 days (death or incapacity) (1 yr. Statute of Limitations). Municipal Employee Negligence Claim §7-465 6 months (2 yr. Statute of Limitations). Firefighter Negligence Claim §7-308 6 months (1 yr. Statute of Limitations). Claims Against the State §4-148 1 yr. from when "sustained or discovered," not to exceed 3 yrs. (Notice must be filed with the Claims Commissioner). Housing Authority Claims §8-67 6 months (2 yr. Statute of Limitations). Statute of Limitations  Length of Time Negligence/Reckless Claims (including Medical Malpractice) for Injury to Person or Property §52-584 2 yrs. from when "sustained or discovered," not to exceed 3 yrs. Wrongful Death §52-555 2 yrs. from death, not to exceed 5 yrs. from date of act. Other Torts (including intentional acts and legal malpractice)  §52-577 3 yrs. Product Liability Claim §52-577a 3 yrs. from when first "sustained or discovered," not to exceed 10 yrs. from when defendant parted with possession. Uninsured/Underinsured Motorist Claims §38a-336(g)(1)   3 yrs. from date of accident.But in UIM claim, Statute of Limitations may be tolled by (1) notifying insurer of claim in writing, within 3 yrs.; and (2) bringing suit within 180 days from exhaustion of limits of all applicable liability policies. Other  Length of Time Service of Complaint §52-46 12 days before return date. Filing of Complaint §52-46a 6 days before return date. Substitution of Estate upon death of plaintiff §52-599 (b) Within 6 months of plaintiff's death or, subject to the court's discretion and for good cause shown, at any time prior to the action commencing trial. Substitution of Estate upon death of defendant §52-599 (b) Within 1 yr. after receiving notice of defendant's death.
What are the duties of common carrier trains and buses?

- Trains, buses, and in certain circumstances trucks are referred to as "common carriers."  A common carrier owes its passengers and customers the highest duty of care consistent with the practical operation of its conveyances, i.e., trains and buses. This duty continues until the passenger has safely exited the carrier at a safe location and reached a place of safety. Common carriers must protect passengersCommon carriers must protect passengers from dangers to which they may not have otherwise been exposed and from which they cannot otherwise protect themselves. This duty applies because the passenger must rely wholly on the carrier for his safety while he is a passenger.   A common carrier has a special duty, beyond the care owed to an ordinary passenger, to a passenger that the carrier knows, or in the exercise of reasonable care should know, is afflicted by a physical or mental disability. A common carrier has a special duty, beyond the care owed to an ordinary passenger, to a passenger that the carrier knows, or in the exercise of reasonable care should know, is afflicted by a physical or mental disability.  A common carrier has a duty to exercise ordinary care to prevent reasonably foreseeable criminal acts in its stations and on its platforms. A carrier will be held liable when a criminal act is reasonably foreseeable and the carrier could have prevented the injury to the passenger but failed to do so. This duty may encompass criminal acts by fellow passengers and third-parties. Any duty owed by a common carrier to protect a passenger against criminal acts ends once the passenger safely exits.
About Patrick Filan
Admitted: 1984, Connecticut
Professional Webpage: http://filan-law.com/who-we-are/
Honors/Awards:
AVVO - Superb Rating - 10.0 Highest Rating

, AVVO

Member

, Million Dollar Advocates Forum
Bar/Professional Activity:
United States District Court, Special Master
Pro bono/Community Service:
Selected to United States District Court, Pro Bono Panel
Verdicts/Settlements:
In Re Mackin and United States v. Harrison

$2,100,000 recovered in malpractice lawsuit against hospital and physicians for failure to diagnose and treat spinal cord injury.$1,850,000 recovered in malpractice lawsuit against hospital and orthopedic spine surgeon for failure to diagnose cauda equina syndrome.$1,700,000 recovered in malpractice lawsuit against radiology group and surgeon for failure to diagnose breast cancer.$1,500,000 recovered on behalf of college student who sustained traumatic brain injury in motor vehicle accident.$1,415,000 recovered in malpractice lawsuit against hospital and surgeon as a result of negligently performed weight reduction surgery.$1,200,000 recovered from pharmaceutical company in wrongful death action.$900,000 recovered in wrongful death action against two hospitals, and cardiologist for misdiagnosis of cardiac condition.$800,000 recovered in malpractice lawsuit against doctors and hospitals for failure to diagnose and treat gastrointestinal condition in premature infant.$750,000 recovered in wrongful death action brought by Estate of deceased 10-year old autistic boy who died as a result of ruptured appendix undiagnosed at Emergency Room.$600,000 recovered from pharmaceutical company for failing to disclose drug side-effects resulting in diabetes.$515,000 recovered on behalf of Estate of 57 year old male as a result of failure to diagnose pulmonary embolism following knee surgery.$500,000 recovered in workers' compensation settlement paid to ironworker who sustained leg injury at factory.$450,000 settlement in negligent hiring / sexual molestation case brought against local business.$215,000 recovered in legal malpractice case brought against plaintiff's personal injury law firm for improper handling of medical malpractice case.$200,000 recovered in legal malpractice case brought against law firm for improper handling of commercial lawsuit.
Educational Background:
Duke University, Duke lacrosse team Member
Show More
Patrick J. Filan:
Last Updated: 6/16/2021