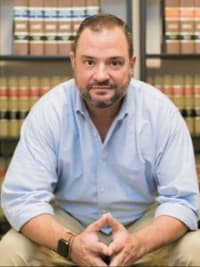 The Rudman Law Group
Practice Areas: Criminal Defense, DUI-DWI; view more
Licensed in Florida since: 2005
Education: The John Marshall Law School

Selected to Super Lawyers: 2023

Selected to Rising Stars: 2013 - 2017

Free Consultation
The Rudman Law Group
101 Plaza Real South
Suite 214
Boca Raton, FL 33432
Visit website
Details
Douglas J. Rudman, the founder and principal attorney of The Law Office of Douglas J. Rudman, P.A., is an aggressive advocate for clients in need of skilled state and federal criminal defense in South Florida. His experience includes defending those accused of a wide variety of misdemeanors and felonies, including DUI, traffic crimes, drug crimes, homicide, sex crimes, aggravated assault, domestic violence, white collar crimes and federal crimes.
Prior to opening his private practice, Mr. Rudman worked as a state prosecutor for the 15th Judicial Circuit in Palm Beach County, Florida. During his tenure as a prosecutor, he handled over 100 criminal cases that went to trial, many of which that were argued in front of a jury.
Today, Mr. Rudman puts his hands-on experience to work in zealously defending his clients' rights, freedom and reputation. As a former prosecutor pursuing justice for his clients, he strives to obtain results that not only protect his clients' rights but also helps them move forward with their lives.
Mr. Rudman's accolades include a Superb rating from Avvo, as well as the 2012 Clients' Choice award from the same organization, as well as a Dedicated Service Award from the Office of the State Attorney - Palm Beach County. He is also an active member of the Palm Beach Association of Criminal Defense Lawyers, the Palm Beach County Chapter of the Florida Association of Criminal Defense Lawyers, the Criminal Law Section of The Florida Bar and the Palm Beach County Bar Association.
Mr. Rudman received his law degree from The John Marshall Law School as well as his LL.M. in Criminal Trial Advocacy from Temple University's James E. Beasley School of Law. He is licensed to practice in Florida and the District of Columbia.
Practice areas
Criminal Defense, Criminal Defense: DUI/DWI
Focus areas
Arrest & Arraignment, Assault & Battery, Criminal Domestic Violence, Criminal Fraud, Criminal Law, DUI/DWI, Drug & Alcohol Violations, Expungement, False Accusations, Felony, Juvenile Delinquency, Misdemeanor, Motor Vehicle Offenses, Murder, Probation, Sex Offenses, Theft, Traffic Violations
First Admitted: 2005, Florida
Professional Webpage: http://www.flatriallaw.com/About-Our-Attorneys/Douglas-J-Rud...
Honors/Awards:
Superb rating from Avvo

Lifetime Charter Member

,

Best Attorneys of America

,

Rue Ratings

,

2016

Clients' Choice award, 2012

Dedicated Service Award, Office of the State Attorney - Palm Beach County
Educational Background:
Columbia College Chicago - B.A. Degree

,

2000

LL.M. from Temple University - Trial Advocacy

,

2005
Special Licenses/Certifications:
Emergency Medical Technician - Basic (Pennsylvania, Florida)

,

2004
Bar/Professional Activity:
State of Florida - Admitted to Practice

,

2005

National Advocacy for DUI Defense Top 100 - (2013 - 2017)

,

2017

National Trial Lawyers - Top 100 Criminal Defense (2013 - 2018)

,

2018

Southern District of Florida - Licensed to Practice

,

2012

State of Illinois - Admitted to Practice Law 

,

2017

Northern District of Illinois - Admitted to Practice

,

2005

District of Colorado - Admitted to Practice

,

2005

District of Columbia - Admitted to Practice

National College of DUI Defense - Member

,

2015

Member, The Palm Beach County Chapter of the Florida Association of Criminal Defense Lawyers

,

2005
Pro bono/Community Service:
Volunteer Judge for the Palm Beach County Youth Court Diversion program.

,

2012
Other Outstanding Achievements:
Best of Boca Raton (2 years Consecutive) Criminal, DUI & Traffic Defense

,

2019

American Jurist Institute - Top 10 Criminal Defense Law Attorney of Florida

,

2016
Scholarly Lectures/Writings:
Invited to speak on "An Individuals Path Through the Criminal Justice Process" to the Florida Atlantic University Chapter of Phi Alpha Delta.

,

Lecturer

,

An Individuals Path Through the Criminal Justice Process

,

2019

Speaker

,

The Investigation and Prosecution of Domestic Violence Cases.

,

West Palm Beach Rotary Club

,

2010

Speaker

,

The Investigation of and Prosecution of Domestic Violence Cases.

,

Delray Beach Rotary Club

,

2010
Verdicts/Settlements:
Jury Trial: Aggravated Assault with Firearm Verdict:  Not Guilty Collier County Case No.: 2018CF000829

,

2020

2022CF008924AXX   Facts:(Zimmerman)- Our client was arrested for breaking into a neighbors car and attempting to steal the vehicle from the owner.   Results: Attorney Rudman was able to discover serious legal and factual issues with the accusations against our client which led to the Office of the State Attorney issuing a "No File" in this case. 

,

2022

2023CF000013   Facts: (Testan)- Our client was having brunch at a local restaurant in Boca Raton where he got into a confrontation with the owner of the establishment over the quality of the food. Tensions rose and our client was arrested for Battery on a Person 65 Years or Older, a felony.    Results: Attorney Rudman was able to successfully convince the Office of the State Attorney that the confrontation did not rise to the level of a crime and a "No File" was issued in this case. 

,

2023

2022CF008812   Facts: (Lavin)- Our client was at home on Halloween evening where he discovered an individual in his back yard inspecting his property. This person claimed to be a city worker but our client was not comfortable with this person on his property at 8:00 p.m., so he removed this individual from his property. In the process of removing this individual from his property, our client took their clipboard and was later arrested for Robbery over this altercation.   Results: Our client retained Attorney Rudman whom immediately began aggressively advocating for the State of Florida to abandon this case. A "No File" was issued in this case. 

,

2022

2021CF005879AXX   Facts: (chris Jackson)- Our client was an employee of the Department of Children and Families working in a group home for troubled youth. While breaking up a fight between two youths. Apparently upset by this, one of the children began to destroy our clients personal property. Our client restrained the child and was ultimately arrest and charged with Child Abuse and battery.   Results: After zealous advocacy for our client was admitted into pre-trial intervention wherein all charges were dropped. 

,

2021

20008185CF10a   Facts: (allan Thompson)- Our client was charged with Aggravated Assault with a firearm after a delayed report of a road rage incident.   Results: Attorney Rudman was able to identify serious conflicts in the evidence which allowed him to negotiate a dramatic reduction in charges. Our client ultimately received a withhold of adjudication to misdemeanor disorderly conduct, with no probation or jail time. 

,

2000

2022CF008746axx   Facts: (prepty)- Our client was of passing forged checks.   Results: After vigorous negotiations Attorney Rudman was able to convince the Office of the State Attorney to offer our client a Deferred Prosecution Agreement which resulted in all of the charges being dropped. 

,

2022

20003072CF10a   Facts: (rayme)- Our client was charged with welfare fraud for misrepresenting her income on welfare applications.   Results: After vigorous negotiations with the Office of the State Attorney offer our client a Pre-Trial Intervention agreement that resulted in all charges being dropped. 

,

2000

2022CF005875-   Facts: Atwood- Our client was the passenger in a stolen vehicle where drugs were discovered. She was charged with Trespassing in a conveyance, possession of schedule ii substances, and possession of schedule iv substances.   Results: After being retained, Mr. Rudman was able to demonstrate to the Office of the State Attorney that there were significant evidentiary issues with proving that our client knew the vehicle was stolen and that she did not have permission to be within the vehicle. Based on this and other important issues, the trespassing charge was dismissed and our client was offered a deferred prosecution agreement on the drug charges, leading to all charges being dropped. 

,

2022

2022MM002167  Facts: Our client was involved in an abusive relationship wherein her partner would call repeatedly 911 and fabricate allegations against her in order to assert control. In this instance, our client was arrested for domestic violence based on a verbal altercation that took place outside of their shared home.   Results: Mr. Rudman was able to provide the Office of the State Attorney with the full context of the series of events, including the ongoing threats and harassment our client was receiving from her partner. In light of the totality of the circumstance and the ongoing abuse our client was receiving, Mr. Rudman was able to convince the Office of the State Attorney to issue a "No File" in this case. 

,

2022

2023MM000007  Facts: Our client was involved in a heated discussion with her husband, during which her husband was unintentionally struck. The police became involved and our client was arrested for Domestic Battery.   Results: Mr. Rudman was able to demonstrate that the victims testimony that the contact was non-offensive in nature indicated that there was no evidence to conclude that our client intentionally battered her husband. The Office of the State Attorney issued a "No File" in this case. 

,

2023

2023MM000427-   Facts: Our client got into a heated discussion with her parents that turned into a shoving match between the parties. Our client was arrested for domestic battery as a result. The Police Report mischaracterized the events that took place.   Results: Upon Mr. Rudman presenting the State Attorney a complete statement from the parties, the State of Florida issued a "No File" in this case. 

,

2023

2023CF001730-    Facts: Our client was having a discussion with another adult in their home where a minor child repeatedly inserted themselves in the discussion. Our client insisted the child return to their bedroom when an altercation occurred. Our client was arrested for Child Abuse as a result.   Results: Mr. Rudman was able to demonstrate that our client was engaged in parental discipline and not abuse, as a result, the State of Florida issued a "No File" in this case. 

,

2023

2021CT013039AXX-  Facts: Our client in this case is a teenager who was stopped by the police for a traffic offense after attending a house party. The police officer observed signs of impairment and arrested our client for Driving Under the Influence.   Results: Attorney Rudman advocated for this young man and convinced the Office of the State Attorney to offer Pre-Trial Diversion resulting in the charges being dropped in this case. 

,

2021

2022CT015209-   Facts: Our client was arrested for his second DUI offense after he was found sleeping in his car with the car running. After participating in roadside exercises and a breath test our client was found to have nearly four times the legal limit of alcohol in his system.   Results: Mr. Rudman was able to advocate for our client with the Office of the State Attorney and secure minimum first time DUI sanctions with no jail time in this case. 

,

2022

2022MM009165-  Facts:  Our client was involved in a car accident where the Boca Raton Police Department observed signs of impairment and during the investigation an altercation ensued. Ultimately, our client was found to have more than 3 times the legal limit of alcohol in her system and was arrested for her second DUI and Battery on a Law Enforcement Officer, a felony.   Results: Mr. Rudman was able to successfully convince the Office of the State Attorney to drop the felony charge of Battery on a Law Enforcement Officer and resolve the charge of Driving Under the Influence to standard first DUI sanctions with no jail time. 

,

2022

2022CT017698AXX-   Facts: Our Client was arrested for DUI crash, Leaving the Scene of an Accident, Refusal to Submit to Chemical or Physical Test, and Careless Driving. This was a second offense.   Results: Attorney Rudman immediately began to advocate for our client with the Office of the State Attorney and was able to negotiate a resolution to this case where our client completed an in patient treatment program followed by probation. In exchange, the State of Florida dropped two counts of DUI and required no jail time.  

,

2022

Aggravated Assault w/ Firearm - No File/Dismissed Palm Beach Case No.: 2017CF009398AXX

,

2017

Possession of Heroin - Resolved to Misdemeanor charges Palm Beach Case No.: 2015CF005400AXX

,

2015

Burglary of a Structure - No File/Dismissed Palm Beach Case No.: 2016CF005093AXX

,

2016

Possession of Cocaine - No File/Dismissed Palm Beach Case No.: 2016CF003446AXX

,

2016

Felony Criminal Mischief - Nolle Prosse/Dismissed Palm Beach Case No.: 2015CF012292AXX

,

2015

Second Violation of Probation - Reinstated  Palm Beach Case No.: 2015CF010055BXX

,

2015

Domestic Battery - No File/Dismissed Broward County Case No.: 19012456MM10A

,

2019

Possession of MDMA and Schedule 1 Substance - Nolle Prosse/Dismissal Palm Beach Case No.: 2019CF001348AXX

,

2019

Domestic Battery by Strangulation - No File/Dismissed Palm Beach Case No.: 2017CF008973AXX

,

2017

Possession of Cocaine - No File/Dismissed Palm Beach Case No.: 2016CF003813AXX

,

2016

Grand Theft - No File/Dismissed Palm Beach Case No.: 2017CF000512AXX

,

2017

Child Abuse, Aggravated Assault, Domestic Battery - No File/Dismissed Palm Beach Case No.: 2019CF005494AXX

,

2019

Attempted First Degree Murder w/ Firearm  - Pled to Aggravated Battery (5 Years DOC + Probation) Palm Beach Case No.: 2013CF002909AXX

,

2013

Robbery, Resist Arrest - No File/Dismissed Palm Beach Case No.: 2019CF005269AXX

,

2019

Grand Theft - No File/Dismissed Broward Case No.: 18008617CF10A

,

2018

Aggravated Battery on Person 65 Years or Older - Nolle Prosse/Dismissed Palm Beach County Case No.: 2018CF000035AXX

,

2018

Leaving The Scene of an Accident w/ Serious Bodily Injury - No File/Dismissed Broward Case No.: 19008541CF10A

,

2019

Felony Retail Theft - Nolle Prosse/Dismissed Palm Beach Case No.: 2017CF010351AXX

,

2017

Felony Battery - Nolle Prosse/Dismissed Case No.: 2016CF011922AXX

,

2016

Felony Insurance Fraud - Nolle Prosse/Dismissed Palm Beach Case No.: 2017CF011087AXX

,

2017

Possession of Forged Notes/Bills - No File/Dismissed Broward Case No.: 18015597CF10A

,

2018

Attempted First Degree Murder - Dismissed by Court Broward Case No.: 018876CF10A

,

2018

Domestic Battery - No File/Dismissed Palm Beach Case No.:  2020MM002936AXX

,

2020

Aggravated Battery Deadly Weapon Jury Trial:  Not Guilty as to Aggravated Battery Broward Case No.: 16012858CF10A

,

2016

Domestic Battery - No File/Dismissed Palm Beach Case No.: 2020MM002622AXX

,

2020

Charge:  Battery  Immunity Granted based upon Stand Your Ground Law. Miami Case No.: B19025578

,

2019

Aggravated Battery Immunity Granted based upon Stand Your Ground Law. Palm Beach Case No.: 2016CF010376

,

2016

Jury Trial: Driving Under the Influence Verdict:  Not Guilty as to Palm Beach DUI Case No.: 2018CCT007165

,

2019

County:  Palm Beach Case Number:  2011Cf006758Axx Judge: Marx Charge: Possession of Roxycodone/Possession of Marijuana/Possession of Paraphernalia Result:  Filed As Misdemeanor-Nolle Prosse/Dismissed, 2011

,

2011

County:  Palm Beach Case Number:  2011Cf000783Axx Judge: Colbath Charge: Grand Theft (Excess of $300) Result:  (Deferred Prosecution) – Pending Nolle Prosse, 2011

,

2011

County: Palm Beach Case Number: 2011Cf006757Axxaxx Judge: Miller Charge: Possession of Roxycodone/Possession of Ecstacy/Possession of Paraphernalia Result: Nolle Prosse/Dismissed, 2011

,

2011

County: Palm Beach Case Number: 2011Cf004245Axx Judge: Colbath Charge: Grand Retail Theft (>$300) Result: Nolle Prosse/Dismissed, 2011

,

2011

County:  Palm Beach Case Number:  2011Ct023435Axx Judge: Castor Charge: Driving Under The Influence Result:  Resolved To Lesser offense of Reckless Driving, 2011

,

2011

County:  Palm Beach Case Number:  2011Cf003420Axx Judge: Rapp Charge: Possession of Marijuana With Intent To Sell / Possession of Paraphernalia Result:  Filed As Misdemeanor - Nolle Prosse/Dismissed (Deferred Prosecution), 2011

,

2011

County: Palm Beach Case Number: 2011Cf013631Axx Judge: Rapp Charge: Domestic False Imprisonment/Stalking Result: No File/Dismiss, 2011

,

2011
Office location for Douglas J. Rudman
101 Plaza Real South
Suite 214
Boca Raton, FL 33432
Phone: 561-464-2615
Selections
Super Lawyers: 2023
Rising Stars: 2013 - 2017
Additional sources of information about Douglas J. Rudman
Attorney resources for Douglas J. Rudman