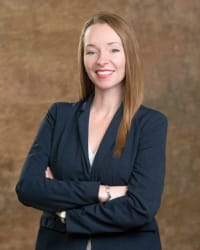 Karatinos Law, PLLC
Practice Areas: Criminal defense, DUI-DWI, Family law; view more
Licensed in Florida since: 2015
Education: Stetson University College of Law
Languages Spoken: English, Russian, Spanish

Selected to Rising Stars: 2020 - 2023

Free Consultation
Karatinos Law, PLLC
37865 Robinson Ave.
Ste. 1
Dade City, FL 33523
Visit website
Details
Keeley Karatinos is the owner and managing member of Karatinos Law, PLLC, a criminal defense firm in Dade City, Pasco County, Florida. She focuses primarily on criminal law cases including driving under the influence and sex offenses and also assists with personal injury matters. She extends her practice to the surrounding counties of Pinellas, Hernando and Hillsborough.
In 2014, Ms. Karatinos earned her Juris Doctor from Stetson University College of Law graduating cum laude with a concentration in advocacy. She completed her bachelor's degree in Russian language and political science from the University of Florida in 2007. She is admitted to practice in West Virginia and Florida. She has served as the student liaison of the American Bar Association's White Collar Crime Committee. She was also a fellow to the Honorable Judge Lynn Tepper at the Sixth Judicial Circuit Court of Florida. 
Along with general criminal law matters, Ms. Karatinos also represents clients in matters of post-conviction relief, appellate practice and driver's license defense. She has memberships in the National Association of Criminal Defense Lawyers, The Florida Bar, the Florida Association of Criminal Defense Lawyers, the East Pasco Bar Association, the West Virginia State Bar and the American Bar Association.
Ms. Karatinos has received several favorable jury verdicts and dismissals in various areas of criminal law, including sexual battery, DUI, possession of drugs, felony and misdemeanor battery, assault, theft/larceny, burglary and trespass. She focuses heavily on legal research and extensive trial preparation, and approaches each case with an understanding of the tremendous stress that her clients undergo as the case proceeds through the justice system. She welcomes her role in protecting the civil liberties of her clients who seek her help.
Professional in her approach, Ms. Karatinos makes sure to answer her clients' questions and explain each step of the proceedings. She fiercely defends her clients at every stage and is rated "Superb" on Avvo. She holds a strong belief that everyone deserves to be treated with compassion and dignity. She was a recipient of the Victor O. Wehle Award for Trial Advocacy and the William F. Blews Pro Bono Service Award in law school.
Practice areas
Criminal defense, Criminal defense: DUI/DWI, Family law, Appellate, Personal injury - general: plaintiff
Focus areas
Arrest & arraignment, Assault & battery, Criminal fraud, Criminal law, Drug & alcohol violations, Expungement, False accusations, Felony, Juvenile delinquency, Misdemeanor, Motor vehicle offenses, Murder, Probation, Sex offenses, Theft, Traffic violations, Criminal domestic violence, DUI/DWI, Domestic violence, Motor vehicle accidents, Personal injury - plaintiff, Sexual abuse - plaintiff
40% Criminal defense

20% Criminal defense: DUI/DWI

20% Family law

10% Appellate

10% Personal injury - general: plaintiff
First Admitted: 2014, West Virginia
Professional Webpage: https://www.flnotguilty.com/attorney/karatinos-keeley-r/
Honors/Awards:
Rising Star in Criminal Defense

Fellow, Honorable Lynn Tepper in the Sixth Judicial Circuit, Dade City, Florida

For exemplary performance in Stetson's trial advocacy course.

,

Victor O. Wehle Award

,

Stetson University, College of Law

,

2014
Bar/Professional Activity:
Florida, 2015

West Virginia, 2014

DUI Defense Lawyers Association

National Association of Criminal Defense Lawyers- Lifetime member

Florida Association of Women Lawyers

West Virginia Bar Association

Florida Bar Diversity and Inclusion Committee (member 2018-2019).

National Liaison, American Bar Association, Law Student Division, White Collar Crime Committee

American Bar Association (member since 2012).

Florida Bar Association (member since 2015).

East Pasco Bar Association-Board Member

Florida Association of Criminal Defense Lawyers- Lifetime member.
Educational Background:
University of Florida, B.A., Major: Russian Language and Political Science - 2007
Pro bono/Community Service:
William F. Blews Pro Bono Service Award Recipient in 2014, for performing a minimum 150 hours of community service over a 3 year period.

,

2014
Special Licenses/Certifications:
Verdicts/Settlements:
After a year of litigation, Keeley convinced the State of Florida to abandon the prosecution of a client who was accused of shooting into an occupied dwelling. 

,

2022

Keeley helped a veteran accused of felony battery with a deadly weapon. The case had been pending for a year with no movement before the veteran hired Keeley. Within two weeks, Keeley uncovered damning evidence implicating the credibility of the State's star witness causing the State to dismiss the charges. 

,

2023

Keeley helped a veteran get his day in court when he was accused of sexual violence. The crucible of cross examination revealed the truth, that the allegations were an act of vengeance from a snubbed ex after the veteran ended the relationship.  The veteran walked out of the courthouse free of charges and court orders restricting his freedom.

,

2023

Not Guilty verdict in a BUI trial in Hernando County.

,

2022

15 minute not guilty verdict in a DUI trial. 

,

2022

Battery charge dismissed after the judge agreed that Keeley's client had the right to defend himself and others under Florida's Stand Your Ground statute.

,

2022

Judgment of Acquittal granted in Pasco County on charge of Aggravated Battery with a Deadly Weapon (2nd degree felony punishable by up to 15 years in a Florida prison). Extensive legal research was conducted to keep the State of Florida from submitting unauthenticated, prejudicial photographs of injuries allegedly sustained. The meta-data connected to the digital photos showed a creation date a month after the photographs were alleged to have been taken.  Further legal research was critical in the midtrial motion for judgment of acquittal.

,

2022

Keeley convinced the Circuit Court of the Fifth Judicial Circuit to dismiss a temporary injunction entered against her client, where the ex parte Petition where there was no evidence to support the allegations of stalking and harassing when it came to the contested Return Hearing.

,

2022

DUI trial resulted in a Not Guilty Verdict, with jury deliberations lasting less than 15 minutes.

,

2021

Two counts of DUI Manslaughter with Blood Alcohol Content of my client was 0.298g/L. Jury found Defendant not guilty of DUI Manslaughter, but guilty of one count of simple DUI without enhanced blow penalties. This was a huge relief for my client who was facing up to 30 years in prison and a lifetime revocation of his driving privilege. 

,

2021

7 minute not guilty verdict after client accused on driving under the influence. Dashcam video and audio available for the jury to see when the Trooper claimed my client was heavily intoxicated.

,

2021

After 4 years of pre-trial litigation, Ms. Karatinos' client who was charged with three (3) counts of Lewd and Lascivious Molestation of a minor less than 12 years of age, (each charge is punishable by a minimum mandatory penalty of 25 years in prison up to life in prison), given probation on vastly reduced charges, with no sexual offender registration requirements. 

,

2021

DUI with property damage charge dismissed by the prosecutor by the filing of a "Nolle Prosequi" the day before calendar call.

,

2021

My client was stopped by a deputy sheriff for a technical violation of the law. The deputy stopped my client so that he could run a dog sniff on his vehicle. During the search, the dog alerted to the presence of drugs. My client admitted to having methamphetamine and marijuana on his person, pulled out the drugs to show the deputy, and was then arrested. After reviewing the probable cause affidavit, I was aware of a change in the law which made the stop of my client's vehicle a violation of his 4th Amendment right to be free from unreasonable searches and seizures. After taking depositions of the law enforcement officer witnesses, I filed a motion to suppress, and before we could even hold the hearing, the State dropped the case by filing a Nolle Prosequi.

,

2020

My client was arrested for Burglary of an Occupied Dwelling with a Battery (a Punishable by Life felony). His bond was originally set at $100,000.00. After a bond reduction motion, I was able to get his bond reduced to $7,500.00 with an ankle bracelet. Once he was released from county jail, I then was able to present the actual facts of the case to the prosecutor who decided to dismiss the charges by filing a No Information. From start to finish, the case lasted less than 35 days.

,

2020

My client was accused of sexual battery of a teenage girl (with force) with whom he went to school. My client was facing a maximum of 15 years in prison, and scored a minimum of 8 years if convicted at trial.  At all times my client admitted that they shared a sexual encounter, but that it was consensual. After numerous depositions, pre-trial proceedings, and negotiations with the prosecutor, my client decided to accept the State's offer of a withhold of adjudication for a first-degree misdemeanor battery, rather than go to trial. Within 6 months, my client was finished with probation, is not a registered sex offender, and is now in the process of having his record expunged.

,

2020

My client was charged with DUI, after he ran over a body laying in the public roadway. To avoid the potential circumstance where the State file felony charges of DUI Homicide, a 2nd degree felony punishable by up to 15 years in prison with a minimum mandatory sentence of 4 years, I decided to bring his case to trial as soon as possible so that double jeopardy would attach. Shortly after I was hired, I hired and disclosed an expert to rebut the testimony of the arresting officer as it related to his administration of Field Sobriety Exercises (FSE). After the case was set for trial, the Court entered an Order directing all parties to submit any Motions in Limine prior to calendar call. The State ignored this Order and filed a Motion in Limine to exclude my FSE expert on the eve of trial. The Court denied the State's request to hear the Motion in Limine prior to voir dire, but stated that it would allow the State to make any objects during trial and even voir dire my expert outside of the presence of the jury. The State then requested a continuance of trial if the Court would not hear its motion prior to jury selection. The Court denied this motion. The State then threatened to announce a Nolle Prosequi and then refile the charges if the Court would not entertain the Motion in Limine, or in the alternative, grant the State a continuance. The Court denied both requests again. The State announced a Nolle Prosequi and refiled the DUI charge the following week. I then filed a Motion to Dismiss for violation of my client's Due Process rights, and showed the Court that the State's decision to nolle prosequi the DUI was made in bad faith because its only purpose was to circumvent the Court's Orders, and not for a legitimate purpose such as witness unavailability. The Court agreed, and dismissed the case with prejudice. As an aside, my client also hired me to defend his license from administrative suspension through the DMV. Ultimately, the DMV sustained the suspension, which I then Petitioned for Writ of Certiorari to the circuit court for review. The appellate attorney for the DMV agreed with me, and stipulated to the dismissal of the Petition in exchange for removing the suspension from my client's driver's license. My client walked away from the unfortunate situation with his full driving privileges intact, and the criminal case dismissed with prejudice by the Court. 27 Fla. L. Weekly Supp. 535a

,

2019

I sought review from the DHSMV's ruling, validating the suspension of my client's driver's license after being arrested for DUI. The DHSMV continued to violate driver's due process rights by taking testimony over the phone, without verifying the identity of the witness. I sought review with the Pasco Circuit Civil Appellate Division, which agreed in a Per Curium, three-judge panel, that the Department's policy violates driver's right to due process.

,

2020

Sought review of DHSMV suspension of my client's driver's license after an arrest for DUI. DHSMV instituted a practice of taking testimony over the telephone without first identifying the witness' identity. Hillsborough County Circuit Judge Holder found that the DHSMV was violating the driver's due process rights and removed the suspension from my client's driving record.

,

2020

My client was arrested for burglary after he entered his sister's home, without her knowledge or permission, and took his cats back. The sister claimed that he gave her the cats, while he maintained that he never gave her the cats but was forced to take them when she was not home because she refused to give them back to him. While the criminal case was pending, the sister filed a Petition for Injunction against Domestic Violence against the brother, with the sole issue being that entered the home and took the cats. My client hired me in both cases. I first went to Injunction hearing and argued to the Court that entering a home without permission is not a form of domestic violence, taking cats is not a form of domestic violence, and entering a home without permission in order to take cats is also not a form of domestic violence. The Court disagreed and entered the Injunction into the record for 5 years. I appealed the Court's decision with the 2nd DCA, who agreed that entering a home without permission to take cats is not a legal basis for a domestic violence injunction, and overturned the ruling. 247 So. 3d 666 (Fla. 2d DCA 2018) As for the criminal case, I was able to work out a time sharing deal with the siblings, and my client was able to walk away from the criminal charges without a record.

,

2017

My client was charged with his 8th DUI. Several of his DUIs took place in the 1960s, outside of the State of Florida, which did not count against his ability to acquire a Florida driver license. However, if he were convicted of the 8th DUI, his Florida Driver License would have been permanently revoked. My client hired me to represent him in the criminal charge as well as defend against the DMV's administrative suspension of his license. Luckily, I beat the administrative suspension of his license on a technicality, but I knew beating the criminal DUI case would not be so easy. I filed a Motion to Suppress in the criminal case, based on the arresting officer violating my client's 4th Amendment right to be free from unreasonable searches a seizure. In essence, the arresting officer stopped my client because he observed my client urinate in a parking lot. However, neither the Florida law does not prohibit public urination specifically, nor county or city ordinances. The Court agreed that the officer violated my client's 4th Amendment right and suppressed all evidence and statements in the case. The State filed a Nolle Prosequi after this ruling. 26 Fla. L. Weekly Supp. 117c

,

2018

My client was charged with DUI with property damage and Making a False Report to Law Enforcement. The sole issue in the case was whether my client or his girlfriend drove a truck into a ditch and rolled over. An independent witness drove up to the overturned truck and saw my client get of the truck and yell inside, "You wrecked my truck. You wrecked my f***ing truck!" An ambulance took the girlfriend to the hospital who later said that my client was driving the vehicle. My client hired me to defend him in the criminal case and in the DMV administrative suspension of his driver's license. At the administrative hearing, I called several witnesses to the hearing to show that the girlfriend was the one driving the truck, which included a friend of theirs that saw her leave the parking lot with my client in the passenger seat, and the independent witness which testified that my client yelled at his girlfriend that she wrecked his truck. Even with this testimony, the DMV decided to sustain the license suspension. I then filed a Petition for Writ of Certiorari, and asked the Circuit Court to review the DMV's decision. The Circuit Court agreed with me that DMV's decision was not based on competent substantial evidence, and quashed the suspension of the driver license. Next, I presented the testimony of the witnesses at the DMV administrative hearing to the prosecutor in the criminal case, and convinced the State to abandon the criminal charges. My client walked away with his full driving privileges, the criminal charges abandoned, and all traffic citations dismissed. 27 Fla. L. Weekly Supp. 217b

,

2018

My client was charged with Battery on a Law Enforcement Officer (3F) and Resisting Arrest With Violence (3F). He also qualified as a Habitual Felony Offender, under Florida Statute section 775.084, which, if convicted of the felony, gives the Court discretion to sentence my client to 10 years in prison for a 3rd degree felony- which is punishable by only 5 years in prison. At trial, the jury found my client Not Guilty of Battery on a Law Enforcement Officer, and Guilty of the lesser included charge of Resisting Arrest Without Violence- a 1st degree misdemeanor punishable by up to 1 year in the county jail. My client was grateful to avoid the hefty prison sentence.

,

2016

My client was arrested for DUI (3rd), DUI with personal injury, and Leaving the Scene of an Accident without Rendering Aid. My client hired me to defend him in the criminal case and defend his license from being suspended by the DMV.  In the administrative hearing relating to the suspension of his driver's license, I was able to get the arresting officer to admit that he did not have probable cause to arrest my client because no physical evidence connected my client or his vehicle to the accident, and the alleged witness to the accident did not actually see the accident, but came upon the injured cyclist minutes after the collision. The DMV agreed that the arrest was without probable cause and invalidated the suspension. I then presented the case and the full set of facts to the State of Florida before they filed official charges, and persuaded them to abandon the case against my client in its entirety. At the end of the day, my client walked away from the situation without a driver suspension, with the criminal charges dropped, and all traffic citations dismissed.

,

2017

My client was charged with Battery, a first-degree misdemeanor, punishable by up to 1 year in the county jail. Since he had no prior criminal history, the State of Florida offered him the ability to complete a pre-trial intervention (PTI) program. PTI is offered to first time offenders, where they enter an agreement with the State to complete a list of conditions, and upon completion, the State dismisses the charge. However, in this case, the State wanted my client to pay over $30,000.00 in restitution to the alleged victim for hospital bills relating to a broken orbital bone. My client chose to go to trial instead to allow a jury of his peers to determine his culpability after hearing all of the facts surrounding the fight. At the end of the day, the jury returned a verdict of Not Guilty, in essence deciding that in the situation he was permitted to use self-defense, and that he was not criminally culpable.

,

2018

My client was charged with Sexual Battery, a second-degree felony, punishable by up to 15 years in prison. At trial, I focused on the credibility of the accusor, the motivation she had to lie, and the dearth of evidence in support of her allegations. After a 3 day trial, the jury returned a verdict of Not Guilty.

,

2018
Scholarly Lectures/Writings:
Ms. Karatinos presented on the Fundamentals of Cross-Examination to the Florida Bar's 2022 Masters of DUI Conference in Tampa, Florida on May 6, 2022.

,

Lecturer

,

Masters of DUI

,

Florida Bar

,

2022

Keeley Karatinos (Pasco County, FL) assisted attorney Thomas Grajek (Polk County, FL) in a 45 minute presentation before the DUI Defense Lawyers Association's 2022 Annual Conference. The subject of the presentation was "Top 10 Trail Analogies for Every Trial."

,

Co-Presenter of "Top 10 Trial Analogies for Every Trial"

,

DUI Defense Lawyers Association Annual Conference

,

DUI Defense Lawyers Association

,

Criminal Defense And DUI Defense

,

2022

Ms. Karatinos provided the Florida Bar's 2020 Masters of DUI attendees a hour lecture on Cross-Examining a Law Enforcement Officer.

,

Lecturer

,

Masters of DUI

,

Florida Bar

,

2021
Office location for Keeley Karatinos
37865 Robinson Ave.
Ste. 1
Dade City, FL 33523
Phone: 352-405-0537
Selections
Rising Stars: 2020 - 2023
Additional sources of information about Keeley Karatinos
Attorney resources for Keeley Karatinos