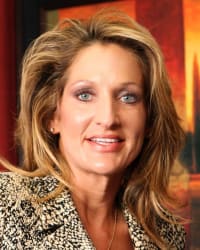 The Nurse Attorney, LLC
Practice Areas: Medical Malpractice, Personal Injury; view more
Licensed in Florida since: 2004
Education: Seattle University School of Law

Selected to Super Lawyers: 2001 - 2002

Free Consultation
The Nurse Attorney, LLC
8470 Enterprise Cir
Third Floor
Lakewood Ranch, FL 34202
Visit website
Details
A medical malpractice and personal injury attorney, Marjorie Chalfant is the founder and owner of the law firm The Nurse Attorney, P.A., located in Lakewood Ranch, Florida. With the firm's offices spread across Central Florida and Bradenton, she serves clients throughout Florida and strives to ensure they receive fair compensation for their pain and suffering and get the justice they deserve. 
Ms. Chalfant takes on personal injury cases that include but is not limited to:
Medical malpractice
Automobile collisions
Premises liability 
Brain damage
Paralysis 
Loss of limb
Wrongful death
Right after Ms. Chalfant completed her high school education, she enrolled in a nursing school and became a licensed nurse in 1980. She worked as a critical care registered nurse in prominent hospitals while she pursued her bachelor's degree from the University of Central Florida. After which, she joined the Seattle University School of Law and obtained her Juris Doctor in 1991. Post law school, she continued to work as a trauma nurse at one of the leading trauma centers in the state, while also putting together a law practice. 
With more than 30 years of experience combined in both the medical and legal fields, Ms. Chalfant has been able to navigate through complex cases and help her clients efficiently. She understands the importance of a proper diagnosis, and how a small error in this can lead to a life-threatening situation, and at times even death. With her attention to the tiniest detail and immense hands-on experience as a nurse, she is a go-to attorney for cases involving medical malpractice and negligence.
For Ms. Chalfant's work ethic and tireless dedication to her clients, she has been recognized for Excellence in Medical Malpractice Law by the Lawyers of Distinction. Furthermore, she holds a "Superb" rating on Avvo. She has also obtained numerous million-dollar verdicts and settlements on behalf of her clients. 
Ms. Chalfant has taught at various seminars and conferences about medical issues and trial techniques to other lawyers. She is on the board of directors of the Florida Association for Women Lawyers. In addition to her law practice, she loves to ride horses with her daughters.
Practice areas
Personal Injury - Medical Malpractice: Plaintiff, Personal Injury - General: Plaintiff
Focus areas
Birth Injury, Brain Injury, Delayed or Incorrect Diagnosis, Informed Consent, Medical Malpractice, Motor Vehicle Accidents, Personal Injury - Plaintiff, Premises Liability - Plaintiff, Trucking Accidents, Wrongful Death
50% Personal Injury - Medical Malpractice: Plaintiff

50% Personal Injury - General: Plaintiff
First Admitted: 2004, Florida
Professional Webpage: https://thenurseattorney.com/attorney-profiles/marjorie-chal...
Educational Background:
University of Central Florida - Bachelor of Science,

1986

Seminole State College - Licensed Practical Nurse,

1980

Seminole State College - Associate of Arts,

1982

University of New York State (Albany) - Associate of Science, Nursing,

1985
Special Licenses/Certifications:
Registered Nurse - Washington State

,

1986

Registered Nurse - Florida

,

1985

Licensed Practical Nurse - Florida

,

1980
Other Outstanding Achievements:
Medical Malpractice:  Fulop v. Overlake Hospital, et al.: Jury verdict for $500,000.00. Plaintiff patient was a 33 year old woman who presented to the ER with nausea, vomiting & chest pains. Plaintiff patient had a history of juvenile-onset insulin dependent diabetes (Type I diabetes mellitus), which had caused severe coronary atherosclerosis, unknown to patient or her physicians. An EKG was interpreted as "normal," and the patient was discharged home with a diagnosis of the flu, without any further cardiac testing. Patient continued to call her primary care physician with ongoing complaints but was reassured she only had a flu and that no further treatment was necessary. Patient suffered a massive heart attack (myocardial infarction) and developed cardiac failure. Defendants denied liability and causation, and claimed the patient had the flu when she was in the ER, and that her heart attack was unrelated to the ER admission. Defendants refused to pay a dime pre-trial and expressed their confidence in winning a defense verdict. Incidental note: this was an 8 week jury trial while Ms. Chalfant was 7 and 8 months pregnant with her third child.,

1997

Medical Malpractice:  Kairis v. DerYuen, et al.: Jury Verdict for $3,000,000.00. An obstetrical infection case caused by a prolonged labor without prophylactical antibiotics prior to C-section delivery, resulting in chorioamnionitis, endometritis and intra-abdominal infection. Plaintiff patient suffered overwhelming sepsis, ICU hospitalization and multiple surgeries related to her intraabdominal infection. Defendant denied liability and causation and claimed patient's condition was due to c-difficile colitis from post-operative antibiotics prescribed to the patient for an alleged superficial wound infection. Plaintiffs offered to settle their case pre-trial for $1,250,000.00, but Defendants refused to offer more than $100,000.00. Incidental note: 5 week jury trial.,

2001
Honors/Awards:
Recognized for Excellence in Medical Malpractice Law.

,

Excellence for Medical Malpractice Law

,

Lawyers of Distinction

,

2019

Ms. Chalfant received Super Lawyer awards in 2000, 2001 & 2002 while practicing in Washington State (she was also nominated for the award in 2003 but had already relocated to Florida).

,

Washington State Super Lawyer 2002

,

Super Lawyer

,

2002

Ms. Chalfant received Super Lawyer awards in 2000, 2001 & 2002 while practicing in Washington State (she was also nominated for the Washington State Super Lawyer award in 2003 but had already relocated to Florida).

,

Washington State Super Lawyer 2001

,

Super Lawyer

,

2001

Ms. Chalfant received Super Lawyer awards in 2000, 2001 & 2002 while practicing in Washington State (she was also nominated for the award in 2003 but had already relocated to Florida).

,

Washington State Super Lawyer 2000

,

Super Lawyer

,

2000
Verdicts/Settlements:
Medical Malpractice Jury Verdict for $7,500,000.00 in Port Charlotte, Florida for the wrongful death of a 61 year old gentleman who suffered a devastating stroke leaving him "brain dead" after waiting in a hospital bed for 2.5 days for a previously scheduled surgery needed to clean out the vessels that supply blood and oxygen to the brain. The defendant hospital assumed it would "get a pass" for its wrongdoing because the patient had been a smoker, and the hospital refused to settle the case prior to trial. In the end, the jury was not persuaded by the defendant's attempts to blame the patient and other physicians involved in the patient's care, because of the overwhelming "system failures" throughout the hospital that resulted in the patient's death. All experts agreed the patient had a 97% of a complete recovery if the patient would have received the needed surgery in time. The trial lasted 2 weeks and was conducted during the COVID pandemic (the first jury trial to resume in Charlotte County after the COVID shutdown). Case: Hodge v. Bayfront Health Port Charlotte,

2021

Auto Accident/PI: Jury verdict for $263,476.00 after a four (4) day trial in a contested motorcycle v. van collision. Pre-trial offer to settle from defendant for only $10,000. Defendant contested liability and causation. Defendant alleged plaintiff - who was driving his motorcycle without a helmet - was speeding and should have changed lanes to avoid the crash with defendant's van that failed to yield at an intersection. Defendant also alleged Plaintiff's injuries were due to pre-existing degenerative disc disease. Crash occurred in Pinellas Park, Pinellas County, FL on February 8, 2016. No past or future medical expenses were claimed.,

2019

Medical Malpractice: Settlement for policy limits of $500,000.00 for failure to diagnose pulmonary embolism. Defendant doctor claimed the Plaintiff had bronchitis and had no signs or symptoms consistent with a pulmonary embolism. This case had been previously rejected by multiple attorneys/law firms throughout Florida.,

2018

Medical Malpractice: Settlement for $1,000,000.00 in a contested medical malpractice claim for GBS meningitis in an infant born to a mother who previously tested GBS negative during pre-natal screening. No other lawyer in Florida would take this case because of the contested liability and causation issues. Settlement funds were put into a Special Needs Trust so the child could continue to receive full State and Federal benefits.,

2016

Medical Malpractice: Psychiatric Malpractice involving a patient who was extremely depressed, but the defendant psychiatrist kept prescribing medications that were not helping the patient. The defendant psychiatrist treated this patient for nearly a year, yet knew virtually nothing about his patient's personal life (i.e., did not know how long the patient had been married, what activities or hobbies the man engaged in, how often he had sexual relations with his wife, the number and ages of children, whether the patient engaged in any exercise, etc.), in spite of checking pre-printed boxes and template content for these topics. Over the 11 month treatment period, the defendant psychiatrist documented the patient was "worse" with each visit, but failed to adjust the patient's medications. The patient became suicidal and homicidal and shot his wife in the head (caused catastrophic brain damage) and shot his daughter in the neck (fortunately a minor injury that resolved) before he fatally shot himself in the head. No lawyer throughout the State of FL would take this psychiatric malpractice case because the survivors/beneficiaries were the victims the patient tried to kill before turning the gun on himself. Because of Florida case law, the surviving wife and daughter were precluded from a personal injury/medical malpractice claim against the psychiatrist for their injuries and damages, so the claim was made against the psychiatrist for the wrongful death (by suicide) of his patient. The claim settled for policy limits.,

2014

Medical Malpractice: Settlement for policy limits (confidential) against a children's hospital for transfusion of contaminated platelets, resulting in the death of a 6 year old girl undergoing treatment for cancer.,

2012

Medical Malpractice: Settlement of Psychiatric Malpractice case (confidential) resulting in the death of a 44 year old woman who had been Baker Acted for depression. The defendant psychiatrist prescribed an anti-depressant in a dosage that exceeded the PDR maximum dose in a woman with pre-existing liver disease. The defendant nurses over-medicated the patient with narcotics and benzodiazepines and falsified suicide precaution flow sheets. Defendants alleged the woman had overdosed herself with drugs smuggled into the psychiatric facility.,

2011

Medical Malpractice (Seattle, WA): Jury verdict for $3,000,000.00 in a contested liability and causation case involving a woman who developed endometritis and septic shock after the birth of her son. The nearly fatal condition was caused by prolonged labor with rupture of membranes without antibiotics. The woman nearly died and was hospitalized for many months and underwent multiple surgeries, including a temporary colostomy. Jury trial lasted five (5) weeks.,

2001
Scholarly Lectures/Writings:
Every case of Medical Malpractice is due to a System Failure. Identifying and proving the specific System Failure is essential in every case and applicable to the LNC practice. In this session nurse attorney Marjorie Chalfant will discuss the differences between adverse events, negligence, and system errors and how medical malpractice results from system failures and the application to LNC practice.

,

Speaker at 2022 Annual Convention of the American Association of Legal Nurse Consultants

,

Medical Malpractice Resulting from System Failures

,

AALNC

,

Nurses, Legal Nurse Consultants, Attorneys

,

2022

The seven types of cases are: failure to diagnose, failure to test, failure to monitor, failure to treat, failure to communicate, contamination, and failure to properly staff. These are the only seven types of medical malpractice cases that really matter in any case. Learn more about the most common medical errors and how they provide cause for medical malpractice lawsuits.  

,

Speaker at 2022 Annual Convention of the American Association of Legal Nurse Consultants

,

The Seven Different Types of Medical Malpractice Cases

,

AALNC

,

Nurses, Legal Nurse Consultants, Attorneys

,

2022

Televised presentations throughout Washington State on Public Education Information Channels.  Selected by peers from Washington State Trial Lawyers Association to participate in panel discussion as an experienced Medical Malpractice Attorney to educate the public regarding Medical Malpractice Issues and Tort Reform Propaganda.

,

Invited Panelist/Guest Speaker

,

Medical Malpractice Expert

,

The People's Law School 2002

,

Washington State Trial Lawyers Association

,

2002

Trial Masters At Work: Using Medical Literature to Cross-Examine and Impeach Medical Experts. Presentation included "live" video clips from actual personal trials to demonstrate cross-examination and impeachment techniques for adverse defense expert witness physicians.

,

Invited Convention Speaker

,

Trial Masters at Work: Using Medical Literature to Cross-Examine & Impeach Medical Experts

,

WSTLA Annual Convention

,

Washington State Trial Lawyers Association

,

2002

The Jury:  Latest Techniques for Selecting and Persuading Juries.  Jury Selection in a Catastrophic Injury Case. In addition to paper presentation, participated in "live" voir dire jury selection for mock trial (random mock jurors selected from the community). 

,

Invited Guest Speaker

,

The Jury: Latest Techniques for Selecting & Persuading Juries. Jury Selection in a Catastrophic Injury Case

,

Washington State Trial Lawyers Association

,

Washington State Trial Lawyers Association

,

2001

Litigating Medical Negligence Cases. Assembling and Reviewing Medical Records. Paper presentation in addition to Power Point and illustrative exhibits.

,

Invited Guest Speaker

,

Litigating Medical Negligence Cases. Assembling & Reviewing Medical Records

,

WSTLA Continuing Education

,

Washington State Trial Lawyers Association

,

1999

Auto Cases: Nuts and Bolts. Collecting and Presenting Evidence. Paper presentation and live demonstration of exhibits.

,

Invited Guest Speaker/Presenter

,

Auto Cases: Nuts and Bolts. Collecting & Presenting Evidence.

,

WSTLA Continuing Education

,

Washington State Trial Lawyers Association

,

1998
Bar/Professional Activity:
Featured Speaker for the 2022 Annual Convention for the American Association of Legal Nurse Consultants (Orlando, FL) for 2 symposium presentations: "The Seven Types of Medical Malpractice Cases," and "System Failures in Medical Malpractice Cases."

,

2022
Industry Groups:
Brain Damage
Hospital Malpractice
Patient Rights
Wrongful Death
Office location for Marjorie Chalfant
8470 Enterprise Cir
Third Floor
Lakewood Ranch, FL 34202
Phone: 941-210-4220
Selections
Super Lawyers: 2001 - 2002
Additional sources of information about Marjorie Chalfant
Attorney resources for Marjorie Chalfant