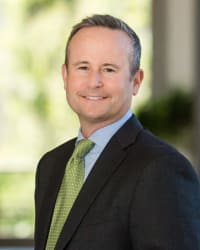 The Lefkowitz Firm LLC
Practice Areas: Professional Liability; view more
Licensed in Georgia since: 1988
Education: Emory University School of Law

Selected to Super Lawyers: 2012 - 2024
The Lefkowitz Firm LLC
881 Piedmont Ave NE
Atlanta, GA 30309
Visit website
Details
Attorney David N. Lefkowitz founded The Lefkowitz Firm LLC, which has two office locations in Atlanta and Athens, Georgia. Through his firm, Mr. Lefkowitz proudly serves individuals and businesses in those cities and the surrounding areas with high-quality legal services related to the following practice areas:
• Legal malpractice (also referred to as legal negligence)
• Breach of fiduciary duty
• Misconduct by a trustee
• Misconduct by an executor of an estate
• Misconduct by a business partner/shareholder/owner/director
• Contract claims
• Security claims
• Catastrophic injury claims
• Risk management
• Fee disputes
After receiving his bachelor's degree from Columbia University and his Juris Doctor from Emory University School of Law, Mr. Lefkowitz began practicing with a law firm that primarily dealt with defending insurance claims. After that, he joined a boutique law firm focusing on legal and medical malpractice claims, personal injury cases and other complex legal claims on behalf of plaintiffs. He then founded his own private practice in 1999.
Along with his successful practice, Mr. Lefkowitz also serves as Adjunct Professor at The University of Georgia School of Law. In this role, Mr. Lefkowitz leverages the knowledge and experience he has gained over the past 25 years to educate future lawyers in legal malpractice law. Additionally, Mr. Lefkowitz lectures on topics ranging from attorney-client relationships to ethics to preventing malpractice claims, and he has authored many articles and papers on these topics as well as other legal subjects.
Mr. Lefkowitz's dedication to his practice and to the law has earned him the utmost respect from his peers, and he currently is rated Superb by AVVO and holds an AV Preeminent peer-review rating* from Martindale-Hubbell.
*AV®, BV®, AV Preeminent® and BV Distinguished® are registered certification marks of Reed Elsevier Properties Inc., used in accordance with the Martindale-Hubbell certification procedures, standards and policies. Ratings reflect the anonymous opinions of members of the bar and the judiciary. Martindale-Hubbell Peer Review Ratings fall into two categories – legal ability and general practice standards.
Practice areas
Professional Liability: Plaintiff, Professional Liability: Defense
Focus areas
Ethics & Professional Responsibility, Legal Malpractice, Professional Malpractice - Other
90% Professional Liability: Plaintiff

10% Professional Liability: Defense
First Admitted: 1988, Georgia
Professional Webpage: https://www.lefkowitzfirm.com/
Scholarly Lectures/Writings:
March 23, 2023, Professional and Ethical Dilemmas in Litigation, Seminar Chairman and Moderator, Four panels of Georgia Supreme Court Justices, Appellate Judges, and Lawyers, Atlanta, Georgia, Institute of Continuing Legal Education

March 3, 2023, Ethics, Trial and Error, Atlanta, Georgia, Institute of Continuing Legal Education, State Bar of Georgia

February 3, 2023, How Often Do I Violate the Ethical Rules, Small Firm Boot Camp, Atlanta, Georgia, Institute of Continuing Legal Education, State Bar of Georgia

February 2, 2023, Ethics, Professionalism, and Malpractice, Plaintiff's Personal Injury Seminar, Atlanta, Georgia, Institute of Continuing Legal Education, State Bar of Georgia

October 20, 2022, Ethics and Professionalism for Lawyers Representing Elders, and Their Families, Georgia Trial Lawyers Association, Atlanta, Georgia

October 20, 2022, Ethics and Professionalism for Lawyers Representing Elders, and Their Families, Georgia Trial Lawyers Association, , Georgia

July 8, 2022, Legal Ethics Issues When an Attorney Leaves the Firm, Federal Bar Association, MyLaw CLE Webinar 

July 8, 2022, Legal Ethics Issues When an Attorney Leaves the Firm, Federal Bar Association, MyLaw CLE Webinar 

June 28, 2022, Ethically Representing Clients With Adverse Interests, Strafford Publications Webinar

June 24, 2021, Legal Ethics Issues When an Attorney Leaves the Firm, Strafford Publications Webinar

June 21, 2021, Take-Offs and Landings: Ethical Risks in Initiating and, Terminating Attorney-Client Relationships, American Bar Association Webinar

October 5, 2020, Ins and Outs of E&O Insurance for Lawyers, American Bar Association Webinar

September 24, 2020, Avoiding the Ethical and Legal Pitfalls of using Zoom, Atlanta Bar Association Webinar

July 8, 2020, Professionalism in an Adversarial Legal System, American Bar Association Webinar

June 2, 2020, Working Remotely and Safeguarding the, Attorney-Client Privilege, Strafford Publications Webinar

February 26, 2020, Attorney Misconduct in Litigation, Atlanta Trial Lawyers Association, Atlanta, Georgia

February 6, 2020, Ethics and Malpractice Risks in Probate Law, Sponsored by The Clayton County Probate Court, Clayton County Justice Center, Jonesboro, Georgia

January 31, 2020, Am I Violating The Ethical Rules?, Small Firm Boot Camp, Atlanta, Georgia, Institute of Continuing Legal Education, State Bar of Georgia   

October 24, 2019, Ethics and Malpractice Issues for Solo and Small Law Firms, Atlanta Bar Association Luncheon, Atlanta, Georgia 

September 12, 2019, Avoiding Malpractice As A Personal Injury Attorney, Secrets To A Successful Plaintiff's Personal Injury Practice, Atlanta, Georgia, Institute of Continuing Legal Education, State Bar of Georgia

September 5, 2019, Nursing Home Litigation, Ethics in Litigation, Atlanta, Georgia , Institute of Continuing Legal Education, State Bar of Georgia

March 27, 2019, Handling Big Cases, Attorney Misconduct in Litigation, Atlanta, Georgia, Institute of Continuing Legal Education, State Bar of Georgia

March 22, 2019, 45th Annual Seminar on Bankruptcy Law & Rules, Dotting the I's and Crossing the T's: Avoiding, Bar Complaints and Legal Malpractice Claims, Atlanta, Georgia, Southeastern Bankruptcy Law Institute

March 21, 2019, Professional and Ethical Dilemmas in Litigation, Seminar Chairman and Moderator, Four panels of Georgia Supreme Court Justices, Appellate Judges and Lawyers, Atlanta, Georgia, Institute of Continuing Legal Education, State Bar of Georgia

February 23, 2018, The Professor Is In: Ethics and Malpractice 101, Georgia Personal Injury Seminar, Atlanta, Georgia, Institute of Continuing Legal Education

February 8, 2019, How Often Do I Violate the Ethical Rules?, Small Firm Boot Camp, Atlanta, Georgia, Institute of Continuing Legal Education

November 9, 2018, Ethics and Malpractice, Recent Developments, Atlanta, Georgia, Institute of Continuing Legal Education

March 22, 2018, Professional and Ethical Dilemmas in Litigation, Seminar Chairman and Moderator, Four panels of Georgia Supreme Court Justices, Appellate Judges and Lawyers, Atlanta, Georgia, Institute of Continuing Legal Education

January 26, 2018, Solo and Small Firm Bootcamp, How Often Do You Violate the Ethical Rules?, Atlanta, Georgia, Institute of Continuing Legal Education

November 10, 2017, Why Do Lawyers Get Sued for Malpractice?, A Guide to Avoiding Malpractice and Ethics Complaints, Keep It Short And Simple, Institute of Continuing Legal Education, Atlanta, Georgia

November 2, 2017, Avoiding Claims for Legal Malpractice and Bar Complaints, Some Practical Tips, Annual Medical Malpractice Symposium, Amelia Island, Florida

October 20, 2017, Avoiding Issues with Bar Complaints and Malpractice Claims, Practical Applications for Mass Torts, MTMP, Las Vegas, Nevada

April 27, 2017, Co-Counsel, Referral Fee Agreements and Attorneys' Fees in Mass Torts, Mass Torts Made Perfect, Las Vegas, Nevada

March 23, 2017, Professional and Ethical Dilemmas in Litigation, Seminar Chairman and Moderator, Four panels of Georgia Supreme Court Justices, Appellate Judges and Lawyers, Atlanta, Georgia, Institute of Continuing Legal Education

March 2017, A Failure to Communicate, How to avoid claims for legal malpractice, Georgia, SuperLawyers Magazine

February 27, 2017, How To Avoid Bar Complaints and Malpractice, Beginning Lawyers Program, State Bar of Georgia, Atlanta, Georgia

February 24, 2017, How Best Not To Be Called "Defendant", Ethics and Malpractice in Personal Injury Cases, Georgia Personal Injury Seminar, Atlanta, Georgia, Institute of Continuing Legal Education

February 10, 2017, Solo and Small Firm Bootcamp, How Often Do You Violate the Ethical Rules?, Atlanta, Georgia, Institute of Continuing Legal Education

December 14, 2016, A Few Ethics Conundrums, Keep It Short And Simple, Institute of Continuing Legal Education, Atlanta, Georgia

November 4, 2016, Ethics and Malpractice, Annual Medical Malpractice Symposium, Amelia Island, Florida

September 14, 2016, Avoiding Bar Complaints and Claims for Legal Malpractice, Atlanta, Georgia, Institute of Continuing Legal Education

May 22, 2016, Avoiding Malpractice in Family Law, 33rd Annual Georgia Family Law Institute, Amelia Island, Florida

March 24, 2016, Professional and Ethical Dilemmas in Litigation, Seminar Chairman and Moderator, Four panels of Georgia Supreme Court Justices, Appellate Judges and Lawyers, Atlanta, Georgia, Institute of Continuing Legal Education

March 23, 2016, Common Ethical Predicaments, Georgia Law of Torts, Atlanta, Georgia, Institute of Continuing Legal Education

February 26, 2016, Ethics and Malpractice in Personal Injury Cases, Georgia Personal Injury Seminar, Atlanta, Georgia, Institute of Continuing Legal Education

February 12, 2016, Solo and Small Firm Bootcamp, How Often Do You Violate the Ethical Rules?, Atlanta, Georgia, Institute of Continuing Legal Education

November 13, 2015, Malpractice Avoidance: Lawyering is a Risky Business, Atlanta, Georgia, Institute of Continuing Legal Education

November 5, 2015, Why Would a Client Think His Lawyer, Sold Him Out?, Annual Medical Malpractice Symposium, Amelia Island, Florida

September 17, 2015, Practical Advice for Attorneys Who Want to Avoid, Bar Complaints and Malpractice Suits, Atlanta, Georgia

May 22, 2015, Step One: Know the Rules; Step Two: Follow Them, 33rd Annual Georgia Family Law Institute, Amelia Island, Florida

May 1, 2015, Don't Get Sued For Malpractice on Your Malpractice Claims, Georgia Trial Lawyers Annual Convention, Atlanta, Georgia

April 10, 2015, Georgia State University College of Law, Solo Practice Workshop, Developing and Maintaining Successful Client Relations, Atlanta, Georgia

March 26, 2015, Professional and Ethical Dilemmas in Litigation, Seminar Chairman and Moderator, Four panels of Georgia Supreme Court Justices, Appellate Judges and Lawyers, Atlanta, Georgia, Institute of Continuing Legal Education

February 27, 2015, So You Think You Know The Ethical Rules...., Georgia Personal Injury Seminar, Atlanta, Georgia, Institute of Continuing Legal Education

February 13, 2015, Is that a Violation of the Rules?, Solo and Small Practice Workshop, Atlanta, Georgia, Institute of Continuing Legal Education

November 14, 2014, Avoiding Bar Complaints and Malpractice Suits, Atlanta, Georgia, Institute of Continuing Legal Education

November 6, 2014, You Only Think You Know the Ethical Rules, Annual Medical Malpractice Symposium, Amelia Island, Florida

September 18, 2014,Dealing with Ethical Challenges in Litigation, Institute of Continuing Legal Education, Atlanta, Georgia

June 15, 2014, Attorney Misconduct and Civil Liability, Gate City Bar Association Litigation Coalition, State Bar of Georgia

March 28, 2014, Georgia State University College of Law, Solo Practice Workshop, Developing and Maintaining Client Relationships, Atlanta, Georgia

March 27, 2014, Professional and Ethical Dilemmas in Litigation, Seminar Chairman and Moderator, Atlanta, Georgia, Institute of Continuing Legal Education 

March 6, 2014, Ethics and Malpractice, Institute of Continuing Legal Education, Atlanta, Georgia

February 28, 2014, Plaintiff's Personal Injury Seminar, Complying with the Ethical Rules while Handling, Personal Injury Claims , Institute of Continuing Legal Education, Atlanta, Georgia

December 3, 2013, Covenants Not To Compete, A Look at Selected ABA Model Rules Compared to the, Georgia Rules of Professional Conduct, Atlanta, Georgia, Lorman Education Services

November 15, 2013, Does Your Age Affect Your Knowledge, Of the Georgia Ethical Rules?, Atlanta, Georgia, Institute of Continuing Legal Education

November 7, 2013, Avoiding Claims for Legal Malpractice, Annual Medical Malpractice Symposium, Amelia Island, Florida

September 19, 2013, Avoiding Bar Complaints, Inside the Courtroom: The Trial of a Personal Injury Case, Atlanta, Georgia, Institute of Continuing Legal Education

August 2, 2013, Legal Malpractice and Ethics, Annual Auto-Torts Seminar, Destin, Florida

May 16, 2013, Ethics and Professionalism-Pitfalls to Avoid, Georgia Trial Lawyers Annual Convention, Atlanta, Georgia   

March 29, 2013, How to Avoid Being Sued, Plaintiff's Personal Injury Seminar, Atlanta, Georgia, Institute of Continuing Legal Education 

March 28, 2013, Professional and Ethical Dilemmas in Litigation, Seminar Chairman and Moderator, Atlanta, Georgia, Institute of Continuing Legal Education 

March 22, 2013, Counterintuitive Ethical Rules, Winning Settlement Strategies Seminar, Atlanta, Georgia, Institute of Continuing Legal Education. 

January 10, 2013, Risk Prevention in a Competitive Legal Market, State Bar of Georgia Mid-Year Meeting , Seminar Chairman and Panel Moderator, Georgia, State Bar of Georgia and Institute of, Continuing Legal Education 

December 12, 2012, Title Law in Georgia, Ethical Considerations, Atlanta, Georgia, Business Institute 

December 5, 2012, Covenants Not to Compete, and Malpractice, Atlanta, Georgia, Education Services

November 16, 2012, Why Do Lawyers Get Sued? A Guide to Avoiding, Malpractice and Ethics Complaints, Atlanta, Georgia (and via Live Satellite Simulcast, throughout the State of Georgia), Institute of Continuing Legal Education

September 20, 2012, Avoiding Bar Complaints, Trial of a Personal Injury Case, Atlanta, Georgia, Institute of Continuing Legal Education

September 13, 2012, Avoiding Bar Complaints and Claims for Legal Malpractice, Georgia, Institute of Continuing Legal Education

March 30, 2012, How to Avoid Being Sued in 2012, Plaintiff's Personal Injury Seminar, Atlanta, Georgia, Institute of Continuing Legal Education 

March 28, 2012, Professional and Ethical Dilemmas in Litigation, Seminar Chairman and Moderator, Atlanta, Georgia, Institute of Continuing Legal Education 

March 1, 2012, Ethics, Proving Damages Seminar, Atlanta, Georgia, Institute of Continuing Legal Education 

January 12, 2012, Winning Legal Malpractice Claims, Atlanta, Georgia, Institute of Continuing Legal Education

November 10, 2011, Why Do Lawyers Get Sued? A Guide to Avoiding, Malpractice and Ethics Complaints, Atlanta, Georgia (and via Live Satellite Simulcast, throughout the State of Georgia), Institute of Continuing Legal Education 

November 23, 2011, Malpractice Ruling Did Not Break New Ground, Fulton County Daily, Report

November 3, 2011, Avoiding Claims for Legal Malpractice, Ethics and Professionalism, Annual Medical Malpractice Symposium, Amelia Island, Florida 

October 21, 2011, Will I Get Disbarred For This?, Annual Family Law Institute, Augusta, Georgia, Institute of Continuing Legal Education 

September 21, 2011, Legal Malpractice and Ethics, Law Firm Management, Atlanta, Georgia, Trial Lawyers Association 

March 28, 2011, Ethics and Malpractice, Plaintiff''s Personal Injury Seminar, Atlanta, Georgia, Institute of Continuing Legal Education 

March 4, 2011, Ethics, Proving Damages Seminar, Atlanta, Georgia, Institute of Continuing Legal Education 

February 24, 2011, Avoiding Legal Malpractice: Communication at the, Attorney-Client Level; Maintaining Ethical Behavior, and Dangerous Traps to Avoid, Advanced Debt Collection Seminar, Atlanta, Georgia, Institute of Continuing Legal Education 

January 18, 2011, Clarification Is Needed on Malpractice Law; Recent Decision Helps, but, Creates  Conundrum on Whether to Have a Written Fee Contract, Fulton County Daily Report

November 11, 2010    Protect Yourself, Provide Better Service; Preventing Claims Involves More Than Shielding Yourself Behind a Business Structure. Fulton County Daily Report

November 5, 2010, Why Do Lawyers Get Sued? A Guide to Avoiding, Malpractice and Ethics Complaints, Atlanta, Georgia (and via Live Satellite Simulcast, the State of Georgia) Institute of Continuing Legal Education 

October 19, 2010, Preventing Legal Malpractice: Avoid the Errors That, Bring Claims, National Constitution Center, Nationwide Webinar

September 24, 2010, Professional and Ethical Dilemmas in Litigation, Seminar Chairman and Moderator, Atlanta, Georgia, Institute of Continuing Legal Education 

March 29, 2010, Avoiding Malpractice in a Plaintiff's Personal, Injury Practice, Atlanta, Georgia, Institute of Continuing Legal Education 

March 18, 2010, A Look at Some Counter-Intuitive Ethical Rules, Atlanta, Georgia, Institute of Continuing Legal Education 

March 4, 2010, Professionalism and the Duty of Loyalty to a Client; Two Critical Concepts Which Are Not Always Aligned, Atlanta, Georgia, Institute of Continuing Legal Education 

January 22, 2010, A Nuts-and-Bolts Look at the Risks Facing Trial Lawyers, Norcross, Georgia, Gwinnett Trial Lawyers Association

January 7, 2010, Risk Prevention in a Competitive Legal Market, State Bar of Georgia Mid-Year Meeting, Seminar Chairman and Panel Moderator, Georgia, State Bar of Georgia and Institute of Legal Education
Honors/Awards:
Rated Superb

,

AVVO

Highest rating from Martindale-Hubbell (AV)

Super Lawyer
Bar/Professional Activity:
Member, State Bar of Georgia Disciplinary Rules and Procedures Committee 

Vice Chairman-State Bar of Georgia Formal Advisory Opinion Board
Educational Background:
B.A., Columbia University

,

1985
Industry Groups:
Adjunct Professor Of Legal Malpractice Law-University Of Georgia Law School
Office location for David N. Lefkowitz
881 Piedmont Ave NE
Atlanta, GA 30309
Phone: 706-850-8383
Selections
Super Lawyers: 2012 - 2024
Articles about David N. Lefkowitz by Super Lawyers
'A Failure to Communicate'
Additional sources of information about David N. Lefkowitz
Attorney resources for David N. Lefkowitz