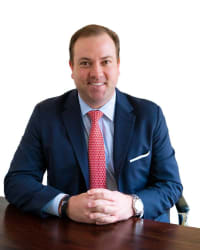 The Houghton Law Firm, LLC
Practice Areas: Personal Injury, Insurance Coverage, Products Liability; view more
Licensed in Georgia since: 2006
Education: Samford University Cumberland School of Law

Selected to Super Lawyers: 2022 - 2023

Selected to Rising Stars: 2011 - 2020
The Houghton Law Firm, LLC
2860 Piedmont Road, NE
Suite 250
Atlanta, GA 30305
Visit website
Details
The principal attorney of The Houghton Law Firm, LLC, John A. Houghton has served as lead trial counsel in multiple severe injury cases throughout the state of Georgia. Having tried numerous cases to jury verdict, Mr. Houghton approaches each case from the perspective of what will provide the most impact at trial. The Houghton Law Firm commits significant resources to trial preparation for each case, and does not employ a cookie-cutter strategy like many of the volume, settlement firms. The Houghton Law Firm is a boutique trial practice committed to maximizing the value of each case on an individual basis.
Mr. Houghton focuses his practice primarily on severe and catastrophic injury and wrongful death cases arising from tractor-trailer collisions and commercial vehicle accidents, as well as cases involving Dram Shop liability.  Mr. Houghton recently was brought in as co-counsel in a disputed liability tractor-trailer death case that occurred in a rural middle Georgia county which resulted in a $15,000,000.00 settlement for the widow of the deceased.  Additionally, John was brought into a tragic dram shop case in 2019 that resolved for $5,000,000.00 against a large national chain after months of painstaking depositions of virtually every customer, staff member, and corporate representatives for the restaurant.
Activity in the legal and local community is important to Mr. Houghton. He has been an invited speaker at numerous CLE seminars across the state, and is the co-chair of an annual icle seminar on Dram Shop Liability held at the State Bar.  Mr. Houghton holds memberships in several legal organizations such as American Association for Justice and the Georgia Trial Lawyers Association. Mr. Houghton is also heavily involved in Mothers Against Drunk Driving, participating on committees and volunteering at annual events.
Practice areas
Personal Injury - General: Plaintiff, Insurance Coverage, Personal Injury - Products: Plaintiff
Focus areas
Animal Bites, Assault, Bad Faith Insurance, Brain Injury, Construction Accident, Dram Shop Laws, Insurance, Motor Vehicle Accidents, Motor Vehicle Defects, Personal Injury - Plaintiff, Premises Liability - Plaintiff, Sexual Abuse - Plaintiff, Slip and Fall, Trucking Accidents, Wrongful Death
80% Personal Injury - General: Plaintiff

10% Insurance Coverage

10% Personal Injury - Products: Plaintiff
First Admitted: 2006, Georgia
Professional Webpage: https://www.houghtonlawfirm.com
Educational Background:
Samford University - Cumberland School of Law, Birmingham, AL - Juris Doctor

,

2006

Southern Methodist University, (SMU) Dallas, TX, B.A. in History, Political Science

,

2002
Verdicts/Settlements:
$15,000,000.00 - Confidential Tractor-Trailer Crash / Wrongful Death

,

2019

$5,000,000.00 - Confidential Dram Shop / Wrongful Death  Mr. Houghton was associated as co-counsel in this tremendously sad case involving the continued service of alcohol to a noticeably intoxicated customer who had driven to the restaurant in plain view of multiple servers on the back patio of a large national chain. Shortly after the customer's departure from the restaurant, she struck our clients' son head-on in a collision which resulted in no survivors. In the context of Dram Shop cases, this matter was unique in that the Defendant establishment had multiple layers of liquor liability coverage responsive to this loss. Additionally, local law enforcement did a tremendous job in obtaining video footage by warrant from the restaurant which was instrumental in proving the noticeably impaired state of the now deceased defendant driver. The case resolved just prior to trial after a failed mediation. Mr. Houghton took multiple depositions of servers, managers, bar patrons, law enforcement, and toxicology experts prior to achieving a just resolution for the family.

,

2019

$2,395,000.00 - Confidential Tractor-Trailer Crash / Severe Injuries

$1,375,000.00 - Confidential Tractor-trailer Collision

$1,350,000.00 - Dram Shop litigation:  Mr. Houghton was brought in on a motorcycle fatality that occurred during the darkest part of the early morning hours on I-20 west of Atlanta.  The at-fault driver struck Plaintiff's decedent in the rear causing him to lay down his bike resulting in massive bodily trauma that caused his death at the scene.  After extensive investigation into the evening of the Defendant driver, it was determined that he had spent several hundred dollars at a local bar shortly before the wreck, and his BAC at the scene was well-above the legal limit.  After an initial fight by the dram shop on liability, all available limits were paid by both the liquor liability carrier for the bar and the at-fault driver's auto insurance.

,

2022

$1 Million Policy Limits Settlement - Truck Collision High impact tractor-trailer wreck that occurred just prior to the pandemic.  Plaintiff was a law enforcement officer who was struck while running radar on the side of the highway when a tractor-trailer jackknifed and ran off the roadway.  Plaintiff sustained non-life threatening injuries, but had approximately $200k in medical expenses.  Case resolved for the policy limits of coverage after pre-suit mediation was declined.

,

2020

$976,000.00 (remaining limits) - Box Truck Wreck - Mr. Houghton handled this red light case from start to finish that arose when a non-CDL box truck driver broadsided Plaintiff in a Gwinnett County intersection.  John was able to obtain the dash video from the box truck early on, although there was some concern that the tape was partially edited by the insurance carrier.  Nonetheless, the video unequivocally showed that the trucker ran the red light.  John took depositions of the safety director and corporate rep, and there was significant evidence that this driver had never been properly screened prior to hire and dispatch.  The driver himself was fired and went AWOL after he was served with summons and complaint, and likely would have been an empty chair at trial. Plaintiff sustained inoperable rib fractures and a hip injury, along with a concussion that he had made a reasonably good recovery from just prior to trial.  He had approximately $120,000.00 in medical expenses which included a lot of diagnostics and soft tissue PT.  Case resolved for the remaining limits of coverage a few days after a failed mediation.

,

2023

$775,000.00 - Disputed liability passenger wreck, Jackson County venue This case arose before the pandemic on a rural stretch of I-85 in Jackson County when the at-fault driver seemingly fell asleep at the wheel and veered left into Plaintiff's lane of travel causing a P.I.T. maneuver of Plaintiff's Ford truck.  Plaintiff's truck flipped and Plaintiff sustained significant non-life threatening injuries.  The responding trooper disregarded an independent scene witness's account of the Defendant driver veering into Plaintiff's lane, and assigned both vehicles at-fault on the crash report stating on video 'Let the insurance companies figure this out'.  For nearly 4 years, the insurance carrier for the Defendant vigorously disputed liability and fought tooth and nail to exclude the scene video because the witness could not be found.  Deposition of the Defendant driver revealed that he himself was not sure what happened in the wreck consistent with dozing off, but maintained many of the lawyer-created liability defenses until the end of the case.  A month before trial, Mr. Houghton finally located the scene witness through a friend and was able to take his deposition which destroyed every liability defense in the case.  This non-commercial vehicle case settled for $775,000.00 three (3) days after a failed mediation just a week prior to jury selection in the very conservative venue of Jackson County.

,

2023

$725,000.00 - Tractor-trailer collision  - Mr. Houghton handled this disputed liability truck wreck from start to finish, as this client was referred to him directly from a prior client.  Case arose from a red light collision in a county north of Atlanta when a trucker simply grew impatient and drove through an intersection early in the morning shortly after dispatch.  Liability was disputed as there was some evidence that Plaintiff was on her phone at the time of the collision, and the Defense raised the possibility that she had the last clear chance to avoid the wreck given how large and conspicuous the truck would have been crossing the intersection.  Nonetheless, Mr. Houghton uncovered multiple problems in deposition with the Defendant driver's hours of service and numerous federally required documents were not preserved following this wreck.  Client had approximately $125,000.00 in medical expenses and had made a good recovery at the time the case resolved for approximately 6 times her meds at mediation.  This case was filed in one of the most conservative jury venues in the state.

,

2022

$500,000.00 - Confidential Truck Wreck

$450,000.00 Confidential Truck Wreck Settlement Difficult truck collision case involving a multitude of prior degenerative injuries and a prior fusion surgery for the Plaintiff.  Defense contested liability and proximate cause, and hired numerous experts to defend.  Case resolved at mediation 2 weeks prior to trial date.

,

2021

$425,000.00 - Confidential - DUI Injury Collision

$375,000.00 - Confidential - Tractor-Trailer Collision

$340,000.00 Truck Wreck (Disputed liability / Non-surgical soft tissue injuries) Mr. Houghton was brought in as co-counsel to prepare the liability case for trial in this lane change collision involving a tractor-trailer.  Defense vehemently disputed both liability and the extent of Plaintiff's damages in this case.  Mr. Houghton took multiple depositions in Northern Mississippi over the course of a few days and determined that the driver had falsified the entirety of his hours of service around the wreck, and being paid by the mile, did over 600 miles worth of runs into lower Alabama during time he claimed as personal conveyance. The GPS and mileage reports on his electronic logs were completely inconsistent with his log grids, and the corporate representative safety director agreed that he had falsified his hours of service just prior to this wreck.  And the Defendant had previously been warned about this issue, as he had done it before while driving for the company.  Despite all of the aggravated liability, the Plaintiff in the case had a consistent history of degenerative problems and pain complaints in his back from prior wrecks with a significant criminal history, and the Defense's primary objective was to attack his damages and credibility at trial.  After a failed mediation, Mr. Houghton was able to negotiate an equitable settlement for a good multiple of the medical expenses in a non-surgical case with a lot of risk on both sides.

,

2023

$300,000.00 - Confidential - Tractor-Trailer Collision

$190,000.00 - Confidential Tractor-Trailer Collision

Confidential - Tractor-Trailer Crash / Wrongful Death
Bar/Professional Activity:
Member of the State Advisory Board for Mother's Against Drunk Driving (MADD) Georgia

,

2021

Member of the State Advisory Board for Mother's Against Drunk Driving (MADD) Georgia

,

2022

Member of the State Advisory Board for Mother's Against Drunk Driving (MADD)

,

2020

The National Trial Lawyers, Top 100 Trial Lawyers

,

2016

The National Trial LAwyers, Top 100 Trial Lawyers

,

2015

The National Trial Lawyers, Top 100 Trial Lawyers

,

2014

The National Trial Lawyers, Top 40 Under 40

,

2013

Georgia Trial Lawyers Association - Chairman-Elect, New Lawyers Division

,

2013

The National Trial Lawyers, Top 40 Under 40

,

2012

Georgia

Member, American Bar Association

Member, Civil Justice PAC

Member, North Metro Trial Lawyers Association

Member, Lawyers Club of Atlanta, 2011 - 2015

Georgia Court of Appeals 11th Circuit

Active Member, Georgia Trial Lawyers Association

Member, American Association for Justice (AAJ)

Member, GTLA, Communication Committee

Georgia Supreme Court

Member, Atlanta Bar Association

Member, Georgia Trial Lawyers Association

U.S. Distrct court for the Northern District of Georgia

Member, Atlanta Bar Association, Atlanta Council of Younger Lawyers Section
Scholarly Lectures/Writings:
An overview of methods helpful in proving the elements of Dram Shop claims.  Specifically, it is intended to provide some practical approaches to gathering vital evidence and testimony to support a dram shop claim while simultaneously advancing the Plaintiff's theme.

,

Speaker

,

Dram Shop Claims, Strategies & Implementation

,

Georgia Trial Lawyers Association Holiday CLE 2021

,

Georgia Trial Lawyers Association

,

2021

45 minute presentation at the State Bar ICLE program on practice pointers in how to carry the burden of proof in Dram Shop liability cases.  Presented on October 25, 2019 at State Bar of Georgia

,

Presiding Co-Chair of CLE & Speaker: "Dram Shop Cases in Georgia"

,

Eyes on the Road: Proving Noticeable Intoxication, Navigating Pitfalls & Using Servsafe Procedures to Establish Rules of the Road

,

ICLE State Bar of Georgia

,

State Bar Of Georgia

,

2019

Speaker

,

Truck Wreck Cases - Compiling Proof of Negligent Conduct By Motor Carriers

,

State Bar of Georgia - Institute of Continuing Legal Education

,

2018

Speaker- Co-Chair - Overview on punitive damages law in Georgia in the context of personal injury cases involving alcohol or drug-related impairment.

,

Speaker- Co-Chair

,

Punitive Damages: Admissible Evidence, Practical Considerations, Constitutional / Proportional Challenges

,

State Bar of Georgia - Institute of Continuing Legal Education

,

2017

Speaker - Presented overview and rules of thumb for handling negligent hiring, retention, and entrustment cases in Georgia and the evidence gathering process required to support such claims in the context of tractor-trailer and commercial motor vehicle collisions.  Discussed the various applicable Federal Motor Carrier Safety Regulations governing such cases, and a variety of methods to maximize the value of such claims in Georgia.

,

Speaker

,

Developing Negligent Hiring, Retention, Entrustment Cases: Where to Find the Proof

,

Georgia ICLE

,

State Bar Of Georgia

,

2016

Speaker - A presentation on the civil aspects of litigating auto cases involving DUI prosecution.  The program will include practice pointers on maximizing the value of punitive conduct in civil actions involving drunk or impaired drivers. The presentation will go over information and tactics vital to building a punitive case, including open record requests, law enforcement rapport development, pre-trial negotiation, and evidentiary issues.

,

Speaker

,

Civil Prosecution of DUI and Dram Shop Cases in Georgia

,

Institute of Continuing Legal Education in Georgia

,

State Bar Of Georgia

,

2011

Speaker - A 35-minute oral presentation at the State Bar of Georgia on the best rules of thumb that new solo practitioners should embrace when beginning a new Plaintiff's firm.  The presentation was accompanied with a 17 page written article published by the Institute of Continuing Legal Education (ICLE) for their Plaintiff's Personal Injury program. The presentation was simulcasted at State Bar office in Tifton, Georgia and over 200 practicing attorneys statewide attended and viewed the program.

,

Speaker

,

Getting Started as a Plaintiff's Lawyer

,

Institute of Continuing Legal Education (ICLE) - Georgia

,

2010

Associate Editor, Understanding Motor Carrier Claims, 2d edition 2007

,

Associate Editor

,

Understanding Motor Carrier Claims, 2d edition

,

2007

Introductory Speaker for Program on Common Carrier Liability at State Bar of Georgia

,

Welcome and Program Overview

,

Common Carrier Liability

,

Institute of Continuing Legal Education in Georgia (ICLE)

,

2007

Practical Pointers for Litigating Injury Cases Involving DUI or Alcohol Related ConductInstitute of Continuing Legal Education (ICLE Georgia), 2011

Getting Started as a Plaintiff's Lawyer ICLE Georgia - Plaintiff's Personal Injury, 2010

Practical Pointers for Litigating Injury Cases Involving DUI or Alcohol Related Conduct Civil Prosecution of DUI and Dram Shop Cases in Georgia, 2011
Pro bono/Community Service:
State Advisory Counsel - Board Member - MADD Georgia

,

2021

State Advisory Counsel - Board Member - MADD Georgia

,

2023

State Advisory Counsel - Board Member - MADD Georgia

,

2022

Volunteer - Shepherd Center Grill Team

,

2018

MADD Georgia - Member of State Advisory Counsel

,

2017

Walk Like MADD - Volunteer and Sponsor

,

2015

Chairman - Walk Like MADD Steering Committee

,

2013

Chairman - Walk Like MADD Steering Committee

,

2014

Co-chairman, Walk Like M.A.D.D. Georgia, Steering Committee

,

2012

Shepherd Center, Volunteer Cook / Grill Team

,

2012

Walk Like M.A.D.D. - Steering Committee Member

,

2011

Shepherd Center, Volunteer Cook / Grill Team

,

2011

Shepherd Center, Volunteer Cook / Grill Team

,

2010

Walk Like MADD, Mothers Against Drunk Driving Volunteer

,

2009

Walk Like MADD, Mothers Against Drunk Driving Volunteer

,

2008

Mothers Against Drunk Driving Georgia (M.A.D.D.), Steering Committee, 2011 - 2013

Chairman, Walk Like M.A.D.D. Georgia, Steering Committee, 2012 - 2013
Honors/Awards:
,

Super Lawyer

,

Super Lawyers

,

2023

,

Super Lawyer

,

Super Lawyers

,

2022

,

Rising Star

,

Super Lawyers

,

2020

,

Rising Star

,

Super Lawyers

,

2019

Rising Star

,

Super Lawyers

,

2018

Top 40 Under 40

,

The National Trial Lawyers

,

2017

Rising Star

,

Super Lawyers

,

2017

Top 100 Trial Lawyers

,

The National Trial Lawyers

,

2016

Rising Star

,

Super Lawyers

,

2016

Top 40 Under 40

,

The National Trial Lawyers

,

2016

Top 100 Trial Lawyers

,

The National Trial Lawyers

,

2015

Rising Star

,

Super Lawyers

,

2015

Top 40 Under 40

,

The National Trial Lawyers

,

2015

Top 40 Under 40

,

The National Trial Lawyers

,

2014

Rising Star

,

Super Lawyers

,

2014

Top 100 Trial Lawyers

,

The National Trial Lawyers

,

2014

Top 100 Trial Lawyers

,

The National Trial Lawyers

,

2013

Rising Star

,

Super Lawyers

,

2013

Top 40 Under 40 Trial Lawyers in Georgia

,

The National Trial Lawyers

,

2013

Top 40 Under 40 Trial Lawyers in Georgia

,

The National Trial Lawyers

,

2012

WLM Steering Committee Chair Award

,

Mothers Against Drunk Driving

,

2013

Bar Register of Preeminent Lawyers

,

Martindale-Hubbell

,

2010

Bar Register of Preeminent Lawyers

,

Martindale-Hubbell

,

2009

Advanced Skills in Trial Advocacy Program
Industry Groups:
Civil Justice PAC
Georgia Trial Lawyers Association
Mothers Against Drunk Driving (MADD Georgia)
Office location for John A. Houghton
2860 Piedmont Road, NE
Suite 250
Atlanta, GA 30305
Phone: 404-476-2541
Selections
Super Lawyers: 2022 - 2023
Rising Stars: 2011 - 2020
Additional sources of information about John A. Houghton
Attorney resources for John A. Houghton