Michael P. Bruyere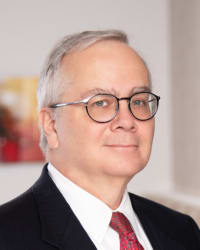 Attorney Profile
Top Rated Business Litigation Attorney in Atlanta, GA
Phone: 770.818.1435
Fax: 770.937.9960
Selected To Super Lawyers:
2004 - 2005
Attorney Profile
Mike Bruyere is co-chair of the Firm's Commercial Litigation/Directors & Officers National Practice Group, and he heads the Life Sciences Litigation Practice and the Healthcare Practice. His experience includes cases involving prescription and generic drugs, medical devices (including implantable devices), biologics, human clinical trials, genetic testing and prosthetics. He has represented health care providers, skilled nursing facilities, long term care networks and facilities, and allied health professionals facing claims in state and federal courts, including class actions, multi-district litigation, negligence and wrongful death suits, and arbitration. Mike has utilized his engineering background and legal training in class action lawsuits during his representation of some of the world's leading businesses.
Mr. Bruyere's experience includes products liability defense and the defense of health care organizations in government False Claims Act investigations and qui tam lawsuits. He has advised health system networks, pharmacy benefits managers, medical device manufacturers, clinical research organizations, hospitals, long-term care providers, home health agencies, drug manufacturers, pharmacies, dialysis centers, infusion care centers, and hospice care providers.
Mr. Bruyere also has defended a variety of businesses in connection with a wide range of disputes, including product defect, consumer fraud class actions, whistleblower and Qui Tam claims, Telephone Consumer Protection Act (TCPA) class actions,  trade secret theft, unfair competition, restrictive covenant matters, securities and corporate governance cases, business-to-business transactional disputes, and other commercial litigation. 
Mr. Bruyere has represented institutional trustees, including ERISA Plan Trustees, faced with significant breach of fiduciary duty litigation and representation of banks and other financial service providers in securities  litigation, proxy contest disputes, trade secret disputes and employment restrictive covenants in the technology industry, power plant construction, fiber optic cable construction and installation, lender liability claims, professional liability, "big tobacco" product liability, toxic torts, false advertising claims under the Lanham Act, public contract bid disputes, and administrative challenges to government agency rulings.
About Michael Bruyere
Admitted: 1992, Georgia
Professional Webpage: https://www.fmglaw.com/attorney_bio.php
Honors/Awards:
"G. Duffield Smith Outstanding Publication Award," presented by DRI, The Voice of the Defense Bar
Scholarly Lectures/Writings:
"3-D Printing of Medical Devices," DRI - For The Defense;"Additive Manufacturing," DRI - RX for the Defense;"Medical Device Sales Representatives in the OR: Valuable Resource, Potential Liability, or Both?" DRI In-House Defense Quarterly, recipient of the G. Duffield Smith Publication Award for the most outstanding article of the year; "The Future of Failure-to-Warn Claims: Evolving Theories of Liability Against Brand and Generic Drug Manufacturers," DRI - For The Defense;"Making Arbitration Truly Mandatory," Trusts & Estates Journal;"Mandatory Arbitration Provisions: A Powerful Tool to Prevent Contentious and Costly Trust Litigation, But Are They Enforceable?" American Bar Association, Real Property, Probate and Trust Journal;"Failure to Insure Assets: The Coming Storm Surge of Fiduciary Litigation," Fiduciary & Investment Risk Management Association Quarterly Magazine;"Storm Surge: First Katrina, the hurricane; soon - the hurricane of litigation against fiduciaries for failing to adequately insure trust assets destroyed by Katrina," Trusts & Estates Magazine;Chapter 11 "Florida," Products Liability 50 State Handbook;"Damage Control for Victims of Physical Assault – Testing the Innocent for AIDS," Florida State University Law Review, Winter 1994, Volume 21, Number 3;"FDA Approves First Drug Made by 3D Printing," FMG BlogLine (2015);"Drug Distributors May Find Themselves Without a Defense," FMG BlogLine (2015);"FDA's Draft Guidance on When to Submit a 501(k) Bolsters Potential for Medical Device Manufacturers to Argue that State Tort Claims are Impliedly Preempted," FMG BlogLine (2016)
"Day in the Life of a Diocesan Risk Manager"- CLM Midwest Conference in Chicago: Religious & Non-Profit;"Where is the Insurance Coverage and What are the Liabilities?" CLM Medical Liability Committee on False Claims Act Litigation;"3D Printing & the Life Sciences: Managing the Products Liability Risks," Drug & Device Defense; Emerging Litigation & Regulatory Developments Conference;"Telemedicine and Remote Patient Monitoring - Assessing the Emerging Risks, Exposures and Potential Liabilities," American Conference Institute's Advanced Forum on Medical Liability Claims, Coverage & Risk Management;"Amazing Medical Device Developments: 3D Printing and Augmented Reality," CLM 2015 Medical Legal Summit;"3-D Printing of Medical Devices: Product Liability Issues," CNA Health Care Leaderboard Conference;"Exploring the Legal Risks and Liabilities of Medical Device Manufacturers in the 3D Printing Industry," 3-D Inside Printing Conference;"The Future is Now: 3D Printing," 2015 CLM Annual Conference;"HIPPA/HITECH Compliance: Best Practices in Data Privacy and Security," webinar for PLAN;"Medical Device Sales Reps in the Operating Room," CLM Product Liability & ADR Conference;"Legal Liability Considerations for 3D Printing," Inside 3D Printing Conference and Expo;"The Latest Cyber and Privacy Threats Being Faced by the Medical Community - An Update on Risk Management Practices for Health Care Providers and Developments in Cyber/Privacy Insurance for Medical Professionals," Medical Professional Liability Conference hosted by American Conference Institute's National Advanced Forum;"Navigating Insurance Coverage and Defense Issues with Carriers While Defending a Life Sciences Lawsuit," ACI's Annual Drug and Medical Device Litigation Conference;"Catastrophic Disasters & a Fiduciary's Duty to Insure Assets," Wealth Management Conference;"Mitigating Exposure to Rising Healthcare Batch Claims and Defending Against Batch Claims Once They are Brought," ACI's 2nd National Advanced Forum on Medical Liability Claims, Coverage, and Risk Management, Andaz Wall Street in New York, NY
Verdicts/Settlements:
Representation of health care providers and networks in class actions based on claims of fraudulent billing or coding practices. Majority of cases resolved prior to ruling on class certification; Representation of a leading international manufacturer of automobiles in national class action claims arising from the alleged malfunctioning of computer modules. Lawsuit ended when plaintiffs dropped the case after discovery and before class certification had been ruled upon; Representation of a PVC manufacturer in toxic class action arising from alleged personal injuries associated with the manufacturer and use of products containing certain toxic resins. Case resolved in favor of the defendants during motion to dismiss phase; Representation of a synthetic stucco manufacturer in national class action brought about by a putative class of homeowners in multi-district litigation. Case resolved by settlement on terms favorable to manufacturer prior to trial; Representation of one of the oldest and most prestigious law firms in the nation in a class action based on claims of securities fraud and legal malpractice. Case was resolved prior to ruling on class certification with client contributing substantially less to the settlement fund than the other four major, "deep pocket" defendants. Circumstances surrounding the litigation were subject of a segment on the NBC news television program Dateline; Representation of leading international restaurants chain in a putative national class action regarding the content of certain food products. The plaintiffs abandoned their claims prior to the conclusion of discovery and before class certification had been ruled upon; Representation of industry leading tobacco manufacturer in numerous class action and individual lawsuits. Vast majority of lawsuits were resolved in favor of the manufacturer prior to trial or by appeal; Representation of a consumer products manufacturer in toxic tort class action arising from alleged underground water contamination. The court dismissed the lawsuit prior to class certification. The circumstances surrounding the plaintiffs' allegation were the subject of a segment on the CBS news television program "60 Minutes"; Representation of national consumer mortgage company in class action based on claims of predatory and discriminatory lending practices. Class certification was denied, and plaintiffs abandoned the lawsuit; Representation of fiduciaries in matters regarding trust administration, asset investment and diversification, conflicts of interests, trustee removal, and breaches of various fiduciary duties; and Representation of an ERISA Plan and its Trustee in the successful recovery of millions of dollars of pilfered funds, plus attorney fees.
Industry Groups
D&O Litigation
Life Sciences
Show More
Michael P. Bruyere:
Last Updated: 10/1/2020