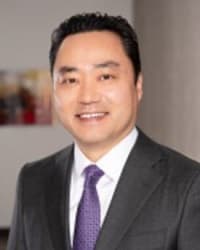 Freeman Mathis & Gary, LLP
Practice Areas: Government Relations, Personal Injury
Licensed in Georgia since: 2001
Education: University of Louisville Louis D. Brandeis School of Law

Selected to Rising Stars: 2006
Freeman Mathis & Gary, LLP
100 Galleria Pkwy
Suite 1600
Atlanta, GA 30339
Phone: 770-818-0000
Email: Sun S. Choy Visit website
Details
Sun Choy practices in the Government and Tort and Catastrophic Loss National Practice Sections of the firm in the Atlanta office. He serves as the Chair of the Government section and previously served as the Chair of the Tort and Catastrophic Loss section. Mr. Choy focuses on the representation of local governments and law enforcement officers in Section 1983 litigation and virtually every type of related state-law claims. He also represents privately held businesses and publicly traded companies in cases involving catastrophic injury and wrongful death.
Mr. Choy has successfully tried cases throughout the Commonwealth of Kentucky and the State of Georgia for over two decades. His appellate practice includes numerous published decisions before the Georgia Court of Appeals and the Georgia Supreme Court as well as the federal Court of Appeals (6th and 11th) and the Supreme Court of the United States. His successful defense of a deputy sheriff resulted in Scott v. Harris, the United States Supreme Court's landmark Fourth Amendment decision establishing the parameters for the use of force in a high-speed pursuit. Scott v. Harris also established the federal summary judgment standard for the use of video evidence, which is taught by law schools throughout the country.
Mr. Choy has defended governments and law enforcement officers in many high-profile cases involving excessive use of force (firearm, Taser, pepper spray, ASP baton and other tactical tools), false arrest, malicious prosecution, false imprisonment, high-speed pursuits and conditions of confinement. He has also defended businesses in a variety of state-law claims, including premises liability, negligent security, transportation, defamation, nuisance and products liability. Given his vast experience in handling high-exposure cases, he is often times asked to provide second opinions on policy-limit demands and advise excess carriers.
First Admitted: 1994, Kentucky
Professional Webpage: https://www.fmglaw.com/attorney_bio.php
Scholarly Lectures/Writings:
"Are We Witnessing the End of Qualified Immunity?," DRI, For the Defense (June 2019);New Protesters, Old Problems: A Look at the Monumental Challenge of Municipal Liability, CLM Magazine, September 2017;Qualified Immunity in Section 1983 Litigation, Practical Law, The Journal, June/July 2017; "The Militarization of Police and the Status of Qualified Immunity," DRI, For the Defense (June 2017); "Suing the State: A Guide to State-Law Governmental Immunities for Counties, School Districts, and Municipalities," Georgia Defense Lawyers Association, 2014 Law Journal; "Beyond the Political Rhetoric: The Basics of Voter Identification Laws," Defense Research Institute, For The Defense (December 2012); "Wake-Up Call: How to Avoid Liability for Inadequate Hotel Security," hotelmanagement.net (April 2012);"Demanding Legal Standards: Assessing Federal Liability in a Racial Profiling Case," Defense Research Institute, For The Defense (August 2005); "Assessing Federal Liability in a Police Pursuit Case," Defense Research Institute (Summer 2004)
"Examining Stanford v. City of Albany: Georgia Court of Appeals Rejects 'Nuisance' Theory to Skirt Sovereign Immunity," 84th Annual International Municipal Lawyers Association Conference/Georgia Institute for City and County Attorneys (September 2019), Atlanta, Georgia; "Balance on the Playground?  While Public Opinion Of Law Enforcement Has Been Sliding Downward, Qualified Immunity May Be On The Upswing," CLM Southeast Conference (November 2018), Atlanta, Georgia; "Section 1983 Litigation:  Understanding Qualified Immunity and Monell Liability," Practical Law (May 2018); "The Crossroad of Coverage Liability and Sovereign Immunity," CLM Annual Conference (March 2018),  Houston, Texas; "There's Gold in Them Thar E-Hills: The Mining and Utilization of Social Media," Defense Research Institute, Civil Rights and Governmental Tort Liability (January 2018), New Orleans, Louisiana; "Section 1983:  Understanding Qualified Immunity and Monell Liability", NextJuris (May 2017); "Caught on Video – Employers, Municipalities and Trial by Media", CLM Annual Conference (March 2017) Nashville, Tennessee; "Metro City and County Attorneys' Seminar," Institute of Continuing Legal Education of Georgia (March 2015) Atlanta, Georgia; "Litigation Under 42 U.S.C. § 1983, Institute of Continuing Legal Education in Georgia," (November 2014) Atlanta, Georgia; "Handling the Police Liability Claim," National Business Institute (October 2014) Atlanta, Georgia; "Know Your Rights When Stopped by Police," Asian American Legal Advocacy Center (November 2013) Norcross, Georgia; "Police Liability," Lorman Education Services, February 2013, Atlanta, Georgia; "Strategic Decision Making in Discovery," Georgia Asian Pacific American Bar Association (January 2013) Atlanta, Georgia; "Law Enforcement Issues," 59th Annual Institute for City and County Attorneys (September 2012) Athens, Georgia; "Police Liability," Lorman Education Services (February 2012) Atlanta, Georgia; "Strategic Decisions in Preparing Responses and Taking Depositions," Cobb County Bar Association (February 2010) Marietta, Georgia; "Qualified Immunity from Suit in Section 1983 Litigation," Institute of Continuing Education in Georgia, (December 2009) Atlanta, Georgia; "Defense of a Personal Injury Claim: Effective Use of Motions to Execute Defense Strategy," Institute of Continuing Education in Georgia (October 2009) Atlanta, Georgia; "Fundamentals of Litigation Management," Council on Litigation Management (June 2009) Alpharetta, Georgia; "Nuts and Bolts of Qualified Immunity - The Basics," Defense Research Institute, Civil Rights and Governmental Tort Liability Seminar (January 2009) New Orleans, Louisiana; "High Speed Pursuit to the U.S. Supreme Court," Third Annual NAPABA Southeast Regional Conference (April 2008) Atlanta, Georgia; "Scott v. Harris:  United States Supreme Court Decides the Constitutional Parameters of High Speed Police Pursuits," 54th Annual Institute for City and County Attorneys (September 2007) Athens, Georgia; "Scott v. Harris:  The Supreme Court's Decision on High-Speed Pursuits," Georgia Sheriff's Association,2007 Summer Training Conference (July 2007) Lake Lanier Islands, Georgia; "Municipal Liability - City of Canton Today," Defense Research Institute, Civil Rights and Governmental Tort Liability Seminar, (February 2007) Orlando, Florida; "Liability of Local Governments: Final Policymaker Claims Under 42 U.S.C. § 1983," Institute of Continuing Legal Education in Georgia (November 2006) Atlanta, Georgia; "Practical Aspects of Assessing Liability in a Police Pursuit Case," International Municipal Lawyers Association, 2006 Annual Conference, Portland, Oregon; "A Practical Guide for the Use of Experts in § 1983 Litigation," Institute of Continuing Legal Education in Georgia (December 2002) Atlanta, Georgia
Verdicts/Settlements:
Fair v. CV Underground, LLC, 340 Ga. App. 790, 798 S.E.2d 358 (2017),

2017

City of Albany v. Stanford, 347 Ga. App. 95, 815 S.E.2d 322 (2018),

2018
Additional sources of information about Sun S. Choy
Attorney resources for Sun S. Choy