« Back to Results
Wayne S. Melnick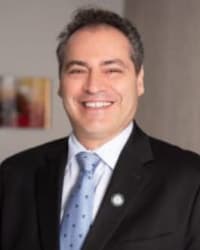 Attorney Profile
Top Rated Civil Litigation Attorney in Atlanta, GA
Phone: 770-818-4256
Fax: 770-937-9960
Selected To Super Lawyers:
2013 - 2021
Selected To Rising Stars:
2006, 2009
Practice Areas:
Civil Litigation: Defense (50%),
Civil Rights (50%)
Attorney Profile
Wayne Melnick is a Partner and Vice-Chair of the firm's Government Law practice section. He also is a member of the firm's Tort and Catastrophic Loss practice section where he is Vice-Chair of FMG's Transportation practice team. Mr. Melnick is an accomplished trial attorney and has tried over 50 jury trials to verdict in cases throughout the country. For every year since 2013, Mr. Melnick has been named a "Georgia Super Lawyer" in the areas of civil law defense and prior to that was selected multiple times as a "Rising Star."  He previously served as one of only three Northern District of Georgia Representatives on the Board of Directors for the Georgia Defense Lawyers Association. 
As part of the firm's Government Law practice section, Mr. Melnick has a broad-based litigation practice with a focus on local government defense.  He has defended cities, counties, school districts, teachers, administrators, sheriffs, police officers, and various other types of governmental entities and individuals in civil rights and general liability matters in both state and federal court at the pre-litigation, trial, and appellate levels.  He also serves as general counsel for charter schools in Georgia.  Mr. Melnick is the Co-lead Chair of the Claims Litigation Management Alliance's National Municipal Law Committee.  Mr. Melnick is recognized as a national authority in civil rights cases and immunity issues and is frequently requested to speak around the nation regarding municipal liability.
Mr. Melnick's practice also includes the defense of clients in a variety of commercial and complex litigation matters. He is panel counsel for a number of the nation's largest providers of commercial general liability and professional coverage. Mr. Melnick has extensive experience involving the defense of trucking cases and has repeatedly defended multi-million dollar claims and law suits involving trucking accidents. Mr. Melnick is also recognized as being at the forefront of defending claims and cases involving internet defamation and media, advertising and entertainment liability claims.  Because he defends cases that regularly are covered by international news media, Mr. Melnick has been retained to defend celebrities in high-profile cases brought against them.
About Wayne Melnick
Admitted: 1993, Georgia
Professional Webpage: http://www.fmglaw.com/attorney_bio.php
Honors/Awards:
Recognized by Best Lawyers in America®, 2021 Edition in the field of Litigation - Insurance;Georgia Super Lawyers, 2013, 2014, 2015, 2016, 2017, 2018;Georgia Super Lawyers, Rising Star, 2006, 2009
Scholarly Lectures/Writings:
"SCOTUS Affirms FMG Victory In First-Of-Its Kind 11th Circuit Flash Bang Case" FMG Blogline (2017); "The Militarization of Police and the Status of Qualified Immunity," DRI, For the Defense (2017); "Additional Insured & Contractual Indemnity," (2017);"A Double-Edged Sword: The Defense of Trucking Claims After The Federal Motor Carrier Safety Administration's Mandate for Electronic Logging Devices," Georgia Defense Lawyers Association Journal(2016);"Firing a School Cannon Provides Potential Liability," FMG BlogLine (2016);"Liability Insurance Specific for Dog Bites?"FMG BlogLine (2016);"FMG Government Practice Section Obtains Summary Judgment in First-Of-Its-Kind Case in Eleventh Circuit Obtaining Qualified Immunity for Officers Accused of Burning a Woman with a Flash Bang Device,"FMG BlogLine (2015); "Drones Regulation Deadline Missed by FAA," FMGBlogLine;"Sauce for the Goose: Turning Plaintiffs' Spoliation of Evidence Against Them," Georgia Defense Lawyers Association Journal (2013); "Suppression of Identity: Has the Supreme Court Carved Yet Another Exception to the Exclusionary Rule?" 9 Fla. Defender 24 (1997) [cited in State v. Perkins, 760 So. 2d 85 (Fla. 2000)]

"Lessons Learned in Trial: Successful Storytelling of the Truck Driver's Point of View in Tractor-Trailer Accident Cases" (2019); "Lost in the Maze? A Map to Understanding Georgia Uninsured/Underinsured Motorist Insurance" (2019); "Interlocutory Lockout: When the Court Prevents an Immediate Appeal of Qualified Immunity" (2019); "Litigation and Medical Funding Roundtable: More Evidence of Backroom Dealings Come to Light" (2019); "Welcome to the New Normal: Synthetic Drugs of Abuse and Defending Related Municipal Claims" (2019); "Medical Litigation Funding: What You Need To Know About The Scourge Of Modern Litigation" (2019); "Civil Prosecution of DUI and Dram Shop Cases, Defense Attorney's Perspective, Panelist and Speaker" (2018); "Claims Investigations and Insurance Coverage Issues" (2018); "Litigation and Medical Funding Roundtable: What You Don't Know Can Hurt You" (2018); "Say What?  Limits on Municipal Restrictions of Speech," (2018); "Expert Cross-Examination: Treating Orthopedic Surgeon," Moderator (2018); "There's Gold in Them Thar E-Hills: Mining for and Using Social Media" (2018); "An Update on Bad Faith Resulting From Holt Demands in Georgia" (2018); "It Ain't Me Babe!  Climbing the Rungs of the Monell ladder" (2017); "Reptile Roundtable: Lessons Shared From Attorneys Who Have Faced and Defeated The Reptile In Discovery And At Trial" (2017); "Shock and Awe: A Year in Review of High Verdicts and Settlements in Georgia," (2017); "Legacy and Future Claims in Municipal Law due to Emerging Technologies" (2017); "Vicarious Liability: Emerging Defense and Coverage Issues in Georgia and Florida" (2017); "One for the Road: Comparing Georgia's and Florida's Dram Shop Acts," (2017); "Third-Party Homeowner's Liability Under Georgia Law," (2016); "Understanding ADA-based Law Enforcement Claims," (2016); "Defending Cases Brought Under Georgia's Dram Shop Act," (2016); "Law Enforcement Liability Update," (2016); "Lessons Learned From The Silver Screen: Cross-Examination, Hollywood-Style," (2016); "Complications Arising from Multi-Jurisdictional Task Forces," (2016); "New Rules, New Roles: How Changes to the Federal Rules Present Opportunities for Associates," (2016); "Law Enforcement Liability: Legacy Issues and the Long View," (2016); "Professionalism in the Appellate Process," Moderator, (2016); "Issues and Strategies for Municipal Liability Claims Involving Physical, Sexual, and Hazing Injuries in Team Sports," (2015); "Avoiding Large Verdicts: Lesons Learned from Recent Awards," (2015); "A Review of Recent Supreme Court Opinions Regarding Qualified Immunity in Police Chase Cases," (2015); "The Legal and Insurance Ramifications of the Militarization of Local Police Department," (2015); "Using Technology to Document Difficult to Access Information," (2015); "Legal Issues Arising as a Result of Moonlighting Police Officers," (2014); "Revised Rules for Preparing Your Witness for Surviving in Depositionland," (2014); "Understanding the Effects of Plumhoff on Qualified Immunity," (2014); "Pools, Tools, and Beer- Serving Fools: A Georgia Homeowner's Liability Claims Review," (2014); "Preparing Your Witness: More Updated Rules to Surviving Depositionland," (2013); "One For the Road: Liability for Acts of Intoxicated Persons in Georgia," (2013); "Sauce for the Goose: Using Plaintiffs' Spoliation of Evidence Against Them," (2013); "Skits and Suds On the Road, Ethics Uncorked," Moderator, (2013); "Everything You Want And Need to Know as a Car and Home Owner About the Law and Insurance," (2012); "Preparing Your Witness: Updated Rules to Surviving Depositionland," (2012); "Skits and Suds, Ethics Uncorked," Moderator, (2012); "Fire Damage Claims: A Glimpse into the Attorney's Perspective," (2012); "Skits and Suds, Ethics Uncorked, Moderator," (2011); "Understanding the Medicare Secondary Payer Act," (2011); "Premises Liability 360°, Dissecting a Real Life Trial from Complaint to Verdict: Building Manager's Strategy," (2011); "Preparing Your Witness: Rules to Surviving Depositionland," (2010); "The Good, the Bad and the Ugly of Emerging Technology – What You, Your Faculty & Staff Must Know to Keep Students Safe," (2010); "Medicare's New Mandatory Reporting," (2009); "Yes We Can! Tendering Defense and Indemnity," (2009); "Excluding Experts Under Daubert," (2008); "Understanding the Implications of Thurman v. State Farm on Available UM/UIM Coverage Calculations in GA," (2008); "Deal or No Deal: Avoiding the Bad Faith Briefcase," (2007); "How to Try and Lose Your Case in the Media," (2006); "Insurance Bad Faith in Georgia: A Review of Existing Law and the Changes Georgia's New Tort Reform Bring to the Table," (2005); "Mediation: Tips and Tools," (2005); "Expectations on Referrals in New Cases," (2004); "Federal Removal Strategies," (2004); "Adjunct Professor of Law, Emory University School of Law," (1995 – 2000)
Verdicts/Settlements:
Dukes v. Deaton and Branham, 852 F.3d 1035 (11th Cir. 2017), cert. denied (2017) [Section 1983, excessive force, qualified immunity],

2017

Camelot Club Condominium Assoc., Inc. v. Afari-Opoku, 340 Ga. App. 618, 798 S.E.2d 241 (2017) [Civil Procedure, apportionment],

2017
Additional Sources of Information About Wayne S. Melnick
Show More
Wayne S. Melnick:
Last Updated: 6/18/2021