J. Benjamin Musgrove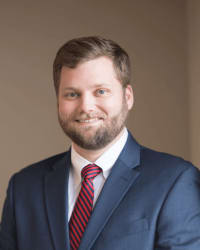 Attorney Profile
Top Rated Personal Injury Attorney in Cumming, GA
Phone: 470-839-2769
Fax: 470-297-3119
Selected To Rising Stars:
2019 - 2021
Practice Areas:
Personal Injury - General: Plaintiff
Attorney Profile
Ben Musgrove focuses his practice on personal injury; specifically focusing on litigation. By utilizing his charismatic personality and broad range of knowledge attained from his background in science and medicine, Ben is able to greatly impact different areas of law and improve his clients' experiences. Before starting The Musgrove Law Firm, been had the distinct honor of beginning his career working with some of Atlanta's premier attorneys and was afforded the opportunity to experience a wide variety of legal issues in jurisdictions across Georgia. It was through immediate hands-on experiences during the formative years of his career that allowed him to begin to hone his craft for helping people who have been wronged physically, financially, or otherwise.
About Benjamin Musgrove
Admitted: 2013, Georgia
Professional Webpage: http://www.themusgrovefirm.com/about-me/
Honors/Awards:
Award for advocacy skills exhibited in Mock Trial.

,

Judge Harold R. Banke Advocacy Award

, Atlanta's John Marshall Law School,

2013

I was selected as a 2019 Rising Star by Super Lawyers

,

2019 Super Lawyers Rising Star

, Super lawyers,

2019

I was selected as a 2020 Rising Star by Super Lawyers

,

2020 Super Lawyers Rising Star

, Super lawyers,

2020
Bar/Professional Activity:
Georgia Trial Lawyers Association

,

2019

American Association for Justice

,

2019

Forsyth County Bar Association

,

2014
Pro bono/Community Service:
University of West Georgia National Alumni Association Board of Directors, member

,

2014

Alpha Zeta Housing Association, Secretary/General Counsel

,

2017
Verdicts/Settlements:
Continuation from one of my 2019 settlements...In May of 2019, 4 days before the running of the statute of limitations on this matter, I was hired by two women who were hit by a run-away Ford F-150 that disengaged from the park position, traveled down a driveway, across the road, and into one of my client's yard, striking both of my clients. Despite specials amounting to $42,000 and $24,000, my clients were offered $80,000 each. Immediately upon filing, State Farm tendered its limits of $100,000.00 per client. In March of 2020, I settled one of the remaining UM claims for an additional $63,000.00

,

2020

In April of 2020 I was referred a case by another attorney, representing a man who was hit head on by a driver transporting methamphetamine. The driver of the vehicle my client was a passenger in was initially cited for the collision, barring recovery from the alleged felon. After sending a demand package and explaining the punitive damages in question, the at-fault carrier tendered their $25,000 limits.  

,

2020

I was hired by four passengers in a vehicle that was side-swiped by a reckless driver on I-75/85 in downtown Atlanta, thereby causing their vehicle to collide with the interstate wall. Each of my clients were in Atlanta on student visas, studying at Georgia State University, and had issues with the English language. As a result, they were unable to fully explain their injuries and pain, and did not immediately receive the medical attention they needed. Fortunately, time healed most of their injuries, but left them scarred. After several months of negotiations, I was able to secure a $220,000 settlement for my clients. 

,

2020

A young mother in Douglasville, GA retained me following a collison she was involved in on Interstate-20. As my client was traveling along I-20, another car entered her lane from the right and hit my client twice. The entire collision was captured on a dash cam. As a result of the collision, my client's vehicle rolled several times and resulted in significant neck and back pain for my client. Following several months of treatment and multiple injections, we obtained a $62,000 settlement for my client. 

,

2020

I was hired by a young woman in Cumming, GA after she was rear-ended sitting in traffic. Fortunately, the collision was not terrible, but resulted in my client experiencing some back pain. This was particuarly concerning as my client has lumbar surgery 10 years earlier. Despite reasonable medical treatment, Liberty Mutual would not consider all of the bills and made a top offer of $400.00 for pain and suffering. After over a year of litigation my client accepted a $15,000.00 offer to avoid trial. 

,

2020

I had the distinct pleasure of representing a young lady from Sugar Hill, GA who t-boned a gentleman that turned left at in intersection in front of her. The collision caused my client to lose consciousness and injured her neck and shoulders. In addition, the collision resulted in an marked increase in anxiety for my client who was nearing the beginning of her freshman year in college many mile away from home. After a little over a year of treatment and negotiations, we were able to settle my client's claim for $71,000.00 

,

2019

In the summer of 2019 I settled a slip and fall case against a resort in Hilton Head, SC for $25,000.00. My client was 70-year-old man, who had slipped on algae covered wooden stairs at the resort, after a light rain. The fall caused significant pain and bruising in his right shoulder and left hip, which required therapy to remedy. The lawsuit required admission in Beaufort County, South Carolina, pro hac vice, but proved successful in mediation despite liability questions.  

,

2019

I was hired by a college freshman at Kennesaw State University after an elderly man from Alabama pulled out in front of her and caused her to t-bone him. My client was injured severly enough that it required her to withdraw from classes to treat. After months of treatment, including stem cell therapy, my client began to feel better. The claim settled with Alpha for $75,000.00

,

2019

I was hired by a family who was involved in a t-bone collision in Walton County, Florida while on vacation. A 15-year-old female ran a stop sign and t-boned the family in an intersection, rolling the family's Chevrolet Tahoe. Fortunately, the toddler in the back seat was relatively unharmed save for being scared. The mother had some soft tissue injuries requiring orthopedic care and therapy, and the father received some soft tissue injuries in addition to a torn rotator cuff which required surgery. Allstate, the BI carrier, tendered its limits of $50,000 rather immediately. My clients had UM coverage though Alpha in the amount of $50,000 (reduced). Alpha ultimately paid an addition $10,000 for the mother's injuries after reducing Allstate's initial payment. 

,

2019

In May of 2019, 4 days before the running of the statute of limitations on this matter, I was hired by two women who were hit by a run-away Ford F-150 that disengaged from the park position, traveled down a driveway, across the road, and into one of my client's yard, striking both of my clients. Despite specials amounting to $42,000 and $24,000, my clients were offered $80,000 each. Immediately upon filing, State Farm tendered its limits of $100,000.00 per client. UM litigation is ongoing. 

,

2019

I was hired to represent an elderly woman who was rear-ended by a young man in Hall County. My client suffered minor soft tissue injuries to her neck, but did receive permanent facial nerve damage from hitting her face on the driver's window in the collision. The at-fault-driver carried $25,000 in coverage which was tendered upon filing suit. Traveler's, my client's UM carrier, was more difficult to deal with. They claimed that my client failed to timely notify them of the collision, and as such failed to meet her obligations under the contract. After locating my client's original agent and having him contact Traveler's to verify proper notice, Traveler's also tendered $25,000.00 in reduced UM coverage.  

,

2019

In January of 2018, I was hired by a young mother in Cumming, GA who was involved in a t-bone collision in Atlanta, GA. The at-fault driver in the collsion ran a red light and caused the collision. Unfortunately, my client did not have health insurance. After being transported to North Fulton Hospital by ambulance and being treated, thereby incurring significant medical bills, my client required more treatment. As such, I was able to connect her with an orthopedist and therapist to treat her, and after many months of therapy, had her feeling much better. The case ultimatley settled in January of 2019 for $28,500.00 and we were able to negotiate my client's medical bills by 66%.

,

2019

In the summer of 2017, I was hired by a local government employee in Cumming, GA who was hit by a large SUV while crosing the crosswalk to the courthouse in downtown Cumming. The impact caused my client to be thrown backward and onto the road in an intersection, where she fractured her right wrist, bruised her knees, and injured her back. In total, after therapy, my client incured a little over $18,000 in medical bills which her worker's comp insurance paid. The at-fault driver, although being cited and pleading guilty to her charge of failure to yield to a pedestrian, denied liability. We filed suit against the at-fault driver and served my client's UM carrier as well. Ultimately, we settled the case in mediation for the at fault driver's $50,000 policy limits, plus $10,500 from my client's UM carrier after applying the $18,000 worker's compensation offset. 

,

2019

Beginning in late 2016, I was hired by a gentleman who was rear-ended on Cobb Pkwy at a high rate of speed by a woman who had recently undergone a root canal and should not have been driving. My client was on the job for AT&T at the time and was driving his work vehicle. The impact caused multiple lacerations, a concussion, severe whiplash and lasting soft tissue and neurological issues. After a nearly a year of negotiations, the at-fault driver's insurance tendered her $50,000.00 policy limits. Unfortunately, AT&T does not maintain UM coverage for its employees, and thus we were forced to file a claim against my client's insurance coverage. The UM claim ultimately resulted in litigation that lasted approximately a year. Ultimately, we settled with the UM carrier for an additional $7,000.00 after applying the worker's compensation offset. 

,

2018

In the summer of 2018, I was retained by a former client and two of his friends who were involved in a collision with a drunk driver one night in south Atlanta. The collision resulted in my clients traveling off of the road, across a drainage basin and into the woods, all while in a convertible. Interestingly, the at-fault driver owned the vehicle he was operating, but due to a checkered driving history, the insurance was in his girlfriend's name. As my clients did not have UM coverage, the at-fault driver's girlfriend's insurance accepted liability and tendered its $50,000.00 policy limits in a global settlement. 

,

2018

I had the distinct pleasure of representing a young man in Carrollton, GA who was hit by a drunk driver. The drunk driver attempted to flee the scene, but ran off the road and was apprehended. My client suffered from mild sorness, ultimately treating in the ER, but was generally ok. We settled for the at-fault driver's $25,000.00 policy limits. 

,

2018

From the summer of 2017 through the summer of 2018, I had the distinct pleasure of representing three retired individuals who were accompanying a senior-citizen group to North Carolina via charter bus. During their trip, the bus was involved in a t-bone collision with a tractor-trailer who failed to yield and was blocking the divided highway. Unfortunately, the bus driver lost his life in the collision with my clients witnessing same. Following global settlement negotiations with the insurance company for the tractor-trailer, involving attorneys for each of the 30+ claimants, as well as seperate settlement discussions with the bus company  I was able to attain seperate settlements for each client totaling $135,783.80.

,

2018

In late 2017 I had the fortune of representing an elderly gentleman who was rear ended at an intersection in Gainesville, Georgia. Due to his age and fragile nature, he was badly injured and required over a year of treatment and therapy. After nearly a year of negotiations following treatment, I was able to attain seperate policy limit settlements for BI and UM in the amount of $250,000.00, and was able to negotiate his subrogation claims by approximatly 70%.

,

2017

In 2017, I had the pleasure of representing a young lady in her senior year of high school. Unfortunately, just before Thanksgving break, another woman made an improper left turn in front of my client, resulting in a t-bone syle collision. As the result of the collision, my client suffered multiple injuries including a concussion, lacerations, whiplash/soft tissue injuries to her neck and back, and an avulsion fracture of her right fibula. After many months of treatment, her neck and back pain resolved, and her ankle eventually healed as well. The pain and medical treatment did, however, cause her to miss out on much of her senior year, including prom. Ultimately, we were able to reach a settlement with the at-fault driver's insurance company for $28,000.00.

,

2017

In 2017 I represented a very nice lady who was involved in a hit-and-run accident while riding as a passenger in a taxi in Roswell, GA. The collision resulted in soft tissue injuries to my client, as well as an ankle fracture, which required several months of therapy. Unfortunately, the taxi company did not have valid insurance and was insolvent. After several attempts at settlement with my client's uninsured motrist carrier, we filed suit in Fulton County State Court. Ultimately, we reached a settlement with the UM carrier in mediation for $20,000.00.

,

2017

In 2015 I was honored to represent a young mother who had been involved in a horrific motor vehicle accident wherein a gentleman pulled out in front of her, thereby causing her vehicle to collide with his vehicle. Unfortunately, the gentleman lost his life in the accident and my client was severly injured, suffering from extensive nerve damage and requiring spinal fusion. Following over a year of preparation and negotiating, I was able to successfully attain a $400,000.00 policy limits settlement for my client.

,

2015

From late 2014 through early 2015, I had the fortune of representing three individuals who were involved in a motor vehicle accident wherein a tractor-trailer rear-ended their vehicle on Interstate 285. Fortunately, none of my clients were permanently injured, but did require multiple months of therapy and injections. After nearly a year of negotiations, I was able to attain seperate settlements for each client totaling $210,000.00.

,

2015

In 2014 I represented a client in a premises liability matter regarding a "slip and fall" type incident that occureed while my client was attempting to exit her vehicle in a Lilburn, GA shopping center parking lot. Upon exiting, she steped into a grass covered hole and fractured her ankle, requiring surgery. Ultimately, and after several months of negotiations, my client received a $124,000.00 settlement award.

,

2014
Educational Background:
B.S. Biology, University of West Georgia

,

2007

M.S. Biomedical Science, Philadelphia College of Osteopathic Medicine

,

2010

J.D., Atlanta's John Marshall Law School

,

2013
Additional Sources of Information About J. Benjamin Musgrove
Show More
J. Benjamin Musgrove:
Last Updated: 10/20/2020