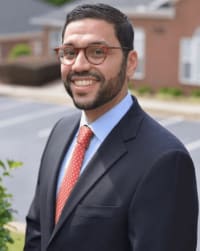 Sabbak & Izmaylova, P.C.
Practice Areas: Criminal Defense
Licensed in Georgia since: 2013
Education: New England Law | Boston

Selected to Rising Stars: 2019 - 2023

Free Consultation
Sabbak & Izmaylova, P.C.
1875 Old Alabama Road
Suite 510
Roswell, GA 30076
Phone: 404-793-7773
Email: Sadeer Sabbak Visit website
Details
I am a pure criminal defense attorney and I take great pride in that fact. Even before law school, my goal was to become one of the best criminal defense attorneys of my time. I realized that goal was achievable the very first time I stepped into a courtroom because advocating for my client gave me a true sense of purpose. Since then, my passion for helping people and defending them against the government continues to grow every day. To me, standing up for a person, who is being prosecuted by the government, is the most honorable act. I truly care about my clients and I'm not afraid to let prosecutors and judges know that.
My number one rule is that each person deserves to be treated with dignity and respect. And that is how I treat all of my clients. I will never make a client feel like they don't matter. My clients and I review all the evidence and discuss defense strategies together because it is important to me that my clients are well informed and involved in their defense. Having a great relationship with my clients is extremely important to me, which is why I take the time to talk to my clients and build a trusting relationship from the very beginning. My clients trust me with their lives because they know that I will do everything in my power to protect them. 
First Admitted: 2013, Georgia
Professional Webpage: https://www.atlantacriminaldefenseteam.com/about-us/sadeer-s...
Educational Background:
New England Law | Boston, Juris Doctor,

2011

Georgia State University, Bachelor of Arts in Political Science,

2007
Scholarly Lectures/Writings:
Fourth Amendment challenges to Georgia's DUI Implied Consent statute after Williams v. State.,

Presenter

,

Augusta Public Defender's Office CLE

,

2015
Pro bono/Community Service:
Centennial High School Mock Trial Team, Attorney Coach

,

2020

State Bar of Georgia, High School Mock Trial Competition, Attorney Coach for Centennial High School 

,

2019

Centennial High School Mock Trial Team, Attorney Coach 

,

2019

State Bar of Georgia, High School Mock Trial Competition, Attorney Coach for Centennial High School 

,

2018

Centennial High School Mock Trial Team, Attorney Coach 

,

2018

"Know your rights" presentation followed by Q&A to Georgia State University criminal law class.

,

2018

Empire Mock Trial, Judge

,

2018

"Know your rights" presentation followed by Q&A to Georgia State University criminal law class.

,

2017

Centennial High School Mock Trial Team, Attorney Coach

,

2017

Empire Mock Trial, Judge

,

2017
Representative Clients:
Reid v. Smith,  A21A1359 - Case successfully overturned on appeal.  Client appealed a trial court's order resolving various motions in the underlying civil action filed by Plaintiff. Client asserts that the trial court erred in denying his motion to open default as to liability based on its:(1) determination that Client failed to set up a meritorious defense under oath, in accordance with OCGA § 9-11-55 (b); and (2) application of the wrong legal standard in concluding that Reid did not satisfy the "proper case" ground for opening default. The Court of Appeals reversed in part and vacated in part, and remand the case for the trial court to apply the proper legal standard to determine whether the default should be opened.,

2022
Honors/Awards:
Awarded Top 40 Under 40 for Criminal Defense

,

Top 40 Under 40 for Criminal Defense

,

National Trial Lawyers

,

2022

Selection to America's Top 100 Criminal Defense Attorneys

,

Top 100 Criminal Defense Attorneys

,

America's Top 100 Criminal Defense Attorneys

,

2022

Awarded Top 40 Under 40 for Criminal Defense by the National Trial Lawyers. The National Trial Lawyers is a professional organization comprised of America's top young trial attorneys.  Membership into The National Trial Lawyers: Top 40 under 40 is by invitation only, and is extended exclusively to those individuals who meet stringent qualifications and specialize in the legal practice of criminal defense or civil plaintiff.

,

Top 40 Under 40 for Criminal Defense

,

National Trial Lawyers

,

2021

Every year Super Lawyers selects attorneys using a patented selection process that involves peer nominations, independent research and peer evaluations. The Rising Stars list recognizes no more than 2.5 percent of attorneys in each state.

,

Rising Star - Criminal Defense

,

Super Lawyers

,

2021

Awarded Top 40 Under 40 for Criminal Defense by the National Trial Lawyers. The National Trial Lawyers is a professional organization comprised of America's top young trial attorneys.  Membership into The National Trial Lawyers: Top 40 under 40 is by invitation only, and is extended exclusively to those individuals who meet stringent qualifications and specialize in the legal practice of criminal defense or civil plaintiff.

,

Top 40 Under 40 for Criminal Defense

,

National Trial Lawyers

,

2020

Selection to America's Top 100 Criminal Defense Attorneys® is by invitation only and is reserved to identify the nation's most exceptional White-Collar and General Criminal Defense Attorneys in throughout the nation. Candidates are carefully screened through comprehensive Qualitative Comparative Analysis based on a broad array of criteria, including the candidate's professional experience, litigation experience, significant case results, representative high stakes matters, peer reputation, and community impact in order to rank the candidates throughout the state. Only the top 100 qualifying attorneys in each state will receive this honor and be selected for membership among America's Top 100 Criminal Defense Attorneys®. With these extremely high standards for selection to America's Top 100 Criminal Defense Attorneys®, less than one-half percent (0.5%) of active attorneys in the United States will receive this honor — truly the most exclusive and elite level of attorneys in the community.

,

Top 100 Criminal Defense Attorneys

,

America's Top 100 Criminal Defense Attorneys

,

2020

Every year Super Lawyers selects attorneys using a patented selection process that involves peer nominations, independent research and peer evaluations. The Rising Stars list recognizes no more than 2.5 percent of attorneys in each state.

,

Rising Star - Criminal Defense

,

Super Lawyers

,

2020

Every year Super Lawyers selects attorneys using a patented selection process that involves peer nominations, independent research and peer evaluations. The Rising Stars list recognizes no more than 2.5 percent of attorneys in each state.

,

Rising Star - Criminal Defense

,

Super Lawyers

,

2019

Selection to America's Top 100 Criminal Defense Attorneys® is by invitation only and is reserved to identify the nation's most exceptional White-Collar and General Criminal Defense Attorneys in throughout the nation. Candidates are carefully screened through comprehensive Qualitative Comparative Analysis based on a broad array of criteria, including the candidate's professional experience, litigation experience, significant case results, representative high stakes matters, peer reputation, and community impact in order to rank the candidates throughout the state. Only the top 100 qualifying attorneys in each state will receive this honor and be selected for membership among America's Top 100 Criminal Defense Attorneys®. With these extremely high standards for selection to America's Top 100 Criminal Defense Attorneys®, less than one-half percent (0.5%) of active attorneys in the United States will receive this honor — truly the most exclusive and elite level of attorneys in the community.

,

Top 100 Criminal Defense Attorneys

,

America's Top 100 Criminal Defense Attorneys

,

2019

Awarded Top 40 Under 40 for Criminal Defense by the National Trial Lawyers. The National Trial Lawyers is a professional organization comprised of America's top young trial attorneys.  Membership into The National Trial Lawyers: Top 40 under 40 is by invitation only, and is extended exclusively to those individuals who meet stringent qualifications and specialize in the legal practice of criminal defense or civil plaintiff.

,

Top 40 Under 40 for Criminal Defense

,

National Trial Lawyers

,

2019

The National Academy of Criminal Defense Attorneys stated purpose is to provide the public with the most accurate and up to date information and qualified criminal defense attorney listings in their state to represent them.

,

Top 10 Under 40 for Criminal Defense for 2018

,

The National Academy of Criminal Defense Attorneys

,

2019

The American Institute's Criminal Law Division recognizes law firms that have excelled in the practice of criminal defense. Firms that are recognized by the American Institute's Criminal Law Division are best in the industry for client satisfaction. 

,

10 Best Law Firms for Client Satisfaction

,

American Institute of Criminal Law Attorneys

,

2019

NADC Fellows are lawyers who have been invited to affiliate themselves with NADC's Membership. While they have not gone through the same multi-stage selection process which members have, they have chosen to align their reputation in the legal community with our organization. They are proud to showcase their talents, accomplishments, and service to their clients and community alongside NADC's Membership. We applaud NADC Fellows as they continue to strive to achieve the highest standards of legal excellence.

,

Fellow

,

National Association of Distinguished Counsel

,

2019

The American Institute of Criminal Law Attorneys named my firm one of the 10 Best Law Firms in Georgia for Criminal Defense, based on client satisfaction. 

,

10 Best Law Firms for Client Satisfaction

,

American Institute of Criminal Law Attorneys

,

2018

"10 Best" Criminal Defense Attorneys in Georgia

,

10 Best Attorneys for Client Satisfaction

,

American Institute of Criminal Law Attorneys

,

2018

Selection to America's Top 100 Criminal Defense Attorneys® is by invitation only and is reserved to identify the nation's most exceptional White-Collar and General Criminal Defense Attorneys in throughout the nation. Candidates are carefully screened through comprehensive Qualitative Comparative Analysis based on a broad array of criteria, including the candidate's professional experience, litigation experience, significant case results, representative high stakes matters, peer reputation, and community impact in order to rank the candidates throughout the state. Only the top 100 qualifying attorneys in each state will receive this honor and be selected for membership among America's Top 100 Criminal Defense Attorneys®. With these extremely high standards for selection to America's Top 100 Criminal Defense Attorneys®, less than one-half percent (0.5%) of active attorneys in the United States will receive this honor — truly the most exclusive and elite level of attorneys in the community.

,

Top 100 Criminal Defense Attorneys

,

America's Top 100 Criminal Defense Attorneys

,

2018

Avvo's Clients' Choice Award is given to attorneys that receive five or more 4+ star reviews in a calendar year.

,

Client's Choice Award

,

Avvo

,

2018

— Awarded Top 40 Under 40 for Criminal Defense by the National Trial Lawyers. The National Trial Lawyers is a professional organization comprised of America's top young trial attorneys.  Membership into The National Trial Lawyers: Top 40 under 40 is by invitation only, and is extended exclusively to those individuals who meet stringent qualifications and specialize in the legal practice of criminal defense or civil plaintiff.

,

Top 40 Under 40 for Criminal Defense

,

National Trial Lawyers

,

2018

Awarded Top 40 Under 40 for Criminal Defense by the National Trial Lawyers. The National Trial Lawyers is a professional organization comprised of America's top young trial attorneys.  Membership into The National Trial Lawyers: Top 40 under 40 is by invitation only, and is extended exclusively to those individuals who meet stringent qualifications and specialize in the legal practice of criminal defense or civil plaintiff.

,

Top 40 Under 40

,

The National Trial Lawyers

,

2017
Verdicts/Settlements:
Client charged with felony drug possession. Negotiated dismissal of all felony charges. Client plead guilty to one misdemeanor county of marijuana possession and giving 12 month of call-in probation.

,

2022

Client was charged in a 35-count felony indictment. Charges includ: Burglary in the First Degree, Aggravated Assault, Possession of a firearm during a felony, Theft by Taking, and Identity Fraud. Client facing over 300 years incarceration and subject to recidivist a & c punishment. The State's initial offer was 40 years with 35 years to serve in prison. Through my investigation and advocacy I was able to convince the State to agree to dismiss the following felony counts: Aggravated Assault, Possession of a firearm during a felony, one count of First Degree burglary, Possession with intent to distribute Marijuana, Possession with intent to distribute Fentanyl, and possession of a Schedule II Narcotic. In addition I negotiated a sentence of 30 years with the first 12 to serve and no recidivist punishment. Before getting the above counts dismissed, Client's parole eligibility required that he served 90% of his sentence before becoming parole eligible. Now, client is eligible for parole after serving 60 months. Since client also received credit for time served, client is now parole eligible in 2 years, rather than after 10 years.

,

2021

Client charged with first Trafficking marijuana. Negotiated a plea deal that reduced the charge to possession of marijuana. Client was sentenced to first-offender probation. 

,

2021

Client charged with Malice Murder and Felony Murder and facing life in prison. After 3 mistrials, client was offered 20 years in prison.

,

2020

Client facing felony probation revocation and faced up to 20 years in prison. got client accepted into inpatient rehab center and convinced the prosecutor to dismiss the petition for revocation and allow my client to enter rehab instead. 

,

2020

Client charged with Aggravated Assault by Strangulation and facing 20 years in prison. After investigating the case and announcing ready for trial the prosecutor dismissed the case two days before trial.

,

2020

Client charged with Felony Aggravated Assault by Strangulation and Cruelty to Children in the Third Degree. The State's best offer was five years in prison, so my strategy involved filing a dozen pre-trial motions. Three days before the jury trial was scheduled to begin the judge held a hearing on all my motions. Following the hearing the State offered to dismiss all charges against my client in exchange for performing community service and completion of an anger management course. 

,

2019

Client charged with Aggravated Battery, a felony which carries 20 years in prison, for allegedly shoving someone into a burning firepit. The best plea offer my client received from the prosecutor was 10 years in prison. After interviewing multiple witnesses that were present during the incident, I prepared a trial defense on the theories of self-defense and accident. On the morning of trial, rather than proceed to jury selection, the prosecutor offered to dismiss the felony aggravated battery against my client in exchange for a guilty plea to only a simple misdemeanor, 12 months of probation, and no jail time.  

,

2019

Client is a noncitizen permanent resident that was arrested and charged with Felony Theft by Receiving Stolen Property. His immigration status was at risk if convicted of a felony and was facing possible deportation. After a thorough investigation and announcing ready for trial, all charges against client were dismissed.

,

2019

Client charged with Trafficking Cocaine and Possession of Marijuana with Intent to Distribute. After intense negotiations I was able to convince the State to reduce the Trafficking charge to Possession with Intent to Distribute Cocaine. With no plea agreement as to prison time in place, we plead open in front of the Judge. Despite my client having two prior convictions for Possession with Intent to Distribute Cocaine, I was able to present mitigating evidence to convince the Judge to sentence my client to probation.

,

2018

Client charged with Possession of Marijuana with Intent to Distribute. After rejecting all plea offers that include prison time, we announced ready for trial. The day before trial the State was forced to dismiss the case against my client.

,

2018

Client charged with Trafficking Methamphetamine which carries a 10 year mandatory minimum sentence in prison and $200,000 fine. After announcing ready for trial the State was forced to dismiss the charges against my client.

,

2017

Client charged with two counts of Aggravated Assault and two counts of Possession of a Firearm During the Commission of a Crime. After rejecting the State's plea offer of 10 years in prison, we announced ready for trial. On the second day of trial the State's witnesses gave inconsistent stories. The State was forced to dismiss all charges against my client due to weak evidence.

,

2017

Client charged with Trafficking Methamphetamine, Possession of Promethazine with Intent to Distribute and Possession of Marijuana with Intent to Distribute. After announcing ready for trial the State agreed to dismiss the Trafficking charge along with both Possession with Intent counts. Client plead guilty to only one count of Possession of Promethazine.

,

2017

Client charged with 2 Felony counts of Peeping Tom. After announcing ready for trial the State reduced both Felony counts down to 2 Misdemeanor counts of criminal trespass with 2 years of probation and no jail time.

,

2016

Client charged with Murder, Felony Murder and Possession of a Firearm During the Commission of a Crime. During the first trial, the jury was unable to reach a verdict and a mistrial was declared even after the Judge gave an Allen Charge. Upon retrial, we attacked the credibility of the State's only that identified our client as the shooter. Following six hours of deliberation, the jury returned verdicts of Not Guilty on all three counts. ,

2016

Client charged with Possession of Heroin with Intent to Distribute and Possession of Heroin with Intent to Distribute Near a Park. After rejecting all plea offers that include prison time, we plead open in front of the Judge with no plea offer in place. At Sentencing, although the State asked for prison time we argued to the Judge that our client should be given probation. The Judge agreed and our client received probation with no prison time.

,

2016

Client charged with Felony Aggravated Assault. After announcing ready for trial the State dismissed the Felony Aggravated Assault and client plead guilty to only a Misdemeanor Simple Battery with 12 months of probation.

,

2016

Client charged with Felony Burglary in the First Degree. Able to negotiate with the State to reduce my client's Felony charge down to a Misdemeanor Theft by Taking with no time on probation.

,

2016

Client charged with Aggravated Assault and two counts of Possession of a Knife During the Commission of a Crime. After rejecting the State's plea offer of 5 years in prison, we announced ready for trial. Before trial the State agreed to reduce my client's felony to a misdemeanor Battery where my client only received 12 months of probation and no jail time.

,

2016

Client charged with one count of Aggravated Child Molestation which carries a mandatory minimum sentence of life in prison. After having my client examined by a psychologist I was able to present the State with mitigating evidence which resulted in the dismissal of the Aggravated Child Molestation charge against my client. Insteadmy client only plead guilty to Child Molestation with only a 5 year prison sentence avoiding the mandatory life in prison.

,

2015

Client charged with Aggravated Assault and Felony Obstruction of a Law Enforcement Officer. After rejecting the State's plea offer which included prison time, I was able to present mitigation evidence at sentencing to the Judge and my client was sentenced to only 5 years probation.

,

2015

Client charged with two counts of Aggravated Child Molestation which carries a mandatory minimum sentence of life in prison each, two counts of Child Molestation, and two counts of Aggravated Sexual Battery. After intense negotiations I were able to convince the State to dismiss both counts of Aggravated Child Molestation and both counts of Aggravated Sexual Battery against my client. Instead my client only plead guilty to Child Molestation avoiding the mandatory life in prison.

,

2015

Client charged with Felony Aggravated Assault and Cruelty to Children in the Third Degree. After intense negotiations, the State agreed to place client's case on the Dead Docket where it was dismissed after one year.

,

2015

Client charged with Armed Robbery, Hijacking a Motor Vehicle and Possession of a Firearm During the Commission of a Crime. After announcing ready for trial the State was forced to dismiss all charges against my client.

,

2014

Client charged with Driving Under the Influence. We rejected all plea offers and announced ready for trial. At trial the State presented evidence that my client's vehicle smelled like burned marijuana and that my client admitted to having drinks at the bar that night. Despite this, I was able to convince a jury that consuming alcohol and marijuana alone is not sufficient to convict my client of DUI. The jury agreed and returned a verdict of Not Guilty.

,

2014

Child Molestation - NOT GUILTY  Client was charged with two counts of Child Molestation and was facing 40 years in prison. The client rejected all plea offers from the State and I announced ready for trial. During the trial, I argued that the State failed to provide sufficient evidence to convict my client of these charges. Following jury deliberations, the jury found my client "Not Guilty" on count one and were hung on the second count. As I prepared to retry the case on count two, the State was forced to dismiss that count because the reliability of their witness's testimony, from the first trial, was challenged.

,

2014

Murder, Felony Murder, Aggravated Assault, Possession of a Firearm During Crime -NOT GUILTY Sadeer Sabbak obtains "not guilty" verdict in murder trial. Client charged with Murder, Felony Murder and Possession of a Firearm During the Commission of a Crime. During trial, the codefendant testified for the State and identified my client as the shooter. During cross examination, Mr. Sabbak was able to impeach the codefendant's testimony with prior inconsistent statements and reveal to the jury any plea deals in exchange for testifying against his client. Following four hours of deliberation, the jury returned verdicts of "not guilty" on all three counts.

,

2014

Client charged with Driving Under the Influence. We rejected all plea offers and announced ready for trial. At trial the State presented evidence that our client's vehicle smelled like burned marijuana and that our client admitted to smoking marijuana 20 minutes before officers pulled over the vehicle. Despite this, I was able to convince a jury that consuming marijuana alone is not sufficient to convict my client of DUI. The jury agreed and returned a verdict of Not Guilty.

,

2014

Client charged with Pointing a Gun at Another Person. After announcing ready for trial the State was forced to place to my client's case on the Dead Docket.

,

2013

Client charged with Driving Under the Influence. After announcing ready for trial the State was forced to dismiss all charges against my client.

,

2013
Bar/Professional Activity:
The National Trial Lawyers

,

2022

State Bar of Georgia, Criminal Law Section

,

2022

Admitted to the Eleventh Circuit Court of Appeals. 

,

2021

State Bar of Georgia, Criminal Law Section

,

2021

The National Trial Lawyers

,

2021

Admitted to Federal Bar in the Northern District of Georgia. 

,

2020

The National Trial Lawyers

,

2020

State Bar of Georgia, Criminal Law Section

,

2020

State Bar of Georgia, Young Lawyers Division, Member since 2017

,

2019

State Bar of Georgia, Criminal Law Section, Member since 2017

,

2019

The National Trial Lawyers, Member since 2017

,

2019

Georgia Association of Criminal Defense Lawyers, Member since 2014

,

2018

Georgia Trial Lawyers Association, Member since 2017

,

2018

The National Trial Lawyers, Member since 2017

,

2018

North Fulton Bar Association, Member since 2017

,

2018

State Bar of Georgia, Criminal Law Section, Member since 2017

,

2018
Selections
Rising Stars: 2019 - 2023
Additional sources of information about Sadeer Sabbak
Attorney resources for Sadeer Sabbak