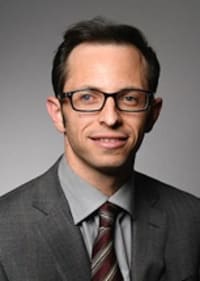 Sheppard Law Firm, P.C.
Practice Areas: White Collar Crimes, Criminal Defense; view more
Licensed in Illinois since: 2005
Education: Chicago-Kent College of Law, Illinois Institute of Technology

Selected to Super Lawyers: 2020 - 2023

Selected to Rising Stars: 2012 - 2019
Sheppard Law Firm, P.C.
180 North LaSalle Street
Suite 2510
Chicago, IL 60601-2705
Visit website
Details
Sheppard Law Firm, P.C., in Chicago, Illinois, is a highly recognized criminal defense firm, which prides itself on results. Representative cases include:
Representative Federal Cases
United States v. XXX (U.S. District Court, Northern District of Illinois)(2019 indictment): Allegations: 80 million dollar Medicare Fraud involving Overseas Companies
United States v. XXX (U.S. District Court, Central District of Illinois)(2018): a physician accused of prescription fraud and insurance fraud.
United States v. XXX (U.S. District Court, Northern District of Illinois): manager of alleged criminal enterprise is accused of a scheme resulting in a 18 million dollar loss to a major United States company.
United States v. XXXX (7th Circuit Court of Appeals). Sheppard delivered oral argument before the United States Court of Appeals for the Seventh Circuit where his client, the CEO of a marketing company, was accused of engaging in a multi-million dollar credit card/wire fraud/tax fraud scheme.
Sheppard Law Firm obtains dismissal, on jurisdictional grounds, in the District Court, Northern District of Illinois, and sucessfull defended the dismissal before the 7th Circuit Court of Appeal in a case where a co-pilot was suing another co-pilot (Sheppard Law Firm's client) and the airlines based on alleged assault committed by the co-pilot. See Baylay v. Ethiad Airways & Saravdeep Mann et. al. (7th Circuit case Nos. 16-4113 & 17-1958). 
Representative State Court Cases:
Currently pending: People of the State of Illinois v. Doctor Wyndam Lathem: Sheppard Law Firm is representing distinguished microbiologist and Northwestern University proffesor,  Doctor Wyndham Lathem, in defense of homicided charges. Doctor Lathem is using his pretrial time to help other inmates and remains hopeful. https://chicago.suntimes.com/news/sneed-exclusive-prof-charged-in-grisly-murder-wants-to-teach-inmates/
Sheppard Law Firm obtains Appellate Victory that will change the manner in which bond hearings must proceed (December 13, 2019): The defendant, a teacher in Chicago Public Schools, had been charged with several serious offenses, including allegations of criminal sexual assault and child pornography involving a student. Four judges had denied bond to the defendant in four separate bond hearings. Sheppard Law Firm, P.C. appealed the no-bond orders to the Appellate Court arguing that the defendant was statutorily entitled to a bond as the State had not filed the requisite petition to hold him without bond and the hearings had not been conducted in compliance with the bail statute. The Appellate Court agreed. The Appellate Court issued a precedential opinion holding that defendant's interpretation of the bond statute was correct -- section 110-6.1 of the bond statute must be complied with before bond can be denied to a defendant who is charged with a non-probationable offense. The Appellate Court directed the Circuit Court to set a bond and the Circuit Court did set a bond and the defenant has been released. As the Appellate Court stated in another opinion, appeals of bail decisions are "exceedingly rare;" an appellate victory on a bail issue is even rarer. Attached, is an article from the Chicago Daily Law Bulletin summarizing the appellate decision. Chicago Daily Law Bulletin Article on Appellate Victory
Sheppard Law Firm obtained an acquittal for a renowned Rabbi and his two sons who were acccused of an embezzling from the synagogue. http://www.chicagotribune.com/news/local/breaking/chi-charges-against-rabbi-and-2-sons-thrown-out-by-cook-county-judge-20140903-story.html.
Dismissal of all charges for Chicago Police Officer charged with Sex Assault. The following Chicago Tribune article describes the initial charges, which were ultimately dismissed following Sheppard Law Firm's filing of pretrial motions: http://www.chicagotribune.com/news/ct-xpm-2014-01-17-chi-chicago-officer-jailed-on-charges-of-assaulting-relative-20140117-story.html
Sheppard Law Firms obtains an amendment of first degree murder charges to involuntary manslaughter for which the defendant received probation where the defendant had been charged with homicide of her newborn.http://abc7chicago.com/news/mother-gets-probation-in-death-of-newborn-thrown-from-8th-floor/2205561/
Adam Sheppard has published over 20 articles in various respected legal periodicals, several of which appear on Westlaw. Sheppard is also vice-chair of the litigation committee for the Chicago Bar Association and has lectured at a plethora of legal seminars, including have lectured to law school classes and national audiences on digital searches and seizures.
Sheppard's clients have included professional athletes, physicians, scientists, and other lawyers.
Adam Sheppard trained other lawyers in defending Title IX cases -- university proceedings based on allegations of sexual misconduct -- and has an unusually sucessful track record in such cases.
Sheppard Law Firm also has considerable expertise in other sex offense cases, such as child pornography cases.
Adam Sheppard has been recognized by "Super Lawyers" as a "Rising Star" every year since 2012 (top 2.5% in Illinois); he has been repeatedly named by "Leading Lawyer" mangazine as an "emerging lawyer" (top 2% in Illinois) and the National Trial Lawyers association has named named Sheppard to the "Top 100 Trial Lawyers" list.
He serves on the Board of Managers of the Chicago Bar Associations, the editorial board of the CBA, and he vice-chairs the trial practice committee of the Chicago Bar Association; he is an officer and editorial board member of the Decalogue Society; he is a lifetime member of National Association of Criminal Defense and member of the Federal Bar Association and Illinois Association of Criminal Defense Lawyers. He volunteers as a teacher for the Constitutional Rights Foundation "Lawyer in the Classroom" project.
Adam Sheppard has been sked to comment as a legal expert by news outlets such as his recent appearance on Fox News to comment on the Jason Van Dyke/Laquan McDonald trial:https://www.fox32chicago.com/news/360245548-video
Practice areas
Criminal Defense: White Collar, Criminal Defense
Focus areas
Criminal Fraud, Criminal Law, Criminal Law - Federal, Felony, Sex Offenses, White Collar Crime
First Admitted: 2005, Illinois
Professional Webpage: http://www.thesheppardlawfirm.com/attorneys
Representative Clients:
Professional athletes

Lawyers

Sheppard Law Firm, P.C., in Chicago, Illinois, is a highly recognized criminal defense firm, which prides itself on results. Representative cases include:United States v. XXX (U.S. District Court, Central District of Illinois), a physician accused of prescription fraud and insurance fraud.United States v. XXX (U.S. District Court, Northern District of Illinois): manager of alleged criminal enterprise is accused of a scheme resulting in a 18 million dollar loss to a major United States company.United States v. XXXX (7th Circuit Court of Appeals). Sheppard represented the defendant before the United States Court of Appeals for the Seventh Circuit in cutting edge sentencing issues where in a multi-million dollar wire fraud and tax fraud scheme. Representative State Court Cases: Sheppard Law Firm obtained an acquittal for a renowned Rabbi and his two sons who were acccused of an embezzling from the synagogue. http://www.chicagotribune.com/news/local/breaking/chi-charges-against-rabbi-and-2-sons-thrown-out-by-cook-county-judge-20140903-story.html. Sheppard Law Firms obtains an amendment of first degree murder charges to involuntary manslaughter for which the defendant received probation where the defendant had been charged with homicide of her newborn.http://abc7chicago.com/news/mother-gets-probation-in-death-of-newborn-thrown-from-8th-floor/2205561/  

Physicians

Sheppard Law Firm, P.C., in Chicago, Illinois, is a highly recognized criminal defense firm, which prides itself on results. Representative cases include:United States v. XXX (U.S. District Court, Central District of Illinois), a physician accused of prescription fraud and insurance fraud.United States v. XXX (U.S. District Court, Northern District of Illinois): manager of alleged criminal enterprise is accused of a scheme resulting in a 18 million dollar loss to a major United States company.United States v. XXXX (7th Circuit Court of Appeals). Sheppard represented the defendant before the United States Court of Appeals for the Seventh Circuit in cutting edge sentencing issues where in a multi-million dollar wire fraud and tax fraud scheme. Representative State Court Cases: Sheppard Law Firm obtained an acquittal for a renowned Rabbi and his two sons who were acccused of an embezzling from the synagogue. http://www.chicagotribune.com/news/local/breaking/chi-charges-against-rabbi-and-2-sons-thrown-out-by-cook-county-judge-20140903-story.html. Sheppard Law Firms obtains an amendment of first degree murder charges to involuntary manslaughter for which the defendant received probation where the defendant had been charged with homicide of her newborn.http://abc7chicago.com/news/mother-gets-probation-in-death-of-newborn-thrown-from-8th-floor/2205561/  
Airline Pilots: See Baylay v. Etihad Airways et. al (7th Circuit Court of Appeals)(16-4113 & 17-1958)(dismissal of all counts on behalf of an airline pilot who was accused of assualting a co-pilot) Distinguished Scientists and Professors: See https://chicago.suntimes.com/columnists/sneed-prof-accused-of-murder-embraces-teaching-spirituality-in-jail/ Professional Athletes CEOs Businesss Professionals Students: Title IX proceedings,

2015

Bankers
Bar/Professional Activity:
Federal Court, Panel Attorney

Chicago Bar Association, Editorial Board & Co-Vice-Chair of Litigation Committee

Illinois State Bar Association

Federal Bar Association

U.S. District Court Northern District of Illinois

Criminal Law Committee, Young Lawyers Section, Chicago Bar Association, Director, 2015

U.S. Supreme Court

Illinois Association of Criminal Defense Lawyers

U.S. District Court, Northern District of Illinois, Panel Attorney

Illinois

U.S. District Court Eastern District of Wisconsin

U.S. Court of Appeals 7th Circuit

National Association of Criminal Defense Lawyers

American Bar Association

U.S. Supreme Court Bar, October 2011

U.S. District Court Central District of Illinois
Honors/Awards:
Jack-Carey Merit Award Scholarship, Cook County Public Defender's Office

2018: Adam Sheppard was honored to be selected as one of 8 new members to the Board of Managers for the Chicago Bar Association. Adam also serves on the editorial board for the CBA and co-vice-chairs its trial practice committeee.

,

Board of Managers

,

Chicago Bar Association

,

2018

Rising Star, Super Lawyer Magazine, 2012-2017

Emerging Lawyers, Leading Lawyers, 2016
Pro bono/Community Service:
Board of Managers, Decalogue Society of Lawyers, 2015

Young Lawyers Division, Jewish United Fund

JUF Legal Volunteer Services 

,

2015

Constitutional Rights Foundation, Lawyer in the Classroom

Families Against Mandatory Minimums

Editorial Board, Decalogue Society of Lawyers, 2012

Decalogue Society of Lawyer

NORML Legal Committee
Scholarly Lectures/Writings:
Young Lawyers Journal, Co-Editor-in-Chief

Easing up on Eavesdropping Challenges to Illinois Eavesdropping Act, Decalogue Tablets, January, 2013

Court discusses Fourth Amendment in the digital age, Chicago Daily Law Bulletin, January, 2012

What do you wish you had learned in law school, CBA Record, December, 2011

Working in a Family Run Law Practice, CBA Record, November, 2011

A Trail-Blazing Opinion (Federal Sentencing and Apprendi), CBA Record, September, 2010

Hey Teachers Leave Them Kids Alone, CBA Record, July, 2010

10 Tips for Young Lawyers (A review of Judge Holderman's Lecture), CBA Record

Constitutionality of Police Roadblocks Decalogue, Summer, 2009

Criminal Investigations of Students, Decalogue Newsletter, Fall, 2009

http://www.thesheppardlawfirm.com/Published-Articles/PathTowardsSolutions.pdf

,

Creating a Path Toward Solutions - CBA Gun Violence Summit

,

http://www.thesheppardlawfirm.com/Published-Articles/PathTowardsSolutions.pdf

,

2017

Adam Sheppards summarizes Chief Judge Evans's new Bail Reform Order

,

Bail Reform

,

http://www.thesheppardlawfirm.com/CookCountyBailReform.pdf

,

2017

What Are Students' Due Process Rights in School Disciplinary Proceedings

,

Chicago Daily Law Bulletin

,

2012

"Prosecuting Physicians for Opioid Prescriptions," Decalogue, 2016

"Making the Case for Civility"-- CBA Record, March, 2016

"Authenticating Social Media Evidence -- Decalogue, 2016

"Mann Act" Prosecutions, CBA Record (Chicago Bar Association's legal magazine), March, 2017

"Updates Regarding Mandatory Minimum Sentencing" by Adam Sheppard (Decalogue Society magazine, 2017

Chicago Bar Association, Editorial Board of CBA Record Magazine

Search and Seizure Issues, John Marshall Law School, Guest Lecturer

YLS Criminal Law Committee, Lecturer

Cyber Bullying Law Seminar, Featured Speaker, 2013
Educational Background:
Chicago-Kent College of Law, J.D. 2005 (Merit Award Scholarship Recipient)

,

2005

University of Colorado, Boulder, Colorado
Other Outstanding Achievements:
Super Lawyer magazine - "Rising Star"

,

2012

"Top 100 Trial Lawyers" - National Trial Lawyers association

,

2017

Leading Lawyers magazine - "Emerging Lawyer" (designated to 2% of lawyers in Illinois)

,

2016
Industry Groups:
Board of Managers - Chicago Bar Association & Decalogue Society; Editorial Board - CBA
Board of Managers of Chicago Bar Association; Board of Managers of Decalogue Society; Constitutional
Federal Bar Association
Illinois State Bar Association
JUF Volunteer Legal Services
NORML Legal Committee
NSBA
Office location for Adam J. Sheppard
180 North LaSalle Street
Suite 2510
Chicago, IL 60601-2705
Phone: 312-443-1233
Selections
Super Lawyers: 2020 - 2023
Rising Stars: 2012 - 2019
Additional sources of information about Adam J. Sheppard
Attorney resources for Adam J. Sheppard