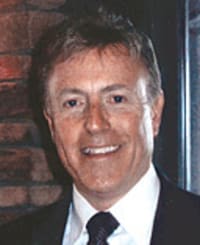 Shapiro, Cohen & Basinger, Ltd.
Practice Areas: Medical malpractice, Personal injury, Products liability; view more
Licensed in Illinois since: 1974
Education: The University of Chicago Law School

Selected to Super Lawyers: 2007 - 2023
Shapiro, Cohen & Basinger, Ltd.
180 North LaSalle Street
Suite 3050
Chicago, IL 60601
Visit website
Details
With nearly 40 years of legal experience, Donald A. Shapiro has provided valuable legal services to individuals throughout  Illinois and beyond. He assists clients with a variety of cases in which innocent people are harmed due to the negligent actions of other individuals or businesses, such as personal injury claims, medical malpractice claims and wrongful death lawsuits. A versatile and seasoned litigator, Mr. Shapiro has handled car accident claims, claims regarding surgical malpractice, police misconduct cases, product liability cases, birth injuries, workplace accidents and brain injuries.
Mr. Shapiro obtained his law degree from University of Chicago Law School in 1974. During his time in law school, he worked for the firm of Aaron, Aaron, Schimberg & Hess, which hired him as a full-time litigator after he received his J.D. After four years, he decided to shift from working on commercial business cases to helping individuals directly, and he opened his own law practice in 1978.
Throughout his career, he has demonstrated supreme skill and expertise, recovering several historical judgments for his clients. One of the first large cases that he won was a legal malpractice action against a lawyer who mishandled a woman's wrongful death case. Don obtained what was then the largest verdict in state history for a legal malpractice case. In 1990 he won a $24.7 million verdict on behalf of a former Milwaukee Brewer for a medical malpractice case in which the athlete's wife was seriously brain damaged after a doctor wrongfully prescribed diet pills for her. This was the largest recovery for a medical malpractice case in Wisconsin history. In 2004, he obtained a $9.6 million verdict for the family of former Northwestern football star Bobby Russ who was wrongfully shot and killed by a Chicago police officer who had pulled him over for an improper lane change. Another notable recovery occurred in 2006, when Mr. Shapiro received the highest medical malpractice verdict for Kane County, Illinois - nearly $25 million for a woman who sustained severe brain damage when a nurse improperly removed a central venous catheter from her. In 2009, Shapiro won another record setting verdict when he represented the family of a 26 year old Mexican immigrant who was killed in an industrial accident at the Archer Daniels Midland plant in Decatur. Because Macon County is conservative and since the decedent was single and had no children the defense only offered $500,000 to settle. The verdict for $6.7 million was affirmed in 2011 by the Illinois Appellate Court. More recently, Mr. Shapiro obtained a $3.5 million dollar verdict on behalf of the family of a 19 year old who was wrongfully shot and killed by a Chicago police officer. Although the verdict was overturned by the trial judge on technical grounds, Mr. Shapiro kept fighting for his clients and on February 20, 2018 the Illinois Appellate Court unanimously reversed the trial judge and reinstituted the jury's verdict. These are just a few examples - the list of million and multi- million verdicts and settlements is extensive.
Mr. Shapiro is committed to providing the highest quality of legal services to injury victims. He continues to work diligently to represent all of his clients.
Practice areas
Personal injury - medical malpractice: plaintiff, Personal injury - general: plaintiff, Personal injury - products: plaintiff
Focus areas
Medical malpractice, Birth injury, Delayed or incorrect diagnosis, Informed consent, Motor vehicle accidents, Personal injury - plaintiff, Wrongful death, Construction accident, Brain injury, Sexual abuse - plaintiff, Trucking accidents, Pharmaceutical
50% Personal injury - medical malpractice: plaintiff

40% Personal injury - general: plaintiff

10% Personal injury - products: plaintiff
First Admitted: 1974, Illinois
Professional Webpage: https://www.dshapirolaw.com/our-personal-injury-staff
Bar/Professional Activity:
Pro bono/Community Service:
Educational Background:
University of Illinois, Urbana, Illinois, B.A. in Economics, Phi Beta Kappa, High Honors in Liberal Arts & Sciences, with Highest Distinction in Economics, 1971
Verdicts/Settlements:
Jane Doe v. Dr. Gabrielle Bosley, Court No. 06 L 006694, Circuit Court of Cook County, Illinois - Settlement for $1,000,000.00.This was a case against a radiologist who mis-read a mammogram and, therefore, failed to diagnose breast cancer.  Approximately 8 1/2 months later, the patient felt a lump and had a repeat mammogram which was read by a different radiologist who read the mammogram as positive leading to a diagnosis of stage II breast cancer.  We alleged that if the breast cancer had been diagnosed 8 1/2 months earlier, the patient would not have required a radical mastectomy.  Our expert oncologist also testified that because of the delay in diagnosis, the patient had a 30% greater chance of recurrence of the breast cancer within 10 years.  Fortunately, after 5 years, the patient did not have a recurrence and the decision was made to settle the case.

Mark Dow v. Interpark, Inc., Court No. 03 L 003749, Circuit Court of Cook County, Illinois.  Jury verdict of $1,126,808.70.Forty-two year old Mark Dow exited his car in the parking garage of a downtown highrise condominium building when his feet suddenly slipped out from under him due to a patch of oil on the garage floor surface.  Both of the bones in his lower leg were broken and required surgical repair.  When we looked at the scene, we thought that the incline of the parking garage where Mr. Dow fell seemed unusually steep and so we hired an architect to examine the premises.  He determined that the slope was almost twice the maximum allowed by the City of Chicago building code.  The combination of the steep slope and the oil on the garage floor gave us the basis for establishing liability against the parking garage.  As to damages, Mark was a professional choreographer who was never able to dance after the injury.  He was still on crutches at the time of trial due to recent surgery to remove the surgical hardware from his leg.  We obtained for Mr. Dow one of the highest verdicts ever reported in Cook County for a slip and fall case with a broken leg.

Martin Barrett v. Dr. Arthur Pappas, United States District Court, Western District of Massachusetts. Barrett, a second baseman for the Boston Red Sox, hurt his knee on a routine play.  The team doctor who was a part owner of the Red Sox, told Barrett he tore cartilage and sent him for rehabilitation so he would be able to resume playing in 4 to 6 weeks.  In fact, Marty had torn his anterior cruciate ligament and needed reconstructive surgery.  The delay in surgery ruined Marty's chance for a comeback. Judgment for $2,424,000.

,

1995

Estate of Francisco Moreno Garcia v. Archer Daniels Midland. 26 year old worker at ADM plant in Decatur Illinois received 3rd degree burns over 90% of his body when the pressure valves failed on a recompressor machine and showered him with molten liquid. Garcia was single but supported his parents and siblings in Mexico. Verdict was $6,754,332. ADM appealed trial judge's exclusion of evidence suggesting that Garcia was an illegal immigrant but on 6/28/11 the Appellate Court unanimously affirmed. Post judgment interest made the final judgment $7,857,211.

,

2009

Estate of Juan Salazar, deceased v. City of Chicago and Officer Rafael Balbontin, Court No. 03 L 011638, Circuit Court of Cook County, Illinois.  Jury verdict of $4,006,273.00.In the recent trial in October, 2007, I represented the family of 14 year old "Johnny" Salazar in a police misconduct case.  We alleged that Officer Balbontin had used excessive and unjustified force when he shot Johnny in the back when Johnny was running away.  The City claimed Johnny stopped and turned towards the officer putting him in fear for his life but we were able to show, due to the pattern of ejected bullet cartridge casings, that Balbontin opened fire before he claimed Johnny had turned.  Three years after the fatal shooting, Balbontin showed his stripes again when he stabbed his wife to death.  Although he was convicted of her murder, that fact was kept from the jury and Balbontin testified at trial in a suit and tie.  Nevertheless, we won the case and the jury awarded damages to Johnny's mother and sisters for their loss of society.

Dorene Ready v. Dr. Vicente Yap, Court NO. 744-155, Milwaukee County Circuit Court.  Jury verdict of $24,700,000.00.Dorene Ready, 23 years old, the wife of Milwaukee Brewer infielder, Randy Ready, went to see Dr. Yap to obtain help in losing weight after her recent pregnancy with twins.  Although she only weighted 128 pounds, Dr. Yap prescribed phentermine diet pills that caused her to suffer a cardiac arrhythmia leading to brain damage.  The award provides for full time medical care for Dorene as well as compensation for her pain, suffering and disability.

Estate of Robert Anthony Russ, deceased v. City of Chicago and Van Watts, IV, Court No. 99 L 6348, Circuit Court of Cook County, Illinois.  Jury verdict of $9,600,000.00.Russ was a 22 year old Northwestern football player traveling late at night from Evanston to his family home in Calumet City when a Chicago police officer attempted to pull him over due to an alleged improper lane change.  Russ refused to pull over and a police chase ensued.  Officer Watts joined the pursuit, forced Russ into a spin out and then approached the car.  Watts screamed at Russ to exit the car and when Russ didn't move fast enough, Watts took a tire iron and smashed in the rear side window of Russ' car.  Watts then opened the front door and when Russ suddenly turned with his hands in surrender, Watts flinched and pulled the trigger fatally shooting Russ.  Watts claimed he never opened the front door and that Russ had reached out the broken rear side window and grabbed the officer's gun, pulled the officer and his gun inside the car, and that the gun then went off accidentally during the struggle.  We were able to demonstrate the improbability of Watts' story.  Amongst Plaintiff's witnesses were Dr. Michael Baden, Chief Forensic Pathologist for the State of New York and host of the HBO show "Autopsy", Dr. James Fyfe, head of the New York City Police Academy, and a then college student, now U.S. Soldier, eyewitness who directly refuted Watts' account.  The verdict of $12,000,000.00 was reduced by 20 percent for Russ' comparative fault in refusing to pull over, resulting in a judgment of $9,600,000.00. Russ's son, Robert Anthony Russ, Jr., who was not yet born when his father was killed, is the sole beneficiary of the estate.

Jason Hopkins v. Loyola Medical Center, Court No. 91 L 7880, Circuit Court of Cook County.  Settlement of $4,750,000.00.Jason was born with a heart defect but his doctors mis-diagnosed him and failed to correct his heart defect until it was too late.  Jason suffered a severe brain injury.

Sipho Bun, Individually, and as Guardian of the Estate of Narin Bun, a disabled person v. Provena St. Joseph Hospital and LaToya Diltz, Court No. 03 LK 265, Kane County, Illinois.  Jury verdict of $24, 775,000.00.Narin was a 37 year old wife and mother of 3 children who went to Provena St. Joseph Hospital due to a severe toxic infection.  A central venous catheter was placed to facilitate antibiotic therapy but after several weeks the infection had cleared and she no longer needed the antibiotics so the doctor ordered the catheter removed.  Nurse Diltz carelessly removed the catheter so that air was sucked into the vein causing an air embolism which led to cardio-pulmonary arrest and permanent brain damage.  The jury's award of $24,775,000.00 was the largest personal injury verdict in the history of Kane County - the previous high verdict was $6,000,000.00.

Lynn Pikrone v. Leslie McClellan, M.D., Case No. 03 L 829, Lake County, Illinois.  Jury verdict of $1,387,400.00.After years of chronic obesity, Lynn Pikrone decided to have gastric bypass surgery.  Dr. McClellan, a bariatric surgeon, did the surgery but afterwards Lynn suffered from intractable vomiting.  Dr. McClellan operated on her 3 more times but the vomiting persisted.  A fourth operation at Rush North Shore was also unsuccessful.  By the time Lynn went to the University of Chicago, she was in the end stages of malnutrition.  The doctors at the University of Chicago discovered that the bypass had been hooked up backwards and, accordingly, they reversed the bypass hook-up, saved Lynn's life, and allowed her to live a normal life.

Nataiya Hill v. Dr. Charles Alston and Holy Cross Hospital, Court No. 97 L 03123, Circuit Court of Cook County, Illinois.  Settlement of $6,600,000.00.Although once a cesarean always a cesarean was once the standard of care, in recent years doctors have been encouraged to try VBAC - vaginal birth after cesarean section.  However, VBAC mothers have to be carefully watched.  The Defendant's didn't carefully watch Nataiya's mother and as a result her uterus ruptured and Nataiya suffered a severe brain injury.
Scholarly Lectures/Writings:
This article discusses defense efforts to use annuity costs as avidence of present cash value and explains how to deflate this sophisticated argument.

,

Author

,

Is Evidence of the Cost of an Annuity Admissible Regarding the Present Cash Value of Future Medical Expenses?

,

Trial Journal of the Illinois Trial Lawyers Association

,

2009

Diet Pill Litigation - Dying to Lose Weight, Association of Trial Lawyers of America Products Liability Law Reporter, Vol. 14, March, 1995
Representative Clients:
Donald A. Shapiro represents seriously injured persons and their families in Illinois and throughout the United States.

,

2009
Honors/Awards:
For receiving the largest medical malpractice  verdict in Kane County history.

,

Trial Lawyers Excellence Award

,

Chicago Daily Law Bulletin

,

2013

Awarded for having the largest reported verdict in Kane County, Illinois

,

Trial Lawyer Excellence Award

,

Chicago Law Bulletin

,

2013
Industry Groups:
American Association For Justice
Chicago Bar Association
Illinois State Bar Association
Illinois Trial Lawyers Association
Illinois Trial Lawyers Association
Society Of Trial Lawyers
Office location for Donald A. Shapiro
180 North LaSalle Street
Suite 3050
Chicago, IL 60601
Phone: 312-957-8807
Selections
Super Lawyers: 2007 - 2023
Additional sources of information about Donald A. Shapiro
Attorney resources for Donald A. Shapiro