Dov Apfel
Top rated medical malpractice attorney in Chicago, Illinois
Levin & Perconti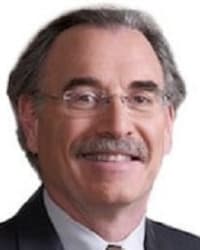 Levin & Perconti
Practice Areas: Medical malpractice, Personal injury, Products liability; view more
Licensed in Illinois since: 2022
Education: American University Washington College of Law

Selected to Super Lawyers: 2008 - 2014, 2016 - 2023
Levin & Perconti
325 North Lasalle Street
Suite 300
Chicago, IL 60654
Visit website
Details
Attorney Dov Apfel is a partner with Levin & Perconti law firm in Chicago, Illinois. A nationally ranked trial lawyer with more than 40 years of total legal experience, Mr. Apfel devotes his practice to advocating on behalf of those who have suffered injury or loss as a result of someone else's negligence, and he represents clients throughout Illinois and in various jurisdictions across the country.
Although he has handled all types of personal injury and wrongful death claims, Mr. Apfel maintains a particular focus on medical malpractice claims, and he has become a recognized authority on birth injury litigation, cerebral palsy litigation and other similar matters. From his efforts, he has recovered millions of dollars in total compensation for his plaintiff clients, including many seven- and eight-figure awards.
In honor of outstanding professionalism and service, Mr. Apfel has earned designation from Best Lawyers® as among the Best Lawyers in America for Medical Malpractice Law – Plaintiffs and Personal Injury Litigation – Plaintiffs. He has also received many five-star ratings on Martindale-Hubbell along with other top rankings and endorsements from his peers. He has received numerous testimonials and referrals from his satisfied clients, and he finds great reward in being able to help so many obtain the justice they deserve.
A 1976 graduate of Queens College, Mr. Apfel obtained his Juris Doctor from American University's Washington College of Law in 1979. He has participated in complex personal injury and medical malpractice claims in many states throughout the nation, and he is the former chair of the Maryland Trial Lawyers Association's Medical Negligence Section and former co-chair of the American Association for Justice's Birth Trauma Litigation Group.
Mr. Apfel is also an active member of the American Association for Justice and the Illinois State Bar Association, among his many other professional affiliations. He has numerous publications to his credit, and he regularly conducts lectures and continuing legal education seminars on a variety of legal topics related to medical malpractice, birth injuries and related matters.
Best Lawyers® and The Best Lawyers in America© are registered trademarks of BL Rankings, LLC d/b/a Best Lawyers and Co., LLC. The names, logo, and database are protected under the trademark, copyright, and fair use laws of the United States of America. Any use of name, including in electronic form, must be made only by permission and under the guidelines of BL Rankings, LLC d/b/a Best Lawyers and Co., LLC.
Practice areas
Personal injury - medical malpractice: plaintiff, Personal injury - general: plaintiff, Personal injury - products: plaintiff, Transportation/maritime
Focus areas
Medical malpractice, Birth injury, Animal bites, Assault, Motor vehicle accidents, Personal injury - plaintiff, Slip and fall, Wrongful death, Dram shop laws, Construction accident, Brain injury, Sexual abuse - plaintiff, Toxic mold, Premises liability - plaintiff, Personal injury - defense, Admiralty & maritime law
40% Personal injury - medical malpractice: plaintiff

40% Personal injury - general: plaintiff

10% Personal injury - products: plaintiff

10% Transportation/maritime
First Admitted: 1979, Illinois
Professional Webpage: https://www.levinperconti.com/attorneys/dov-apfel/
Bar/Professional Activity:
Vermont

Virginia

Maryland

District of Columbia Trial Lawyers Association, Member

Illinois State Bar Association, Member

Montgomery County Maryland Bar Association, Member

District of Columbia Bar Association, Member

Maryland Bar Association, Member

Maryland Association for Justice (MAJ), Member

American Association for Justice (AAJ), Member

Maryland, 1979

District of Columbia, 1980

Birth Trauma Litigation Group of the American Association for Justice, Co-chair

Medical Negligence Section of the Maryland Trial Lawyers Association, Chairperson

Virginia

Wisconsin

Washington

Texas

Pennsylvania

Tennessee

Oregon

North Carolina

Ohio

New York

New Jersey

Missouri

Mississippi

Illinois

Minnesota

Kentucky

Colorado

Iowa

Hawaii

Georgia

California

Arkansas
Scholarly Lectures/Writings:
Chairperson: Birth Trauma Litigation Group Educational Program, San Juan, Puerto Rico, January 2000, Subject: Maternal Infection in Pregnancy and Cerebral Palsy

Co-Chairperson, Birth Trauma Litigation Group Educational Program, Atlanta, July, 2002, Subject: Distinguishing Between Asphyxia and Stroke: The Timing of Brain Injury

Maryland Trial Lawyers Association Annual Medical Malpractice Educational Program, Baltimore, January 2002, Subject: Using Fetal Monitoring to Assess Quality of Care and Timing of Injury

ATLA Summer Conference, Montreal, July 2001, Chairperson: Birth Trauma Litigation Group Educational Program Subjects: Maternal Infection in Pregnancy and Cerebral Palsy, and the International Consensus Template and the Criteria for Establishing a Link Between Birth Asphyxia and Cerebral Palsy

ATLA Summer Conference, Chicago, August 2000, Subject: Intrapartum Electronic Fetal Heart Rate Monitoring: Understanding FHR Variables and Nonreassuring Patterns

ATLA Mid-Winter Conference, Maui, Hawaii, February 1998, Subject: Antepartum Testing to Assess Fetal Well-Being in the Preterm Infant

ATLA Summer Conference, San Francisco, July 1999, Subject: Maternal Infection in Pregnancy and Cerebral Palsy, Subject: Early Onset Neonatal Group B Streptococcal Infection

Canadian Trial Lawyers Conference, Calgary, Canada, April 1998, Subject: Placental Pathology: A Primer for Birth Trauma Litigation

ATLA Summer Conference. Washington, DC, July 1998, Subject: Prenatal Care and Review of the Medical Chart

Chairperson: Birth Trauma Group Educational Program, Maui, Hawaii, February 1998, Subject: The Timing and Etiology of Brain Injury in the Preterm Infant

Ontario Trial Lawyers Conference, Toronto, Canada, June 1996, Subject: Placental Pathology: The Use of Placental Findings to Prove or Negate Obstetrical Malpractice in Bad Baby Cases

ATLA Mega Seminar on Profound Brain Injury in the Infant, West Palm Beach, Florida, January 1998, Subject: Placental Pathology: The Use of Placental Findings to Prove or Negate Obstetrical Malpractice in Bad Baby Cases

Co-Chairperson, Birth Trauma Litigation Group Educational Program, Atlanta, July 2002, Subject: Distinguishing Between Asphyxia and Stroke: The Timing of Brain Injury

ATLA Summer Conference, Boston, Mass, July 1996, Subject: Antepartum Testing to Assess Fetal Well-Being

ATLA Summer Conference, New York, New York, July 1995, Subject: What's New in Placental Pathology? Subject: How to Cross-Examine a Defense Placental Pathology Expert in Obstetrical Malpractice Cases

Maryland Trial Lawyers Educational Program, February 10, 1995, Subject: The Use of Demonstrative Evidence at Trial.

ATLA Winter Conference, Maui, Hawaii, February 1995, Subject: Placental Pathology: The Use of Placental Findings to Prove or Negate Obstetrical Malpractice in Bad Baby Cases

Placental Pathology Conferences Sponsored by the Armed Forces Institute of Pathology, Walter Reed Medical Center, 1991 and 1992, Subject: The Use of Placental Findings to Prove or Negate Obstetrical Malpractice in Bad Baby Cases

Maryland Trial Lawyers Association Annual Medical Malpractice Educational Program, Baltimore, January 2002, Subject: Using Fetal Monitoring to Assess Quality of Care and Timing of Injury

Maryland Trial Lawyers Association -- Annual Medical Malpractice Educational Program, Baltimore, March 2007, Subject: Using the Medical Literature to Rebut ACOG Publications

Litigating Catastrophically Injured Infant Cases ATLA Program, Atlanta, February 2003, Subject: Using the Medicine to Make Your Case: Electronic Fetal Monitoring

Co-Chairperson, Obstetric Malpractice Program, Sponsored by The American Conference Institute, Philadelphia, November 2003Subject: What's New in Obstetrical Malpractice and Placental Pathology

ATLA Summer Conference. San Francisco, July 2003, Subject: Keeping Junk Science Out of Cerebral Palsy Cases: ACOG's Criteria on Neonatal Encephalopathy and Cerebral Palsy

Litigating Catastrophically Injured Infant Cases, ATLA Program, Atlanta, February 2004, Subject: Using Medicine to Prove the Timing and Etiology of Irreversible Brain Damage

Maryland Trial Lawyers Association Annual Medical Malpractice Educational Program, Baltimore, May 2004, Subject: Keeping Junk Science Out of Cerebral Palsy Cases: ACOG's Criteria on Neonatal Encephalopathy and Cerebral Palsy

ATLA Summer Conference, Boston, July 2004, Subject: Keeping Junk Science Out of Cerebral Palsy Cases: ACOG's Criteria on Neonatal Encephalopathy and Cerebral Palsy

Litigating Medical Negligence Cases: Updates and Techniques for Pretrial, Trial, and Settlement, Crystal City, Virginia, October 2005 Subject: Closing Argument

AAJ Summer Conference, New York, July 2011, Subject: The Timing of Emergency Cesarean Sections: When Every Minute Counts

New Jersey Trial Lawyers Association -- Annual Medical Malpractice Educational Program, The Best of the Best from Around the Country, Meadowlands, October 2007, Subject: Perinatal Brain Injury

New Jersey Trial Lawyers Association -- Annual Medical Malpractice Educational Program, The Best of the Best from Around the Country, Meadowlands, October 2007, Subject: Perinatal Brain Injury

New York State Judicial Seminars, Rye Brook, NY, June 26, 2008 "Medicine for Judges" Program Subject: Keeping Junk Science Out of Cerebral Palsy Cases: Analysis of Criteria for Linking Neonatal Encephalopathy and Cerebral Palsy

Ohio Association for Justice -- Annual Medical Malpractice Educational Program, Columbus, Ohio, May 2008, Subject: What's New in Electronic Fetal Monitoring?

New York State Judicial Seminars, Rye Brook, NY, June 26, 2008 "Medicine for Judges" Program, Subject: Keeping Junk Science Out of Cerebral Palsy Cases: Analysis of Criteria for Linking Neonatal Encephalopathy and Cerebral Palsy

Neonatal Encephalopathy and Neurologic Outcome, AAJ Summer Conference, Baltimore, July 27, 2014

AAJ Summer Conference, Chicago, July 2012, Subject: Proving the Timing of Brain Damage: Distinguishing Fact from Fiction

AAJ Winter Conference, Miami, February 2013, Subject: How to Handle Damages in Opening Statement

AAJ Education's 1st Annual Total Electronic Fetal Monitoring Immersion Seminar, Washington, DC, June 27-28, 2013, Subjects: EFM: Expectations, Problems, and Reality Algorithms for Management of Category II FHR Patterns The Causal Pathway from EFM to Cerebral Palsy

AAJ Education's 2nd Annual Total Electronic Fetal Monitoring Immersion Seminar, Washington, DC, June 26-27, 2014., Subjects: EFM: Decelerations & Management of Category III Patterns, 2014 Neonatal Encephalopathy & Neurologic Outcome Litigation Criteria, Chorioamnionitis & Intrapartum Brain Injury

AAJ Education's 3rd Annual Electronic Fetal Monitoring in Birth Injury Cases Seminar, Washington, DC, June 18-19, 2015

Indiana Trial Lawyers Meeting, August 14, 2014, Subjects: Neonatal Encephalopathy and Neurologic Outcome & EFM

AAJ Winter Conference, Palm Springs, February 2015, Subject: Determining the Timing and Etiology of Neonatal Encephalopathy and Adverse Neurologic Outcome

AAJ Summer Conference, Boston, MA, July 21, 2017, Subject: Electronic Fetal Monitoring: Fake Data and Alternate Facts

AAJ Mastering the Medicine program, Atlanta, GA, October 5-6, 2017, Subject: Issues for Electronic Fetal Monitoring

Obstetrical Negligence in Managing Hypertension: Medical Issues, Medical Malpractice Law & Strategy, September 1992.

AAJ Summer Conference, Boston, MA, July 21, 2017, Subject: Electronic Fetal Monitoring: Fake Data and Alternate Facts

AAJ Summer Conference, San Diego, CA, July 28, 2019, Subject: Gross and Microscopic Placental Findings

AAJ Education's 4th Annual Electronic Fetal Monitoring in Birth Injury Cases Seminar, Philadelphia, PA, March 1-2, 2018

AAJ Mastering the Medicine program, Atlanta, GA, October 17-18, 2019 Subject: Fetal Monitoring and Blood Gases

Chairperson: AAJ Education's 5th Annual Electronic Fetal Monitoring in Birth Injury Cases Seminar, Orlando, FL, April 2-3, 2020 (to be rescheduled due to COVID-19)

AAJ Webinar, Electronic Fetal Monitoring in Birth Injury Cases, April 3, 2020

Obstetrical Malpractice: Hypertension in Pregnancy, Trial Magazine, May 1992.

Cervical and Lumbar Disc Injuries: Understanding the Medical and Legal Issues, Trial Magazine, January 1995.

Obstetrical Negligence in Managing Hypertension: Legal Issues, Medical Malpractice Law & Strategy, October 1992.

Loss of Chance in Obstetrical Cases, Trial Magazine, May 1993.

Placental Pathology: A Tool for Obstetrical Cases, Trial Magazine, May 1994.

Antepartum Evaluation of Fetal Well-Being, ATLA Birth Trauma Group Newsletter, December 1994.

Asphyxia and Cerebral Palsy: Understanding the Medical and Legal Issues, ATLA Birth Trauma Group Newsletter, June 1995.

Evaluating Birth Trauma Cases Involving Brain Injury in the Premature Infant, ATLA Professional Negligence, 1999.

Electronic Fetal Monitoring: An Overview, ATLA Professional Negligence Law Reporter, November 1995

Maternal Infection in Pregnancy and Perinatal Brain Damage, Trial Magazine, May 1996

Clinical Markers Establishing a Causal Relationship Between Birth Asphyxia and Cerebral Palsy: A Primer for Trial Lawyers, American Journal Of Trial Advocacy, 1997.

Electronic Fetal Monitoring: Criteria for Evaluating the Quality and Timing of Intrapartum Care, ATLA Birth Trauma Litigation Group Newsletter, June 1999.

A Legal Discussion on Medical Malpractice: Can cerebral palsy be prevented? The Montgomery County Sentinel, October 21, 1999.

A Legal Discussion on Medical Malpractice: Is Vaginal Birth After Cesarean Safe?, The Montgomery County Sentinel, October 28, 1999.

A Legal Discussion on Medical Malpractice: What Pregnant Women Should Know About Group B Streptococcal Infection, The Montgomery County Sentinel, November 18, 1999.

Evaluating Obstetrical Cases: A Primer for the Trial Attorney, Prince Georges County Bar Bulletin, 2002.

A primer on vaginal birth after cesarean, Trial Magazine, February 2000.

Placental pathology: challenging the causation defenses, Trial Magazine, May 2000.

Evaluating Obstetrical Malpractice Cases: A Primer for the Trial Attorney, MTLA Trial Reporter, 2000.

Using Electronic Fetal Monitoring Strips to Assess the Quality of Care and the Timing of Delivery, ATLA Professional Negligence Section Reporter, 2001.

Settling the cerebral palsy case, Trial Magazine, December 2007

How to Derail Daubert Motions in Obstetrical Cases, Trial Magazine, May 2002.

Fetal Monitoring Mistakes and Their Catastrophic Consequences, Trial Magazine, August 2003.

Keep 'junk science' out of cerebral palsy cases, Trial Magazine, May 2004.

Keeping "junk science" out of birth injury cases, The Advocate - Journal of Consumer Attorneys for Southern California, July 2005.

Proper use of Apgar scores, Trial Magazine, August 2005

Birth Asphyxia and Cerebral Palsy, Trial Magazine, January 2007

Part I: Cerebral Palsy Litigation -- Understanding the Pathways to CP in the Term Infant, AAJ Professional Negligence Section Newsletter, 2007

Part II: Cerebral Palsy Litigation -- Understanding the Pathways to CP in the Term Infant, AAJ Professional Negligence Section Newsletter, 2007

Using a Differential Diagnosis to Prove that Intrapartum Asphyxia is a Significant Cause of Cerebral Palsy, American Journal of Trial Advocacy, 2006

The 2008 NICHD Fetal Monitoring Workshop: The US Obstetrical Community Continues to Resist National Standards of Care, AAJ Birth Trauma Litigation Group Newsletter, February 2009

Cerebral Palsy Litigation: Understanding Cytokines and the Infectious Pathways to Brain Damage in the Term Infant, AAJ Birth Trauma Litigation Group Newsletter, January 2008

Intrapartum Asphyxia is a Preventable, Not Inevitable, Cause of Hypoxic-Ischemic Encephalopathy and Cerebral Palsy, New York Litigation Review, Vol. 2, 2010

The case for national fetal monitoring standards, Trial Magazine, May 2009

When Every Minute Counts, Trial Magazine, May 2011

Distinguishing Fact from Fiction in Cerebral Palsy Cases, Trial Magazine, November 2012

Electronic Fetal Monitoring Plays a Vital Role in the Management of Pregnant Women and Their Babies, AAJ Birth Trauma Litigation Group Newsletter, February 2013

Hospital Liability for Misuse of Obstetrical Drugs, Trial Magazine, December 2013

Birth Injury Litigation Criteria Exposed, Trial Magazine, May 2015

Electronic Fetal Monitoring in Identifying Fetal Hypoxia and Acidemia, AAJ Birth Trauma Litigation Group Newsletter, July 2020
Educational Background:
B.S., Queens College, City University of New York, 1976
Honors/Awards:
Top Lawyers – Washingtonian Magazine (December 2004)

The Best Lawyers in America®-Medical Malpractice Law, Plaintiffs and Personal Injury Litigation, Plaintiffs – Baltimore, MD

Martindale-Hubbell AV Preeminent, 5.0 out of 5 stars with the highest ethical standing

The Best Lawyers in America®

Maryland Super Lawyers

Dan Cullan Memorial Lifetime Achievement Award, Birth Trauma Litigation Group of the American Association for Justice

,

2011
Office location for Dov Apfel
325 North Lasalle Street
Suite 300
Chicago, IL 60654
Phone: 312-332-2872
Selections
Super Lawyers: 2008 - 2014, 2016 - 2023
Additional sources of information about Dov Apfel
Attorney resources for Dov Apfel