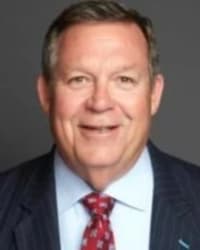 Monahan Law Group, LLC
Practice Areas: Elder law, Estate planning & probate, Health care; view more
Licensed in Illinois since: 1985
Education: DePaul University College of Law

Selected to Super Lawyers: 2005 - 2023
Monahan Law Group, LLC
55 West Monroe Street
Suite 3700
Chicago, IL 60603
Visit website
Details
Attorney Joseph T. Monahan is the founding partner of Monahan Law Group, LLC, in Chicago, Illinois. Mr. Monahan has over 30 years of experience and concentrates his practice on estate planning and mental health law. He serves clients in Chicago and throughout the state of Illinois, as well as nationwide.
Over the course of his career, Mr. Monahan has litigated numerous cases involving child welfare, guardianships and mental health. He serves child welfare agencies, hospitals, mental health clinics and social service agencies, as well as individual clients. He has tried cases at the state, federal and administrative levels and argued before the Illinois Supreme Court.
In addition to his practice, Mr. Monahan writes and lectures extensively and serves as an adjunct professor of law at Loyola University Chicago School of Law. Active in his legal community, he is president of the board of directors for the National Association of Social Workers and a former chair of the Mental Health Law Section of the Illinois State Bar Association.
Mr. Monahan is a member of the Chicago Bar Association and the Illinois State Bar Association. Over the years, he has also served in leadership positions for many nonprofit organizations. He continues to serve as secretary for the Foundation for Human Development and a volunteer attorney for the Chicago Volunteer Legal Services.
Mr. Monahan earned a bachelor's degree and a master's degree in social work from the University of Illinois. He received his law degree from DePaul University College of Law. He holds a license to practice law before all Illinois state courts, the U.S. District courts for the northern and central districts of Illinois, and the Supreme Court of the United States.
Practice areas
Elder law, Estate planning & probate, Health care
Focus areas
Estate planning, Guardianships & conservatorships, Living wills, Power of attorney, Probate & estate administration, Trusts, Wills, Hospital law, Nursing home, Health & health care law
40% Elder law

30% Estate planning & probate

30% Health care
First Admitted: 1985, Illinois
Professional Webpage: https://www.monahanlawllc.com/Attorneys/Joseph-T-Monahan.sht...
Bar/Professional Activity:
ACWS, Member, 1976 - 1984

Harris enCircle, Harris Bank, Chicago, Illinois, Advisory Board Member, 2008 - Present 

Seguin Services, Human Rights Committee, Member, 1987 - 1990

Seguin Services, Human Rights Committee, Member, 1992 - 1996

National Association of Social Workers, Member, 1976 - 1984

ACWS, Member, 1991 - Present

School Board, Pope John XXIII, Member, 1994 - 2000

National Association of Social Workers (NASW), Illinois Chapter, Member, 1976 - Present

National Association of Social Workers, Member, 1991 - Present

Trustee, Legal Defense Fund, 2003 - 2007

National Association of Social Workers (NASW), Illinois Chapter, Ad-Hoc Committee to Rewrite Social Work Practice Act, 1994 - 1995

Guardianship Reform Project, Equip for Equality, 1999 - 2001

Illinois Coalition Against the Death Penalty, Board Member, 2000 - 2004

Ignatius Chicago Crew, Member, Board of Directors, 2006 - 2009

Chair, Legal Defense Fund, 2007 - 2008

Board of Directors, Member Executive Committee, Chair Personnel Committee, Legal Defense Fund, 2009 - 2012

Illinois State Bar Association, Chair, 2001 - 2002

Illinois State Bar Association, Legislative Task Force, Created by SR 373, Member, 2002 - 2003

Illinois State Bar Association, Secretary, 1999 - 2000

Illinois State Bar Association, Vice-Chair, 2000 - 2001

Illinois State Bar Association, Vice-Chair, 2006 - 2007

Illinois State Bar Association, Secretary, 2005 - 2006

Illinois State Bar Association, Chair, 2006 - 2008

The Chicago Bar Association, Mental Health Law Committee, Member, 1984 - Present

Illinois State Bar Association, Mental Health Law Committee, Member, 1997 - Present

The Chicago Bar Association, Mental Health Law Committee, Chairperson, 1990

The Chicago Bar Association, Mental Health Law Committee, Vice-Chairperson, 1988 - 1989

National Association of Downs Syndrome (NADS), Member, Board of Directors, 1998 - 1999

U.S. District Court, Central District of Illinois

U.S. District Court, Northern District of Illinois

U.S. District Court, Northern District of Illinois Trial Bar

Adjunct professor of law, Loyola Law School

Illinois Bar Association's Study Committee of Mental Health Law, Member and Past chair

Illinois Bar

Elected member of the Pope John XXIII School Board in Evanston, Illinois

Mental Health Law Committee of the Chicago Bar Association, Member and Past chair 

Illinois State Bar Association (ISBA)

Hearing officer for the Illinois State Board of Education, 1987-1997

Appointed trustee of the Legal Defense Fund for the National Association of Social Workers, 2003-2005

Supreme Court of the United States of America 
Pro bono/Community Service:
Guardian Ad Litem, Probate Court for the past 20 years   SharePlay Video  How Can We Help You?Bold fields are required. Contact InformationName Email Address Phone Brief description of your legal issue  I have read the disclaimer.disclaimer.Privacy Policy 55 West Monroe St., Suite 3700 Chicago, IL 60603 Phone: 312-419-0252Fax: 312-419-7428 CHICAGO LAW OFFICE MAPREVIEW USMonahan Law Group, LLC, is located in Chicago and provides legal guidance to clients in Cook County and throughout Illinois. © 2019 by Monahan Law Group, LLC. All rights reserved. Disclaimer | Site Map Privacy Policy | Business Development Solutions by FindLaw, part of Thomson Reuters.    click here                         

Foundation for Human Development, Board of Directors

Chicago Volunteer Legal Society (CVLS), Volunteer Attorney since 2010

Foundation for Human Development, Secretary since 2012
Honors/Awards:
Selected to Leading Lawyers, 2008 - 2019

Most Valuable Volunteer of the Year Award, Illinois Institute for Continuing Legal Education, 2013 

Selected to Super Lawyers, 2005 - 2020

Appointed the ISBA representative on the Senate's Committee to revise the Mental Health Code
Scholarly Lectures/Writings:
Presented, Illinois Mental Health and the Law, PESI/HealthEd, 2013 - 2014

Presented, Legal Issues and the Elderly, Benedictine University, 2000 - 2014 

Presented, Healthcare Risk Management, Chicagoland Healthcare Risk Management Society's (CHRMS) Law Day Program, November 7, 2008

Presented, Child and Elder Abuse Reporting, Resurrection Health Care, April 22, 2009

Presented, Social Worker Ethics Seminar, Lake Forest Hospital, August 12, 2009

Presented, The Law of Surrogate Decision Making in Illinois, NASW Statewide Conference, September 11, 2009

Presented, Elder Abuse/Remedies and Nursing Home Resident's Rights, HEALTH ED Illinois Law, February 12, 2010

Presented, The Limitations of a Legal Guardian: Immigrants and John Doe Cases, National Guardianship Association National Colloquium on Guardianship, April 23, 2010

Presented, Guardianship and Advance Directives: The Law of Surrogate Decision Making in Illinois, NASW Illinois Virtual Symposium on Ethics, September 14, 201O

Presented, Who Is Your Client?, Illinois Legal Aid Conference, 2011

Presented, Elder Abuse/Remedies and Nursing Home Resident's Rights, HEALTH ED Illinois Elder Law, September 23, 2011

Presented, Elder Abuse/Remedies and Nursing Home Resident's Rights, HEALTH ED Illinois Elder Law, January 27, 2012

Presented, Citations to Discover and Recover Assets, Elder Law Practice in the Circuit Court of Cook County: The New Elder Law and Miscellaneous Remedies Division of the Circuit Court, Judge Banks Seminar, March 23, 2012

Presented, Adult Protective Services and Nursing Home Resident Rights and Informed Consent, Substitute Decision Making and Advance Directives, SSWLCH - Illinois Chapter, January 2014

Presented, Illinois Children's Mental Health and the Law, HEALTH ED/Illinois Juvenile Law, January 25, 2013

Presented, Practical and Legal Options for Persons Diagnosed with Mental Illness, HEALTH ED/PESI Illinois Elder Law, September 26, 2013

Presented, Guardianship: Persons with a Mental Illness, National Alliance On Mental Illness (NAMI), April 13, 2014

Presented, Adult Protective Services/Remedies and Nursing Home Resident's Rights , Health Ed/PESI Illinois Elder Law 2014, January 17, 2014

Presented, Ethics and Mental Health, Child Welfare Agency, February 11, 2014

Presented, Changes in Confidentiality of Mental Health Records, DePaul Law Review Symposium, March 21, 2014

Presented, Different Perspectives in Adult Guardianships, Equip for Equality Legal Aid Advocates Conference, October 16, 2014

Presented, FOID Mental Health Reporting, National Association of Social Workers (NASW), August 14, 2014

Presented, Adult Protective Services/Remedies and Nursing Home Resident's Rights, Health Ed/PESI Illinois Elder Law 2015, January 22, 2015 - January 23, 2015

Presented, Illinois Mental Health and the Law, PESI, October 30, 2014 - October 31, 2014

Presented, Mental Health Law, IICLE - 10th Annual Elder Law Short Course, November 6, 2014

Presented, The Business of Social Work, NASW – Illinois Chapter, November 14, 2014

Presented, CLE Social Workers, Local VA Hospital, January 21, 2015

Presented, Internal Training, Association of Police Social Workers, May 8, 2015

Presented, Internal Training, Local Social Service Agency, February 4, 2015

Presented, Medical School for Elder Law Attorneys: Geriatric Psychiatry, IICLE, February 20, 2015

Presented, FOID, The Carle Foundation - Webinar, March 26, 2015

Guest Lecturer, End of Life Decision-Making, The John Marshall Law School, April 3, 2015

Presented, Confidentiality and Representing Persons Alleged to have a Diagnosed Mental Illness, ISBA, April 10, 2015

Presented, Elder Law, American Hospital Association, April 23, 2015

Author, Life Sustaining Treatment and the Law: The Evolution of Informed Consent, Advance Directives and Surrogate Decision Making, Beazley Institute for Health Law and Policy Annals of Health Law, Vol. 19, Issue 1, Special Edition, 2010, 107-113

Presented, Internal Training, Waukegan School District Social Workers, June 3, 2015

Presented, Illinois Mental Health and the Law, PESI, September 24, 2015 - September 25, 2015

Presented, CLE Training, Illinois School Social Work Supervisors and Coordinators Counsel, October 2, 2015

Presented, Juvenile Court Training for Foster Parents, Hephzibah, October 9, 2015

Presented, Risk Management Training, National Association of Social Workers, October 19, 2015

Presented, Capacity and Guardianship, IICLE 11th Annual Elder Law Program, November 12, 2015 - November 13, 2015

Presented, I Received a Subpoena; What Should I Do?, National Association of Social Workers - Webinar, Novemer 17, 2015

Presenter, HIPAA and Confidentiality, National Alliance on Mental Illness, January 17, 2016

Presenter, Illinois Elder Law, PESI, Inc., January 28, 2016 - January 29, 2016

Adjunct Associate Professor of Law, Mental Health Law Course, Loyola University Chicago School of Law, Health Care Institute, Chicago, Illinois, 1993 - Present

Adjunct Professor of Law, Psychiatry and Law Course, Northwestern University School of Law, Chicago, Illinois, 2002 - 2004

Adjunct Associate Professor of Law, Child Mental Health Law Course, Loyola University Chicago School of Law, Child Law, Chicago, Illinois, 2012 - Present

Author, §§ 28:7 to 28:27, Chapter 28, Mental Health Issues, Law of Medical Practice in Illinois, 3rd, Vol. 22 (Illinois Practice Series), 2014 and 2015 Supplement 

Author, Powers and Duties of a Guardian of the Person: Guardianship for Disabled Adults, Advance Directives, and Mental Health Law, Chapter 3, IICLE, 2011

Author, §§ 28:7 to 28:27, Chapter 28, Mental Health Issues, Law of Medical Practice in Illinois, 3rd, Vol. 22 (Illinois Practice Series), 2008

Author, Legal Issues Affecting Elderly Clients - Incompetent Elderly Clients: Powers of Attorney and Guardianship , Social Work Networker published by the NASW Illinois Chapter, August 1, 2009

Author, Legal Issues Affecting Elderly Clients - Medicare and Medicaid for the Elderly, Social Work Networker published by the NASW Illinois Chapter, October 1, 2009

Author, Elder Abuse: Legal Definitions and Mandatory Reporting of Elder Abuse, Social Work Networker published by the NASW Illinois Chapter, May 1, 2009
Educational Background:
Master's of Social Work from the University of Illinois in Champaign, 1978 

Bachelor of Arts, Major: Social Work from the University of Illinois (1977)
Special Licenses/Certifications:
Office location for Joseph T. Monahan
55 West Monroe Street
Suite 3700
Chicago, IL 60603
Phone: 312-419-0252
Selections
Super Lawyers: 2005 - 2023
Articles about Joseph T. Monahan by Super Lawyers
Protecting the Unprotected
Additional sources of information about Joseph T. Monahan
Attorney resources for Joseph T. Monahan