« Back to Results
Todd A. Smith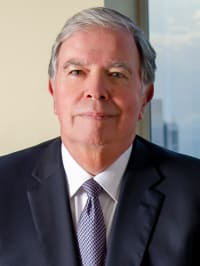 Attorney Profile
Top Rated Personal Injury Attorney in Chicago, IL
Selected To Super Lawyers:
2005 - 2021
Practice Areas:
Personal Injury - General: Plaintiff (30%),
Aviation and Aerospace (30%),
Personal Injury - Medical Malpractice: Plaintiff (30%),
Construction Litigation: Business (10%)
Attorney Profile
Todd A. Smith is a personal injury attorney with over 40 years of experience. A founding partner of Smith LaCien LLP, Mr. Smith, handles matters involving aviation accidents, birth injury, construction accidents, medical malpractice and trucking accidents. He serves clients throughout the Chicagoland area.
Over the course of his career, Mr. Smith has obtained numerous major recoveries against corporations, government agencies, hospitals and insurance companies, helping his clients to cope with the long aftermath of a terrible injury.
Prior to practicing personal injury law, Mr. Smith served as an assistant public defender in the Clerk of the Circuit Court of Cook County Criminal Division. He also practiced at various private firms before founding Smith LaCien LLP.
Mr. Smith is a seasoned trial attorney and the recipient of many awards over the course of his career. He is listed in the publication "The Best Lawyers in America" and consistently appears on Chicago Lawyer magazine's list of multimillion-dollar personal injury settlements.
The Illinois State Bar Association and the American Association for Justice have presented Mr. Smith with various awards over the years and he has served as president of both organizations. He is also a former president of the Illinois Trial Lawyers Association. He is an active member of the American College of Trial Lawyers, the International Academy of Trial Lawyers, the International Society of Barristers and the Inner Circle of Advocates.
Mr. Smith earned a bachelor's degree from Kansas University and received a master of business administration degree from Northwestern University. He obtained his law degree from Loyola University Chicago School of Law. He holds a license to practice law before all Illinois state courts.
Email Me
To: Todd A. Smith
Super Lawyers: Potential Client Inquiry
Additional Sources of Information About Todd A. Smith
About Todd Smith
Admitted: 1976, Illinois
Professional Webpage: https://smithlacien.com/our-lawyers/
Honors/Awards:
"Medical Malpractice Lawyer of the Year"

,

2012

"Lawyer of the Year for Personal Injury Litigation"

,

2019

"The Best Lawyers in America" annually since 1995

Lifetime Achievement Award from the American Association for Justice, 2009

"Mass Tort Lawyer of the Year"

,

2011

Illinois State Bar Association, "Distinguished Award for Excellence"

,

2015

Damen Award - Loyola University Chicago School of Chicago - Founders' Day 2002

TLPJ Trial Lawyer of the Year Finalist - 1999

Awarded the Medal of Excellence by Loyola University Chicago School of Law, 2005

Joe Tonahill Award - ATLA Annual Convention 2002

Chicago Lawyer Magazine - Person of the Year - 1998

Senator Paul Wellstone Award, 2012

Listed by Harvard Law Graduates Naifeh and Smith in their book The Best Lawyers in America, 1997-98; 1999-2000; 2001-02; 2003-04

American Legion Award of Excellence - C. D. Burton Post 808 - 2002

Law Journal - Loyola University Chicago School of Law
Bar/Professional Activity:
Illinois State Bar Association, President 

Illinois State Bar Association, Associate Editor, 1990-92

Illinois State Bar Association, Elected, ISBA Treasurer, 1993-94

Illinois Trial Lawyers Association, Constitutional Challenge Committee, 1995-97

Trial Lawyers for Public Justice

Francis W. Parker School, 2001-2010; Life Trustee, 2010

Admitted to Northern District of Illinois

,

1980

Association of Trial Lawyers of America, Secretary, 2001-02

Association of Trial Lawyers of America, Member, Vice Chair, Legal Affairs Committee, 1992-93 and 1996-98

Association of Trial Lawyers of America, Member, Mass Tort Subcommittee, 1992-93

Illinois State Bar Association, Board Liaison to Illinois Bar Journal, 1991-93

Illinois State Bar Association, Member, Standing Committee on Budget & Audit, 1993-94

Illinois Trial Lawyers Association, Chairman, Seminar Planning, 1992-94

Loyola University Chicago School of Law, Alumni, 1991-2000

National Center for State Courts, 2013

Admitted to U.S. Court of Appeals, Seventh Circuit

,

1991

Association of Trial Lawyers of America, Member, Executive Committee, 1998 

Association of Trial Lawyers of America, Member, "M" Club, 1990

Association of Trial Lawyers of America, Elected Member, Organization and Home Office Committee, 1994-96

Chicago Bar Association, Member, Federal Trial Advocacy Program Faculty 1984

Illinois State Bar Association, Bench and Bar Section, 1992-93

ISBA Mutual Insurance Company, First Vice President, 1998-99

Illinois Trial Lawyers Association, Chairman, Amicus Curiae Committee, 1987-89

The Society of Trial Lawyers, 1992-1995

American College of Trial Lawyers, Fellow, 1996

American Bar Association, Member, Tort and Insurance Practice Section  

Association of Trial Lawyers of America, Roscoe Pound Foundation, Fellow, Trustee, 1999 

ISBA Mutual Insurance Company, Chairman of the Board, 1999-2000

Chicago Bar Association, Past Chairman, Subcommittee on Legislation of Tort Litigation Section

Illinois State Bar Association, Member, Rules & By-Laws Committee, 1990-91

ISBA Mutual Insurance Company, Chair, Nominating Committee, 1999-2000

Illinois Trial Lawyers Association, Member, Board of Managers, 1985

Roscoe Pound Foundation, 1999-2006

American Bar Association, Member, House of Delegates, 1995-99

Association of Trial Lawyers of America, Roscoe Pound Foundation, Chair, Regional Judges Forum, 2000

Association of Trial Lawyers of America, Member, Steering Subcommittee on Special Events

Illinois State Bar Association, President-Elect, 1996-97

Illinois State Bar Association, Board of Directors, Illinois Bar Foundation

Illinois Bar Foundation, Fundraising Steering Committee, 2000 

Loyola University of Chicago School of Law, Alumni Board of Directors, 1991-2000

Illinois Bar Foundation, 2000-2008

Appellate Lawyers Association, Member, Board of Directors, 1991-93

Association of Trial Lawyers of America, Chair, Constitutional Litigation Committee, 1993-94

Association of Trial Lawyers of America, Fellow, Civil Justice Foundation, 1989

Illinois State Bar Association, Member, Editorial Board of the Illinois Bar Journal, 1989-92

Illinois State Bar Association, Elected Member, Scope & Correlation Committee, 1992-93

Illinois Trial Lawyers Association, Nominating Committee, 1998

The Society of Trial Lawyers, Member, Board of Directors, 1992-95

Public Justice Foundation, 2008; Executive Committee, 2012

Admitted to Illinois Bar

,

1976

Association of Trial Lawyers of America, Vice President, 2002-03

Association of Trial Lawyers of America, Chair, Coordinating Committee of State Relations, 1999-2000

Association of Trial Lawyers of America, Member, Federal Rules Committee, 1991-93

Illinois State Bar Association, Elected Member, Board of Governors, 1991-99

Illinois State Bar Association, Chair, Standing Committee on Investments, 1993-94

Illinois Trial Lawyers Association, Chairman, Constitutional Litigation Committee, 1992-94

Trial Lawyers Club of Chicago, 1987-1998

Center for Constitutional Litigation, 2012

Admitted to U.S. District Court Central District of Illinois

,

1994

Association of Trial Lawyers of America, Parliamentarian, 1999-2000 

Association of Trial Lawyers of America, Member, Eagles Club, 1998

Association of Trial Lawyers of America, Program Advisory Committee 1994 ATLA Annual Convention

Association of Trial Lawyers of America, Elaine Osborne Jacobson Award Selection Committee, 2002

Illinois State Bar Association, Health Care Section, 1991-92

Illinois State Bar Association, Member, Standing Committee on Legislation, 2000

Illinois Trial Lawyers Association, Rules of Professional Conduct Committee, 1990-92

Appellate Lawyers Association, 1991-1993

American Board of Trial Advocates, Fellow, 1999

American Bar Association, Member, Litigation Section -- Task Force on the Independent

Association of Trial Lawyers of America, Chair, ATLA PAC board of trustees - 2005

Association of Trial Lawyers of America, Constitutional Litigation Committee, 1988-95

Chicago Bar Association, Judicial Evaluation Committee 1985-90

Illinois State Bar Association, Civil Practice & Procedure, 1993-94

ISBA Mutual Insurance Company, Chair, Executive Committee, 1999-2000

Illinois Trial Lawyers Association, Member, Legislative Committee, 1989-93

ISBA Mutual Insurance Company, 1995

International Society of Barristers, Fellow, 1996

American Bar Association, Member, Editorial Board of the "Brief", 1990-92

Association of Trial Lawyers of America, Chair, Aviation Law Section, 1994-95; Vice Chair, Aviation Law Section, 1992-94

Association of Trial Lawyers of America, Fundraising Events Subcommittee, 1988-89

Illinois State Bar Association, President, 1997-98

Illinois State Bar Association, Life Fellow, Illinois Bar Foundation

ISBA Mutual Insurance Company, Chair, Standing Committee on Personnel 1996-97

Loyola University of Chicago School of Law, President, Law Alumni Association, 1998-99

Buffalo Prairie Gang Camp, 1999-2003

American Inn of Court - Markey Wigmore chapter

Association of Trial Lawyers of America, Co-Chair, Public Affairs Committee, 2002-2003

Association of Trial Lawyers of America, Trial Lawyers for Public Justice, 1989

Illinois State Bar Association, Third Vice President, 1994-95

Illinois State Bar Association, Vice Chair, Task Force on Minorities and the Justice System, 1993-96

Illinois Trial Lawyers Association, Executive Committee, 2011-2013

Loyola University of Chicago School of Law, Member, Dean's Circle, 1998

John Howard Association, 2006-2009

Association of Trial Lawyers of America, President Elect, 2003-04 

Association of Trial Lawyers of America, Co-Chair, Membership Oversight Committee, 1999-2000

Association of Trial Lawyers of America, Member, Aviation Advisory Committee, 1991-93

Illinois State Bar Association, Elected Member, ISBA Assembly, 1990-99

Illinois State Bar Association, Chair, Assembly Committee on Integrated Bar, 1993-94

Illinois Trial Lawyers Association, Co-Chairman, Publications Committee, 1995-97

Trial Lawyers Club of Chicago, Member, Board of Directors, 1987

Northwestern University School of Music Advisory Board, 2012

Admitted to U.S. Supreme Court

,

1990

Association of Trial Lawyers of America, Treasurer, 2000-01

Association of Trial Lawyers of America, Chair, Amicus Curiae Committee, 1990-92

Association of Trial Lawyers of America, Member, Board of Trustees, National College of Advocacy, 1993-96

Illinois State Bar Association, International and Immigration Law Section, 1991-93

Illinois State Bar Association, Chairman, Standing Committee on ISBA Properties, 1994-95

Illinois Trial Lawyers Association, Chairman, Legislative Committee, 1989-92

Illinois State Bar Association, 1991-1999

American Bar Foundation, Fellow, 1996

Admitted to District of Columbia

,

2012

Association of Trial Lawyers of America, ATLA Endowment, Trustee, 1999 

Association of Trial Lawyers of America, Member, Amicus Curiae Committee, 1988-93

Association of Trial Lawyers of America, Member, Judicial Independence Committee, 1998-2000

Chicago Bar Association, Member, Tort Litigation Section

Illinois State Bar Association, Young Lawyers Section, 1993-94

ISBA Mutual Insurance Company, Second Vice President, 1997-98

Illinois Trial Lawyers Association, Secretary, Amicus Curiae Committee, 1985-87

National College of Advocacy, 1993-1996

International Academy of Trial Lawyers, Fellow, 1998

American Bar Association, Member, Space and Aviation Section

Association of Trial Lawyers of America, Member, Board of Governors, 1989

ISBA Mutual Insurance Company, Member, Board of Directors, 1995

Chicago Bar Association, Past Chairman, Subcommittee on Pending Legislation of Tort Litigation Section

Illinois State Bar Association, Mutual Insurance Company Board Committee on Long Range Planning, 1992-93

ISBA Mutual Insurance Company, Chair, Reinsurance Committee, 1999-2000

Illinois Trial Lawyers Association, Loyola University of Chicago School of Law

ATLA Endowment, 1999

American Bar Association, Lawyer, 1999

 Association of Trial Lawyers of America, Co-Chair, Legal Affairs Committee, 2000

Association of Trial Lawyers of America, ATLA PAC Committee, 1989-91

Illinois State Bar Association, Second Vice President, 1995-96

Illinois State Bar Association, Member, Standing Committee on Long Range Planning, 1992-93

Illinois Trial Lawyers Association, President, 2010

Loyola University of Chicago School of Law, Member, Presidents Club, 1990

Trial Lawyers Care, 2001-2006

Association of Trial Lawyers of America, President, 2004 - 05

Association of Trial Lawyers of America, Chair, Committee on Investments, 1999-2000

Association of Trial Lawyers of America, Member, Organizational Review Committee, 1991-93
Verdicts/Settlements:
Northern Trust Company and I.D., as Co-Guardians of the Estate of A.D., a Minor, and I.D. v. Advocate Lutheran General Children's Hospital, No. 01 L 11847 (Cook County)

M.R. v. The University of Illinois Hospital, No. 98 L 467 (Cook County)  

Estate of W.M., a minor v. Crawford Bus Co., 87 L 649

A.M.H., a minor, by and through her Father and Mother as next friends, J.P. H. and C.H., Individually v. University of Chicago Health Systems, et. al., No. 02 L 2696 (Cook County)  

D.H. v. The University of Chicago Hospital d/b/a Wyler Children's Hospital; J. Dean Waldman, M.D., Court No. 94 L 16986 (Cook County)

S.B., as administrator of the estate of J.B. v. Advocate Health and Hospitals Corp., et al., 97 L 16705 (Cook County)  

R.T. and T. T., co-special administrators of the Estate of G.T., Deceased v. Forest Preserve District of DuPage County, et al., 97 L 327 (DuPage County)

T.D. v. Elite Cartage, et al., 08 L 8426 (Cook County)

T.B. v. Sherman Hospital, a corporation. et al., No. 00 L 14977 (Cook County)

Estate of C.P., a minor v. Children's Memorial Hospital, 92 L 6821 (Cook County)

R. v. Provena, et al., 04 L 306 (Cook County)

W.R. v. Sudershan D. Saxena, M.D., et. al., No. 00 L 745 (Cook County)

L.G. v. Poseidon Pools, 88 L 3655

G. v. Bennet Braun, M.D., et al., 03 L 12779 (Cook County)

P.S. v. Columbus Hospital, et. al., No. 99 L 8486 (Cook County)

Estate of D.L., Deceased, et al. v. Chicago Transit Authority, et al., 85 L 20348 (Cook County)

G.D. v. Lutheran General Hospital, No. 00 L 8534 (Cook County)

M.G. v. Saint Marv of Nazareth Hospital, No. 96 L 14398 (Cook County)

B.L., E.S. v. Village of Barrington Hills, et al., 98 L 4793 (Cook County)

N.B. v. Yolanda DelaCruz, et al., 95 L 18 (Lee County)

G.B. v. KPMG, LLP, 00 MR 44 (Cook County)

R.M v. Michael D. Kornblatt, M.D., et al., No. 00 L 14275 (Cook County)

P.B. and M.B., et al. v. Rush-Presbyterian St. Luke's Medical Center, et al., 91 L 8492 (Cook County)

D.E. v. Hemker, et al., 09 L 23 (Ogle County)

The Northern Trust Company v. Advocate Health and Hospitals Corporation d/b/a Advocate Christ Hospital and Medical Center, No. 00 L 3444 (Cook County)

Estate of J.D. v. Dover Elevator Systems, Inc., et al., 90 L 690

L.P., Mother & Next Friend of J.R., a minor v. St. Francis Hospital of Evanston, et. al., 04 L 4942 (Cook County)

A.K. v. Rush-Presbyterian St. Luke's Medical Center, et. al., 98 L 13165 (Cook County)

Estate of K.M., Deceased v. Kubota Tractor, et al., 87 L 5068

K.K. and M.K. v. American Home Products, et al., 99 L 6794 (Cook County)

M.R. v. Loyola University Medical Center, et. al., No. 98 L 9369 (Cook County)  

J.B., a minor, by her mother and next friend, L.B. v. Chicago Housing Authority, et al., 82 L 15783 (Cook County)

M.B. v. Mohan Airan M.D., No. 00 L 013288 (Cook County)

A.S., Administrator of the Estate of D.J., deceased v. USAir, Inc., et al., 95 L 2685 (Cook County)

A.R., Guardian of the Estate of G.C., a disabled person v. Paramount Pictures, et al.

J.E. and R. E. v. Scott Thorndike and Thoms Proestler Company, 00 L 85 (Rock Island County)

J.O., Independent Administrator of the Estate of D.O., Deceased v. Lutheran General Medical Group, et al., 93 L 5823 (Cook County)  

P.F. and M.F. v. A.J. Canfield Co., et al., 95 L 9447 (Cook County)

The Northern Trust Company v. Bradley Allen, M.D., No. 98 L 5560 (Cook County)  

Estate of D.E. v. Mercy Hospital and Medical Center, et al., 92 L 4210

B.R. v. CBOE, et al., 04 L 1954 (Cook County)

K.H. v. Waste Management, Inc., et.al., No. 98 L 53 (DeKaIb County)

Estate of J.M., a minor v. Children's Memorial Hospital, et al., 92 L 6143 (Cook County)
Educational Background:
B.S.B., Kansas University, Lawrence, Kansas, 1971

M.B.A., Northwestern University Graduate School of Business, Evanston, Illinois, 1973
Show More
Todd A. Smith:
Last Updated: 3/8/2021