« Back to Results
Kevin J. McDevitt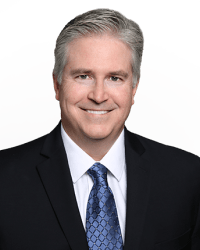 Attorney Profile
Top Rated Intellectual Property Attorney in Northfield, IL
Phone: 847-350-1257
Fax: 847-441-0911
Selected To Super Lawyers:
2012 - 2021
Practice Areas:
Intellectual Property (50%),
Media and Advertising (50%)
Attorney Profile
Co-founder of Neal & McDevitt, LLC, Kevin J. McDevitt is a marketing law, advertising and intellectual property attorney who represents clients in Chicago, Illinois, and the surrounding Chicago suburbs. Named for seven consecutive years for the Irish Legal 100, he is also a member of the Leading Lawyers Network for Intellectual Property Law & Media Law, from 2010-2021.
With more than three decades of experience, Mr. McDevitt is admitted to practice in the state of Illinois and the District of Columbia and admitted to practice before several federal courts. These include the U.S. District Court for the Western and Southern districts of Texas, the U.S. Court of Appeals for the 6th and 7th Circuits, the U.S. District Court for the Eastern District of Michigan, the U.S. District Court for the Western District of Wisconsin, the U.S. District Court for the Central and Northern districts of Illinois, the U.S. District Court for the District of Arizona, and the Supreme Court of the United States.
After earning a Bachelor of Arts from Purdue University in 1987, Mr. McDevitt attended Syracuse University College of Law. In 1990, he graduated with his Juris Doctor. He counsels clients in all aspects of trademark, copyright, unfair competition, advertising, marketing and promotions law, representing clients through a wide range of industries.
He is a member of the Family Winemakers of California, the Illinois State Bar Association, the Inter-Pacific Bar Association, the American Intellectual Property Law Association, the International Trademark Association and the Wine Institute. Mr. McDevitt is also a founding member of the Chicago Intellectual Property Alliance and a member of the Purdue University President's Council.
Practice Areas
50%

Intellectual Property

50%

Media and Advertising
Selections


Super Lawyers: 2012 - 2021
Email Me
To: Kevin J. McDevitt
Super Lawyers: Potential Client Inquiry
Additional Sources of Information About Kevin J. McDevitt
About Kevin McDevitt
Admitted: 1990, Illinois
Professional Webpage: https://www.nealmcdevitt.com/kevin-j-mcdevitt/
Honors/Awards:
Named to the 2013 through 2020

, Irish Legal 100

Recipient of the International Trademark Association's 2013 Volunteer Service Award

, Advancement of Committee Objectives

Named to the Leading Lawyers NetworkSM in each year from 2010 through 2021

, Intellectual Property Law and Advertising & Media Law

Named to Illinois Super LawyersSM in each year from 2012 through 2021

, Intellectual Property Law and First Amendment/Media/Advertising Law

Ranked by the World Trademark Review to the WTR 1000 for trademark prosecution and strategy

, 2017 through 2021
Bar/Professional Activity:
Alternative Dispute Resolution Committee – 2017 – Present; Chair of North American Subcommittee 2020; Leadership Development Committee, 2010 – 2017; Vice Chair 2014-2015, Chair 2016-2017; Ladas Award Committee, Co-Chair 1995 – Present.; Saul Lefkowitz Moot Court Competition, Midwest Regional Committee 1992,1993, 1994, 1995

International Trademark Association (INTA); Chicago Intellectual Property Alliance — Founding Member; American Intellectual Property Law Association; Inter-Pacific Bar Association; Illinois State Bar Association; The Wine Institute; Family Winemakers of California

United States Supreme Court (2001); Illinois (1990); District of Columbia (1993); U.S. District Court, ND Illinois (1990); U.S. Court of Appeals, 7th Cir. (1996); U.S. District Court, D. of Arizona (1996); U.S. District Court, CD Illinois (1996); U.S. District Court, WD Texas (1997); U.S. District Court, WD Wisconsin (2000); U.S. District Court, ED Michigan (2001); U.S. Court of Appeals, 6th Cir. (2005); U.S. District Court, SD Texas (2011)
Verdicts/Settlements:
Acuson Corporation v. Accuscan Health Imaging, LLC, (TTAB) (Trademark Opposition) (Plaintiff's Counsel)Aguila Records, Inc., et. al. v. Nueva Generacion Music Group, Inc., al. (USDC NDIL) (Trademark and copyright infringement) (Defendants' Counsel)Aguila Records, Inc., v. Sergio Federico, al. (USDC NDIL) (Trademark and Copyright Infringement) (Defendants' Counsel)Alpha Delta Phi v. Chi Delta Chi, (ND Illinois) (Trademark Infringement) (Defendant's Counsel)American RV Centers, LLC v. American RV World LC, Inc. and Robert Maese, Sr., (USDC NM) (Unfair Competition) (Plaintiff's Counsel)Ameritech Corporation v. Martinside Marketing, (ND Illinois) (Domain Name Dispute) (Plaintiff's Counsel)Axminster v. Shaw Industries, Inc., (SD New York) (Copyright Infringement) (Defendant's Counsel)Bally of Switzerland v. Bally Manufacturing Co., (ND Illinois) (Trademark Infringement) (Plaintiff's Counsel)Basic Books, Inc. et al. v. Kinko's Graphics Corp., (SD New York) (Copyright Infringement) (Defendant's Counsel)Bayer Corporation v. Dade International, (TTAB) (Trademark Opposition) (Plaintiff's Counsel)BIG Finance and Insurance, Inc. v. Principal Financial Services, Inc., (TTAB) (Trademark Cancellation) (Defendant's Counsel)Bradshaw v. Igloo Products Corp., (ND Illinois) (Trademark and Patent Infringement) (Defendant's Counsel)Burger King Corporation v. hardee's Food Systems, Inc., (NAD) (False Advertising) (Defendant's Counsel)Caterpillar Inc. v. Big Smith, (CD Illinois) (Emergency Summary Judgment, Licensing Dispute) (Plaintiff's Counsel)Caterpillar Inc. v. Nationwide Equipment, (MD Florida) (Counterfeiting Preliminary Injunction) (Plaintiff's Counsel)Caterpillar Inc. v. Trak International, (TTAB) (Trademark Opposition) (Plaintiff's Counsel)CKE Restaurants, Inc. v. Jack In The Box, Inc., (CD Cal.) (False Advertising) (Plaintiff's counsel)Claire Murray v. Shaw Industries, Inc., (D Massachusetts) (Jury Trial, Copyright Infringement) (Defendant's Counsel)DIRECTV, Inc. v. Global TV Concepts, Ltd., (TTAB) (Trademark Opposition) (Plaintiff's Counsel)DIRECTV, Inc. and Hughes Electronics Corporation v. United Online, Inc., (TTAB) (Trademark Opposition) (Plaintiff's Counsel)DIRECTV, Inc. v. Skyvision, Inc., (TTAB) (Trademark Opposition) (Plaintiff's Counsel)com, Inc. v. Unlimited Latin Flavors, Inc. et al., (ND Illinois) (Trademark Infringement and Domain Name Dispute) (Defendants' Counsel)Euromarket Designs, Inc. d/b/a Crate & Barrel v. Crate & Barrel Limited, Miriam Peters and Point Blank Multimedia, (ND Illinois) (Trademark Infringement and Domain Name Dispute) (Defendants' Counsel)Extended Stay America, Inc. v. Matrix Lodging, LLC, (TTAB) (Trademark Opposition) (Defendant's Counsel)First Chicago v. First Chicago, (ND Illinois) (Counterfeiting Seizure TRO, Service Mark Infringement) (Plaintiff's Counsel)Fleetguard, Inc. v. Baldwin Filters, Inc., (ND Illinois) (Passing Off) (Plaintiff's CounseHardee's Food Systems, Inc. v. Joe Menchaca d/b/a El Menchaca Restaurant, (D South Carolina) (Declaratory Judgment, Trademark Infringement) (Plaintiff's Counsel)Hardee's Food Systems, Inc. v. Stathoulis, (TTAB) (Trademark Opposition) (Plaintiff's Counsel)Hester Industries v. Tyson Foods, Inc., (ND New York) (Summary Judgment Proceedings, Bench Trial and Appeal) (Trademark Infringement) (Defendant's Counsel)Intermatic Incorporated v. Pacific National Bank, (TTAB) (Trademark Opposition) (Plaintiff's Counsel)Izzo v. Warner-Lambert Co., (Il. Mun. Ct.) (Trademark Infringement) (Defendant's Counsel)Jaguar Cars Limited v. Jag Auto Group, Inc., (ND Illinois) (Trademark Infringement, Dilution, Unfair Competition) (Plaintiff's Counsel)Jaguar Cars Limited v. Design Toscano, (ND Illinois) (Trademark Infringement and Unfair Competition) (Plaintiff's Counsel)Joe Menchaca d/b/a El Menchaca Restaurant v. Carolina Food Systems, Inc. and Hardee's Food Systems, Inc., (Court of Common Pleas, South Carolina) (Trademark Infringement and Unfair Competition) (Defendants' Counsel)JohnsonDiversey, Inc. v. SumaScrub, LLC, (TTAB) (Trademark Opposition) (Plaintiff's Counsel)KFC Corporation v. Hardee's Food Systems, Inc., (NAD) (False Advertising) (Defendant's Counsel)Kimberly-Clark Corp. v. Molnlycke AB, (TTAB) (Trademark Opposition) (Plaintiff's Counsel)Kimberly-Clark Corp. v. Veragon Corporation, (TTAB) (Trademark Opposition) (Plaintiff's Counsel)Logan Graphics Products, Inc. v. Textus USA, Inc., et al., (ND Illinois) (Trade Dress Infringement, False Advertising, Deceptive Trade Practices) (Defendants' Counsel)Masland Carpets, LLC v. Shaw Industries Group, Inc. and Shaw Industries, Inc., (ND Georgia) (Copyright Infringement) (Defendants' Counsel)Medi USA LP V. International Legwear Group, Inc. and Americal Corporation, (Trademark Infringement) (ND Illinois) (Defendant ILG's Counsel)Ourhouse, Inc. v. Hardware.com, Inc., (ND Illinois) (Copyright Infringement and Unfair Competition) (Plaintiff's Counsel)Pacific Rim Winemakers, Inc. v. Brutocao Vineyards, Inc., (WD Wa) (Declaratory Judgment – Trademark Infringement) (Counsel for Brutocao Vineyards)Persis International, Inc. and Edward Richards v. Burgett, Inc., (USDC ND IL) (Trademark Infringement) (Plaintiffs' Counsel)Persis International, Inc. and Edward Richards v. America Sejueng, Inc. ,et. al, (USDC ND IL) (Trademark Infringement) (Plaintiffs' Counsel)Pita Franchise Corporation v. Sara Lee Corporation, (ED Michigan) (Trademark Infringement and Unfair Competition) (Defendant's Counsel)Principal Financial Services, Inc. v. Izquierdo, (US DC ND IL) (Trademark Infringement, Dilution and Cybersquatting) (Plaintiff's Counsel)Principal Financial Group, Inc. v. Education Resources, Inc., (TTAB) (Trademark Opposition) (Plaintiff's Counsel)Principal Financial Group, Inc. v. Principal Capital Management, LLC, (SD New York) (Trademark Infringement, Dilution and Unfair Competition) (Plaintiff's Counsel)Principal Financial Group, Inc. and Principal Life Insurance Co. v. Principal Equity Mortgage, Inc., (MD Alabama) (Trademark Infringement, Dilution, Unfair Competition and Counterfeiting) (Plaintiffs' Counsel)Principal Financial Services, Inc. v. Principal Insurance Group, Inc., (SD FL) (Trademark Infringement) (Plaintiff's Counsel)Principal Financial Group, Inc. and Principal Life Insurance Co. v. Principal Mortgage & Investment Corporation, (ND Georgia) (Trademark Infringement, Dilution, Unfair Competition and Counterfeiting) (Plaintiffs' Counsel)Principal Financial Services, Inc. v. Charlotte Beyer Associates, Inc., (TTAB) (Trademark Opposition) (Plaintiff's Counsel)Principal Financial Services, Inc. v. eSecLending, LLC, (TTAB) (Trademark Opposition) (Plaintiff's Counsel)Principal Financial Services, Inc. v. First State Bank of Excelsior, (TTAB) (Trademark Opposition) (Plaintiff's Counsel)Principal Financial Services, Inc. v. The Principal Group, Inc., et al., (ND California) (Trademark Infringement, Dilution and Unfair Competition) (Plaintiff's Counsel)Principal Financial Services, Inc. v. OptimumPortfolio.com, LLC, (TTAB) (Trademark Opposition) (Plaintiff's Counsel)Principal Financial Services, Inc. v. PFResources, LLC, (D NV) (Trademark Infringement) (Plaintiff's Counsel)Principal Financial Services, Inc. v. Principle Equity, LLC, (SD TX) (Trademark Infringement) (Plaintiff's Counsel)Principal Financial Services, Inc. v. Principal Mortgage, LLC, (S.D. Indiana) (Trademark Infringement and Unfair Competition) (Plaintiff's Counsel)Principal Financial Services, Inc. v. Trustar Financial Group, Inc., (TTAB) (Trademark Opposition) (Plaintiff's Counsel)Principal Financial Services, Inc. v. BIG Finance and Insurance, Inc., (S.D. Iowa) (Trademark Infringement and Unfair Competition) (Plaintiff's Counsel)Principal Financial Services, Inc. v. Principals-Only, Inc. (TTAB) (Trademark Opposition) (Plaintiff's Counsel)Principal Financial Services, Inc. v. MBNA America Bank, NA, (TTAB) (Trademark Opposition) (Plaintiff's Counsel)Principal Financial Services, Inc. v. Washington Mutual, Inc., (TTAB) (Trademark Opposition) (Plaintiff's Counsel)Principal Financial Services, Inc. v. Principal First Financial, (TTAB) (Trademark Opposition) (Plaintiff's Counsel)Principal Insurance Co. v. Principal Management Group, (ND Texas) (Trademark Infringement, Dilution and Unfair Competition) (Plaintiff's Counsel)Principal Mutual Life Insurance v. Principalcare, (D Tennessee) (Trademark Infringement) (Plaintiff's Counsel)Principal Mutual Life Insurance v. Principal Escrow, (CD California) (Trademark Infringement) (Plaintiff's Counsel)Principal Mutual Life Insurance v. The Principal Group, (WD Texas) (Trademark Infringement) (Plaintiff's Counsel)Principal Mutual Life Insurance v. Principal Hospital Co., (D Tennessee) (Trademark Infringement) (Plaintiff's Counsel)Principal Mutual Life Insurance v. Principal Management Group, Inc., (ND Texas) (Trademark Infringement) (Plaintiff's Counsel)Principal Mutual Life Insurance v. Principal Mortgage Corp., (ND California) (Trademark Infringement) (Plaintiff's Counsel)Principal Mutual Life Insurance v. Principal Mortgage Corporation, (ND New York) (Trademark Infringement) (Plaintiff's Counsel)Principal Mutual Life Insurance v. Principal Mortgage, (SD Florida) (Trademark Infringement) (Plaintiff's Counsel)Principal Mutual Life Insurance Company v. Principal Title & Trust Company, (MD Florida) (Trademark Infringement) (Plaintiff's Counsel)Principal Mutual Life Insurance v. Principle Mortgage, (D Arizona) (Trademark Infringement) (Plaintiff's Counsel)Principal Mutual Life Insurance Company v. Progressive Casualty Insurance Company, (TTAB) (Trademark Opposition) (Plaintiff's Counsel)RE/MAX International, Inc. v. Stephen Blagden, (TTAB) (Trademark Opposition) (Plaintiff's Counsel)RE/MAX International, Inc. v. CBS Corporation, al., (D. Colo.) (Trademark Dilution, Defamation Resulting in Business Reputation Injury) (Plaintiff's Counsel)RE/MAX International, Inc. v. J. William Gurley, (TTAB) (Trademark Opposition) (Plaintiff's Counsel)RE/MAX International, Inc. v. Quality Realty and Yaodi Hu, (ND Illinois) (Trademark/Trade Dress Infringement) (Plaintiff's Counsel)Re/MAX International, Inc. v. Macahon, et al., (ND Illinois) (Trademark Infringement and Unfair Competition) (Plaintiff's Counsel)Rainbow Play Systems, Inc. v. Backyard Ventures Management, LLC, al., (D South Dakota) (False Advertising) (Plaintiff's Counsel)Rainbow Play Systems, Inc. v. Playground, Inc., (D South Dakota) (False Advertising) (Plaintiff's Counsel)Rainbow Play Systems, Inc. v. Solowave Design Corporation, (NAD) (False Advertising) (Counsel for Rainbow)Riverside Paper Corp. v. Fellowes Manufacturing Co., (ED Wisconsin) (Trademark/Trade Dress Infringement) (Defendant's Counsel)River West Brands, LLC v. Hardee's Food Systems, Inc. (TTAB) (Trademark Cancellation) (Defendant's Counsel)Robert Salomon v. Bank One, Illinois, N.A., , et al., (ND Illinois) (Copyright Infringement and Unfair Competition) (Defendants' Counsel)Roll Rite Corporation v. Automated Integrated Systems, (6th Cir.) (Appeal) (Trade Dress Infringement) (Plaintiff-Appellant's Counsel)River West Brands, LLC v. Hardee's Food Systems, Inc., (TTAB) (Trademark Cancellation) (Defendant's Counsel)Sands, Taylor v. Quaker Oats, (7th Cir.) (Bench Trial and Appeal) (Trademark Infringement) (Plaintiff-Appellee's Counsel)Sara Lee Corporation and Sara Lee Fresh, Inc. v. Pita Franchise Corp. and Frank J. Lombardo, (ND Illinois) (Trademark Infringement and Unfair Competition) (Plaintiffs' Counsel)Schiffmayer Plastics v. Menard, Inc., (ND Illinois) (Trademark, Trade Dress, and Patent Infringement) (Defendant's Counsel)Schnadig Corporation v. Collezione Europa U.S.A., (ND Illinois) (Design Patent Infringement) (Defendant's Counsel)Shaw Carpets v. Shaw Industries, Inc., (ED Virginia) (Trademark Infringement) (Defendant's Counsel)Shaw Industries, Inc. v. Equinox International Corporation, (TTAB) (Trademark Opposition) (Plaintiff's Counsel)Shaw Industries, Inc. v. Shawborne Industries, Inc., (TTAB) (Trademark Opposition) (Plaintiff's Counsel)Shure Brothers, Inc. v. Pro DJ, Inc., Taky Electronics Co., Ltd., SHS Musical Wholesale and Music Go Round, (ND Illinois) (Trademark, Trade Dress and Copyright Infringement) (Defendants' Counsel)Siemens Medical Solutions USA, Inc. v. Accuscan Health Imaging, LLC, (D Utah) (Trademark Infringement, Dilution and Unfair Competition) (Plaintiff's Counsel)Tai-Pan, Inc. v. Virgin Records America, Inc., Columbia Pictures, Inc. and The Spice Girls, (MD Florida) (Trademark Infringement) (Defendants' Counsel)Tassos Enterprises, Inc. v. Toss Brands, LLC, (ND IL) (Trademark Infringement) (Defendant's Counsel)Tektronix, Inc. v. The Whitaker Corporation, (TTAB) (Trademark Opposition) (Defendant's Counsel)Ten West Apparel, Inc. v. Menard, Inc., (SD New York) (Trademark Infringement) (Defendant's Counsel)The Thermos Company and Nippon Sanso Netherlands B.V. v. Igloo Products Corp., (ND Illinois) (Trademark Infringement) (Defendant's Counsel)Transcraft v. Doonan Trailer Corporation, (ND Illinois) (Trademark and Trade Dress Infringement) (Defendant's Counsel)Trus Joist Macmillan, L.P. v. Shaw Industries, Inc., (TTAB) (Trademark Opposition) (Defendant's Counsel)Tyson Foods, Inc. v. Daikure USA Inc. & Café Entrée Inc., (D Arkansas) (Trademark, Trade Dress, and Trade Secret Infringement) (Plaintiff's Counsel)Tyco Electronics Logistics AG v. Axicom, LLC, (TTAB) (Trademark Cancellation) (Plaintiff's Counsel)Universal Beauty, Inc. v. Summit Laboratories, Inc., (Cir Ct. Cook Cty.) (Trade Secret Misappropriation) (Plaintiff's Counsel)Warner-Lambert Co. v. Alo Science, Inc., (ND Illinois) (Trade Dress Infringement) (Plaintiff's Counsel)Warrior Insurance Group, Inc. v. insureon.com, Inc., (ND Illinois) (Trademark Infringement, Dilution and Unfair Competition) (Defendant's Counsel)The Whitaker Corporation v. Amptronix, Inc., (TTAB) (Trademark Opposition) (Plaintiff's Counsel)The Whitaker Corporation v. Altinex, Inc., (TTAB) (Trademark Opposition) (Plaintiff's Counsel)The Whitaker Corporation v. Authentic Fitness Products, Inc., (TTAB) (Trademark Opposition) (Plaintiff's Counsel)The Whitaker Corporation v. Chauvin Arnoux, Inc., (TTAB) (Trademark Opposition) (Plaintiff's Counsel)The Whitaker Corporation v. Electric Power Research Institute, Inc., (TTAB) (Trademark Opposition) (Plaintiff's Counsel)The Whitaker Corporation v. Ishiyama, (TTAB) (Trademark Opposition) (Plaintiff's Counsel)The Whitaker Corporation v. Pepsico, Inc., (TTAB) (Trademark Opposition) (Plaintiff's Counsel)The Whitaker Corporation v. Steve Marks, (TTAB) (Trademark Opposition) (Plaintiff's Counsel)The Whitaker Corporation v. Todd A. Schafer, (TTAB) (Trademark Opposition) (Plaintiff's Counsel)The Whitaker Corporation v. Superconductor Technologies, Inc., (TTAB) (Trademark Opposition) (Plaintiff's Counsel)The Whitaker Corporation v. Amp'd Mobile, Inc., (TTAB) (Trademark Opposition) (Plaintiff's Counsel)The Whitaker Corporation v. United Global W & C Inc., (Canada) (Trademark Opposition) (Plaintiff's Counsel)Zimnicki v. Neo-Neon Int'l Ltd., et al., (N.D. Ill.) (Copyright Infringement) (Defendant's Counsel)Challenge of Advertising – Rainbow Play Systems, Inc. v. Solowave Design Corporation, (NAD) (Counsel for Rainbow)
Educational Background:
BA Purdue University

,

1987
Show More
Kevin J. McDevitt:
Last Updated: 4/15/2021