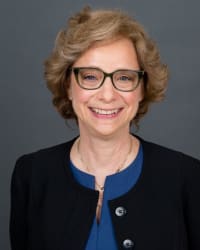 Law Office of Adrienne B. Naumann
Practice Areas: Intellectual Property; view more
Licensed in Illinois since: 1984
Education: Chicago-Kent College of Law, Illinois Institute of Technology

Selected to Super Lawyers: 2017 - 2023

Free Consultation
Law Office of Adrienne B. Naumann
8210 North Tripp
Skokie, IL 60076
Visit website
Details
Ms. Naumann earned her law degree from Chicago-Kent College of Law with high honors and as a published member of the Law Review. She also holds a master's degree from the University of Illinois where she was the recipient of grants, research assistantships and teaching assistantships. Ms. Naumann was elected to the Nu Pi Sigma Honorary Society at the University of Chicago and received a Jurisprudence Award in Torts from her law school.
Admitted to practice in Illinois, Ms. Naumann is licensed to appear before federal courts including the U.S. District Court for the Northern District of Illinois, the U.S. Patent and Trademark Office, Seventh Circuit Court of Appeals, and the Federal Circuit. Ms. Naumann has provided intellectual property law for almost 30 years, and she provides this expertise with flat attorney fees for patent, trademark and copyright prosecution. Ms. Naumann is also an expert in the laws of trade secrets, confidential information and shop rights. 
Ms. Naumann currently serves as Secretary and Board member of the University of Chicago Women's Alliance as well as Board of Directors member for the University of Chicago Alumni  Club.
Ms. Naumann has also served upon the e-discovery pilot program committee sponsored by  the  U. S. Court of Appeals for the Seventh Circuit  and the Alumni Board of Directors at the Illinois Institute of Technology. During her tenure on the e-discovery pilot committee, Ms. Naumann presented on e-discovery topics and drafted a comprehensive proposal to reduce e-litigation costs for small and medium sized entities. Ms. Naumann has also served as Chairman of the Science, Technology and Law committee for the Chicago Bar Association, and she currently remains a member of this Association.
Ms. Naumann has written  and published extensively on a wide range of cutting-edge intellectual property topics.  Ms. Naumann is also a faculty member of  APEXCLE where she records her original and accredited continuing legal education intellectual property presentations. These video presentations are generally ninety minutes in length and are distributed nationally for CLE credit to participating attorneys. 
Practice areas
Intellectual Property
Focus areas
Copyrights, Intellectual Property Law, Patents, Trademarks
100% Intellectual Property
First Admitted: 1984, Illinois
Professional Webpage: http://www.naumannpatentcopyright.com/About/
Educational Background:
M.S., University of Illinois

B.A., University of Chicago 
Special Licenses/Certifications:
Licensed to practice before the united States Patent & Trademark Office

,

1989
Other Outstanding Achievements:
Election to the Board of Directors for the University of Chicago Alumni Club

,

2019

continued A+ rating from Better Business Bureau of Northern Illinois

Re-election to the national University of Chicago Women's Alliance Alumni Board of Directors as Program Coordinator. Election to the national University of Chicago Alumni Club Board of Directors

,

2019
Scholarly Lectures/Writings:
This article discusses this recent Surpreme Court decision which held that Congress did not have constitutional authority to enact the Copyright Remedy Clarification Act.

,

Sole author

,

Who's the Pirate Here? Allan v. Cooper

,

Intellectual Property for Business People

,

Attorneys, Paralegals And Business People Worldwide

,

2020

This article addresses computer programs as copyright eligible written works. There is also a comparison to patent eligibility of computer programs, as well as the advantages of copyright protection for these works.

,

sole author

,

Back to copyright basics Part 4

,

Intellectual Property for Business People

,

Businesses, Entrepreneurs, Corporations, Inventors, Innovators, Artist, Writers, Musicians And Other Persons And Entities With Intellectual Property Of Any Kind

,

2022

This article addresses fair use, obtaining permissions for use of a third party's work; and international copyright protection.

,

sole author

,

Back to copyright basics, second Part 3

,

Intellectual Property for Business People

,

Businesses, Entrepreneurs, Corporations, Inventors, Innovators, Artist, Writers, Musicians And Other Persons And Entities With Intellectual Property Of Any Kind

,

2022

This article addresses: 1. reasons persons should invest in copyright registration in a timely manner; 2. common misconceptions about copyright;  

,

sole author

,

Back to copyright basics part 3

,

Intellectual Property for Business People

,

All Inventors, Businesses, Corporation, Artists, Writers And Other Persons And Entities With Intellectual Property Of Any Kind.

,

2022

This article focuses upon the definitions of, and differences between, United States copyright ownership and authorship.  It also discusses transfers of copyright ownership and the lifetime of enforceable copyright.

,

sole author

,

Back to Copyright Basics Part 2

,

Intellectual Property for Business People

,

All Inventors, Businesses, Corporation, Artists, Writers And Other Persons And Entities With Intellectual Property Of Any Kind.

,

2022

This article addresses basic U.S. copyright legal concepts as well as eligible subject matter categories  which are eligible for copyright registration.

,

sole author

,

Back to Basics of Copyright Part 1

,

Intellectual Property for Business People

,

Corporations, Not For Profits And Other Businesses; Inventors, Innovators, Artists, Writers, Musicians, choreographers, Software Programmers, And Any Other Person Or Entity With Intellectual Property

,

2022

This article addresses the most common issues with clients: fees, provisional application, subject matter eligibility and sufficient technical information for all patent applications.

,

sole author

,

What your mom did not tell you about patents Part 1

,

Intellectual Property for Business People

,

Corporations, Not For Profits And Other Businesses Both National Or International; Artists, Writers, Software Specialists, Musicians And Any Other Individual Or Entities With Any Kind Of Intellectual Property

,

2022

This article addresses a decision of the U. S. Court of Appeals for the Federal Circuit . This decision holds that federal patent law pre-empts state law tort law absent bad faith, and  that speech related to patent infringement is protected by the First Amendment.

,

sole author

,

Wonder of Wonders Miracle of Miracles: Lite-Netics v. Nu Tsai Capital

,

Intellectual Property for Business People

,

Businesses, Entrepreneurs, Corporations, Inventors, Innovators, Artist, Writers, Musicians And Other Persons And Entities With Intellectual Property Of Any Kind

,

2023

The discussion focused primarily upon copyright and patents.

,

Presenter of responses addressing intellectual property to questions posed by Mr. Steve Leahy, Esq.

,

Intellectual Property Podcast

,

July 29, 2022 The Trust Radio Network, and sponsored by Open Tax Advocates, Radio AM 560.

,

All Inventors, Businesses, Corporation, Artists, Writers And Other Persons And Entities With Intellectual Property Of Any Kind.

,

2022

This 90 minute presentation also includes  a 140 slide power point handout. Together they address patent and trade secret decisions  in the U.S. federal appellate courts, and in particular the Federal Circuit, from 2021 through June 2022. The topics covered include,  although not exclusively, inventorship, transfer agreements, trade secret misappropriation, anticipation, obviousness, written description, enablement and  indefinite claims 

,

sole author and presenter

,

Recent Developments in Biomedical IP law

,

ApexCLE, Inc., Mt. Prospect, Illinois

,

Pharmaceuticals, Bioengineering, Genetic Engineering, Medical Devices, Business People, Scientists, Professors, Physicians

,

2022

This article discusses  licensing practices by companies who assert patent infringement for their patent portfolios. The FTC expressly discouraged unsubstantiated language  such as "patent trolls" and "non-practicing entities"  to describe these companies.

,

sole author

,

Respect [Just a Little Bit]-Federal Trade Commission Patent Infringement Litigation Report

,

Intellectual Property for Businesspeople

,

Manufacturing, Entrepreneurs, Inventors, Scientists, Writers, Artist, Software Developers, Etc.

,

2021

This article addresses the circumstances under which a diagnostic medical method comprisesi patent eligible subject matter. To do so, it discusses a recent federal district court decision in which the patent owner's patents were invalidated because  there were no new claimed elements in addition to a non-eligible natural phenomenon.

,

sole author

,

IT HAPPENED ONE NIGHT: Caredx v Natera

,

Intellectual Property for Business People

,

Including But Not Exclusively: Legal, Paralegal, Business, Finance, Economics, Visual Arts, Music, Literary And Inventors

,

2021

This article confirms the minimal effect of patent assertion letters upon licensing for patent assertion entities. It also provides information from the 2016 Federal Trade Commission Report about  the percentage of  licenses  which generate the most revenue for patent assertion entities, as well as the recognizedsolvency of many of these entities.

,

sole author

,

RUMOR HAS IT: Federal Trade Commission Report on Patent Assertion Entities continued

,

Intellectual Property for Business People

,

Legal, Paralegal, Business, Financial, Economic, Art, Dance, Literary, Biotechnology And Others

,

2021

This article addresses the legal and financial attributes of a large portion of non-practicing entities which commence  patent infringement lawsuits and/or license many patents in their portfolios.. The conclusion is that the 2016 Federal Trade Commission Report  contradicts a great many  factual misconceptions about the funding and structure of these businesses. 

,

Sole author

,

Something to Talk About: Federal Trade Commission Report on Patent Assertion Entities

,

"Intellectual Property for Business People"

,

Legal, Paralegal, Scientific, Engineering, Business, Art, Literary And Technical Industries

,

2021

This article addresses the Oregon state anti-patent statute  which imposes civil liability for the distribution of bad faith patent infringement notification/warning letters. Two Oregon federal district court decisions held that this state law was pre-empted by the federal patent statute with respect to evidence requirements and pleading requirements.

,

sole author

,

GO WEST YOUNG PATENT HOLDER: Oregon anti-patent statute

,

" Intellectual Property for Business People"

,

Non-exclusive List: Legal, Paralegal, Business, Finance, Economics, Visual Art, Software, Literary, Inventors And Educational Institutions

,

2021

This article addresses the 2016 government report which comprehensively studied the business and litigation practices of patent holding companies in the United States.  The article proposes that patent holding entities  (i) are  the only viable recourse for independent inventors to protect their investments from patent infringement;  (ii) specialize in to access  to compensation for independent inventors ;and (iii) provide an efficient equitable patent marketplace.

,

Sole author

,

NOT SORRY: Federal Trade Commission Report on Patent Holding Companies

,

"Intellectual Property for Business People"

,

Legal, Paralegal, Scientific, Engineering, Business, Art, Literary And Technical Industries

,

2021

This article addresses the 2016 Federal Trade Commission report on patent holding companies as well as their business and litigation practices.  This report includes the proposition that small and  medium sized business innovators, as well as independent inventors, absolutely require patent holding companies for patent enforcement, because they have no other recourse against misappropriation of patented inventions.

,

Sole author

,

NOT SORRY : Federal Trade Commission Report on Patent Holding Companies Part 2

,

"Intellectual Property for Business People"

,

Legal, Paralegal, Scientific, Engineering, Business, Art, Literary And Technical Industries

,

2021

This article addresses a federal district court decision upholding the North Caroline state statute which imposes penalties for sending a bad faith  patent infringement cease and desist letter. The court dismisses constitutional, statutory interpretation and federal pre-emption reasons why the statute does not comprise a legitimate exercise of the state's regulation for unfair competition.

,

Sole author

,

A Farewell to Patents: NAPCO v. Landmark Technology, A, LLC

,

"Intellectual Property for Business People"

,

Legal, Paralegal, Scientific, Engineering, Business, Art, Literary And Technical Industries

,

2021

This article discusses U.S. federal district court decisions  with litigation under state law anti-patent  statutes  as counterclaims in patent infringement litigation. These state statutes  enable an alleged infringer to counterclaim that the  patent owner sent a cease and desist in bad faith and is liable for damages  to the alleged patent infringer. The anti-patent statutes were ostensibly implemented to curb unethical behavior of  patent owning entities who distribute hundreds of phony infringement letters to other businesses. The cases to date clearly illustrate that these state statutes have been used exclusively  to harass business competitors, and I have found no decisions  in which a truly unethical entity has been sanctioned.

,

Sole author

,

A little less conversation, a little more action please: Blackberry Fallout Part 3

,

"Intellectual Property for Business People"

,

Legal, Paralegal, Scientific, Engineering, Business, Art, Literary And Technical Industries

,

2021

This article addresses state anti-patent statutes which were ostensibly enacted to curb patent owning companies which send bad faith patent assertion letters to targeted entities and individuals. These companies then pressure these entities and individual to settle  questionable threatened lawsuits. The article concludes that these recently enacted statutes are clearly overbroad and significantly injure the ability of legitimate patent owners to protect their products and services. The author also recommends that current federal and state laws are sufficient to solve this problem in an even handed and more narrowly tailored manner.

,

Sole author

,

Try a fly swatter and not an atom bomb: Blackberry Aftermath Part 2

,

"Intellectual Property for Business People"

,

Legal, Paralegal, Scientific, Engineering, Business, Art, Literary And Technical Industries

,

2021

This article discusses the Blackberry settlement and begins with a description of the litigation leading up to the settlement. The article also analyzes (i) a patentee's right to exclude and (ii) how the resulting fallout from the payout to the patentee  fundamentally conflicts with long standing property rights  as well as the United States patent statute.

,

Sole author

,

Food for Thought: Reminisces on the Blackberry settlement

,

Intellectual Property for Business People

,

Legal, Paralegal, Scientific, Engineering, Business, Art, Literary And Technical Industries

,

2021

This article discusses biomedical inventions which the United States Court of Appeals for the Federal Circuit has found to be patent eligible subject matter under 35 U.S.C. section 101. Two such categories are clear, consistent, and  easily foreseeable, while a remaining category is also easily foreseeable but not patent eligible. The most recent relevant United States Supreme Court decisions are also addressed.

,

sole author

,

Once More with Feeling: Patent Eligibility Part 2

,

"Intellectual Property for Business People"

,

Legal, Paralegal, Scientific, Engineering, Business, Art, Literary And Technical Industries

,

2021

The article addresses the recent spike in cancellation of patents and patent applications  in the United States Court of Appeals for the Federal Circuit based upon patent ineligible subject matter. The focus is upon computer related inventions because of the clear foreseeable categories that exhibit different probabilities of being properly drafted as enforceable patents.

,

Sole author

,

Many Called Few Chosen: Patent Eligiblity

,

"Intellectual Property for Business People"

,

Legal And Paralegal Communities As Well As Art, Literary, Design, Scientific, Computer Related And Engineering Communities

,

2021

This article discusses the  requirements for submitting a request for non-publication to the United States Patent & Trademark Office. This request, if properly submitted prevents the patent office from publishing a patent application application on the internet eighteen months are the application is submitted thereto.  The article also addresses the consequences of not submitting the request  for non-publication for a patent application.

,

Sole author

,

Just One of those Things: Non-publication request for your patent application

,

Intellectual Property for Business People

,

Businesses, Scientists, Artists, Paralegals, Attorneys And All Other Relevant Industries

,

2021

This  sixty minute videotaped presentation addresses selected U.S. Court of Appeals for the Federal Circuit decisions from 2020 and 2021. These decisions  whether  whether inventions ----disputed in several procedural postures---- comprise patent eligible subject matter under United States law.

,

Sole author and presenter

,

Patent Eligible Subject Matter 2020-2021

,

ApexCLE

,

Attorneys, Paralegals, Creative Arts, Inventors, Software Developers And Businesspeople.

,

2021

This article discusses the initial U.S. patent office adversarial proceeding between the University of California  and  the Broad Institute, Harvard and MIT. The  prize was a new gene splicing technique worth potentially millions of dollars in licensing fees in the biomedical industry. The  U.S. Court of Appeals for the Federal Circuit eventually affirmed the U.S. Patent Trial & Appeal Board's decision, i.e., that U.C's technique and Broad's technique comprised two distinct inventions.

,

Sole author

,

"Loose Lips Sink Ships"

,

Friendly Passages (in press)

,

Attorneys, Paralegals, Scientists, Business People World Wide

,

2021

This article addresses the right to privacy pitfalls in the photography industry. 

,

Sole author

,

What is it hard? Photograph Part 2

,

Intellectual Property for Business People

,

Attorneys, Paralegals And Business People Worldwide

,

2021

This article addresses U.S. trademark and copyright infringement pitfalls  in the photography field.

,

Sole author

,

What is it hard? Photography Part 1

,

Intellectual Property for Business People

,

Attorneys, Paralegals And Business People Worldwide

,

2020

This article addresses the history and substance of the United States Court of Appeals for the Federal Circuit opinion in the above captioned case.

,

Sole author

,

We're mad as h--- and we're not going to take it any more! American Axle & Manufacturing, Inc. v. Neapco Holdings LLC

,

Intellectual Property for Business People

,

Attorneys, Paralegals And Business People Worldwide

,

2021

This article comprises a description of several basic provisions and requirements of all contracts in the United States.

,

Sole author

,

Time Flies when You're having Fun: Learning U.S. Contract Basics

,

Intellectual Property for Business People

,

Attorneys, Paralegals, Scientists, Business People World Wide

,

2020

The United States Supreme Court held that a defense based upon a trademark infringement settlement could proceed where the claim in an earlier proceeding (i) exclusively addressed a single trademark which (ii) was different from  trademarks that were litigated in a subsequent proceeding between the same parties. The Court also based its decision upon the observation that the claims occurred at different times.

,

Sole author

,

It's the claim preclusion stupid: Lucky Brand Dungarees v. Marcel Fashions

,

Intellectual Property for Business People

,

Attorneys, Paralegals And Business People Worldwide

,

2020

Discussion of a recent U. S. Supreme Court decision holding that annotations which are an integral  part of an official state code, and  prepared under the authority of the state legislature, are not copyright eligible in the United States.  In particular, the Court resolved that works prepared by state officials during their official duties are within the scope of the government edits doctrine, and therefore these works are not copyright eligible on this basis.          

,

Sole Author

,

Peaches, peanuts and statutes oh my! Georgia v. Public.Resource

,

Intellectual Property for Business People

,

Attorneys, Paralegals And Business People Word Wide

,

2020

This  article details the background and holding of the U. S. Court of Appeals for Federal Circuit,  and wherein the court affirmed the Patent Office Trial and Appeal Board decision in The University of California et al.  v. The Broad Institute et al. litigation. In its  decision the Federal Circuit held that the in vitro bioengineered invention of the University of California was a distinct and separate invention from the in vivo bioengineered invention of the Broad Institute.  

,

Sole author

,

Loose Lips Sink Ships

,

Intellectual Property for Business People

,

Attorneys, Paralegals, Business People Wordwide

,

2020

Title of article: Let the Punishment Fit the Crime: Halo Electronics, Inc.  v. Pulse Electronics, Inc. This U.s. supreme  Court decision restored a trial court's discreton to award treble damages for patent infringement based upon evidence solely for subjective bad faith. 

,

writer

,

Author

,

Friendly Passages November/December 2016

,

Legal

,

2016

This article discusses judicial decisions which resolve threatened misappropriation claims under the Act.

,

Sole author

,

Inevitable Disclosure under the Defend Trade Secrets Act

,

Intellectual Property for Business People

,

Attorneys, Paralegals, Business People World Wide

,

2020

This article addresses recent judicial decisions interpreting the federal Defend Trade Secrets Act. In particular, there are discrepancies in interpretation with respect to the necessary elements for threatened misappropriation. So far, the appellate circuit or state in which a federal district court sits appears to determine the evidentiary or allegation requirements for a plaintiff.

,

Author: Adrienne B. Naumann, Esq.

,

Plain old run of the mill threatened misappropriation

,

Intellectual Property for Business People

,

Attorneys, Paralegals And Business People Wordwide

,

2020

This pending United States Supreme Court decision will resolve whether a computer program's (i) organization and (ii) specific code forcomputer instructions are each, in and of themselves, copyright eligible. If they are copyright eligible does copying of these computer instructions and the computer program organization without authorization compriise fair use?

,

Author: Adrienne B. Naumann, Esq.

,

Declarations of Independence? Google v. Oracle

,

Intellectual Property for Business People

,

Attorneys, Paralegals And Business People Worldwide

,

2020

This Supreme Court pending decision will resolve whether two generic terms comprising a single logo are ever eligible for trademark status in the United States. More specifically, can 'booking' which is generic for hotel reservation services, and the internet domain identifier '.com,' be combined to create a trademark eligible descriptive mark?

,

Author: Adrienne B. Naumann, Esq.

,

Book of (Generic?) Business: USPTO v. Booking.com

,

Intellectual Property for Business People

,

Attorneys, Paralegals, And Business People World Wide

,

2020

This recent United States Supreme Court decision confirms a wide scope of non-appealable patent office decisions in inter partes review which are non-appealable. Specifically, in this instance the patent office's decision to commence an inter parties review  is not subject to judicial review  even though the statutory deadline to submit the initial petition had expired. 

,

Author: Adrienne B. Naumann, Esq.

,

Thryv is Thriving! Thryv v. Click-to-Call Technologies, LP

,

Intellectual Property for Business People

,

Attorneys, Paralegals And Businesspeople Wordwide

,

2020

This article is a discussion of the recent United States Supreme Court decision addressing the statutory trademark infringement remedy of defendant's profits.

,

Author: Adrienne B. Naumann, Esq.

,

Beware of whom you hook up with: Romag Fasteners v. Fossil

,

Intellectual Property for Businesspeople

,

Attorneys, Paralegals, Business Communities Worldwide

,

2020

This book addresses in detail the significant judicial decisions and statutory provisions of the United States federal Defend Trade Secrets Act. It also addresses in detail the United States Supreme Court  intellectual property decisions for the 2018-2019 term. This book is approximately 120 pages in length.

,

Author: Adrienne B. Naumann, Esq.

,

United States Federal Intellectual Property Developments 2018-2019

,

Publisher: Pincus Professional Education

,

International Attorney, Paralegal, Business Communities

,

2019

FRIENDLY PASSAGES is a law journal published by the Friends of the Rupert J. Smith Law Library of St. Lucie County, Florida.

,

scholarly publication about recent updates in trade secret protection

,

"Don't Let Your Cat or Trade Secrets Out of the Bag"

,

FRIENDLY PASSAGES Summer 2018, pp. 25, 27 and 28.

,

All Attorneys

,

2018

Intellectual Property for Business Persons, Author

,

Author: Adrienne B. Naumann, Esq.

,

United States Federal Intellectual Property Developments 2018-2019

,

Publisher: Pincus Professional Education

,

2019
Honors/Awards:
Continued A+ rating by BBB

,

Better Business Bureau

,

BBB

,

2021

Graduation with HIGH HONORS

,

American Jurisprudence Award in Torts

,

IIT Chicago-Kent College of Law

Argonne National Laboratory, Summer Internship

Recipient of Sigma Xi Grant in Aid of Research

Nu Pi Sigma Honorary Society, University of Chicago, Member

Chicago-Kent Law Review, Published Member

Chicago Bar Association

,

Member

Teaching and Research Assistantships, University of Illinois
Videos:
July 29, 2022. One hour podcast interview with questions by Mr. Steven Leahy, Esq. addressing intellectual property. The Trust Radio Network sponsored by Open Tax Advocates, Radio AM 560.

,

Intellectual Property Interview

,

Businesses, Consumers, Entrepreneurs, Artists, Writers, Photographers, Architects, Computer Related Professionals And Inventors

,

2022
Bar/Professional Activity:
Election to second two-year term on University of Chicago Club Board of Directors for Chicago

,

2021

Federal Seventh Circuit Bar, Member

Former Chairman, Science, Technology and Law Committee of the Chicago Bar Association

Former 12-year University of Chicago's Women's Alliance, Board Member and Secretary

Federal Bar for the Northern District of Illinois, Member

Seventh Circuit E-Discovery Pilot Program Committee

Federal Circuit Bar, Member

Illinois Institute of Technology Alumni Board of Directors, Past Member
Transactions:
Legal review of social worker's manuscript;  drafat and submission of a U.S. copyright registration application therefore.

,

2022

Preparation of memorandum and e-mail memoranda addressing intent to use and current use service mark applications for the U.S. federal register on behalf of a client.

,

2023

Submission of maintenance fees for two client patents

,

2023

This project comprised a brief, two declarations and attachments in a non-final reply to the patent office in a request for continued examination for a mechanical invention. The brief comprised one hundred and two pages, and one declaration comprised twenty-two pages. There were six attachments and exhibits.

,

2023

Draft and submission of a request for continued examination  of a patent utility application for a mechanical invention. This request included an eighty-five page brief as well as two declarations.

,

2022

Review of client's 80 page manuscript entitled "Improving Healthcare & Retail Customer Experiences" for proper citation to the appropriate source; proper designation of intellectual property ownership such as United States trademark and copyright symbols; identification of manuscript passages carrying possible tort liability for claims such as, but not exclusively,  false light, invasion of privacy, and defamation.  

,

2020

Draft of assignment of rights from LLC members to the LLC, and on behalf of sixth client/author-artist.

,

2019

Settlement of cease and desist claim from seventh client's former employer.

,

2019

Draft of non-disclosure transfer of rights agreements for third parties, and prepared on behalf of a sixth client/author-artist.

,

2020

Draft of non-disclosure transfer of rights agreement for second inventor for potential licensees and developers

,

2019

Draft of non-disclosure transfer of rights agreement for inventor-client to present to third parties, and especially potential manufacturing licensees; draft of introductory letter to potential manufacturing licensees for the same inventor-client.  

,

2019
Pro bono/Community Service:
As Board Member and Secretary of the University of Chicago Women's Alliance authored the revised Policy Statement on behalf of this affinity group (which is also  part of the University of Chicago).

,

2021

Appointed and participated as cochairman of my college class reunion committee.

,

2021

As Secretary and Board Director for University of Chicago Women's Alliance (CWA): Drafted and edited  CWA bylaws as chairman of bylaws committee, and  especially with respect to term limits, fundraising and removal from the Board position.  

,

2021
Industry Groups:
and any person
App Developers
apparel design
Artists
Business
Businesses
computer programmers
Inventors
or organization with confidential information
Physicians
Scientists
trade secrets and/or shop rights
Writers
Office location for Adrienne B. Naumann
8210 North Tripp
Skokie, IL 60076
Phone: 847-329-8185
Selections
Super Lawyers: 2017 - 2023
Additional sources of information about Adrienne B. Naumann
Attorney resources for Adrienne B. Naumann