Ashley Marks
Top rated Social Security Disability attorney in Indianapolis, Indiana
Hankey Marks & Crider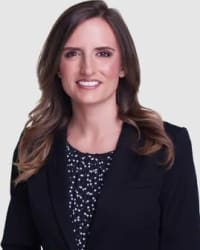 Hankey Marks & Crider
Practice Areas: Social Security Disability, Employee Benefits, Personal Injury; view more
Licensed in Indiana since: 2011
Education: Indiana University Robert H. McKinney School of Law

Selected to Rising Stars: 2015 - 2024

Free Consultation
Hankey Marks & Crider
429 E Vermont St
Suite 200
Indianapolis, IN 46202
Visit website
Details
Ashley Marks is a Partner at the Hankey Marks & Crider in Indianapolis, Indiana, where she primarily handles Social Security Disability matters, long-term disability matters, ERISA litigation, and personal injury cases. She represents clients in Indiana, and in surrounding states.
Her experience, professionalism and commitment to her clients have earned Ms. Marks respect from her peers and recognition from professional organizations. In 2012, the American Association for Justice named her an advocate, and in 2014, The National Trial Lawyers featured her on its "Top 40 Under 40" list. She has been named as a Rising Star by SuperLawyers from 2014 - 2023.
Outside of her law practice, Ms. Marks serves her community in various ways. She is an active member of both the Indianapolis Bar Association and the Indiana State Bar Association. She regularly speaks at disability support groups, including groups for people who have traumatic brain injuries. She also regularly volunteers with her local church in the children's ministry. 
Ms. Marks earned two bachelor's degrees in English and philosophy from Indiana University, and received her law degree from Indiana University Robert H. McKinney School of Law. While she was a law student, she served as an intern for the legal department at Indiana University School of Medicine and served on the board of an international moot court competition. During her last two years of law school, she was a law clerk for the Hankey Marks & Crider.
Following law school graduation, Ms. Marks passed the Indiana bar examination. She was admitted to practice before all Indiana state courts and joined Hankey Law Office as an attorney. She is also licensed to practice in the United States Court of Appeals for the 7th Circuit. Since that time, Ms. Marks transitioned into management, and was named as a Partner in 2021.
Practice areas
Social Security Disability, Employee Benefits, Personal Injury - General: Plaintiff
Focus areas
Personal Injury - Plaintiff
40% Social Security Disability

30% Employee Benefits

30% Personal Injury - General: Plaintiff
First Admitted: 2011, Indiana
Professional Webpage: https://www.hankeylawoffice.com/about/ashley-d-marks/
Verdicts/Settlements (Case Results):
In June of 2020, I obtained a settlement for a claimant regarding their denied long term disability benefits in the Southern District of Indiana

In June of 2020, I successfully achieved reinstatement of long term disability benefits for a claimant during the administrative appeals process

In June of 2020, I successfully achieved reinstatement of long term disability benefits for a claimant during the administrative appeals process

In May of 2020, I prevailed during oral argument before the United States District Court in the Northern District of Indiana. I was representing a Plaintiff who had been denied their Social Security Disability benefits by an Administrative Law Judge

In May of 2020, I successfully achieved reinstatement of long term disability benefits for a claimant during the administrative appeals process

In April of 2020, I successfully achieved reinstatement of long term disability benefits for a claimant during the administrative appeals process

In April of 2020, I successfully achieved reinstatement of long term disability benefits for a claimant during the administrative appeals process

In April of 2020, I successfully achieved reinstatement of long term disability benefits for a claimant during the administrative appeals process

In February of 2020, I successfully achieved reinstatement of long term disability benefits for a claimant during the administrative appeals process.

In January of 2020, I obtained a settlement for a claimant regarding their denied long term disability benefits in the Southern District of Indiana

In January of 2020, I obtained a settlement for a claimant regarding their denied long term disability benefits in the Southern District of Indiana

In January of 2020, I successfully achieved reinstatement of long term disability benefits for a claimant during the administrative appeals process

In December of 2019, I successfully achieved reinstatement of long term disability benefits for a claimant during the administrative appeals process

In December of 2019, I obtained a settlement for a claimant regarding their denied long term disability benefits in the Southern District of Indiana

In November of 2019, I successfully achieved reinstatement of long term disability benefits for a claimant during the administrative appeals process

In November of 2019, I successfully achieved reinstatement of long term disability benefits for a claimant during the administrative appeals process

In November of 2019, I successfully achieved reinstatement of long term disability benefits for a claimant during the administrative appeals process

In November of 2019, I successfully achieved reinstatement of long term disability benefits for a claimant during the administrative appeals process

In November of 2019, I obtained a settlement for a claimant regarding their denied long term disability benefits in the Southern District of Indiana

In October of 2019, I obtained a settlement for a claimant regarding their denied long term disability benefits in the Southern District of Indiana

In October of 2019, I successfully obtained a settlement for my client regarding unpaid wages through mediation

In September of 2019, I successfully achieved reinstatement of long term disability benefits for a claimant during the administrative appeals process

In August of 2019, I obtained a settlement for a claimant regarding their denied long term disability benefits in the Southern District of Indiana

In August of 2019, I successfully obtained a settlement for my client regarding unpaid wages through mediation

In August of 2019, I obtained a settlement for a claimant regarding their denied long term disability benefits in the Southern District of Indiana

In August of 2019, I prevailed during oral argument before the United States District Court in the Southern District of Indiana. I was representing a Plaintiff who had been denied their Social Security Disability benefits by an Administrative Law Judge

In August of 2019, I successfully achieved reinstatement of long term disability benefits for a claimant during the administrative appeals process

In July of 2019, I obtained a settlement for a claimant regarding their denied long term disability benefits in the Southern District of Indiana

In June of 2019, I successfully achieved reinstatement of long term disability benefits for a claimant during the administrative appeals process

In May of 2019, I obtained a settlement for a claimant regarding their denied long term disability benefits in the Southern District of Indiana

In May of 2019, I successfully achieved reinstatement of long term disability benefits for a claimant during the administrative appeals process

In April of 2019, I successfully achieved reinstatement of long term disability benefits for a claimant during the administrative appeals process

In April of 2019, I successfully achieved reinstatement of long term disability benefits for a claimant during the administrative appeals process

In March of 2019, I successfully achieved reinstatement of long term disability benefits for a claimant during the administrative appeals process

In March of 2019, I successfully achieved reinstatement of long term disability benefits for a claimant during the administrative appeals process 

In March of 2019, I successfully achieved reinstatement of long term disability benefits for a claimant during the administrative appeals process  

In February of 2019, I successfully achieved reinstatement of long term disability benefits for a claimant during the administrative appeals process

In January of 2019, I successfully achieved reinstatement of long term disability benefits for a claimant during the administrative appeals process

In January of 2019, I successfully achieved reinstatement of long term disability benefits for a claimant during the administrative appeals process

In January of 2019, I obtained a settlement for a claimant regarding their denied long term disability benefits in the Southern District of Indiana

In November of 2018, I obtained a settlement for a claimant regarding their denied long term disability benefits in the Southern District of Indiana

In November of 2018, I obtained a settlement for a claimant regarding their denied long term disability benefits in the Southern District of Indiana

In September of 2018, I successfully achieved reinstatement of long term disability benefits for a claimant during the administrative appeals process

In September of 2018, I obtained a settlement for a claimant regarding their denied long term disability benefits in the Southern District of Indiana

In August of 2018, I successfully achieved reinstatement of long term disability benefits for a claimant during the administrative appeals process

In July of 2018, I prevailed during oral argument before the United States District Court in the Southern District of Indiana. I was representing a Plaintiff who had been denied their Social Security Disability benefits by an Administrative Law Judge

In July of 2018, I successfully achieved reinstatement of long term disability benefits for a claimant during the administrative appeals process

In June of 2018, I successfully achieved reinstatement of long term disability benefits for a claimant during the administrative appeals process 

In May of 2018, I successfully achieved reinstatement of long term disability benefits for a claimant during the administrative appeals process

In April of 2018, I successfully achieved reinstatement of long term disability benefits for a claimant during the administrative appeals process

In April of 2018, I successfully achieved reinstatement of long term disability benefits for a claimant during the administrative appeals process

In April of 2018, I obtained a settlement for a claimant regarding their denied long term disability benefits in the Southern District of Indiana

In March of 2018, I obtained a settlement for a claimant regarding their denied long term disability benefits in the Southern District of Indiana 

In March of 2018, I prevailed during oral argument before the United States District Court in the Southern District of Indiana. I was representing a Plaintiff who had been denied their Social Security Disability benefits by an Administrative Law Judge

February of 2018, I obtained a settlement for a claimant regarding their denied long term disability benefits in the Southern District of Indiana

In February of 2018, I successfully achieved reinstatement of long term disability benefits for a claimant during the administrative appeals process

In February of 2018, I obtained a settlement for a claimant regarding their denied long term disability benefits in the Southern District of Indiana

In February of 2018, I obtained a settlement for a claimant regarding their denied long term disability benefits in the Southern District of Indiana

In February of 2018, I successfully achieved reinstatement of long term disability benefits for a claimant during the administrative appeals process

In January of 2018, I successfully achieved reinstatement of long term disability benefits for a claimant during the administrative appeals process

In December of 2017, I obtained a settlement for a claimant regarding their denied long term disability benefits in the Southern District of Indiana

In December of 2017, I obtained a settlement for a claimant regarding their denied long term disability benefits in the Southern District of Indiana

In November of 2017, I obtained a settlement for a claimant regarding their denied long term disability benefits in the Southern District of Indiana

In November of 2017, I obtained a settlement for a claimant regarding their denied long term disability benefits in the Southern District of Indiana

In November of 2017, I successfully achieved reinstatement of long term disability benefits for a claimant during the administrative appeals process

In November of 2017, I successfully achieved reinstatement of long term disability benefits for a claimant during the administrative appeals process

In November of 2017, I successfully achieved reinstatement of long term disability benefits for a claimant during the administrative appeals process

In October of 2017, I obtained a settlement for a claimant regarding their denied long term disability benefits in the Southern District of Indiana

In September of 2017, I obtained a settlement for a claimant regarding their denied long term disability benefits in the Southern District of Indiana

In September of 2017, I prevailed during oral argument before the United States District Court in the Southern District of Indiana. I was representing a Plaintiff who had been denied their Social Security Disability benefits by an Administrative Law Judge

In September of 2017, I successfully achieved reinstatement of long term disability benefits for a claimant during the administrative appeals process

In September of 2017, I successfully achieved reinstatement of long term disability benefits for a claimant during the administrative appeals process

In August of 2017, I successfully achieved reinstatement of long term disability benefits for a claimant during the administrative appeals process

In August of 2017, I successfully achieved reinstatement of long term disability benefits for a claimant during the administrative appeals process

In August of 2017, I successfully achieved reinstatement of long term disability benefits for a claimant during the administrative appeals process

In July of 2017, I successfully achieved reinstatement of long term disability benefits for a claimant during the administrative appeals process 

In July of 2017, I obtained a settlement for a claimant regarding their denied long term disability benefits in the Southern District of Indiana

In June of 2017, I prevailed during oral argument before the United States District Court in the Southern District of Indiana. I was representing a Plaintiff who had been denied their Social Security Disability benefits by an Administrative Law Judge

In June of 2017, I obtained a settlement for a claimant regarding their denied long term disability benefits in the Southern District of Indiana

In May of 2017, I successfully achieved reinstatement of long term disability benefits for a claimant during the administrative appeals process

In May of 2017, I obtained a settlement for a claimant regarding their denied long term disability benefits in the Southern District of Indiana

In May of 2017, I prevailed during oral argument before the United States District Court in the Southern District of Indiana. I was representing a Plaintiff who had been denied their Social Security Disability benefits by an Administrative Law Judge

In May of 2017, I obtained a settlement for a claimant regarding their denied long term disability benefits in the Southern District of Indiana

In April of 2017, I obtained a settlement for a claimant regarding their denied long term disability benefits in the Southern District of Indiana

In March of 2017, I obtained a settlement for a claimant regarding their denied long term disability benefits in the Southern District of Indiana

In March of 2017, I obtained a settlement for a claimant regarding their denied long term disability benefits in the Southern District of Indiana 

In February of 2017, I successfully achieved reinstatement of long term disability benefits for a claimant during the administrative appeals process 

In January of 2017, I obtained a settlement for a claimant regarding their denied long term disability benefits in the Southern District of Indiana 

In January of 2017, I obtained a settlement for a claimant regarding their denied long term disability benefits in the Southern District of Indiana 

In January of 2017, I obtained a settlement for a claimant regarding their denied long term disability benefits in the Southern District of Indiana

In November of 2016, I obtained a settlement for a claimant regarding their denied long term disability benefits in the Southern District of Indiana

In July of 2016, I successfully achieved reinstatement of long term disability benefits for a claimant during the administrative appeals process  

In June of 2016, I successfully achieved reinstatement of long term disability benefits for a claimant during the administrative appeals process 

In November of 2015, I obtained a settlement for a personal injury client through informal negotiations

In October of 2015, I obtained a settlement for a personal injury client through informal negotiations 

In October of 2015, I prevailed during oral argument before the United States District Court in the Southern District of Indiana. I was representing a Plaintiff who had been denied their Social Security Disability benefits by an Administrative Law Judge

In September of 2015, I successfully achieved reinstatement of long term disability benefits for a claimant during the administrative appeals process  

In January of 2015, I successfully achieved reinstatement of long term disability benefits for a claimant during the administrative appeals process

In December of 2014, I obtained a settlement for a personal injury client through informal negotiations

In December of 2014, I obtained a settlement for a personal injury client through informal negotiations

In November of 2014, I obtained a settlement for a personal injury client through informal negotiations

In November of 2014, I successfully achieved reinstatement of long term disability benefits for a claimant during the administrative appeals process

In October of 2014, I successfully achieved reinstatement of long term disability benefits for a claimant during the administrative appeals process

In October of 2014, I obtained a settlement for a claimant regarding their denied long term disability benefits in the Southern District of Indiana

In September of 2014, I successfully achieved reinstatement of long term disability benefits for a claimant during the administrative appeals process

In September of 2014, I obtained a settlement for a claimant regarding their denied long term disability benefits in the Southern District of Indiana
Honors/Awards:
National Trial Lawyers: Top 40 under 40, 2014 

Named as a Rising Star by Super Lawyers, 2015-2019

Named as a Rising Star by Super Lawyers, 2014 - 2020

Named as a Rising Star by Super Lawyers, 2014 - 2019

Top 40 Under 40

,

National Trial Lawyers

,

2013

Advocate

,

American Association for Justice

,

2012

Best Overall Written Brief

,

Indiana University Robert H. McKinney School of Law

,

2010
Educational Background:
Bachelor Degree, English - Indiana University Purdue University - Indianapolis

,

2007

Bachelor Degree, Philosophy - Indiana University Purdue University - Indianapolis

,

2007
Scholarly Lectures/Writings:
I spoke at NBI's Social Security Claims from A to Z. This conference was certified for CLE credit. Specifically, I covered the topic: How to Cross-Examine Vocational Experts. In addition to speaking, I prepared over 20 pages of written material for the handouts

,

Joint Speaker

,

Social Security Claims from A to Z: How to Cross-Examine Vocational Experts

,

NBI

,

Legal

,

2019

I was the sole speaker at NBI's conference: Social Security Disability: Proving Orthopedic / Musculoskeletal Claims. This conference was approved for CLE credit. In addition to speaking, I prepared over 40 pages of material for the handout

,

Sole Speaker

,

Social Security Disability: Proving Orthopedic / Musculoskeletal Claims

,

NBI

,

Legal

,

2020

I gave an informational speech and presentation to a group of mental health professionals and their staff members regarding the rules and regulations governing SSDI and SSI claims in the context of mental health impairments

,

Main Speaker

,

SSDI / SSI Informational Session

,

Mental Health Care Provider

,

2018

I gave an informational speech and presentation to a group of people with traumatic brain injuries, their support persons, and medical professionals regarding the rules and regulations governing SSDI and SSI claims

,

Main Speaker

,

Brain Injury Support Group

,

2017

I gave an informational speech and presentation to a group of mental health professionals and their staff members regarding the rules and regulations governing SSDI and SSI claims in the context of mental health impairments

,

Main Speaker

,

SSDI / SSI Informational Session

,

2017

I gave an informational speech and presentation to a group of mental health professionals and their staff members regarding the rules and regulations governing SSDI and SSI claims in the context of mental health impairments

,

Main Speaker

,

SSDI / SSI Informational Session

,

Mental Health Care Provider

,

2016

I spoke during one of the beakout sessions at KEY Consumer's annual conference. The entire Social Security Disability process was examined from start to finish, with an ample amount of time spent answering specific questions from the crowd

,

Joint Speaker

,

The Disability Process from Start to Finish

,

Mental Health Professionals And Individuals With Mental Disabilities

,

2015

I gave an informational speech and presentation to a group of mental health professionals and their staff members regarding the rules and regulations governing SSDI and SSI claims in the context of mental health impairments. 

,

Main Speaker

,

SSDI / SSI Informational Session

,

Mental Health Care Provider

,

2014
Bar/Professional Activity:
Active member of the Indianapolis Bar Association, representing the organization at multiple naturalization ceremonies throughout the year

,

2020

Active member in the American Association for Justice

Active member of the American Bar Association

,

2020

Active member of the Indiana State Bar Association

,

2020

Active member of the American Bar Association

,

2019

Active member of the Indiana State Bar Association

,

2019

Active member of the Indianapolis Bar Association, representing the organization at multiple naturalization ceremonies throughout the year

,

2019

Active member of the Indiana State Bar Association

,

2018

Active member of the American Bar Association

,

2018

Active member of the Indianapolis Bar Association, representing the organization at multiple naturalization ceremonies throughout the year

,

2018

Active member of the Indiana State Bar Association

,

2017

Active member of the American Bar Association

,

2017

Active member of the National Employment Lawyers Association

,

2017

Active member of the Indianapolis Bar Association, representing the organization at multiple naturalization ceremonies throughout the year

,

2017

Active member of the Indiana State Bar Association

,

2016

Active member of the Indianapolis Bar Association, representing the organization at multiple naturalization ceremonies throughout the year.

,

2016

Active member of the National Employment Lawyers Association

,

2016

Active member of the American Bar Association. 

,

2016

Active member of the Indiana State Bar Association

,

2015

Active member of the National Employment Lawyers Association. 

,

2015

Active member of the American Bar Association

,

2015

Active member of the Indianapolis Bar Association, representing the organization at multiple naturalization ceremonies throughout the year

,

2015
Pro bono/Community Service:
Represented the Indianapolis Bar Association during several naturalization ceremonies in Indianapolis. 

,

2020

Volunteered for Second Helpings several times throughout the year. Second Helpings is a local non-profit dedicated to helping to end hunger in our community through waste reduction from local vendors. 

,

2020

Volunteered at the Hope Center several times throughout the year. The Hope Center is a local non-profit dedicated to helping women escape and recover from sex trafficking. 

,

2020

Volunteered for LifeBridge several times throughout the year. LifeBridge is a local non-profit dedicated to helping children excel.  

,

2020

Volunteered at Night to Shine in Indianapolis - a prom experience for individuals with disabilities. 

,

2019

Volunteered for Second Helpings several times throughout the year. Second Helpings is a local non-profit dedicated to helping to end hunger in our community through waste reduction from local vendors. 

,

2019

Represented the Indianapolis Bar Association during several naturalization ceremonies in Indianapolis. 

,

2019

Volunteered for LifeBridge several times throughout the year. LifeBridge is a local non-profit dedicated to helping children excel.  

,

2019

Represented the Indianapolis Bar Association during several naturalization ceremonies in Indianapolis. 

,

2018

Volunteered at Night to Shine in Indianapolis - a prom experience for individuals with disabilities. 

,

2018

Volunteered for LifeBridge several times throughout the year. LifeBridge is a local non-profit dedicated to helping children excel.  

,

2018

I worked an informational booth at the Indiana Conference on Disability. I answered questions primarily regarding workplace accommodations and Social Security disability. I also provided them with relevant materials on these subjects. 

,

2017

Volunteered at Night to Shine in Indianapolis - a prom experience for individuals with disabilities. 

,

2017

Volunteered for LifeBridge several times throughout the year. LifeBridge is a local non-profit dedicated to helping children excel.  

,

2017

Represented the Indianapolis Bar Association during several naturalization ceremonies in Indianapolis. 

,

2017

Represented the Indianapolis Bar Association during several naturalization ceremonies in Indianapolis. 

,

2016

Volunteered at Night to Shine in Indianapolis - a prom experience for individuals with disabilities. 

,

2016

I worked an informational booth at the Indiana Conference on Disability. I answered questions primarily regarding workplace accommodations and Social Security disability. I also provided them with relevant materials on these subjects. 

,

2016

I worked an informational booth at Key Consumer's annual conference. I answered questions primarily regarding the Social Security disability process and passed out informational material. 

,

2016

I was a board member for the KEY Consumer organization. 

,

2016

Represented the Indianapolis Bar Association during several naturalization ceremonies in Indianapolis. 

,

2015

I worked an informational booth at Key Consumer's annual conference. I answered questions primarily regarding the Social Security disability process and passed out informational material. 

,

2015

While on the board for KEY Consumer, I led my group in organizing the first 5K to raise money for the organization. This run/walk successfully took place in October of 2015.

,

2015

I worked an informational booth at the Indiana Conference on Disability. I answered questions primarily regarding workplace accommodations and Social Security disability. I also provided them with relevant materials on these subjects. 

,

2015

I was a board member for the KEY Consumer organization. 

,

2015

I was a board member for the KEY Consumer organization. 

,

2014

I worked an informational booth at Key Consumer's annual conference. I answered questions primarily regarding the Social Security disability process and passed out informational material. 

,

2014

I worked an informational booth at the Indiana Conference on Disability. I answered questions primarily regarding workplace accommodations and Social Security disability. I also provided them with relevant materials on these subjects. 

,

2014
Office location for Ashley Marks
429 E Vermont St
Suite 200
Indianapolis, IN 46202
Phone: 317-599-4111
Selections
Rising Stars: 2015 - 2024
Additional sources of information about Ashley Marks
Attorney resources for Ashley Marks