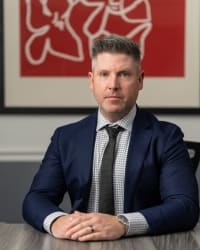 Waddell Law Firm LLC
Practice Areas: Consumer law, Business litigation, Construction litigation; view more
Licensed in Kansas since: 2002
Education: The University of Kansas School of Law

Selected to Super Lawyers: 2019 - 2022

Selected to Rising Stars: 2009 - 2010, 2013 - 2016

Free Consultation
Waddell Law Firm LLC
1900 W 75th St
Suite 220
Prairie Village, KS 66208
Visit website
Details
As the managing member of the Waddell Law Firm LLC, A. Scott Waddell specializes in representing Kansas and Missouri consumers in various types of consumer protection cases.   Although Mr. Waddell's case load is diverse, the vast majority of his clients' cases stem from violations of the the Missouri Merchandising Practices Act (MMPA), Kansas Consumer Protection Act (KCPA) and Magnuson-Moss Warranty Act.
Mr. Waddell also provides representation to consumers and small businesses throughout Kansas and Missouri in litigation spanning multiple practice areas, including consumer protection class actions, business litigation and construction defect cases.
A native of Amarillo, Texas, Mr. Waddell earned his undergraduate degree at the University of Kansas in 1999 and attended law school at the same institution, earning his Juris Doctor in 2002.  Admitted to practice in Missouri and Kansas, he also practices before the U.S. District Courts for the Western District of Missouri and the District of Kansas.
Mr. Waddell is the former president of the Kansas Bar Association's Litigation Section.  Mr. Waddell is a member of the National Association of Consumer Advocates (NACA), the Kansas Association of Justice (KSAJ) and Missouri Association of Trial Attorneys (MATA).  He resides in Lenexa, Kansas with his beautiful wife Delane and daughters, Finley Renee and Lauren Ashley.
Practice areas
Consumer law, Business litigation, Construction litigation: consumer
Focus areas
Auto dealer fraud, Consumer protection, Fraud, Construction defects
80% Consumer law

10% Business litigation

10% Construction litigation: consumer
First Admitted: 2002, Missouri
Professional Webpage: https://www.aswlawfirm.com/About/A-S-Waddell.shtml
Educational Background:
University of Kansas, B.A., 1999
Bar/Professional Activity:
U.S. District Court, District of Kansas, 2003

Former President, Kansas Bar Association, Litigation Section

,

2010

U.S. District Court, Western District of Missouri, 2002

Kansas, 2002

Missouri, 2002
White Papers:
"Zombie debt" refers to old debt purchased by independent debt collectors with hopes of intimidating consumers into paying the debt.  Until relatively recently, few creditors attempted to collect on older delinquent accounts in fear of throwing good money after bad.  Today, however, collecting on older debts and collection accounts is increasing.  Aggressive companies often buy charged-off and/or delinquent credit accounts from original creditors for only pennies on the dollar.  Independent collection agencies then use sophisticated technologies and algorithms to help locate debtors that are most likely to pay up, creating tremendous margins for the debt collector(s).  Often times, consumers pay the debts belonging to other debtors, including family or even strangers, in a mere attempt to avoid further collection efforts and harassment.  The FDCPA            Unfortunately, federal legislation passed to address these problems generally provides little recourse against abusive behaviors.  Specifically, the Fair Debt Collection Practices Act ("FDCPA") only provides for an aggrieved plaintiff's actual damages or $1,000, whichever is greater, irrespective of how abusive or egregious the debt collector's conduct. 15 U.S.C. § 1692k(a)(2).  Actual damages can often be difficult and expensive to prove, with the finder of fact often focusing solely on whether or not the debtor owed the underlying debt.  This "risk" provides a minimal deterrent to illegal, problematic and financially rewarding collection behavior.  Moreover, the $1,000 "cap" on statutory damages has not changed since the drafting of the FDCPA in 1977.  In fact, a reasonable adjustment for inflation would result in a statutory damage cap of approximately $3,500.00 today.             Further, the FDCPA is especially "toothless" in confronting actionable "zombie debt" collections because of it's one-year statute of limitations under 15 U.S.C. § 1692k(d).  Specifically, consumers rarely have actual knowledge that debts or accounts previously paid off in full or settled have been bundled up and sold to a new collector until many years after new collection activities commence.  This situation often leaves the most culpable of potential defendants beyond the reach of the FDCPA.   Perhaps even worse than the short limitations period, the FDCPA provides defendants the "bona fide error" affirmative defense, which often insulates debt collectors from any liability even when they concede and/or stipulate to a violation of the FDCPA. 15 U.S.C. § 1692k(d).  A defendant in an FDCPA action seeking the protection of the bona fide error defense must prove that the violation was (1) unintentional, (2) a bona fide error, and (3) made despite the maintenance of procedures reasonably adapted to avoid the error. 15 U.S.C. § 1692k(c).  This defense, virtually always pled by defendants in an FDCPA action, often completely absolves the alleged "strict liability" nature of the FDCPA and puts intent squarely at issue. Caputo v. Professional Recovery Services, Inc., 261 F.Supp.2d 1249, 1255 (D.Kan. 2003).  The Kansas Consumer Protection Act ("KCPA") provides a solution to the limitations and weaknesses of the FDCPA.  First, the KCPA provides for actual or civil penalties of up to $10,000 for each violation of the KCPA, whichever is greater. K.S.A. § 50-636 (a).  This civil penalty can be enhanced to $20,000 per violation if the aggrieved plaintiff is either disabled or elderly (60 years of age or older). K.S.A. § 50-677.   Second, the statute of limitations for the KCPA is three years rather than the one year limitation for the FDCPA.  Third, most violations of the KCPA under an either deceptive or unconscionable practices theory do not require proving intent. Haag v. Dry Basement, Inc., 11 Kan.App.2d 649, 650, 732 P.2d 392, rev. denied 241 Kan. 838 (1987).  The KCPA can also be violated irrespective of whether a consumer was actually misled or relied upon the deceptive act or practice.  In short, under the KCPA there is no factual or legal issue regarding a defendant collection agency's "bona fide error" affirmative defense. The Kansas Supreme Court has previously held that "an independent debt collection agency falls within the definition of a 'supplier' and is subject to the provisions of the KCPA" if three conditions are satisfied: (1)   The debt sought to be enforced came into being as a result of the consumer transaction;(2)   The parties to the original consumer transaction were a "supplier" and a "consumer" as defined by the act; and (3)   The conduct complained of, either deceptive or unconscionable, occurred during the collection of, or an attempt to collect, a debt which arose from the consumer transaction and was owed to the original supplier. State ex rel. Miller v. Midwest Serv. Bur. of Topeka, Inc., 229 Kan. 322, 329, 623 P.2d 1343, 1349 (1981).  In Miller, the Kansas Supreme Court reviewed the legislative history of the KCPA and found that the legislature did not intend to preclude the application of the KCPA to debt collection activities. Id. at 328.  The Kansas Supreme Court reasoned that that a "debt collector is obviously engaged in enforcing a consumer transaction," which clearly meets the definition of a "supplier" contained in the KCPA. Id. at 324; see Kan. Stat. Ann. § 50-624(i) (supplier included any "other person who, in the ordinary course of business, solicits, engages in or enforces consumer transactions, whether or not dealing directly with the consumer").   The KCPA is to be liberally construed to protect Kansas consumers from suppliers who commit deceptive and unconscionable acts. K.S.A. § 50-623 (b).  Further, Kansas courts have liberally construed the KCPA in favor of consumers to encompass a variety of transactions. See State ex rel. Stephan v. Brotherhood Bank & Trust Co., 8 Kan.App.2d 57, 60, 649 P.2d 419, 422 (1982) ("Although the legislative history is open to several interpretations, the guiding principle to be applied in interpreting the KCPA is that the act is to be liberally construed in favor of the consumer.").  It is important to note that this application of the KCPA to "independent debt collectors" has been extended to attorneys. Rachoza v. Gallas & Shultz, 1998 WL 171280 *6 (D.Kan. 1998). U.S. Bureau of Labor Statistics.,

"Zombie Debt" Collection and the Applicability (and Favorability) of the Kansas Consumer Protection Act

,

2010
Other Outstanding Achievements:
Former President, Kansas Bar Association, Litigation Section

,

2010
Industry Groups:
Kansas Association Of Justice (KSAJ)
Missouri Association Of Trial Attorneys (MATA) And National Association Of Consumer Advocates (NACA)
Office location for A. Scott Waddell
1900 W 75th St
Suite 220
Prairie Village, KS 66208
Phone: 816-399-5510
Selections
Super Lawyers: 2019 - 2022
Rising Stars: 2009 - 2010, 2013 - 2016
Additional sources of information about A. Scott Waddell
Attorney resources for A. Scott Waddell