David Prelle Eron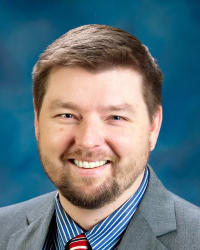 Attorney Profile
Top Rated Bankruptcy Attorney in Wichita, KS
Phone: 316-262-5500
Fax: 316-262-5559
Selected To Super Lawyers:
2013 - 2020
Selected To Rising Stars:
2012
Practice Areas:
Bankruptcy: Business (40%),
Business/Corporate (20%),
Business Litigation (20%),
Creditor Debtor Rights: Business (10%),
Bankruptcy: Consumer (10%)
Attorney Profile
David's is Wichita's only certified business bankruptcy specialist (American Board of Certification).  His practice is focused on chapter 11 and 12 work, representing debtors, creditors, and other parties. David's clients include farm entities and farmers, banks, manufacturers, restaurants, real estate entities, doctors, dentists, and other medical and health care providers and entities, and much more. David also has substantial experience in business and employment litigation, asset sales, contracts, lending, and other transactional work, and consumer bankruptcies.  David founded Eron Law in 2009, a boutique firm with special emphasis on customer service.  David has been recognized as an AV rated attorney since 2011, a Super Lawyer or Rising Star since 2012, and as one of the Best Lawyers in America since 2019.  He was also honored as one of Wichita's "40 Under 40" in 2015.  
David was honorably discharged from the United States Air Force in 1997.  He graduated from the University of Iowa College of Law in 2002, after which he practiced law in California with the firm of Klein DeNatale.  David spent three years as a trial attorney for the U.S. Trustee's Office before opening the Eron Law firm.  David is active in the American Bankruptcy Institute (past Coordinating Editor of the ABI Journal), the Wesley E. Brown Inn of Court (currently on the Executive Committee), and the Kansas Bar Association (past president of the Bankruptcy and Insolvency Section).  
Certificates and Credentials
About David Prelle Eron
Admitted: 2008, Kansas
Professional Webpage: https://www.eronlaw.net/team-members/david-prelle-eron/
Honors/Awards:
Selected as one of the 40 professionals in Wichita under the age of 40 making a significant impact on the Wichita economy and community.  

,

"40 Under 40"

, Wichita Business Journal,

2015

Selected as one of the best lawyers in the state of Kansas in the area of Bankruptcy and Creditor Debtor Rights / Insolvency and Reorganization Law.

,

Best Lawyers in America

, U.S. New & World Report,

2019

Award for outstanding service to the community through pro bono representation of clients.

,

Pro Bono Certificate

, Kansas Bar Association,

2013

Peer review rating.

,

AV Rated

, Martindale Hubbell,

2011
Special Licenses/Certifications:
Certified as a Business Bankruptcy specialist by the American Board of Certification, the only ABA approved agency for certifying bankruptcy specialists.

,

2015
Bar/Professional Activity:
Member--District of Kansas Federal Bench Bar Committee

,

2020

Wesley E. Brown Inn of Court, Barrister Rep

,

2019

Wesley E. Brown Inn of Court, Membership Chair

,

2015

Kansas Bar Association Insolvency Section--President

,

2014

Wesley E. Brown Inn of Court, Barrister

,

2013

Coordinating Editor, ABI Journal

,

2012

At large member--D. Kan. Bankruptcy Bench Bar Committee

,

2010

Member--Kansas Bar Association

,

2008

Member--Wichita Bar Association, Bankruptcy Committee

,

2006

Chair-Elect--Kern County Bar Association, Young Lawyers Section

,

2004

Member--Central California Bankruptcy Association

,

2003

Member--American Bankruptcy Institute

,

2003

Member--American Bar Association

,

2002
Pro bono/Community Service:
Mayflower Clinic, Board of Directors

,

2018

Committee Chair--Boy Scouts Pack 520

,

2011

Committee Chair, St. Thomas Aquinas Welcome Committee

,

2011

Committee Chair--Cub Scouts Pack 520

,

2009

Stand Down for Veterans Volunteer

,

2009

Den Leader--Cub Scouts Pack 520

,

2006

Foster Parent, California and Kansas

,

2005
Scholarly Lectures/Writings:
Journal article advocating for the exclusion of 401(k) distributions from the definition of "current monthly income" under 11 U.S.C. section 101(10A).

,

Author

,

401(k) Account Funds Should Be Considered Income at Time of Deposit

, American Bankruptcy Institute Journal,

Bankruptcy

,

2012

Article analyzing the uses of the term "income" in the bankruptcy code and the various meanings applied to that term.

,

Co-Author

,

Income Means Income--Except When It Doesn't

, ABI Journal,

Bankruptcy

,

2012

Journal article advocating for the inclusion of social security benefits when considering monthly disposable income under 11 U.S.C. section 707(b)(3).

,

Author

,

Social Security Benefits Must Be Included in a Debtor's Ability to Repay under BAPCPA

, American Bankruptcy Institute Journal,

Bankruptcy

,

2011

A Look at the New Small Business Chapter 11 Provisions given at the WBA seminar in 2020.

,

Author/Presenter

,

Absolution from the Absolute Priority Rule and Other Neat Tricks for Chapter 11 Debtors

, Wichita Bar Association,

Bankruptcy

,

2020

Presentation on bankruptcy crimes at the annual KBA seminar.

,

Author/Presenter

,

U.S. v. Lindemuth Case Study

, Kansas Bar Association,

Bankruptcy

,

2018

Ethics presentation at ABI 36th Annual Midwestern Bankruptcy Institute (September 2016).

,

Author/Presenter

,

Silence is not Golden: Disclosure Issues in Consumer Bankruptcies

, ABI,

Bankruptcy

,

2016

Student loan presentation at New Bankruptcy Rules, Forms and Fees You Must Know NOW! (December 2015)

,

Presenter

,

Student Loan Default: Repayment Options, Collections and Bankruptcy

, NBI,

Bankruptcy

,

2015

CLE Presentation on the legal requirements for obtaining a hardship discharge of student loan debts and the statistal probabilities of success.

,

Author/Presenter

,

The Elusive Prey of the Student Loan Discharge

, Kansas Bar Association / Wichita Bar Association,

Bankruptcy

,

2014

CLE Presentation regarding the ethical limits of an attorney's scope of representation and compensation in bankruptcy cases.

,

Presenter

,

Ensuring Ethical Conduct

, NBI,

Bankruptcy

,

2012

CLE presentation concerning the necessary forms included in bankruptcy filings and basic instruction for completing those forms.

,

Presenter

,

Bankruptcy Forms and Filing Process

, NBI,

Bankruptcy

,

2012

CLE presentation analyzing line by line approach to completion of the means test.

,

Presenter

,

A Step by Step Guide to Completing the Means Test

, Topeka Chapter 13 Trustee,

Bankruptcy

,

2008

CLE presentation on effective discovery and protection of electronic evidence.

,

Presenter

,

Electronic Evidence

, Kern County Bar Association,

Litigation

,

2003

CLE presentation concerning methods for accurately completing the means test under BAPCPA.

,

Presenter

,

Means Test

, Topeka Area Bankruptcy Counsel,

Bankruptcy

,

2006

CLE presentation concerning methods for accurately completing the means test under BAPCPA.

,

Presenter

,

Means Test

, Wichita Bar Association, Bankruptcy Committee,

Bankruptcy

,

2006

CLE presentation concerning methods for accurately completing the means test under BAPCPA.

,

Presenter

,

Means Test

, Kansas City Bankruptcy Bar Association,

Bankruptcy

,

2007

CLE presentation on different approaches to legal issues concerning the means test under BAPCPA.

,

Co-presenter

,

Means Test Interpretation: Views from the UST and the Debtors' Bar

, Kansas Bar Association, Bankruptcy Committee,

Bankruptcy

,

2007

CLE presentation concerning civil and criminal prosecution of fraud and abuse by the United States Trustee in bankruptcy cases.

,

Co-presenter

,

Abuse Motions and Criminal Prosecutions

, Wichita Bar Association, Bankruptcy Committee,

Bankruptcy

,

2008

CLE presentation concerning civil and criminal prosecution of fraud and abuse by the United States Trustee in bankruptcy cases.

,

Co-presenter

,

Discharge Issues and Criminal Prosecutions

, Kansas City Bankruptcy Bar Association,

Bankruptcy

,

2009

CLE presentation concerning civil and criminal prosecution of fraud and abuse by the United States Trustee in bankruptcy cases.

,

Co-presenter

,

Discharge Issues and Criminal Prosecution

, Topeka Area Bankruptcy Counsel,

Bankruptcy

,

2008

CLE presentation analyzing line by line approach to completion of the means test.

,

Presenter

,

A Step by Step Guide to Completing the Means Test

, Kansas City Bankruptcy Bar Association,

Bankruptcy

,

2008

CLE presentation on developing legal trends concerning interpretation of statutes related to the means test.

,

Presenter

,

Means Test Case Law Update

, Topeka Area Bankruptcy Counsel,

Bankruptcy

,

2007

CLE presentation on litigating adversary proceedings and contested matters in bankruptcy cases.

,

Co-presenter

,

Bankruptcy Litigation Skills

, Topeka Area Bankruptcy Counsel,

Bankruptcy, Litigation

,

2008

CLE ethics presentation concerning properly completing bankruptcy schedules.

,

Co-presenter

,

Ethical Issues in the Preparation of Schedules

, Wichita Bar Association, Bankruptcy Committee,

Bankruptcy

,

2010
Verdicts/Settlements:
Lashinsky v. Amphone (In re Amphone), 2020 Bankr. LEXIS 484 (D. Kan. Bankr. Feb 24, 2020)(after two day trial, judgment entered in defendant's favor on UST's complaint to deny discharge related to debtor's alleged failure to keep adequate records of gambling activity.),

2020

Dodson v. Flying Dove, Inc., 794 Fed. Appx. 778 (10th Cir. 2019), affirming Dodson v. Flying Dove, Inc., 2019 U.S. Dist. LEXIS 72150 (D. Kan. Apr 30, 2019)(summary judgment against plaintiff employee asserting claim for discrimination where employee's text messages to her supervisor clearly showed ample basis for her termination and her manager's comments were not direct evidence of religious discrimination as they did not reflect anti-Christian animus on their face.),

2019

In re Duensing, 2019 Bankr. LEXIS 598 (D. Kan. Bankr. Feb 22, 2019)(inter alia, student lender's objection to plan provision prohibiting application of payments to interest was overruled because §1222 specifically prohibited payment of interest to unsecured creditors (see Stull below)).,

2019

In re Hall, 2015 Bankr. LEXIS 1395 (D. Kan. Bankr. Apr 22, 2015)(debtor's father ordered to turnover 2014 crop proceeds to the chapter 11 estate when debtor had terminated the applicable leases in 2013, but father had subsequently planted and harvested crops and failed to turn over any of the proceeds.),

2015

Bank of Commerce & Trust Co. v. Schupbach (In re Schupbach), 607 Fed. Appx. 831 (10th Cir. 2015) (appeal dismissed as moot on account of intervening chapter 11 plan confirmation that "fully satisfied" the underlying claim being litigated, where creditor had failed to object to the plan or appeal the confirmation order),

2015

In re Hall, 520 B.R. 116 (D. Kan. Bankr. 2014)(although Chapter 11 debtor was not allowed to employ a law firm under 11 U.S.C.S. § 328(a) to represent him in his bankruptcy case on a contingency fee basis, bankruptcy court recognized complex issues debtor's counsel would face and allowed the debtor to pay counsel $450 per hour, which was substantially more than his normal rate of $225 per hour.),

2014

Bank of Commerce & Trust Co. v. Schupbach (In re Schupbach), 500 B.R. 22 (D. Kan. Bankr. 2013)(after two day trial, creditor's complaint to except from discharge under 11 U.S.C.S. § 523(a)(6) its conversion claim against the debtors was rejected since debtors did not convert the creditor's property and the evidence was inadequate to establish injury from conversion of collateral or to conclude that the debtors willfully and maliciously injured the creditor.),

2013

In re Stull, 489 B.R. 217(D. Kan. Bankr. Mar 27, 2013)(holding that a below median income debtor may elect to pay discretionary income to a student loan ahead of other claims, but denying plan confirmation because it proposed to pay interest on the claim in violation of § 1322(b)(10).),

2013

Pace v. Huehl (In re Huehl), 2013 Bankr. LEXIS 2518 (D. Kan. Bankr. May 30, 2013) (after three day trial on creditor's complaint for nondischargeability under 11 U.S.C.S. § 523, judgment entered for debtor because the evidence was insufficient to conclude that the debtor made a false representation concerning the March 4, 2003 agreement, that the debtor made the representation with the intent to deceive the creditor, or that the debtor's representation caused the creditor to sustain a loss.),

2013

Bank of Commerce & Trust Co. v. Schupbach (In re Schupbach), 473 B.R. 423 (Bankr. D. Kan. 2012)(dismissing part of dischargeability complaint as untimely filed and holding that Fed. R. Bankr. Proc. 1019 does not extend the deadline for dischargeability complaints upon conversion from chapter 13 to chapter 11.),

2012

In re Long, 470 B.R. 186 (Bankr. D. Kan. 2012)(overuling trustee's objection to debtor's use of federal exemption scheme on and holding that 11 USC 522 did not pre-empt states from limiting their exemptions to residents in the context of bankruptcy.),

2012

Fifth Third Bank v. Brooke Holdings, Inc., 2011 U.S. Dist. LEXIS 38068 (D. Kan. Apr 07, 2011)(motion to dismiss filed by banks denied where plaintiff had asserted sufficient facts to support a claim for tortious interference with business relationships.),

2011

Riederer v. Logan Wildlife Corp. (In re Brooke Corp.), 443 B.R. 847 (Bankr. D. Kan. 2010)(granting defendant's motion to compel inclusion of initial transferree in a fraudulent conveyance action and holding that under 11 USC 550 the initial transferree was a necessary party.),

2010

In re Wood, 408 B.R. 841 (Bankr. D. Kan. 2009)(ordering all attorney fees charged by national bankruptcy/debt settlement firm to be refunded to the debtor because the services were performed by individuals not licensed to practice law in the state of Kansas.),

2009

Turner v. Close (In re Close), 384 B.R. 856 (D. Kan. 2008)(confirming bankruptcy court order denying US Trustee's motion to dismiss as untimely filed under 11 USC 704 and establishing the applicable deadline as running from the date first set for the meeting of creditors.),

2008

In re Vogeler, 393 B.R. 240 (Bankr. D. Kan. 2008)(granting US Trustee's motion to dismiss case where chapter 7 debtor won the lottery immediately after filing bankruptcy and elected to spend funds rather than repay creditors.),

2008

Wieland v. Thomas, 382 B.R. 793 (D. Kan. 2008)(reversing bankruptcy court's denial of US Trustee's motion to dismiss and holding that Debtor could not claim vehicle ownership expense for vehicle owned free and clear of liens.),

2008

In re Schoen, 2007 Bankr. LEXIS 633 (Bankr. D. Kan. Mar. 2, 2007)(ruling that 11 USC 707(b)(3) allowed the court to consider debtor's actual ability to repay creditors regardless of the fact that no presumptive abuse existed.),

2007
Transactions:
Loan and LOC restructure for large construction company

,

2019

Sale-leaseback agreement of Wendy's franchise.

,

2018

Asset purchase agreement for largest warehouse in the State of Kansas.

,

2016

Loan structuring contract for construction of Magreb Place student apartments complex.

,

2016

Asset purchase agreement for Missouri utility company

,

2013
Representative Clients:
Unsecured Creditors' Committee--Mobile Addiction, LLC

,

2020

MPK Land & Livestock Company, LLC

,

2019

Knoll's, Inc.

,

2019

Unsecured Creditors' Committee--MWM Oil Company, Inc.

,

2019

Pertl Ranch, LLC and Pertl Ranch Feeders, LLC

,

2019

Vintage Bank

,

2018

Cox Enterprises, Inc.

,

2018

Unsecured Creditors' Committee--Energy Guard Inc.

,

2018

Chris Carlson Hot Rods, LLC

,

2017

Oracle America, Inc.

,

2016

Holly Ridge Development, LLC

,

2014

Complete Landscaping Systems, Inc.

,

2013

Value Place Hotel Franchises in Louisville, Clarksville, and Columbus

,

2012

Bank of Kansas

,

2011

Domino's Pizza

,

2011

L&T Machining, Inc.

,

2010

House of Hope, Inc.

,

2010
Educational Background:
B.A. Political Science, Iowa State University

,

1998

J.D. with distinction, University of Iowa College of Law

,

2002
Industry Groups
Agriculture
Health Care
Manufacturing
Real Estate
Service
Show More
David Prelle Eron:
Last Updated: 10/7/2020