Carl W. Walter II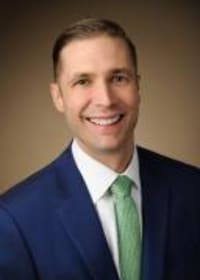 Attorney Profile
Top Rated Medical Malpractice Attorney in Lexington, KY
Phone: 859-368-8116
Fax: 859-368-8221
Selected To Rising Stars:
2015 - 2021
Practice Areas:
Personal Injury - Medical Malpractice: Defense (90%),
Health Care (10%)
Attorney Profile
Carl W. Walter II was born in Paducah, Kentucky. He graduated with honors from the University of Kentucky in 2003 and from the University of Kentucky College of Law, where he was the President of the Student Bar Association, in 2006. That same year he was admitted to practice in all state and federal courts in Kentucky. Upon graduation, Carl was employed by Boehl, Stopher & Graves, LLP, where his practice focused largely on general litigation and insurance defense.
Carl has represented various commercial entities throughout central and eastern Kentucky, where he has litigated aviation liability, automobile liability, premises liability, products liability, toxic tort, real estate transactions and general negligence claims. Carl joined Wellman, Nichols & Smith, PLLC in 2009, where his practice has primarily focused on medical negligence defense. He became a partner in the firm in 2013 and a named partner in the firm of Nichols Walter Darling Wellman in 2016. Carl focuses his practice on the defense in many aspects of medical negligence and has recently been named a Top 40 under 40 litigator in Kentucky.
About Carl Walter II
Admitted: 2006, Kentucky
Professional Webpage: http://www.kentuckylitigators.com/About-Our-Firm/Carl-W-Walt...
Scholarly Lectures/Writings:
Carl was a guest lecturer at the Brain Alliance of Kenutcky's Lexington Symposium in September, 2015. Carl's lecture provided great insight to physicians, mid-level providers, nurses and other health professionals regarding the litigation process and what to expect in the event that they became involved in a lawsuit.

,

Speaker

,

Brain Injury Alliance of Kentucky Lexington Board Symposium

,

2015
Verdicts/Settlements:
On October 21, 2013, 34-year-old, Mary West, presented to the St. Mary & Elizabeth emergency department, via ambulance, with complaints of chest pain and shortness of breath. While in the ambulance, the paramedics performed an EKG, that was abnormal. Upon presentation at the emergency department, Ms. West was triaged and seen by the Defendant, Dr. Melissa Welch. According to Dr. Welch and as reflected in her notes, Ms. West never complained to Dr. Welch of chest pain or exhibited any other cardiac related symptoms, even though it is documented in the nursing records. Dr. Welch was never given a copy of the EKG. Ms. West was discharged with a diagnosis of an upper respiratory infection. Within 35 minutes after returning home, Ms. West collapsed and died. On autopsy, it was found that Ms. West had a totally occluded proximal left main artery. Ms. West's three minor children brought claims for loss of consortium and her estate advanced claims for pain and suffering. The Plaintiffs' argued that Ms. West's condition warranted a cardiac work up and that had one been performed, Ms. West could have undergone cardiac catheterization and bypass and survived. The Plaintiffs experts were Dr. Michael Falgiani, an emergency medicine physician from Gainesville, Florida, and Dr. Kim Klancke, a cardiologist practicing in Daytona Beach, Florida. These experts argued that the EKG performed by EMS was significantly abnormal and had it been repeated, would have led to the performance of cardiac enzymes, which would have led to timely treatment and survival. They further argued that a 34-year-old woman with chest pain requires a cardiac work-up and even if Dr. Welch did not receive direct complaints of chest pain from Ms. West, there was sufficient documentation in the nursing notes to raise the suspicion of a cardiac issue. The Plaintiffs sought $2,000,000 for Ms. West's pain and suffering and $2,000,000 each for Ms. West's children for a total of $8,000,000.   Dr. Welch defended her care by asserting that Ms. West never had any cardiac related complaints while in her presence in the emergency department. While she acknowledged that the nursing records did have notations of shortness of breath and chest pain, it was her impression from those records that the chest pain was not cardiac in nature because it was with breathing. She further argued that the totally occluded proximal left main artery found on autopsy was a universally fatal condition and even had further work up been performed, Ms. West would have still died. In support of her position, Dr. Welch presented testimony from Dr. Stephan Stapczynski, an emergency medicine physician and professor at the University of Arizona and Dr. Dale Wortham, a professor of cardiology at the University of Tennessee. These experts confirmed that Dr. Welch had a right to rely on the patient's history as told to her by the patient and that the chest pain noted in the records was not cardiac in nature. Dr. Wortham opined that the EKG that was performed by EMS was not concerning for a cardiac event and that Ms. West would likely have died before any intervention could be provided even had a diagnosis been made. The jury returned a 9-3 verdict in favor of Dr. Welch. Dr. Welch was represented by Mark E. Nichols and Carl W. Walter II of the Lexington firm of Nichols Walter PLLC.

,

2019

On Friday, March 15, 2019, a Hardin County jury, in a unanimous decision found that Elizabethtown oral surgeon, James Hargan, DMD, MD., appropriately treated Blake Kerr. In June 2015, 17-year-old Blake Kerr, presented to Dr. Hargan's office for the extraction of his third molars (wisdom teeth). Following the procedure, he began experiencing numbness and pain in his tongue, cheek and gums and an inability to taste. Mr. Kerr was subsequently treated by Larry Cunningham at the University of Kentucky where it was discovered the Mr. Kerr suffered a lingual nerve injury. Efforts at repairing the nerve were unsuccessful and he was left with constant pain and the inability to taste. Despite the fact that nerve injuries are known complications of third molar extractions, Mr. Kerr filed suit and attempted to prove that Dr. Hargan either transected the nerve while making the incision to extract tooth No. 32 or injured the nerve while removing bone using a bur, either of which was below the standard of care. The Plaintiff's expert was Dr. Hamlet Garabedian, an oral and maxillofacial surgeon practicing in Los Angeles, who testified that Mr. Kerr's injury was caused by a direct interaction with the nerve and that regardless of the mechanism of injury that Dr. Hargan breached the standard of care by failing to appreciate a flared mandible and to take extra precautions to protect the lingual nerve because of that errant anatomy. Mr. Kerr sought $2,357,000 for pain and suffering and past medical expenses. Dr. Hargan defended his care by arguing that nerve injuries are known complications of third molar surgery and that when he approaches the surgery, he assumes the lingual nerve is in the most disadvantageous place and the surgical technique adequately protects a potential injury. Dr. Bradley Wurth, an oral surgeon practicing in Campbellsville, Somerset and Elizabethtown, Kentucky and Dr. George Kushner, a professor of oral and maxillofacial surgeon at the University of Louisville, supported Dr. Hargan's care and testified that there was no evidence of direct contact with the lingual nerve or perforation of the lingual plate and the surgical technique was adequate to protect against such injuries. They testified that Dr. Hargan met the standard of care and that the injury was not due to any improper surgical actions. A unanimous verdict was entered in favor of Dr. Hargan. Dr. Hargan and his practice were represented by Mark E. Nichols and Carl W. Walter II of the Lexington firm, Nichols Walter.

,

2019
Other Outstanding Achievements:
Named 3rd most prolific trial attorney in Kentucky. 

,

2019
Industry Groups
Birth Injuries
Dental
Emergency Medicine
General Surgery
Healthcare Facilities
Nursing
Ob/Gyn
Oral Surgery
Show More
Carl W. Walter II:
Last Updated: 9/14/2020