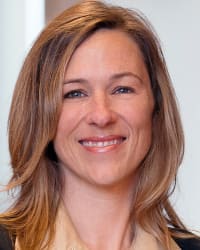 Stein Sperling Bennett De Jong Driscoll PC
Practice Areas: Business & corporate, Employment & labor, Employment litigation
Licensed in Maryland since: 1999
Education: University of Baltimore School of Law

Selected to Super Lawyers: 2023

Selected to Rising Stars: 2009 - 2010
Stein Sperling Bennett De Jong Driscoll PC
1101 Wootton Pkwy
Suite 700
Rockville, MD 20852
Phone: 301-838-3284
Email: Darla J. McClure Visit website
Details
A deep-seated desire to help people is the cornerstone of Darla McClure's business and employment law practice.  When clients hire Darla, they work with a lawyer who understands their needs, approaches matters from their vantage point and designs practical legal solutions to meet their individualized business objectives.  Darla's focus on serving her clients' best interests is underscored by her commitment to providing responsive answers, keeping clients informed and delivering the highest levels of service efficiently and effectively. 

Business clients need a trusted advisor who remains constant in an often tumultuous and fast changing legal climate.  Darla provides that steady hand.  She wants her clients to understand the potential risks they face, be informed of potential solutions to their problems and be able to reduce their level of stress knowing that she is in their corner working to protect them.  Darla's clients see her as part of their team and routinely call on her for advice and counsel, whether it is for straightforward everyday tasks such as reviewing a vendor agreement or something more complex such as setting up a subsidiary or developing a shareholder or operating agreement. 

In addition to her business and transactional practice, which includes mergers and acquisitions, a large part of Darla's practice includes counseling business clients on employment matters and resolution of employment disputes.  Working closely with management, she helps ensure compliance with state and local laws, assists in drafting employment policies, handling employee complaints and preparing contracts, such as restrictive covenant agreements confidentiality agreements and executive employment agreements.
First Admitted: 1999, Maryland
Professional Webpage: https://steinsperling.com/attorneys/darla-mcclure/
Honors/Awards:
Maryland Super Lawyer, Rising Star (2009-2010)

Martindale-Hubbell, AV Preeminent peer review rating
Bar/Professional Activity:
Bar Association of Montgomery County (2000-present)

Maryland State Bar Association (2000-present)

American Bar Association (2000-present)

Montgomery County Medical Society; Advisory Board (2007-2012)

Society for Human Resource Management; Montgomery County Chapter, Legislative Affairs Director (2011-2012)
Educational Background:
Towson University (B.A.)

,

1992

University of Baltimore (J.D.)

,

1999
Scholarly Lectures/Writings:
Darla McClure publishes MC SHRM Legislative Affairs Update for March 2013.Legislative UpdateThere are many bills that have been proposed in this legislative session that will affect employers. A few that we are watching closely are: an increase in the minimum wage to $8.25 in 2013, $9.00 in 2014 and $10.00 in 2015; providing employees with paid sick and safe leave that would accrue 1 hour for every 30 hours worked; and unpaid parental leave for up to 6 weeks for the birth or adoption of a child; provided however if the employer has over 50 or more employees it may have to provide paid leave. These bills are subject to modification and may even be withdrawn. We will keep you updated as more information becomes available. It is a good idea to attend the "Legislative Update" seminar in the spring where we will discuss what bills have become law and when they go into effect.,

Darla McClure publishes newsletter article on proposed employment law bills

,

2013

Darla McClure publishes MC SHRM Legislative Affairs Update for February 2013.Employers under Federal Contracts Must Offer Employment to Displaced Workers under the Predecessor ContractExecutive Order 13495 titled "Non-Displacement of Qualified Workers under Service Contract" was issued over four (4) years ago but did not go into effect until January 18, 2013, when the Federal Acquisition Regulatory (FAR) Council issued its regulations. Under this new regulation, when a new contract succeeds an existing government service contract, the contractors and subcontractors under the new contract are required to offer the predecessor contractors' employees a right of first refusal of employment. This is a required obligation, however, only if the work performed by the employees under the new contract is the same or similar and at the same location as the work under the prior contract. Successor contractors are allowed to reduce the size of the workforce and to give first preference to certain of their current employees.,

Darla McClure publishes article on "Non-Displacement of Qualified Workers under Service Contract"

,

2013

Individual Owners and Supervisors May Be Deemed "Employers",

Darla McClure publishes 'Individual Owners and Supervisors May Be Deemed "Employers"'

,

2013

Darla McClure publishes MC SHRM Legislative Affairs Update for January 2013.Owners of Businesses Can Now be Held Personally Liable under the Maryland Wage Payment and Collection ActThe Maryland Court of Special Appeals, in Campusano v. Lusitano Construction, LLC, has just held that an individual owner of a business can be sued personally under the Maryland Wage Payment and Collection Act (the "Act"). The Act is used by many employees to collect wages due and owing to them. In order for the business owner to be held personally liable for these amounts there must be evidence that the owner: (i) supervised and controlled the employee's work schedule or conditions of employment, (ii) had the power to hire and fire the employee, (iii) determined the rate and method of payment to the employee and (iv) maintained employment records . If an employer is found to have violated the Act, the employee can recover up to three (3) times the amount of the wages owed and his legal fees.,

Darla McClure explains the Maryland Wage Payment and Collection Act

,

2013

Compensable time under the Fair Labor Standards Act,

Darla McClure publishes

,

The Free State Accountant

,

2015

Is Your Client's Severance Agreement Enforceable?Virtually all severance agreements that I have reviewed, and certainly ones that I have drafted, contain a general release of all claims that may be brought by an employee against the employer. Payments of severance are typically conditioned on agreeing to this type of release. However, the language used in some severance agreements might run afoul of employee's rights according to the Equal Employment Opportunity Commission ("EEOC"),

Darla McClure publishes "Is Your Client's Severance Agreement Enforceable?"

,

The Free State Accountant

,

2013

Employment Law: Worker Classification, Pay Practices and Other Legal Updates • Darla J. McClure, J.D.; David S. De Jong, LL.M., CPA, CVA  This program will focus on payment of wages in accordance with Federal, State and Local law, including a discussion on minimum wages, overtime, compensation for travel time and payment of wages for exempt and non-exempt workers when taking time off. It will include a discussion of the Montgomery County Earned Sick and Safe Leave Law, which took effect on October 1, 2016. The status of workers as independent contractors versus employees will also be covered.

,

Speaker

,

A Trifecta of Hot Topics

,

2016

Employment law attorney Darla McClure will present on "Hiring and Firing Issues" at the 2016 Solo and Small Firm Principals Conference held by the Maryland Society of Accounting and Tax Professionals.

,

Speaker

,

Hiring and Firing Issues

,

Maryland Society Of Accounting And Tax Professionals

,

2016

Employment law attorney Darla McClure will present on "Hiring and Firing Issues" at the 2016 Solo and Small Firm Principals Conference held by the Maryland Society of Accounting and Tax Professionals.

,

Speaker

,

Hiring and Firing Issues

,

Maryland Society Of Accounting And Tax Professionals

,

2016

Effective January 31, 2012, (UPDATE– Extended until April 30, 2012) most private sector employers are required to post a notice advising employees of their rights under the National Labor Relations Act ("NLRA"). The NLRA guarantees the right of employees to organize and bargain collectively with their employers and to engage in other protected concerted activity. An employer should post this poster at their worksite in the same place as other federal posters advising employees of their rights. This notice must be in both English and in another language if at least 20% of employees are not proficient in English and speak the other language. The notice must be 11 x 17 inches in color or in black and white and can be downloaded and printed by going to www.nlrb.gov/poster. The National Labor Relations Board ("Board"), the agency which enforces the NLRA, does not audit workplaces or initiate enforcement actions on its own, and does not have the ability to assess fines or penalties. Notwithstanding, it should be noted that a failure to post the notice could be brought to the Board's attention by a charge filed by an employee, union or other person. Typically, if unaware of the requirement to post this notice, the Board would advise the employer of the requirement and the employer would comply without further action needed. However, if an employer knowingly and willfully fails to post the notice, that failure may be considered evidence of unlawful motive in an unfair labor practice case involving other alleged violations of the NLRA.

,

Author

,

Most Private Sector Employers Required to Post NLRA Notice

,

MC SHRM Newsletter

,

Montgomery County Society For Human Resource Management (MCSHRM)

,

2012

That was the question a Federal Court in Florida was asked to answer in the recent case of Pereda v. Brookdale Senior Living Communities, Inc., 2012 WL 43271 (CA. 11 (Fla.)). The facts of the case are simple – Ms. Pereda requested FMLA leave on or about June 2009 which would be taken after the birth of her child on or about November 30, 2009. At the time of the request, Ms. Pereda had only been employed by Brookdale for about 8 months. Soon after advising Brookdale of her pregnancy, Ms. Pereda experienced offensive and harassing conduct from Management. After putting Ms. Pereda on a performance plan and disciplining her for taking time off for a doctor's appointment, she was fired in September 2009. Ms. Pereda filed suit against Brookdale, alleging that Brookdale violated FMLA when it 1) denied her FMLA (interference) and 2) terminated her for exercising her right to take FMLA leave (retaliation). The District Court dismissed Ms. Pereda's complaint, stating that Brookdale could not have interfered with Ms. Pereda's FMLA rights because she was not entitled to FMLA leave at the time she requested it; and further, since she was not eligible for FMLA leave, Ms. Pereda could not have engaged in protected activity and so Brookdale could not have retaliated against Ms. Pereda. Ms. Pereda appealed this decision and the Appellate Court reversed the holding of the District Court and held that "[B]ecause the statute contemplates notice of leave in advance of becoming eligible (i.e. giving birth to a child), the FMLA regulatory scheme must necessarily protect pre-eligible em-ployees…" The Court further stated that because it found that the FMLA protects a pre-eligibility request for post-eligibility maternity leave, Ms. Pereda could also state a cause of action for retaliation. So, remember, when assessing an employee's eligibility under the FMLA, employers should make the calculation, not as of the date of the request, but as of the date the leave is to begin. If an employer terminates the employee "in order to avoid having to accommodate that employee with rightful FMLA leave rights once that employee becomes eligible, the employee could advance a claim that his/her rights under FMLA have been violated." Id.

,

Author

,

Does the Family and Medical Leave Act ("FMLA") protect a pre-eligibility request for post-eligibility maternity leave?

,

MC SHRM Newsletter

,

Montgomery County Society For Human Resource Management (MCSHRM)

,

2012

Recently, the U.S. District Court of Maryland heard a case involving claims of violations of the Fair Labor Standards Act ("FLSA"). The facts were simple. Three employees filed FLSA claims against their employer, Central Service, LLC, seeking recovery of overtime and minimum wage for all hours worked. Following mediation, the parties settled the underlying lawsuit, with the employer paying $6,000 to one employee and $2,750 each to the other two employees for a total of $11,500. After mediation, the employees' counsel filed a petition with the Court seeking recovery of its attorneys' fees of $71,840, representing 179.6 billable hours at a rate of $400 per hour. Central Service opposed the petition claiming the $400 per hour was excessive and counsel "over litigat-ed" the case resulting in too many billable hours. The Court held that the hourly rate was too high and reduced it to $300 and reduced the hours with regard to certain travel time. The end result was an award of $56,430 to employees for their attorneys' fees– almost 5 times the amount of the back wages recovered in the litigation. In reaching its conclusion, the Court said it was of no consequence that the attorneys' fees were more than the employees' claims. The Court went on to state that "In FLSA cases, like other dis-crimination or civil rights cases, the attorneys' fees need not be proportional to the damages plain-tiffs recover because the award of attorneys' fees in such cases encourages the vindication of Con-gressionally identified policies and rights." Allende v. Unitech Design, Inc., 783 F.Supp.2d 509, 511 (S.D.N.Y. 2011). It is important to note that while analyzing the costs associated with defending an FLSA claim, if the employer loses, it could not only have to pay its' own attorneys' fees, but that of the employee bringing the claim; and, unfortunately, the attorney's fees could be well over the actual amount claimed by the employee.

,

Author

,

Successful FLSA Claims by Employees Will Require an Employer to Pay Employees' Attorneys' Fees

,

MC SHRM Newsletter

,

Montgomery County Society For Human Resource Management (MCSHRM)

,

2012

The 2012 Maryland Legislative Session ends on April 9, 2012. There were a number of bills that were introduced during the session that affect employers and human resource professionals. Certain of these bills deal with jury service, medical use of marijuana, unpaid leave for parent-teacher conferences, and changes to anti-discrimination laws and definition of independent contractors. Robert Garagiola, a Maryland State Senator, will be speaking at the May 16, 2012 MC SHRM Chapter meeting where he will provide an in-depth review of the new laws that were passed affecting Maryland employers.  Some new laws will go into affect as early as June 1, 2012 while many others will go into affect on October 1, 2012.

,

Author

,

2012 Maryland Legislative Update

,

MC SHRM Newsletter

,

Montgomery County Society For Human Resource Management (MCSHRM)

,

2012

As a result of growing privacy concerns, Maryland has become the first state to pass legislation that prohibits employers from requesting or requiring employees and job applicants to disclose or provide social media user names and passwords. Assuming Governor O'Malley signs the legislation, which it is anticipated that he will, the new law will take effect on October 1, 2012. Under this new law, any "person engaged in a business, an industry, a profession, a trade, or other enterprise in the state or a unit of State or local government" shall be prohibited from requesting or requiring that an employee or job applicant disclose any user name, password or other means for accessing a personal account or service through an electronic communications device. The new law states further that an employer shall not fire, discipline or otherwise penalize an employee, or fail or refuse to hire a job applicant, who refuses to disclose such information.

,

Author

,

New Law Prohibiting Employers from Requesting Employee's Passwords to Social Media Sites

,

MC SHRM Newsletter

,

Montgomery County Society For Human Resource Management (MCSHRM)

,

2012

Darla McClure, Don Sperling and Mary Lombardo will serve as a panel of attorneys offering MC SHRM members information on the latest employment trends and concerns for employers.  Topics will include an update of recent federal and state employment law cases, issues and concerns involving social media and the National Labor Relations Board ("NLRB") as well as a thorough discussion concerning document retention and destruction from a litigation perspective, with an emphasis on company e-mails.  This will be a robust legal discussion with your legal questions welcome.

,

Speaker

,

Legal Trends for Employers

,

Montgomery County Society For Human Resource Management (MCSHRM)

,

2012

Should you allow your employees to telecommute?,

Darla McClure publishes an article on telecommuting

,

2013

The Genetic Information Nondiscrimination Act (GINA) provides that an employer cannot discriminate against an employee or applicant on the basis of his or her genetic profile and also restricts employers from requesting, requiring or purchasing family medical history. GINA has been in effect since 2009, but there has not been a case dealing with this law until now. The EEOC recently announced a case involving GINA that resulted in a settlement against a company that required an applicant for employment to undergo a thorough medical examination, which included a detailed family medical history. In this case, Fabricut, Inc. of Tulsa, Oklahoma, offered a temporary employee a permanent position, conditioned on her medical exam. The medical examiner inquired about her family medical history and believed that she had carpal tunnel syndrome. Though the employee's doctor ruled out carpal tunnel syndrome, Fabricut rescinded the job offer. The EEOC accused Fabricut of (i) violating the Americans with Disabilities Act because it discriminated against the employee on the basis of a disability or a perceived disability and (ii) violating GINA in that Fabricut had no right to demand her medical history.

,

Darla McClure publishes article about The Genetic Information Nondiscrimination Act

,

2013

As the Maryland legislative session comes to an end in Annapolis, employers are faced with a few new laws that they need to be aware of and begin to implement this year.

,

Darla McClure publishes a Maryland Legislative Update for Employers

,

2013

If you have more than 15 employees be advised that the "Pregnancy Fairness Act" takes effect on October 1, 2013. This Act requires an employer to make reasonable accommodations, upon request, for an employee's temporary disability caused by pregnancy or childbirth, as long as it does not impose an undue hardship on the employer. "Reasonable accommodations" may include changing the employee's duties, hours or work area, providing mechanical or electrical aids, transferring the employee to a less strenuous position, or providing leave. Further, if an employee requests a transfer to a less strenuous or less hazardous job during the pregnancy, the employer must grant the request if (1) it would do so for any other temporarily disabled employee, or (2) the employee's health care provider so advises, and the employer is able to do so without displacing employees or creating a new job. Pregnant employees will be required to support their requests with medical certifications.

,

Darla McClure explains the "Pregnancy Fairness Act"

,

2013
Selections
Super Lawyers: 2023
Rising Stars: 2009 - 2010
Additional sources of information about Darla J. McClure
Attorney resources for Darla J. McClure