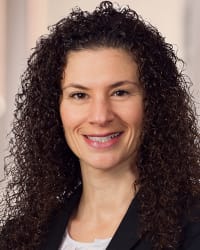 Stein Sperling Bennett De Jong Driscoll PC
Practice Areas: Business & corporate, Mergers & acquisitions
Licensed in Maryland since: 2001
Education: American University Washington College of Law

Selected to Super Lawyers: 2020 - 2023

Selected to Rising Stars: 2009 - 2015
Stein Sperling Bennett De Jong Driscoll PC
1101 Wootton Pkwy
Suite 700
Rockville, MD 20852
Phone: 301-838-3222
Email: Karen N. Shapiro Visit website
Details
Karen Shapiro brings a depth of knowledge and experience to guiding clients through complex business decisions. Whether buying or selling businesses, raising capital, negotiating commercial contracts, or addressing employment issues, she is uniquely prepared to advise businesses and help them achieve their objectives. A problem solver by nature, Karen's approach to serving clients is grounded by her business background including an MBA. She understands that clients need real time advice that makes sense in the business world.
Placing a premium on service and value, Karen helps clients throughout the full lifecycle of a business: from building new enterprises to managing thriving businesses and transitioning ownership to others when the time is right. She has successfully handled the transition of a multitude of businesses to market buyers, key employees and family members. In addition, Karen is particularly well versed in dealing with business disputes including disputes among business owners and a variety of employment related claims. Her clients view her as an external general counsel and member of their management team.
Karen's work has generated recognition of her peers in the legal community and in the profession more generally. For seven years in a row, she has been named a Rising Star by Maryland Super Lawyers magazine.
Karen serves as president for the DC chapter of the Exit Planning Exchange, an association of professionals committed to assisting business owners in successfully transitioning their businesses.
Throughout her career, Karen has proactively sought opportunities to educate organizations on key topics that impact businesses such as buying and selling companies, agreements among owners and employment matters. She has addressed the Bar Association of Montgomery County, Maryland Society for Accountants, Maryland Association of Certified Public Accountants, Montgomery County Medical Society, Montgomery County chapter of the Society for Human Resource Management and the Human Resource Association of the National Capital Area.
Outside of the office, Karen loves spending time with her family and enjoys being involved in her children's activities.
First Admitted: 2001, Maryland
Professional Webpage: https://steinsperling.com/attorneys/karen-shapiro/
Honors/Awards:
Maryland Super Lawyers (2021)

Maryland Super Lawyers, Rising Star (2009-2015)

Washington, D.C. Super Lawyers, Rising Star (2009-2015)

Martindale-Hubbell, AV Preeminent peer review rating
Bar/Professional Activity:
Bar Association of Montgomery County; Business Law Section, Advisory Council Member (2011-2013); Business Law Section, Chair (2013-2015)

Maryland State Bar Association

American Bar Association

Women's Bar Association, Montgomery County Chapter

Anne Arundel Bar Association

Exit Planning Exchange; President (2016 - 2018); Board of Directors (2012-present)

Society for Human Resource Management; Montgomery County Chapter, Legislative Affairs Director (2010-2011)
Representative Clients:
A prestigious architectural firm with years of experience in designing and building custom homes.

An international food service organization with restaurants in travel plazas and airports, employing approximately 30,000 employees.

The leading scientific masonry restoration company having as its clients national monuments and buildings nation-wide.

A very successful environmental remediation company specializing in asbestos, lead, and mold abatement, acid clean-up, and demolition services.

A company providing solar energy systems nationwide.

A large, east coast company in the business of renting and selling fencing and barricades with $50 million in revenue.

A well-known company in the DC metro area that manufactures and installs top of the line energy efficient windows.

A successful technology company responsible for designing, building and hosting software solutions.

One of the Mid-Atlantic region's largest heavy civil construction contractors, specializing in highway construction, bridge construction and repair, underground utility work, tunnel and marine construction.

One of the largest independent ticket brokers with approximately $50 million in revenue.
Transactions:
Represented client in a $16 million joint venture to acquire 7 parcels of land.

Represented buyer in the $4.8 million asset purchase of an architectural glass supplier.

Represented client in the sale of his membership interests in four related restaurant entities.

Represented client in buying out three other members in a commercial cleaning company.

Represented seller in sale of majority interest valued over $5 million in well-known fencing company.

Handled the merger of two well established public accounting firms.

Represented client in buying out partner in physical therapy practice.

Represented buyers in the $6 million purchase of over 75% of the stock in an electrical services company.

Represented buyers in the $3.2 million asset purchase of a commercial cleaning company.

Represented seller in sale of majority interest in marketing company.
Educational Background:
Binghamton University (B.S., Business Management, 1997)

American University Washington College of Law (J.D., 2000)

American University, Kogod School of Business (M.B.A., 2000)
Scholarly Lectures/Writings:
On January 30, 2009, President Obama signed Executive Order 13496. Under the Order and its regulations, federal contractors and subcontractors must notify employees of their rights under the National Labor Relations Act. This law governs relations between unions and employers in the private sector and guarantees employees the right to organize and bargain collectively with their employer, engage in other concerted activity with or without a union, or refrain from all such activity. All government contractors with contracts in excess of $100,000 and subcontractors with contracts in excess of $10,000 must post a notice informing employees of their rights under the law. This new posting requirement took effect on June 21, 2010.

,

Legislative Affairs Update

,

Montgomery County Society for Human Resource Management (MCSHRM) Chapter Newsletter

,

2010

On March 23, 2010, President Obama signed into law the Patient Protection and Affordable Care Act (the "Act"). The Act amended the Fair Labor Standards Act and became effective on the date it was signed. The law requires employers to provide non-exempt employees breaks to express breast milk. Such employees must be given reasonable break time during the work day as frequently as needed by the nursing mother. The employees must be given a private place to express breast milk; a bathroom is not sufficient. Such breaks must be given up until the child's first birthday. An employer is not required to compensate an employee for such breaks. All employers are covered by the Act except that employers with less than 50 workers do not have to comply with the law if they can show that such compliance would cause an undue hardship. Undue hardship is defined as significant difficulty or expense when considered in relation to the size, financial resources, nature, and structure of the employer's business.

,

Legislative Affairs Update

,

2010

On March 23, 2010, President Obama signed into law the Patient Protection and Affordable Care Act which was modified by a reconciliation measure on March 26, 2010. This law will implement significant change to our health care system and there are many provisions that affect employers.

,

Legislative Affairs Update

,

Montgomery County Society for Human Resource Management (MCSHRM) Chapter Newsletter

,

2010

Healthcare reform is afoot! By way of background, the House of Representatives passed H.R. 3962, the Affordable Health Care for America Act, on November 7, 2009 and the Senate passed H.R. 3590, the Patient Protection and Affordable Care Act, on December 24, 2009. The final bill that will be voted on by Congress in the coming days is a modified version of the Senate-passed legislation, with additional changes.

,

Legislative Affairs Update

,

Montgomery County Society for Human Resource Management (MCSHRM) Chapter Newsletter

,

2010

On the federal front, the U.S. Senate passed a health care reform bill. The Senate bill will now be merged with the House bill. In the meantime, President Barack Obama has unveiled a proposal that would require employers to pay into a fund that would help workers get insurance. This legislation proposes to overhaul the U.S. health care system.

,

Legislative Affairs Update

,

Montgomery County Society for Human Resource Management (MCSHRM) Chapter Newsletter

,

2010

On the federal front, the U.S. Senate passed a health care reform bill. The Senate bill will now be merged with the House bill. This legislation proposes to implement significant change to our health care system including providing coverage for an additional 31 million Americans, implementing health insurance industry reforms, and reducing Medicare spending by nearly $500 billion.

,

Legislative Affairs Update

,

Montgomery County Society for Human Resource Management (MCSHRM) Chapter Newsletter

Karen Shapiro and Mark Schweighofer will offer members of the Maryland Society of Accounting & Tax Professionals insight into the lifecycle of a business transaction.  They will cover early steps, such as dealing with brokers, the execution of NDA's and the Letter of Intent, through later steps like financial disclosures, due diligence, and negotiations surrounding the definitive agreements, and will end with a discussion on closing and post-closing issues. The presentation will include a discussion of the joint efforts of attorneys and accountants working on the various tax considerations including sales/use tax, federal and state tax concerns, payroll, 83(b) elections, tax on net investment income, partnership tax considerations, assumption/cancellation of stock options, elections under IRC Section 338(h)(10) and tax-free transactions under Section 368.

,

Speaker

,

Lifecycle of a Business Transaction

,

2014

Family law attorneys may find themselves in unfamiliar territory when faced with divorcing a husband and wife who own a business together. In most cases, continuing joint ownership of a business after divorce is not feasible. So what do you do with the business? Karen Shapiro and Eric Rollinger will provide insight on the various possibilities including one spouse buying out the other, a sale to a third party and dissolution. Karen will start with a basic discussion about the different types of entities, the governing documents for each and the types of documents you'll want to make sure you get in discovery. Eric will discuss issues around valuing the business. They will also address other obstacles for divorcing couples who jointly own a business such as employment, benefit, and alimony issues.

,

Divorcing Husbands, Wives and Businesses CLE Seminar

,

2012

Darla McClure and Karen Shapiro will be presenting information on new state laws, related to business and employment, to Montgomery County Society for Human Resource Management (MC SHRM) members. The presentation will focus on topics such as workplace fraud, user name and password privacy protection, domestic violence and jury service.  This Legislative Update will explain how the new laws will impact employers and discuss how last year laws were enacted and interpreted by governing bodies.

,

Darla McClure and Karen Shapiro present a Legislative Update to MC SHRM

,

2012

Karen Shapiro, Eric Rollinger and Mark Schweighofer will be conducting a seminar on the anatomy of buying and selling a business for the Maryland Association of CPAs. This presentation will begin with a discussion on valuing a business. It will cover the lifecycle of a transaction from the first steps of dealing with brokers, the execution of NDA's and the Letter of Intent, through financial disclosures, due diligence, and negotiations surrounding the definitive agreements, and will end with a discussion on closing and post closing issues. This presentation will include a discussion of the joint efforts of attorneys and accountants working on the various tax considerations (including sales/use tax, federal and state tax concerns, payroll, new 83(b) elections, assumption/cancellation of options, election under IRC Section 338(h)(10) and tax-free transactions under Section 368).

,

Karen Shapiro, Eric Rollinger and Mark Schweighofer to speak to the Maryland Association of CPAs

,

2012

Summer's over and it's time for physicians to focus on their medical practice's compliance efforts with state and federal regulations. The Montgomery County Medical Society (MCMS) has planned an afternoon of sessions to provide doctors and practice administrators updates on many of the regulations and legislation they deal with day in and day out. In their session, Karen Shapiro and Andrew Schwartz will cover recent updates related to Maryland and federal employment laws.

,

Karen Shapiro and Andrew Schwartz to speak to Montgomery County Medical Society members

,

2012

Karen Shapiro and Mark Schweighofer will be conducting a seminar on the anatomy of buying and selling a business for the Maryland Society of Accountants. This presentation will begin with a discussion on valuing a business. It will cover the lifecycle of a transaction from the first steps of dealing with brokers, the execution of NDA's and the Letter of Intent, through financial disclosures, due diligence, and negotiations surrounding the definitive agreements, and will end with a discussion on closing and post closing issues. This presentation will include a discussion of the joint efforts of attorneys and accountants working on the various tax considerations (including sales/use tax, federal and state tax concerns, payroll, new 83(b) elections, assumption/cancellation of options, election under IRC Section 338(h)(10) and tax-free transactions under Section 368).

,

Karen Shapiro and Mark Schweighofer to speak to the Maryland Society of Accountants

,

2012

Stein Sperling attorneys will cover the basics of business and employment law that every business owner should know. Millard Bennett, Mark Schweighofer, Karen Shapiro and Don Sperling will guide attendees through the following topics: Ownership Agreements & Executive Compensation Plans Owners often find themselves in trouble and without up-to-date documents. Learn how to be proactive! Employment Law Survival Guide Employees are the lifeblood of any business. This session will update you on current federal, state and local laws! Exit Strategies and Estate Planning No matter the transition you're planning (buy, sell, merge), this discussion will help you anticipate what lies ahead!

,

Stein Sperling attorneys to present at M&T Bank event for business owners

,

2013

Millard Bennett, Don Sperling and Karen Shapiro to present at the SmartCEO Seminar "Cultivate Growth, Create Value, Cash Out or Cut Back: Don't Wait Until It's Too Late to Plan a Future for Your Business" on Wednesday, November 6, 2013. From their decades of advising business owners through transitions and transactions, Stein Sperling principals will address these questions and others: How do you cultivate existing talent to lead in the future if you transition your business from within?  How can you attract new talent to become vested in your company's future? How do you ensure business success and family harmony when transferring ownership of your company to the next generation? How can you get your house in order now to efficiently sell your business to a third party? How do you maximize the value of your business for a future sale? How do you start the transaction process and what pitfalls must you avoid?

,

Millard Bennett, Don Sperling and Karen Shapiro to present at SmartCEO Seminar

,

2013

"Breaking Down a Business Acquisition/Sale Transaction," presented to financial professionals

,

Speaker

,

2016

For this course, geared toward accounting and tax professionals, Ms. Shapiro will focus on the following employment law issues: The Hiring Process (job descriptions, advertising, application, interview, offer letter, background checks, and drug and alcohol testing); Classifying and Paying Employees (exempt vs non-exempt and deductions for exempt employees' wages); and Discrimination and Termination (COBRA, accrued unused leave, references).

,

Karen Shapiro to speak on Employment Law issues for accountants

,

2013

"Breaking Down a Business Acquisition/Sale Transaction," presented to financial professionals

,

Speaker

,

2015

This two-part (125 contact minutes; 2.5 CPE hours) CLE seminar will cover the interworkings of an LLC operating agreement as well as hot topics in tax as they relate to CPAs and Financial Planners. At our seminar, you will learn about: Partnership Allocations Maintenance of Capital Accounts Minimum Gain Chargebacks Liquidation of Assets Dispute Resolution Recent Developments from the IRS

,

Anatomy of an LLC Operating Agreement and Latest Developments from the IRS

,

2014

"Succession Planning – Key Considerations" 

,

Speaker

,

NAPFA

,

2015

Karen Shapiro and Mark Schweighofer to present the anatomy of buying or selling a business to the Maryland Association of CPAs.  It will cover the lifecycle of a transaction from the first steps of dealing with brokers, the execution of NDA's and the Letter of Intent, through financial disclosures, due diligence, and negotiations surrounding the definitive agreements, and will end with a discussion on closing and post closing issues. This presentation will include a discussion of the joint efforts of attorneys and accountants working on the various tax considerations (including sales/use tax, federal and state tax concerns, payroll, new 83(b) elections, assumption/cancellation of options, election under IRC Section 338(h)(10) and tax-free transactions under Section 368).

,

Karen Shapiro and Mark Schweighofer to present "Anatomy of the Deal"

,

2014

The U.S. Equal Employment Opportunity Commission announced the availability of the final rule implementing the Americans with Disabilities Act Amendments Act. The final regulations provide nine rules of construction to guide the analysis of what constitutes a disability. Applying these rules of construction, the EEOC provided examples of impairments that should be concluded to be disabilities. The final rule can be found at www.federalregister.gov.

,

Legislative Affairs Update

,

Montgomery County Society for Human Resource Management (MCSHRM) Chapter Newsletter

,

2011

Stein Sperling attorneys will cover the basics of business law and strategic planning that every business owner should know. Millard Bennett, Karen Shapiro and Don Sperling will guide attendees through the following topics: Ownership Agreements  Owners often find themselves in trouble and without up-to-date documents. Learn how to be proactive! Succession and Transition Planning Whether you are promoting talent from within or must make unpopular family decisions, you need a plan! Exit Strategies  No matter the transition you're planning, this discussion will help you anticipate what lies ahead!

,

Stein Sperling attorneys to present at Early Cassidy and Schilling event for business owners

,

2014

Karen N. Shapiro will speak on topics related to Human Resources in the Accounting Practice. This course covers the functional areas of human resource management and the integration of these functions into an effective and efficient human resource management system.

,

Maryland Society of Accountants seminar

,

2011

Local business owners seeking professional advice can attend XPX DC Metro's Inaugural Owners Academy session, "Securing the Right Capital vs. Any ole' Capital." The panel, including Stein Sperling's Karen Shapiro.

,

Speaker

,

XPX DC Metro's Inaugural Owners Academy

,

2015

This course covers the functional areas of human resource management and the integration of these functions into an effective and efficient human resource management system.

,

Human Resources in the Accounting Practice Seminar

,

2011

Stein Sperling's Millard Bennett, Mark Schweighofer, Karen Shapiro and Steve Widdes will speak to Leadership Montgomery members and class participants about developing leadership and succession plans for your business. Current and emerging leaders will hear about two key components of continuing the success of your business into the future, including: Cultivating talent and planning for succession.

,

Speaker

,

Leadership Montgomery Breakfast Business Academy

,

2015

Now that the Legislative Session has ended, come learn which new laws will affect human resource professionals as they relate to Business and Employment practices.

,

Employment Law Update and Meet Your Maryland Senator

,

2011

The growth of any successful business involves careful strategy and planning on the part of its owner(s). This means contemplating scenarios you can expect − and those you can't! M&T Bank invites you to attend this Future Focus seminar, featuring Stein Sperling's Millard Bennett, Mark Schweighofer, Karen Shapiro and Steve Widdes, which will outline two key components for continuing the success of your business into the future, both near- and long-term.

,

Speaker

,

Future Focus

,

2015

Stein Sperling business attorneys Karen Shapiro and Mark Schweighofer will present "Anatomy of the Deal" before a Maryland Society of Accounting & Tax Professionals (MSATP) audience in Linthicum, Maryland, on Thursday, September 17. The presentation will cover the life cycle of a business transaction.

,

Speaker

,

Anatomy of the Deal

,

Maryland Society Of Accounting & Tax Professionals

,

2015

Darla J. McClure and Karen N. Shapiro will speak at the Montgomery County Medical Society (MCMS) 2011 Spring Educational Conference.  They will discuss Frequently Asked Questions about employee pay issues as well as recent changes to employment law.

,

MCMS 2011 Spring Educational Conference & Cuatro De Mayo Fiesta

,

2011

Business and employment law attorney Karen Shapiro is presenting "Exit Planning: Anatomy of a Deal" on Thursday, May 28. The presentation will cover the lifecycle of a transaction from the Letter of Intent through financial disclosures, due diligence and negotiations surrounding the definitive agreements and ending with a discussion on closing and post-closing issues.

,

Speaker

,

Lifecycle of selling a business

,

Clear Rock M & A Advisory Services

,

2015

Business legal issues can be challenging, but family law attorneys may find themselves in unfamiliar territory when faced with "divorcing" a husband- and wife-owned business while in the process of divorcing the couple. Darla McClure and Karen Shapiro will provide insight on the types of documents you need to obtain in discovery, effects on alimony, handling assets titled in the company's name transfer of ownership issues and concerns, and other possible stumbling blocks for divorcing couples who jointly own a business.

,

Divorcing Husbands, Wives & Businesses

,

2010

Karen's portion of the presentation will cover: Preparation for the due diligence and sales processReview of contracts with key vendors and clientsRestructuring of business units, people and/or facilities as needed

,

Speaker

,

Preparing a Company for a Third-party Sale

,

D.C. Metro Exit Planning Exchange

,

2017

On March 23, 2010, President Obama signed into law the Patient Protection and Affordable Care Act which was modified by a reconciliation measure on March 26, 2010. This law implements significant change to our health care system and there are many provisions that affect employers. Below is a discussion of some of them.

,

Legislative Affairs Update

,

Montgomery County Society for Human Resource Management (MCSHRM) Chapter Newsletter

,

2010

On March 1, 2011, the U.S. Supreme Court held by unanimous opinion that an employer is liable under the Uniformed Services Employment and Reemployment Rights Act of 1994 ("USERRA") when one of its managers discriminates against a worker because of military service and influences an unbiased manager to take an action prohibited by USSERA against the employee.

,

Legislative Affairs Update

,

Montgomery County Society for Human Resource Management (MCSHRM) Chapter Newsletter

,

2011

On January 24, 2011, the U.S. Supreme Court ruled that an employer may be liable under Title VII of the Civil Rights Act of 1964 for retaliating against a third party who has a "relationship" with an employee who has filed a charge of discrimination. In this case, Miriam Regalado and her fiancée, Eric Thompson, worked for North American Stainless, LP. Ms. Ragalado filed a charge with the EEOC alleging that she was discriminated against because of her sex. A few weeks later, the company fired Mr. Thompson. Mr. Thompson sued the company alleging that he was retaliated against because of Ms. Ragalado's complaint. The Court concluded that Mr. Thompson falls within the "zone of interest" protected by Title VII and that he is an intended beneficiary of the statute's anti-retaliation provisions. In identifying the scope of relationships that would likely be entitled to such protection, the Court stated that a family member would almost always be protected and a mere acquaintance would almost never be protected. Clearly this case has important implications for employers. In the wake of a discrimination complaint, employers would be wise not to retaliate against the complaining employee or anyone connected to him or her.

,

Legislative Affairs Update

,

Montgomery County Society for Human Resource Management (MCSHRM) Chapter Newsletter

,

2011

Employment claims for discrimination, harassment, wrongful termination of employment and unpaid wages are on the rise. This seminar will explain the steps subcontractors can take to reduce employment-related claims and avoid the time and expense of defending them. Specific topics that will be covered include: Hiring workers (job descriptions, restrictive covenants, differences between employees and contractors); Wage laws (hiring workers as exempt and non-exempt, paying overtime wages); Essential components of employee manuals; Types of discrimination and harassment claims and how to avoid them; and Proper procedures for terminating employees.

,

Employment Law for Subcontractors

,

2011

Darla J. McClure and Karen N. Shapiro will provide insight on the types of documents you need to obtain in discovery, effects on alimony, handling assets titled in the company's name, transfer of ownership issues and concerns and other possible hurdles for divorcing couples who jointly own a business.

,

Bar Association of Montgomery County's Family Law Section on Businesses and Divorce

,

2011

Whistleblowers Get Greater Protection in Maryland The Maryland common law tort of wrongful discharge is limited to terminations that violate a clear mandate of public policy. An employer exposes itself to such a claim when it terminates an employee's employment because he or she refused to engage in illegal activity, exercised a statutory right or privilege, or fulfilled a statutory obligation. Maryland courts have historically required an employee seeking to establish a wrongful discharge claim to have made a disclosure of his or her employer's wrongdoing outside of the company, such as to the applicable regulatory authority or to law enforcement. A recent case signals a significant departure from this requirement. On May 13, 2010, in Lark v. Montgomery Hospice, Inc., the Court of Appeals of Maryland indicated that an employee need not make an external disclosure in order to be protected under the Maryland common law tort of wrongful discharge. This finding by the Court was made in dictum, meaning, although it is authoritative, it is not binding. The Court also held in binding opinion that an employee need not make an external disclosure in order to be protected under the Maryland Health Care Worker Whistleblower Act. In light of this case, an employee who makes a report of wrongdoing to his or her supervisor or other person inside the company may be protected under Maryland whistleblower law. Accordingly, prudent employers should consider internal disclosures to be protected activities under both Maryland common law and the Maryland Health Care Worker Whistleblower Act.

,

Legislative Affairs Update

,

Montgomery County Society for Human Resource Management (MCSHRM) Chapter Newsletter

,

2011

On December 17, 2010, President Obama signed into law an $858 billion dollar tax package. The law extends for two years the tax breaks enacted during the presidency of George W. Bush which were set to expire on December 31, 2010. The law also includes a two-year extension of a popular employee tax break for employer-provided tuition assistance. Section 127 of the Internal Revenue Code allows employees to exclude up to $5,250 a year in employer-provided tuition assistance for undergraduate and graduate-level courses. In addition, the legislation extends unemployment benefits for many Americans through 2011. The provision allows long-term unemployed people in the states hardest hit by the recession to receive up to 99 weeks of unemployment benefits, rather than the 26 weeks currently available to them.

,

Legislative Affairs Update

,

Montgomery County Society for Human Resource Management (MCSHRM) Chapter Newsletter

,

2010

This seminar will cover topics such as the hiring process, specifically job descriptions, how to advertise, the application and interview process, offer letters, background checks and drug and alcohol testing; and classifying and paying employees, such as determining exempt vs. non-exempt employees and deductions for exempt employee's wages, discrimination and the termination process (COBRA, accrued and unused leave, references).

,

Maryland Society of Accountants - Solo and Small Firm Principal's Retreat

,

2010

The Patient Protection and Affordable Care Act (PPACA) requires employers to report the aggregate cost of employer sponsored group health coverage on an employee's Form W-2 beginning with the 2011 tax year. However, on October 12, 2010, the Internal Revenue Service announced that it will delay the compliance date for this requirement by one year. As a result, employers will have to include this information for the first time on the 2012 W-2s which are issued in 2013. In any event, the W-2 reporting requirement is for informational purposes only and the amounts that are reported will not be taxable.

,

Legislative Affairs Update

,

Montgomery County Society for Human Resource Management (MCSHRM) Chapter Newsletter

,

2010
Selections
Super Lawyers: 2020 - 2023
Rising Stars: 2009 - 2015
Additional sources of information about Karen N. Shapiro
Attorney resources for Karen N. Shapiro