Steven A. Widdes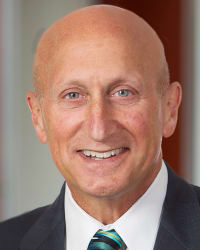 Attorney Profile
Top Rated Estate Planning & Probate Attorney in Rockville, MD
Phone: 301-838-3227
Fax: 301-354-8127
Selected To Super Lawyers:
2007 - 2021
Practice Areas:
Estate Planning & Probate (70%),
Estate & Trust Litigation (20%),
Business/Corporate (10%)
Attorney Profile
Steve Widdes' approachable style not only helps put his clients at ease, it helps establish the kind of close relationships that allow him to build highly-individualized and effective estate plans that give his clients peace of mind. By working closely with his clients throughout the various stages of their lives, Steve helps them anticipate and manage their changing goals, address new tax laws and IRS regulations, and protect their assets. He is especially effective at navigating sophisticated plans that address issues unique to clients with substantial assets.
Steve is co-chair of the firm's Estates and Trusts practice group and works with clients in the areas of estate planning, estate and trust administration, and tax and business succession planning. He also assists them in protecting assets for future generations through long-term trusts for children, as well as pre- and post-nuptial agreements. Previously an attorney with the Internal Revenue Service's Estate and Gift Tax Branch, Rulings and Projects Sections, he brings considerable knowledge and experience of the tax issues affecting his clients' estates and trusts.
Tax and estate planning groups frequently engage Steve to speak on such topics as post-mortem estate planning, estate planning with IRA distributions, business succession planning, tax planning for the practitioner, new income tax laws and practical and important developments in estate planning and probate. He also has lectured before the Georgetown University/D.C. Bar Association Estate Planning Program and served as the program's chair for five years. In addition, other estate planning attorneys reach out to Steve on a regular basis for input on the application of particularly intricate techniques for their clients.
Honored as a Fellow of the American College of Trust and Estate Counsel (ACTEC) and nationally accredited as an estate planner, Steve also serves on ACTEC's Asset Protection Committee. With over 30 years of experience and successful estate planning, he has been frequently named as one of the Best Lawyers in America (2006-2018) and recognized annually by both Maryland Super Lawyers and Washington, D.C. Super Lawyers magazines since 2007. Since 2010, Maryland Super Lawyers has listed Steve among its top 100 attorneys, and in 2009-2016 he was named among the top 100 attorneys in Washington, D.C. Super Lawyers. He also was recognized by Washingtonian magazine (2002-2017), Legal Times (2004) and Bethesda Magazine (2011) as a top trusts and estates attorney in the Washington, D.C. metropolitan area.
An active participant in the local community, Steve is a past co-chair of the Hebrew Home of Greater Washington's Planned Giving Committee and a past vice-chair of its Board of Governors. He has also previously served on the Planned Giving Committee for Suburban Hospital. Steve currently serves on the Planned Giving Committee for the Jewish Social Service Agency and chairs the Endowment Committee for the Adat Shalom Reconstructionist Congregation.
Certificates and Credentials
About Steven Widdes
Admitted: 1982, Maryland
Professional Webpage: https://steinsperling.com/attorneys/steven-widdes/
Honors/Awards:
Best Lawyers (2006-2021)

Maryland Super Lawyer (2007-2019); Top 10 Attorneys in Maryland (2017-2018); Top 50 Attorneys in Maryland (2010-2011); Top 100 Attorneys in Maryland (2012-2016)

Washington, D.C. Super Lawyer (2007-2018); Top 100 Attorneys in Washington, D.C. (2009-2018)

Bethesda magazine; Top Trusts and Estates Attorney (2011)
Washingtonian; Top Trust and Estate Lawyer (2002-2019)
Legal Times, Leading Lawyer, Trusts and Estates (2004)

Martindale-Hubbell, AV Preeminent peer review rating
Bar/Professional Activity:
Bar Association of Montgomery County

Maryland State Bar Association

American Bar Association, Section of Real Property and Probate

Adat Shalom Reconstructionist Congregation; Endowment Planning Committee (2011-2015)

American College of Trust and Estate Counsel, Fellow; Asset Protection Committee

District of Columbia Estate Planning Council

Estate Planning Council of Suburban Maryland

Hebrew Home of Greater Washington, Board of Governors (1998-2011); Vice Chair (2009-2011)

Jewish Social Service Agency; Planned Giving Committee (2011-2015)

Montgomery/Prince George's County Tax Study Group

Suburban Hospital; Planned Giving Committee (2002-2012)
Pro bono/Community Service:
Jewish Social Service Agency, Planned Giving Committee (2011-2012)Hebrew Home of Greater Washington, Board of Governors (1998-2011)     Vice Chair (2009-2011) Suburban Hospital, Planned Giving Committee (2002-2012)
Scholarly Lectures/Writings:
Estate Planning Tips for Wealthy Clients by Steven A. Widdes Pending a determination of the future of estate tax, married couples with wealth over $11 millionand single individuals with estates over $5.5 million may face a 40 percent federal tax on theirexcess estates. This session will feature techniques to reduce large estates tax burden and passwealth to next generations.

,

Speaker

,

December Update for Accountants and Financial Planners

,

2017

Steve Widdes will be presenting "Life and Living Choices:  End of Life Planning & Decision-Making" at B'nai Shalom of Olney Men's Club following Morning Minyan. This seminar will include guest speakers from a variety of legal and theological perspectives. Additional topics covered during the presentation include decision making, planning ahead, terminal illness, Jewish obligations, community resources, legal directives, guardianship, long term care, insurance, Jewish law and estate planning.

,

Steve Widdes to present "Life and Living Choices: End of Life Planning and Decision-Making"

,

2013

Steve Widdes and Micah Bonaviri will be featured on Federal News Radio broadcast, For Your Benefit, hosted by Bob Leins. They will discuss retirement plan distribution opportunities to maximize value and minimize income tax. In addition, they will review retirement options (and related rules and guidelines) as well as planning alternatives and penalty avoidance.,

For Your Benefit features Steve Widdes and Micah Bonaviri

,

2013

Steve Widdes will be presenting at a Maryland State Bar Association (MSBA) Continuing Legal Education (CLE) Course on Estates and Trusts.  His presentation, Asset Protection: Planning for the At-Risk Client from the Estate Planner's Perspective, focuses on implementing successful estate planning strategies.

,

Steve Widdes to present at a Maryland State Bar Association course

,

2013

Steve Widdes will be participating in Eldercare Series Part One: Understanding the Fundamentals.  This presentation will provide attendees with and overview of the information one needs when caring for an elderly adult. Mr. Widdes will discuss power of attorney, wills, trusts and advance medical directives. Questions similar to the ones listed below will be discussed and answered by the panel. Did you know that a Power of Attorney is no longer valid after a person dies? Do you know what information you need to gather so that your family is prepared if something should happen to you? Do you know how a care manager can help you or your family? Other participants for the program include: Linda Hill, LCSW-C, Associate Director of Aging Network Services Connie Torabian, MarketTrust Director, US Trust Rabbi Adam Raskin

,

Steve Widdes to present on Understanding the Fundamentals of Eldercare

,

2013

Steve Widdes will present "Irrevocable Life Insurance Trust" at the Maryland State Bar Association's Basic Estate Planning CLE course.  Other topics that will be covered at the seminar include credit shelter planning, marital deduction planningand lifetime gifts. 

,

Steve Widdes to present "Irrevocable Life Insurance Trust"

,

2012

On November 8, 2012, Steven Widdes will speak at an event sponsored by the Jewish Social Service Agency titled "Caring for Aging Parents: What You Need to Know for Them and You." Mr. Widdes' segment of the presentation will focus on key documents that aging parents need to have identified, organized and dispersed for end-of-life decision making. He will also cover related topics, such as medical information, emergency resources and practical tips for elderly care.

,

Steven Widdes to speak at Jewish Social Service Agency seminar

,

2012

Estate planning requires just that — planning. Whether you are a parent of young children or nearing retirement, end-of-life planning is a vital process to ensure your assets are protected and your wishes are known. This seminar will discuss basic principles of estate planning, as well as recent changes to the law, all of which may affect physicians' approaches to estate planning. Topics covered will include: State and Federal Estate and Gift Tax Exemptions — Current Levels and Future Directions Special Considerations for Gifting in 2012 Asset Protection — Titling and Related Considerations Retirement Plan Distributions and Beneficiary Designations

,

Essential Estate Planning for Physicians Seminar

,

2012

"2013, party over – oops, out of time!" As professionals in the financial services or insurance industry know, as each day passes, opportunities dwindle for Congress to act to preserve the current $5.12 million federal estate and gift tax exemptions.  This has led to months of discussion among such professionals and months of uncertainty for their clients. There are unique, yet time-sensitive, advantages to creating or updating plans before December 31, 2012. This seminar will address the practical, legal and tax considerations of making gifts this year, including: Available gifting opportunities and techniques before 2013, such as Intentionally Defective Grantor Trusts (IDGTs), Grantor-Retained Annuity Trusts (GRATs) and Spousal Lifetime Access Trusts (SLATs); Valuation techniques and discounts associated with year-end gifting; and Possible consequences if the federal government does NOT act to preserve current gift and estate tax exemptions before December 31, 2012.

,

Party Like It's 2012! Taking Advantage of Estate Planning and Tax Benefits before Time Runs Out

,

2012

Ann Jakabcin and Steve Widdes will present "Practical Estate Planning - Preparing for Incapacity and Death" at the 2012 Elder Law Symposium. This free event, which is titled "Navigating the Elder Care Maze: What You Need to Know about the Legal Issues Facing Older Adults and Their Caregivers," is organized by fellows of the Maryland State Bar Association's Leadership Academy.  The full day symposium covers topics such as when to hire an attorney for an elder law issue, estate planning, cost of care (including Medicare), and preventing fraud and abuse directed at the elderly. In their 55-minute presentation, Ms. Jakabcin and Mr. Widdes will cover the following topics: Key documents necessary for a good estate plan What happens in Maryland if one dies without a Will? What are the primary considerations to having a proper Will prepared? Naming of a Personal Representative (Executor) and a back-up What is the relevance of a Revocable Trust and is it necessary in Maryland? How does a Durable Power of Attorney work and what is the role of the Statutory Power? Explanation of the Advance Medical Directive and the key questions to address Selection of the right agent for Power of Attorney and Directive (as well as alternates) Getting organized to ensure you have left proper information and documentation in the event of a death or disability Key terms and roles of the various fiduciaries

,

Ann Jakabcin and Steve Widdes to speak at MSBA Elder Law Symposium

,

2012

Steve Widdes will serve as a panelist at the 2012 Transitions in Care: Perspectives for Clinicians and Caregivers Symposium. The panel, titled "End of Life: Best Practices for This Last Transition," will be moderated by Dr. James Left. Also serving on the panel are Howard Gleckman; Thomas Smith, MD, FACP; Richard Alcorta, MD, FACEP; and Rabbi James Michaels. This portion of the symposium will include a comprehensive discussion on the issues and perspectives surrounding end of life decisions. An often unrecognized fact is that Care Transitions, particularly multiple and closely spaced ones, signal the approach of the end-of-life. Determining when transitions become intrusive, painful and futile or even in opposition to the wishes of the patient involved is essential to person-centered care. Attention to the needs of the person as death approaches is as paramount in Care Transitions as it is in other clinical areas of care. The role of the clinician, caregivers and others involved is a huge impact for the dying person. This expert panel will discuss the spiritual, medical, emotional and legal perspectives of end-of-life, what many have denoted as the last and ultimate transition.

,

Steve Widdes to serve as panelist at 2012 Transitions in Care Symposium

,

2012

"Update for Accountants and Financial Planners"

,

Speaker

,

2016

"Help Your Clients Avoid Unforeseen Consequences: Proactive Legal Considerations for Business Owners," presented to financial professionals 

,

Speaker

,

2016

"The New Estate Plan – Throw Out the Baby or Just Use New Bathwater?" Charles E. Smith Jewish Day School's Professional Advisory Continuing Education Seminar Series 

,

Speaker

,

2015

Interview on Federal News Radio's "For Your Benefit"

,

2015

"Sorting Out Trusts: A Primer on Selecting What Trusts to Use in Your Estate Plan,"

,

2015

"Future Focus," sponsored by M&T Bank 

,

Speaker

,

2015

"Developing Leadership and Succession Plans for Your Business," sponsored by Leadership Montgomery

,

2015

"The Parental Prenup"

, Bethesda Magazine,

2016

Presented on "Asset Protection" before CPAs and CFPs

,

2016

Maryland Society of Accounting and Tax Professionals estate planning presentation

,

2016

Co-present "Making Key Practical Financial and Legal Decisions Before and During Retirement," a seminar offered by the Jewish Social Service Agency (JSSA)

,

2016

Best States for Retirees presentation on "For Your Benefit" Federal News Radio show

,

2016

Presented on "Estate Planning Developments" to CPAs and CFPs

,

2016

The topics covered will include: Estate Planning in the time of the Trump AdministrationEstate Planning for the Non-CitizenEstate and Fiduciary Tax ElectionsShould You Avoid Probate – and How?Contending with Income in Respect of a DecedentChoice of Domicile for Retirement – and Death

,

Speaker

,

Comprehensive Overview of Estate Administration

,

Maryland Society Of Accounting And Tax Professionals

,

2017
Other Outstanding Achievements:
The Best Lawyers in America Lawyer of the Year 2021 for Trusts and Estates in the Washington DC metro area
Educational Background:
Drake University (B.A., with honors),

1973

Drake University (J.D.)

,

1976

Georgetown University Law Center (LL.M.,Taxation)

,

1981
Articles about Steven A. Widdes appearing in Super Lawyers
Additional Sources of Information About Steven A. Widdes
Show More
Steven A. Widdes:
Last Updated: 1/14/2021