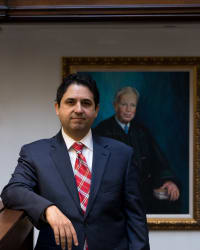 Erkan & Associates, LLC
Practice Areas: Criminal Defense, DUI-DWI, White Collar Crimes; view more
Licensed in Massachusetts since: 1997
Education: University of Richmond School of Law
Languages Spoken: English, Spanish, Turkish

Selected to Super Lawyers: 2021 - 2023

Free Consultation
Erkan & Associates, LLC
300 High St
Andover, MA 01810
Visit website
Details
Criminal defense attorney Murat Erkan is the founder of Erkan and Associates, LLC, in Andover, Massachusetts. Mr. Erkan has over 20 years of experience and handles criminal matters involving assault, battery, domestic violence, drug violations, OUI, sex offenses and white collar crimes. He represents clients in Essex and Middlesex counties in Massachusetts. 
Dedicated to fighting for the rights of his clients, Mr. Erkan is skilled and experienced in the courtroom. He knows that each situation is different and that each case requires a unique approach. During his time in practice, he has obtained reduced or dismissed charges for many Massachusetts residents who have been accused of a wide variety of crimes. 
Prior to founding Erkan and Associates, LLC, Mr. Erkan spent several years as a Massachusetts state prosecutor. Through this experience, he learned the strategies used by prosecutors in criminal cases. He now uses this knowledge to the advantage of his criminal defense clients.
Mr. Erkan is AV Preeminent peer-review rated,* the highest rating, through Martindale-Hubbell. Additionally, he was selected for inclusion on The National Trial Lawyers: Top 100 list for criminal defense lawyers in 2021, and Attorney and Practice magazine presented him with a Top 10 Law Firm award. 
After earning his bachelor's degree, Mr. Erkan graduated from the University of Richmond School of Law. He holds a license to practice law before all Massachusetts state courts and the U.S. District Court for the District of Massachusetts. He is an active member of the Massachusetts Bar Criminal Justice Section and the Massachusetts Association of Criminal Defense Lawyers.
*AV®, AV Preeminent®, Martindale-Hubbell Distinguished and Martindale-Hubbell Notable are certification marks used under license in accordance with the Martindale-Hubbell certification procedures, standards and policies. Martindale-Hubbell® is the facilitator of a peer-review rating process. Ratings reflect the anonymous opinions of members of the bar and the judiciary. Martindale-Hubbell® Peer Review Ratings™ fall into two categories – legal ability and general ethical standards.
Practice areas
Criminal Defense, Criminal Defense: DUI/DWI, Criminal Defense: White Collar
Focus areas
Arrest & Arraignment, Assault & Battery, Criminal Domestic Violence, Criminal Fraud, Criminal Law, DUI/DWI, Drug & Alcohol Violations, Expungement, False Accusations, Felony, Juvenile Delinquency, Misdemeanor, Motor Vehicle Offenses, Murder, Sex Offenses, Theft, White Collar Crime
80% Criminal Defense

10% Criminal Defense: DUI/DWI

10% Criminal Defense: White Collar
First Admitted: 1997, Massachusetts
Professional Webpage: https://www.erkanlaw.com/murat-erkan
Verdicts/Settlements:
May 21, 2020, Chelsea District Court case nos. 1714CR001020, 1714RO00235, 1714RO00236 / Suffolk County Superior Court, assault with intent to rape. Former girlfriend reveals that she has a daughter, he is the father, and she would like to send the child to reside with him in the U.S. Child is caught at the border, then released to our client's care. Shortly thereafter, child accuses our client of attempted rape. Our investigation reveals that while in an immigration detention center, child learned she can obtain green card if she claims she is victim of rape. Government convenes grand jury to indict our client based on child's allegations. We present evidence to the grand jury which exposes motive to seek false charges, following which grand jury refuses to hand down indictment. Case dismissed.  5/21/20, client retains our office to represent him on extension of restraining order.  Client represented himself at prior proceedings, resulting in extension of order. Following our appearance, alleged victim withdraws restraining order in lieu of experiencing cross-examination of Attorney Erkan, 2020

May 6, 2020, Woburn Superior Court case no. 1881CR00171. On 2/21/20, Client sentenced to 18 months state prison sentence for distribution of cocaine and fentanyl, subsequent offense. We file a motion to reduce his sentence, which the Court hears on 5/1/20. On 5/6/20, the Court reduces our client's sentence to time served, over the government's objection, 2020

April 7, 2020, Essex County Superior Court case no. 1977CR00454.  Distribution of fentanyl (5 counts), conspiracy to distribute fentanyl, trafficking heroin over 18 grams (4 counts). Following a two-year investigation, Commonwealth alleges that client conducted five hand to hand drug sales to an undercover state police trooper. Trooper positively identifies client as seller on each occasion.  Following investigation, Attorney Erkan established trooper identified client in error as a product of a suggestive identification procedure.  Presents substantial alibi evidence to Assistant Attorney General, which persuades Commonwealth that client was wrongfully accused. Nolle prosequi entered, 2020

March 9, 2020 Lawrence District Court case nos. 1818CR5599, 1818CR5597. Each complaint charged indecent assault and battery on child under 14, enticement of child under 16, two separate victims. 5/23/19, Court allows motion to dismiss child enticement as to 1818CR5597. Parties appear for trial, both victims present, negotiate dismissal of remaining enticement count, plea of guilty to reduced complaint alleging simple assault and battery with eighteen months straight probation, 2020

February 24, 2020 Hillsborough, NH Superior Court case no. 216-2018-CR-02067 charging felonious sexual assault of a child under 13, 3 counts assault and battery. Successful negotiation with prosecutor results in nolle prosse following client's agreement to engage in counseling, 2020

2020, February 21, 2020 Lawrence District Court case nos. 0718CR001860. On advice of predecessor counsel, El Salvadoran national pleads guilty to two complaints which alleged: 0718CR1860 assault and battery and assault and battery with a dangerous weapon; 0718CR4400 assault and battery, witness intimidation, violation of abuse prevention order. Sentenced to 2.5 years in the house of correction, with 90 days to be served. Client retains Erkan & Associates after learning his convictions trigger deportation consequences. Following adversarial hearing on 5/29/19, the Court allows motion for new trial based on ineffective assistance of plea counsel. On February 21, 2020 the case is disposed with a general continuance, to be dismissed in August, 2021

February 7, 2020 Lawrence District Court case no. 1918CR00852 charging unlawful possession of a firearm. Court conducts motion to suppress hearing. On day two of the hearing, the Commonwealth files a nolle prosequi in light of information revealed during our cross-examination of the Commonwealth's police witness, 2020

February 7, 2020 Haverhill District Court case no. 1938AC000712 charging leaving firearm unattended and improper storage of a firearm.  Following 12/18/19 clerk's hearing, clerk finds no probable cause to issue criminal complaint. We file appeal of firearm license suspension.  Upon receipt, licensing authority assents to return of firearm on  2/7/20

December 20, 2019 Lawrence District Court case no. 1918CR2542 charging possession with intent to distribute cocaine, unauthorized use of a motor vehicle, unlicensed operation. On 10/15/19, after hearing, the Court allows our motion dismiss as to unlicensed and unauthorized use.  On 12/20/19, following an evidentiary suppression hearing, the Court allows our motion to suppress. All charges dismissed, 2019

December 18, 2019 Sex Offender Registry Board, Sex Offender No. 630. Client convicted of rape on 12/23/1983 for an offense he committed when he was 19 years old. In 1998, SORB classified No. 630 as a level 3 sex offender. On 12/18/20, SORB granted our petition to terminate No. 630's duty to register as a sex offender. On 03/23/20, we filed a motion to seal his record, which remains pending, 2019

November 20, 2019. Lawrence District Court case no. 1918CR003662, charging domestic assault and battery, threat to commit a crime, assault with a dangerous weapon to wit, knife. Following our identification of jurisdictional flaw in government's complaint, case is dismissed on trial date, 2019

November 13, 2019, Lawrence District Court case no. 1918CR3307, charging assault and battery. Case dismissed pursuant to G.L. c. 276, 87, 2019

November 5, 2019, United States District Court for the Southern District of New York, case no. 18 CR 659 (PAE) charging conspiracy to distribute and possess with intent to distribute 400 grams or more of fentanyl. Client subject to 10 year minimum mandatory sentence. In consideration of our sentencing memorandum and oral arguments, the Court imposed a non-guideline sentence of two years to serve, 2019

November 4, 2019, Middlesex Superior Court case no. 1881CR00100, charging obstruction of justice and evidence tampering in connection with shooting incident in Lowell. On 6/18/19, the Court allows our motion to dismiss the evidence tampering charge. On 8/13/19, the Court allows our motion to suppress evidence that our client destroyed a telephone which the government alleged contained evidence pertinent to the shooting investigation, 2019

October 28, 2019, Lawrence District Court case no. 1918CR00738, charging distribution of class A substance. Following evidentiary hearing, the Court allows our motion to suppress. The case is scheduled for trial on May 27, 2020, 2019

October 28, 2019, Lawrence District Court case no. 0218CR3434 charging possession with intent to distribute heroin and distribution of heroin in a school zone. On advice of predecessor counsel, client admits to sufficient facts and is placed on probation on 03/22/17. Plea counsel falsely misleads client that plea was free of immigration consequences. On 8/15/19, motion for new trial allowed by agreement. On 10/28/19, Commonwealth agrees to dismiss case upon completion of 100 hours of community service, 2019

October 25, 2019. Lawrence District Court docket 1818CR00435, charging possession of fentanyl and possession of cocaine. Following evidentiary hearing, court allows motion to suppress. Case dismissed on October 25, 2019

October 23, 2019, Lawrence District Court case no. 1918CR003138, charging assault and battery household, assault and battery dangerous weapon. Case dismissed on 10/23/19

August 26, 2019, Essex County Superior Court case no. 1977CR00250, charging trafficking in cocaine 36 to 100 grams, trafficking fentanyl over 10 grams, carrying a firearm without a license, illegal ammunition, improper storage of firearm. Related docket, Lowell District Court case no. 19CR0743, charging identity fraud, license fraud, furnishing a false name. Following evidentiary motion to suppress hearing at which we demonstrated, through cross-examination, that the government's witness furnished materially false statements, the Court allows a motion to suppress on 7/24/19. The Lowell District Court case is dismissed. On 8/26/19, the government agrees that the court's ruling regarding the Lowell matter invalidated the search warrant underlying the Essex Superior matter, required dismissal of that matter as well. Nolle prosequi filed, Essex Superior Court matter dismissed, 2019

August 8, 2019, Salem District Court case no. 1936CR001242, charging license fraud (2 counts), identity fraud, false information upon arrest.  At arraignment, court orders defendant detained until he submits his passport to court to verify his true identity.  We appeal the detention order to the Supreme Judicial Court, contending that the bail condition violates our client's privilege against self-incrimination. During the pendency of the appeal, we appear for trial.  Government concedes it lacks sufficient evidence to prosecute. Case dismissed. In light of dismissal, on 1/6/20, the SJC dismisses appeal as moot. SJC case no. SJC-12770, 2019

July 9, 2019, Essex Superior Court case no. 1777CR000435 charging trafficking heroin/fentanyl over 200 grams, trafficking cocaine over 36 grams, conspiracy. Government alleges client is mastermind of large-scale heroin delivery enterprise. Following extensive discovery litigation, we generate evidence calling into question reliability of government informant. Though client faces 12 year minimum mandatory, and client has served two prior prison sentences for similar offenses, government agrees to resolve case with a plea to 3 - 4 years committed, 2019

June 3, 2019. Lawrence District Court case no. 1918CR001207, charging attempted murder. Government alleges our client stabbed her boyfriend in the chest. On 6/3/19, the Court allows our motion to dismiss the complaint; our client is released from custody, 2019

May 13, 2019, Roxbury division of the Boston Municipal Court case no. 1402CR002233, charging distribution of cocaine in a school zone. On 11/7/14, on advice of predecessor counsel, client admits to sufficient facts and is placed on probation. On 2/12/19, client is taken into immigration custody for immediate deportation as a result of this conviction. On 2/22/19, we file a motion to vacate his admission. The court conducts an evidentiary hearing at which plea counsel testifies he rendered legally competent advice. On 4/2/19, the Court issues an order allowing our motion for new trial. On 5/13/19, the government assents to our request to dismiss the complaint, 2019

May 7, 2019, Malden District Court case no. 0850CR000637, charging 3 counts assault dangerous weapon, failure to stop for police, driving to endanger. Government alleges that when officers attempted to stop client in connection with a suspected drug transaction, client attempts to run down the officers with his car. On advice of predecessor counsel, client admits to sufficient facts and is placed on probation on 12/18/08. Client retains our firm after learning his convictions trigger deportation consequences. Following adversarial hearing, the Court enters an order dated 6/5/18 allowing our motion for new trial based on ineffective assistance of plea counsel. On May 7, 2019, we appear for trial. The case is ordered dismissed pursuant to G.L. c. 276, 87, 2019

April 30, 2019, Lynn District Court case no. 0213CR001164, charging distribution of heroin in a school zone and related charges. On advice of prior counsel, client pleads guilty to distribution of heroin on 8/3/04. Client consults with immigration attorney to seek green card. There, he learns that his guilty plea places him at risk of immediate deportation, then retains our office for help. Following an adversarial hearing on March 26, 2019, the Court vacates client's conviction. On April 30, 2019, the Court orders the case dismissed, 2019

April 23, 2019, Peabody District Court case no., charging assault and battery with a dangerous weapon. Client recreational hockey player accused of beating opposing player unconscious with hockey stick.  Following two-day hearing, clerk magistrate finds no probable cause to issue criminal complaint; case dismissed, 2019

April 23, 2019, Lawrence District Court case no. 1918CR00147, charging assault and battery in connection with allegation that client forced way into apartment and assaulted her boyfriend's friend and smashed furniture. Incident occurred in the presence of alleged victim's young children. Following negotiations, government agrees to dismiss case upon client's payment of replacement cost for destroyed furniture, 2019

March 28, 2019, Lawrence District Court case no. 1818CR4555 charging OUI/DWI second offense, driving without a license, negligent operation and failure to stop for police. Government alleges client was drunk, led police on a chase, smashed into parked cars and dumped his car, while on probation for first offense OUI/DWI. Probation seeking one-year jail sentence. We appear for trial. Government agrees to dismiss lead charge of operating under the influence, second offense. Client is sentenced on remaining charges to probation concurrent with his prior probation and to pay a $100 fine, 2019

March 27, 2019, Worcester District Court case no. 0962CR009194, charging distribution of heroin and possession with intent to distribute heroin. On advice of prior lawyer, client pleads guilty to possession with intent to distribute heroin. Years later, client learns that his plea subjects him to deportation.  We file a motion to vacate his plea, which the government concedes on 2/27/19. On 3/27/19, the case is ordered dismissed pursuant to G.L. c. 276, 87, 2019

March 20, 2019, Newton District Court case no. 1912CR0026, charging domestic assault and battery. On 3/20/19, we appear for trial. Citing lack of evidence, prosecutor assents to our motion to dismiss, 2019

March 21, 2019, Lawrence District Court case no. 1818CR006022, charging leaving the scene of an accident causing personal injury. We determine that the criminal complaint issued in violation of client's right to a show-cause hearing (clerk's hearing), rendering the case vulnerable to a motion to dismiss.  On 3/21/19, we appear to litigate the motion to dismiss. The government concedes the motion and the case is dismissed, 2019

March 12, 2019, Boston Municipal Court case no. 1801CR5009, charging leaving the scene of an accident causing personal injury, failure to identify.  Government claims cab driver flees the scene after striking and seriously injuring bicyclist in Boston's North End.  We file a motion to dismiss arising from 1) delay in issuing citation and 2) lack of probable cause to support criminal complaint and 3) police loss or  destruction of evidence. Following adversarial hearing on 3/12/19, the Court allows our motion; all charges dismissed, 2019

February 7, 2019, Salem District Court case no. 1936AC00019, charging leaving the scene of a motor vehicle accident. We appear for clerk's hearing, negotiate with police and clerk for pre-arraignment dismissal of complaint. Case dismissed, 2019

December 21, 2018, United States District Court, District of New Hampshire case no. 1:18CR00019-1-JL, indicted for federal drug conspiracy with total drug amount of 5.373 kilograms of heroin / fentanyl, carrying a presumptive sentencing range of 12.5 to 15.6 years with 10-year minimum mandatory.  We were able to convince the Court to grant a substantial guideline variance and impose a sentence of 4 years and 4 months, which is less than 1/3 of the guideline range, 2018

December 21, 2018, Lawrence District Court case no. 1818CR004216, charging client with indecent assault and battery. We file a motion to dismiss the complaint. The government concedes that our legal arguments are correct; case dismissed, 2018

December 18, 2018, Haverhill District Court case no. 1836CR000742, charging operating under the influence of alcohol and drugs. Attorney Basso presents the case to a jury which returns with a not guilty verdict after only 18 minutes of deliberation, 2018

December 14, 2018 East Boston District Court case no. 0205CR0220, charging domestic assault and battery.  Public defender counsels client to admit guilt, following which he is placed on probation.  In 2018, client, who is now a father and successful businessman, seeks permanent resident status.  Immigration counsel advises him that his admission in this case renders a green card unlikely.  Client retains our office.  Following a full evidentiary hearing, the Court allows our motion for new trial.  On 12/14/18, case dismissed, 2018

December 11, 2018, Somerville District Court case no. 1810CR000389 charging operating under the influence of alcohol (OUI/DWI/DUI) 5th offense. Client is caught on camera blowing through a construction zone, knocking over cones and nearly striking police and workers.  Client fails all field sobriety tests. When asked, client denies drinking, then admits to drinking. Police find mostly empty bottle of wine in his vehicle.  Attorney Erkan tries the matter to a jury, at which he is able to demonstrate through cross-examination inconsistent stories of all police witnesses.  Jury finds client not guilty, 2018

December 7, 2018, Ayer District Court case no. 1048CR0151, charging possession of heroin and cocaine. On advice of prior counsel, client admits to both charges. Prior counsel did not advise client that his plea created serious deportation consequences. Client retains our office.  Following adversarial hearing, the Court, on 10/26/18, allows our motion to vacate client's admission. On 12/7/18, the Court grants our motion to dismiss all charges, 2018

November 30, 2018, Lowell District Court case no. 1811CR003390, charging cocaine distribution. We file a motion to suppress which contends our client was subjected to an unlawful arrest. On 11/30/18, government reports to court they lack testimony necessary to defend the motion.  The Court allows our motion to dismiss over the government's objection, 2018

November 29, 2018, Boston Municipal Court case no. 1801CR000761, charging operating under the influence (OUI/DWI/DUI).  Trooper investigates client for drunk driving after client crashes into parked car. Trooper reports client fails all field sobriety tests and admits having "way too much to drink." Attorney Erkan presents the case to a jury. Under pressure of cross-examination, trooper makes statements which cannot be reconciled with his earlier claims. Government agrees that trooper lied under oath and dismisses the case mid-trial, 2018

November 26, 2018, Salem, NH District Court case no. 473-2018-CR-01075, charging identity fraud. On 11/26/18, following negotiations with prosecutor, case resolved with deferred dismissal with no admission or finding of guilt, 2018

November 20, 2018, Essex County Superior Court case no. ESCR2018-00221 charging trafficking in opium over 18 grams, carrying a 3.5-year minimum mandatory penalty. After identifying arresting officer's pattern of illegal stops premised on alleged "window tint" violations, we file a motion to suppress. One day before the evidentiary hearing, the prosecutor concedes that the stop was unlawful, forcing her to dismiss the indictment in its entirety on 11/20/18

November 13, 2018, Malden District Court case no. 1850CR001583 charging possession with intent to distribute marijuana. Client stopped carrying a load of marijuana in a duffel bag. We file a motion to dismiss, arguing that the complaint was not supported by probable cause.  Following an adversarial hearing, the motion to dismiss is allowed, 2018

October 25, 2018, United States District Court, District of Massachusetts case no. 1:17CR10142-2-DJC, charging a federal drug conspiracy with a total drug weight of 621 grams fentanyl, as well as illegal re-entry of a deported alien. Presumptive sentencing range of 8 to 10 years in federal prison, with a ten-year minimum-mandatory. In consideration of our sentencing submissions and oral arguments, the Court sentences client to 4 years and nine months, less than one-half of the otherwise applicable minimum offense, 2018

October 25, 2018, Dedham District Court case no. 0954CR000551 charging distribution of cocaine in a school zone and drug conspiracy; Cambridge District Court case no. 0752CR002943 charging possession with intent to distribute cocaine in a school zone, and failure to stop for police; Lawrence District Court case no. 1818CR001840 charging failure to identify, RMV fraud, operating with suspended license, false name upon arrest. In 2009, client flees prosecution after prior retained counsel advised that his cases could not be defended and he would serve prison time. April 2018, client arrested and charged in Lawrence District Court with license fraud. Fingerprint check reveals warrants on the Cambridge, Dedham matters.  We appear in each court and secure client's pretrial release despite prior defaults. Cambridge: 4/19/17 drug charges dismissed due to due to Hinton lab malfeasance; 4/18/18 failure to stop dismissed at our request. Dedham: Commonwealth dismisses all charges due to Hinton lab malfeasance. Lawrence: After we uncovered evidence of state police misrepresentations regarding basis for stop, Commonwealth agrees to dismiss all charges upon client's admission to misdemeanor driving on a suspended license, following which that charge was also dismissed on 10/25/18

October 19, 2018, Chelsea District Court case no. 1814CR000059 charging assault and battery on a disabled person over 60. Victim alleges our client, driver for medical transportation company, physically assaulted her and threw her out of his vehicle in severe blizzard conditions. We present the case to a jury during which Attorney Erkan, through cross-examination, establishes that government's witnesses lacked credibility.   Client found not guilty, 2018

October 11, 2018, Lawrence District Court case no. 1618CR005211, charging possession with intent to distribute heroin and cocaine. After witnessing suspected drug transaction involving two bags of cocaine, Andover police seize 10 bags of heroin from client. We appear for trial on 10/11/18.  Following prosecutorial non-disclosure of evidence and failure to comply with discovery orders, the Court allows our motion to close all discovery, depriving the prosecutor of the opportunity to introduce necessary evidence against our client. All charges dismissed, 2018

September 7, 2018, Lawrence District Court case no. 1818CR2815 charging trafficking in heroin over 200 grams, carrying 12 year minimum mandatory prison sentence. Arrest resulted from joint Drug Enforcement Administration ("DEA") / State Attorney General investigation.  Following delay in indictment, the Court allows our motion to dismiss the case in its entirety, 2018

August 16, 2018, Lawrence District Court case no. 1818CR00007 charging rape of a child. Client accused of forcibly raping downstairs neighbor's child at knife point.  Our investigation establishes a strong alibi for client. Further exploration of child's family background reveals evidence suggesting that child's parents developed hostility toward client landlord. Our investigation further uncovered history of past allegations motivated by desire to leverage housing benefits. The sum of our investigation reveals the hostility and motive combined to prompt child's fabrication of rape allegations. Following presentation of our findings to the prosecutor, all charges dismissed over the alleged victim's objection, 2018

August 15, 2018, Quincy District Court case no. 1856CR2019, charging possession with intent to distribute and two counts of distribution of cocaine. Client admits to sufficient facts to possession with intent, remaining counts dismissed. Following successful term of supervision, final count dismissed on 8/30/19, 2018

August 2, 2018, Lawrence District Court case no. 1818CR002315 charging violation of restraining order; 1818CR001096 charging threat to commit murder; 1818CR000779 charging domestic assault and battery. We answer ready for trial on all matters. All dockets dismissed with the exception of restraining order violation (1818CR002315), which police observed. Client sentenced to 90 days in the county jail deemed served, with probation for two years, 2018

July 25, 2018, Lawrence District Court case no. 1818CR000750 charging assault and battery domestic. Client initially retains our office.  He requests guarantee that the case will be dismissed. We reviewed our strategies with client, then explained that while we will seek dismissal, we are unable to ethically offer any such assurance, as the ultimate resolution of the case rests in the judgment of the Court. Client then discharges our firm after another attorney "promised" that he would secure dismissal of case. Two months later, that attorney suggested client should change his plea to guilty. Client re-engages our law office. We prepare for trial consistent with our existing defense strategy.  On 7/25/18, the scheduled trial date, the Court allows our motion to dismiss the case, 2018

July 9, 2018 Lowell District Court case nos. 1811CR1711 charging assault and battery domestic; 1811CR2460, assault and battery domestic and threats to commit a crime. We appear for trial on 7/9/18. The Court allows our motion to dismiss all charges, 2018

July 3, 2018, Lawrence District Court case no. 1718CR002026 charging possession of cocaine with intent to distribute. Police execute search warrant at client's residence, uncovering 15 grams of cocaine and nearly $20,000 cash. Negotiations via prior counsel resulted in recommended sentence of two years in jail. Client retains our office. Following negotiations, case closed with two years probation, no jail time, 2018

June 14, 2018, Middlesex County Superior Court case no. 9781CR00898 charging possession of cocaine with intent to distribute, second offense.  In 2018, client arrested on default warrant for 1997 drug case. In investigating the charges, we discover documentation deficiencies in the police investigation. Following our investigation, we advance argument that the government's case will not survive a motion to suppress.  After consideration of our findings, prosecutor files a nolle prosequi, dismissing the case in its entirety, 2018

May 30, 2018, Brighton District Court case no. 1708CR00113 charging operating under the influence (DWI/OUI). Police arrested our client after observing him swerving and driving well under the speed limit  (25 in a 40). He failed field sobriety tests, admitted to drinking, then failed the breathalyzer. We filed a motion to suppress, arguing that our client did not consent to the breathalyzer and did not voluntarily waive his Miranda rights. Following a hearing, the Court excluded our client's post-arrest statements and excluded the breathalyzer test from evidence. On 5/30/18, we appear for trial. The trooper does not. Case dismissed, 2018

June 5, 2018, Essex County Superior Court case no. 0277CR01335, charging trafficking in heroin over 200 grams and trafficking in cocaine over 28 grams; Rockingham, NH Superior Court case no. 2002-S-2132, charging conspiracy to sell a controlled substance. As initially charged, client faced 15 year minimum-mandatory prison term. Represented by prior counsel, client posts bail and defaults, remaining in fugitive status until captured in January 2018. Client retains our office. As a result of extensive negotiations, prosecutor agrees to reduce charges to eliminate all mandatory prison sentences, and agrees to sentence of one year in the county jail on the Massachusetts charges, followed by a one to two year suspended sentence on the New Hampshire charges, 2018

May 30, 2018, Malden District Court case no. 1750CR1097 charging distribution of heroin in a school zone and narcotics conspiracy. After police see client conduct suspected drug transaction, officers detain "buyer" who claims he purchased 6 bags of heroin from our client for $150.  Police stop our client, finding $776 cash on his person. We appear for a motion to suppress hearing. After negotiations with detectives and prosecutor, the government agrees to dismiss all charges pursuant to G.L. ch. 276, 87, 2018

May 10, 2018, Lawrence District Court case no. 1718CR006090 charging possession of heroin with intent to distribute. Following their observation of a suspected drug transaction, state police narcotics detectives stop our client and recover a bag of heroin concealed in his mouth as well as proceeds from drug transactions on his person. We file a motion to suppress. At the hearing, our associate Chris Basso establishes that police illegally detained and searched our client. Motion to suppress allowed; case dismissed, 2018

March 23, 2018, Lawrence District Court case no. 1818CR000502 charging felony malicious destruction of property. Client is a domestic abuse survivor. Her domestic partner files bogus complaint in retaliation for her reporting his abuse to police. We meet with prosecutors and prevail upon them that her prosecution is not in the interest of justice. The prosecutor agrees, ordering the complaint dismissed prior to any arraignment, 2018

April 30, 2018, Lawrence District Court case no. 1618CR003905 charging distribution and possession with intent to distribute heroin and possession with intent to distribute crack cocaine. Police observed a suspected drug transaction, in which "buyer" claimed our client sold her heroin for $80. Police arrest our client, finding additional heroin and crack cocaine on his person, as well as the $80 buy money. On April 30, 2018, following negotiations with the narcotics detective and prosecutor, the government agrees to dismiss all charges against our client, 2018

March 6, 2018, Somerville District Court case no. 1710CR001044 charging drunk driving (OUI/DWI/DUI), negligent driving. Trooper claims client weaving and driving 87 in a 55, almost striking other cars and HOV lane barriers. Client fails all field sobriety tests. Police find rum bottle in car. They claim he is belligerent at booking. Our then-associate attorney Daryl Zules with Attorney Erkan supervising presented the matter to a jury. The jury found our client not guilty on the OUI and a mistrial was declared on the negligent driving. The Court continued the negligence charge without a finding following which, that charge was also dismissed on 9/7/18

March 6, 2018, Lawrence District Court case no. impounded, complaint for abuse prevention order. Client's former domestic partner files frivolous restraining order request against our client. At a hearing at which the alleged victim testified, our attorney Christopher Basso through cross-examination revealed her testimony to lack credibility. The court orders the restraining order terminated, 2018

February 26, 2018, Essex County Superior Court case no. 1777CR00031 charging trafficking in heroin over 18 grams and possession with intent to distribute cocaine. Young client first-time offender charged with serious felony and facing mandatory deportation. At lobby conference, we convince the Court to grant our request to allow our client to plead guilty, but file the indictment with no punishment of any kind. This largely unprecedented disposition was the only means by which our client would be spared from certain deportation, 2018

February 16, 2018, Lawrence District Court case no. 1718CR005946 charging ten counts of armed robbery. Government alleges client is a member of a ruthless stick-up crew which, most recently, conducted a robbery of a poker game at gunpoint. Client insists he has no involvement. We conduct an investigation, following generates evidence that not only exonerates our client, but leads to identification of the actual robber. We present our findings to law enforcement resulting in dismissal of all charges against our client, 2018

January 31, 2018, Lawrence District Court case no. 0718CR6788 charging mayhem, assault and battery dangerous weapon (ABDW) and assault and battery (A&B).  At a house party, client allegedly smashed a glass into victim's eye, causing serious injury. On advice of court appointed lawyer, client pleads guilty to ABDW and A&B and is sentenced to 18 months suspended. Client, now a certified nursing assistant, married, and mother of two, learns she is facing mandatory deportation as an aggravated felon. In 2011, client retains Boston law firm to file motion for new trial. The motion is denied. In 2016, client retains our office. We file a motion for new trial. On January 31, 2018, the government concedes that her prior plea was invalid because of her prior lawyer's deficient performance. We negotiate a new agreement for a plea to the lesser charge of simple a&b which carries no adverse immigration consequences, 2018

January 26, 2018, Lawrence District Court case no. 1718CR001315 charging operating to endanger and failure to stop for police. We appear for trial. Following negotiations with prosecutor, case dismissed pursuant to G.L. c. 276, 87, 2018

January 22, 2018, Chelsea District Court case no. 1714CR00852 charging assault and battery by means of a dangerous weapon; 1714CR00853 violation of a restraining order. Our client was accused of intentionally striking his roommate with a door during verbal altercation.  Following his arrest, our client returns home to get clothes, and is arrested again for violating a no-contact order. Our investigation reveals that alleged victim had ongoing feud with a third roommate. Our client counseled the third roommate to contact police rather than allowing the incident to escalate. The next day, the alleged victim filed this criminal case against our client in retaliation for his siding with the third roommate. Armed with that information, we appeared for trial. After learning that we had discovered her misconduct, the alleged victim refused to come to court. Case dismissed, 2018

November 28, 2017, Lawrence District Court case no. 1718CR000962 charging possession of heroin with intent to distribute, failure to stop for police. State police attempt to pull client over for alleged driving infraction. Client flees and is captured after short pursuit. Trooper locates heroin in client's pocket. Client admits to heroin sales. Following analysis of stop, we determine stop was illegal. Our then-associate attorney Daryl Zules conducted motion to suppress hearing. Court allows motion, case dismissed on 11/28/17

November 21, 2017, Lynn District Court case nos. 1311CR001475, 1611CR007364. Client on probation for drug charges facing probation revocation for failure to report to probation for three years, failure to submit DNA sample following felony conviction, failure to pay court fines, and new arrest for driving on suspended license. At detention hearing, we secure client's release over probation department's objection. On 11/21/17, failure to submit DNA sample charge dismissed; probation violation discharged and terminated in client's favor, 2017

November 14, 2017, Dorchester District Court case no. 0007CR004912 charging cocaine trafficking and related drug offenses. Government alleges that client possessed narcotics in an after-market hidden compartment in vehicle. Represented by prior counsel, client appears for trial. When government answers ready, attorney advises client to plead guilty. Client defaults, forfeiting bail and remaining in fugitive status until he retains our firm. In 2017, we appear to remove the warrant, client released on $1,000 bail. We appear for trial on November 14, 2017, again, all witnesses present. When we answer ready for trial, prosecutor concedes insufficient evidence to warrant prosecution; case dismissed, 2017

October 24, 2017, Lowell District Court case no. 1711RO001069, 1711CR003951, charging restraining order violation. Client is adamant that charge is fabricated. Upon investigation, we determine that alleged victim engaged in pattern of deceit and hostility. Victim in a relationship with Lowell police officer, positioning her to exploit that relationship to obtain unfair advantage in ongoing dispute with client. We launch criminal probe into alleged victim's misconduct, including allegation that she intentionally crashed client's new girlfriend's car. Following our investigation, victim fails to appear at restraining order extension hearing, resulting in termination of the order. On 10/24/17, we appear for trial on the criminal case. Victim fails to appear; case dismissed, 2017

October 18, 2017 Haverhill District Court case no. 1638CR002405, charging trafficking in over 36 grams of heroin and trafficking in over 18 grams cocaine. Following shots fired incident, police stop our client in neighborhood based on his matching generic description of 911 caller. A search of his person reveals trafficking weight narcotics. We present a motion to suppress, which our then-associate Attorney Daryl Zules litigated. Following a hearing, the motion is allowed. On 10/18/17, all charges dismissed, 2017

September 28, 2017, Lawrence District Court case no. 1718CR000371 charging RMV fraud. We answer ready for trial, whereupon the Commonwealth concedes it lacks sufficient evidence to prosecute. Case dismissed, 2017

September 22, 2017, Dorchester District Court case no. 1607CR002600 charging possession with intent to distribute and distribution of cocaine.  Police observed client conduct exchange with "buyer." Upon interrogation, "buyer" confirms he purchased cocaine from client.  Police arrest client, finding 3 bags of cocaine and cash. Client retains our office after prior retained counsel does "nothing" for over one year.  We file a motion to suppress, the merits of which lead the government to agree to "guilty file" the case. This disposition, which closes the case with no punishment, penalty or restraint on liberty, clears the way for client to obtain his United States citizenship, 2017

September 12, 2017, Lawrence District Court case no. 1618CR007089 charging trafficking in heroin over 18 grams. Government alleges our client and another sold drugs to an undercover police detective.  Following our investigation, we argue to the government that our client was an unwitting participant in the transaction and was just "along for the ride." Extended negotiations result in government dismissing case against our client in its entirety on 9/12/17

August 22, 2017, Middlesex County Superior Court case no. 1581CR000534 charging trafficking in cocaine over 18 grams. Framingham police raid client's hotel room, discovering drug packaging equipment and trafficking weight cocaine. Following an evidentiary hearing on a motion to suppress, our attorney Christopher Basso persuades the Court that the raid, search and arrest were unlawful. Case dismissed

August 22, 2017, Roxbury District Court (BMC Roxbury) case no. 1602CR003571 charging domestic assault and battery and threats to commit murder. On 8/22/17, alleged victim appears for trial, but pleads the 5th. Prosecutor expresses intention to proceed to trial based on body camera footage and officer testimony. Anticipating this move, we filed a motion to exclude those statements. After evaluating that motion, the government drops all charges against our client

August 17, 2017, Lawrence District Court case no. 1618CR3268 charging distribution of heroin. Client admits to sufficient facts, following which the Court continues the case without a finding of guilt for 1 year, following which the case is dismissed

August 16, 2017, Haverhill District Court case no. 1638CR001118 charging distribution of fentanyl. Police allege observation of client conducting street level drug sale. Following transaction, police stop "buyer," who is found with fentanyl. Police arrest client, finding $643 in alleged drug sale proceeds. Our associate Christopher Basso presents the matter to a jury, which returns a verdict of not guilty

August 7, 2017, Peabody District Court case no. 1686CR000765 charging distribution of heroin in a school zone. Police claim to observe our client broker a hand-to-hand drug exchange, subjecting him to two-year mandatory jail sentence. Following negotiation with prosecutor, case is dismissed pursuant to G.L. c. 276, 87

July 26, 2017, Lowell District Court case no. 9411CR0561 charging breaking and entering and possession of cocaine with intent to distribute. On advice of prior counsel, client pleads guilty as charged. Neither prior counsel nor the judge informed client that his plea will cause mandatory deportation, notwithstanding that client has lived in the U.S. since he was ten years old. On 5/17/17, following a hearing, the Court allows our motion for new trial. On 7/26/17, the Court dismisses all charges

July 24, 2017, Lowell District Court case no. 1611CR5204 charging distribution of heroin and drug conspiracy. Drug detectives claim to have observed client and confederate sell heroin to a known drug user. We answer ready for trial.  Government concedes it lacks sufficient evidence to prosecute, following which the Court allows our motion to dismiss

June 30, 2017, Middlesex County Superior Court case no. 0581CR00739 charging trafficking cocaine over 14 grams. Police executed a search warrant at client's home, seizing cocaine and cash. Client retained prior counsel, who advised her to plead guilty to reduced indictment.  Client has resided in the U.S. since age 7, is now a mother of two, college graduate, working in health care. Client learns that her conviction subjects her to mandatory deportation for life. Client retains our office for help. Our investigation reveals that our client is a domestic abuse survivor. At age 14, she begins a relationship with a much older man who exploits her in furtherance of his drug operation. He directs client to take full responsibility for the drugs, allowing him to escape punishment. We file a motion bringing this history to the court's attention, following which the Court vacates her conviction, following which, on June 30, 2017, the government agrees to dismiss all charges

June 23, 2017, Lawrence District Court case no. 1718CR000105 charging breaking and entering. Government alleges our client broke into someone's home at night. Our client insists that he was intoxicated and entered the wrong house by mistake with no criminal intent. We file motions to suppress and dismiss. In light of our motions, government agrees to dismiss case pursuant to G.L. ch. 276, 87

June 22, 2017 Essex County Superior Court case no. 1577CR318, April 19, 2016, Lawrence District Court case no. 1518CR535. Client charged with distribution of cocaine to police informant. While that matter pending in Lawrence, client arrested following suspected 20 gram heroin sale.  Client faces 3.5 year minimum mandatory prison sentence. On district court case, we succeed in obtaining a sentence of probation. On superior court case, minimum mandatory sentence strips judge of authority to impose sentence below mandatory. We file a motion requesting that the court strike down the Commonwealth's minimum mandatory drug laws. We argue that the mandatory drug laws violate constitutional equal protection guarantee, given data which suggested that minorities were incarcerated at a rate 75% greater than whites, despite data demonstrating that drug distribution offenses were committed by whites and non-whites with equal frequency. We also argue that the mandatory drug laws violate the separation of powers by vesting in the executive the traditionally judicial function of sentencing.  Finally, we argue that the mandatory drug laws constitute cruel and unusual punishment.  Sadly, the Court was not prepared to disrupt the status quo by granting our motion. Nevertheless, the prosecutor agreed to a sentence of 2 years imprisonment - 18 months below the applicable minimum mandatory

June 8, 2017, Middlesex County Superior Court case no. 1481CR00952 charging trafficking in cocaine. Pursuant to a motor vehicle stop, police search client's vehicle, finding over 100 grams cocaine in a hidden compartment. Client faces 8 year minimum mandatory if convicted.  We file a motion to suppress which argued police illegally stopped and searched our client's car. We file further motions arguing that the government wrongfully concealed evidence favorable to the defense. Following a hearing on those motions, the Court allows our motion to suppress and the case is dismissed

June 6, 2017, Lawrence District Court case no. 0418CR004869 charging possession with intent to distribute and distribution of cocaine.  Government alleges client caught on security camera selling cocaine at Kohl's department store. We appear for trial, where government concedes it lacks proof to support its allegations. Case dismissed

May 31, 2017, Wrentham District Court case no. 1657CR001289 charging credit card fraud. Government claims our client was ring leader of scam involving purchase of gift cards using stolen credit card credentials, most recently purchasing gift cards at Bass Pro Shop at Patriot Place.  We obtain several discovery orders with which the government fails to comply. We answer ready for trial, following which the government concedes it lacks sufficient evidence to prosecute. Case dismissed

February 6, 2017, Woburn District Court case no. 1653CR002399 charging false driver license application, RMV fraud, and false name upon arrest. We file a motion to suppress and our Attorney Christopher Basso appears in court for a hearing on February 6, 2017. In consideration of the merits of our motion, the government moves to dismiss the case upon payment of $300 in court costs

January 23, 2017, Lynn District Court case no. 1613CR004619 charging possession of heroin. Client suffers from drug addiction. Despite the ongoing opioid epidemic, police charge him for personal use possession of heroin. In court, we file a motion to dismiss the criminal case and remand it for a clerk's hearing. At the clerk's hearing, we convince the magistrate that the prosecution is not in the interest of justice. The complaint is withdrawn

November 1, 2016, Lowell District Court case no. 0611CR003533 charging assault dangerous weapon (ADW), distribution of cocaine, narcotics conspiracy, failure to stop for police. On advice of prior retained counsel, client pleaded guilty to ADW with other charges placed on file. In subsequent consultation with immigration attorney, client learns that his plea subjects him to deportation. Immigration attorney recommends our firm. We appear on a motion to vacate his conviction, which the Court allows. On 11/1/16, the government dismisses all charges against our client

October 3, 2016, Quincy District Court case no. 1556CR5179 charging license fraud.  We answer ready for trial on 10/3/16. The government lacks sufficient evidence to proceed. The Court allows our motion to dismiss

September 20, 2016, Haverhill District Court case no. 1238CR2758. On advice of prior counsel, client admits to distribution of cocaine on 8/16/13, placing him under threat of deportation. Client retains our firm, following which we identify a defect in the plea hearing which results in the Court allowing a motion for new trial in mid-2015. We defend client on revived complaint, resulting in filing of conviction without any punishment, penalty or restraint on liberty, which disposition does not qualify as conviction for federal immigration purposes; client is no longer deportable as a result of this case

August 29, 2016, Lawrence District Court case no. 1518CR000896 charging possession of cocaine with intent to distribute. Our then-associate attorney Thomas Ozbolt litigated a motion to suppress on 5/27/16. The court allows the motion, the matter is dismissed on 8/29/16

August 5, 2016, Lawrence District Court case no. 1518CR003282, charging insurance fraud. Government claims filed a false insurance claim that he was victim of hit and run when in fact damage to his car resulted from his backing into a fire hydrant. Following negotiations with prosecutor, we resolve case with a "guilty file," which disposes of the case with no punishment, penalty or restraint on liberty of any kind

June 29, 2016, Middlesex County Superior Court (Lowell) case no. 0881CR00706 charging distribution of cocaine; Lowell District Court case no. 0811CR01773 charging distribution of cocaine and drug conspiracy. Client contends that she was involved in an abusive relationship, in which her boyfriend forced her to sell drugs for him. Nevertheless, her prior lawyer recommends she plead guilty to both cases. On 3/25/15, client applied for citizenship, unaware that her convictions constituted aggravated felonies which trigger mandatory deportation. Client is a Cambodian national who along with her family fled the atrocities of the Khmer Rouge regime in her home country. She has resided in the U.S. since she was eleven; she is now a mother of four children. She retains our office to vacate her convictions to avoid being returned to the country of which her only memory is of persecution and death. We filed motions for new trial in each matter, which the government opposed. In separate adversarial hearings, both the Lowell District Court (6/10/16) and the Middlesex Superior Court (6/29/16) allow our motions and vacate her convictions. Following further litigation, all charges are dismissed. Client is now a U.S. citizen living peacefully with her children

May 5, 2016, Lawrence District Court case no. 1318CR006179, charging operating on a suspended license. Case dismissed by agreement

January 5, 2016, Lowell District Court case no. 1511CR003878 charging distribution of cocaine. We secure various orders compelling disclosure of discovery as we prepare case for trial. Government was unable to comply by trial date; Court allows our motion to dismiss predicated on prosecutorial non-compliance, 2016
Honors/Awards:
,

Top 100 Criminal Defense Lawyers, National Trial Lawyer's Association, 2021

From Martindale Hubbell's website: Martindale-Hubbell® Peer Review Ratings™ recognize lawyers for their strong legal ability and high ethical standards. Individuals seeking legal counsel, as well as attorneys looking to refer a colleague, use these ratings to identify, evaluate and select the most appropriate lawyer. An elite group of approximately 10 percent of all attorneys holds an AV Preeminent Rating, a designation trusted worldwide by buyers and referrers of legal services, 2020 - 2021

,

AV Preeminent rated

,

Martindale Hubbell

From Attorney & Practice's website: "Attorney and Practice Magazine Top 10 Law Firm award is an achievement reserved for only those lawyers who have demonstrated the highest degree of excellence in his or her area of law. Because of our stringent standards, less than 1% of lawyers nationwide will receive this invitation for membership, subscription and list inclusion which is published on www.attorneyandpractice as well our quarterly magazine. Our list recognizes the significant achievements of those attorneys whose practice elevates the standards of their State's Bar as well as provided a benchmark for other practitioners. Our list encompasses industry leaders who have been featured on networks such as ABC, NBC, CBS, MSNBC, FOX, the New York Times, The Washington Post, Time and Newsweek."

,

Top Ten Criminal Defense Law Firm

,

Attorney & Practice Magazine

,

2020

The "Client's Choice Award" is "awarded to attorneys who receive at least 15 reviews of 4 stars or higher on Avvo during the previous year." We currently have 16 reviews on Avvo.com, each of which selected a "5 out of 5" star rating.

,

Client's Choice Award

,

Avvo

,

2018
Bar/Professional Activity:
Massachusetts

Member, Massachusetts Bar Association

,

2010

Council member, Massachusetts Bar Association Criminal Justice Section

,

2020

Member, Massachusetts Association of Criminal Defense Lawyers

,

2019
Pro bono/Community Service:
Our office submitted an amicus brief in SJC-11619, Commonwealth v. Angel Santiago, 470 Mass. 574 (2015) which asked the Court to adopt the theory of target standing in the context of suppression hearings. We contended this theory of standing was necessary to address police practices of violating the rights of lower level offenders in order to obtain evidence against higher priority enforcement targets

,

2015
Other Outstanding Achievements:
In total, my firm has received ten peer endorsements from fellow attorneys, including: Daryl Zules, Michael Smerczynski, Michael Ruane, Joseph Cacace, Danya Fullerton, Thomas Ozbolt, David Yannetti, H. Aalsberg, Rahul Aggarwal, Vikas Dhar

,

2020

Frequent commentator for Massachusetts Lawyer's Weekly

,

2019

In several instances, forced mid-trial and mid-motion dismissal by prosecution by uncovering government wrongdoing through cross-examination. Investigated and secured exoneration of clients wrongfully accused of major felonies including rape of a child, armed robbery, and sale of narcotics to undercover police officer. Identified, exposed and ended instances of institutional wrongdoing including: ending one local police department's practice of providing misleading information which induced arrestees to submit to chemical testing without their knowing consent; identifying and bringing to justice corrupt police officials; convincing top state prosecuting entity to consider discontinuing practice of permitting police officers to conduct non-exigent single-photograph or otherwise suggestive identification procedures, 2017
Office location for Murat Erkan
300 High St
Andover, MA 01810
Phone: 978-321-3838
Selections
Super Lawyers: 2021 - 2023
Additional sources of information about Murat Erkan
Attorney resources for Murat Erkan