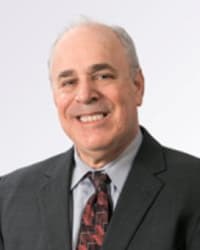 The Wagner Law Group, P.C.
Practice Areas: Employment & labor; view more
Licensed in Massachusetts since: 2012
Education: Touro College Jacob D. Fuchsberg Law Center

Selected to Super Lawyers: 2010 - 2011, 2013, 2015 - 2022
The Wagner Law Group, P.C.
125 High St
Oliver Street Tower, 5th Floor
Boston, MA 02110
Visit website
Details
Attorney David G. Gabor is a partner with The Wagner Law Group, and he works primarily out of the firm's Boston law office. A highly experienced and distinguished attorney, Mr. Gabor heads the Labor, Employment & HR practice at the firm, and he provides exceptional counsel and support to a diverse range of clients throughout his region who have legal needs involving any of the following:
Labor and employment law
HR policies and practices
General civil litigation
Taft-Hartley trusts
Along with being a successful trial attorney with a long record of success in state and federal courts, Mr. Gabor is also an effective mediator and negotiator, and he has also handled numerous arbitrations and appeals. 
Well-rounded and versatile, he serves as counsel to human resources departments at various companies, and he is highly adept at helping with matters such as policies and procedures, employee training, internal audits and other areas. He also regularly counsels his clients in best practices and regulatory matters to help them avoid potential litigation in the future.
Honored for his outstanding professionalism and service, Mr. Gabor has earned designation from American Registry as one of the Top Attorneys in New England, and he has received the Director's Award from the Nassau County Bar Association. He has also earned perennial recognition as among the top 5% of lawyers in his region, and he has received honors for his Distinguished Professional Achievement in Labor & Employment Law from the Nassau County Bar Association's Labor and Employment Law Committee.
Mr. Gabor is a 1982 graduate of the University of Michigan, and he obtained his Juris Doctor in 1986 from Touro University Jacob D. Fuchsberg Law Center. He holds his license to practice in New York as well as Massachusetts, and he is admitted to practice before the U.S. District Court for the District of Massachusetts, the Eastern, Southern and Northern District of New York, and the U.S. Court of Appeals for the 1st and 2nd Circuits.
Practice areas
Employment & labor: employee
Focus areas
Employment law - employee, Labor law
100% Employment & labor: employee
First Admitted: 1988, New York
Professional Webpage: https://www.wagnerlawgroup.com/attorney/gabor-david-g/
Scholarly Lectures/Writings:
Rhode Island Employment Law 2022: Key Leave Issues, Common Discrimination Claims, Independent Contractors, and More – Panelist, National Business Institute (NBI) live online seminar, May 26, 2022

Mini Law School for Massachusetts HR Professionals–  – Panelist, National Business Institute live, online, HR-credit and CPE-credit seminar, November 1, 2021, 9:00 AM – 4:30 PM (EDT)

SJC Rules That Workers at Whately Farm Entitled to Overtime Pay – Daily Hampshire Gazette, March 15, 2019

Securing and Retaining Great Talent: How Viewing the Talent Market as a B2C Marketplace Benefits Employers – Co-panelist, The Wagner Law Group FREE webinar, May 22, 2019, 2:00 – 3:00 PM (ET)

Massachusetts Paid Family & Medial Leave Seminar – Speaker at 360 Corporate Benefit Advisors live seminar, June 6, 2019, 8:30 – 10:00 AM (ET), Westin Waltham, Waltham MA

Being Smart About M&A-Related Benefit Plan and Employment Issues – Co-panelist with Izzy Goldowitz, Mark Poerio and Roberta Watson, The Wagner Law Group FREE webinar, June 11, 2019, 1:00 – 2:00 PM (ET)

Investigating Complaints That Are Entangled With Performance Issues – Webinar for Lorman, June 12, 2019

New EEO-1 Law Updates: What You Need to Know – Webinar for Lorman Education Services, July 25, 2019

Discussion of the Interplay Between Massachusetts Paid Family and Medical Leave and Other State and Federal Leave Laws – Webinar for 360 Corporate Benefit Advisors, October 30, 2019, 10:00 AM (ET)

Alternative Dispute Resolution: The 2019 Update – Webinar for Lorman Educational Services, November 18, 2019, 1:00 – 2:30 PM (ET)

Mandated Benefits 2020 Compliance Guide – Co-authors Katherine Brustowicz, Dannae Delano, Barry Salkin, Marcia Wagner and Roberta Casper Watson, Wolters Kluwer, December 2019

#METOO in Medicine – American Medical Association, January 20, 2020

10 Steps Employers Should Follow When Faced With Requests for Leave or Accommodation – David Gabor, FREE Live Webinar, February 19, 2020, 1:00 -1:30 PM (ET)

Merger, Divestiture and Acquisitions and Employee Benefits – co-panelist with Izzy Goldowitz, Mark Poerio and Roberta Watson, free live webinar with Institutional Investment Consulting Inc., March 24, 2020, 2:00 PM (ET)

Equal Pay Day 2020: Steps Employers Should Take to Address Pay Inequity While Mitigating Risk – The Wagner Law Group FREE Webinar, March 31, 2020, 1:00 – 1:30 PM (ET)

Don't be a Stranger: Communicating During COVID-19 – Panelist, The Wagner Law Group FREE Webinar, April 14, 2020, 1:00 PM (ET)

Tips for Managing Telecommuters –The Wagner Law Group free webinar, April 17, 2020, 1:00 PM (ET)

Reducing Legal Risk: Protecting Against Claims Stemming from COVID-19 – Co-panelist with Katherine Brustowicz, April 28, 2020, 1:00 PM (ET)

Return-To-Work: Creating a Viable Playbook – Co-panelist with Katherine Brustowicz, The Wagner Law Group free webinar, May, 14, 2020, 2:30 PM (ET)

Roundtable Discussion on Effective Work-Related Communication – David Gabor, panelist, The Wagner Law Group fee webinar, June 17, 2020, 2:00 PM (EDT)

How Employers Can Create Effective Diversity and Inclusion Initiatives – Katherine Brustowicz and David Gabor, The Wagner Law Group Free Webinar. July 2, 2020, 1:00 PM (EDT)

Creating Effective Diversity & Inclusion Initiatives – Co-Presenter with Katherie Brustowicz, Clear Law Institute webinar, August 24, 2020

Hiring and Promotions: Tips To Help Employers Avoid Legal Minefields – The Wagner Law Group free webinar, October 26, 2020, 1:00 PM (EDT)

Seven Attorneys from The Wagner Law Group Named to 2020 Super Lawyers Lists – November 3, 2020

Staying One Step Ahead: Advice for Employers in Addressing Anticipated Biden Administration Actions in the Employment Arena – Free Webinar sponsored by The Wagner Law Group, January 28, 2021, 1:00 PM (EST)

How to Ensure Pay Equity for People of Color – SHRM HR Magazine, Spring 2021, March 11, 2021 (PDF)

Mandated Benefits 2021 Compliance Guide – Co-author, Wolters Kluwer, April 2021

Creating Effective Diversity, Equity, and Inclusion Initiatives – Panelist, ClearLaw Institute CLE and HR credit webinar, September 8, 2021, 1:00 – 2:15 PM (EDT)

Merging Global and Local U.S. HR Functions and Outsourcing Initiatives – Lorman HR-credit webinar, October 13, 2021, 1:00 – 2:00 PM (EDT)

How to Legally Handle Bad Egg Employees – Panelist, National Business Institute live, online, HR-credit seminar, December 22, 2021, 11:00 AM – 6:00 PM (EDT)

Insurers Wait on Court Cases as Layoffs of Unvaccinated Workers Rise – Life Annuity Specialist, January 10, 2022

Top HR & Employment Law Issues for the Coming Year – Panelist, The Wagner Law Group Webinar, January 26, 2022

Avoiding Bias in a Workplace Investigation – Panelist, Lorman live CLE webinar, April 11, 2022

Preparing for the Unexpected: 10 Things Managers Need to Know - Employment Law Webinar, December 5, 2012

Guest Speaker, New York School Negotiations Training Session, September 24, 2011

Employment Law Update, Lorman Conference, April 25, 2012

Practical Employment Law Tips for Employers - Employment Law Update Webinar, May 16, 2012

"What Does it Mean for HR to be a Profit Center," NEHRA Spring Conference, May 18, 2012

Legal and ERISA update, CPA South Shore Breakfast Forum, May 31, 2012

How Changes in Leave Laws Impact Employers - Employment Law Webinar, July 26, 2012

Safe Practices in Hiring - Employment Law Webinar, September 13, 2012

Best Practices for the Performance Evaluation Process - Employment Law Webinar, November 19, 2012

A Checklist for the Ever Evolving Employer-Employee Relationship - Employment Law Webinar, February 26, 2015

The Anatomy of an Employment Law Case - What You Need to Know to Avoid a Law Suit - Employment Law Webinar, January 17, 2013

Alert: How the EEOC's Strategic Enforcement Plan Impacts Your Company - Employment Law Webinar, February 28, 2013

Alternative Dispute Resolution Clauses - They Can Really Help! - Employment Law Webinar, May 2, 2013

Compliance Audits: Be Ready Before They Come Knocking at Your Door - Employment Law Webinar, June 13, 2013

What You Should Know About the Impact of Technology on the Employer-Employee Relationship - Employment Law Webinar, September 26, 2013

Wage and Hour - Misconceptions That Lead To Misclassification & Exposure - Employment Law Webinar, November 7, 2013

Top Ten Lessons Learned from American Apparel - Employment Law Webinar, July 31, 2014

Disability Law Roundup: 10 Tips for Employers - Employment Law Webinar, October 28, 2014

Preparing for the Unexpected: How to Handle Concerns that an Employee May Have Been Exposed to Ebola Virus Disease and a Checklist for Contingency Events - Employment Law Webinar, November 7, 2014

December 2014: Automotive Manufacturer Supplier Quality Assurance Conference Presenter: Understanding Collaborative Strategies for Risk Management and Resolution Panelist: Methods for Recruiting and Training Skilled Quality Team Players Panelist: Mitigating Risk in Managing Multiple Suppliers Chairperson Day 2 of the Conference

Your Independent Contractors Are Not Who You Think They Are: Employee Status Matters - Employment Law Webinar, March 5, 2015

Office Holiday Parties: A Time For Cheers, Not Tears - Employment Law Webinar, November 19, 2015

Complying with the New Massachusetts Sick Leave Laws - Webinar for Lorman, August 9, 2016, at 1:00 PM - 2:30 PM (ET)

New Employment Law Requirements in Massachusetts – Webinar for Lorman, October 24, 2016, 1:00 PM – 2:30 PM (ET)

What You Need to Know: Legal Trends Affecting the Workplace in 2017- Panelist, Webinar for the American Bar Association, April 20, 2017, 1:00 PM - 2:30 PM (ET)

New Employment Law Requirements in Massachusetts – presenter at seminar sponsored by 360 Corporate Benefit Advisors, January 26, 2017, 8:30 AM - 10:30 AM (ET), at the Courtyard Boston Marlborough, Marlborough, MA

Significant Employment Law Changes – David Gabor, presenter at seminar sponsored by 360 Corporate Benefit Advisors, February 10, 2017, Hilton Garden Inn, Hartford/South Glastonbury, Glastonbury, CT.

New Employment Law Requirements in Massachusetts – Webinar for Lorman, April 12, 2017, 1:00 PM – 2:30 PM (ET)

Employment Law Update in Massachusetts – Webinar for Lorman, May 4, 2017, 1:00 PM – 2:30 PM (ET)

Is Your Sick Leave Policy up to Snuff (Not Snuffles) for the Flu Season? – David Gabor webinar for Lorman, December 4, 2017, 1:00 – 2:30 PM (ET)

New EEO-1 Form Collecting Pay Data – Webinar for Clear Law Institute, June 28th, 2017, 3:00 PM to 4:30 PM (ET)

What Employers Should Do About Changes Coming out of Washington – David Gabor webinar for Clear Law Institute, Friday, July 7, 2017, 3:00 – 4:30 PM

While many specifics of proposed OFCCP merger into EEOC remain unclear, experts discuss range of issues presented - Wolters Kluwer Employment Law Daily, September 8, 2017

What Employers Should Do about Changes Coming out of Washington – David Gabor webinar for Clear Law Institute, October 24, 2017, 3:00 – 4:30 PM (ET)

Ask the Experts: What You Need to Know About Employment Regulations and Employee Benefits Audits – David Gabor, co-speaker at a seminar sponsored and hosted by Sentinel Benefits & Financial Group, Wakefield MA, October 25, 2017, 8:30 AM – 10:30 AM

The New EEO-1 Report: What Employers Need to Know – David Gabor webinar for Compliance Online, November 21, 2017, 1:00 – 2:30 PM (ET)

Sexual Harassment: What You Need to Know to Protect Your Company and Your Employees – Webinar, March 14, 2018

The latest developments in Massachusetts & Federal Employment Law – David Gabor, Melissa McNamee and Virginia Peabody, seminar with 360 Corporate Benefits Advisors, December 6, 2017, 8:30 – 10:30 AM, Newton Marriott, Newton, MA

Understanding Developments in Employment Law, be 'Best in Class' EEOC Focus, EEO-1 Report Changes and Key Court Decisions – David Gabor seminar for Compliance Online, December 7 – 8, 2017, Courtyard by Marriott Boston Cambridge

David Gabor interviewed on Radio Entrepreneurs, December 2017

Sexual Harassment Training: The Importance of Emphasizing Perception and Open Communication - David Gabor, January 3, 2018

A Window into the DOL Wage and Hour Division: Opinion Letters Shed Light - January 17, 2017

Creating a Culture of Excellence in Light of the #MeToo Movement – Speaker at the American Society of Medical Association Counsel (ASMAC), June 11, 2018, Hyatt Regency Chicago

10 Ways to Protect Against Sexual Harassment in the Workplace - Think Advisor, March 15, 2018

10 ways to protect against sexual harassment in the workplace - Property Casualty 360, March 20, 2018

A New EEOC Strategic Plan: What it Means for Employers - Webinar for ClearLaw Online Continuing Education, April 4, 2018, 1:00 – 2:30 PM

Sexual Harassment in the Workplace – David Gabor, co-speaker, 360 Corporate Benefits Advisor seminar, April 12, 2018, 9:00 – 11:00 AM (ET), Hilton Garden Inn, Glastonbury

Sexual Harassment: Why This Remains a Significant Problem – Webinar for GRC Educators, May 21, 2018, 1:00 PM (ET)

What You Should Know: Workplace Legal Trends to Assess - Co-panelist, American Bar Association webinar, May 23, 2018, 1:00 - 2:30 PM (ET)

Workplace Harassment – Speaker, Seat at the Table, May 31, 2018, Newton, MA

#MeToo: Sexual Harassment and Discrimination in Medicine – Co-panelist at the American Medical Association 2018 Annual Meeting, June 7-13, 2018, Hyatt Regency, Chicago, IL

How to Best Manage Sexual Harassment in Medicine? - MedPage Today, June 10, 2018

New EEO-1 Law Updates: What You Need to Know - Webinar for Lorman, February 27, 2019

Medicine must address #MeToo moment—and beyond -AMA Wire, June 11, 2018

EEOC Strategic Plan: What it Means for Employers webinar for Clear Law Institute – Webinar for Clear Law Institute, August 8, 2018

Tightening-up Executive Compensation: Five Steps for Defusing Litigation Risks and Better Enforcing Restrictive Covenants – David Gabor and Mark Poerio, Webinar, August 28, 2018, 12:00 PM – 1:00 PM

Identifying, Securing, Developing, and Managing Great Talent – Webinar co-panelist, September 5, 2018

Workplace Sexual Harassment: New York Sets The Standard That Others Should Follow – Speaker, free live seminar with Lauren Brenner of Amplified Insurance Partners: October 3, 2018, 8:30 – 10:00 AM at Amplified Insurance Partners, Westwood, MA and October 4, 2018 at The Wagner Law Group, Boston, MA, 8:30 – 10:00 AM

Sexual Harassment: Protect Your Company and Your Employees – Speaker at the American Staffing Association's Staffing World 2018 conference, October 16 – 18, 2018, Gaylord National Resort & Convention Center, Oxon Hill, MD

New EEOC Strategic Plan: What it Means for Employers - Webinar, hosted by Clear Law Institute, November 19, 2018, from 3:00 to 4:30 PM (ET)

Holiday Parties: Celebrate Safely! - FREE Wagner Law Group Employment Law Webinar, December 6, 2018

Management Training: Prepare Managers in Order to Avoid Costly Mistakes - Webinar for Clear Law Institute, December 18, 2018
Pro bono/Community Service:
Chair, Strategic Planning Committee – Town of Essex

Coach, Syosset Basketball League, 2003 to 2005

Rebuilding Together, 2008 to Present

United Cerebral Palsy Nassau County, 2008 to Present

Chair, Nassau County Blood Drives, 2009 to Present

Board Member, We Care Fund September, 2009 to Present

Provisors, Group Leader

Member, Bicentennial Committee - Town of Essex

Member, Finance Committee – Town of Essex

Massachusetts Educational Foundation – Board Member

Advisory Board of Litigation Counsel of America - Fellow
Bar/Professional Activity:
International Association for Contract and Commercial Management - Member

"Organizational Excellence" program in Arlington, VA, keynote speaker

Mock Trial Judge ABA, 2011 to 2012

Mock Trial Judge MBA, 2012

Labor & Employment Law Committee, Chair, 2003 to 2005

Diversity Task Force, Member, 2005 to 2006

Financial Oversight Committee, Member, 2005 to 2006

Legislative Task Force, Member, 2005 to 2006

Nassau County Bar Association, Director, 2005 to 2008

Association Membership Committee, Chair, 2008 to 2010

Nominating Committee, Member, 2008 to Present

Touro College Jacob D. Fuchsberg Law Center, Mentor, 2008 to Present

Theodore Roosevelt Inns of Court, Member, 2006 to Present

Mentor Program, 2002 to Present

First Contact Task Force, Chair, 2007 to Present

Community Relations & Public Relations Committee, Member, 2007 to Present

Massachusetts

Labor & Employment Law Committee – Member

Society for Human Resource Management – Member

Northeast Human Resources Association – Member

Boston Bar Association – Member

United States District Court for the Southern District of New York

Massachusetts Bar Association – Member

Boston Inn of Court

United States Court of Appeals for the First Circuit

United States Court of Appeals for the Second Circuit

United States District Court for the District of Massachusetts

United States District Court for the Northern District of New York

United States District Court for the Eastern District of New York

Commonwealth of Massachusetts

New York, 1987
Educational Background:
University of Michigan, B.A., Political Science

,

1982
Honors/Awards:
Distinguished Professional Achievement – Labor and Employment Law Committee of the Nassau County Bar Association

,

2008

Re-building Together – Recognition as a volunteer and supporter

New England Super Lawyers List, 2016

New York Super Lawyer, 2010 & 2011 Metro

The Director's Award – Nassau County Bar Association

,

2010

Platinum Distinguished Faculty- Lorman

,

2017

Massachusetts Super Lawyers List, New England Super Lawyers Magazine

,

2013

Massachusetts Super Lawyers List, New England Super Lawyers Magazine

,

2015

New England Super Lawyers List, 2018 – 2020

Top Attorneys in New England, American Registry

,

2016

Massachusetts Super Lawyers List

,

2017
Office location for David G. Gabor
125 High St
Oliver Street Tower, 5th Floor
Boston, MA 02110
Phone: 877-930-5197
Selections
Super Lawyers: 2010 - 2011, 2013, 2015 - 2022
Additional sources of information about David G. Gabor
Attorney resources for David G. Gabor