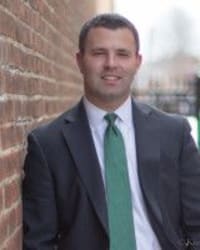 Milligan & Higgins, P.C.
Practice Areas: DUI-DWI
Licensed in Massachusetts since: 2009
Education: Suffolk University Law School

Selected to Rising Stars: 2014 - 2023
Details
Attorney Joseph J. Higgins, III, specializes in the field of drunk driving defense (DUI/DWI).  With offices in Hanover, Boston and North Andover, Mr. Higgins' entire law practice is devoted to representing persons charged with operating under the influence (OUI) in Massachusetts.  He is a member of both the DUI Defense Lawyers Association and the National College for DUI Defense---professional organizations for DUI/DWI/OUI attorneys from all across the country.  Recognized as a "Rising Star" by SuperLawyers Magazine and a "Top 40 Under 40" lawyer by the National Trial Lawyers, Mr. Higgins has been asked to comment on drunk driving related matters by both WBZ Radio and Boston.com.  Additionally, AVVO---an organization that rates and compares lawyers across the country---has designated Mr. Higgins as a "Superb" and "Clients' Choice" DUI Attorney in Massachusetts.
Attorney Higgins began his legal career as an Assistant District Attorney in Plymouth County.  During his time as a prosecutor, the vast majority of his caseload involved allegations of operating under the influence.  This experience allows Mr. Higgins, as a defense attorney, to anticipate how the prosecution will handle his client's case and, accordingly, develop an effective defense.
Attorney Higgins is a graduate of Connecticut College and Suffolk University Law School. He has represented clients in over 60 Massachusetts courts, regularly appearing in Barnstable, Bristol, Plymouth, Norfolk, Middlesex, Essex, Suffolk and Worcester counties.
First Admitted: 2009, Massachusetts
Professional Webpage: https://duilawyer-massachusetts.com/boston-oui-attorney-prof...
Scholarly Lectures/Writings:
Defending OUI Drug Cases - Challenging "Junk Science" and the Myth of the "DRE"

,

Speaker

,

www.scottmartinesq.com/forattorneys.html

,

2013

Seminar on Massachusetts Auto Stops

,

Faculty

,

Massachusetts Continued Legal Education

,

2014

Seminar on Massachusetts Auto Stops

,

Faculty

,

Massachusetts Continued Legal Education

,

2015

Seminar on Massachusetts Auto Stops

,

Faculty

,

Massachusetts Continued Legal Education

,

2016
Verdicts/Settlements (Case Results):
TAUNTON DISTRICT COURT - Commonwealth v. L.C.: OUI THIRD OFFENSE - Taunton Police officers were dispatched to a report of a motor vehicle accident involving a pickup truck into a telephone pole. When the first officer arrived and interacted with the operator, later identified as the client, she placed him in the back of her cruiser until another officer arrived. When that officer arrived on scene, he began questioning the client regarding his whereabouts and alcohol consumption. At a pre-trial motion to suppress challenging the admissibility of the client's answers, Attorney Higgins was successfully able to have those statements excluded from evidence. At the actual trial, during the cross examination of the two police officers, as well as a civilian witness, Attorney Higgins highlighted drastic inconsistencies in the testimony and offered plausible explanations for the client's poor performance on Field Sobriety Tests. One officer testified that she could not detect any odor of alcohol coming from the client and that his speech was not slurred, while the other officer testified that he did detect an odor of alcohol and that the client's speech was slurred. Attorney Higgins offered evidence that the client suffered from a medical condition that seriously impacted his balance and coordination, effectively discrediting the observations made by the officer during Field Sobriety Testing. In the end, having found reasonable doubt, the judge returned a verdict of Not Guilty.

,

2019

CONCORD DISTRICT COURT (Maynard Police) - Commonwealth v. J.I.: DISMISSED OUI THIRD OFFENSE - A Maynard Police Officer observed the client's vehicle approaching him from behind at approximately 8:30 p.m. in September of 2018. As the client's vehicle neared, the officer pulled his cruiser into a nearby parking lot. When the client's vehicle passed the officer's location, the officer detected an overwhelming odor of burnt marijuana. The officer activated his cruiser's blue lights and began pursuing the client's vehicle. The client did not stop immediately, rather he continued for approximately 3/4 of a mile. While the officer was behind the client, he observed the client's vehicle leave the roadway and travel onto the curb. When the client eventually stopped, the officer approached and observed that the client's eyes appeared bloodshot and glassy, he had a strong odor of an alcoholic beverage coming from his person, and his speech was slurred. The officer also detected the odor of marijuana. When the officer asked the client to get out of his vehicle, he observed that the client was unsteady on his feet. The client was then asked to perform the One Leg Stand and the Nine Step Walk and Turn. The officer observed the client to have great difficulty with these exercises and placed him under arrest. Attorney Higgins filed a pre-trial Motion to Suppress the stop of the client's vehicle, arguing that the odor of marijuana was insufficient to provide the officer with "reasonable suspicion" to justify the stop. At a hearing on the motion, the judge agreed. Following the allowance of the motion, the case was dismissed.,

2019

CAMBRIDGE DISTRICT COURT - COMMONWEALTH v. B.P. : Not Guilty. Cambridge Police located client asleep behind the wheel in a parking lot across the street from the MBTA parking lot. When officers interacted with the client, he appeared visibly intoxicated. Client was asked how much he had to drink on two occasions. He indicated that he had "a bunch" and "a lot". Client was asked to perform a series of field sobriety tests and the officers determined that he failed them all. Through photographs and cross examination, Attorney Higgins convinced the judge that the parking lot in which the client was located was not a "public way"---a necessary element for the charge of OUI. This precluded the Commonwealth from being able to satisfy their burden.,

2014

PLYMOUTH DISTRICT COURT (Halifax PD) Commonwealth v. S.S.: NOT GUILTY OUI THIRD OFFENSE - Halifax Police officers were dispatched to the area of Thompson Street for a report of an erratic operator. As one of the officers turned onto Thompson Street, he observed the client's vehicle approaching him from the opposite direction. As the client's vehicle neared, the officer observed the client's passenger-side tires cross the fog line. The officer conducted a U-turn and activated his blue lights in an attempt to stop the client. The client made a righthand turn onto Route 106. As the officer was behind her, the client made a left turn onto a local residential street and came to a stop. When the officer approached the client's driver's side, he noticed that the window was up. The officer knocked on the window and the client rolled it down. The officer was met with a strong odor of an alcoholic beverage coming from the client's breath and observed that her eyes were glossy and bloodshot. When the officer asked the client where she was going, the client responded by stating that she was heading to Middleboro. The officer informed the client that she was traveling in the opposite direction of Middleboro. The officer asked the client for her license, but the client was unable to produce it. Believing that the client was drunk, the officer asked her to get out of the vehicle to perform field sobriety tests. When the client exited, the officer noted that she appeared unsteady on her feet. The client repeatedly stated that she did not know what was going on. The officer administered the Nine Step Walk and Turn, the One Leg Stand and the Finger-to-Nose test. On the Nine Step Walk and Turn, the client stepped on her own foot on steps two and three. The officer stopped the test. On the One Leg Stand, the client placed her foot down on three occasions and was unable to hold her foot up off the ground for more than a few seconds at a time. On the Finger-to-Nose Test, the client touched the middle of her nose, as opposed to the tip of her nose, as she had been instructed. Following her performance on the field sobriety tests, the client was placed under arrest. At the station, the client refused to submit to the Breath Test, resulting in a 5-year license loss. During the pendency of the case, Attorney Higgins filed a motion to suppress incriminating statements alleged to have made by the client. That motion was allowed, resulting in the exclusion of many damaging statements from evidence at trial. During the trial, through the cross examination of the Commonwealth's witnesses, Attorney Higgins was able to demonstrate to the jury that there were many things that the client did correctly, and despite both officers forming the opinion that the client was "drunk", the evidence supported the conclusion that she was not. The jury returned a verdict of Not Guilty, sparing the client a minimum mandatory jail sentence. Following the trial, Attorney Higgins filed a Motion to Return License. The judge allowed that motion, ordering the Massachusetts RMV to reinstate the client's license.,

2019

FALMOUTH DISTRICT COURT - COMMONWEALTH v. T.F.: NOT GUILTYClient was observed by State Trooper racing her friend on Route 28 South near the Otis Rotary. The Trooper testified both vehicles weaved through traffic in the rotary at close to 90 miles per hour. After the rotary, the Trooper testified that he clocked the client's vehicle at 110 miles per hour. The Trooper stopped both vehicles. When the Trooper spoke with the client he detected an odor of alcohol and observed that the client's eyes appeared bloodshot and glassy. When asked if she had consumed any alcohol, the client admitted to drinking. The client was then asked to exit her vehicle to perform field sobriety tests. The Trooper testified that when she exited the vehicle she had difficulty maintaining her balance and appeared unsteady. After performing two field sobriety tests and registering a .116 on the Portable Breath Test, the client was placed under arrest for OUI. During an inventory search of her vehicle, the Trooper located a 12 pack of beer with 11 of the bottles missing. After trial, client found Not Guilty of OUI.,

2015

WOBURN DISTRICT COURT - COMMONWEALTH v. C.B.: NOT GUILTYState Trooper observed client traveling 87 mph in a 65 mph zone. When the Trooper began following the client, he observed the client's vehicle go onto the fog line and abruptly swerve back to the right. This observation prompted the Trooper to initiate a stop. When the Trooper spoke with the client, he observed an odor of alcohol, bloodshot/glassy eyes, and that the client was slurring some of his words. The client admitted to drinking 4 Bud Light bottles and going to a night club. The Trooper asked the client to get out of the vehicle and administered the HGN, the Walk and Turn, the One Leg Stand and the Portable Breath Test. The PBT resulted in a .14 reading. Following a jury trial, Attorney Higgins was able to secure a Not Guilty verdict.,

2015

DEDHAM DISTRICT COURT - COMMONWEALTH v. T.K.: NOT GUILTYWhile sitting at a traffic light, the officer observed the client travel through an intersection at a high rate of speed and slam on her brakes. Fearful that the client was not going to stop in time to avoid an accident, the officer proceeded in that direction, but lost sight of the client's vehicle when the client executed an illegal turn. The officer re-acquired visual of the client and attempted to initiate a stop. The officer testified that the client did not stop right away and when she did, it was as though the vehicle was thrown into park while still moving. The officer testified that the client had difficulty locating her license and registration, admitted to consuming two glasses of wine, appeared to have bloodshot/glassy eyes, and was visibly upset. The officer testified that the client was unable to count backwards as instructed, failed the 9-Step Walk and Turn, and failed the 1-Leg Stand. Through cross examination of the officer and the introduction of the client's medical records showing a problematic ankle, Attorney Higgins convinced the jury that the client was Not Guilty.,

2014

SOMERVILLE DISTRICT COURT - COMMONWEALTH v. C.F.: NOT GUILTYMassachusetts State Troopers responded to a two-car crash on Route 93 South. Upon their arrival they spoke with the client. Two Troopers testified that they observed the client to be unsteady on his feet as he was swaying from side to side. They also testified that the client's speech was slurred, his eyes appeared bloodshot and glassy, and that there was an odor of an alcoholic beverage coming from his person. When asked if he had been drinking, the arresting trooper testified that the client stated that he had been drinking Presidente beer but that he didn't know how much. The client was asked to perform three field sobriety tests: 1) The Alphabet Test; 2) The One Leg Stand; and 3) The Nine Step Walk and Turn. The Trooper testified that he instructed the client to recite the alphabet from the letter "A" to the letter "M." The Trooper testified that the client made it to the letter "F," made 3-4 mistakes, and continued past the letter "M," stopping at the letter "P." During the One Leg Stand, the Trooper testified that the client repeatedly put his foot down, did not count out loud, swayed from side to side and used his arms for the balance. During the Nine Step Walk and Turn, the Trooper testified that the client did not touch heel to toe on any of the steps, used his arms for balance, took 12 steps instead of 9, stepped off line and did the turn incorrectly. Following his performance on these tests, the Trooper placed the client under arrest and transported him to the State Police Barracks in Medford. While at the barracks, the client consented to a breathalyzer, the result of which was a .096---above the legal limit of .08. At a pre-trial motion to suppress, Attorney Higgins was able to obtain a ruling excluding the breath test result from evidence. At trial, through cross examination of the Troopers, and the use of the client's medical records to show that he was not a good candidate for performing the One Leg Stand and the Nine Step Walk and Turn, Attorney Higgins was able to show that the client was Not Guilty of both OUI and Negligent Operation of a Motor Vehicle.,

2015

QUINCY DISTRICT COURT - COMMONWEALTH v. D.T.S.: DISMISSED911 caller reported that client had driven up onto the island dividing the roadway. When the caller confronted client and asked her if she was driving drunk, caller reported that client swore at him. The police stopped the client shortly thereafter, observed her eyes to be bloodshot/glassy and her speech slurred. Officers determined that client was unable to perform field sobriety tests and that she was under the influence of alcohol.,

2014

WAREHAM DISTRICT COURT - COMMONWEALTH v. S.C. : Not Guilty. Client stopped for weaving between lanes of travel on Rt. 25 in Wareham. Trooper detected a strong odor of alcohol, observed clients eyes to be bloodshot and glassy, and her speech to be slurred. Client also admitted to consuming 2 glasses of wine. After failing the field sobriety tests, client was placed under arrest and charged with operating under the influence of alcohol and negligent operation. ,

2014

NEWBURYPORT DISTRICT COURT - COMMONWEALTH v. J.F.: NOT GUILTYState Trooper observed client traveling at approximately 85 mph on Interstate 495 in Merrimack. As the Trooper was clocking the client's speed, he observed the client's vehicle travel over the fog line and rumble strip. The client took the off ramp at approximately 61 mph, when the speed limit for the ramp is 25 mph. The Trooper testified that the client had to brake extremely hard to negotiate the left turn at the end of the ramp. The Trooper then observed a marked lanes violation on Broad Street, prompting him to stop the client. The client's eyes appeared bloodshot and glassy, his speech was slurred, and there was a strong odor of an alcoholic beverage coming from his breath. The Trooper testified that the client stumped and had to use the vehicle to regain his balance. When initially asked how much alcohol he drank, the client stated "Not that much," but later told the Trooper that he hadn't been drinking. At one point the client admitted to drinking 2-3 beers. The Trooper administered a field sobriety test and formed the opinion that the client was "obviously intoxicated." Through cross-examination and the introduction of medical records, Attorney Higgins was able to prevent the government from satisfying their burden of proof, resulting in a Not Guilty verdict.,

2015

PLYMOUTH DISTRICT COURT - COMMONWEALTH v. F.R.: Not Guilty. Client stopped after Trooper observed marked lanes violations. After admissions to drinking and failed field sobriety tests, client was arrested for OUI. At the barracks, client produced breath test readings of .089 and .092.,

2013

FALMOUTH DISTRICT COURT - COMMONWEALTH v. J.H.: Not Guilty. Client stopped for speeding and admitted to drinking. Police officer located an open beer can at client's feet and another empty beer can in the back seat. After trial, client found Not Guilty.,

2013

QUINCY DISTRICT COURT - COMMONWEALTH v. C.G.: DISMISSEDClient charged with Operating After License Suspended for OUI---a charge that comes with a minimum mandatory jail sentence of 60 days. The client's license was, and is, suspended for life as a result of an OUI conviction. The Commonwealth alleged that the client was the operator of a vehicle that was involved in a 2-car crash in Quincy. The client was also charged with Leaving the Scene of Property Damage. Prior to trial, Attorney Higgins filed a series of Motions In Limine---requests that the judge exclude certain pieces of evidence. Following a hearing on those motions, the Commonwealth was unable to proceed on the charges, resulting in a dismissal of all counts.,

2015

FALMOUTH DISTRICT COURT - COMMONWEALTH v. C.M. : Not Guilty. Client involved in a minor car accident in the Bourne Rotary directly in front of the State Police Barracks. Client admitted to drinking, failed the Nine Step Walk and Turn, the One Leg Stand, the Counting Backwards Test and blew a .14 on the PBT. At trial, through cross examination of the arresting Trooper, Attorney Higgins was able to cast enough doubt in the mind of the judge, resulting in a favorable verdict. Client's driver's license restored.,

2014

FALL RIVER DISTRICT COURT - COMMONWEALTH v. D.A.: NOT GUILTYTwo Swansea police officers testified that their attention was initially drawn to the client's truck when they heard the revving of its engine. The officers explained that they observed the client cross into the breakdown lane and pass another vehicle on the right. This occurred on Wilbur Avenue, which has one lane of travel in each direction. The officers testified that the client then accelerated to 50 mph in a 35 mph zone, quickly catching up to the next vehicle on the roadway. The officers then observed the client slam on the brakes to avoid hitting that vehicle. When the officers activated their cruiser's blue lights, the client did not stop right away. Instead, he turned onto another road and finally came to a stop hundreds of yards later. The client informed the officers that he was suffering from an anxiety attack and was on his way to pick up his medication. While speaking with the client, the arresting officer observed the client's eyes to be bloodshot and glossy, and his speech to be slurred. The officer also detected a strong odor of alcoholic beverage coming from the client's breath. The arresting officer testified that he observed the client attempt to hide two empty Bud Light cans that were sitting on the front passenger seat. The client was asked to perform the Alphabet Test, the Counting Backwards Test, the One Leg Stand and the Nine Step Walk and Turn. The officer determined that the client failed all four tests and placed the client under arrest for OUI. Following the arrest, the officers located over 30 empty Bud Light cans in the truck. Prior to trial, Attorney Higgins was able to obtain an order from the court excluding the empty Bud Lights from evidence. After that order, the case was tried before a jury in Fall River District Court. Through cross examination of both officers, Attorney Higgins was able to convince the jury beyond a reasonable doubt that the client was Not Guilty of OUI.,

2015

NATICK DISTRICT COURT - COMMONWEALTH v. R.L. : Not Guilty. Client stopped shortly after midnight. The officer testified that the client appeared to lose focus as he was speaking with him. The officer also testified that client's eyes were bloodshot/glassy, his speech was mumbled, and he smelt strongly of alcohol. Client admitted to drinking and was arrested. Client was charged with a 2nd Offense OUI.
WAREHAM DISTRICT COURT - COMMONWEALTH v. A.G.: NOT GUILTYClient stopped by Wareham Police after she was observed speeding and committing several marked lanes violations. The officers testified that the client smelt strongly of alcohol, her eyes appeared bloodshot and glassy, she was unsteady on her feet and she was slurring her speech. Both officers testified that the client was extremely uncooperative and belligerent. Following her failed performance on field sobriety tests, client was placed under arrest for OUI.,

2015

PLYMOUTH DISTRICT COURT - COMMONWEALTH v. K.F.: NOT GUILTYMarshfield police officer observed a vehicle traveling with its high beams on on Ocean Street at approximately 4:00 a.m.. As the vehicle approached, its headlights went off completely and never came back on. Based on this observation, the officer stopped the vehicle. The driver was identified as the client, a 20 year-old young man. The client admitted to consuming alcohol and told the officer he was heading home to Plymouth from a friend's house. The officer observed that the client's speech was slurred, his eyes appeared red, glassy, and bloodshot, and that there was an odor of alcoholic beverage coming from his breath. When asked to get out of the vehicle, the officer testified that the client stumbled into the travel lane of the roadway. The officer testified that the client could not recite the alphabet and that he omitted several letters. The officer also testified that the client could not count backwards from 87 to 72. When asked to complete the One Leg Stand, the officer testified that the client placed his foot back on the ground after only one second. After being placed under arrest and taken back to the police station, the client completed a Breath Test, registering a .21 BAC. Prior to trial, Attorney Higgins was able to exclude the Breath Test result from evidence. At trial, Attorney Higgins was able to secure a 'Not Guilty' verdict from the jury.,

2015

DORCHESTER BMC - COMMONWEALTH v. C.S.: DISMISSEDClient observed traveling 87 mph in a 65 mph zone on Rte 93 South shortly after midnight. Trooper observed client swerve across 4 lanes of travel and exit highway. Trooper detected a strong odor of alcohol, observed client's eyes to be bloodshot/glassy and his speech slurred. Client admitted to drinking after work with his last drink approximately 20 minutes bTrooper administered 6 field sobriety tests and placed client under arrest. At the barracks, client consented to a Breath Test and generated a result of .10 BAC.,

2014

PLYMOUTH DISTRICT COURT - COMMONWEALTH v. M.P.: NOT GUILTYPlymouth police officer was traveling on Carver Road when he observed two vehicles approaching from the opposite direction. As the vehicles neared, the second vehicle veered across the double yellow line and into the opposite lane---heading directly toward the officer's cruiser. The officer slammed on his brakes and pulled the cruiser into the shoulder of the roadway to avoid a collision. After passing the officer's cruiser, the vehicle made a quick left turn onto a nearby street. The officer turned his cruiser around to pursue the vehicle. When the officer located the vehicle, it was parked in a driveway---the engine was still running and the headlights were on. The officer observed the client standing in the driveway. The homeowners were shouting that they did not know the client and had no idea why he was there. The client returned to his truck and attempted to leave. The officer instructed the client to stop and to turn the vehicle off. In doing so, the officer observed that the client's eyes were bloodshot and glassy, his speech was slurred and he had an odor of alcoholic beverage coming from his person. The officer also observed a "nip" in the cupholder of the client's truck. When asked if he had been drinking, the client admitted that he had been. The officer asked the client to perform a series of field sobriety test, including the Alphabet Test, the One Leg Stand and the Nine Step Walk and Turn. The officer determined that the client had failed each of the tests and placed him under arrest for OUI. Pursuant to an inventory search, the police located a nip and an empty Budweiser bottle. At trial, through cross examination of the arresting officer and argument before the judge, Attorney Higgins was able to achieve a "Not Guilty" verdict for the client. This outcome was crucial to the client's ability to maintain his job, as the client holds a Commercial Driver's License.,

2015

BARNSTABLE DISTRICT COURT - COMMONWEALTH v. J.M.: NOT GUILTYTrooper testified that he observed client attempt to enter parking lot while pedestrians crossing. Trooper testified that client's eyes were bloodshot/glassy, his speech was slurred and there was an odor of alcohol coming from his person. Client was asked to get out of his vehicle. Trooper testified that client was unsteady on his feet. Trooper testified that client admitted to drinking vodka/cranberries at a bar and could not find his hotel. After failing field sobriety tests, client was placed under arrest and charged with OUI.,

2014

FITCHBURG DISTRICT COURT - COMMONWEALTH v. J.M.: Dismissed. OUI 2nd Offense. State Trooper observed client traveling in the wrong direction on the roadway and enter a parking lot through the "Exit Only" exit portion of the lot. After failed field sobriety tests, client was placed under arrest and charged with OUI-2nd Offense
MALDEN DISTRICT COURT - COMMONWEALTH v. V.S.: Not Guilty. .08 Breath Test - Not Guilty. Client stopped for driving at night without headlights on. After admitting to drinking and failed field sobriety test, client was arrested for OUI. During a search of client's car, Trooper found a half empty bottle of rum.,

2013

FALMOUTH DISTRICT COURT - COMMONWEALTH v. F.R.: DISMISSEDMassachusetts State Trooper observed client's vehicle weaving between lanes while traveling on Scenic Highway along the Cape Cod Canal. When the Trooper pulled the client over he detected an overwhelming odor of freshly burnt marijuana. Client admitted to smoking marijuana prior to driving. After conducting an investigation, the Trooper determined that the client was operating under the influence of marijuana and charged him with OUI-Drugs.,

2015

PLYMOUTH DISTRICT COURT - COMMONWEALTH v. T.Z. : Not Guilty. Client stopped in parking lot of fast food restaurant after police received a 911 call reporting erratic operation. After failed field sobriety tests, client was arrested and charged with OUI. At the police station, client registered a .17 on the Breathalyzer. At trial, 911 call and the breath test result were excluded from evidence.,

2014

HINGHAM DISTRICT COURT - COMMONWEALTH v. S.R.: DISMISSEDScituate Police received a 911 call reporting an erratic operator. An officer on duty observed the subject vehicle and witnessed it cross into the oncoming traffic. The vehicle was traveling approximately 15 mph below the speed limit. The officer activated his cruiser's blue lights and signaled the operator to stop. When the officer approached the vehicle, he observed our client as the operator. The officer noted that the client's eyes were half open and glassy, the she appeared confused, and that her speech was slow and drawn out. As the conversation continued, the officer observed the client begin to nod off. When the officer asked the client if she had taken any medication, the client indicated that she had and that she might have taken too much. The officer formed the opinion that the client was operating under the influence of drugs. A subsequent search revealed that the client was in possession of a suboxone pill, abilify, and lyrica. In a pre-trial motion, Attorney Higgins was able to obtain an order from the court that precluded the Commonwealth from offering testimony as to the element of "under the influence", a necessary element to prove a charge of OUI Drugs. This order resulted in the charge being dismissed.,

2015

FALMOUTH DISTRICT COURT - COMMONWEALTH v. R.C. : Not Guilty. Client failed to yield while merging into rotary, cutting off a Massachusetts State Trooper. The trooper followed the client and ultimately pulled him over. The trooper testified that the client smelt strongly of an alcoholic beverage, had bloodshot/glassy eyes, and admitted to have two vodka drink that were "too big" recently. When asked to get out of his car, the trooper observed the client to be unsteady on his feet and swaying from side to side. Client was arrested and charged with OUI.
WORCESTER DISTRICT COURT - COMMONWEALTH v. B.C.: NOT GUILTYClient sped by two Millville police officers traveling on Main Street in Millville. The officers signaled the client to pull over. When he did so, he left half of his car parked in the travel lane, despite there being plenty of room in the breakdown lane. When the officers approached, the client's eyes appeared bloodshot and glassy and they detected an odor of alcohol. The officers observed an empty Bud Light can, as well as a near-full Miller Light can that the client had been drinking from. The officer asked the client if he had been drinking. The client initially stated that he had consumed 3-4 beers, but later told the officer he actually had 7-8 beers. When asked to exit the vehicle, the officer testified that the client staggered as he walked and had difficulty maintaining his balance. After failing the One Leg Stand and the Nine Step Walk-and-Turn, the client was arrested and charged with OUI. At the station, the client consented to a Breath Test and produced a result of .08. At trial, Attorney Higgins, through cross-examination of the arresting officer, was able to convince the judge that not only was the client's ability to operate a motor vehicle not impaired by alcohol, but that the evidence was insufficient to show that his BAC was at or above a .08 at the time he was driving.,

2015

PLYMOUTH DISTRICT COURT - COMMONWEALTH v. J.M.: NOT GUILTYOn February 1, 2014, Plymouth Police responded to Court Street for a report of a male slumped behind the wheel of a parked, running vehicle. Upon the officer's arrival, she observed the client asleep in the driver's seat. The vehicle was running and the engine was revving, as the client's foot was on the gas pedal. The officer knocked on the window and the client did not wake up, forcing the officer to open the door and begin shaking the client. When the client awoke, the officer testified that he appeared confused and had difficulty following her simple instructions. She also testified that the client's speech was slightly slurred, his eyes appeared glassy and that there was a moderate odor of alcohol coming from his breath. The client admitted to drinking beers at a local bar and even stated that he "wasn't driving for a reason." When asked to perform the alphabet test, the officer testified that the client was not able to complete the test on two separate attempts. When asked to get out of the car, the officer testified that the client was unsteady on his feet and swayed side to side. The client was placed under arrest and charged with OUI. Both the arresting officer and the Sergeant that conducted the booking procedure testified that the client was uncooperative, belligerent, argumentative and disrespectful. At trial, through the cross examination of both officers, Attorney Higgins was able to cast enough doubt in the minds of the jurors to secure a "Not Guilty" verdict.,

2015

FALMOUTH DISTRICT COURT - COMMONWEALTH v. J.C.: NOT GUILTYClient stopped for marked lanes violation shortly after 1:30 a.m. Officer testified that client smelt strongly of an alcoholic beverage and had bloodshot/glassy eyes. Client admitted to consuming alcohol at a local bar prior to driving. Officer testified that client was unsteady on his feet upon exiting his vehicle and that he failed the 9-Step Walk and Turn, as well as the 1-Leg Stand. Through cross examination of the arresting officer and the introduction of medical records showing a prior surgery on the client's ankle, Attorney Higgins was able to cast enough doubt in the mind of the judge to result in a Not Guilty verdict.,

2014

DEDHAM DISTRICT COURT - COMMONWEALTH v. A.M.: NOT GUILTYA Massachusetts State Trooper was dispatched to investigate a single motor vehicle crash on the off ramp of Exit 2A on Route 93 North in the Town of Canton. Upon his arrival, the Trooper observed a Honda Accord on top of a snow bank with its headlights pointing towards the sky. The Trooper testified that he observed a lone male, later identified as the client, walking around the vehicle. The Trooper observed that the client appeared consistently unsteady on his feet, had bloodshot/glassy eyes, slurred speech and a moderate odor of alcoholic beverage coming from his person. When asked if he had been drinking, the client admitted to consuming alcohol prior to the crash. The Trooper testified that the client turned his back and began to walk away from him on several occasions. The Trooper also testified that he had to repeatedly escort the client away from the lane of travel and back to a safe location in the breakdown lane. When the Trooper requested that the client perform field sobriety tests, the client agreed, but when it came time for him to perform the One Leg Stand, the client became uncooperative and argumentative. The Trooper then placed the client under arrest and charged him with: 1) OUI-Liquor; 2) Negligent Operation of a Motor Vehicle; and 3) Marked Lanes Violation. Following a jury trial, Attorney Higgins was able to obtain a Not Guilty verdict on both the OUI and Negligent Operation charges, as well as a Not Responsible finding on the civil Marked Lanes Violation.,

2015

WESTBOROUGH DISTRICT COURT - COMMONWEALTH v. M.L.: NOT GUILTYClient stopped for speeding and charged with first offense OUI. Upon his refusal to take the breath test, Massachusetts RMV suspended his license for 3 years. At trial, Attorney Higgins, through cross-examination, was able to show the court that the client demonstrated mental clarity and manual dexterity, and that the officer's observations were inconsistent with someone under the influence of alcohol. Following a Not Guilty verdict, Attorney Higgins convinced the Judge to allow a motion reinstating the client's driver's license.,

2014

PLYMOUTH DISTRICT COURT - COMMONWEALTH v. P.T.: Not Guilty. .10 Breath Test suppressed prior to trial. Off-duty State Trooper observed erratic operation on Rte. 139 in Hanover. As client entered Rt. 3 Southbound, Trooper called 911. Shortly after, client was stopped. After admission to drinking 4 beers, client asked to do field sobriety tests. Trooper formed the opinion client was under the influence and arrested him. At the State Police Barracks, client blew a .10 on the Breath Test.,

2013

CONCORD DISTRICT COURT - COMMONWEALTH v. K.P.: NOT GUILTYLincoln Police Officers observed client traveling between 40 and 60+ mph on Route 2 West shortly after 2 a.m. They observed the client weave within the passing lane, cross over into the travel lane and jerk the vehicle back into the passing lane. After pulling the client over, the officer, a high-ranking member of the police department with over 20 years of experience, detected a strong odor of alcohol, observed the client's eyes to be red and glassy and her speech intermittently slurred. After administering 5 field sobriety tests (Walk and Turn, One Leg Stand, Finger to Nose, Alphabet and Counting Backwards), during which the client appeared unsteady on her feet and was swaying side to side, the officer placed her under arrest of OUI-2nd Offense.,

2015

FALMOUTH DISTRICT COURT - COMMONWEALTH v. J.B.: Dismissed. After being stopped for marked lanes violations and failing field sobriety test, client was arrested and charged with 2nd Offense OUI.,

2013

FALMOUTH DISTRICT COURT - COMMONWEALTH v. B.S.: Dismissed. Client stopped and arrested for OUI after spouse called police to report that she was intoxicated. Following an allowed motion to suppress the stop, the case was dismissed at the request of the Commonwealth.,

2013

MALDEN DISTRICT COURT - COMMONWEALTH v. L.M.: NOT GUILTY3rd Offense OUI---Malden Police were dispatched to the scene of a two-car accident. Upon arrival, the arresting officer observed a Toyota Scion with its front end pushed up against a tree. There was extensive damage to the vehicle's rear. In fact, the driver's side rear tire was snapped off the axle. Down the street the officer observed a Mazda 3 parked in the middle of the road. The Mazda had significant damage to its front. It was clear that the Mazda had collided with the Scion. Both vehicles were unoccupied. The officer, a Captain on the police force, testified that he observed the client walking in the street towards the scene. He stated that the client was walking with a stutter step, that she had bloodshot/glassy eyes, slurred speech, and an odor of alcohol coming from her person. When asked how much she had to drink, the client stated "enough to get me drunk." When asked where her car was, the client pointed to the Mazda 3. The client refused field sobriety tests and was placed under arrest. At the station, when the client was asked how she was doing, she stated "I'm great, I'm drunk." During the booking procedure, the police located a set of keys in the client's possession. At trial, Attorney Higgins was able to establish that the Commonwealth had not satisfied their burden of proof with respect to the element of "operation" ---a necessary element to convict on an OUI charge. Attorney Higgins, through cross examination, established that the evidence never placed the client in the car, that there was no first-hand observation of the accident, and that there was no evidence that the keys located on the client's person belonged to either of the cars involved in the accident. Further, while the client admitted that the Mazda 3 was her car, there was no evidence that the client admitted that she was the one driving the car. Following a jury-waived trial, the judge found the client Not Guilty, sparing her a felony conviction and a minimum mandatory jail sentence of 150 days.,

2015
Honors/Awards:
Clients' Choice Award in DUI/DWI Defense

,

Clients' Choice Award

,

Avvo

,

2015

Top Rated DUI Attorney, Superb DUI Attorney

,

Avvo

,

2016

Clients' Choice Award in DUI Defense

,

Avvo

,

2017

Top Rated DUI Attorney

,

Superb DUI Attorney

,

Avvo

,

2014

Clients' Choice Award in DUI/DWI Defense

,

Avvo

,

2016

Top 40 Under 40

,

National Trial Lawyers

,

2014

Clients' Choice Award in DUI/DWI Defense

,

Clients' Choice Award

,

Avvo

,

2014

Top Rated DUI Attorney

,

Superb DUI Attorney

,

Avvo

,

2015

Top Rated DUI Attorney, Superb DUI Attorney

,

Avvo

,

2017
Selections
Rising Stars: 2014 - 2023
Attorney resources for Joseph J. Higgins, III