Michael R. Bartish
Top rated Criminal Defense attorney in Grand Rapids, Michigan
SBBL Law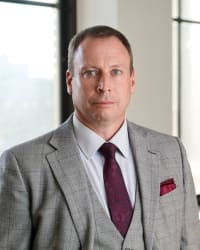 SBBL Law
Practice Areas: Criminal Defense, DUI-DWI, White Collar Crimes; view more
Licensed in Michigan since: 2002
Education: University of Cincinnati College of Law

Selected to Super Lawyers: 2014 - 2023

Selected to Rising Stars: 2009, 2011 - 2012
SBBL Law
60 Monroe Center St., NW
Suite 500
Grand Rapids, MI 49503
Visit website
Details
Attorney Michael R. Bartish is a founding partner with Springstead Bartish Borgula & Lynch PLLC law firm in Grand Rapids, Michigan. Nationally recognized as one of the top criminal defense lawyers in the country, Mr. Bartish provides exceptional counsel and support to clients throughout Michigan and across the nation who stand accused or are under investigation for any type of felony or misdemeanor offense, including any of the following and more:
· Bank, wire and mail fraud
· Robbery
· Bribery and kickbacks
· Drug crimes
· Embezzlement
· Grand jury matters
· Identity theft
· Arson
· Breaking and entering
· Gun crimes
· Sex crimes
· DUI
Prior to entering private practice, Mr. Bartish served four years of active duty as a Judge Advocate General in the U.S. Army. During that time, he served as senior trial counsel for the First Cavalry Division as well as trial defense counsel at Fort Hood in Texas. Upon entering private practice, he further honed his trial skills with several other prominent law firms in his area before joining Springstead Bartish Borgula & Lynch PLLC in 2011.
Over the course of his legal career, Mr. Bartish has achieved a long record of securing favorable outcomes for his clients both inside and outside of the courtroom, and he has earned perennial top rankings and endorsements from his peers for his unmatched professionalism and service. He has also received Superb, 10 out of 10 client ratings on Avvo along with the site's Clients' Choice Award.
A 1995 cum laude graduate of the University of Notre Dame, Mr. Bartish attended the University of Cincinnati College of Law, where he obtained his Juris Doctor with honors in 1998. He is admitted to practice before the U.S. District Court for the Western District of Michigan and the U.S. Court of Appeals for the 6th Circuit as well as the U.S. Court of Appeals for the Armed Forces.
Mr. Bartish is an active member of the National Association of Criminal Defense Attorneys, and he serves on the board of the Criminal Defense Attorneys of Michigan. He is also a member of the State Bar of Michigan's Criminal Law Section, the National College of DUI Defense and the Michigan Association of OWI Attorneys, among his other professional affiliations.
Practice areas
Criminal Defense, Criminal Defense: DUI/DWI, Criminal Defense: White Collar, Immigration: Business
Focus areas
Assault & Battery, Criminal Domestic Violence, DUI/DWI, Drug & Alcohol Violations, Felony, Misdemeanor, Murder, Sex Offenses, Theft, Traffic Violations, White Collar Crime
30% Criminal Defense

30% Criminal Defense: DUI/DWI

20% Criminal Defense: White Collar

20% Immigration: Business
First Admitted: 1998, Ohio
Professional Webpage: https://www.springsteadbartish.com/attorney-profile/michael-...
Honors/Awards:
Avvo Ranking – 10.0 "Superb"; Client's Choice Award

Michigan Rising Star

,

2009

Top 40 under 40

,

National Trial Lawyers

,

2012

Super Lawyers Magazine: Michigan - Rising Star, Criminal Defense

,

SuperLawyer's Magazine

,

2011

Super Lawyer - Criminal Defense

,

Super Lawyers Magazine

,

2013

Superlawyers Magazine: Michigan - Rising Star, Criminal Defense

,

SuperLawyers Magazine

,

2012
Bar/Professional Activity:
U.S. Court of Appeals for the Armed Forces

U.S. Court of Appeals for the Sixth Circuit

National College of Drunk Driving Defense

U.S. District Court for the Western District of Michigan

State Bar of Michigan, Criminal Law Section

Criminal Defense Attorneys of Michigan - Executive Board.  This is an elected position that assists in directing the activities of the entire organization

,

2012

National Association of Criminal Defense Attorneys

,

2009

Michigan Association of OWI Attorneys

,

2013
Educational Background:
University of Notre Dame, B.A. (with honors), Government United States Army Reserve Officer Training Corps

,

1995
Verdicts/Settlements (Case Results):
People v. K.A.; OWI charges dismissed following successful suppression motion. Client was charged with Operating While Intoxicated after being pulled over for speeding and a busted front headlight. Client data master result was .13. Prior to his arrest, our client submitted to a preliminary breath test and several field sobriety test which the arresting officer stated that he failed. We requested the dashboard video from the officers cruiser. The video revealed that the client actually performed very well on the field sobriety tests and that the officer failed to comply with the administrative rules before administering the preliminary breath test. We filed a motion to suppress on the grounds that the officer did not have probable cause to arrest our client due to his failure to follow the administrative rules while administering the PBT. We further argued that our client's performance of the field sobriety tests was excellent and provided the officer with no probable cause to suspect driving under the influence of alcohol. After a hearing on our motion during which the court viewed the dashboard video, the court agreed and through out the results of the data master on the grounds that the officer had not probable cause to arrest our client and have him submit to a data master test. The case against our client was dismissed and he avoided an OWI conviction.

,

2012

United States v. Samuel France; Successful appeal to 6th Circuit Court of Appeals. Client was charged in the Western District of Michigan with Distribution of More than 5 grams of Cocaine Base, a 10 year to life offense, after he acted as the middleman in a drug transaction between a confidential informant and a bigger drug dealer. Unfortunately for the client, he had two prior felony offenses in 1994 - Delivery/Manufacture of more than 50 grams of cocaine and Assault with Intent to Commit Sexual Penetration. The United States Probation Department classified the client as a Career Offender pursuant to U.S.S.G. § 4B1.1(b)(A) based upon the client's prior felony controlled substance delivery convictions and his assault with intent to commit sexual conduct involving sexual penetration - which was classified as a crime of violence. This classification resulted in a sentencing guideline range of 262 months to 327 months. At the original sentencing hearing, I objected to the client's classification as a career offender arguing that Assault with Intent to Commit Sexual Conduct involving penetration was not categorically a crime of violence. Ultimately, the District Court did not see it my way and ruled that the client was a career offender. I filed a motion for variance arguing that the career offender guidelines were too harsh especially since my client's criminal history category absent the career offender tag was level III. The sentencing judge granted the variance motions and sentenced the client to 200 months (the equivalent of a 3 level departure). We appealed to the 6th Circuit. In June, the 6th Circuit heard oral arguments and in September it issued an opinion holding that Assault with Intent to Commit Sexual Conduct was NOT categorically a crime of violence and ordered a remand to determine if any court documents (plea transcripts) existed to indicate whether the specific facts of the client's case gave an indication of whether the his conviction was a crime of violence. At re-sentencing, the government could not produce any court documents or plea transcripts regarding the client's conviction and conceded that no evidence existed to support a career offender classification. The client's guidelines dropped to 87-108 months based upon the 2009 crack cocaine guidelines. The sentencing judge imposed a sentence of 74 months (the same percentage off the maximum of the guideline range as he did at the original sentencing hearing).

,

2009

People v. M.J.; Client acquitted of Domestic Assault following jury trial. Client was charged for domestic against his ex-wife. His wife was attempting to get into his vehicle and remove property that belonged to him. My client restrained his wife to prevent her from entering the vehicle and removing his property. The responding officer charged him with domestic assault and battery since he touched her without her permission (she suffered no injuries). We convinced the judge to give a defense of property jury instruction over the prosecutor's objection. After a full day trial, the jury acquitted our client after an hour of deliberation.

Client was charged with kidnapping after picking up a child who was mistakenly released to her custody at the child's old bus stop. The client took the child to get a meal and then drove the child around Grand Rapids to various police agencies claiming that the child was neglected and abused. At each agency she was turned around. The client did not explain to any agency that she had taken the child off of the bus.  Client did not really have any evidence that the child was neglected or abused so it is unclear why she believed that to be the case.  All in all, the client had possession of the child for roughly four hours. Eventually, the child's parents reported her missing after the bus failed to drop the child off at the correct bus stop. The case was tried over three days to a Kent County, Michigan jury. The client was facing a potential prison sentence and lifetime registration on the Michigan Sex Offender list if convicted. The jury found the defendant not guilty.

United States v. John Mekediak - Successful Appeal; Sixth Circuit Court of Appeals Client pled guilty to being a felon in possession of a firearm in the U.S. District Court for the Western District of Michigan. At sentencing, client was classified as a career offender on the basis of three prior crimes of violence - one of which was a juvenile adjudication.  As a result of his classification as a career offender, Mr. Mekediak was subject to a mandatory minimum of 15 years and was ultimately sentenced to 20 years. We appealed the sentence to the 6th Circuit Court of Appeals arguing that the juvenile conviction for felonious assault was not a crime of violence and thus Mr. Mekediak should not have been classified as an Armed Career Criminal and thus subject only to a maximum sentence of 10 years. The 6th Circuit Court of Appeals agreed and vacated the original sentence and remanded the matter back to the District Court for resentencing. We represented client at the resentencing hearing where his sentenced was reduced to 10 years.

,

2013

United States v. Raju Nakum, Case No. 12-cr-; Obtained 3 month sentence in health care fraud case where guidelines called for 33 to 41 months. Client is an Indian citizen who worked for a health care / physical therapy company owned by a relative. The health care company regularly made illegal remuneration payments to physicians and nurse who referred patients to the health care company in violation of the Stark Act.  Client pled guilty and cooperated with the investigation.  At sentencing, we were able to demonstrate how cultural and familial indebtedness influenced the client to participate in the conspiracy.  In total, 8 co defendants pled guilty or were convicted.  Mr. Nakum received the largest downward variance from the recommended guideline range of any of the co-defendants.

,

2013

People v. J.N.; Possession of Marijuana charges dismissed following successful suppression motion. Client was arrested for possession of marijuana after officers approached his parked vehicle in a grocery store parking lot. We filed a motion to suppress the evidence on the grounds that the officers did not have probable cause to approach and search the vehicle. Judge Servaas of the 63rd District Court agreed and the evidence was suppressed.

,

2011

United State v. Willie Lewis; Client Acquitted of Being a Felon in Possession of a Firearm. Client was accused of being a felon in possession of a firearm and possession of cocaine base after the vehicle in which he was a passenger was pulled over. As the police officer approached the vehicle the client exited the vehicle and fled on foot. The client was eventually tackled and arrested. After the client was subdued, the officers searched the vehicle and found a handgun in the rear passenger well. The client was facing a 10 year sentence if convicted of being a felon in possession of a firearm. At trial we were able to show the officer's version of events regarding how the weapon was discovered and where the weapon was discovered during the search of the vehicle did not make sense and was not credible. The client explained that he ran from the officers due to the crack cocaine in his possession and had no idea that there was even a weapon in the car. The client was convicted of possessing crack cocaine (a 1 year misdemeanor) and acquitted of being a felon in possession of a firearm.

People v. P.C. - Retail Fraud,3rd Degree - Not Guilty. Client was charged with retail fraud in the third degree after 4 store detectives witnessed her fail to ring a number of items up when utilizing the self checkout lanes. However, the store failed to preserve the security video of the transaction. We took the case to trial as client maintained that her failure to scan the items was an accident. We stressed to the jury that the grocery store was the only party who had the ability to preserve the evidence that would have allowed the jury to determine for themselves whether this was an accident or an intentional act and they failed to so. After 30 minutes of deliberation, the jury returned a not guilty verdict.

,

2014

People v. B.P. - OWI charge dismissed following successful suppression motion. Client was charged with operating while intoxicated after a sheriff's deputy pulled him over for loud exhaust and defective license plate light. Our client submitted to field sobriety tests which the Sheriff's Deputy claimed he failed in the incident report. Our client also submitted to PBT with the result of a .10. Our client was arrested and taken to the Kent County Jail where he submitted to a chemical breath test with a result of .8, .9. Our office submitted a FOIA request to the Sheriff's Department for the patrol vehicle's dashboard camera. After reviewing the video of our client's arrest, we filed a motion to suppress the results of the chemical breath test on the grounds that the sheriff's deputy did not have probable cause to arrest our client because the field sobriety tests and PBT were administered improperly. The court held an evidentiary hearing on our motion. During the hearing, we demonstrated that not only did the sheriff's deputy administer and score the field sobriety tests improperly, but that he did not even know the proper way to administer the field sobriety tests in the first place. We also demonstrated that the officer failed to comply with the proper protocols when administering the PBT and as a result, the PBT results of .10 were not valid. At the conclusion of the hearing, the court agreed that the field sobriety tests and PBT were administered improperly and as a result no probable cause existed to arrest our client. The court also suppressed the results of the chemical breath test.

,

2013

People v. A.P. - Possession of marijuana charges dismissed following successful suppression motion. Client was involved in a roll over accident. The police officer responding to the accident searched the vehicle without the drivers consent while the driver sat in the back of the police vehicle and found a marijuana pipe in client's backpack. Client was charged with possession of drug paraphernalia. We filed a motion to suppress arguing that the officer searched the vehicle and backpack without consent. The officer testified that he obtained consent while the client was sitting in the police cruiser. At a contested hearing, we were able to show through the circumstances of the offense, the vagueness of the officer's own police report, and the prosecutions failure to obtain the preserve the audio from the police cruiser indicated that the prosecution could not meet the burden of proof to indicate that the consent was specific and unequivocally obtained.  The judge suppressed all evidence obtained from the backpack and the case was dismissed.

,

2013

United States v. Raogo Ouedrago; Murder conviction overturned, Motion for Acquittal Granted. Client was charged with Conspiracy to Commit Wire Fraud, Conspiracy to Commit Interstate Murder for Hire, Kidnapping, and Kidnapping Resulting in Death. Client was convicted after a 30 day jury trial of Conspiracy to Commit Wire Fraud, Kidnapping, and Kidnapping Resulting in Death and was facing a mandatory life sentence. We filed a motion for judgment of acquittal not withstanding the verdict and a motion for a new trial. The judge granted our motion and acquitted our client of all counts. Client was set free just before Christmas, 2011.

,

2011

United States v. Bobby Ray McClure, Case No. 10-6041; 20 year mandatory minimum sentence vacated by 6th Circuit Court of Appeal Client was convicted of distribution of 56.5 grams of cocaine base.  The statute in effect at the time of his offense called for a 10 year mandatory minimum sentence for distribution of 50 grams or more of cocaine base.  Clients prior controlled substance conviction increased the mandatory minimum sentence to 20 years.  Mr. McClures federal sentencing guideline range would have been 108 to 135 based upon the quantity of cocaine base had the 20 year mandatory minimum sentence not applied.  Client plead guilty pursuant to a plea agreement that waived his right to appeal if the sentence fell within the calculated guideline range.  The Fair Sentencing Act was signed into law on the August 3, 2010 - the date of Mr. McClure's sentencing hearing.  We appealed Mr. McClure's sentence on the grounds that the Fair Sentencing Act should apply to Mr. McClure since it was signed on the date of his sentencing hearing thus reducing Mr. McClure's minimum sentence to 10 years. The government first argued that the 6th Circuit should not even hear the case since Mr. McCLure waived his right to appeal in the plea agreement.  We argued that since Mr. McClure was actually sentenced in excess of the sentencing guideline range, his right to appeal was not waived.  The 6th Circuit agreed and allowed the appeal to go forward.  Following a extensive briefing period, the government eventually conceded that the new mandatory minimums should apply to Mr. McClure.  The 6th Circuit vacated the sentence and remanded the case for resentencing in accordance with Fair Sentencing Act.  Mr. McClure was resentenced to 10 years.

,

2013

People v. P.M.; Operating With Presence of a Controlled Substance reduced to Careless Driving.  Client was pulled over in Jackson, Michigan for passing vehicles in the right hand lane on I-94 in violation of MCL257.637. The officer smelled marijuana as he spoke with the client and initiated an OWI investigation.  Client admitted to smoking marijuana approximate one hour prior to being pulled over.  Client refused to voluntary submit to a blood test.  The trooper obtained a search warrant for the client's blood and issued the client a notice of an implied consent refusal.  The blood test came back positive for marijuana and the client was charged with operating with the presence of a controlled substance (marijuana) in his system.  Client held an Illinois Driver's License, which meant that any OWI conviction in Michigan would result in a one-year suspension of his Illinois driver's license.  Upon receipt of the case, we requested the dashboard camera from the police officer's vehicle. While the video did show our client passing in the right hand lane, it also showed that the lane was unobstructed and clear and that he was a substantially continuous lane of traffic. We requested a hearing to challenge the implied consent refusal and won when the trooper failed to show up to the hearing.   We filed a motion to suppress the blood test in District Court challenging the validity of the stop on the grounds that based on the video, our client had not in fact violated MCL 257.637.  Upon receipt of our motion, the prosecuting attorney's office allowed our client to plead guilty to the civil infraction of careless driving and dismissed the OWI offense.

,

2014

People v. E.B. - OWI reduced to non-drunk driving defense following filing of suppression motion Client was arrested and charged with Operating While Intoxicated after running through a flashing red stop light. Following the traffic stop, the client was asked to step out of the car to perform filed sobriety tests after the officer noticed bloodshot eyes and the heavy aroma of cologne as if "it had just been sprayed in the car." Client performed the field sobriety tests as requested and submitted to a preliminary breath test registering a .11. Client was arrested and taken to the Wyoming Police Department where he blew a .9, .9 on the Datamaster machine. We filed a motion challenging the legality of the stop. We also challenged the officer's probable cause to arrest the client based upon the improper scoring of the field sobriety tests and the improper administration of the preliminary breath test. Finally, we advised the city attorney that we intended to challenge the accuracy of the datamaster with our own expert. Following the filing of our motion, the city attorney agreed to allow our client to plead to a civil infraction and a non-dui offense. This resolution allowed our client to keep his CDL license and his job.

,

2013

People v. A.P. - Possession of marijuana charges dismissed following successful suppression motion. Client was involved in a roll over accident. The police officer responding to the accident searched the vehicle without the drivers consent while the driver sat in the back of the police vehicle and found a marijuana pipe in client's backpack. Client was charged with possession of drug paraphernalia. We filed a motion to suppress arguing that the officer searched the vehicle and backpack without consent. The officer testified that he obtained consent while the client was sitting in the police cruiser. At a contested hearing, we were able to show through the circumstances of the offense, the vagueness of the officer's own police report, and the prosecutions failure to obtain the preserve the audio from the police cruiser indicated that the prosecution could not meet the burden of proof to indicate that the consent was specific and unequivocally obtained.  The judge suppressed all evidence obtained from the backpack and the case was dismissed.

,

2013
Other Outstanding Achievements:
United States Army Meritorious Service Medal

,

2013

United States Army Commendation Medal

,

2002

United States Army Combat Lifesaver Course Graduate

,

2012

United States Army Commendation Medal

,

2003

United States Army Achievement Medal

,

2001

United States Army Commendation Medal

,

2011

United States Army Achievement Medal

,

2001
Industry Groups:
Criminal Defense
Driver's License Appeals
Military Law
Office location for Michael R. Bartish
60 Monroe Center St., NW
Suite 500
Grand Rapids, MI 49503
Phone: 800-594-7066
Selections
Super Lawyers: 2014 - 2023
Rising Stars: 2009, 2011 - 2012
Additional sources of information about Michael R. Bartish
Attorney resources for Michael R. Bartish