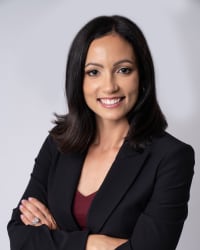 Disability Law Group
Practice Areas: Social Security Disability, Military & Veterans Law; view more
Licensed in Michigan since: 2011
Education: Wayne State University Law School
Languages Spoken: English, Spanish

Selected to Rising Stars: 2018 - 2023

Free Consultation
Disability Law Group
625 East Big Beaver Road
Suite 204
Troy, MI 48083
Visit website
Details
Erika A. Riggs is a partner at Disability Law Group. Mrs. Riggs focuses her practice on Social Security Disability, Supplemental Security Income, and Veterans' disability benefits, and her client base is located throughout the state. Mrs. Riggs assists adults as well as children who are disabled. She helps individuals in need prepare and complete the required application as well as any necessary appeals. She takes pride in ensuring that her clients are informed of their rights as well as prepared for their hearings in front of an Administrative Law Judge. Mrs. Riggs obtained her Juris Doctorate Wayne State University Law School in 2011 and received numerous scholarships for her volunteer work and academic achievements. She also co-founded a Detroit-based non-profit, The 313 Project, which still provides scholarships to high school students with demonstrated need and community involvement. Erika also continues to volunteer as a mediator and at free legal clinics for people in need and serves as a board member of the Michigan State Bar Public Outreach & Education Committee and serves on the Executive Committee for All-Well Being Services, where she strives to help strengthen mental health treatment in and around our community and end the stigma surrounding mental health. Mrs. Riggs received the inaugural Crain's Detroit Business 'Notable Women Lawyers' award in 2017, eight Avvo's Client Choice awards from 2015 to 2022, a 2023 Rising Stars List selection for the sixth consecutive year by Super Lawyers, the ABA On the Rise Top 40 Young Lawyer award in 2022, and was recently named one of Oakland County Executive's 'Oakland Together 40 Under 40' Class of 2023.
Practice areas
Social Security Disability, Military/Veterans Law
Focus areas
Military & Veterans Law
80% Social Security Disability

20% Military/Veterans Law
First Admitted: 2011, Michigan
Professional Webpage: https://disabilitylawgroup.com/disability-social-security-cl...
Educational Background:
Wayne State University, B.A.

,

2008

Wayne State University Law School, Juris Doctorate

,

2011
Other Outstanding Achievements:
Presentation to the case workers and clients at Michigan Rehabilitation Services in Clinton Township with Randall Mansour followed by a Question and Answer series. The topics covered included how to qualify for disability through both the Social Security Administration and the Department of Veterans Affairs, common application mistakes, supportive evidence to help your claim, and what to expect for an appeal and hearing. We had a great time meeting the staff who provide critical comprehensive resources to our community in need and their families, as well as the clients who were engaged in the process and asked insightful questions. Michigan Rehabilitation Services (MRS), part of the Michigan Department of Health & Human Services, is a remarkable resource for the surrounding population. Created to provide solutions for businesses looking to become more efficient and profitable and for disabled individuals seeking employment, the center's goal is to establish diverse workforces that benefit both groups. The importance of MRS is difficult to overstate since the state of Michigan is home to approximately 1.3 million people with disabilities, many with skills and talents Michigan businesses can put to good use. Introducing specialized education and training programs to prepare disabled individuals for employment is a worthwhile enterprise from several points of view. Businesses gain employees who are hard workers, eager to prove their worth; individuals with disabilities gain the self-esteem that comes from becoming a valued member of the workforce. It's a win-win situation. MRS also encourages and assists disabled individuals to become self-employed or to start their own businesses, thus enriching the business community while promoting independence and ingenuity in a largely untapped community.,

2019

Presentation: Women, Law and Empowerment, Michigan Lawyers Weekly, March 2022

,

2022

Presentation: Social Security Disability Process and Practice Tips at TTI in Troy, Michigan, November 2022

,

2022

Presentation 'Social Security Disability Hearings: Practice Tips and Strategic Guides' with ProLaw CLE

,

2021
Pro bono/Community Service:
Virtual Free Legal Aid and Resource Fair

,

2021

Free Legal Aid and Resource Fair, Troy, Michigan - hosted by Disability Law Group.

,

2022

Free Legal Aid & Resource Clinic, Troy, Michigan

,

2019
Scholarly Lectures/Writings:
Erika Riggs provides practice tips on representing Veterans in their claim for SSD benefits, issues to be aware of, and how to ensure your clients is receiving maximum benefits allowed under the law with expedited processing of claims.

,

Author

,

Veterans in their Claim for Social Security Disability Benefits, State Bar of Michigan, Social Security Section

,

State Bar of Michigan, Social Security, March 2022 newsletter

,

Legal, Disability, SSD, Veterans, Veterans Service-Connected Disability Benefits

,

2022
Verdicts/Settlements:
Attorney Erika Riggs was contacted by a family from Allen Park, Michigan, who had been referred to her for help with their disabled adult daughter. Prior to contacting Attorney Riggs, the family had gone through a long, complicated battle on their own for the daughter's disability benefits. She has autism and severe, congenital oral apraxia. Her father was a retired psychiatrist and had been previously told that the only benefit available for his daughter was called Supplemental Security Income (SSI). However, he was first told that she would not qualify for SSI as the account in her name placed her just over the resource limit. Therefore, after a Special Needs Trust was properly established for her, the family submitted an application for SSI to the Social Security Administration (SSA). Attorney Erika Riggs took careful time to review all of the records and talk with the family to understand how to best advocate for her client. She decided that she would take the case and help win DAC benefits for his daughter, knowing that it would not be an easy fight; she was up for the challenge. Our team ordered all missing and updated medical evidence to help support disability since before her client turned age 22. Attorney Riggs also drafted detailed Medical Source Statements and Residual Functional Capacity (RFC) report for her client's doctors to complete to help add more evidence. She then obtained letters in support from her client's family, adding further support to her case. Team DLG submitted all evidence, and diligently followed up on her case. Erika argued that her client met the new listing for Autism, under SSA Listing 12.10, showing that she met all the criteria required since well before she turned age 22.  Within just 6 months, after filing an appeal called a Request for Reconsideration, SSA agreed that Erika's client had truly been disabled under the rules, and unable to work, for at least the last 10 years. Therefore, SSA overturned their initial decision and approved DAC benefits for her client. As a result, she is now receiving thousands of dollars more in benefits, and their family has peace of mind in knowing that she is now collecting a more substantial benefit, preservation of her assets, as well as Medicare insurance to help with her ongoing medical care.

,

2022

During her hearing on May 9, 2019 in Lansing, Michigan, before a federally-appointed Social Security Administrative Law Judge, our client walked in prepared and confident – not because she had been through the process before in 2016 but in spite of that. This time around, she walked in to court alongside her attorney, Erika Riggs, with Disability Law Group. Not only did she know what to expect, but she had piece of mind knowing that Mrs. Riggs and her firm had obtained every piece of evidence needed dating back to when she became disabled and unable to work, including statements from her doctors detailing her condition and work-related limitations. Unfortunately, she did not feel the same sense of comfort and care during her 2016 hearing which resulted in an Unfavorable decision, denying her the disability benefits she worked hard for and deserved. She knew she was disabled since 2014 when she was no longer able to do her job in the medical field, or other work full-time, but that prior decision found otherwise. Prior to hiring Mrs. Riggs, she had a disability hearing in 2016 with an attorney at a different firm who never appealed the 2016 decision from the Judge denying her claim. She felt left in the dark and decided to hire a different attorney, starting from scratch, hoping to find someone with more expertise and compassion. She hired Mrs. Riggs who helped her at every step of the process, reassuring her along the way and helping her feel at ease about what to expect next. When it was time for her hearing in 2019, Mrs. Riggs respectfully and zealously advocated for her client, advising the Judge that the previous decision was not only unfair, but contrary to the law. Erika motioned to re-open the 2016 Unfavorable Decision from a different Judge based on clear legal error in accordance with 20 CFR 404.988. The Judge agreed and issued a Fully Favorable Decision in June of 2019, re-opening the prior 2016 decision with a finding of disability dating back to July of 2014. Not only does this decision mean more than 4 and a half years of back pay benefits for the client in addition to the monthly amount and Medicare coverage, it meant validation of her disability and that her fight for relief was finally at an end.

,

2019

Our client, who served in the Air Force from 1958 through 1965, came to our attorneys for help obtaining service-connected disability benefits for certain conditions, including an increased evaluation for his PTSD rating of 30%, after a confusing and frustrating experience going at the process alone. The VA had issued him countless notices about incorrect forms he had submitted, including a letter indicating that they would not accept his appeal and even reducing one of his service-connected conditions. Attorney Mandy Kelly immediately stepped in and helped the veteran understand his options and best legal strategies on appeal. We obtained his personnel records, the complete claims file, and all updated, pertinent medical records to help support his claims. Two of our partners, Mrs. Kelly and Mrs. Riggs, worked together to strategize the veteran's case in preparation for the Decision Review Officer hearing process, which would be soon scheduled. After months of following up on the appeal and obtaining letters in support from the veteran's providers, a hearing date was set. Attorney Erika Riggs attended the hearing with the veteran, presenting our theory for an increased evaluation of his PTSD and an argument for a Total Disability Rating based on Individual Unemployability.  Following the hearing, our staff at Disability Law Group diligently followed up on the decision for the veteran, requesting expedited processing due to his age. Through our many calls to the VA, we discovered that the VA lost the transcript of the hearing. Attorney Riggs immediately conducted an additional informal phone conference with the Decision Review Officer, presenting a detailed summary of the testimony obtained during the hearing based on her notes and the arguments supporting the veteran's claims. In less than one month, the decision was issued granting the veteran's benefits – an increased valuation from 30% to 100% was awarded; the veteran was also granted entitlement to Individual Unemployability, Special Monthly Compensation based on housebound criteria and Dependent Educational Assistance.

,

2019

In the summer of 2019, attorney Erika Riggs met with a family in her office in Troy, Michigan, who had called her for a free consultation. They explained that they were all going through what had been the most difficult time in their life. Having suffered significant loss of their father, and tragic injuries from a car accident, the son had now received a Cessation letter from Social Security. This letter not only meant the loss of his desperately needed disability benefits, but also termination of Medicare – the insurance covering treatment for his many chronic, progressive conditions – including a rare condition called syringomyelia – was almost too much to bear. He knew that if he wasn't able to see his specialists, including his neurologist, his condition could deteriorate further. That's when he called Disability Law Group, seeking assistance appealing his recent cessation notice from the Social Security Administration. Mrs. Riggs took the call and could hear the desperation in his voice as he told her that other attorneys and disability law firms had turned him down – stating that because he intended to keep his benefits while awaiting his next level appeal determination, taking his case would mean no attorney fee even if he won. Erika listened to his story, and the suffering he and his family had endured on top of it all; she agreed to take his case pro bono. Most of all, Attorney Riggs recalls that "the family must have been one of the nicest families" she had ever met, and she was "not going to allow him to lose his critical insurance benefits," especially when her review of the medical records showed that his condition had not improved; therefore, there existed no reasonable grounds for denying him the benefits he deserved and desperately needed. His conditions include syringomyelia, osteopenia, chronic insomnia, chronic pain syndrome, Charcot arthropathy, migraine headaches, pelvic floor dysfunction, ADHD, bipolar disorder, depressive disorder, and anxiety disorder. That day, Erika and her compassionate team at Disability Law Group, worked diligently to help him – working with her clients' doctors and healthcare providers to obtain all evidence that was missed by Social Security at the Reconsideration level, and even drafting forms to help support his ongoing disability. Next, the team submitted a waiver of the 75-day notice of a court date so that the client could have his court date scheduled immediately, without any unnecessary delay. By January of 2020, the time for the hearing in front of an Administrative Law Judge (ALJ) had come. Erika presented opening and closing arguments, in addition to her pre-hearing brief outlining the supportive evidence establishing disability, and she cross-examined the Vocational Expert to support the case. Ultimately, the ALJ agreed, and shortly thereafter, issued a Fully Favorable decision, finding that disability did not end.,

2020

In February of 2020, Mrs. Riggs received a phone call from a man who needed help and didn't know where else to turn; he told Erika that he had been approved for long-term disability (LTD) benefits through his employer, but becoming unable to work at the age of 50 with worsening health problems, he was not sure how much longer that benefit would last or whether he would qualify for SSD benefits while receiving LTD benefits. Attorney Riggs explained his rights, and reassured him that he would have a strong case for SSD and could even collect LTD benefits while awaiting his decision and approval; she immediately got to work on his application. Her client suffers from severe degenerative disc disease in both his neck and back (or cervical and lumbar spine), as well as degenerative joint disease in his knees, chronic pain syndrome, diabetes, and coronary artery disease, having experienced 2 heart attacks. He had always worked and was nervous about receiving the benefits he needed and still supporting his family. Due to his worsening health problems, and inability to work, as a result, he admitted he began feeling depressed and was diagnosed with major depressive disorder. He had been in treatment, and even in rehabilitation services to try to feel better. Erika encouraged him to keep up with his treatment, reporting all symptoms and even medication side-effects, and she worked with him and his doctors to obtain all supportive documents quickly. In order to help her client receive an award of SSD benefits as soon as possible, Attorney Riggs and her team at Disability Law Group worked quickly to expedite the process, even ensuring the medical evidence relating to his LTD claim was received right away and submitted to Social Security before a decision could be made. Medical Source Statements, and examinations concerning a person's mental and/or physical health symptoms and limitations, can be especially helpful for LTD and/or SSD cases as they help to confirm what specific work-related limitations an individual has. In just 5 months, Erika and her client received the news that the client was approved for SSD benefits and was able to collect a lump-sum back pay benefit as well as his future monthly benefit and Medicare coverage he needed to continue with critical treatment.

,

2020

In November of 2019, attorney Erika Riggs was contacted by a 30 year old woman from Ypsilanti, Michigan, who was having a difficult time finding a reputable attorney to take her case on appeal. Her claim for Social Security Disability benefits had been denied many times despite appeal after appeal. She had just received a denial by an Administrative Law Judge (ALJ) following a hearing where she was represented by an attorney from a different law firm. She felt discouraged by the decision, and on top of it all she was suffering from serious back pain with numbness, tingling and weakness affecting both of her legs and feet. What made matters even worse for her – she was facing homelessness by being unable to work due to her medical conditions, and unable to pay her mortgage payments. When she called Mrs. Riggs, attorney and partner at Disability Law Group, she had only one more month left before the deadline to file an appeal from the ALJ's decision. Following a denial, or an Unfavorable Decision from an ALJ, the next step in the appeal process is called a 'Request for Review' to the Appeals Council (AC). The AC is headquartered in Falls Church, Virginia, and is made-up of approximately 53 Administrative Appeals Judges with 44 Appeals Officers, and several hundred support personnel that assist the Judges and Officers along the way. The wait time at the AC level can range from many months to longer than two years for a decision with approximately 144,000 cases reviewed and decided in 2019. The AC may grant, deny, or dismiss a request for review, but the majority of requests are denied at this level. Not every law firm, including those who specialize in disability cases, take appeals at the AC level or beyond. At Disability Law Group, our attorneys specialize only in disability and take cases at the AC and beyond, to include the US District Court level of appeals. Erika carefully reviewed the Unfavorable decision by the ALJ and the medical records previously submitted and agreed to take her case. Acting quickly with no time to waste – Mrs. Riggs quickly filed the 'Request for Review' at the Appeals Council along with a brief in support. In her brief, Erika pointed out the evidence supporting that her client should be considered disabled at Step 3 of the sequential evaluation process – the step that addresses the Listings enumerated by Social Security. Specifically, Mrs. Riggs argued that her client's lumbar spinal condition with stenosis resulted in pseudoclaudication established by MRI findings and manifested by chronic pain and weakness with an inability to ambulate effectively, thereby showing that Listing 1.04 was reasonably met or medically equalled. Further, she pointed out errors in the ALJ's decision when evaluation the Listing at Step 3 of the sequential evaluation process, including neglecting to properly analyze her client's medical records and hearing testimony that correspond to the relevant Listing. She concluded her argument by requesting a medical expert opinion evidence evaluating all record evidence with an interrogatory addressing whether her client's lumbar spinal condition met or medically equaled Listing 1.04. Ultimately, the AC agreed with Erika's arguments in support and determined that the ALJ failed her duty to consider relevant evidence, issuing a Remand for further development, including an opinion from a Medical Expert. In less than one month from the AC's Remand Order, attorney Riggs and her staff worked swiftly to prepare and update the evidence of record and a Medical Expert Interrogatory was requested and received. The ALJ immediately issued an on-record Fully Favorable Decision based on Erika's arguments and evidence in support without even requiring another hearing, finding that the claimant's spinal condition met the criteria of Listing 1.04. This award of Social Security Disability benefits meant more than 3 years' worth of past due benefits, monthly disability payments, and Medicare coverage for the client. Notably, the same day that Disability Law Group received the Fully Favorable Decision, Erika and her staff immediately submitted a dire need request to release her client's back-pay benefits promptly so that she could keep her home, and not have to worry about foreclosure. In her review she provided upon hearing of the good news, her client gave us 5-stars and wrote: "Erika Riggs was absolutely amazing! She was pivotal to my SSDI appeal approval. She was with me every step of the way and let me know I was not alone. She took the time to answer all my questions, no matter how frivolous. She even called me on her day off to tell me I was approved. I wish Erika could represent me in all my legal battles."

,

2019

In November of 2019, attorney Erika Riggs was contacted by a woman from Harrison Township, Michigan, who had been referred to her from another attorney after receiving a letter from Social Security that her son's disability benefits was reviewed and would soon end. Social Security decided to review her son's disability case even though he was found disabled years prior. Social Security periodically reviews the claimant's medical impairment(s) to determine if the disabling condition(s) has continued. If Social Security determines that the person is no longer disabled or blind, then benefits will stop. While there are a number of reasons why the Social Security Administration could review a disability case to determine ongoing entitlement to disability benefits, they will typically do so regardless of a reason at least once every three years if the condition is expected to improve. However, if the disabling condition is not anticipated to improve, Social Security may still review the case but typically only every five to seven years. Social Security should reach out to you to obtain any updated information about your condition(s) using form SSA-454 called a 'Continuing Disability Review Report' or form SSA-455 which is a 'Disability Update Report' that can be completed online. Other factors that may affect entitlement to disability benefits may also be reviewed, including income, resources, and living arrangements, for example, to determine whether benefits should continue, stop, or be changed in any way. In some cases, the claimant may be responsible for paying back benefits, called an overpayment, if it is determined that benefits were improperly paid. In any case, it is important to have an experienced, compassionate disability attorney on your side to help you win and keep the disability benefits that you deserve. If Social Security deems that the disabling condition has ended, you will have appeal rights contained in correspondence from the Social Security Administration. In this case, the disability benefits had recently been denied on October of 2019 and they had only 60 days to file an appeal called a 'Request for Reconsideration' at this stage. Attorney Erika Riggs carefully reviewed all of the documentation, medical records and notice of Cessation of benefits they had received from Social Security. However, this client desperately needed ongoing benefits – both monthly financial support and insurance that they had been accustomed to in order to continue seeing his doctors and maintaining treatment. Attorney Riggs agreed to represent the woman's son pro bono in his claim for continued disability benefits so that he could continue to see his doctors, keep up with the medical treatment, and receive the ongoing support that he desperately needed. Immediately, Erika got to work on her client's case. She filed the appeal, prepared new medical evidence and updated his file to make sure that all the supportive information was received; she then submitted all documents over to Social Security and began following-up with his case examiner with Social Security's Disability Determination Services. Next, Social Security scheduled her client for a consultative examination where a doctor contracted through the Social Security Administration would evaluate him. Attorney Riggs explained what to expect at this examination and helped ease their nerves about the entire process. Shortly after this examination took place, Disability Law Group received notice that the case was approved, and that Erika's client would continue to receive his monthly benefits and insurance without any interruption. This decision provided immeasurable relief and comfort to both the client and his family who could now focus on other, more important things like his health and healing without worrying about an overpayment, additional appeals, or losing critical monthly benefits.

,

2021

In the early part of 2020, attorney Erika Riggs was contacted by a woman from Troy, Michigan, who had been looking on google for the best attorney to help her win her disability case. After reading reviews on many disability law firms, she chose to hire Disability Law Group. She knew from the beginning that she did not want to go through the disability process alone, and needed a law firm that would be available to talk with her, carefully review her file, answer all questions she had, and treat her with compassion and respect. She found all of those qualities in Disability Law Group. Attorney Erika Riggs immediately got to work on her case, explaining what to expect from the very start and strategizing ways to help her chances of being approved as quickly as possible. The team at Disability Law Group prepared and submitted her application for Social Security Disability benefits, and diligently followed-up on the case. Mrs. Riggs believed that her client would be working if she was able, but that her medical conditions have become too severe and debilitating for her. Unfortunately, her client suffered from severe neck pain and numbness, trouble with her balance, bladder problems, and depression; she found herself needing to complete physical therapy, chiropractic care, and nightly bladder installations, after being tried on a variety of medications that only offered her temporary relief. Erika always made herself available via email correspondences, text messages and phone calls to ensure the records were up-to-date with all medical records and supportive documents. While the vast majority of cases are denied at the initial application level, Attorney Riggs and the team at Disability Law Group made it their priority to ensure all evidence was received, to help increase the chances of approval at the initial level or as quickly as possible. Thankfully, by January of 2021, Disability Law Group confirmed that Erika's client was approved at the initial application level. This decision allowed for the client to receive back-pay benefits in the form of a lump sum to the client, as well as Medicare insurance coverage. Here is what the client had to say in her review: Client Review: It is my honor to write a recommendation for Erika Riggs and her law firm, Disability Law Group. It was with great trepidation that I apply for Social Security Disability. Leaving a job I loved after 22 years, going through the seemingly arduous task of applying for SSD, learning to live as a disabled person was so overwhelming to me to me I could barely think about it. A friend recommended I get an attorney. I found Erika through google, and I am so happy I did. Erika and I spoke at length on the phone, she clearly explained what I would need to do and what she would do for me. When the conversation ended I felt sure she would work very hard on my behalf, and she did. Every phone call I made to her was promptly returned, her assistant was professional, always helpful and accommodating. They kept me informed of every detail as we moved through the process. I first spoke with Erika in January 2020, I had just left my job, my beloved sister had recently passed away and I was living in extreme pain. She was so kind, so understanding and so determined. Two weeks ago I was approved for SSD. I never met Erika face to face, but I feel I have known her forever. I cannot recommend her strongly enough.

,

2021

Attorney Erika Riggs was contacted by a woman from Macomb, Michigan, who had been referred to her from another attorney to help with her Social Security Disability case. She had worked as a senior accounting specialist for many years before her health problems took a turn for the worse. In August of 2018, she suffered a heart attack and underwent a triple coronary bypass; she also suffered from uncontrolled diabetes with diabetic neuropathy, retinopathy, high blood pressure, and obstructive sleep apnea. Hoping that she would recover and improve after surgery, she took about one year off work before realizing that she would not be able to return and needed help applying for SSD benefits. When she called Disability Law Group, she knew she found the right place to help her win her case. Attorney Riggs and staff immediately got to work on her SSD application. At this level, SSA issued a 'Partially Favorable' decision, granting disability benefits but only back to January of 2019. However, in review of the medical evidence, Erika determined that this date was completely arbitrary and simply unfair. After speaking with her client, Mrs. Riggs filed a Request for Reconsideration, arguing that the true date that disability began in August of 2018 when the heart attack and surgery took place, and rendered her client unable to work. At this time, in October of 2020, a representative from Social Security (SSA) called Erika and stated that they were going to be requesting that her client see yet another doctor for a consultative examination. Under normal circumstances, this examination would be considered standard and there would be no issue. However, in the midst of the COVID-19 pandemic, Erika's client was overcome with fear of attending this exam as she was at high-risk considering her severe cardiac and pulmonary conditions. Attorney Riggs contacted the SSA representative and advised that there was already a recent examination, and now updated medical evidence in support of granting her client's disability benefits back to August of 2018; therefore, her client would not be attending this additional exam due to the risk involved. Unfortunately, SSA then issued another 'Partially Favorable' decision, only this time with an even less advantageous date of November 2020 due to her turning 55 years old at that time. This new decision not only meant that the client would potentially have to wait even longer for Medicare to take effect, but also that she may have to pay back the SSD benefits she received over the few months prior while awaiting this determination. Erika talked with her client and they agreed that we would not give-up the fight, especially here when the evidence does not support the decisions made. Disability Law Group filed a request for hearing. The hearing before an ALJ was scheduled for June of 2021. A few days before the hearing, the ALJ called attorney Erika Riggs, stating that she would never have appealed the prior decisions and asked if we would consider withdrawing the request for hearing. Erika kindly advised that we would not be withdrawing the request and, instead, we would be moving forward with the hearing scheduled seeking disability benefits back to August of 2018, when she believed her client became disabled. Mrs. Riggs drafted a thorough brief in support of the case, and she presented arguments before the Judge to help prove disability beginning on that date. Erika developed testimony from the client to confirm that her current Medicaid coverage does not cover her continuous glucose monitor, which has been a significant factor in her inability to monitor and control her blood sugar levels. Medicare is the insurance program that accompanies SSD, and Erika knew how important this insurance would be for her client. Within just a few weeks, the decision was made: Fully Favorable! This decision meant that Erika's client no longer has to worry about owing money back to SSA, and that she would receive thousands of dollars in additional money owed back to her as well as immediate entitlement to Medicare. This is what Erika's client had to say: "Erika Riggs is a fantastic Attorney. She looks at your case and will tell you if she feels you have a case. Then she fights for you, believes in you and stands by your side through the whole process.",

2021

In the early part of 2020, attorney Erika Riggs was contacted by a woman from New Baltimore, Michigan, who had been referred to her as someone known for zealous and compassionate representation. She had previously worked for decades in sedentary type positions for Motor City Stamping and as a purchasing agent for a local plant. However, by about age 50, she began experience increased pain and symptoms making it difficult for her to do the work she loved and took great pride in for the majority of her life. She suffered from heart conditions, palpitations, hypertension, arthritis of her neck and back, fibromyalgia, Barrett's esophagitis with severe stomach and esophageal pain, as well as anxiety. On top of this, her husband passed away and her children were all grown with busy lives of their own. After exhausting her savings and 401K for nearly 10 years after she stopped working, and now at almost 60 years old, she was told by a friend that there may be programs available to help her; she knew that she could no longer work due to her health problems, but she did not know about programs like Social Security Disability, Disabled Widows Benefits, and Supplemental Security Income. Attorney Erika Riggs immediately got to work on her case, explaining what programs are available to her, what to expect from the very start, and how to increase her chances of being approved. The team at Disability Law Group prepared and submitted her application for Social Security Disability benefits, and diligently followed-up on the case. Mrs. Riggs believed that her client would be working if she was able, but that her medical conditions have become too severe and debilitating for her. Erika always made herself available via email correspondences, text messages and phone calls to ensure that her client was informed along the way while her office obtained all medical records and supportive documents. Unfortunately, this case presented the additional challenge of proving that her disability began before her work credits expired in December of 2015, nearly 5 years prior to filing the application and reaching out for help. During the video hearing before the Administrative Law Judge (ALJ), Erika presented evidence showing that her client was unable to tolerate the Stress Test attempted in 2014, and obtained testimony from her client demonstrating that she felt tired, weak, and short of breath on a daily basis, in addition to the pain and anxiety she struggled with daily since that time. Next, Mrs. Riggs argued that, as a result, her client would be unable to perform the mental demands of her skilled past work she was used to performing for so many years, and that therefore even with a Sedentary RFC since 2015, she would be found disabled under the applicable Medical-Vocational Rules. The ALJ then went right to the Vocational Expert (VE) and agreed that Erika's client is "disabled" under Social Security's rules, and awarded her benefits, resulting in tens of thousands of dollars of back-pay owed to her, along with Medicare insurance coverage.  

,

2021
Bar/Professional Activity:
National Organization of Social Security Claimant's Representatives, Member

,

2022

State Bar of Michigan, Social Security Section, Member

,

2022

National Organization of Veterans' Advocates (NOVA), Member

,

2022

American Bar Association, Member

,

2022

Macomb County Bar Association, Member

,

2022
Honors/Awards:
Erika was named one of Oakland County Executive's Oakland Together 40 Under 40 Class of 2023. The Oakland County Executive's Oakland Together 40 Under 40 program recognizes and spotlights dynamic leaders under the age of 40 who are making a difference in Oakland County and beyond.

,

Oakland County Executive's Oakland Together 40 Under 40

,

Oakland County

,

2023

The On The Rise Award program provides national recognition for ABA young lawyer members who exemplify a broad range of high achievement, innovation, vision, leadership, and legal and community service.

,

On the Rise Top 40 – Young Lawyer

,

American Bar Association

,

2022

Erika was chosen as the winner of the 2022 Crisp Effect Challenge. The Crisp Effect is a challenge for clients of Crisp, comprised of hundreds of law firm owners, aimed at determining who can achieve the most transformative growth by venturing beyond their comfort zones. This can encompass professional and personal development, including enhancing their teams, clients' experiences, personal health, revenue growth, and community impact. 

,

Crisp Effect Challenge Winner

,

https://crisp.co/meet-the-2022-crisp-effect-winner/

,

2022

Michigan Lawyers Weekly 'Leaders in the Law' honorees are setting the standard for other lawyers through their outstanding contributions to the practice of law and the justice system in Michigan. They have demonstrated tremendous leadership and offer a wealth of expertise in diverse areas of the law.

,

Leaders in the Law

,

Michigan Lawyers Weekly

,

2021

For commitment to public service, the community and state bar invovement.

,

State Bar of Michigan YLS Regeana Myrick Outstanding Young Lawyer Award Finalist

,

State Bar of Michigan Young Lawyers Section

,

2019

The women featured in this Notable Women in Law report were selected by a team of Crain's Detroit Business editors based on their career accomplishments, track record of success in the field, contributions to their community and mentorship of others, as outlined in a detailed nomination form. 

,

Notable Women Lawyers

,

Crain's Detroit Business

,

2017

Erika has secured the Avvo Client's Choice Award for the eighth consecutive year. The Avvo Client's Choice Award Badge is granted to attorneys with a significant number of 4+ star reviews in a given year.

,

Avvo Clients' Choice Award

,

AVVO

,

2022

Erika has secured the Avvo Client's Choice Award for the seventh consecutive year. The Avvo Client's Choice Award Badge is granted to attorneys with a significant number of 4+ star reviews in a given year.

,

Clients' Choice Award

,

AVVO

,

2021

Erika has secured the Avvo Client's Choice Award for the sixth consecutive year. The Avvo Client's Choice Award Badge is granted to attorneys with a significant number of 4+ star reviews in a given year.

,

Clients' Choice Award

,

AVVO

,

2020

Erika has secured the Avvo Client's Choice Award for the fifth consecutive year. The Avvo Client's Choice Award Badge is granted to attorneys with a significant number of 4+ star reviews in a given year.

,

Clients' Choice Award

,

AVVO

,

2019

Erika has secured the Avvo Client's Choice Award for the fourth consecutive year. The Avvo Client's Choice Award Badge is granted to attorneys with a significant number of 4+ star reviews in a given year.

,

Clients' Choice Award

,

AVVO

,

2018

Erika has secured the Avvo Client's Choice Award for the third consecutive year. The Avvo Client's Choice Award Badge is granted to attorneys with a significant number of 4+ star reviews in a given year.

,

Clients' Choice Award

,

AVVO

,

2017

Erika has once again achieved the Avvo Client's Choice Award for the second consecutive year. The Avvo Client's Choice Award Badge is granted to attorneys with a significant number of 4+ star reviews in a given year.

,

Clients' Choice Award

,

AVVO

,

2016

Erika secured her first Avvo Clients' Choice Award in 2015. The Avvo Client's Choice Award Badge is granted to attorneys with a significant number of 4+ star reviews in a given year.

,

Clients' Choice Award

,

AVVO

,

2015
Office location for Erika A. Riggs
625 East Big Beaver Road
Suite 204
Troy, MI 48083
Phone: 248-800-2369
Selections
Rising Stars: 2018 - 2023
Additional sources of information about Erika A. Riggs
Attorney resources for Erika A. Riggs