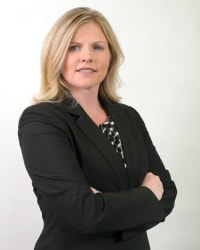 Olson, Redford & Wahlberg, P.A.
Practice Areas: Real Estate, Civil Litigation, Appellate
Licensed in Minnesota since: 2006
Education: Mitchell Hamline School of Law

Selected to Rising Stars: 2019
Details
Katie Wahlberg is an attorney and shareholder at Olson, Lucas, Redford & Wahlberg with a primary focus on Real Estate Law.  As a former in-house claims attorney with regional and national responsibilities, Katie has extensive experience in handling title and escrow claims which assists title insurers and title agencies in meeting legal challenges.  Her experience extends from curative actions and lien priority defense to coverage and policy interpretation. Katie's experience working with investors, developers, surveyors, appraisers, examiners, and other real estate professionals allows her to identify, evaluate, and strategize on resolving real estate matters, with and without litigation.
First Admitted: 2006, Minnesota
Professional Webpage: http://olson-law.com/attorneys/katherine-l-wahlberg/
Special Licenses/Certifications:
Qualified Neutral under Rule 114, Minn. Gen. Rules of Practice
Pro bono/Community Service:
Volunteer Attorney, Wills for Heroes

,

2018
Bar/Professional Activity:
Member, Minnesota Land Title Association

,

2021

Member, MSBA Solo and Small Firm Section

,

2021

Member, Minnesota Women Lawyers

,

2021

Member, MSBA Real Property Law Section

,

2021

Member, Ramsey County Bar Association

,

2021

Member, Minnesota State Bar Association

,

2021
Scholarly Lectures/Writings:
Presentation on common real estate issues related to easements

,

Co-Author and Speaker

,

15 Things Every Minnesota Real Estate Attorney Should Know About Using or Dealing With Easements

,

Minnesota Real Estate Institute

,

2022

A complex examination of easements, restrictive covenants and licenses and how to use them to resolve property disputes in Minnesota

,

Co-Chair and Speaker

,

Understanding Easements, Licenses, and Restrictive Covenants in Minnesota

,

Minnesota CLE

,

2022

Presentation on how to identify and resolve title defects and boundary issues

,

Co-Author and Speaker

,

Clearing Title Defects Involving Easements, Encroachments, and Survey/Boundary Disputes

,

Strafford Publications

,

2022

An overview of how to cure various title issues

,

Co-Author and Speaker

,

Curing Title Issues

,

Minnesota Land Title Association

,

2022

Presentation on the law of adverse possession, including relevant Minnesota case law

,

Co-Author and Speaker

,

The Law of Adverse Possession

,

Minnesota Real Estate Institute

,

2021

A comprehensive seminar providing an overview of major topics in real estate that will help attorneys tackle real estate issues and complement their legal practice

,

Co-Chair and Speaker

,

Real Estate for the Non-Specialist: Spotlighting the Important Real Estate Matters Every Attorney Should Understand

,

Minnesota Continuing Legal Education

,

2021

Presentation with practical advice and solutions to the problems that attorneys encounter with real estate conveyances

,

Speaker

,

The Art of Real Estate Conveyancing in 2021: 10 Conveyancing Tips to Consider and Traps to Avoid

,

Minnesota Continuing Legal Education

,

2021

Presentation providing an overview of the various available means by which legal access can be established for residential and commercial property, including express easement, prescriptive easement and cartways

,

Co-Author and Speaker

,

Establishing Access to Real Property

,

MN Society of Professional Surveyors

,

2021

Presentation on various means to establish legal access to real property including easements, dedication, and cartways

,

Co-Author and Speaker

,

How to Solve Access Problems - Using Easements, Cartways, Roads and More

,

Minnesota Real Estate Institute

,

2020

Seminar on real estate issues specific to lakeshore property including resolving access problems with recreational property

,

Speaker and Author

,

The Law of the Great Outdoors: Resolving Access Problems with Recreational Property

,

Minnesota Continuing Legal Education

,

2020

An in-depth analysis of examining title and clearing defects in title

,

Co-Author

,

MN Real Estate Titles Deskbook: Examining Title and Clearing Title Defects

,

Minnesota Continuing Legal Education

,

2019

An article highlighting 10 tips for mediating real estate disputes and the roles of different players involved

,

Co-Author

,

10 Tips for Mediating Real Estate Disputes

,

2018

Presentation summary of various ADR processes such as mediation, arbitration, mediation-arbitration, appraisal /umpire process, designated neutral referee, summary jury trial, early neutral evaluation and best practices with a focus on real estate disputes

,

Co-Author and Speaker

,

Real Estate ADR: Processes and Best Practices

,

Minnesota Continuing Legal Education

,

2018

Presentation discussing the Torrens system generally and describing the process by which boundary lines can be registered in a Torrens proceeding, both at the time of an initial registration and in a later proceeding after a property owner's title (or the neighbor's title) has been registered Torrens

,

Co-Author and Speaker

,

Survey Says…A Summary Guide to Registering Torrens Boundaries and Boundary by Practical Location

,

MN Society of Professional Surveyors

,

2018

Thousands of Minnesotans own lake homes and wonder about the rights and obligations of cabin ownership. Whether faced with a challenging neighbor or municipality, or considering your options to protect your property rights, cabin ownership is not always free of challenges

,

Co-Author

,

Life is Better at the Lake

,

2018

Presentation designed to provide an outline of seven ways to establish access to property: easements (express, prescriptive, implied, by estoppel), statutory dedication, common law dedication, and cartways

,

Co-Author and Speaker

,

7 Ways to Establish Access

,

Minnesota Real Estate Institute

,

2017

Katherine Wahlberg, a shareholder at Olson, Lucas, Redford & Wahlberg, P.A., authored an article in the March/April 2017 edition of the Hennepin Lawyer magazine entitled Real Property for Family Law Attorneys. Wahlberg's article was one of a three-part, multi-author article featured in Hennepin Lawyer discussing some of the essential questions that arise at the intersection of real property law and family law, bankruptcy, and estate planning,

Author

,

Real Property for Family Law Attorneys

,

Hennepin Lawyer

,

2017

Establishing legal access can be achieved through a number of avenues (pun intended) depending on the factual circumstances of the property and possibly, historic access to the property.  Some approaches may be unavailable depending on the specific circumstances.  Other methods of establishing access may be preferable over others depending on your objectives, beyond simply establishing legal access.  Is the access you're looking to establish public access or private access?  What's the scope of access?  Who might raise objections to the proposed access?  The following will provide a snapshot of potential solutions under Minnesota law to consider when faced with an investment that is out of your reach

,

Author

,

Establishing Legal Access

,

2017

Presentation highlighting easements, covenants and restrictions; how they differ and impact the examination of title

,

Speaker

,

How to Examine Title in Minnesota: Comparison and Analysis of Easements, Covenants and Restrictions

,

Minnesota Continuing Legal Education

,

2017

Presentation on how are easements, covenants and restrictions differ and how does that impact the examination?

,

Speaker

,

How to Examine Title in Minnesota: Comparison and Analysis of Easements, Covenants and Restrictions

,

Minnesota Continuing Legal Education

,

2017

Presentation highlighting background, facts, resolution and practice pointers of resolving boundary line problems through transactions and litigation via six relevant case studies

,

Co-Author and Speaker

,

Resolving Boundary Line Problem Through Transactions and Litigation

,

Minnesota Real Estate Institute

,

2016

When an attorney should call a surveyor, surveyors as problem solvers, surveyors as expert witnesses, and other tips on working effectively with surveyors

,

Co-Author

,

Attorneys & Surveyors: Practice Pointers for Working Together

,

Real Property Law Section – Minnesota State Bar Association

,

2016

Presentation of what attorneys look for from surveyors in transactions and litigation such as communication, winning survey battles, value of aerial imagery, and Torrens Boundary Registration

,

Author and Speaker

,

Real Property Law Update

,

Minnesota Society of Professional Surveyors 2016 Annual Conference

,

2016

Presentation on negotiation for an easement versus litigation to establish access

,

Author and Speaker

,

Real Estate Series: "Location, Location, Location: What About Access?"

,

Minnesota Continuing Legal Education

,

2016

Presentation at the 2016 Real Estate Institute on various means of resolving boundary disputes with and without litigation

,

Speaker

,

Resolving Boundary Line Problem Through Transactions & Litigation

,

Minnesota Real Estate Institute

,

2016

Presentation on legal updates to Boundary by Practical Location, Adverse Possession, Marketable Title Act, Breach of Warranty Deed, Mortgages: Spousal Signature, Insurance Claim, Priority of Federal Tax Liens, and Slander of Title

,

Author and Speaker

,

Title Hodgepodge: A Legal Update

,

Minnesota Land Title Association

,

2015
Attorney resources for Katherine L. Wahlberg